A castle winery with dark academia decor, hilltop tastings with miles of vineyards below, delightful food and wine pairings, laid-back patios with pizza and sunshine... there are some truly amazing Paso Robles wineries hidden down in the Central Coast.
I just came back from a long week of Paso Robles wine tasting to bring you an utterly detailed and complete guide to all the best wine tasting experiences plus helpful of area travel tips to help you plan an epic wine trip. Consider this your one-stop-shop for Paso wine country planning.
Got questions about Paso Robles wine tastings you need answered ASAP? DM me on Instagram
@thewhimsysoul
and I'll try to help out!
I live in San Francisco and am super spoiled to live next door to two of California's most famous wine regions — Sonoma and Napa Valley! We also have Lodi and the Santa Cruz Mountains wine AVA next door in the Bay Area, too, and hence I find myself wine tasting probably a little much. (It sure is fun, though!)
I finally road tripped down to San Luis Obispo County last week to check out Paso Robles wine country. I'm bringing my expertise of California wineries to this guide to shift through the 300+ wineries Paso Robles has to highlight the best ones worth your visit.
First, I'll be sharing my hands-down favorite fantastical Paso Robles vineyards that you are guaranteed to love. And then I'll be breaking down more wine tasting in Paso Robles based on things like the wineries with the best food pairings, or a really good Zinfandel in case you are looking for something specific.
What Kind Of Wine Is Paso Robles Known For?
What is Paso Robles wine known for? The most popular styles of wines from Paso Robles are Zinfandel, Cabernet Sauvignon, and Rhône-style wines. But I saw Chardonnay, Pinot, Rose, Sauvignon Blanc, Viognier – the list goes on –also on wine tasting menus. So, the wines of Paso Robles do vary and you will find something you like.
And, Paso Robles wine tasting fees vary, but average around $20 per person but do go up from there. Ok, let's go!
11 Amazing Paso Robles Wineries You Can't Miss For The Perfect Wine Tasting Weekend
Should you try and visit all 11 wineries on a single weekend? HECK NO. I think your liver would cry. I can never do more than 3 tastings in a day, though the older I get, the most I'm only opting for two wine tastings in a day. There are some extremely beautiful vineyards in Paso Robles, so I like to take it slow and soak up my time at each spot.
Depending on how long you'll be visiting Paso and fo crouse your wine tasting budget, favorite types of wines you're looking to taste and so on, pick 2-3 per day to book for yourself from my list of the 11 best below:
Pro tip: After 2020, most wineries now require advance reservations and no longer allow walk-ins, so make sure to book your wine tastings online before you head to Paso!
1. Tooth And Nail Winery
I personally think Tooth and Nail Winery is the best winery in Paso Robles. I mean, it's a freaking castle after all!!! Yes, a castle! With moat! Quick back story: it was built by some fabulous rich guy who threw massive house parties (I would too if I owned a castle) and he eventually sold it to Tooth and Nail, who transformed the property into an epic winery AND restaurant.
From the rooftop, you can see rolling hills for miles while sipping wine or dining on homemade tater tots (I'm still low-key drooling over those.) In the summer there's live music at night, it's a whole party. I recommend snagging the last tasting of the day and then staying for dinner.
2. Booker Winery
Booker is really cool and pretty. You simply must come ere for lunch one day and book their vineyard picnic experience. Guests load up for Kawasaki Mule ride out to the vineyard to enjoy a bottle of wine and cheese plate under the shade of a tree. If you're looking for a traditional tasting, you can stick around their modern tasting room (which has 360-degree views) for a flight. You simply must try their Vertigo, which is a tasty Syrah-heavy blend. After your tasting, play a couple of rounds of bocce ball.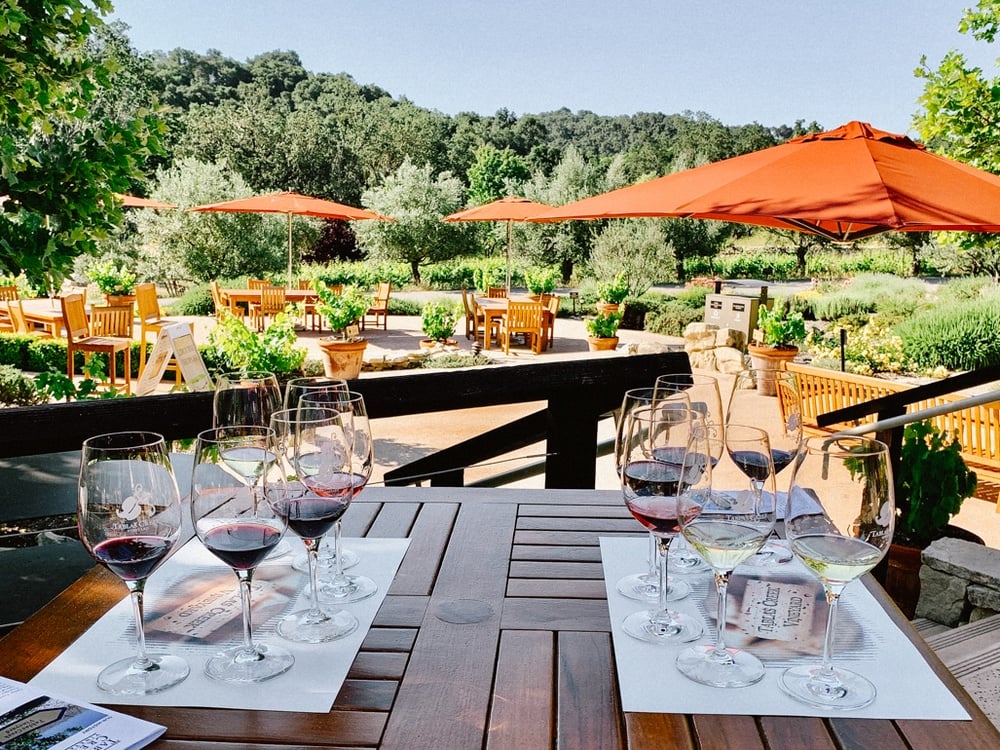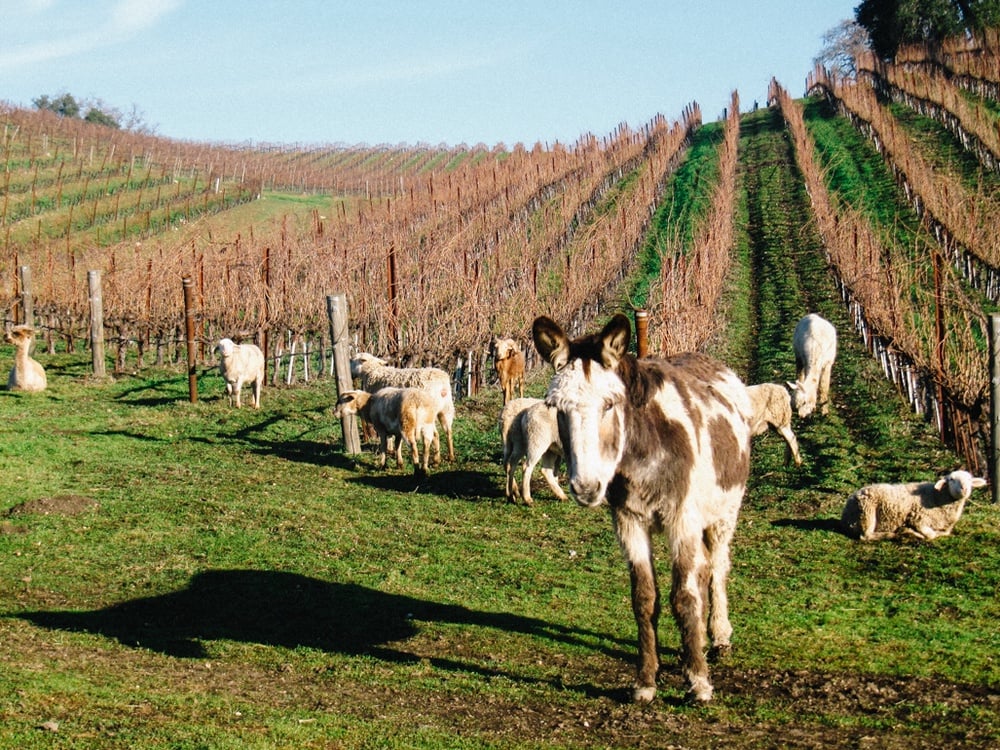 3. Tablas Creek Vineyards
Tablas Creek is a legendary family-owned Paso Robles winery and it's super special for a few reasons. First off, the guys behind Tablas Creek are basically the founding fathers of Paso Robles as a wine destination. Robert Haas, Jean-Pierre and François Perrin were key in putting Paso on the California wine map by not only importing vines that weren't available in California but also by sharing vine grafts with other winemakers and producers. Instead of keeping it to themselves, they saw the value of sharing the vines.
That alone is enough reason to visit, but Tablas Creek is also a fun wine tasting scene with a large outdoor patio and – wait for it – sheep and alpacas grazing about! How cool is that?! If you're lucky, you may even get to snuggle the wine dog, Sadie.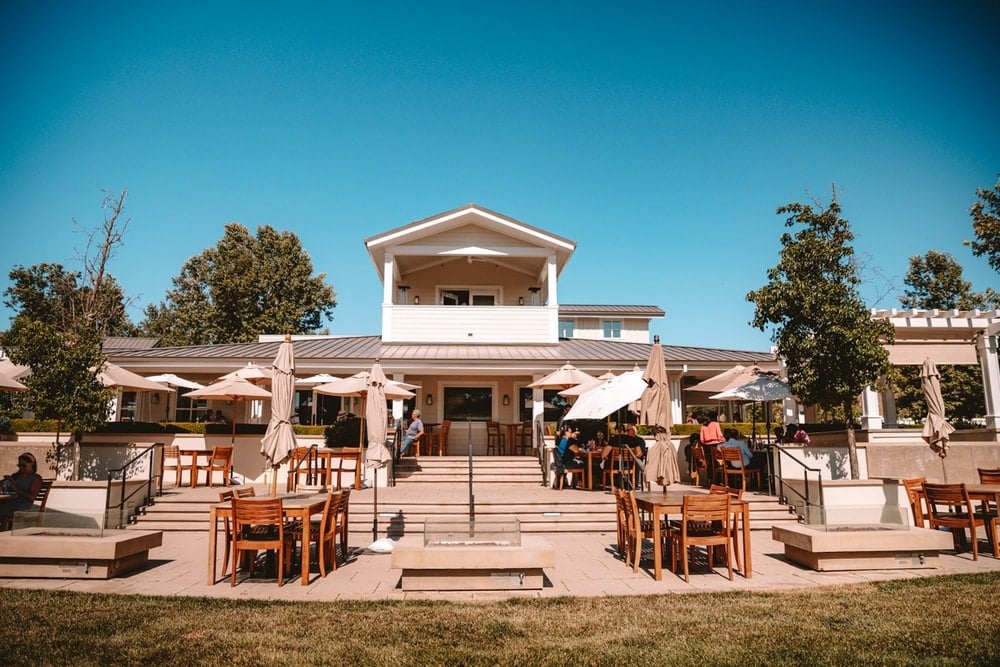 4. Justin Winery Paso Robles
I swear to shoes, you need to make sure to schedule a tasting at Justin Winery. I spent a night here at their Just Inn (more on that at the bottom of the post in the hotels section) so I got to spend a good 24 hours on the vineyard and totally fell in love. Justin is one of the best Paso Robles wineries for a few reasons.
First, the wine is fantastic. I recommend doing the Premium Flight, which is pricer but absolutely worth it to sample their Isosceles Reserve wine (which retails for $690 a bottle. It's fancy AF!) Ask for a table outside near the vineyards so you can watch the hawks soar above the vines.
Justin is also really special because the winery itself is just really really romantic. It oozes upscale yet approachable farmhouse vibes with a vegetable garden and flowers everywhere. And, if you're lucky, you can spot one of the wine cats roaming about. If you can't make it out to the countryside, they also have a downtown Paso Robles wine tasting room (but the winery is better.)
5. Rava Wines
If you like sparkling wines, come to Rava! Not only is this vineyard so dang romantic (they host a lot of weddings here) but they make out of this world sparkling wines. Tastings are only $20 here, too, which is much more affordable a lot of other Paso Robles wineries.
If you've never done a sparkling wine tour before, I suggest you book a tasting tour. Sparkling wine is made in a very different process than non-sparkling wines, so it's really fun to learn about riddling and the whole process. I loved my tours at Korbel in Guerneville and Mumm on the Silverado Trail – two other fun tours if you're ever in Northern California!
6. Epoch Estate Wines
Tucked on York Mountain between Eucalyptus and Redwood trees, Epoch Estate Winery is a dang beautiful vineyard. The tasting room is the perfect balance of industrial chic with tall windows to bring in natural light, and also outdoor seating. All of their wines are 100% estate grown and while they're constantly switching up the tasting menu, expect a Rosé, Syrah and at least one red blend.
Epoch has picnic tables and allows you to bring outside food! Use my picnic aesthetic guide to pack yourself a gram-worthy picnic at the winery. They're also dog friendly, so bring the pup!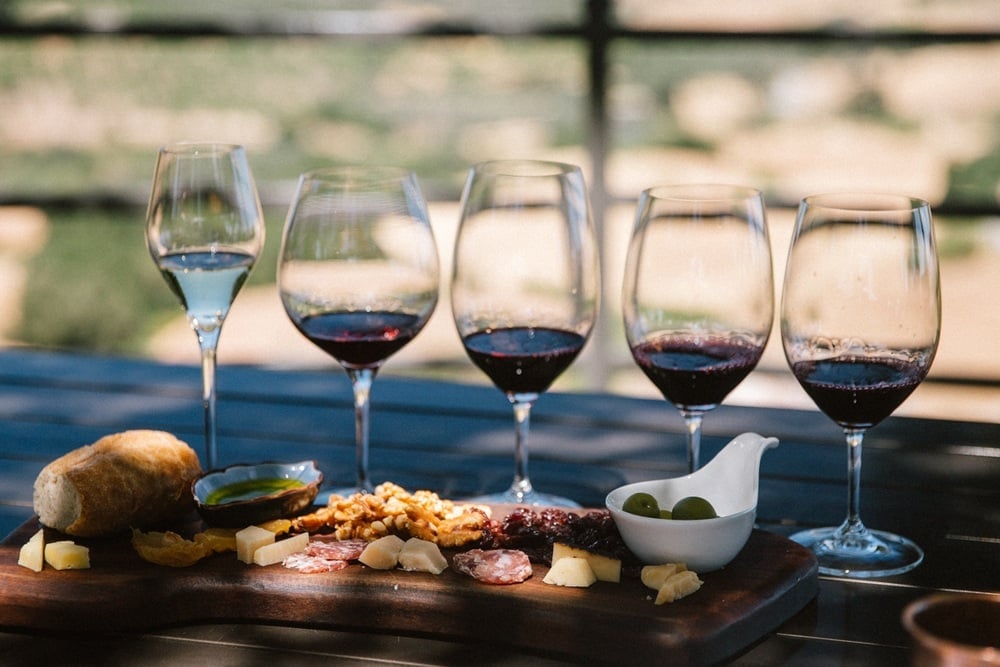 7. Adelaida Vineyards
I think the best wineries in Paso Robles are the ones with epic views AND epic wines. Adelaida Vineyards knocks both out of the park. I loved their Zinfiedal so much, I took a bottle home to my husband!
Adelaida offers a standard seating tasting at their tasting room but I recommend you book the Hilltop experience. Jump in a van that will drive you up and up and up to the highest elevation in Paso Robles. Stroll over to a private table with a massive cheese board (complete with some of their estate-grown walnuts) and soak up sweeping views while tasting wine. On a clear day, you can even see the tops of two Big Sur mountains from up there! It's absolutely stunning.
8. Peachy Canyon
Two words: wine cat. If you follow me on Instagram, you know I'm a crazy cat lady and if there's a cat (or a dog!) that lives at a winery, I will go to that winery just to get fluffy pets. Peaches is a big Maine Coon kitty that lives at Peachy Canyon winery. But even if you don't like cats, you still need to visit Peachy Canyon.
Wine Spectator magazine ranked their wines as one of the top 100 wineries in the world but it's not pretentious– it's family owned and really laid back. Tasting happen in the Old Bethel School House which dates back to 1886! Peachy Canyon is best known for Zinfiendial and small-batch Rhone & Bordeaux varietals but have many varieties if those aren't your thing.
Pro tip:
this fall, head to
Apple Hill
near Sacramento for apple picking, of course, but also stop by Lava Cap Winery to pet Mr. Kitty!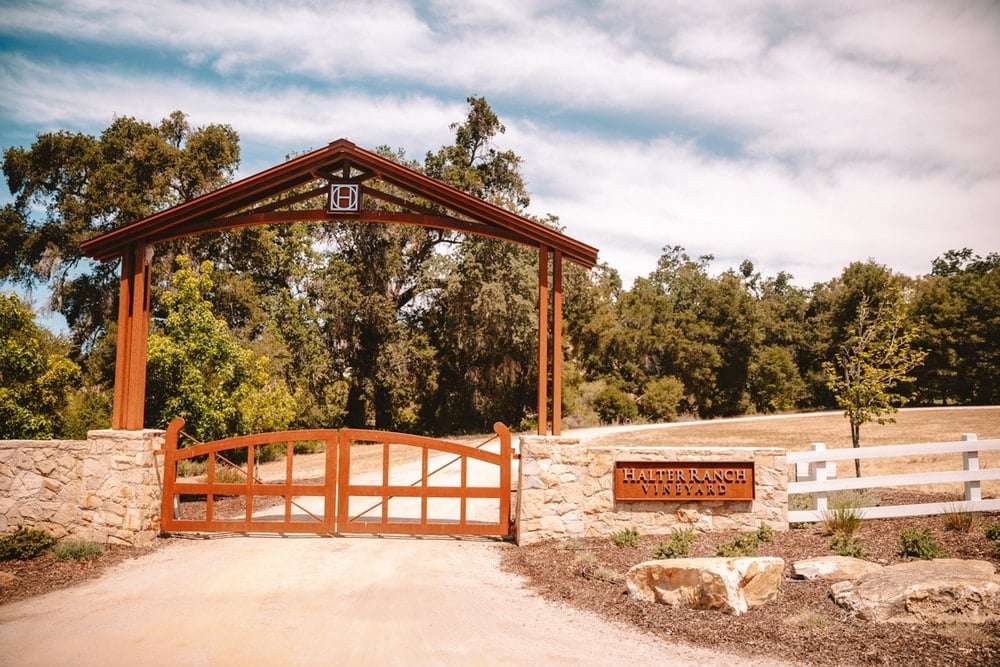 9. Halter Ranch Vineyard
You are going to swoon over Halter Ranch's cab and their serene vineyard views. The Halter Ranch Vineyard sits on top of a hill and the tasting room has floor-to-ceiling windows. It's best to come here for a lunchtime tasting, as Halter offers a tasty AF locally sourced lunch menu every day. (Think mouth-watering burgers, cheesy flatbreads, etc.) Otherwise, a tasting is $35 to sample their award-winning wines.
While Halter doesn't offer olive oil tastings, they do have a small grove of olive trees and thus produce small batches of EVOO! You can shop it at the winery when you visit.
Pro tip: Make sure to ask to be taken to the Halter Ranch Ancient Tree, which is about 600-700 years old!
10. Opolo Vineyards
Opolo is totally one of the other top wineries in Paso Robles. I found it really hard to leave, I could have spent hours at their adorable tasting toom! It's all open-air under a barn-like roof with string lights, heat lamps, and patio seating. We came for lunch and I got to try cevapi sausage for the first time (NOM!)
Opolo is known for their Mountain Zinfandel but make sure you also ask to try their Merlot. I know, I know – Sideways ruined Merlot for a whole generation, but this one is bangin', I promise!
Ok, so we got a cute tasting room, great wines and good food — but that's not all! Willow Creek Distillery is also on the Opolo property, specializing in brandy, Grappa and liqueurs. There's also a walnut grove and a winery inn here, so if you wanted to spend a night sleeping next to Opolo Vineyards, you totally can.
11. Jada Vineyard & Winery
Tucked in the Willow Creek District AVA in the Templeton Gap, Jada Vineyards has tons of chalky soil, which means they make dang tasty premium Rhônes and Bordeaux blends. You'll love the tasting room on this biodynamic vineyard, too.
It's mostly outdoors on a patio overlooking vineyards and trees. In the fall, some of those trees turn beautiful reds, oranges and yellows for an even more magical Paso wine tasting. A cheese and wine pairing is only $35 here (a steal compared to Napa Valley prices!). Plus, Jada is super dog friendly, so if you have a pup go to Epoch and then here for the perfect family wine tasting weekend!
Those are my 11 top favorite wineries of the moment that you can't go wrong booking a tasting at! I'll be updating this post every time I visit Paso Robles in the future (I'm already hooked) so this list may get longer in the future. There are over 300+ wineries down there so I'm sure some hidden gems are still waiting to be found.
But, as promised, here is a quick list breakdown of Paso Robles wine tasting based on specific elements, like good food, dog-friendly spots, Instagram-worthy wineries, etc. I haven't been to all the wineries listed below, but they're on my bucket list!
Paso Robles Wineries With The Best Views
Most wineries will have some sort of view situation going on, but it may just be a ground patio looking at vines. If you're on the hunt for THE VIEW, the one hat makes you feel like a queen perched on her throne overlooking all of Paso Robles, then pick from the list below:
Pro tip:
If you're on the hunt for fun Instagram photos during your trip, head to
Sculpterra Winery and Sculpture Garden
! They have tons of art on the property for unique wine tasting photos.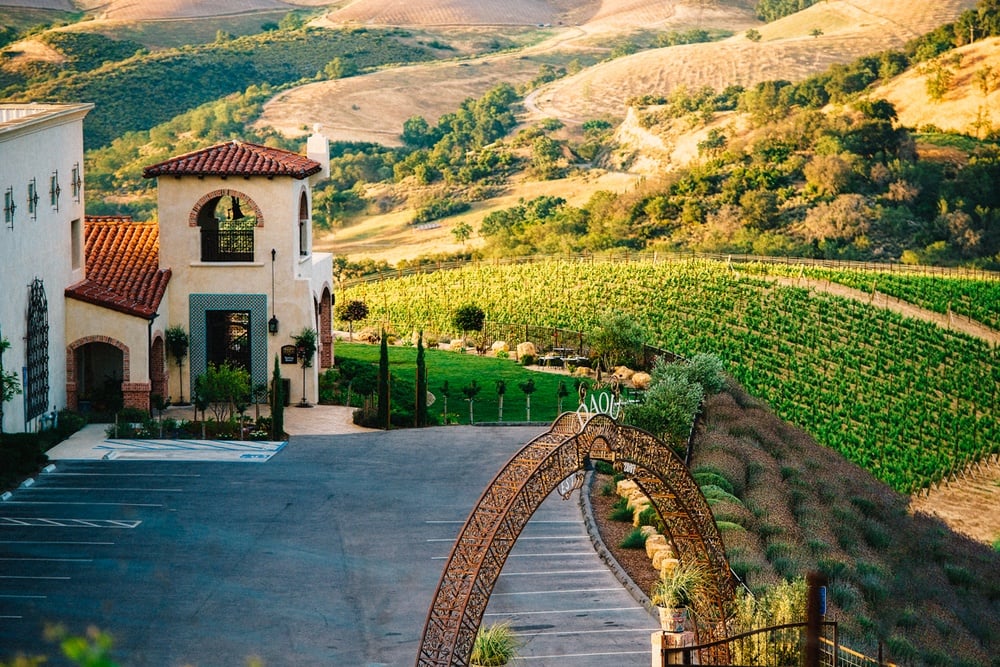 Best Paso Robles Wineries With Food
This was hard to narrow down for you since almost all the wineries had to start offering food to stay open in 2020 and most have just kept that food offering, even if it's just a cheese plate. But, the wineries below are the ones that make my foodie heart sing:
Best Paso Robles Wine Tasting With Picnic Areas
As a seasoned wine taster, one of my go-to travel hacks is packing tons of car snacks and a picnic cheese plate in the car. I try to book a winery with food pairings or a picnic table around lunchtime to keep me fueled with all the wine (But sometimes a girl just has to shove a bunch of bread in her mouth while driving to the next tasting – ha!) These are some great wineries with picnic options if you need them:
Epoch: Super picnic-friendly! Choose from a patio or courtyard seating. While tastings have to stay indoors right now, you should plan on buying a bottle of wine to pair with your lunch.
Still Waters Vineyards: These guys are awesome. Some wineries are weird about you bringing in outside food, but Still Waters actually encourages you to support a local restaurant and bring your to-go order to thier lawn to enjoy with wine.
ONX Winery: Bring your own picnic or purchase a hand-packed picnic basket at the winery to enjoy under the trees alongside a bottle of wine.
What Paso Robles Wineries Allow Dogs?
Considering most Paso Robles vineyards now offering outdoor seating after 2020, I find it a bit sad more Paso wineries still aren't allowing dogs. But there are some great winery options you can bring your pup to. Every winery has slightly different rules but most of them need advanced notice of your dog, so keep that in mind.
Tobin James Cellars: Tobin James is a funky little gem with a few different outdoor seating types (seated, picnic tables, lawn.) Dogs must be on leash and kept to the picnic area but totally welcome!
Epoch: Your pup will have plenty
of napping spots and even water bowls here!
Jada: They're super dog-friendly here and advertise that dogs are welcome front and center on their website. Just let them know before you arrive that you have a dog so they can save an outdoor table for you!
Bon Niche Cellars: A woman-owned winery for the win! They're also dog friendly and even have Barley, the Bon Niche Cellars wine dog ready for tummy rubs.
Best Paso Robles Wineries With Lodging
One thing that makes Paso Robles stand out as a wine region in California is there are actually a lot of wineries that also have little hotels. Maybe I'm totally oblivious, but I don't really see guest houses at the vineyards in Napa or Healdsburg. These are all the best Paso Robles wineries hotels you can book a stay at!
Looking for a standard hotel?
I loved my stay at
Allegretto Resort!
It oozes Tuscany vibes, has a charming garden and a great restaurant on-site for dinner after a long day of vineyard hopping.
I Don't Want To Drive. What Are The Best Downtown Paso Robles Wineries
Whether you don't have a car or aren't in the mood to DD for the day, don't worry! There are some cute and noteworthy wineries in Downtown Paso Robles, along with a few on the outskirts of town that you can walk to or catch a cheap uber to.
Indigené Cellars: Tucked in a little alleyway a block off the square is Indigené Cellars tasting room! This Black-Owned winery is known for their awarding-winning Cab and Tuscan blend. I suggest booking a 5pm tasting and then walk over to dinner after! They also have a great wine club are are one of the best small wineries in Paso Robles.
Justin Tasting Room: If you can't make it out to Justin winery either for a tasting or to stay at their inn, you can still try their wines at the downtown tasting room right on the square!
Broken Earth Winery: A little further from downtown (you'll have to walk, bike or take an uber over) but it's worth the small trek for their Sunday live music and tastings!
Iron Oaks Winery: A few blocks off the square, this tasting room is known for ulta friendly vibes and good wines. You can get a $10 tasting or wine by the glass!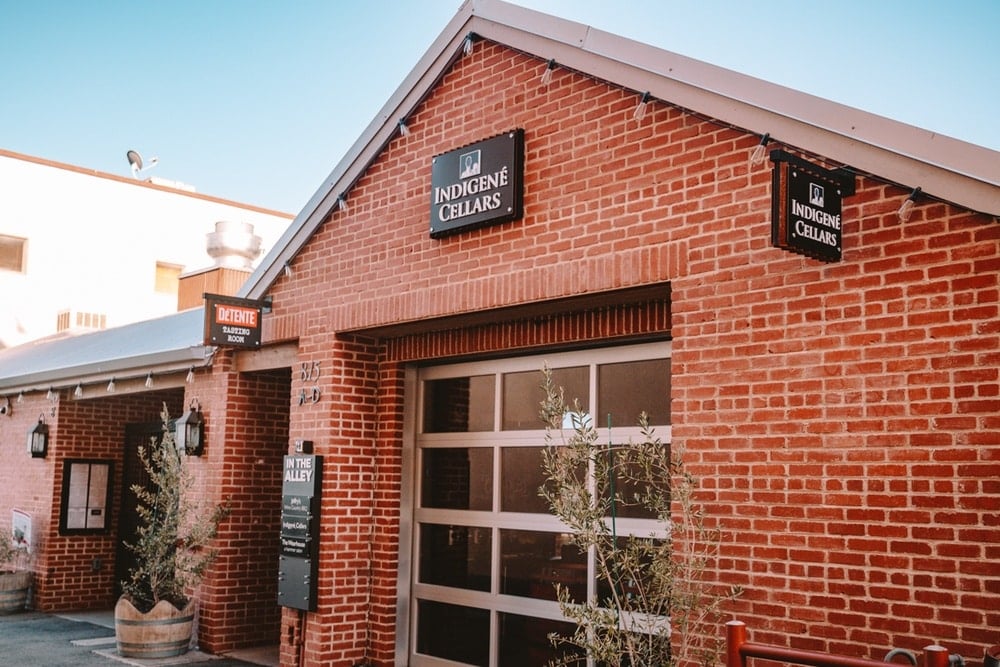 Should I Book Paso Robles Wine Tasting Group Tours?
Personally? I'm never a fan of guided tours. I've done a few in various wine country regions around the state and they simply just are never as fun or relaxing as going at it alone. The main benefit of a tour is you'll have someone to drive you around, but otherwise, I find the tours don't always take you to the wineries I would prefer to visit, and they rush you to get through fast. Plus, sometimes you have to taste with strangers.
There is the Wine Wrangler tour group if you are set on a guided tour. But I think it's better to tour Paso Robles on your own. Go your own speed!
How About Paso Robles Wine Tours At The Winery?
Yes! These are always fun. If you've never done a wine tasting tour at a vineyard before, make sure to book one, usually best towards the beginning of your trip. They'll get you out of the tasting rooms and into the wine-making process. Sometimes this is a cave or a wine storage room. You'll learn how award-winning wines are made
A few great Paso Robles wine tasting tour experiences are:

Are Paso Robles Wineries Open?
Yup! The panny was rough for everyone, and on top of the California wildfires, for a moment there a lot of wineries near Paso Robles were closed. But they are back open for business! But, many of them started requiring reservations during the panny and now are keeping that system, so make your bookings ahead of time.
What Is There To Do In Downtown Paso Robles?
More wine tasting, that's for sure! You can use the list above for the best walkable tasting rooms. But if you're anything like me, after a long day of winery visits, I need to cool it on the wine. Thankfully, Downtown Paso Robles is full of cute shops, amazing restaurants and even some unique bars for a cocktail or two. There's also some great Paso Robles breweries! Here's the top highlights:
I hope you make it down to this underrated California wine country! If your favorite spot didn't make this Paso Robles wineries list, drop their name below so everyone can see!
If you're coming from Northern California, you'll probably take Hwy 101 as it's the fastest route. But if you have some time to spare, head to the Pacific Coast Highway on your way home and swing by Big Sur to go camping, then Carmel-by-the-sea for even more romance and tasty AF dining.
If you're from Southern California, you must spend a few days in Santa Barbara on your way back home. I adore that cute coastal town so dang much! They have a unique wine scene in town in the Funk Zone district (think shipping containers, street art, local wine, food, etc).