I've said it once, I'll say it again… West Texas is magic ✨There's just something about it that I love and makes me visit over and over again.
And it really is so surprising how many things to do in Big Bend National Park there are (and the surrounding areas) considering how remote it is.
I visited for the first time in 2019 on a spontaneous birthday camping trip with my then very new boyfriend. Traveling with a new boyfriend is always tricky, but I had been wanting to visit for forever and I finally found someone to go with me. But don't worry, it all worked out!
We went for 4 days in the spring and it was the perfect time to explore Big Bend.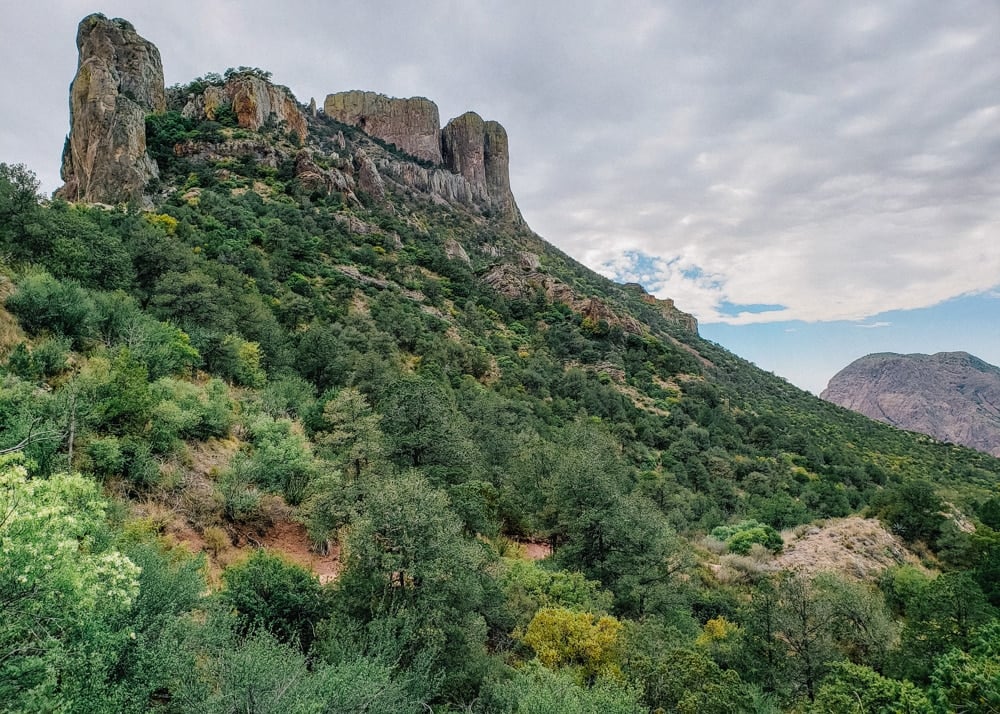 Big Bend National Park At A Glance
Location: West Texas, about 4.5 hours south of El Paso, TX
Advanced Reservations: There's no limit to the number of visitors to the park, so no reservation required unless you're camping! Entrance fees are between $15-30.
Known For: It's sweet isolation, dark night skies, Santa Elena Canyon (so pretty!) and so much hiking!
Best Season To Visit: Spring and Fall (it's the desert!)
Cell Service: None (so download things in advance!)
Alerts: Roads and trails can close due to flooding/bad weather so be sure to check the website before visiting!
Some fun background: I also used to do PR for Travel Texas. (That's why I wanted to visit so bad)! I was sharing all the best that Texas (including Big Bend National Park) has to offer, and wanted to see it for myself.
All that to say, I have a fair amount of knowledge about the area, and am happy to share so you can experience for yourself.
Just one thing, as always please respect the rules of the park. Leave no trace, stay on the designated trails and all that important stuff! Now, let's get into it.
Best Places To Stay in Big Bend
Camping in Big Bend National Park
To get the full experience, I highly recommend camping in the park! The best (in my opinion) campground is the Chisos Basin Campground. The first time we visited in 2019, reservations weren't available and the sites were first come first serve.
Our friends recommended getting there early as possible to snag a campsite at Chisos Basin. Due to travel time (about 6 hours from Austin), we arrived in the evening and didn't make the cut.
We stayed at the Rio Grande Village Campground for the first night, and it was pretty windy throughout the night plus it's on the east side of the park which is kind of far from the main attractions/hikes. Chisos Basin is also probably the most practical in the center of the park.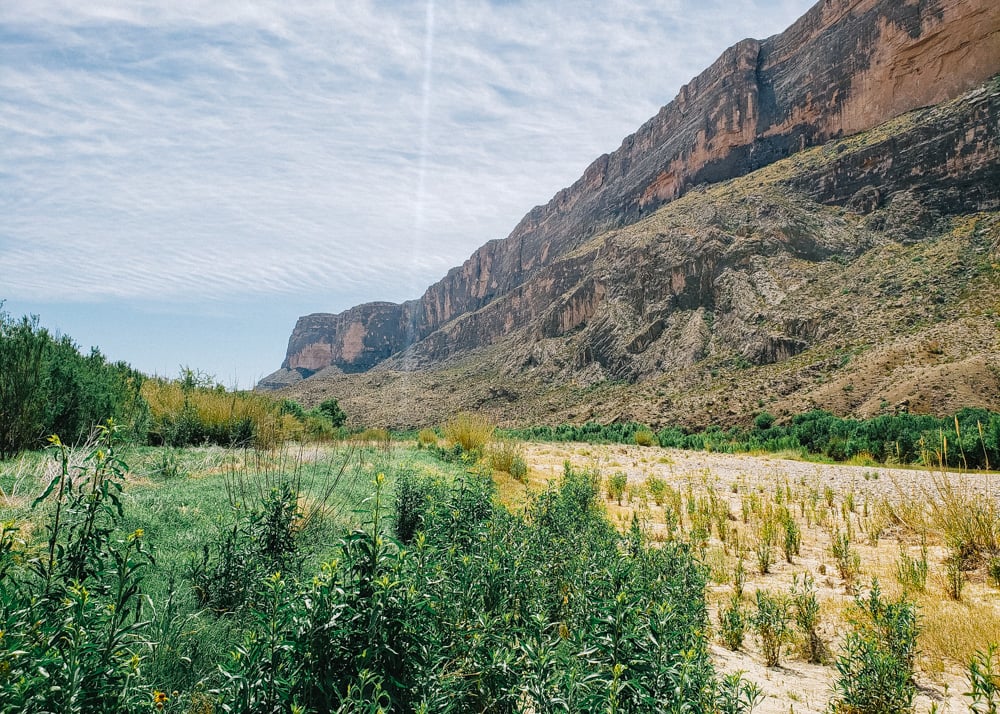 So we woke up early to get into Chisos Basin by 8 a.m. the next day. (Again, this was when it was first come, first serve! Now you're required to book campsites ahead of time!)
The park is huge so the central location was perfect for visiting all parts of Big Bend National Park. Plus it made for the most beautiful views from our tent.
If alllll the camping sites are booked at Big Bend National Park, I recommend checking out Big Bend Ranch State Park. It's the state park right next to Big Bend National Park, and I promise you won't be disappointed. I'm completely biased, but Texas State Parks are the best.
3 Cool Spot For Glamping in Big Bend
If camping isn't your thing, but you still want to sleep under the stars… there's plenty of places for glamping near Big Bend National Park – I share 3 below! And the first on the list, I recently crossed off my own bucket list.
The only thing is if you're not staying in the park, expect a bit of a drive to the park. It's like they say, everything is bigger in Texas, including Big Bend, but you'll be driving around the park either way. And the first on the list, I recently crossed off my own bucket list.
1. El Cosmico
Located about an hour outside the park in Marfa, TX, El Cosmico is a super fun and popular campground with lots of different glamping options. BUT you gotta book early because they sell out!
The best part? For me at least…it's dog friendly! We stayed in one of the Medium Trailers with our pup, Cody, and it was so fun! Next time, we want to book a Yurt or Teepee. It's seriously so cute, and the campgrounds have pretty much everything you need for some R&R.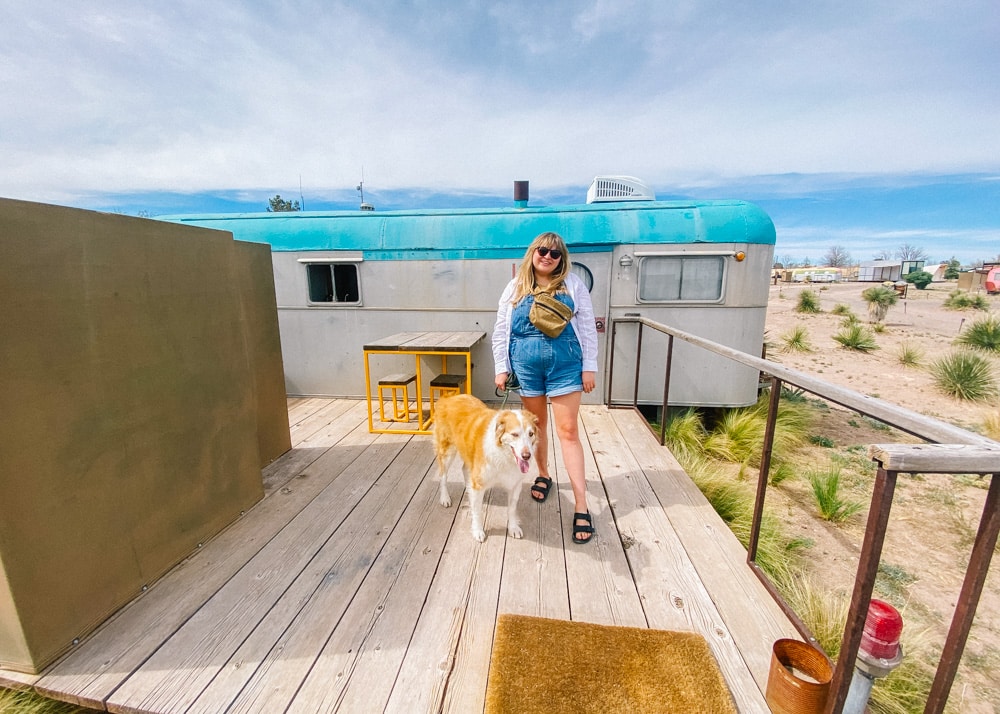 We even got to experience some live music in the evenings – an homage to the Trans-Pecos Festival of Music + Love that's held at El Cosmico. Speaking of music festivals, if those are your thing, check out our list of 22 Top Rated US Music Festivals!
2. Summit at Big Bend
I won't lie, this is one I found upon searching for the best glamping spots near Big Bend National Park, but now I need to visit. Summit at Big Bend has so many stay options including luxury caves 🤯and stargazing domes.
It's situated right between the national and state parks, so you can head either way when you're ready to explore.
3. Camp Elena
Camp Elena is a retreat located just outside the Terlingua Ghost Town which is northwest of Big Bend National Park (a short 10ish minute drive away). Terlingua, Texas is on the must visit places on my list (more on that later), so definitely not a bad place to stay.
It is constantly rates as one of the best places to glamp in Texas.
One downside is they have a strict no pet policy… whomp whomp! The accommodations look absolutely beautiful with luxury tents with tons of amenities (including Starlink wifi) that anyone would be happy to stay in.
Best Hotels near Big Bend
1. The Gage Hotel
The Gage Hotel is a pretty iconic hotel in Marathon, Texas with tons of accommodation options. The decor is very western and rustic so definitely puts you in the right vibe for Big Bend country.
There's not much in Marathon, but at the very least the White Buffalo Bar at The Gage Hotel is worth a stop for a margarita! We swung by on our very first visit after I read it was the best margarita ever. One of those insanely classic Texas margaritas that hit the spot on a hot day.
2. Eve's Garden Bed and Breakfast
For a super unique stay, you have to check out Eve's Garden Bed and Breakfast in Marathon. It's also an organic ecology center and filled with beautiful gardens that bloom year-round. The whole place is brightly colored – the rooms to match!
It's the perfect place for the girls' getaway or yoga retreat of my dreams. I love the look of the Reflection Pond / Summer-Time Solar Heated Lap Pool – feels so zen!
Overall, Eve is just a beautiful escape, and the perfect place to rest your head after a long day of hiking in Big Bend National Park.
3. Hotel Saint George
A little bit further away in Marfa, Hotel Saint George has been open since 1886, but it's been completely renovated with a modern, industrial feel. The onsite bar and restaurant is very good, and the pool is amazing! So if you're looking for somewhere modern with all the amenities you'd expect at a hotel, this is the place!
When we visited Marfa most recently, we spent an evening at their pool/hot tub and it was so dreamy. At the time, they were open to the public for free on weeknight evenings so we had to stop by!
4. The Hotel Paisano
The Hotel Paisano's claim to fame is it served as the base of operations for the film crew of The Giant in 1955. The film crew and stars stayed there including James Dean, Elizabeth Taylor, Rock Hudson, Sal Mineo, Chill Wills, Jane Withers and more!
You can even book the James Dean Room or Elizabeth Taylor Suite! Super cool! But the thing you have to know is it was originally built in the 1930s, so it's got history, and the general decor/rooms are fairly dated.
We actually had dinner at the onsite restaurant, Jett's Grill during our last visit. I had the humongous chicken fried steak, and really loved the jalapeno cream gravy topped with pistachios. There's definitely enough to share, but also makes for great leftovers!
5. Chisos Mountains Lodge
If you still want to stay in the park, but not camp, your best option is Chisos Mountains Lodge. That said, it can book quickly.
It's right by my favorite campsite and the accommodations are fairly basic. Everything you need to rest and relax after a long day exploring Big Bend National Park.
What To Pack For A Trip To Big Bend National Park
Whether you're hiking Big Bend National Park, or driving around the park to see the sites, you need to pack lots of water, snacks and some hiking basics. You're in a fairly remote area of Texas, so it's always good to have some necessities in case you get stuck.
Water bottle (you'll want something that keeps your water cold!)
Snacks and extra water!
Jacket (depending on what time of year you visit, but it get cooler in the evenings)
Hiking boots or sandals
Hiking socks ( I like the Darn Tough brand!)
Swim suit (for the hot springs!)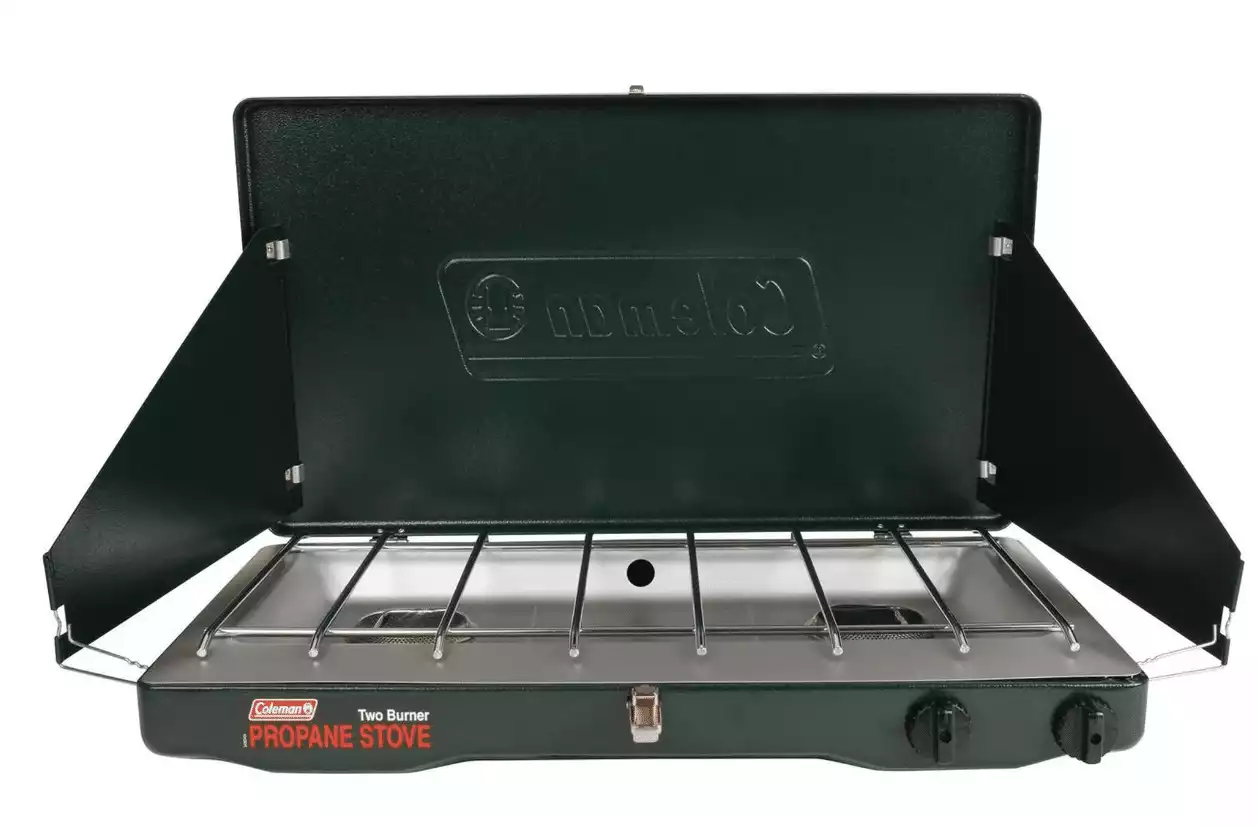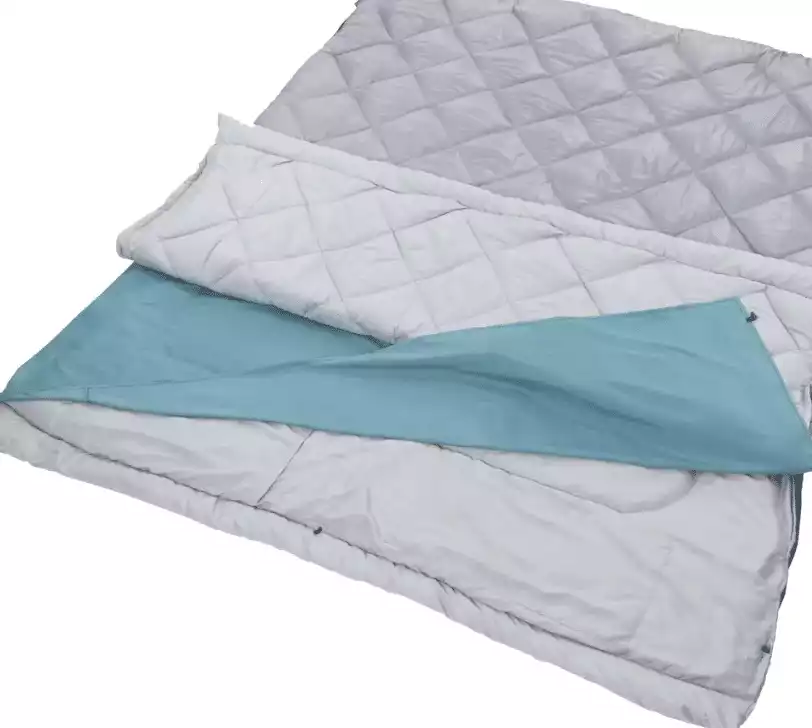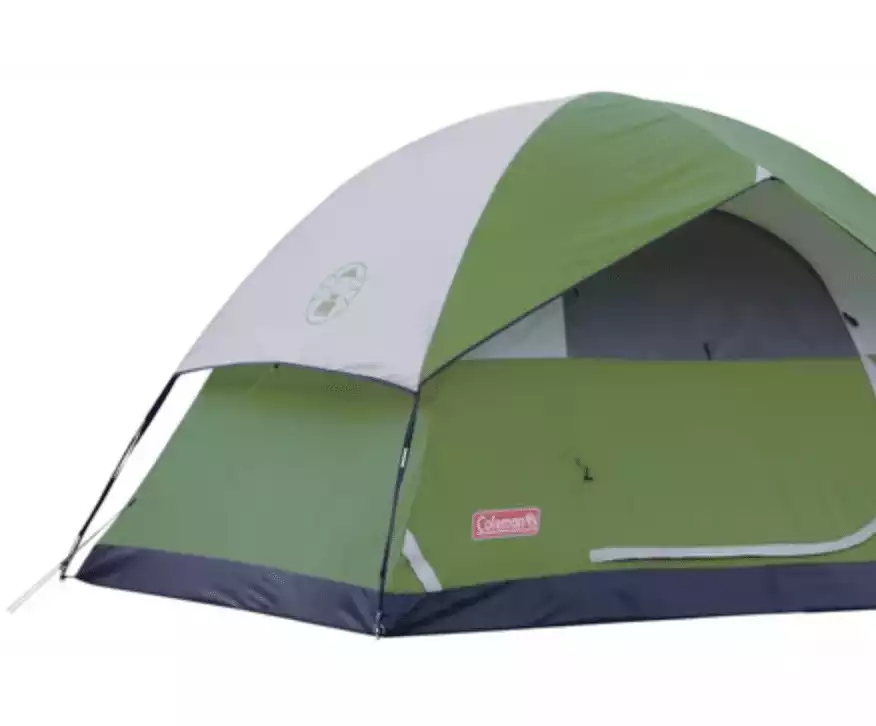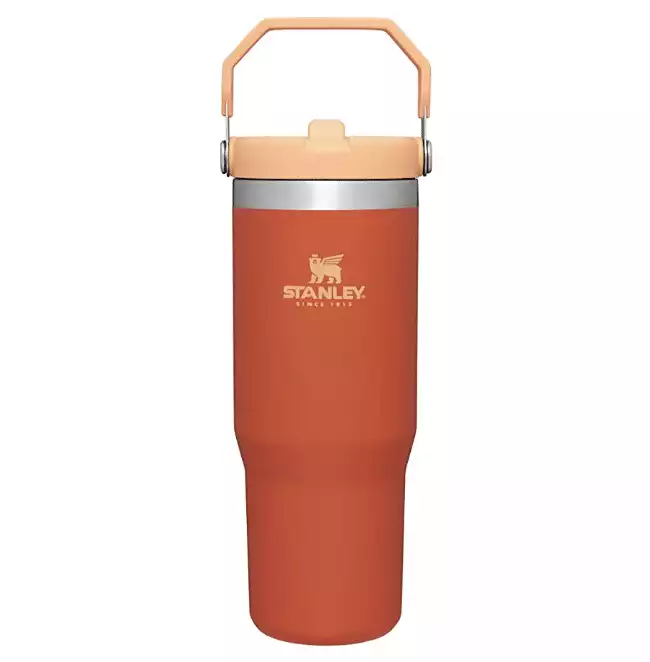 Stanley Tumbler
Stanley PMI makes amazing waterbottles and tumblers for camping, travel and daily living.
Buy Now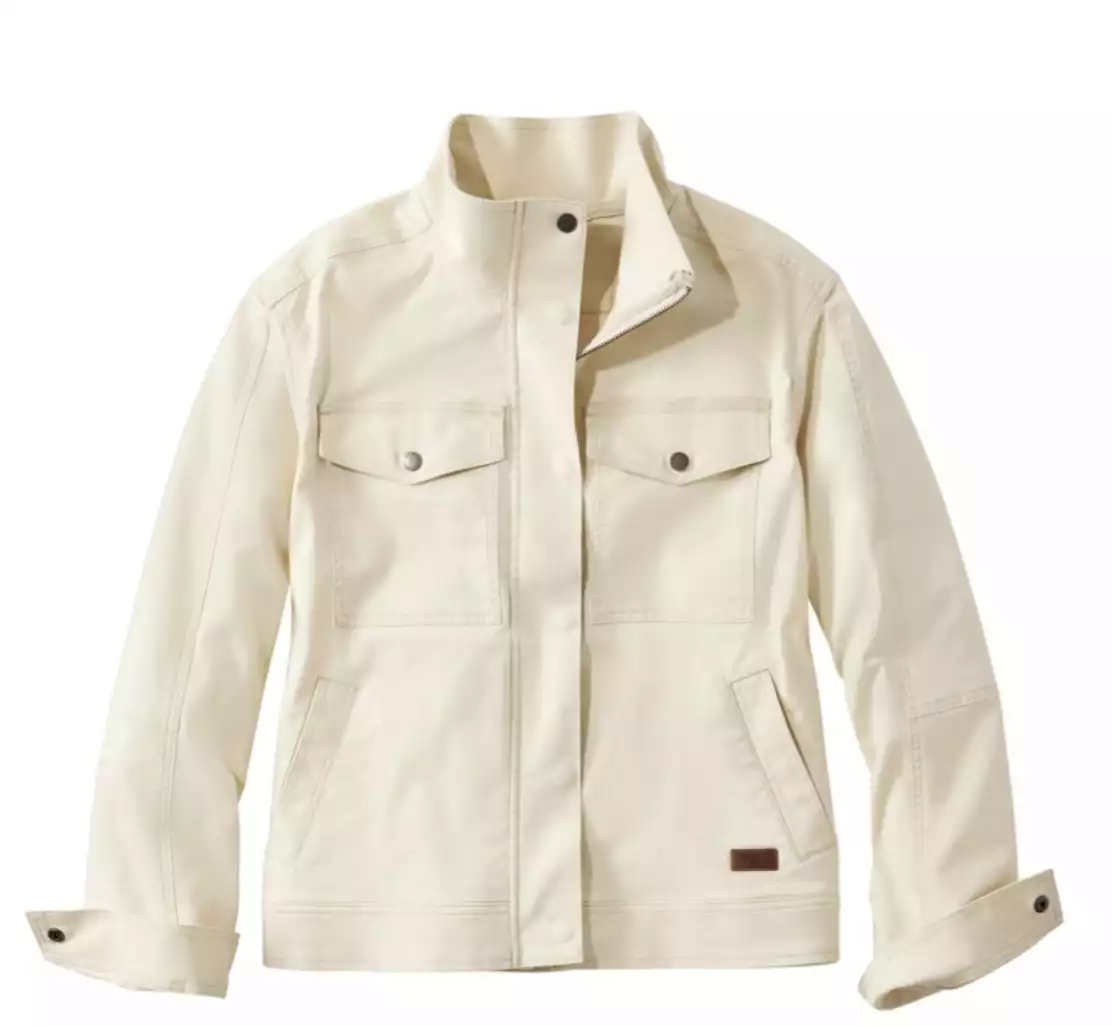 Women's Utility Jacket
The softest, most comfortable utility jacket in a shorter length perfect for layering and style designed to wear with everything (especially camping and hikes!)
Buy Now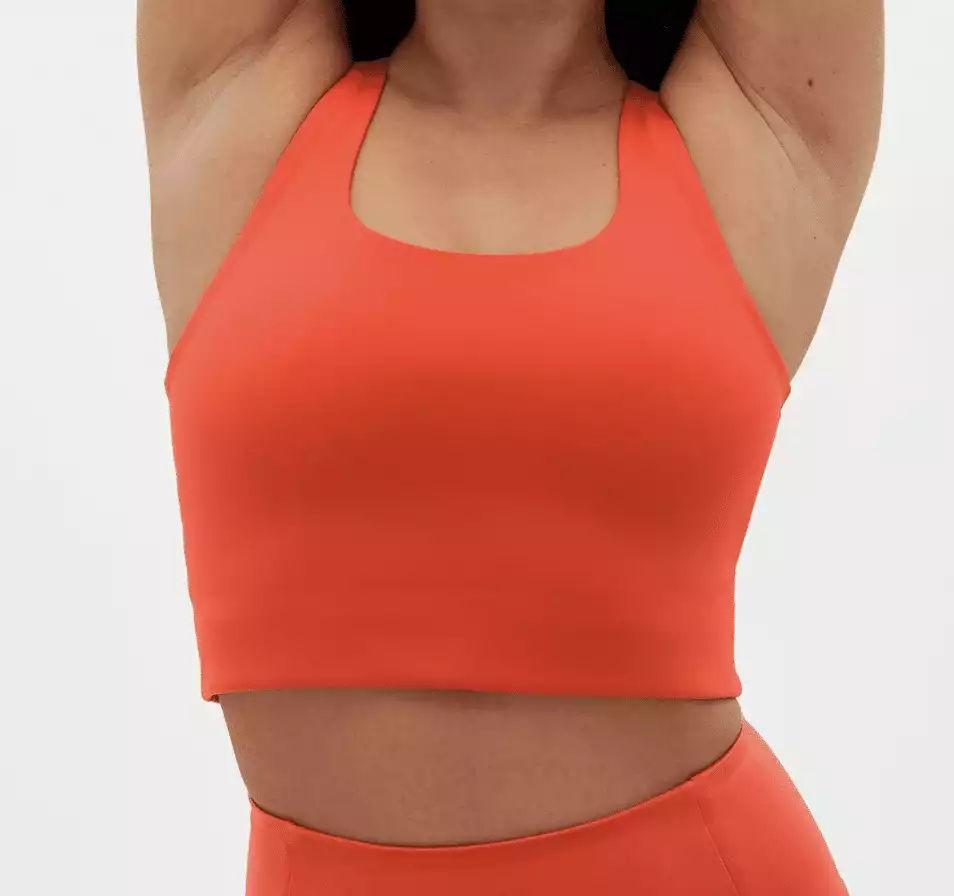 Girlfriend Paloma Racerback Bra
Girlfriend is our favorite activewear brand. They're size inclusive, come in tons of colors and are super durable. The best thing to bring on trips, hikes, camping and daily wear
Buy Now
Those are just the basics! If you're camping, you'll need the usual tent, camping stove (this is our fave!) and a cooler filled with all your cooking needs. But the key thing you need for camping in Big Bend National Park is a solid sleeping bag.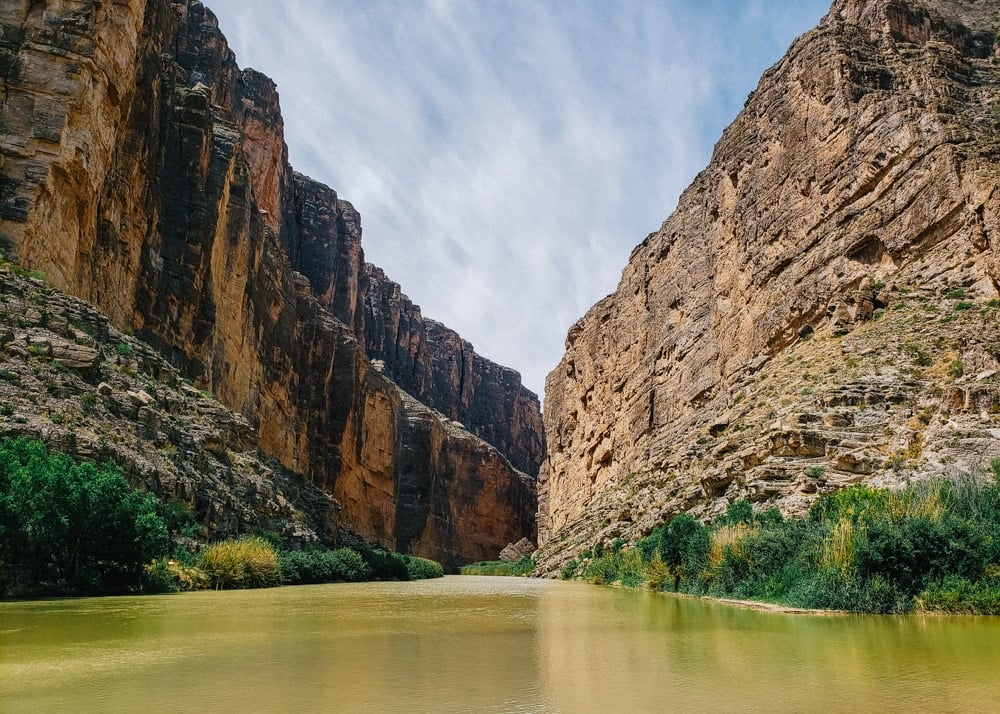 This is something we failed to purchase for any of our trips to West Texas because it gets pretty chilly at night no matter the time of year. So you'll need a sleeping bag that keeps you warm! We ended up buying an extra blanket at the park store, and that helped a lot! I have my eye on this tandem sleeping bag!
4 Day Big Bend National Park Itinerary: My Fave Things To Do In The Park & How To Plan Your Day
Alrighty, now onto the best part. My Ultimate Big Bend Itinerary that I have shared this itinerary with many Big Bend first timers, and used it myself!
I like to structure my non-travel days with a hike in the morning, a break in the afternoon (hence the hammock!) and the evening exploring other areas and things to do in Big Bend!
Day 1: Travel to Big Bend and Get Settled
Getting to Big Bend can be tricky. The closest "big city" to fly into is El Paso, but you can drive from wherever is best for you! I drove from Austin, TX and it's about 6.5 hours. This first travel day is kind of based on driving in from that direction, but you can definitely switch it up.
Leave as early as possible. Kara is the queen of early travel mornings, but I'm sadly not. We left around 9 a.m. from Austin and it was plenty of time to stop in Marathon at the White Buffalo Bar in The Gage Hotel for a margarita before arriving to set up camp.
If there's still sunlight left in the day, head to the Big Bend National Park Hot Springs. The actual tub area is only about a quarter mile walk from the trail head (less than a mile round trip), so we were able to just wear sandals and swimsuits.
And if you arrive even earlier, check out the Ross Maxwell Scenic Drive. You'll see all the sights like the Sotol Vista Overlook, Mule Ears Viewpoint and Old Maverick Road. End the night with a chill dinner at your campsite or home for evening to rest up for a full day tomorrow!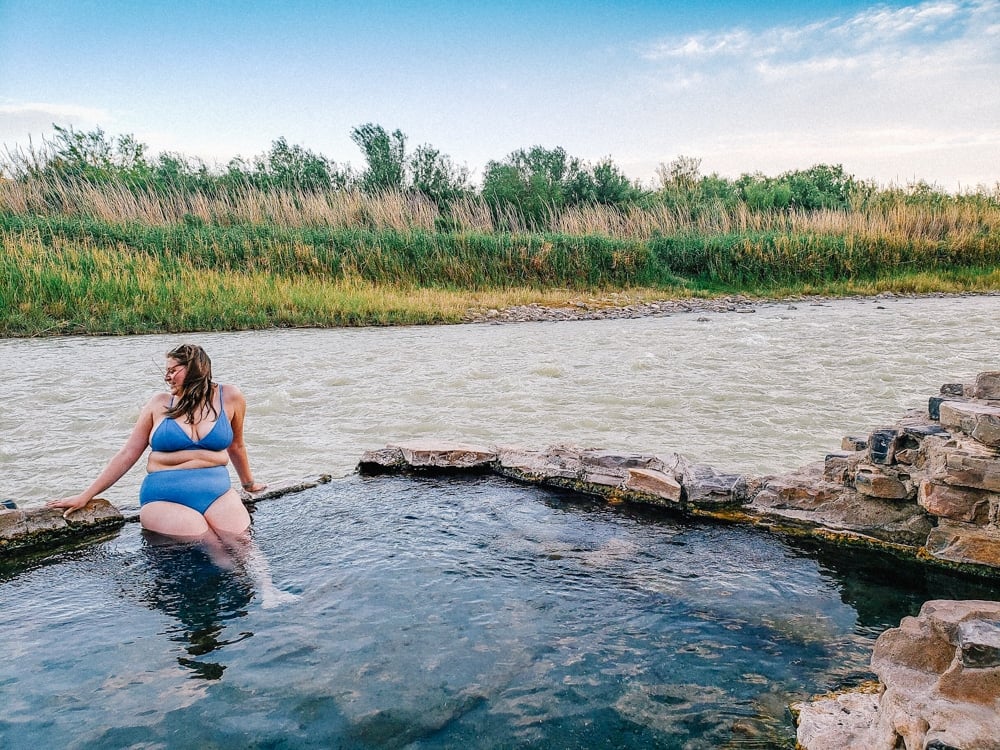 Day 2: Window Trail Hike and Terlingua
Get up as early as possible for breakfast (I love a good camp breakfast!) then head to the Window View Trail. The trail head is actually located right inside the Chisos Basin campground, so we were able to walk from our campsite and the hike was about 6 miles round trip. All Trails says 5.2, but I think we might have detoured a bit!
Pack a snack for the end of the trail at the namesake window. My favorite post-hike snack is a green apple – super refreshing and filling for the hike back. After the long hike, grab some lunch and take a nap at your campsite.
If you're traveling with kids, I recommend making a stop at the National Park Service visitor center area, and checking out the Fossil Discovery Exhibit!
When you're feeling refreshed, drive to Terlingua Ghost Town. It was a former mining town that was once the nation's leading producer of quicksilver. As you probably predicted, the production declined in the early 1930s.
Take a walk around the Terlingua Cemetery with graves from the early 1900s with stacked rock makeshift graves, and abandoned homes of the once booming mining community.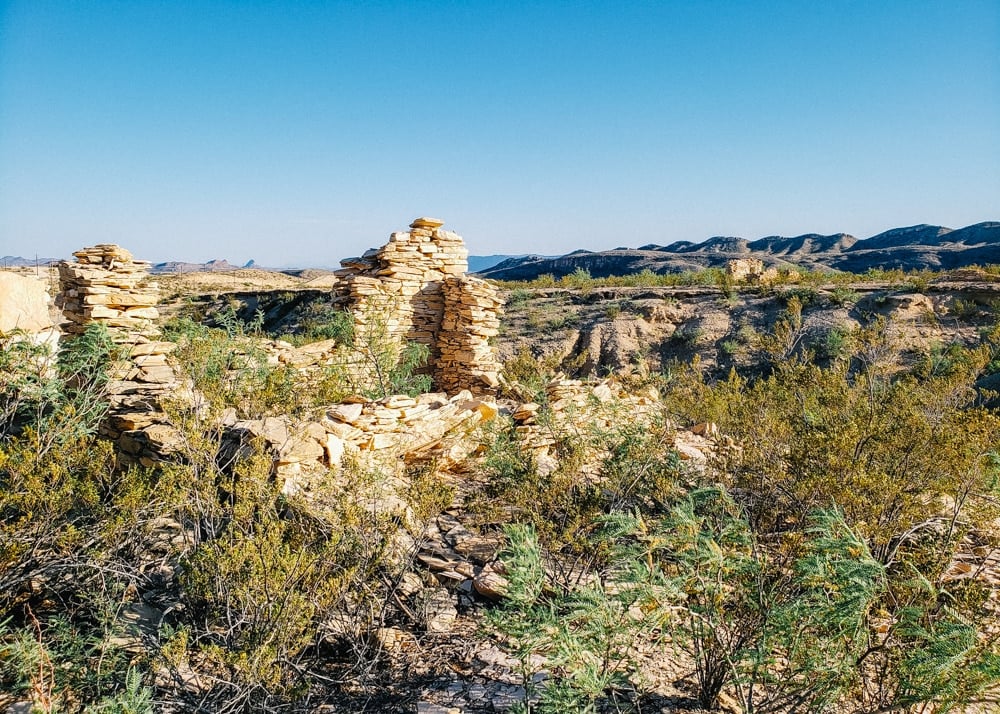 Last, but not least, head into "town" for dinner at Starlight Theatre. While you wait for a table (yes there was a wait, but no reservation needed!), grab a drink (I recommend the Prickly Pear Margarita) on the Porch and explore the Terlingua Trade Post next door.
Day 3: Santa Elena Canyon and Lost Mine Trail
This might be the best day. Two of my favorite places I visited in Big Bend were Santa Elena Canyon and Lost Mine Trail. I combined the two into one day because Santa Elena Canyon Trail isn't a big hike, and tried to fit as many things as possible into a day!
It's a pretty short walk to the canyon from the parking lot, and a big more to explore. But mostly you sit in awe of its beauty. Can't miss it!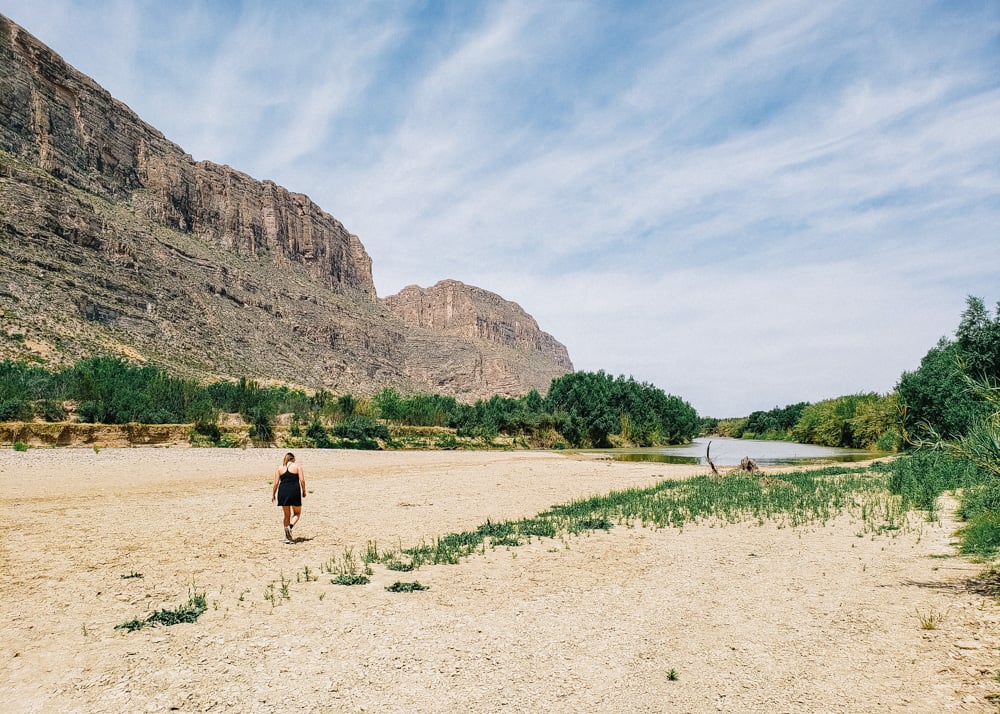 Pack a lunch or hefty snack to eat, and sit along the banks of the Canyon along the Rio Grande River before heading to Lost Mine Trail.
This is a pretty long hike (for me at least) about 5 miles round trip, but it was pretty steep/difficult. AllTrails lists as moderate, so take that as you will!
The view at the end and along the way is absolutely spectacular. I think about it often. It felt like we were on top of the world in this random place in West Texas. And don't forget to pack more snacks for the hike!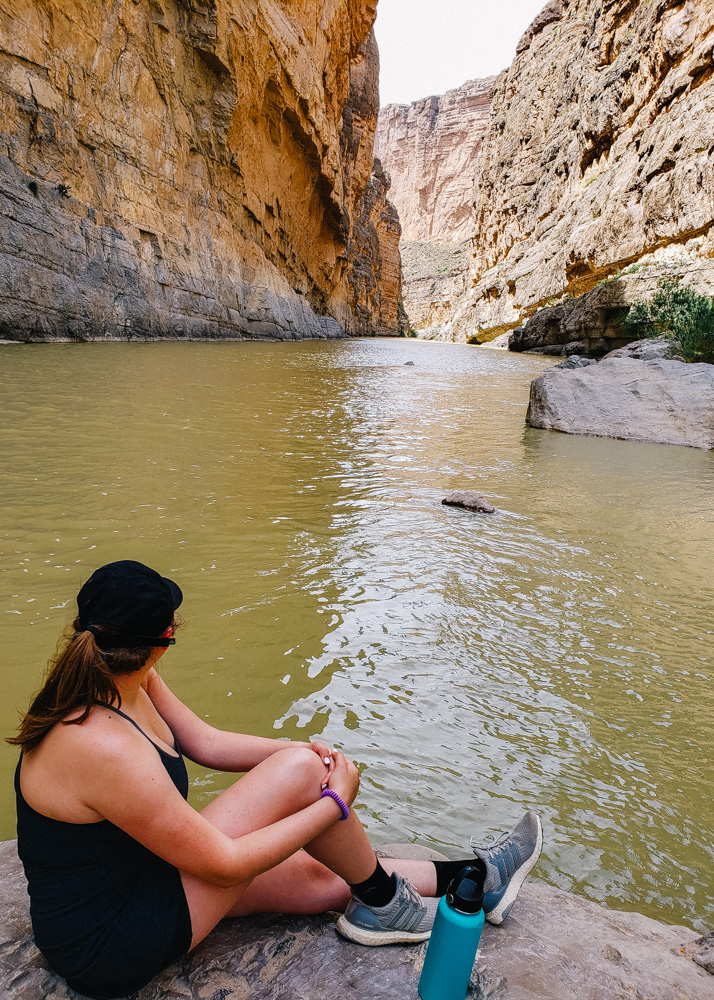 Now for another chill evening around the campfire because you had a long day! If you have the energy, you can definitely find something fun to do in the evening in Marathon or Marfa!
Day 4: Day Trip To Marfa
I really love Marfa, so I absolutely had to include it in the itinerary. If you're already out in Big Bend country, you might as well visit Marfa.
First, start with breakfast and breakfast at The Sentinel Marfa or Do Your Thing Coffee. Both have great breakfast options (and great coffee!), so check out their menus and make your decision based on what looks best to you!
Next, spend some time exploring Marfa. There's tons of cute shops and art galleries! Some of my favorites are:
When you're hungry again, you have to go to Marfa Burritos! It's legendary with the approval of celebrities like Matthew McConaughey, the late Anthony Bourdain and Mark Ruffalo! I recommend trying the carne and bean & cheese burritos.
In the late afternoon, get a second coffee (or if you're like me, a decaf) from Big Sandy Coffee (aka Marfa Coffee Company) before heading to the Judd Foundation.
There you can explore the Marfa residence and studio of artist Donald Judd, and view some of his first large-scale architectural projects.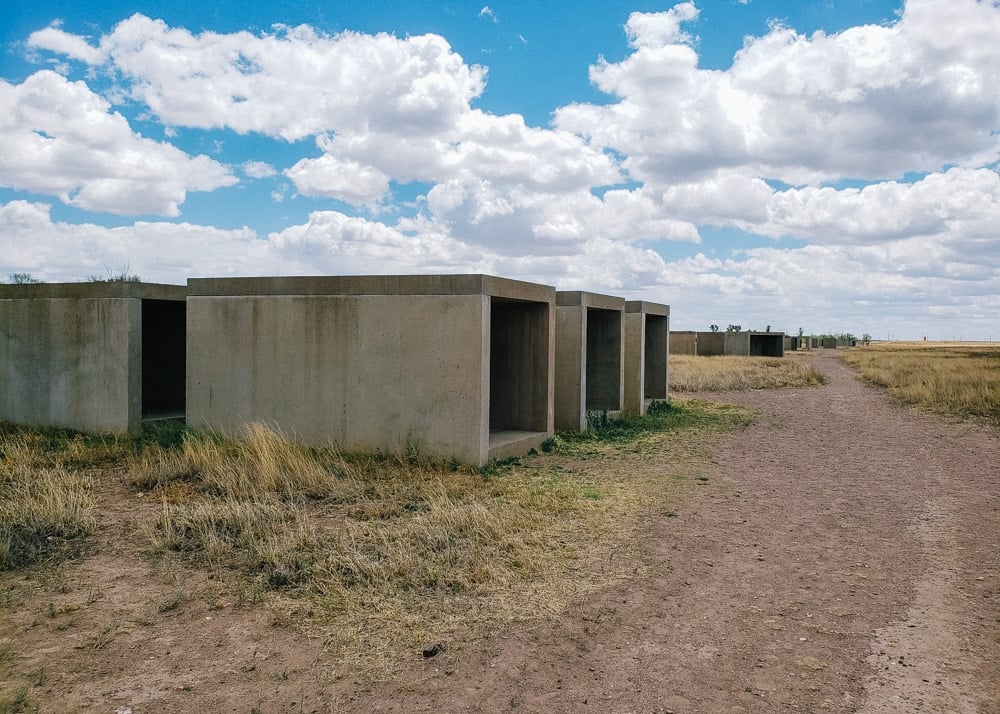 Before it gets too dark, you of course have to stop by Prada Marfa! It's famous, and yet another art installation by artists Elmgreen & Dragset. (Marfa attracts a lot of artists!)
For dinner, there's a bunch more options for you to choose from. Here are some I suggest checking out: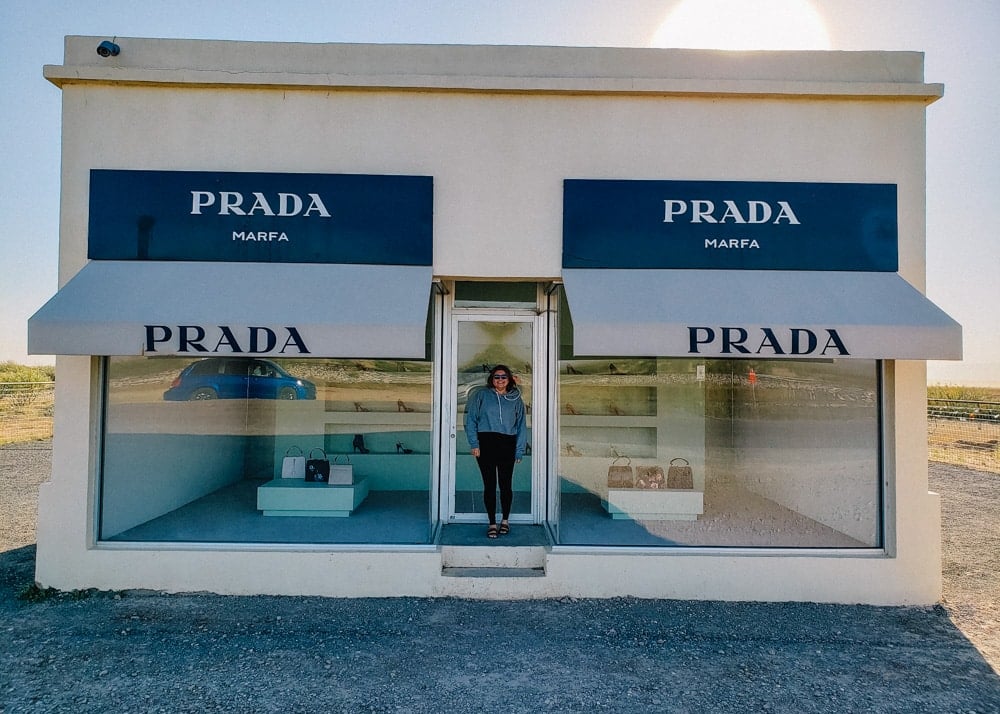 And that's it! There's tons of more exploring and hiking in Big Bend National Park, and these are just the highlights for anyone making the trek to West Texas for a few days.
I'm hoping to make the trip out there again in the very near future now that I'm back living in Texas so let me know in the comments or via Instagram DM (@taylormgrantham) if there's any place I'm missing out on!
Or I'm happy to answer any questions I can if you're planning a trip. You won't regret traveling to Big Bend!
And, if you are planning more trips in Texas, make sure to check out some of our other guides, like the best wineries in Fredericksburg Texas and the ultimate bachelorette party to Austin!