Looking for the best Bay Area glamping for a quick weekend getaway to nature? Well, I found it for you. Tucked away in the Santa Cruz mountains, surrounded by trees yet just 10 minutes from Capitola Beach, is Sundance Meadows glamping.
My husband and I were looking for glamping near San Francisco Bay Area, where we live, for a safe quick getaway. We love camping, we really do, but you know what's also nice? Rolling up to our tent with just clothes, beer and food.
That's the magic of glamping: all the perks of regular camping (trees, fire pits, fresh air) but the luxury of a hotel (shelter, a comfy bed, power outlets!) It's basically luxury camping.
This Dreamy Bay Area Glamping Tent Is 10 Minutes To The Beach!
We stayed at the famous Vineyard Treehouse Airbnb a few years ago but there were no dates opens so after reading great reviews, we decided to check out Sundance Meadows' Soquel glamping tents instead. It's new – the host started it as his quarantine project in 2020 and transformed a thick corner of forest land into what I think will be one of the best glamping sites in the Bay Area in 2021.
The glamping grounds are in Soquel, just about a 10-minute drive from Capitola, which is a colorful California Coastal town right on the Pacific Ocean that I LOVE! Capitola is next door to Santa Cruz as well and both are chill beach towns with cafes, restaurants and fun things to do during the day.
Sundance Meadows is a great location to make home base while exploring the area! If you're not up for a big beach town day, head to the Land of Medicine Buddha or The Forest of Nisene Marks State Park for some day hiking in the Redwoods.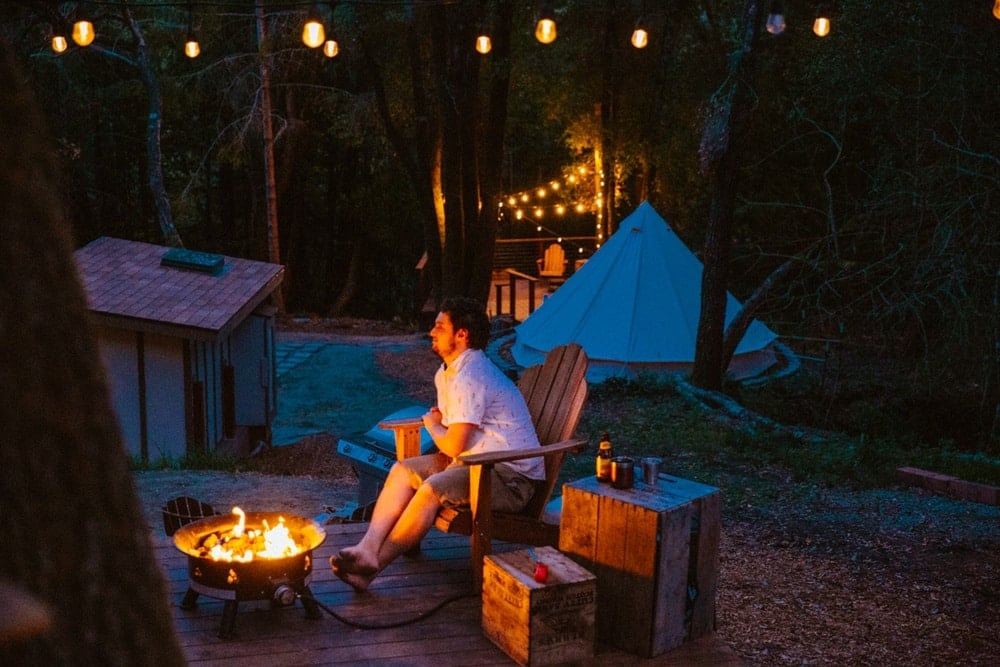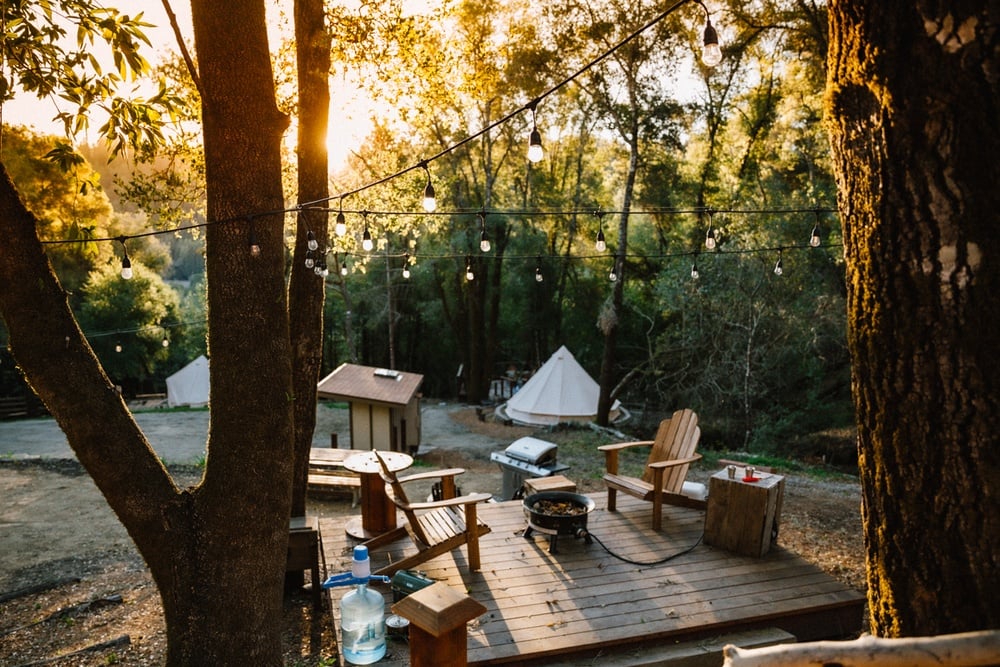 Currently, there are three lotus bell tents. Each tent can fit up to 2 guests and they're pretty roomy on the inside. My favorite part was the private front patio that overlooked the entire campground and mountain views. It has a propane fire pit (no need to bring wood!), chairs, side tables, trash, water pump and below a BBQ and picnic table. It was the perfect place to cook some campfire tacos, crack open beers and enjoy the sunset.
Our Santa Cruz Glamping Tent Amenities
Queen bed
Bedding (so warm, no need to bring sleeping bags!)
3 lamps
Outlets
French press coffee maker (we brought our own from Stanley)
Tea kettle to boil water
Coat rack
Indoor chair
Outdoor patio chairs
Propane fire pit
String lights
Private outhouse bathroom
Trash can
BBQ grill
Tables
Water jug
These glamping Santa Cruz grounds are still under a bit of construction but come summer 2021, it should be all complete. There's a bathroom, shower, sink to wash dishes, BBQ, outdoor seating, string lights and everything you need to get cozy for the night. I believe they are building out other fun things like an ax-throwing area.
Despite strong winds during the night of our stay, we loved our time glamping near Santa Cruz at Sundance. It was just the off the grid connection to nature we needed!! If you're looking for the best Airbnb in Santa Cruz area, this is probably it. (I do love that treehouse up the road, too.)
Got questions about our glamping tents in Soquel? Drop a comment below or DM me on Instagram @thewhimsysoul and I'll be happy to help!