What the heck do you bring on a glamping trip? Do you need a sleeping bag? Cups and plates? A flashlight or a phone charger?
All these were questions I asked myself the first time I went glamping a few years ago. Now it's one of my favorite ways to travel and *brushes shoulder casually* I like to think I'm a pro. I've got that packing list on lockdown. I wanted to put together the ultimate glamping packing list for you so you know exactly what to pack (and what not to pack) for your glamping trip. Includes a downloadable checklist!
My Complete Glamping Packing List: What I Always Bring + Downloadable Glamping Checklist!
What Is Glamping and Is It Better Than Normal Camping?
This is a question I get a lot from followers and well, "better" is subjective. They both offer pros and cons. Camping is usually when you BOYT (bring your own tent) and everything else you need for the night: pots and pans to cook, firestarters, water jugs, food, tools, etc. There may be an established fire pit and possibly a table, but that's it.
Glamping is like if a hotel and a campsite had a baby.
Glamping sites provide a tent, bed, blankets and other things to make your night comfy, but the bathroom is not attached and in a separate building. You don't have to bring the whole arsenal of outdoor supplies like when camping, but I find that you still need to be strategic when packing for a glamping adventure to make sure you're comfortable and prepared.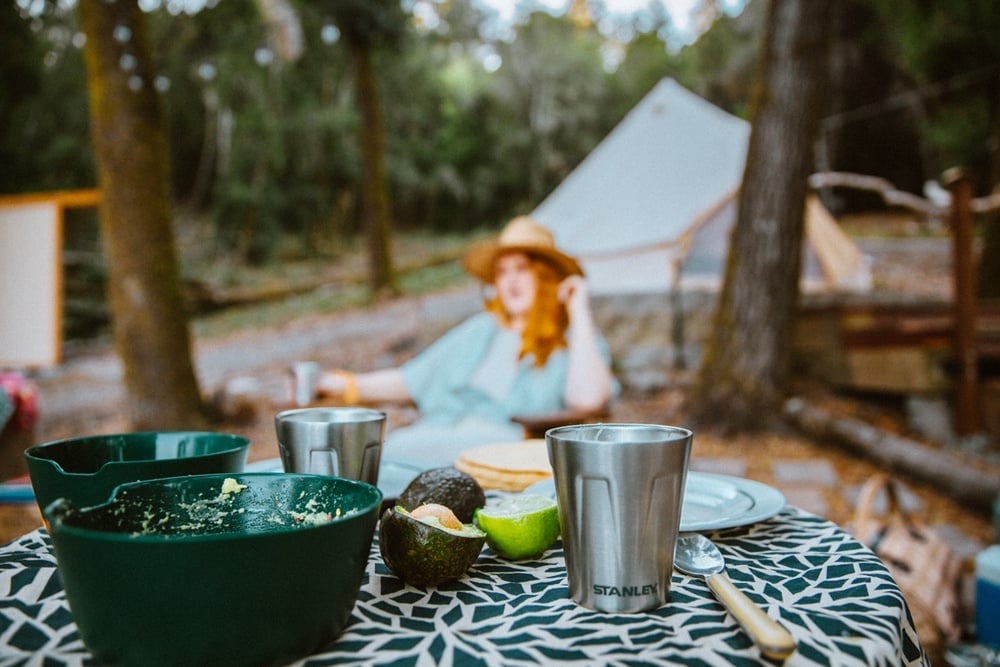 Ultimate Glamping Packing List: 42 Glamping Essentials + Downloadable Checklist
After tons of glamping adventures around California, I've narrowed down my *chef kiss* perfect packing checklist. I will tweak this based on the time of year I'm traveling or the specific site. For example, some places like Mendocino Grove are super luxe and have heated blankets, others like Half Dome Village are barebones so I always bring extra blankets. I really like being wrapped up like a lil burrito at night.
Glamping Equipment & Outdoor Gear I Always Pack
Vacuum Sealed 64z Growler: This growler by Stanley goes with us on every road trip, not just glamping specific ones. We always fill it with cold water or coffee (depending on the trip) and toss it in the back of our car. It can keep liquids hot for 18 hours (though I was shookith when we took it camping in Lassen National Park and our coffee was still a bit warm 48 hours later.) I've even filled this up with beer to take to a park day here in San Francisco. It gets a lot of love in our house!
Headlamps: We bought a pack of 4 headlamps for our 9-day van trip last summer and I'll be honest, I absolutely thought I'd never need to use them again but I was so wrong. Headlamps have quickly become my favorite glamping accessories for those late-night bathroom runs on glamping trips! Some sites will provide flashlights or lamps in your tent, and some don't. Regardless, I find it easier to be hands-free and use a headlamp when navigating dark trails to the bathroom (or, let's be honest – those 3am squats outside your tent!)
Stanley Camping Mugs: No matter what style of glamping you book (bare bones or luxury), you'll need a sturdy mug and I LOVE Stanely's Legendary Camping Mugs. I'm clumsy and have totally dropped these before but they don't have a scratch on them. (Bless up) Due to the vacuum insulation of these mugs, they also keep liquids hot for 1.5 hours and cold for 3 hours, making them a must-have for camping.
Water Bottles: Make sure each person in your group has their own Stanley water bottle to keep around the tent and glamping site. Gotta stay hydrated! And I find most glamping companies won't provide you a cup to use.
Water Jug: TRUST me on this. This is actually a road trip hack we've always crossed over to camping trips. Either pick up a $2 gallon of water at a gas station or get a reusable jug by Stanley so you have not only have water in the car, but you'll have plenty on hand at your glamping tent. Handy to reduce tons of trips to the water pump + good for fire safety.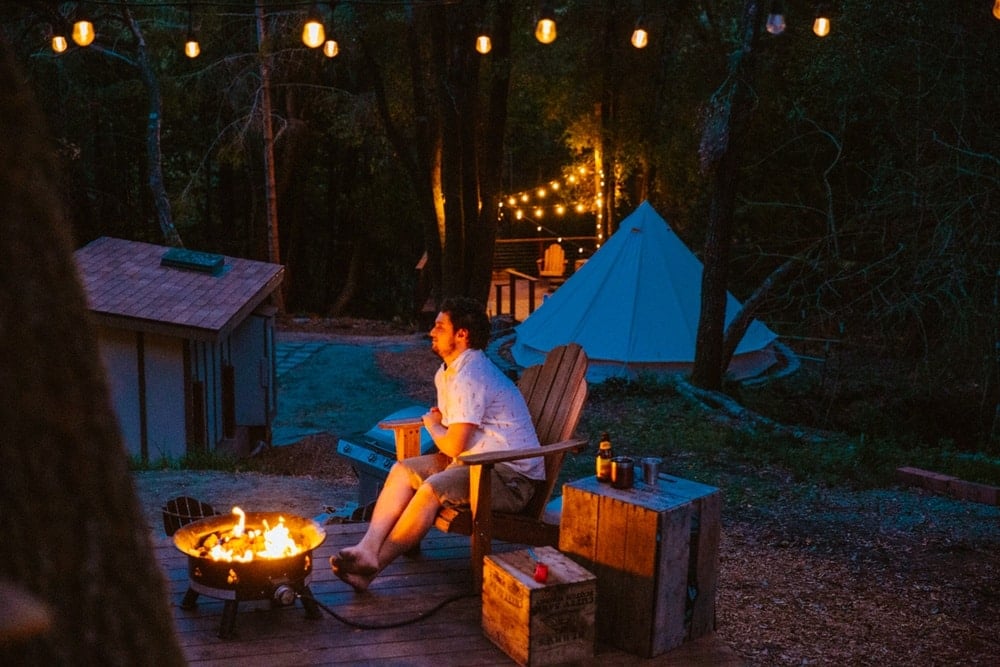 What Food To Bring Glamping
Wine (don't forget a wine opener!)
Beer (use this growler to keep it cold if you don't have a cooler)
Cocktail makings if you're feeling fancy!
Ground coffee
Jerky
Granola bars
Apples
Dried fruit
Bagels & cream cheese for the morning (TRUST me on this)
And any other food you need! My glamping grocery list does vary based on what meals we plan on eating out during our trip. Sometimes we eat all meals out, depending on where we glamp. If we cook, we usually make shrimp tacos, chili, soup, hot dogs or egg scrambles. Sometimes burgers if the site has a grill.
Essential Glamping Clothing
Obviously, clothing totally varies on the season and where I'm glamping. I usually wear what I would wear if I were staying in a hotel, but I do pack a few extra pieces (like closed-toed shoes for around the fire) when I'm glamping. Remember that you'll be sleeping in a tent and it WILL get colder at night than it is during the day.
Socks
Undies
Dresses ( love traveling and glamping in dresses, it's not everyone's thing)
Jeans that can get dirty around fire
T-shirts
1 pair hiking boots (this is the pair I own!)
1 pair slip-on shoes for around the tent (10/10 recommend a pair of Rothy's for this)
Pajamas
Thick sweater for sleeping
Hat (I prefer straw hats)
Puff jacket in cooler seasons (this one is under $50)
Swimsuit if there's a pool, river or hot spring nearby (I swear by this brand)
Body towel
Personal & Beauty Items To Bring Glamping
Contacts and/or glasses
Face wipes
Body wipes (handy when you can't shower)
Face lotion
Chapstick
Pills + meds
Hand lotion (I HATE dry hands!)
Deodorant
Minimal Makeup (or just skip makeup these days)
Period Products
Hairbrush
Toothbrush + paste
Misc Glamping Must-Haves
Audiobook (so fun to listen to around the fire. Try the Harry Potter audiobooks if you haven't already.)
Extra blankets (trust me!) Unless a heated blanket is provided, you'll probably be chilly.
Bug spray
Cards
Camera (this is the gear I use, btw!)
Growler for local craft beer
External phone bank
Phone charger
Again, make sure to check your booking website to see what glamping supplies your site provides and also where it is located so you have a better idea of things to bring. If it's far out in the boonies, you may need to pack more food or evening camping cooking gear so you can make meals.
Get A Printable Packing Glamping Checklist PDF List Emailed To You!
I hope my packing list for glamping is helpful for you! I love going glamping and always thrilled when I find a new glamping spot to check out. Of course, I still love going camping, too, but sometimes it's nice to get a few upgraded amenities without scarfing time in nature.
Did I miss anything on my packing list that you think needs to be included? Leave a comment below so everyone can see. Got questions? Comment or DM me on Instagram @thewhimsysoul and I'll be happy to help.
More Camping & Glamping Ideas You'll Love