I wasn't prepared for just how much I would fall in love with Sedona. People all over the world flock here to soak up the spiritual juju of the vortexes, go hiking among the red rocks, find healing stones to bring home and of course, relax in luxury hotels.
My husband and I traveled to Sedona on our first time to Arizona. We flew into Las Vegas and after a night next to the Grand Canyon, drove down to Sedona. The second we turned a corner and saw those famous towering Sedona red rocks, my jaw drop. This place is MAGICAL.
This is my ultimate Sedona Itinerary aka How to Spend The Perfect Weekend in Sedona. I'll be sharing fun hikes, my favorite vortexes, cool hotels, good eats, what to pack and more!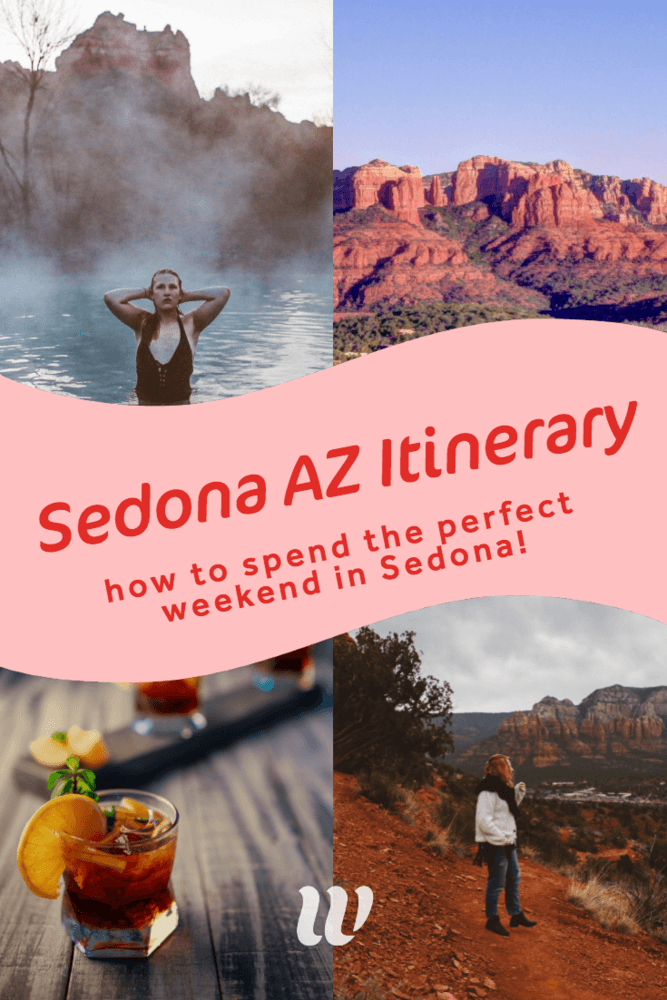 You are going to LOVE your weekend in Sedona, especially if you haven't been to Arizona before! I grew up in Wisconsin so my knowledge of Arizona on this visit was pretty limited. We now live in San Francisco and since have returned to Arizona many times (it's our favorite state to treat as our backyard!) What I adore about this state is how varied the landscape is.
It was snowing up North in the Grand Canyon National Park and Flagstaff when we visited. On the opposite side in Green Valley, it's pure heat and desert. Sedona, Arizona is more Northern but this pocket of the landscape is utterly unique to the country.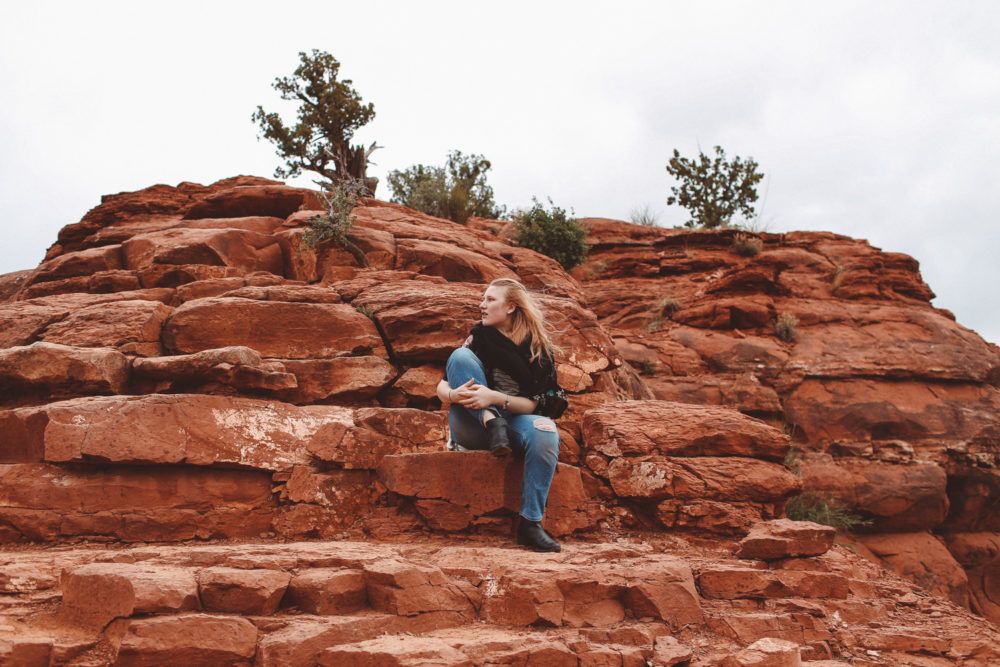 Here is where you find the famous Red Rocks, which, true to their name, are giant red rocks that look more like small mountains than boulders. During the golden hour or after a rainstorm, the color turns deeper and makes you feel like you are walking on Mars.
I've never seen anything like it. (Some people say Sedona looks a little like Bryce Canyon national park but I haven't been to confirm!) I've been to Mesa, Arizona and Scottsdale and even the rocks around there don't look anything like Sedona. It's magic.
Sedona Vortex 101
Before we jump into my suggested Sedona itinerary, let's chat vortexes real quick, as they are what makes Sedona stand out. A vortex is supposedly swirling centers of energy which promotes healing, meditation and self-exploration. You find them out on the red rock formations, usually a short hike in.
We visited a few and I remember sitting down on one, closing my eyes and I swear I felt something. Could have been all my imagination, but I felt more at ease after we left, almost like I just did a long spout of meditation.
Most Popular Vortex Sights
Airport Mesa (easy hike!)
Cathedral Rock at Red Rock Crossing
Bell Rock
Boynton Canyon trail
People all over the United States and world plan a trip to Sedona Arizona just to sit in a vortex to soak up healing energy. You can book a tour but I suggest you go by yourself as this is more of a personal experience in my opinion. Soak in those red rock views and find inner peace! When planning a trip to Sedona, you have to set aside time for vortexes.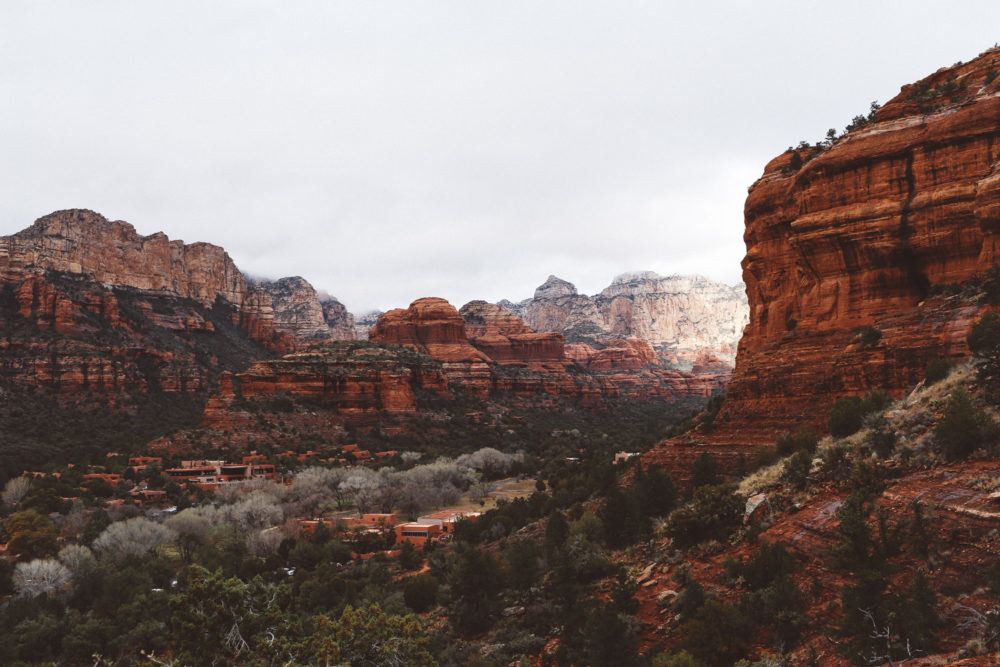 3 Day Sedona itinerary: Top Things To Do In Sedona For The Perfect Weekend
We did a big road trip from Las Vegas to the Grand Canyon down to Sedona and back again. But, most people fly into Phoenix and drive the few hours up to Sedona. I suggest you spend at least two nights in Sedona vs one day so you have time to explore AND relax! More if you can swing it.
With that in mind, this is a Friday-Sunday plan for a long weekend in Sedona, but you can modify it to just be Saturday and Sunday if needed.
You'll need a car for your trip as this is a smaller city and relying on Ubers or the public bus just isn't a smart idea. I recommend booking your car from rentalcars.com or through your credit card company with ponts. We use this site to rent cars all over the country.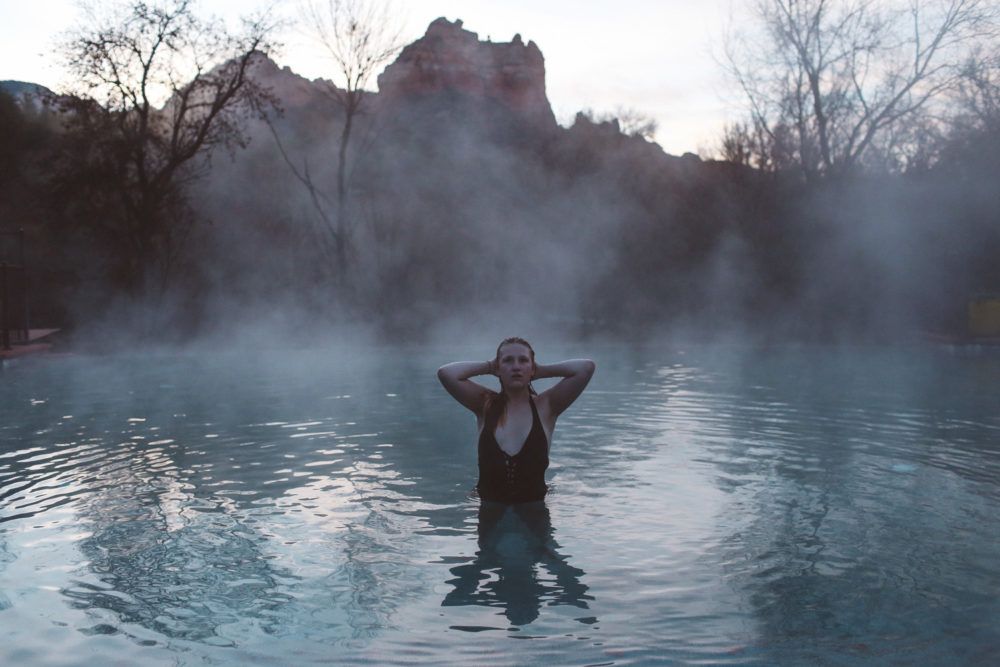 Where to Stay In Sedona (Best Sedona Hotels)
Kimpton Amara Hotel
Upon arrival, check-in to your hotel! We stayed at the Amara and it's honestly one of my most favorite hotels we have ever stayed in (and we've traveled all over the world!) It's totally the best of the Sedona resorts. What makes the Amara stand out is their stunning courtyard which backs right up to a red rock formation.
They have an infinity pool, hot tub, firepits and lawn games. Everything is centered around those beautiful views of the rocks. We visited in January when it was low season and it felt like we had the place to ourselves.
I remember sitting in that hot tub one evening and being able to see millions of stars above me. The next morning, I went for a sunrise swim and watched the red rocks shine orange in the morning light. I love this place.
Of course, there are tons of other nice Sedona hotels. Here's some other recommended options at various budgets:
Hilton Sedona Resort: This is another popular boutique resort in Sedona. It doesn't nestle right up to red rocks like the Amara does, but have sweeping views, outdoor fire pits, great onsite dining and more!
The Views Inn Sedona: If you are looking for a budget hotel / motel, the Views Inn has the highest guest ratings. It usually averages around $100 a night and does have a pool for summer trips!
Sedona Rentals: We love staying in Airbnbs and VRBOS when we travel, especially when we are with a large group of friends! I really like this house in Sedona, but you can find hundreds in the area. I have a whole roundup of the coolest Airbnbs in Sedona that you can reference, too (plan smarter not harder, right?!)
Day One In Sedona Itinerary (Arrival, Vortexes, Shopping, Margaritas)
Try to land or arrive before 2pm on Friday. Most people fly into Phoenix and drive up. Some people prefer to make a pit stop in Scottsdale for a few days first (we love that colorful city so I highly recommend that if you can swing the days off!)
If you plan on working Friday, try your best to get off a few hours early and make it to Sedona by 5pm the latest. There are just so many things to do in Sedona. This will allow you to have the best vacation possible!
Stroll Downtown Sedona
After settling in, head to downtown Sedona to stroll along the main street and check out all the stores and crafts village! You'll find tons of crystal and gemstone stores. If you're on the hunt for real turquoise or a healing crystal, this is your city!
We bought a Himalayan salt candle holder. Funny story about this – we didn't check any bags on this trip and we got pulled aisde during our TSA screening. Turns out, a giant hunk of salt looks a LOT like drugs on scanners!
Airport Mesa Vortex
Once you got the lay of the land, it's time to hit up your first Vortex! The Airport Mesa Vortex is a really easy one to visit. It's close to downtown and just a short hike from the parking lot. Some of the vortices require a long hike in, but not this one!
We visited in the evening right after it rained, so all the stones were extra bright red. On a sunny day, you should time this vortex visit for golden hour and/or sunset for a breathtaking view. It's basically the perfect way to start your trip! Make sure to wear comfy shoes (aka not heels!) as you ARE climbing on rocks!
Happy Hour
Kimpton hotels always offer a FREE happy hour for guests in the lobby each night! Come for drinks and sometimes light bites. So, after your vortex visit, head back to your hotel (assuming you are staying at the Amara, which you should) and grab a couple of happy hour drinks. If it's nice out, bring it to one of the outdoor firepits.
Dinner At SaltRock
For dinner, I recommend you dine at Amara's restaurant, the SaltRock Southwest Kitchen We had an amazing dinner here. Start with one of their craft margaritas. Make sure to try their quail eggs (my first time having quail eggs and now I'm obsessed!) Honestly, you can't go wrong with anything on the menu.
Day Two In Sedona Itinerary (Hiking, Pink Jeep, Cafes, Hot Tub)
If you're a morning bird, I recommend you wake up early today to watch the sunrise over the red rocks. It's an out of this world experience you won't soon forget.
Breakfast At Wildflower Bread Company
Today you should take one of the famous Pink Jeep Tours! But first, breakfast. Try the Wildflower Bread Company for tasty food and good views! They have homestyle dishes that are fresh and weigh you down for the morning of your tour. I recommend the Corned Beef Brisket Scramble – it's the best way to wake up.
Pink Jeep Tours
Pink Jeep Tours famous for their bright pink jeeps (hence the name!) and the varied routes they offer. You can book Sedona jeep tours to anything from a Grand Canyon visit to a 2 hour drive around backcountry canyons, and everything in between. This is a great way to see stuff you can't easily hike to!
Personally, I would recommend this tour. Experience the true majesty of red rock formations from 2,000 feet up on this Mogollon Rim Jeep tour. See some of earth's most beautiful formations and blaze a trail through stunning rugged terrain from the safety and comfort of a Jeep Wrangler.
Lunch At the Hudson Or Secret Garden's Cafe
Some of the jeep tours include lunch. If you didn't eat yet, head to the Secret Garden Cafe for sandwiches or a salad! Or, head to the Hudson. Get the Prickly Pear Baby Back Ribs and enjoy that stunning view!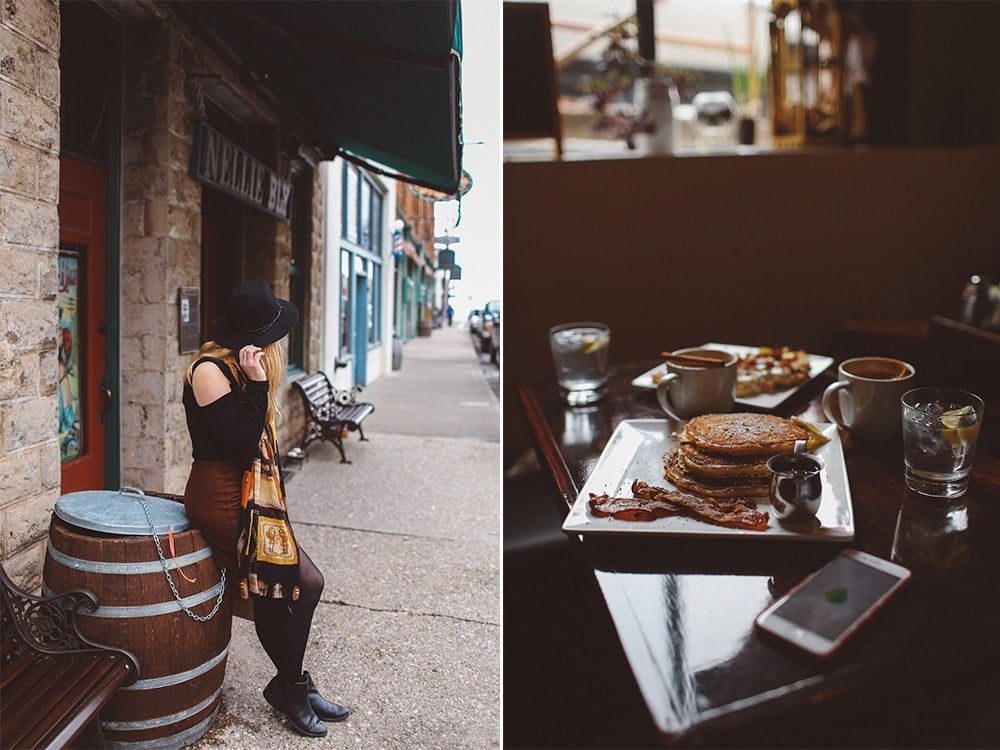 Alternative: Day Trip To Jerome & Wine Tasting
Jeeps not your thing? Use this morning instead for a day trip and wine tasting! Take a day trip or half day trip to Jerome, about 1.5 hours. This is a cute little miner's town that I totally fell in love with!!
It's small, but full of winding streets and artisan shops. I came *this close* to buying this huge horsehair pot from a ceramic artist but Robin talked me down, mostly because we didn't have any suitcase room left. Ha!
On your way back to Sedone, it's time for some wine tasting! Yes, Arizona has a wine tasting region. It's a small AVA and the wine tends to be sweeter than what you find in California, but it's so much fun to stop by a tasting room or two on the Verde Valley Wine Trail.
Page Springs Cellars has sweeing vineyard views and a really great lunch option (think cheese boards, sandwiches, pizzas, salad, etc!) They're actually open until 7pm so you don't have to feel rushed in Jerome and can plan on a later lunch / wine tasting here.
Afternoon Hiking Red Rock State Park
After a busy morning, it's time to slow down for the afternoon. Lounge by the pool or hit up a spa for a relaxing massage treatment if you aren't in the mood for hikikng. But, I recommend doing more time on the trails.
Depending on what time you get back to town, you should have time to hit up the Red Rock State park in the Coconino National Forest for some hiking! It's a 200+ acre park with tons of trails, cliffs and buttes so you can pick one that's good for your skill level and the time you have left before dinner.
Note, you will have to have the Red Rock Pass to park, but you can easily find the passes in stores around town. Here's a list.
Or, you can go Hiking the Devils Bridge Sedona trail, a 6 mile hike with sweeping views. It takes about 2-3 hours and is extra beautiful in the later afternoon/sunset time.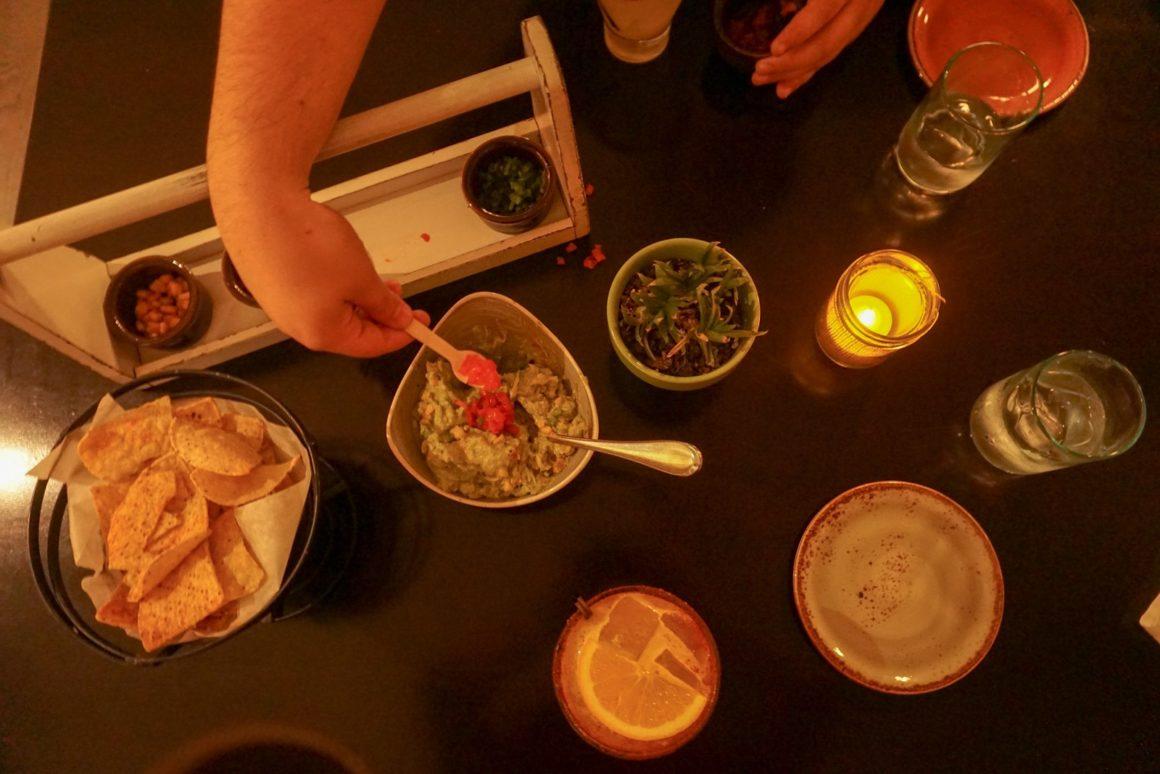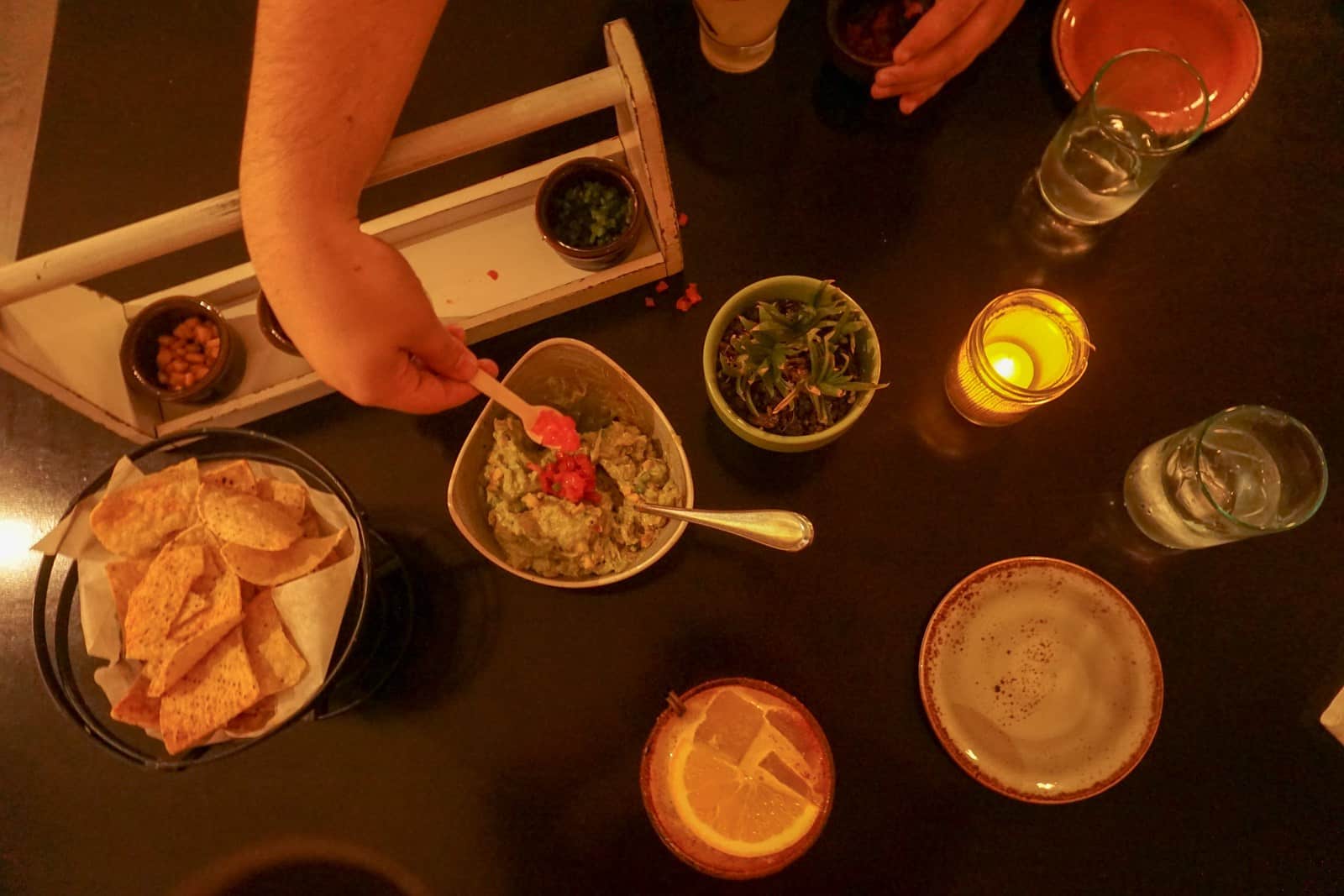 Dinner At Che Ah Chi
Again, you can grab free happy hour drinks from the Amara before dinner at Che Ah Chi, my recommended place to dine with stunning red rock views! This is considered one of the most romantic places to eat in Sedona which makes a great place to eat on your last night in town!
Day Three In Sedona Itinerary (Hiking, Swimming, Brunch)
Last day in Sedona is here. I want you to get up early and come back a wee bit later to pack up your suitcase and check out. First, grab coffee and put on your hiking boots and swimsuit, it's time to visit Slide Rock State Park!
Hike Slide Rock State Park
Slide Rock is famous for the natural 80 foot long water slide formed by the slippery bed of Oak Creek Canyon. Here you can go swimming in the natural forming pools or just go hiking around the trails!
I fell in love with hot springs in California last year and since have been obsessed with finding other natural watering holes around the country. It just makes such a unique way to experience nature, and morning is a great time to go so you beat the crowds. Make sure to read all the safety tips here before you go.
Alternative: Boynton Canyon Vortex
If that doesn't sound fun, of if it's winter when it's too cold to swim, head to Boynton Canyon Vortex instead. This is where we opted to hike since we visited in January! The hike is mostly flat up to the rocks. It's not too hard but we did work up an appetite, so bring some snacks!
This is the spot that I totally felt the power of the vortex. Maybe it was just the view up top (sweeping, stunning, the whole shebang) but I felt like this was the closest to magic I'll ever get.
PS: when you're hiking Boynton Canyon, keep your eye out for an older man who may just give you a heart shaped rock, if you're lucky. He's a legend.
After hiking, you can check out Chapel of the Holy Cross if you want. It's a church built into the Red Rocks. and they offer tours for about $19 a person. It's worth a stop later at night since it does glow!

Refresh At Hotel & Check Out
But, most likly you'll want to pop back to your hotel to shower and refresh, and then pack up your stuff. Leave your luggage at the front desk to come back later. Now, off to brunch!
Brunch At Creekside Sedona
Creekside Sedona is known for their views with a side of brunch. Favorites are the fried with lemon aioli, the ahi burger and a burrito so big most people can't finish it. But honestly, after that morning swim and hiking you'll probably be starving!
By now, it's Sunday afternoon and time to head on home, or to your next destination! Sedona to Grand Canyon is about 2 hours, so perhaps you'll continue on our Arizona adventure up there? Or, check out the colorful Scottsdale down south (another favorite city of ours!)
Additional Things To Do In Sedona This Weekend
Need more ideas on things to do? Here's some other activities that make Sedona super special!

Best Restaurants In Sedona
I low-key want to come back to Sedona just to eat my way around as many prickly pear margaritas I can get my hands on. Here is a full list of best places to eat in Sedona for your 3 days in Sedona trip.
Frequently Asked Questions About Sedona
What Is the Best Time To Visit Sedona Arizona?
Keep in mind this is the desert so it gets hot hot hot in the summer. If you're coming for hiking, the best time to go to Sedona is spring or fall when the weather is ideal for a lot of time on the trails. Winter is nice for hiking, too, but not if you plan on doing Slide Rock.
Our first visit was in January and it rained a bit, which actually made the red rocks even more red looking. I personally like September and October best here. It's still warm but there are fewer crowds.
Is Sedona Worth Visting?
OMG yes! I dream about buying a little cabin and escaping here forever. It's a truly magical place. You'll never want to leave after your Sedona weekend itinerary. I personally keep finding myself back here again and again.
How Many Days To Spend In Sedona
You'll want your Sedona Arizona trip to be at least 2 days at the bare minimum, but 3 or honestly even 4 days in Sedona is best to really soak up all the natural beauty. And drink like, a LOT of prickly pear margaritas.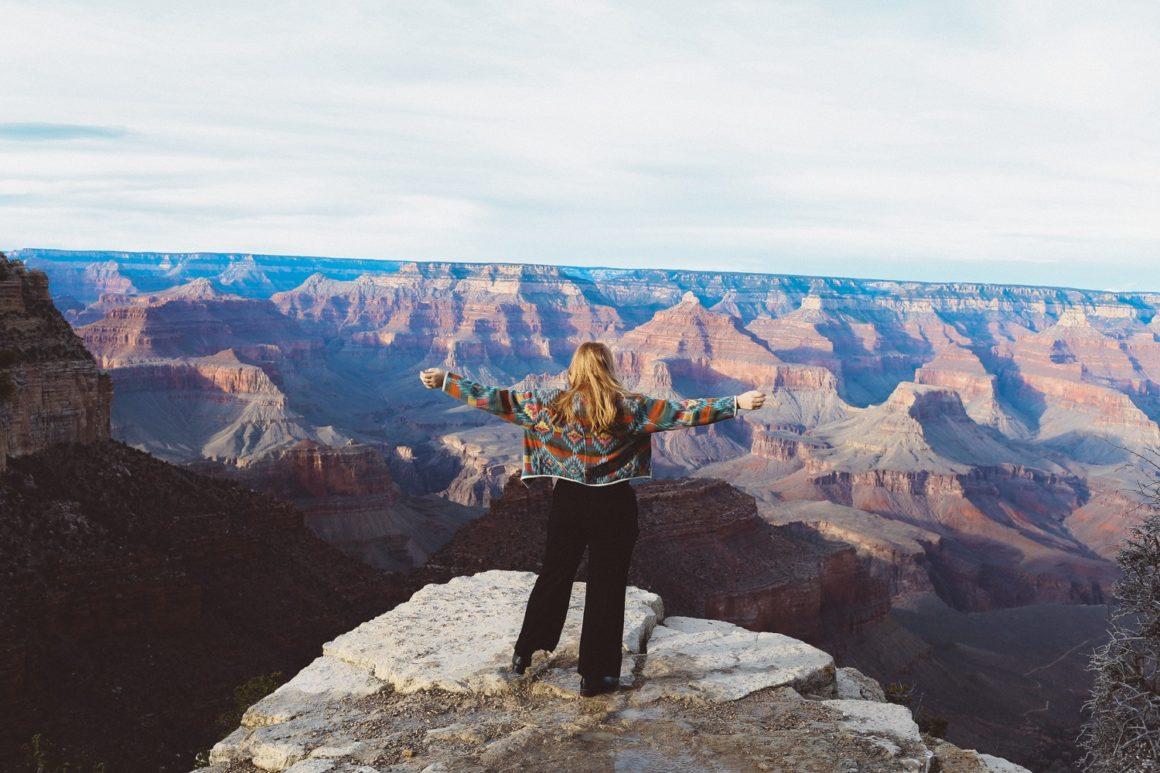 Should I Visit The Grand Canyon, Too?
Look, I love the Grand Canyon. It's a freaking natural miracle. It's also like, really grand and it deserves a trip all for itself. Robin and I spent the night here at El Tovar Hotel, which is located literally right on the South Rim of the canyon. We woke up and rolled right into the views and hiking trails.
I recommend doing the same, or at one of these other rad Grand Canyon Airbnbs. That way you have plently of time to do the Grand Canyon right without taking away time from Sedona. Make it part of your Arizona road trip.
What To Pack For A Weekend In Sedona
In the winter you'll want sweaters as the night is pretty chilly. No matter the season, bring a few great hiking sets (I love Girlfriend Collective for cute hiking activewear!) And of course, a swimsuit or two for the swimming holes and hotel hot tubs.
You'll also want a pair of sturdy hiking sandals, like Tevas, or hiking boots. Boots are best for off-trail exploration to protect your feet from the cacti. Trust me on this – I once stepped on a cholla cactus in Joshua Tree and the needles were in my feet for months.
What To Wear To Sedona

Do I Have To Get To Trials Early?
If you're visiting in the winter, you probably won't have trouble with parking at trailheads. But yes, in general if you are coming during the summer or a busy holiday weekend, the small parking lots at trailheads will fill up fast. That's why it's best to hike in the morning or later evening when everyone else clears out.
What To Do In Sedona This Weekend
If you don't like reading and are just looking for a quick copy and paste-friendly weekend in Sedona list, this is it! Here's our perfect Sedona weekend getaway!
Friday
Check into the Amara Resort
Explore downtown Sedona
Visit the Aiport Mesa Vortex
Dinner at SaltRock
Saturday
Breakfast at Wildflower Bread Company
Pink Jeep Tour
OR – take a day trip to Jerome and wine taste
Lunch at Secret Garden Cafe
Relax at the pool/spa afternoon (optional)
Go hiking Red Rock State Park
Dinner at Che a Chi
Sunday
Morning hike to Slide Rock State Park
OR morning hike to Boynton Canyon Vortex
Brunch at Creekside Sedona
Say goodbye to your 3 day itinerary of Sedona!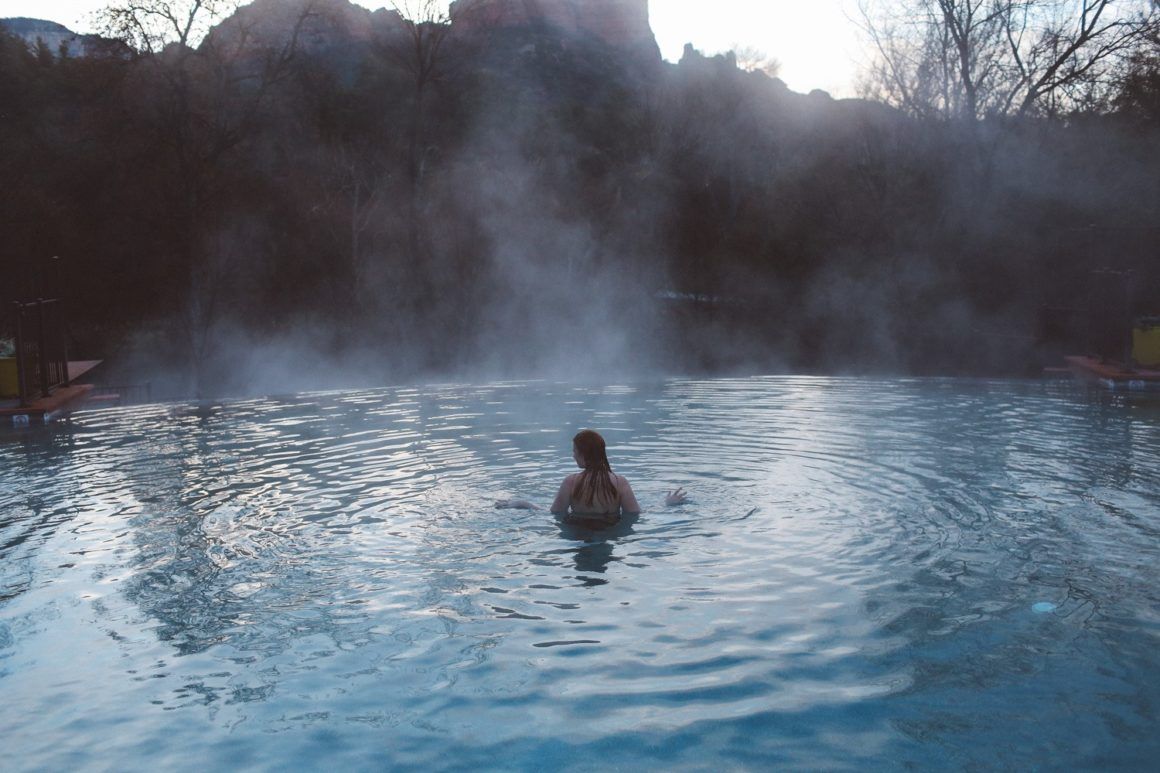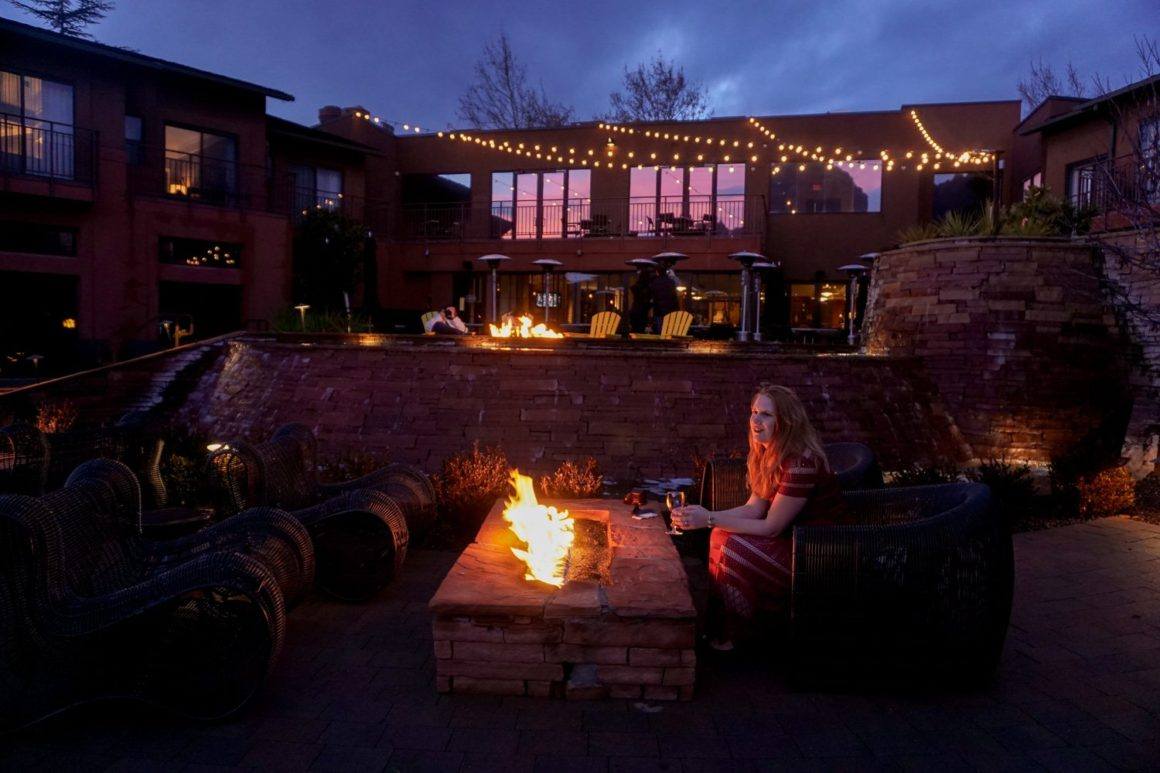 PStt – If you're on an Arizona honeymoon, you can't skip this amazing town. I would suggest spending a lot of time in Scottsdale but spend a few days in Sedona and the Grand Canyon to switch things up.
I hope this helps you have a really fun Sedona vacation! We loved our visit and I can't wait to return for a longer Sedona trip one day. We were planning something last summer but 2020 got in the way. Next time, I want to plan a large Sedona Arizona vacation in a road trip from Southern California to New Mexico, stopping in Northern Arizona along the way. Stay tuned for that travel guide!
Got questions or tips to add to my Sedona travel guide? Leave a comment below! You can always DM me on Instagram @thewhimsysoul and I'll be happy to help as well!