Sedona Airbnbs offer an extremely peaceful way to soak up all the magical juju of the Red Rocks. After your morning hike to one of the famous vortexes, you can come back to your cabin or house with a pool to soak up those red rock views in peace without fighting other guests for the best pool chair.
I've been all over the United States but Sedona, Arizona has always been one of my favorite places – to say it's magical is really an understatement somehow… you'll see what I mean when you get there. And, when visiting this stunning town, you deserve a stunning vacation rental. I did the hard work for you- keep reading for the best Airbnbs in Sedona to rent!
12 Coolest Sedona Airbnbs: Pools with Red Rocks Views, Dome Houses, & More!
>> Got a question about Sedona that you need answered quickly? DM me on Instagram @thewhimsysoul and I'll be happy to help!
Here's the thing: I'm kinda picky when it comes to Airbnb rentals. I judge a cool Airbnb based on the amenities, decor/style, previous guest reviews, and overall experience I think it'll bring to my vacation. If the vacation rental is worth the drive alone, then I totally want to book that house. (Otherwise, I usually opt for hotels.)
There are LOT of Airbnb Sedona rentals, but not all of them will elevate your trip. I spent hours scouring all the listings. These are the best Sedona Airbnbs!
12 Coolest Sedona Airbnbs: Pools with Red Rocks Views, Dome Houses, & More!
The most unique Sedona Airbnbs for a dreamy getaway to the Red Rocks in Arizona. These cool Airbnbs range from eclectic cabins, luxury houses with pools, charming bungalows, cabins and more!

Still haven't found the right vacation rentals? That's ok – there are some stunning hotels in Sedona to choose from! Our favorite is Kimpton Amara which is where the first photo in this blog post was taken. Their infinity pool sits right up to the Sedona Red Rocks and has just the most peaceful, beautiful sunrise.
What Are Some Fun Things To Do in Sedona AZ?
I could spend weeks exploring all the hiking trails, vortexes, crystal shops and tasty restaurants in Sedona. You should check out my weekend in Sedona itinerary for more details on things to do, but these are my top favorite Sedona activities:
Visit the Vortexes: Sedona is famous for vortexes (areas that radiate energy) and there's a handful of them around the area. Some, like the Airport Mesa Vortex, are a quick jaunt up a hill, while others are lengthier hikes.
Shop For Crystals: Since this town attracts the spiritual folks, there's tons of crystal shops on the main downtown strip in Sedona. This is a great place to hunt for spiritual crystals along with other Arizona gemstones
Pink Jeep Tour: I haven't done a pink jeep tour personally yet but it's on my bucket list! This company takes you on off-road tours fo the Red Rocks in an iconic pink jeep. They look so fun!
Stargaze At Night In A Hot Tub: I'm a hot tub and hot springs junkie. My favorite thing to do while traveling is to grab a glass of wine (or local craft beer!) and soak in a hot tub under the stars… on our first trip to Sedona, we stayed at a hotel and managed to have the whole hot tub to ourselves one night. My favorite memory is just leaning back & gazing up at the blanket of stars in the desert sky…
Day trip the Grand Canyon: Sedona isn't too far of a drive from the Grand Canyon, which is something everyone needs to see at least once in their life!! Tack on an extra day to your weekend in Sedona for a day trip up! Note: we went in the winter and hey, guess what: it rains and snows up there! Double-check the weather before you drive up as you may not be able to see anything and that would be a bummer!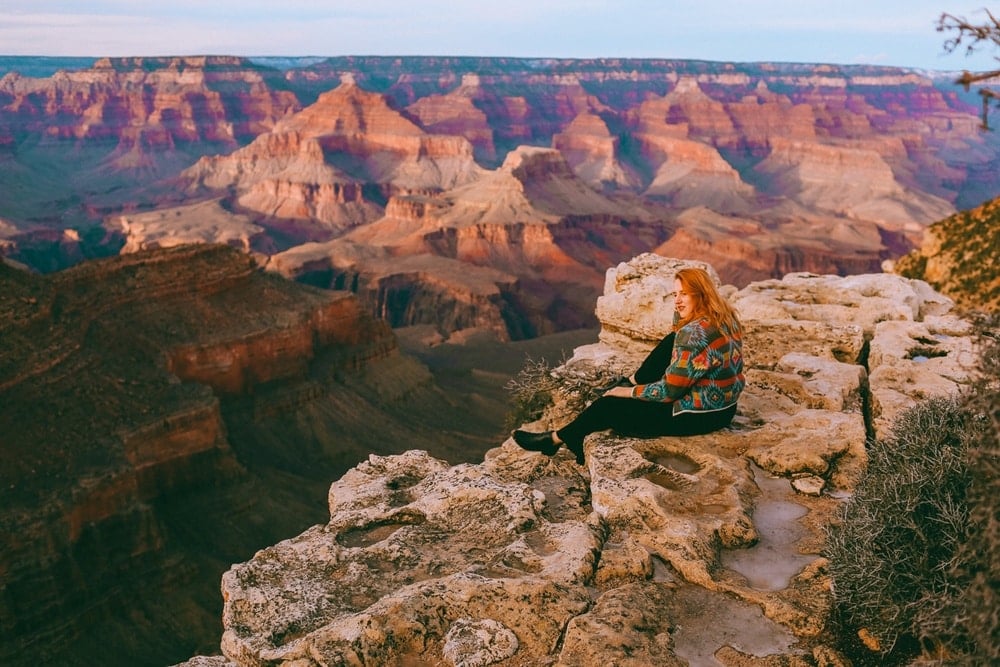 Is Sedona Walkable?
Not really. You have to stay directly on the downtown strip to be able to easily walk places. You'll 100% want to rent a car if you are visiting, especially since you'll need to drive to all the trailheads for hikes. Plus, most of the cool Airbnbs aren't directly on the strip so you'll need to drive to access them.
What Is The Best Time Of Year To Visit Sedona AZ?
Well, that's a bit subjective but I think spring or fall is the best time. On my first visit, we came to Sedona in January and it was rainy and cold, which made all the red rocks POP but it was a bit too chilly. Arizona gets really hot in the summertime. I think a summer road trip has it's perks, but in general, now that we know, we usually like to visit Arizona in October – early December when you can still get warm days but you aren't boiling.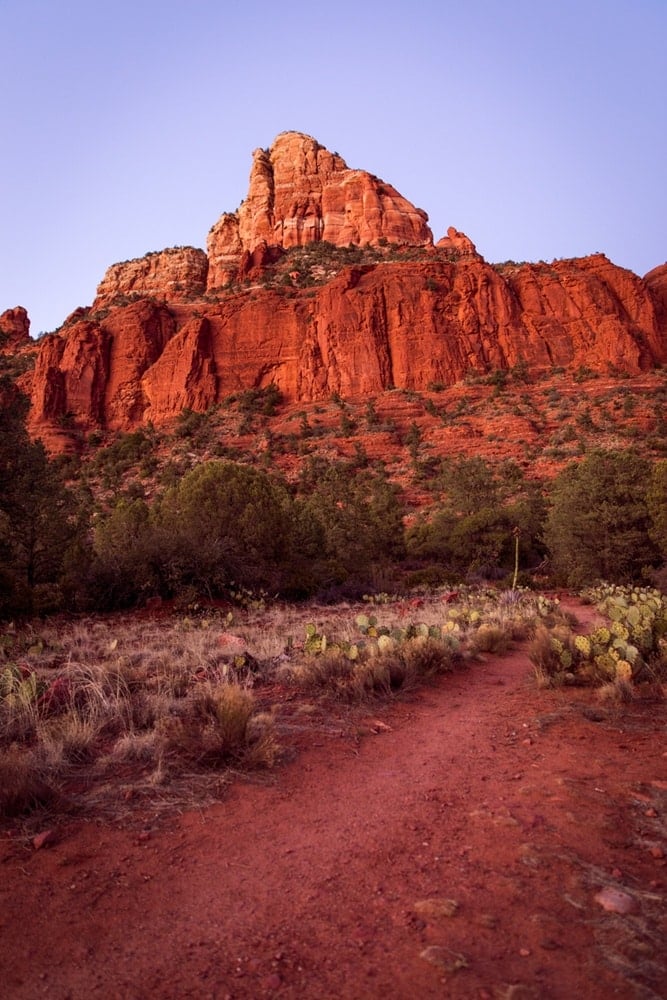 I love Arizona and I keep finding myself back there at least once a year if not more. If you're looking for more Arizona travel ideas, check out the colorful town of Scottsdale outside Phoenix. This town is our FAVORITE place to find great food, beautiful hotels and chic Airbnbs, serene desert hikes and relaxing spa visits.
I also recommend you check out the Tuscon area, especially their Mission San Xavier del Bac. We visited my mom snowbirding in Green Valley last year and loved exploring Southern Arizona. From here you can road trip down to Nogales, Mexico (where you can walk over the border to Mexico!) There's tons of cool art shops and spice shops in this area as well.
Anyways, I hope this helps you find the perfect Sedona Airbnb for you and your group! If your favorite Sedona vacation rentals didn't make this list, leave a comment below so everyone can see. Got questions? Drop a comment or DM me on Instagram @thewhimsysoul and I'll be happy to help!