Sedona Airbnbs offer an extremely peaceful way to soak up all the magical juju of the Red Rocks. After your morning hike to one of the famous vortexes, you can come back to your cabin or house with a pool to soak up those red rock views in peace without fighting other guests for the best pool chair.
I've been all over the United States but Sedona, Arizona has always been one of my favorite places – to say it's magical is really an understatement somehow… you'll see what I mean when you get there. And, when visiting this stunning town, you deserve a stunning vacation rental. I did the hard work for you- keep reading for the best Airbnbs in Sedona to rent!
12 Coolest Sedona Airbnbs: Pools with Red Rocks Views, Dome Houses, & More!
>> Got a question about Sedona that you need answered quickly? DM me on Instagram @thewhimsysoul and I'll be happy to help!
Here's the thing: I'm kinda picky when it comes to Airbnb or VRBO rentals. I judge a cool house based on the amenities, decor/style, previous guest reviews, and overall experience I think it'll bring to my vacation. If the vacation rental is worth the drive alone, then I totally want to book that house. (Otherwise, I usually opt for hotels.)
There are LOT of Airbnb Sedona rentals, but not all of them will elevate your trip. I spent hours scouring all the listings. These are the best Sedona Airbnbs and VRBOs!
12 Coolest Sedona Airbnbs: Pools with Red Rocks Views, Dome Houses, & More!
The most unique Sedona Airbnbs for a dreamy getaway to the Red Rocks in Arizona. These cool Airbnbs range from eclectic cabins, luxury houses with pools, charming bungalows, cabins and more!

Location: West Sedona
Price: $385 per night
Guests: Up to 2

This Sedona Airbnb is pretty unique since it's a historical building designed by Bob McIntyre, a famous local architect. This house totally reminds me a bit of something you maybe would find in Italy with all the stunning stonework and sweeping views of the Red Rocks. I bet it's nice and cool on a hot Arizona day.

The amenities are off the hook here. This house comes with an aromatherapy steam room, a deluxe Hot Spring therapeutic hot tub designed to target specific muscle groups and a saltwater swimming pool. If you're looking for a Sedona AZ Airbnb with a pool, I think this is the only saltwater one in town.

Photo Credit: www.airbnb.com

Location: Village of Oak Creek
Price: $243
Guests: Up to 8

This is the Sedona Airbnb that made me want to pack up a suitcase and immediately take a road trip to Arizona. I mean, look at this crazy cool dome house! It's like something you'd find on mars, or maybe the flintstones?! It's so cool!!

This extreme home can host up to 8 so it's the perfect whimsical vacation rental that you can't find anywhere else. It's located between Cathedral Rock and Bell Rock (two of the most famous vortexes) and within walking distance to cafes and shops. Past guests love all the personal touches the hosts have given, making this perhaps the best unique Sedona Airbnb. And yes, I totally want to stay here next time we come to Arizona.

Photo Credit: www.vrbo.com

Location: West Sedona
Price: $127 per night
Guests: Up to 2

The hot tub in this house was what made me swoon! The hosts have decorated the inside in a chic, modern minimalist style to helo you focus on the outdoors. Basically, if you're looking for a Sedona Airbnb with Hot Tub and great views, this is a good spot! Past guests also love that this house comes stocked with all the essentials (like coffee!)

Photo Credit: www.airbnb.com

Location: Chapel Trail
Price: $221 per night
Guests: up to 4

I'm a sucker for color! If you take a peek inside my boho San Francisco apartment you can see just how much I love color in home decor, which is why I adore all the fun pops of green and purple in this Sedona Airbnb on Chapel Trail. I mean, look at the bedroom, you are basically sleeping under the rocks with those windows!

But, walk outside and find 180-degree desert views, making this one of the top Sedona Airbnb with Views. There's also on-site hiking trails so you can quickly get in some nature time without driving to a trailhead. But, it's a quick drive to the famous Cathedral Rock trailhead which is one of the must-do hikes in Sedona.

Photo Credit: www.airbnb.com

Location: Oak Creek Canyon
Price: $185 / per night
Guests: Up to 2

Another fantastic little Airbnb Sedona cabin / tiny home with a huge deck for staring blissfully out across the desert landscape. This house comes with a private hot tub for stargazing - I suggest turning off all your lights so you can really see those stars pop!

Inside this one-bedroom tiny house, there's a fully equipped kitchen and a large bed in the loft. It's a quick drive away from great restaurants but also has a grill if you wanted to cook yourself.

Photo Credit: www.airbnb.com

Name: Home Sweet Dome
Location: West Sedona
Price: $182
Guests: Up to 7

I will never not think that dome houses are just like, the coolest thing ever. This Sedona home house is located 3 miles from downtown but located on a large property so it's peaceful and remote feeling (without being WAY out in the desert! The inside of this house is dope - I adore that checkered tile.

This house is large and perfect for groups or families. Would make a great bachelor or bachelorette party house for the gang as there is tons of space to sprawl out! Past guests love all the natural light and crystals in every room, making great energy for the house.

Photo Credit: www.airbnb.com

Location: West Sedona
Price: $93 per night
Guests: Up to 4

This airy townhouse is great for groups on a budget since it's under $100 per night and has two beds / two baths! It's right on the edge of town making it a quick drive to some of the best hiking trails in Sedona, but it's also in walking distance to some of the favorite restaurants and shops so you aren't too far out.

I love the dark kitchen that contrasts the white, airy decor of the rest of the house. There's no views here but there is a small patio with a grill so you can cook some meals at the Airbnb.

Photo Credit: www.airbnb.com

Location: Rimrock
Price: $232 per night
Guests: up to 4

I don't mean to sound dramatic when I say this may be one of the coolest Airbnbs in Sedona. I mean, IT'S A CAVE! HOW COOL IS THAT?! This earth house cave dates back to 600 years ago when Natives made this save their home. It's about 20 degrees cooler than outside temperatures, making this the best Sedona Airbnb for summertime visits since you can find shelter from the Arizona heat with ease.

This cave Airbnb also comes with a pool AND access to the creek below for swimming. It's a bit outside of Sedona but if you're up for glamping and something really unique, this rental is for you.

Photo Credit: www.airbnb.com

Location: West Sedona
Price: $113 per night
Guests: Up to 2

After finding a stargazing bubble tent Airbnb in Joshua Tree, I'm convinced I need one of my own. Until I have my own backyard, renting them in awesome places like Sedona will have to do! This bubble tent comes with a full-size bed so you can fall asleep under the stars and wake up in nature.

PS: I don't recommend this in mid-summer as I imagine the bubble will be WAY to hot to tolerate. But fall-spring would be great!

Photo Credit: www.airbnb.com

Location: Rimrock
Price: $116 per night
Guests: Up to 2

If that first bubble tent is all booked up, try the Forest Bathing Bubble instead! This one is a bit further out from downtown Sedona but there's a creek and tons of hiking trails on the property to make up for the distance. This bubble comes with a room inside the house, just in case, and makes for a fun, unique glamping experience in Arizona!

Photo Credit: www.airbnb.com

Location: Sedona Area
Price: $123
Guests: Up to 2

Perched on a cliff is this unique capsule barrel Airbnb tiny home that was sweeping views of the landscape below. This unique glamping house is great for anyone looking to get back into nature in a truly unique setting!

Photo Credit: www.airbnb.com

Location: Oak Creek Canyon
Price: $185 / per night
Guests: Up to 2

Tiny houses can be so cool, especially if you are traveling with your boo thang. This tiny cabin in Sedona comes with a porch/deck that instantly doubles the size of the property.

There's tons of space to sip morning coffee with views, or nighttime stargazing soaks in a hot tub. The inside is decorated in a rustic mountain meets Southwest style. We love it!

Still haven't found the right vacation rentals? That's ok – there are some stunning hotels in Sedona to choose from! Our favorite is Kimpton Amara which is where the first photo in this blog post was taken. Their infinity pool sits right up to the Sedona Red Rocks and has just the most peaceful, beautiful sunrise.
What Are Some Fun Things To Do in Sedona AZ?
I could spend weeks exploring all the hiking trails, vortexes, crystal shops and tasty restaurants in Sedona. You should check out my weekend in Sedona itinerary for more details on things to do, but these are my top favorite Sedona activities:
Visit the Vortexes: Sedona is famous for vortexes (areas that radiate energy) and there's a handful of them around the area. Some, like the Airport Mesa Vortex, are a quick jaunt up a hill, while others are lengthier hikes.
Shop For Crystals: Since this town attracts the spiritual folks, there's tons of crystal shops on the main downtown strip in Sedona. This is a great place to hunt for spiritual crystals along with other Arizona gemstones
Pink Jeep Tour: I haven't done a pink jeep tour personally yet but it's on my bucket list! This company takes you on off-road tours fo the Red Rocks in an iconic pink jeep. They look so fun!
Stargaze At Night In A Hot Tub: I'm a hot tub and hot springs junkie. My favorite thing to do while traveling is to grab a glass of wine (or local craft beer!) and soak in a hot tub under the stars… on our first trip to Sedona, we stayed at a hotel and managed to have the whole hot tub to ourselves one night. My favorite memory is just leaning back & gazing up at the blanket of stars in the desert sky…
Day trip the Grand Canyon: Sedona isn't too far of a drive from the Grand Canyon, which is something everyone needs to see at least once in their life!! Tack on an extra day to your weekend in Sedona for a day trip up! Note: we went in the winter and hey, guess what: it rains and snows up there! Double-check the weather before you drive up as you may not be able to see anything and that would be a bummer!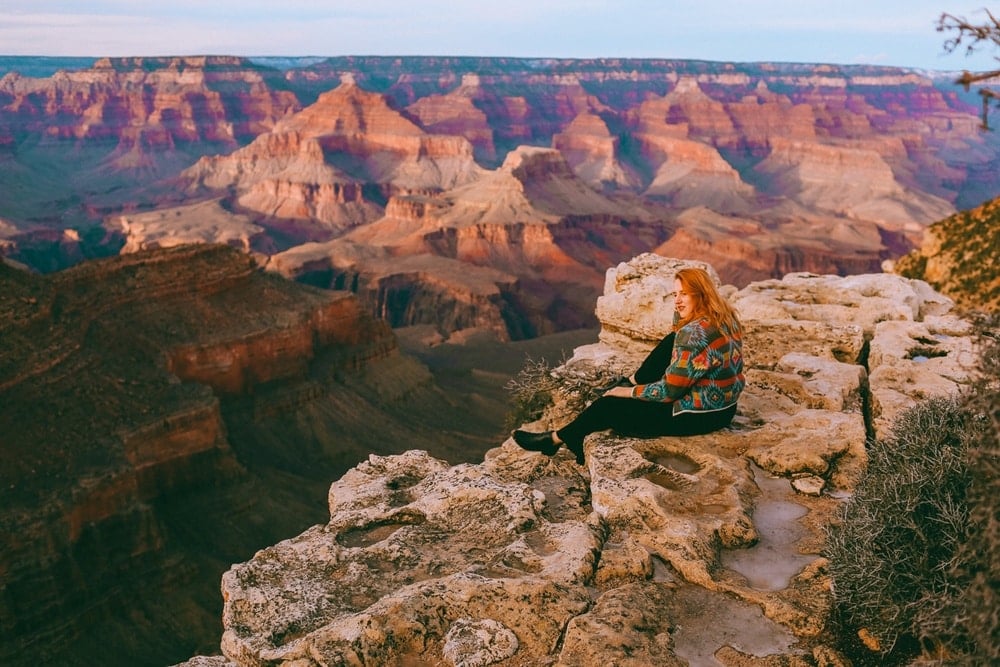 Is Sedona Walkable?
Not really. You have to stay directly on the downtown strip to be able to easily walk places. You'll 100% want to rent a car if you are visiting, especially since you'll need to drive to all the trailheads for hikes. Plus, most of the cool Airbnbs aren't directly on the strip so you'll need to drive to access them.
What Is The Best Time Of Year To Visit Sedona AZ?
Well, that's a bit subjective but I think spring or fall is the best time. On my first visit, we came to Sedona in January and it was rainy and cold, which made all the red rocks POP but it was a bit too chilly. Arizona gets really hot in the summertime. I think a summer road trip has it's perks, but in general, now that we know, we usually like to visit Arizona in October – early December when you can still get warm days but you aren't boiling.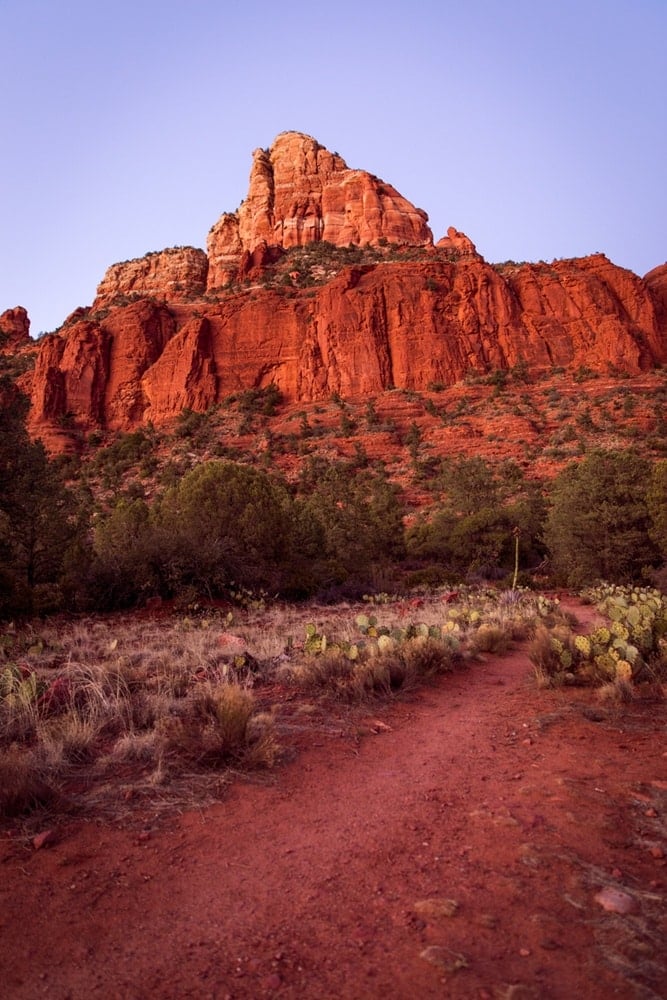 I love Arizona and I keep finding myself back there at least once a year if not more. If you're looking for more Arizona travel ideas, check out the colorful town of Scottsdale outside Phoenix. This town is our FAVORITE place to find great food, beautiful hotels and chic Airbnbs, serene desert hikes and relaxing spa visits.
I also recommend you check out the Tuscon area, especially their Mission San Xavier del Bac. We visited my mom snowbirding in Green Valley last year and loved exploring Southern Arizona. From here you can road trip down to Nogales, Mexico (where you can walk over the border to Mexico!) There's tons of cool art shops and spice shops in this area as well.
Anyways, I hope this helps you find the perfect Sedona Airbnb for you and your group! If your favorite Sedona vacation rentals didn't make this list, leave a comment below so everyone can see. Got questions? Drop a comment or DM me on Instagram @thewhimsysoul and I'll be happy to help!