Pink sunrises dotted with silhouettes of saguaros. Cold pools with stunning landscape views and shaded cabanas. Margaritas on misted patios. Relaxing evenings by an outdoor fireplace.
Summer in Scottsdale may sound intimidating with that famous desert heat, but it's actually perhaps the secret BEST time to visit town. Why? Tons of reduced hotel rates, vibrant restaurant scene, tons of open nature space, so many stunning pools to park yourself next to all afternoon.
Pack your bags, hop into your car, and let me guide you through the perfect summer road trip to Scottsdale! Complete with my favorite hotels, restaurants and fun things to do in the area to make the perfect long weekend escape to Arizona.
Summer Road Trip To Scottsdale: 3 Days in Scottsdale Itinerary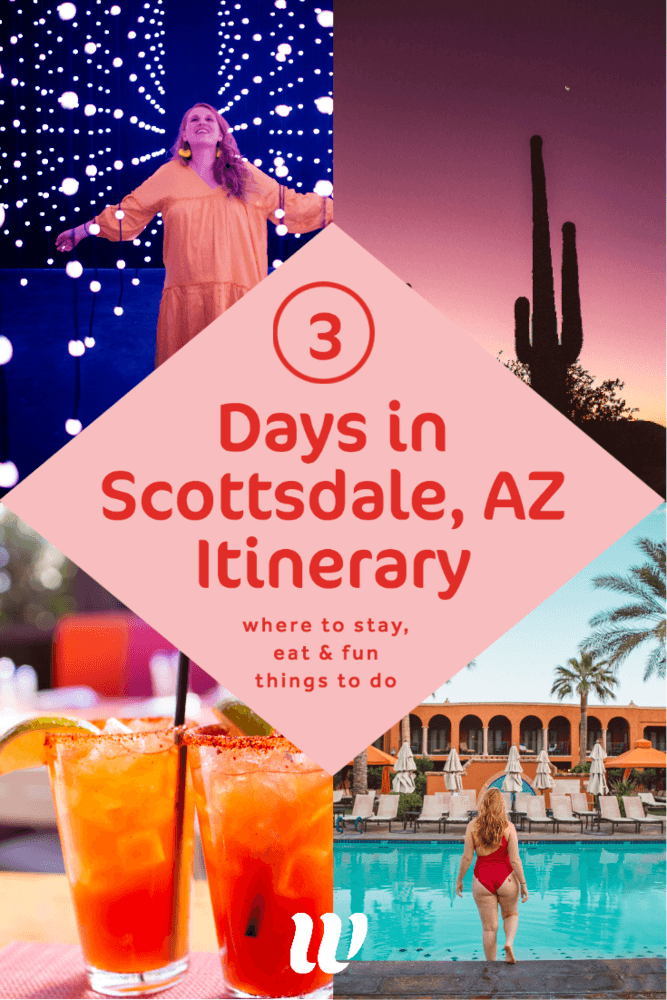 >> Got a question about the Scottsdale that you need answered quickly? DM me on Instagram @thewhimsysoul and I'll be happy to help!
Robin and I love Scottsdale. Since moving to California 5 years ago we somehow find ourselves in Arizona at least once a year (if not more) and after road tripping all around the state, Scottsdale is still our favorite town.
I'm writing this post a few days after the San Francisco Shelter In Place order has lifted, and we're slowly beginning to ease into traveling again. And holy moly, I can't express how much I'm craving a long weekend in Scottsdale right now.
Sunrise hikes in the desert before the heat sets in! Bottomless brunches! Margaritas poolside where I can channel my inner cat and soak up all the sun I missed while being stuck inside all spring!
Of course you can fly into Phoenix which is a short drive from Scottsdale, but I recommend instead doing a road trip to Arizona. You may see tons of cool things along the way (like Sedona or the Grand Canyon!) and Scottsdale is actually a lot closer to some major cities than I thought…
Road Trip To Scottsdale: Distance From Nearby Cities
I asked y'all on Stories a couple of months ago and most people reported that they'll be only traveling domestically and taking road trips this year. Scottsdale is an easy road trip from a lot of places — it's a lot closer to California than you may think!
Los Angeles to Scottsdale: 6 hours (382.2 mi)
San Diego to Scottsdale: 5 hours 45 min (364.1 mi)
Palm Springs to Scottsdale: 4 hours 30 min (278.4 mi)
Albuquerque to Scottsdale: 6 hours 30 min (407.3 mi)
Vegas to Scottsdale: 4 hours 50 mins (311 mi)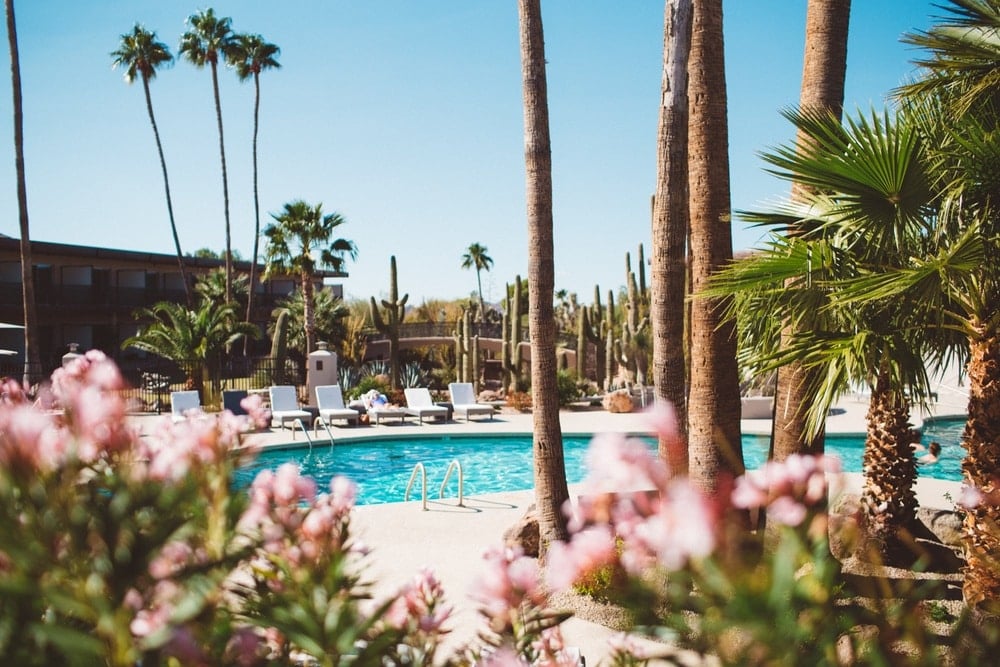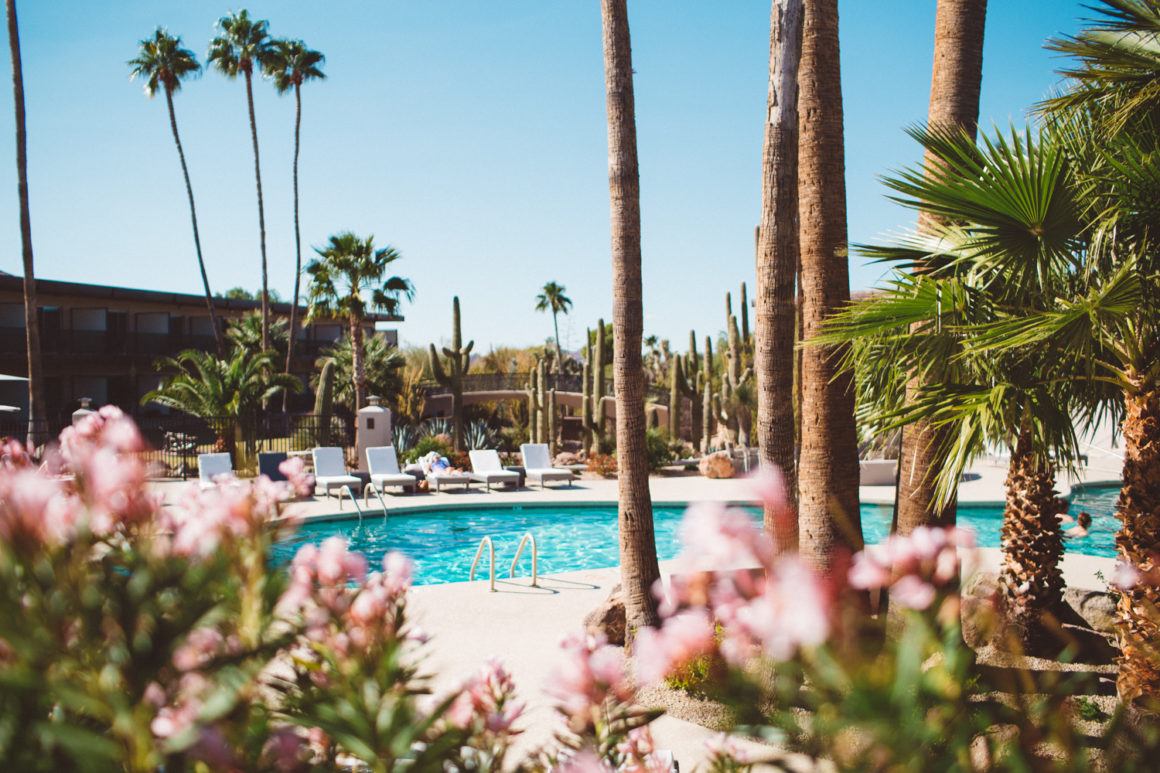 Our Favorite Scottsdale Resorts & Hotels
Before we dive into my suggested itinerary, let's chat lodging options! There are some trips we take where we crash as the cheapest motels we can find or camp. Others we treat ourselves to a nice resort and let me tell you – Scottsdale is a place where you'll want to upgrade to a nice hotel or resort. ESPECIALLY in the summertime when you won't want to be out and about in the middle of the day (hello desert heat!)
Hotels usually are up to 60% off during the summer season!
The awesome thing about summer in Scottsdale is that it's low season, which means most hotels are up to 60% off nightly rates!! So it's easy to snag that great deal on a 4-star resort without going over budget. Here's our recommended hotels:
Omni Scottsdale Resort & Spa at Montelucia: This resort looks like it was plucked out of Spain and is simply stunning. They have SO many pools here! I think the perfect summer day in Scottsdale would include some time lounging in a cabana poolside at the Omni.
Hotel Valley Ho: Located in Old Town, this hotel has tons of rich history (rumored to play host to numerous celebrities in the 60's!) It's colorful and the pool – complete with a "It's Always Sunny in Scottsdale" Instagrammable mural – is always a fun place to be in the summertime.
Phoenician: This luxury hotel snuggles right up to the base of Camelback Mountain with a few cactus garden trails you can wander. But, their huge pool complex (complete with an adults-only hot tub) is probably where you'll find yourself each day.
CIVANA Wellness Resort & Spa: Don't let the word "wellness" scare you off. This resort is so down to earth yet packs a punch on design. Guests always have access to free classes and group hikes. There's a stunning pool surrounded by saguaros BUT I much prefer the pool over at the spa. Beautiful doesn't begin to describe this place.
NOTE: they're closed during Shelter In Place but are set to reopen in September for an end of summer hurrah!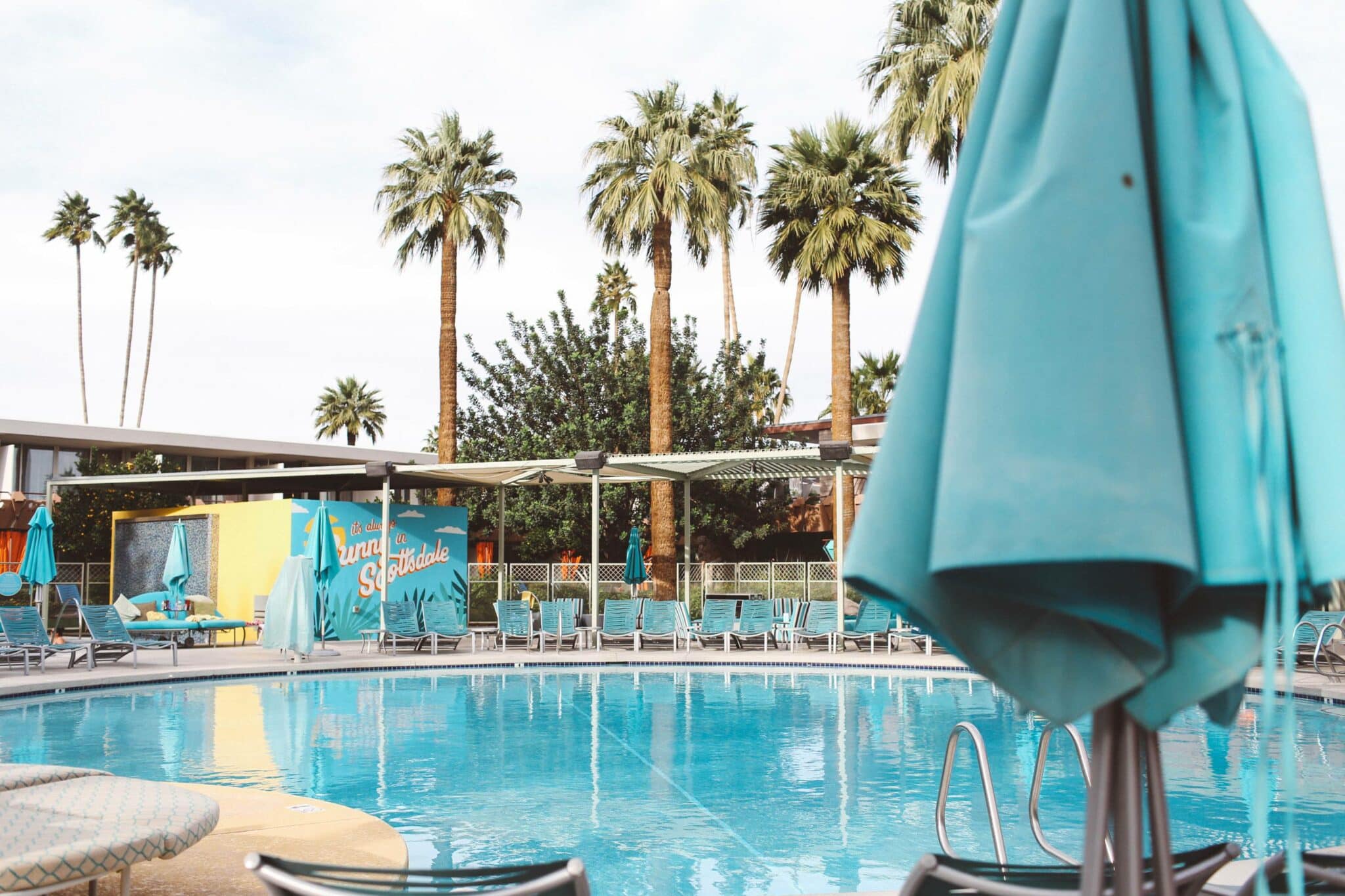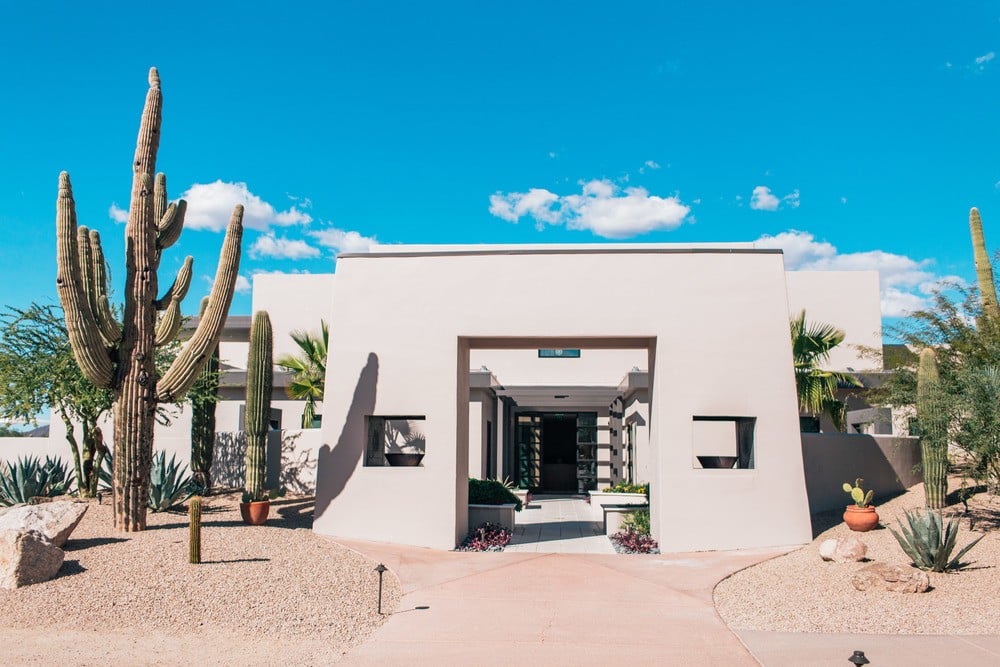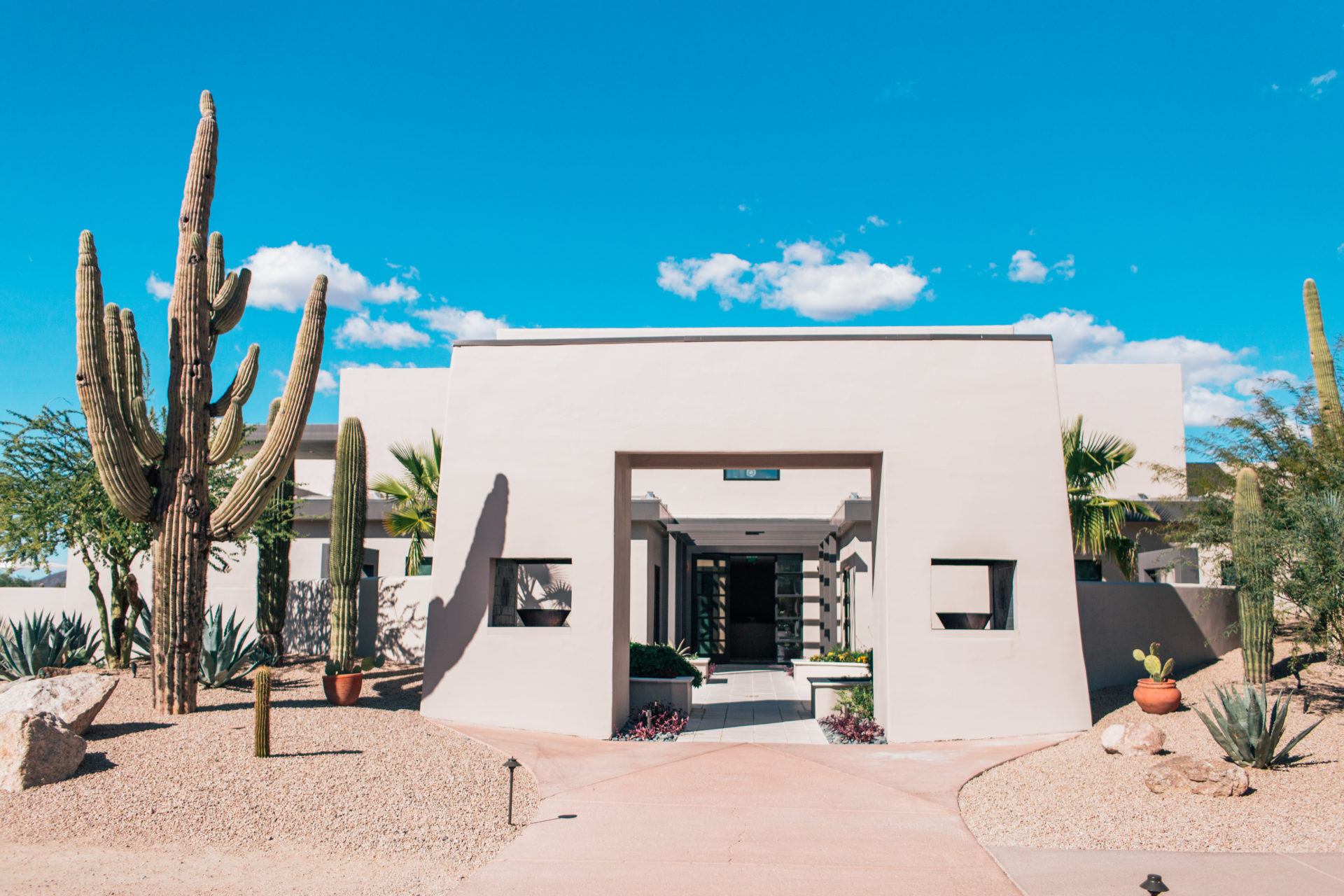 3 Days in Scottsdale Itinerary
Ok! So now that you know you where to stay, let's dive into my 3 days in Scottsdale itinerary! I wrote this on the assumption that you'll be driving into the city from one of the areas I mentioned, all of which are around or under 6 hours of drive time.
Of course, please adjust this to tailor to your particular arrival time! If you ever feel like you need more ideas of what to do, head over to my mega Scottsdale Travel Guide for more tips. Or, DM me on Instagram @thewhimsysoul and I'll be happy to help.
Day One In Scottsdale
1pm: Check-In To Your Hotel
Try to get an early start out and arrive in Scottsdale around 1pm so you can take advantage of a half-day. You may be able to get an early check-in. I find it totally depends on the hotel, the number of guests staying that night, how nice you are, etc. Just ask!
If you can check-in, take this time to quickly freshen up and settle in. If you can't, have them store your bags for you and come back at check-in time.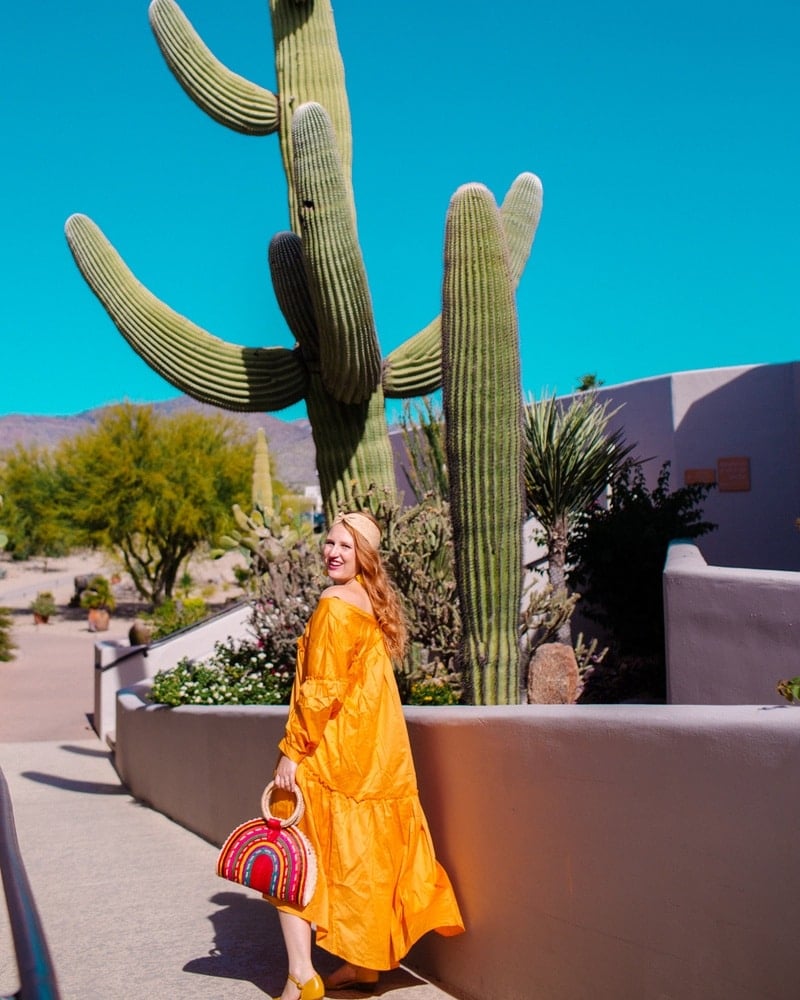 2pm: Walk around Old Town Scottsdale and Downtown
Whenever we arrive to a new town, we love to kick our vacation off by exploring by foot to get a lay of the land. Head over to Old Town Scottsdale (start around Camelback Road and N Scottsdale Road) and just explore a bit.
It'll be hot out but this area has tons of cute stores you can pop into to cool off. If you need a quick lunch or afternoon snack, head to New Wave Market or Cartel Coffee Lab.
If you are a sports nut like my husband, make sure to stop by the Fiesta Bowl Museum. It's free (has AC!) and displays over 128 FBS team helmets. It was very cute watching him geek out.
4pm: Scottsdale Wine Trail
Once you explored a bit, you can either head back to your hotel to check-in or stay in Old Town to kick off your first night in Scottsdale!
Since moving to California we've become low-key wine snobs (a perk of living just an hour away from wine country!) Arizona actually has a wine region and there are six tasting rooms in Downtown Scottsdale!
Grab a flight at Merkin Vineyards (we love their chic interior!) and learn all about the wine of Arizona. I remember being able to ask for specific varietals, so when it's hot out, try sticking to the rosés and whites.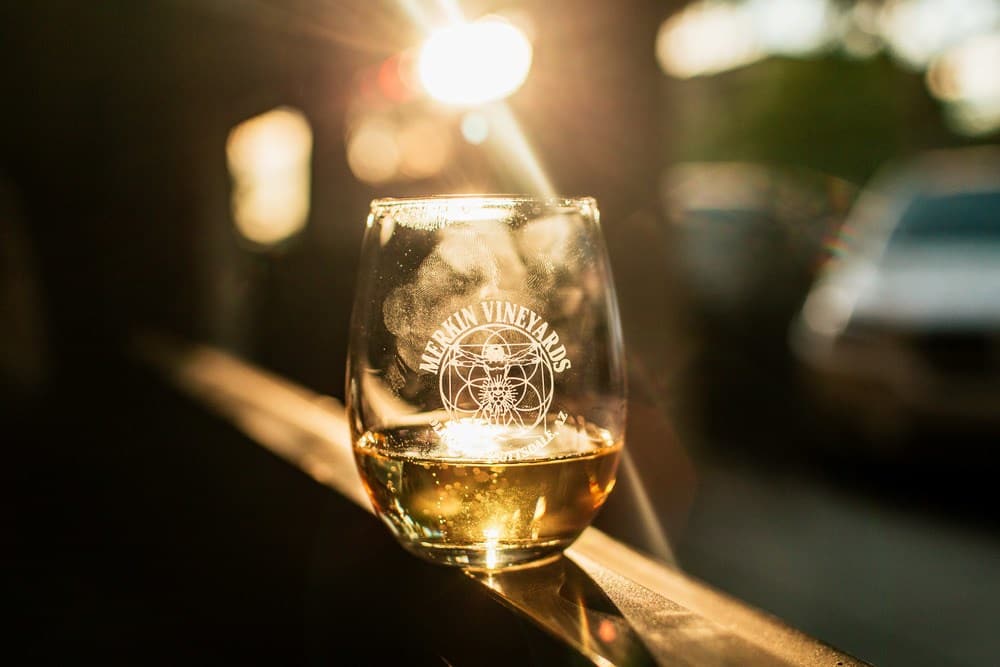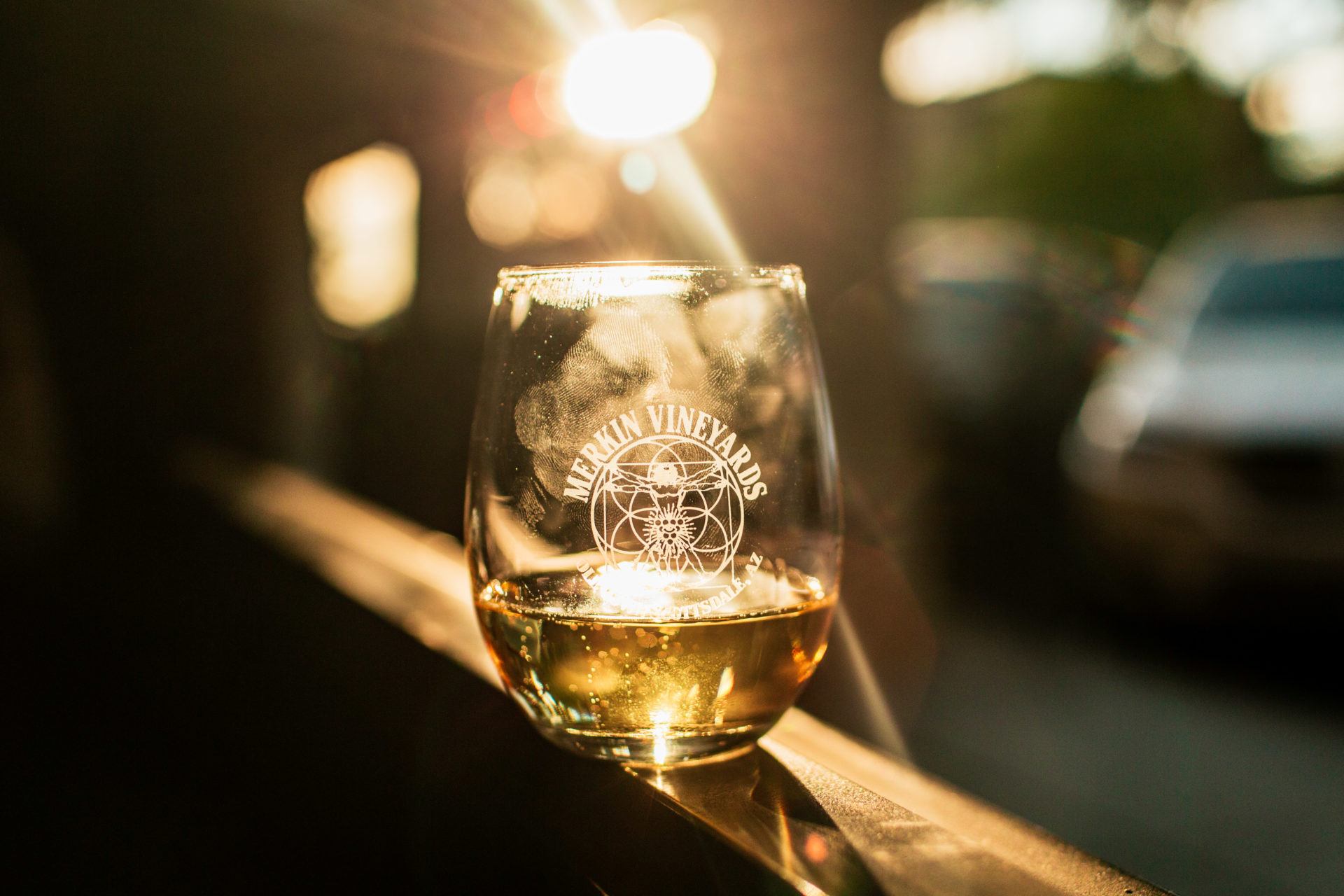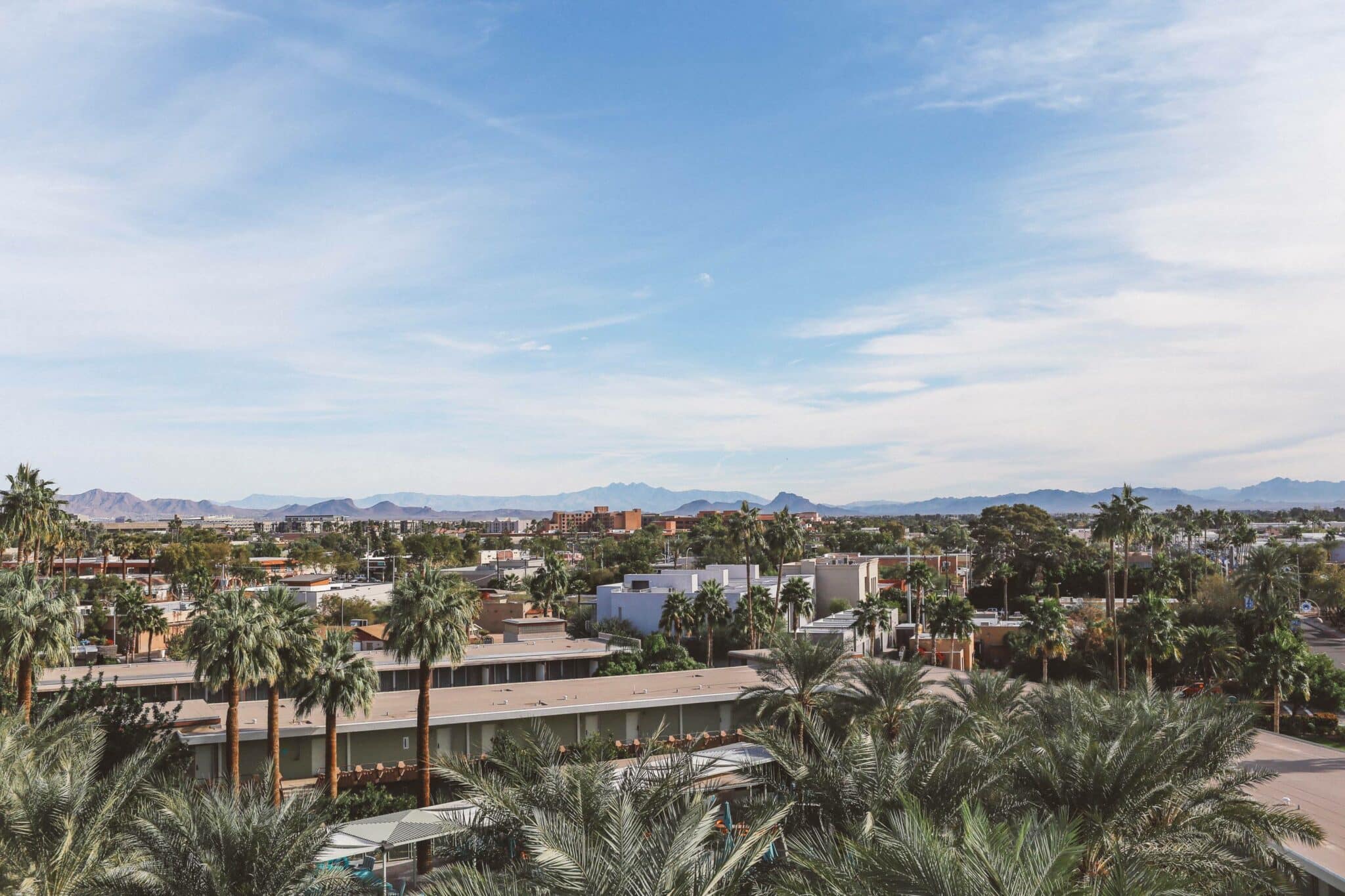 6pm: Happy Hour & Dinner At Diego Pops
Don't drink too much, because happy hour and dinner at Diego Pops is next! Diego Pops is an Instagram-worthy Mexican restaurant that also delivers on taste. We love grabbing burritos and margaritas here and taking them to their open-air patio.
This place is usually popping off at night on the weekends as it's a go-to hang out spot for locals and visitors alike. Treat yourself to a round of their Prickly Pear Margaritas (it's like the THING to do in Arizona!)
Not craving Mexican for dinner? After your wine,

head to FnB

. It's a farm-to-table gem that has amazing food. It's totally one of those places where you can lose a couple of hours chatting over pasta and wine. (FnB's

Charleen Badman was awarded 'James Beard 2019 Best Chef: Southwest!')
8pm: Fireside At Your Hotel
We've found that most resorts in Scottsdale seem to have a firepit somewhere on the property for guests to hang around. Once the sun sets, the desert cools off. Grab a beer at the hotel bar if you want and cozy up to a fire to wind down your first day!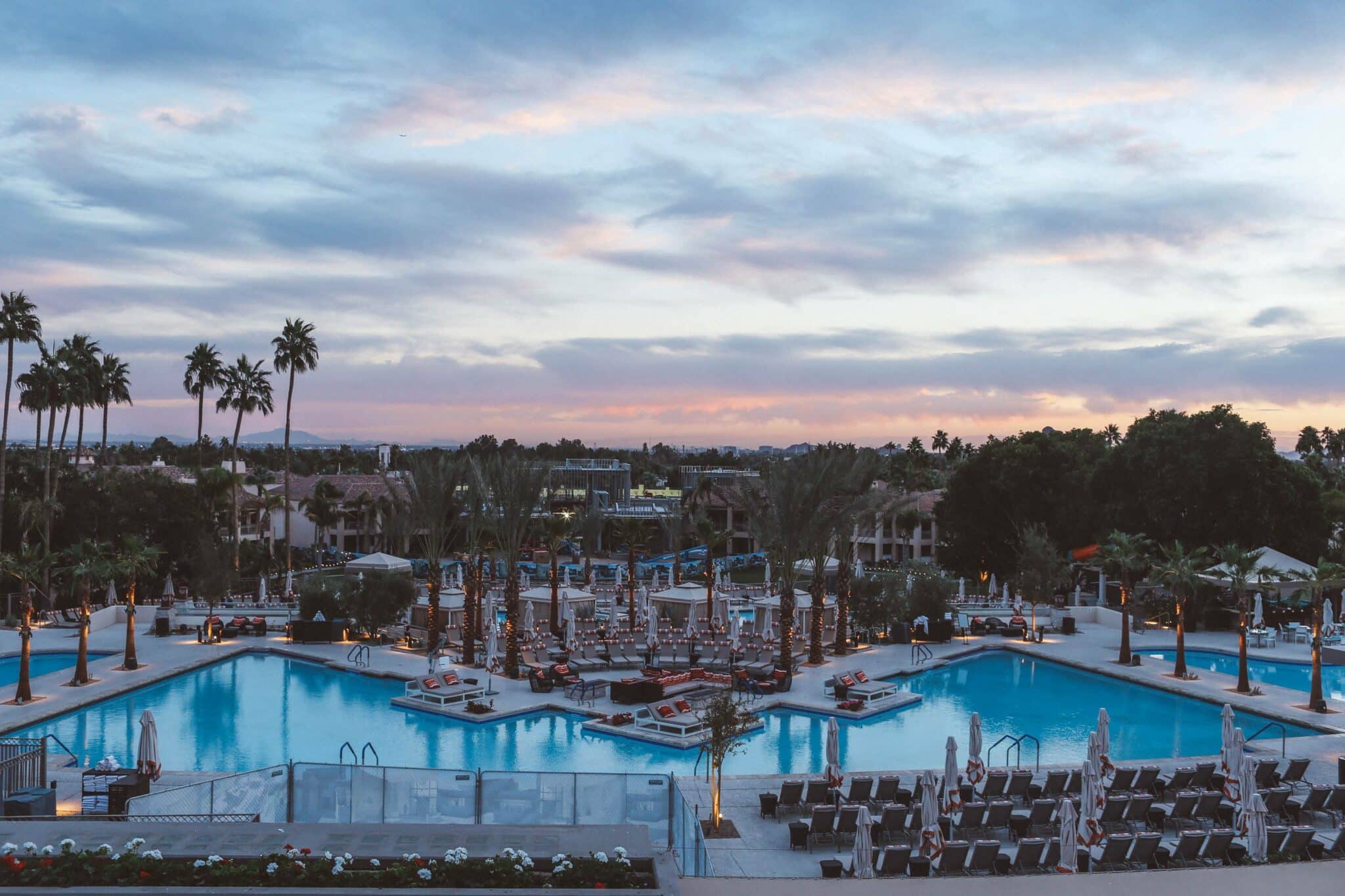 Day Two In Scottsdale
7:30 Am: Breakfast at Prep & Pastry
Summer in Scottsdale calls for early mornings exploring before the heat sets in for the day. Start off with breakfast from Prep & Pastry, a cute bakery cafe that has AMAZING food. Get yourself The Beni (pork belly on a biscuit, basically a twist on an eggs benedict!) or one of their breakfast bowls.
PS our favorite bottomless brunch spot in Scottsdale is called SumoMaya. They are currently closed at the time of writing this due to COVID19 but if you're looking for a huge AF brunch, check these guys out. You won't regret it!
9 am: Desert Botanical Gardens
Before it gets too hot, head over to the Desert Botanical Garden! This is technically in Phoenix but just a short drive from Scottsdale and this place is so beautiful. This garden is over 55 acres large with tons of mostly flat and paved trails to wander, making it easy for all abilities and ages to enjoy.
They do a great job with signage to help you learn about local plants and I feel like they are always hosting some fun special exhibits to check out. If you are visiting Scottsdale during Christmas time instead of summer, swap a day visit for a nighttime one so you can see Las Noches de Las Luminarias.
11:30 am: Lunch At Farm & Craft
For lunch, head back to Old Town Scottsdale to Farm & Craft. They offer sustainable food (including gluten-free options!) and make a great lunch on a hot day. They're kind of known for their bowls, so grab one if you're hungry. Or, opt for a smoothie if you're still recovering from your Prep & Pastry feast.
12:30 PM Poolside + Spa
As the heat settles in, it's time to steak your claim poolside at your hotel! If your budget allows, a cabana is worth it to get some shade on a hot day. Regardless, spend an afternoon lounging and relaxing. Have some cocktails and snacks.
If you're a spa person, treat yourself to a massage! We've been to both the spa at CIVANA and Joya Spa at the Omni and put our stamp of approval on both. CIVANA's spa is airy and bright, with views of its rugged desert surroundings. Omni's is more like you walked into Spain or Morocco with darker rooms filled with candles and Eastern-inspired decor. Their rooftop spa pool has a great view of Camelback Mountain.
6pm: Happy Hour & Dinner At The Mission
One of the best margaritas I've had in my entire life was at The Mission restaurant. It's their Aguacate (avocado) Margarita which is creamy but tangy and just hits the spot (especially on a hot day!) You simply can't leave Scottsdale without ordering at least one round.
The Mission has a really cool vibe, too. They merge old world charm with modern flares of decor. It's cozy yet bustling at the same time. For your main course, I recommend the Chorizo Porchetta – I'm low-key drooling just thinking about it. (Oh, and celebs like Will Ferrell eat here in case you needed an extra reason to dine!)
Day Three In Scottsdale
6am: Sunrise hike in the desert at McDowell Sonoran Preserve
YES setting that alarm to wake up before sunrise is going to be rough but I PROMISE it's worth it. One of my favorite memories from our very first trip to Scottsdale was our sunrise hike in the desert.
There are over 215 miles of trails here and the preserve is so big it accounts for about ⅓ of Scottsdale's total landmass. (Easy to social distance hike here!)
On our last visit, we had the trails to ourselves and magic really doesn't even begin to describe the experience of a sunrise in the desert. This park has many areas that are flat (or with slight inclines) so it's super accessible to all ages and abilities. We stayed for a couple of hours and headed back into town for breakfast.
Brunch At Hash Kitchen
At this point, you'll have worked up a large appetite so head to Hash Kitchen, another fantastic brunch spot. They have unique menu items like cereal shooter flights and Arizona's largest build-your-own bloody mary bar.
They have everything from Reese's pancakes for those with a sweet tooth to savory eggs benedict. No matter what you order, you have to also get an order of their Cannoli Donuts (if anything, for a snack on the way home!)
Pack Up & Check Out
All good things have to come to an end. After breakfast, pack up and check out of your hotel. Unless you can get a late checkout (again, ask and be nice!) have them store your luggage for a few hours until you leave the city. There's a few more things to squeeze in before you drive home.
Wonderspaces
Remember The Color Factory and The Ice Cream Museum craze of 2017? Wonderspaces Arizona is kind of like that, but with a more elevated vibe. Most exhibits are interactive in some way.
They have 13 exhibits that are swapped out every three to four months. Expect things like a VR experience, rainbow room, art you can touch and cool soundscapes. I think we spent about 45 minutes here so it's not a long activity, which makes it the perfect thing to do on your last day!
Last-Minute Shopping & Treats For The Drive Home
WWonderspaces is inside Scottsdale Fashion Square Mall (a shopping mecca in itself) next door to Old Town. So, use this time to pop over to those small downtown stores and do any last-minute shopping!
Pick Up Luggage & Head Home
Then, head back to your hotel to pick up your luggage and end the perfect summer weekend in Scottsdale!
What To Pack For Summer In Scottsdale
It's no secret that the desert gets HOT HOT HOT in the summertime. With temperatures easily peaking to over 100 most days, you'll want to pack light and loose clothing. I'm a lover of dresses and skirts for summer as they provide tons of airflow.
Of course, you'll want a few cute swimsuits as well for your pool time. Don't forget sunscreen (especially some SPF for your scalp!) and sunglasses and a sun hat to protect your skin. A comfy pair of sandals that you can wear around town but also a pair of sneakers or hiking boots for your desert hike.
Oh, and despite having hot days, the desert can cool off surprisingly fast at night. And, restaurants tend to pump the AC a little hard in the summer. So, also pack a light cardigan to bring with you for dinner so you won't get too chilly.
Packing Inspiration

HEY don't forget that right now (2020) we're still in a pandemic. Bring your mask, hand sanitizer and cleaning supplies to stay safe. I have a whole packing list in this post you should reference. You should also reference Experience Scottsdale's News & Resources page for any updates or information.
I hope this helps you plan an amazing summer road trip to Scottsdale, Arizona this year! If you can swing more than 3 days in Scottsdale, do it. (I thoroughly believe that the desert heals the soul.) But a long weekend will be fantastic as well.
If you have any tips to add, leave a comment below so everyone can see! And questions? Drop a comment or DM me on Instagram @thewhimsyoul and I'll be happy to help!