I am, by definition, a hassle-free girlie. I like things simple, small, and effective.
So, of course, I was influenced almost immediately by Alleyoop makeup after seeing them time and time again on my Tiktok FYP, in my Youtube content suggestions, and all over my Insta feed!
With its super multi-functional makeup products, this makeup brand preaches (and even some customer reviews 👀) that it will save you time, money, and space. It's a brand attempting to veer away from the 20-step beauty routine that has become standard in today's world.
Which. I. Love.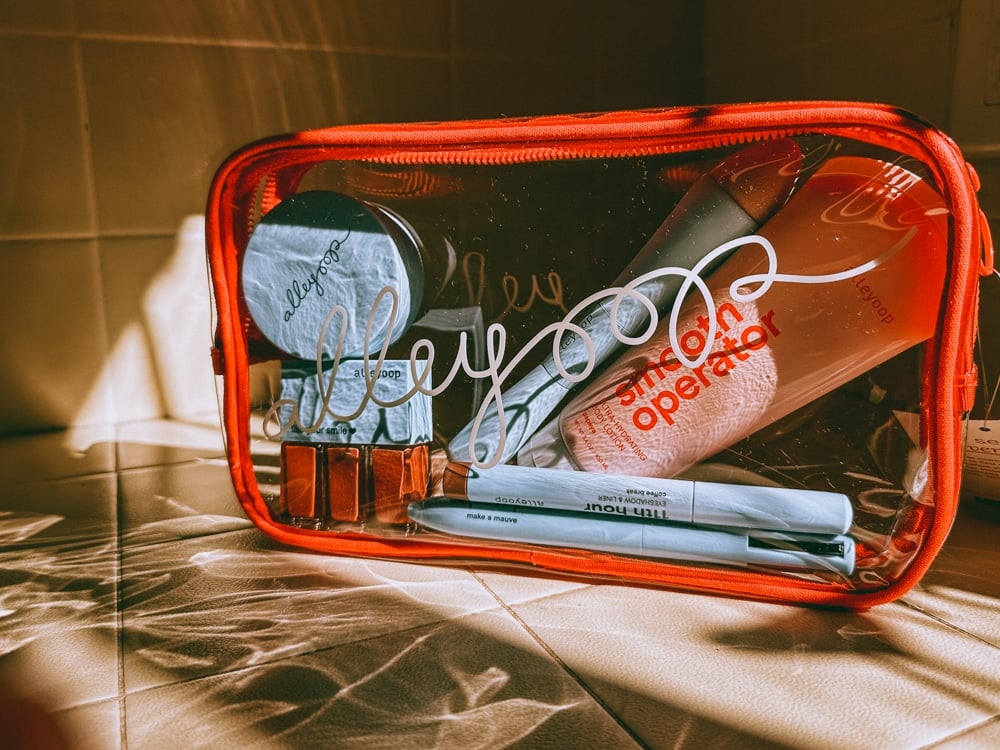 I've already been convinced by the easy systems Alleyoop beauty has created, but I wanted to know if the makeup was actually worth my time. Are they good quality? Long lasting? How intense are the pigments?
So I got my hands on a few of their items to answer all of my burning, yearning questions!
Let's dive into my Alleyoop Review to talk about what I got and how convenient these beauty products really are.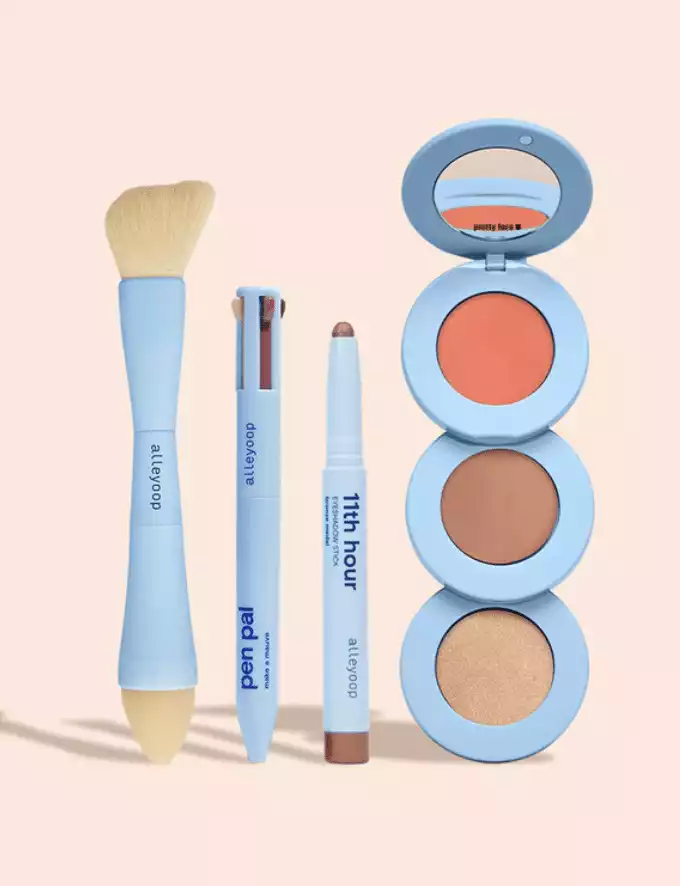 Beauty MVP Set
The Alleyoop Beauty MVP Set includes a clear cosmetic bag filled with its beauty bestsellers: 4-in-1 makeup brush, 4-in-1 touch up pen, eyeshadow & liner stick, blush, bronzer & highlighter trio.
Shop Now
What is Alleyoop?
First, let me give you a little info on Alleyoop and its products. As mentioned before, they are all about convenience, multifunction, and sustainability.
They want to declutter your life and be the one-stop shop for all your beauty, skincare, and body care needs! Honestly, I love the idea.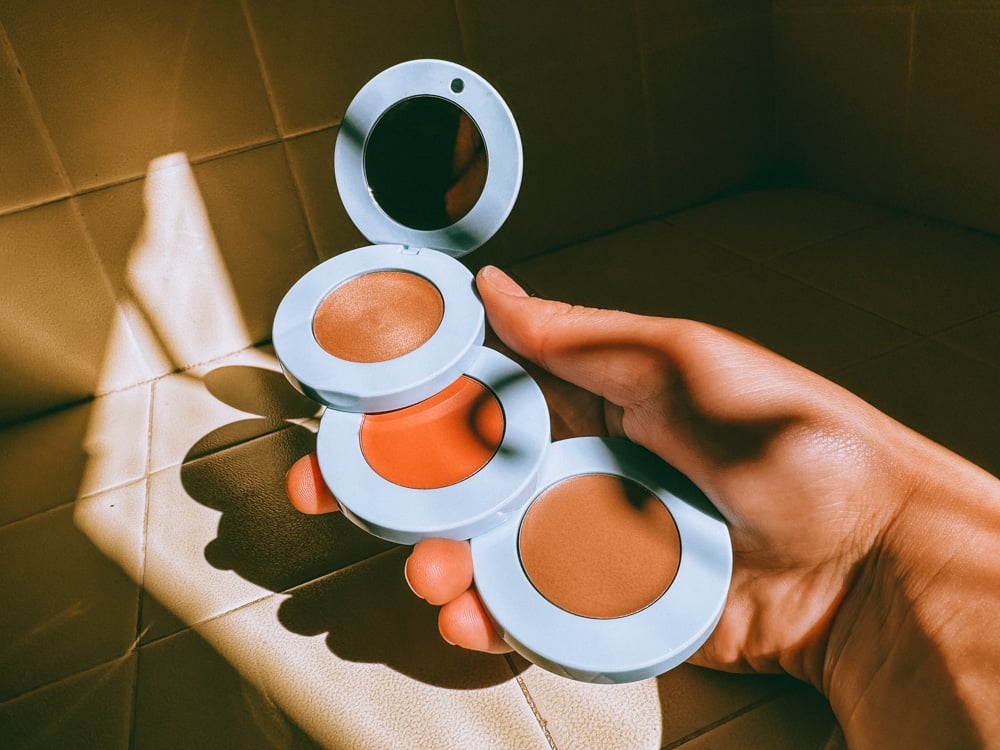 Their designs are super unique and bring you back to your roots of makeup essentials. No more unnecessary face oils, primers, or full coverage foundations that leave you cakey and upset.
They are precisely the kind of brand I have been on the hunt for the last six years.
So, Which Allyoop Products are Worth It?
To start, let's get into what I tested on my own flesh and blood (well, not blood).
I picked up the Beauty MVP Set, which is basically a makeup bag of all their best sellers including:
This makeup collection was chock-full of easy items that could fit into any toiletry bag or purse!
But was everything worth it? Let's get into what I couldn't live without.
The Pen Pal
Starting strong with my Alleyoop makeup pen review, this 4-in-1 touch up pen made my makeup routine so quick and has become not just a want, but a need for my everyday!
My biggest concern with these makeup products was if it would be more like "play makeup" with little pigmentation and not a long last.
I am happy to say I was worried for nothing. The colors were so pretty and matched my skin perfectly. I have been going ham on the pens eyeliner and lip-liner because it looks so good!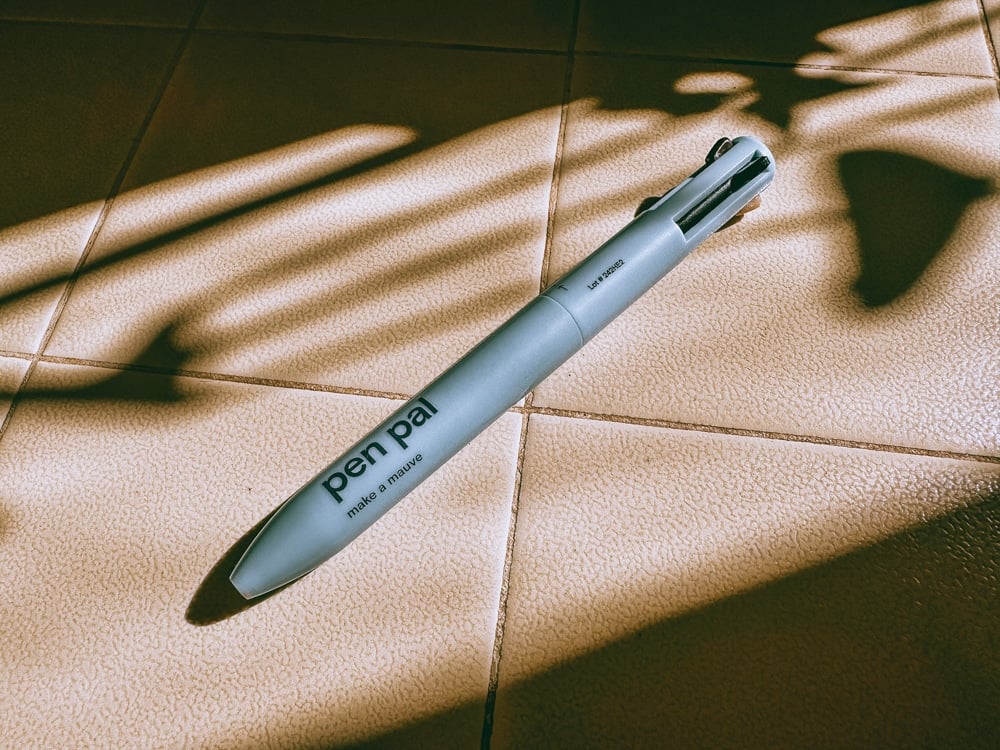 The best part is that I can pop this pen in my bag and do touchups in front of any mirror.
My Alleyoop pen pal review is a solid 10/10 for this unique and super travel friendly product!
11th Hour Cream Eyeshadow & Liner Stick
Another absolute gem that has already replaced every eyeshadow palette I own.
These eyeshadow sticks have already changed my life forever. 11th Hour glides on the skin like butter, blends well, and gives me the perfect soft-eye look for my everyday!
I will say it's pretty sucky as just a liner. The blunt edge makes the lines way too thick, but as a cream eyeshadow, it's heaven!
It's subtle enough, I can pop it right under my bottom lashes and blend it in for a nice little smokey under eye.
If you're looking for minimalist travel makeup or want to look put together in under 5 minutes, this eye shadow stick is a MUST.
Multi-Mood Lip Color
I'm gonna be honest, I didn't read the Alleyoop makeup reviews before I got this lip trio, and I had no idea why all three tubes were the same color. I was super confused and about to be very upset.
Then I did the smart thing and read the tagline for the product, which said, "1 lip color in 3 finishes."
I know what you might be thinking, why would I want one lip color in three finishes? But let me tell you, this little lip buddy is now my best friend. The multi-mood comes in a gloss, a matte, and a cream.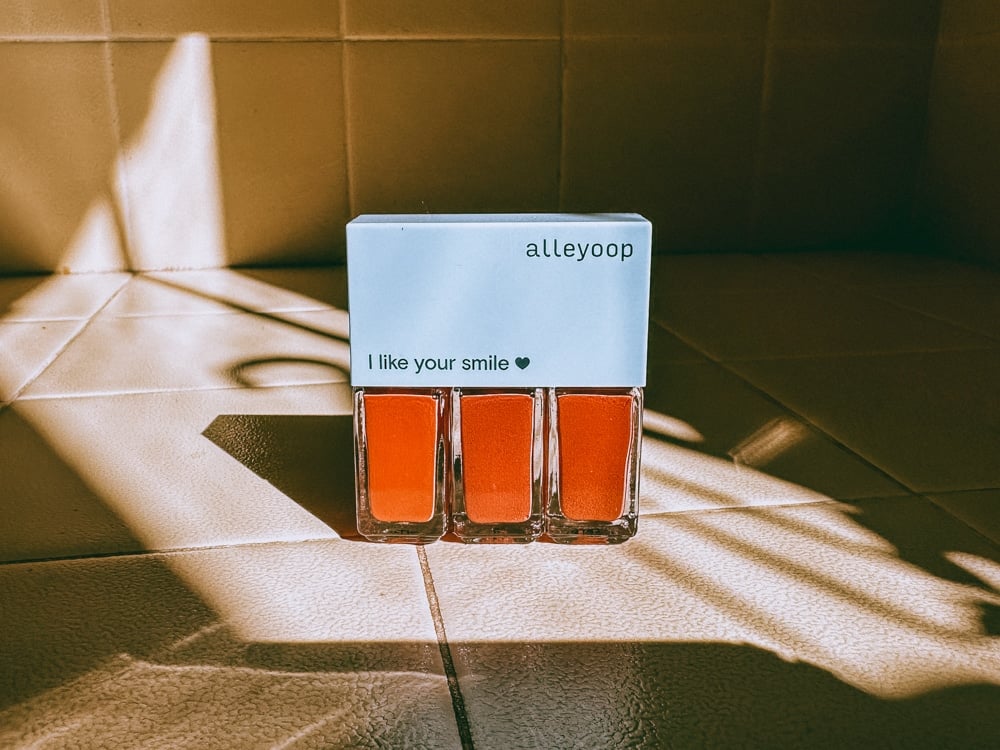 I like to play Russian roulette with it and pick a lip finish at random and every single time, it looks killer (insert audience laughter here).
Really, though, I love it. Every finish comes out pigmented, hydrating, and long-lasting.
You can shop for whichever color fits best with your skin tone through their website and you will never want to pick another color again, trust me.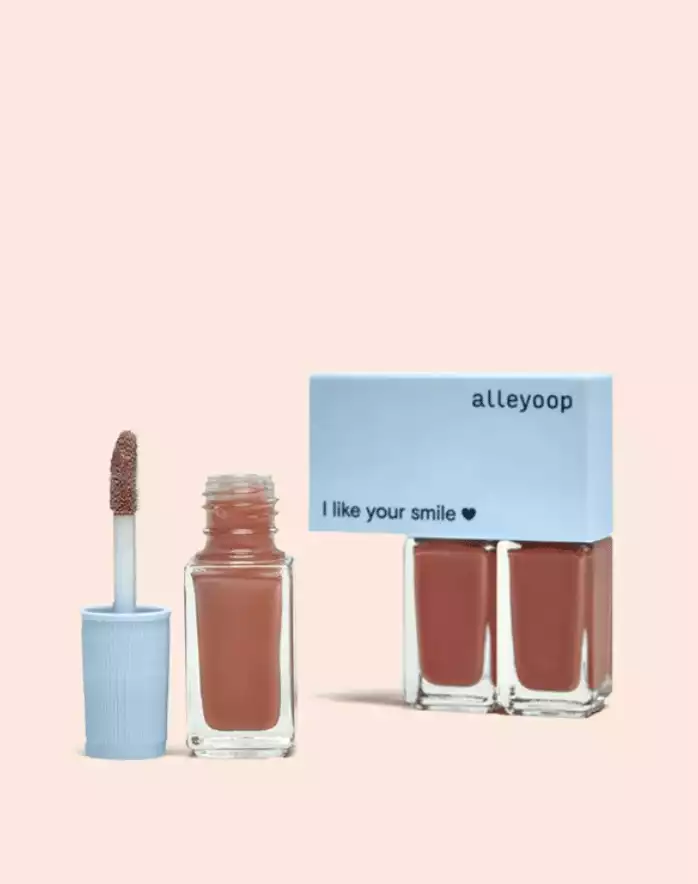 Multi-Mood
1 lip color in 3 finishes (gloss, cream and matte) in one portable case by Alleyoop.
Shop Now
Game Face Concealer
Although I didn't try this foundation, the Alleyoop reviews look promising. The Game Face Second Skin Concealer is a buildable concealer with crease free smooth technology that soothes the skin!
The only reason I'm looking into this item is because The Ordinary recently stopped producing their foundation (which I used religiously,) so I've been on the hunt for something similar and Alleyoops formula might take the cake!
The concealer is supposed to sit like a second skin on your face and blend seamlessly to cover dark spots and blemishes.
Plus, it's pretty mini, which means it's a great addition to any travel makeup capsule!
All In One Razor
This is another product I didn't get to test, but after seeing how Alleyoop combines their products, I fully trust this razor will be in my travel makeup kit very soon.
The Alleyoop razor has been voted the best on-the-go razor by Elle and I totally see why. It has everything you need to shave your legs in a cab, plane, or hotel bathroom.
The razor is a rotating disk with a razer, a moisture bar, and a spray bottle. It's meant for light touch-ups and not a full-blown hair fiasco, but I could see myself using this on the daily!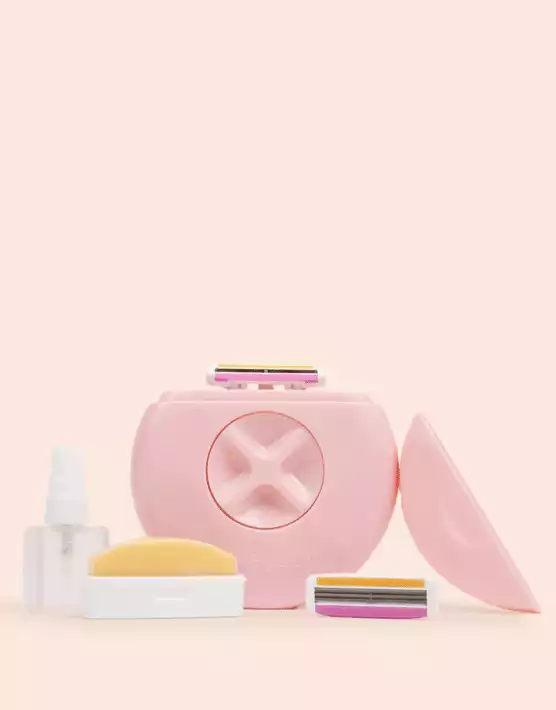 All-In-One Razor
The All-In-One-Razor features a refillable water spray bottle, Shea Butter moisturizing bar and two triple balde razor cartridges.
Shop Now
Dream Team Moisturizer
I literally always forget at least one skincare essential while packing and am forced to use either the hotel lotion on my face or the soap bar for facial cleanser. It's a nightmare.
This 3-in-1 moisturizer, eye cream & mask is a part of Alleyoop's skincare line and looks very promising.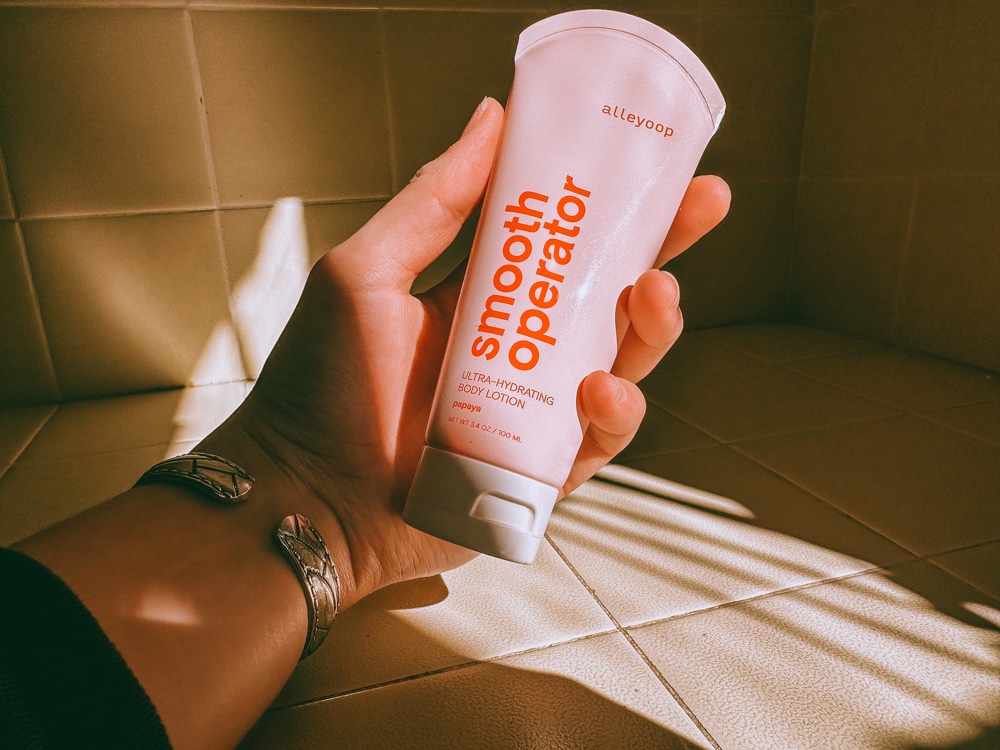 There's not really another brand I can compare Alleyoops skincare line to because it's so unique. It simplifies while so many other brands maximalize.
Moral of the story: pick up one or two items from their skincare line and always be ready to hop on a flight at a moment's notice!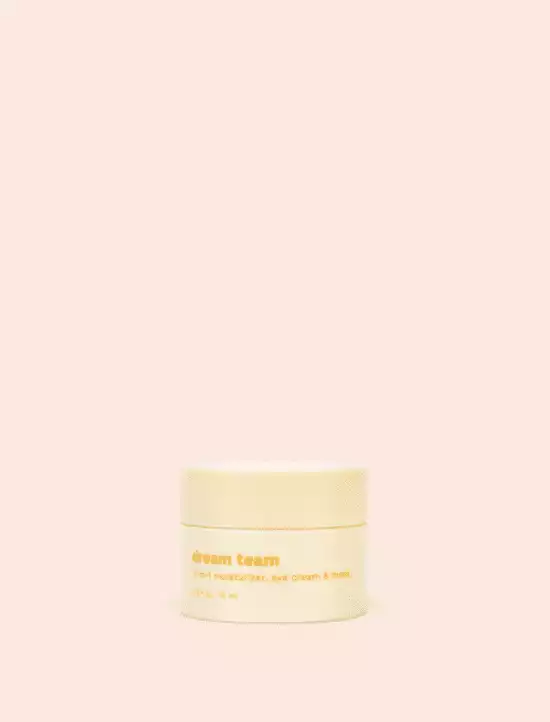 What Alleyoop Products to Leave Behind
To tell you the truth, I would uproot my whole makeup collection and just have all of the Alleyoop stuff, but it's not the most affordable brand out there, so I might as well stick with what works and leave out what I don't need.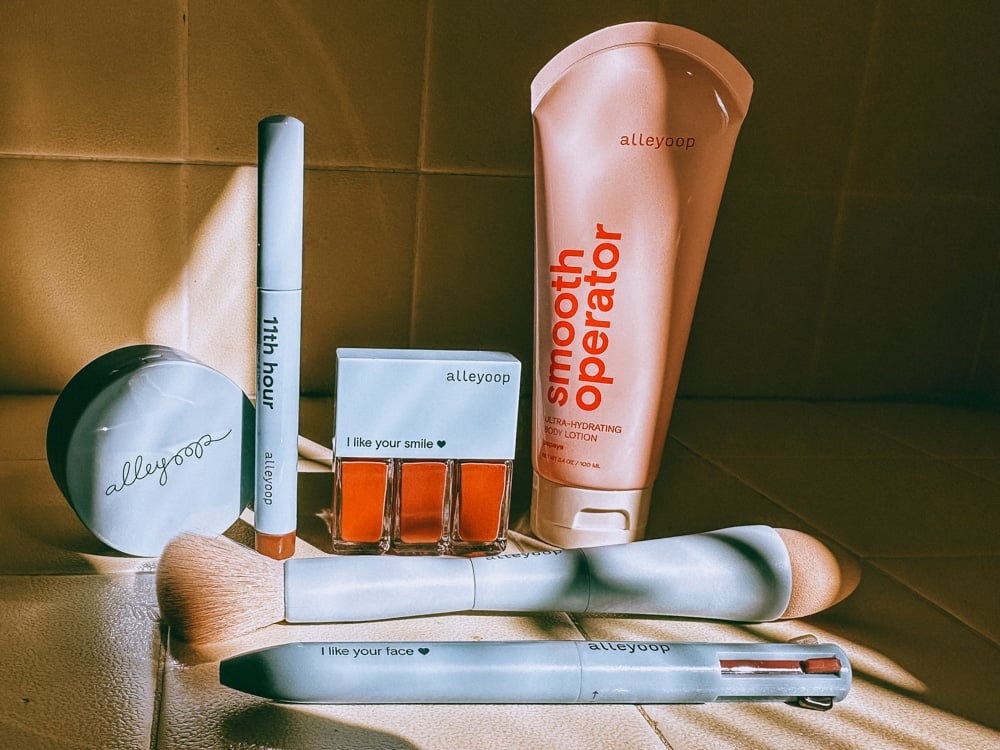 Let's get into what you don't need in your makeup kit, but it would be nice to have if you're willing to splurge some more.
Stack the Odds
The Alleyoop makeup stack is versatile and great for touch-ups, but the colors don't totally work together and it doesn't seem like enough product for your money.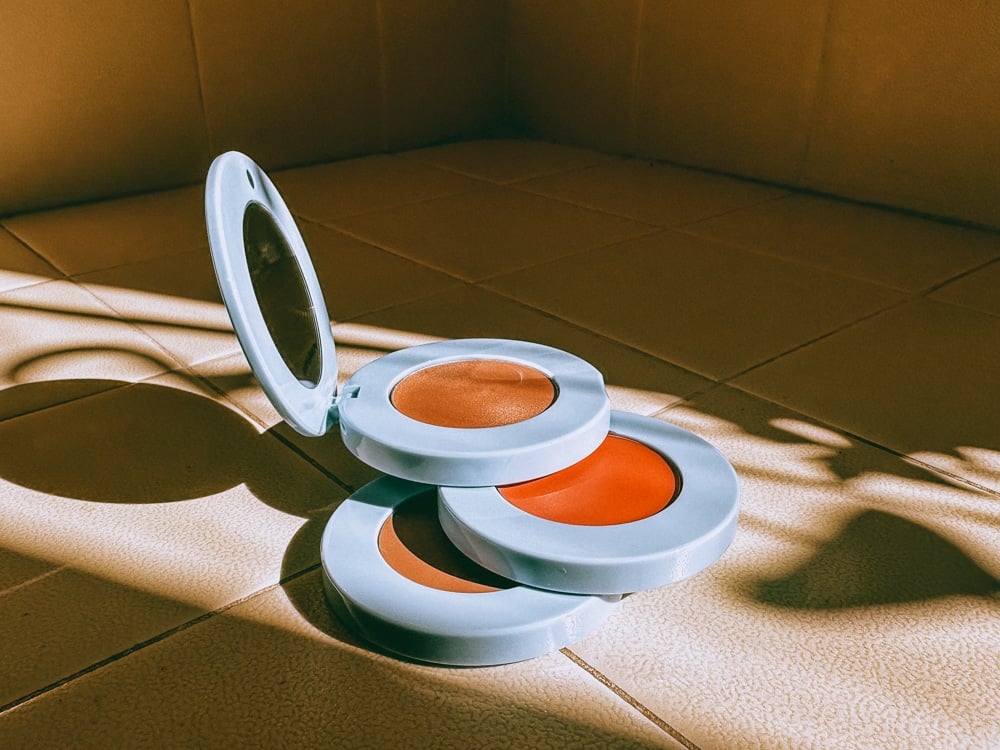 Yes, I did like the pigmentation and how easy it would be as a travel makeup palette, but it didn't blow my socks off with how they looked on me. If you're strictly on the market for touchup makeup for a trip or when you're on the go, you should add this to your cart.
Otherwise, you should check out Merit Beauty, another favorite brand of mine!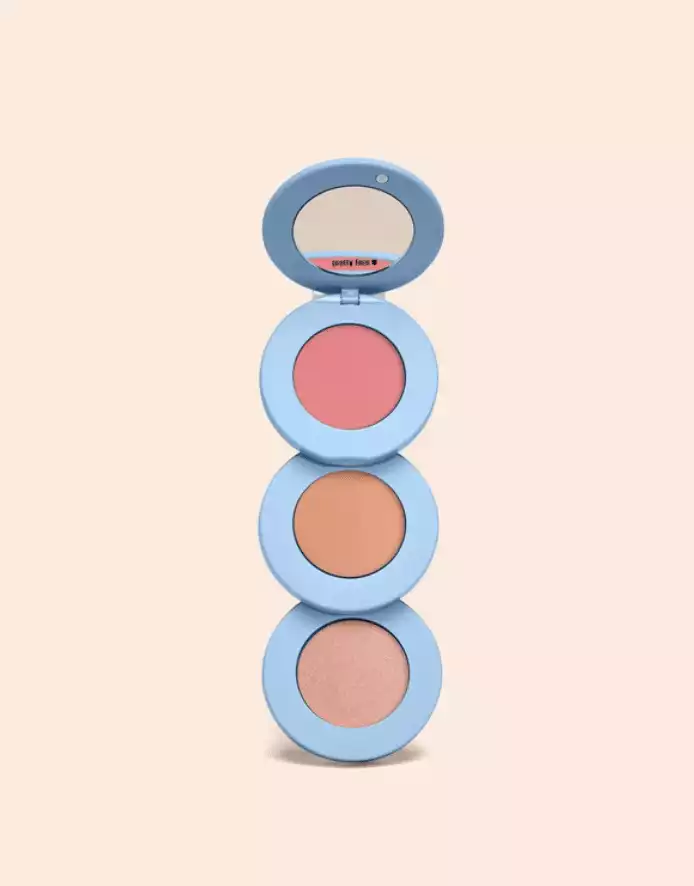 Stack The Odds
Get a complete look with Alleyoop's 3-in-1 stackable compact with blush, bronzer and highlighter.
Shop Now
Multi-Tasker Brush
The Alleyoop Makeup brush is super cool and has a lot of functions, but the sponge is too dense and I already have two or three makeup brushes I regularly use that take up the same amount of space as this one.
The brush has four "compartments." It has a blending sponge, an angled eyeshadow brush, a blending brush, and a large brush for loose setting powder or blush.
However, if you're already in the market for a travel-size makeup brush, I think you would enjoy this. The brushes provided serve different functions and as long as you only use the sponge for contour, you'll likely love this little makeup gadget.
Multi-Tasker
Alleyoop's 4-1 makeup brush including concealer sponge, blush, brow and eyeshadow brush.
Shop Now
Where To Buy Alleyoop Makeup
You can get Alleyoop all over the place, especially online. I recommend checking out their website first so you can browse all the goodies they have to offer and make a decision before looking elsewhere. Plus you can take advantage of any current Alleyoop discounts available!
If you're interested in getting Alleyoop as gifts, stick to their site and pick up a gift set! The Beauty MVP set I ordered included a free smooth operator body lotion that smells divine and would make any birthday girl or bride fall in love with your gift!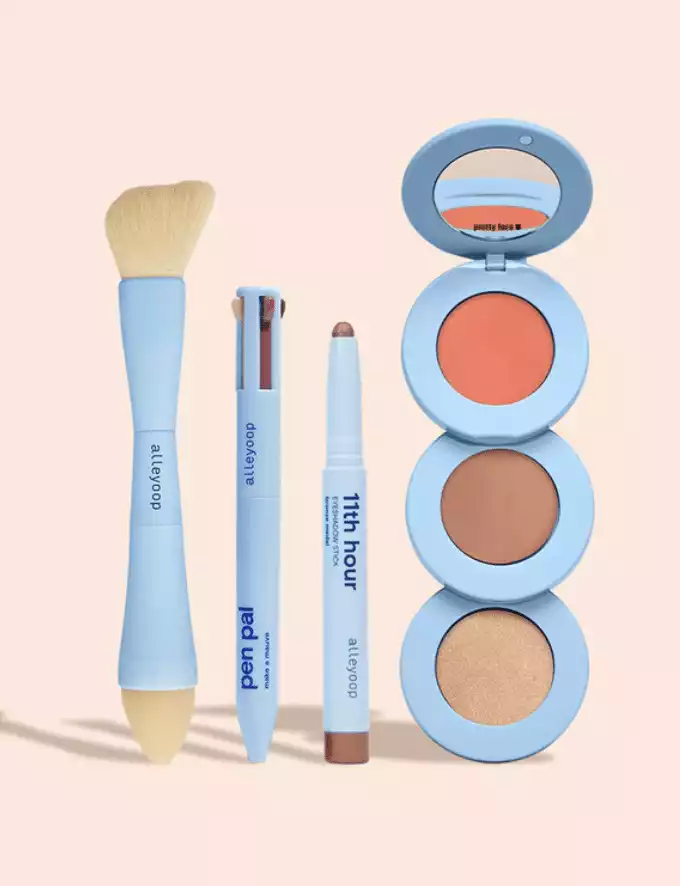 Beauty MVP Set
The Alleyoop Beauty MVP Set includes a clear cosmetic bag filled with its beauty bestsellers: 4-in-1 makeup brush, 4-in-1 touch up pen, eyeshadow & liner stick, blush, bronzer & highlighter trio.
Shop Now
They also have some great body care sets and a card game to connect better with yourself and those around you!
Alright, I've gotten a bit off track. You can also get Alleyoop on Amazon, at Walmart, and even on ASOS!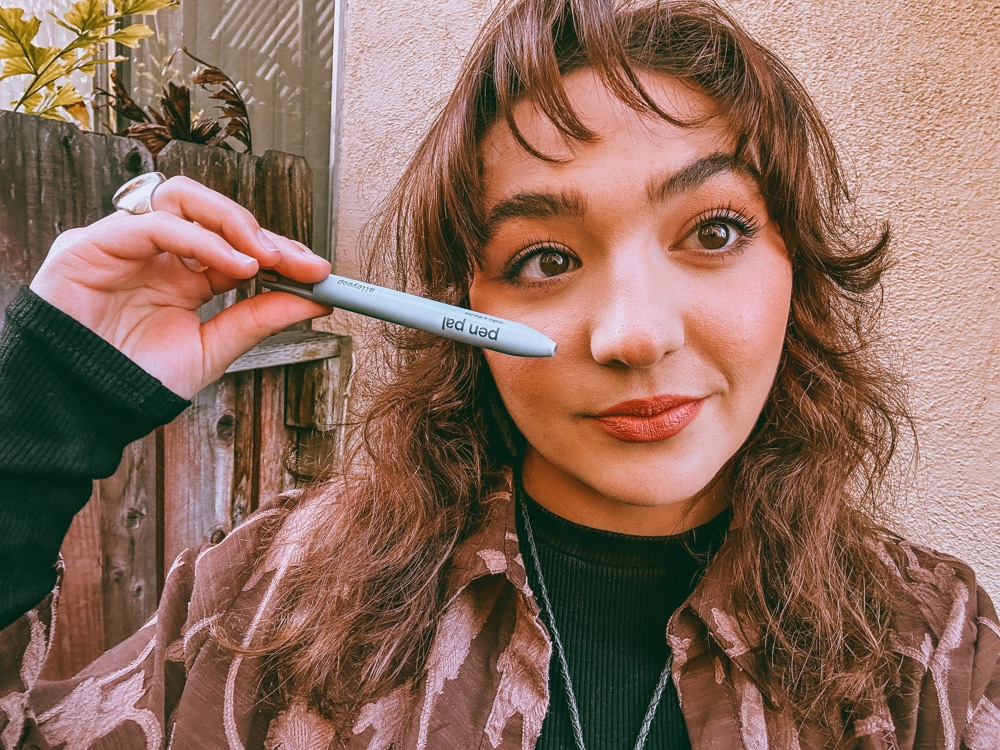 Should I Buy Alleyoop?
Here's a little yes or no quiz to help you decide whether or not to invest in Alleyoop makeup!
Do you like to do your makeup quickly?
Do you like a minimal look?
Do you travel often and want something you can use anytime and anywhere?
If you answered yes to all of these questions, it's time to get yourself some Alleyoop. The makeup is travel size, pretty on the skin, and makes your life 10x easier.
I can give you all the packing tips in the world, but the only one you should listen to (from me) is that Alleyoop is going to change your traveling game and you need it in your suitcase!
Oh, and while you're packing, you should pop in some Cadence pods to carry your other travel essentials to keep luggage light!
Whether you're going from home to the office or on a plane to Hawaii, Alleyoop will give you the touchups you need and the time to enjoy your day.
Have you tried Alleyoop? What did you love? Do you know of another travel-friendly makeup brand I should try? Let me know in the comments below!