I fell in love with pineapple while in Maui. I think I ate it for every meal. Combined with some of the most colorful sunsets I've seen in the entire world, white sandy beaches and the freedom to wear a swimsuit everywhere, I kept asking myself why we didn't come to Maui sooner!
My husband and I grew up in Wisconsin, so Hawaii was that one BIG trip you took when you got married, or retired, or – if you were lucky – had rich parents (I did not.) We moved to San Francisco about 5 years ago and FINALLY got our butts over to the Hawaiian islands! It was our first time on the famous island and going into it, I was super overwhelmed.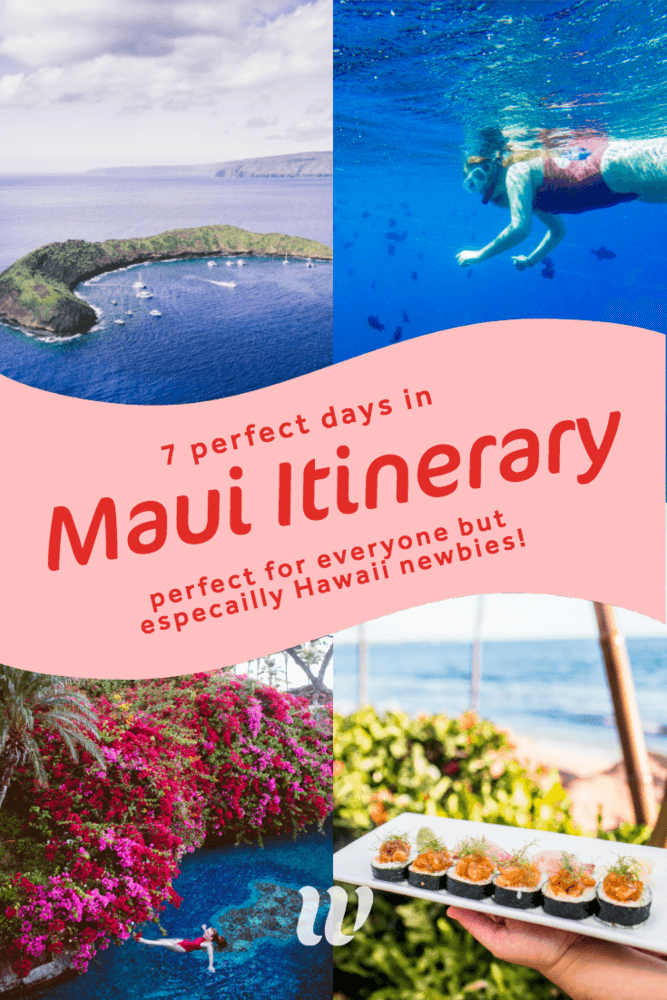 Where do we stay? What do we do? I still feel like Hawaii is this super special once-in-a-lifetime place for a lot of people, including myself, so I didn't want to mess the trip up by booking the wrong things or going to the wrong places.
So, from one gal another, this is my First Time Visitor's Maui Itinerary: 7 Days in Maui, Hawaii. AKA your Ulatmie Maui Itinerary for NOT fucking up your Maui trip and making sure you have the best vacation, ever!
>> Got a question about your Maui vacation that you need answered quickly? DM me on Instagram @thewhimsysoul and I'll be happy to help!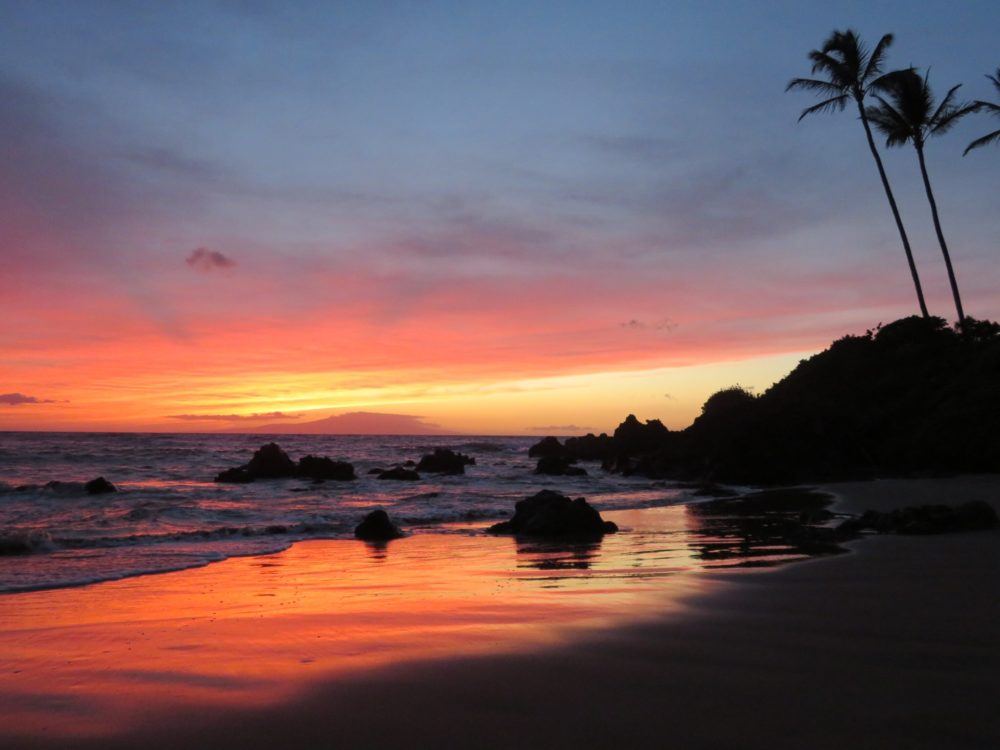 Book Direct Flights To Maui If Possible
Robin and I flew over on Alaska Airlines – they usually always really good flight deals from California to Hawaii (around $350/person sometimes!) You can also easily fly over on Southwest (get those free bags, girl!) Just make sure you get direct flights when you can, especially if you are starting from the West Coast. It already takes about 5-6 hours to fly to Hawai'i and the last thing you need is spending even more time in airports instead of the beach.
Spring Is The Best Season To Visit Maui
We visited in April for Robin's 27th birthday. According to my friend who has been traveling to Maui every year since a child (yes, we're all jealous) the springtime is the best time to visit Maui because it won't be as rainy and you can catch whale watching season!
I also found the beaches to not be as crowded as I thought they would be. Spring and Fall are shoulder season, meaning the weather is still nice but there's less crowds. But I know after 2020, lot of people are heading to the islands year-round now, so expect crowds all the time for a while.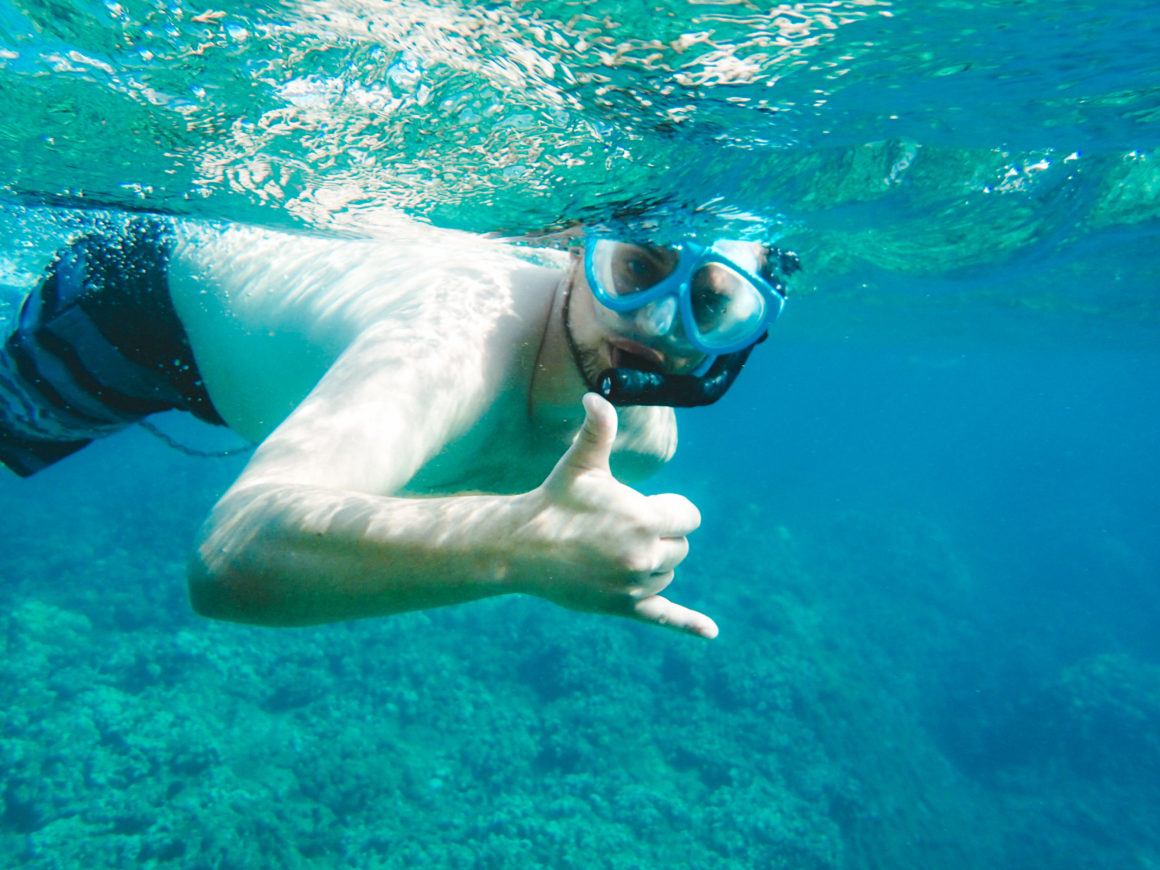 Where to stay in Maui
Since we knew we'd be running around finding all the things for you (and of course, finding out what NOT to do in Maui) we chose to break our trip into two parts. For the first half, we stayed in Kihei, which is on West Maui but in the center. It makes the PERFECT home base for exploring the island as it's basically directly in the middle of everything.
Because we knew we'd be exploring a lot in this first half, we booked at the Days Inn, a budget hotel (well, budget for Maui anyways, it averages $150 a night.) Was it my favorite hotel in the world? Heck no, but it allowed us to spend more money on activities and pineapple. We didn't spend much time in the room, plus it's right on our favorite beach on the island, which is a perk.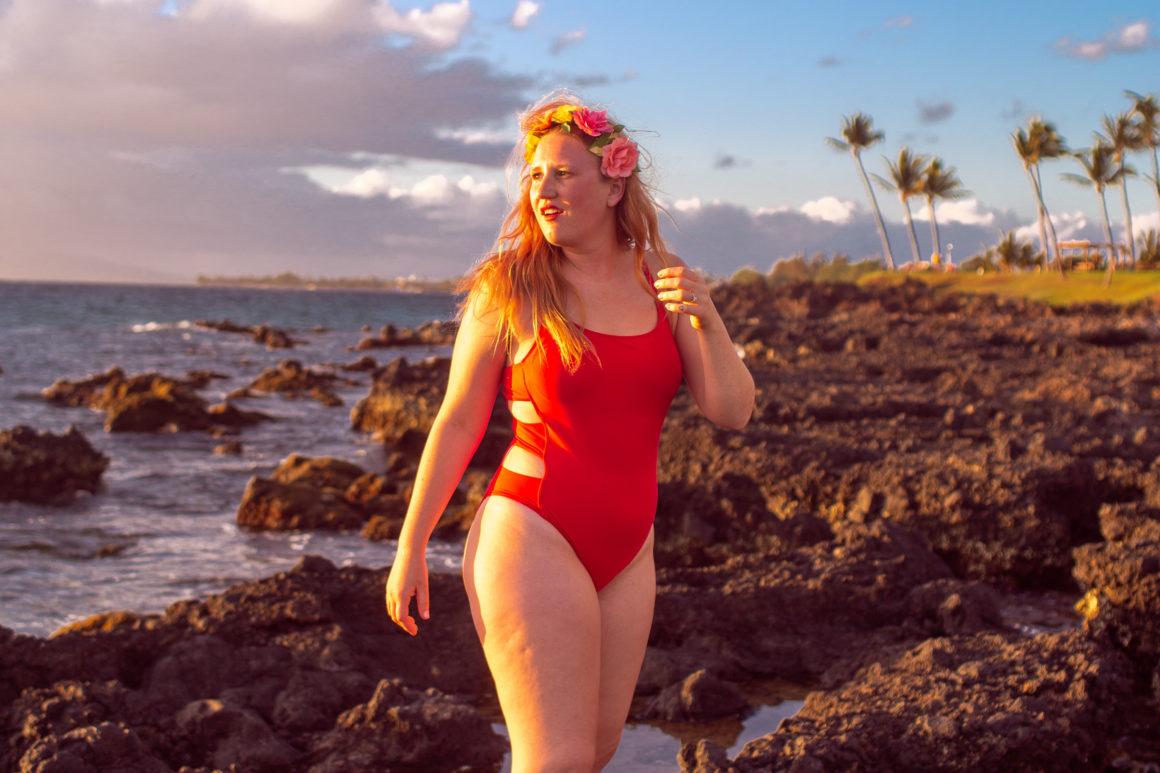 For the second half, we went up to North Shore to spend a few nights at the Hyatt Maui, a fancy resort filled with top-notch restaurants, activities, the island's best luau and more. (Read my full feature on the Hyatt here.)We spent the first half exploring and doing a lot of go-go-go, but for this half, we slowed it down. One day, we just lounged in a cabana. We feasted on sushi and attended our first luau, all right at the hotel.
If you are planing your Maui Itinerary 7 Days plan, I highly recommend that you split it in two. It may be an unpopular opinion but I think this allows you to really experience BOTH sides of Maui. The adventure side that locals live and the relaxing side that we all dream of. It also allows you to stay in multiple parts of Maui, and they are all so different!
Maui Hotel Tip:
I broke down which region of Maui is best for my readers based on what they like to do.
You can read my recommended hotels
(these ones plus a few others!) in my island hotel guide / Maui day planner!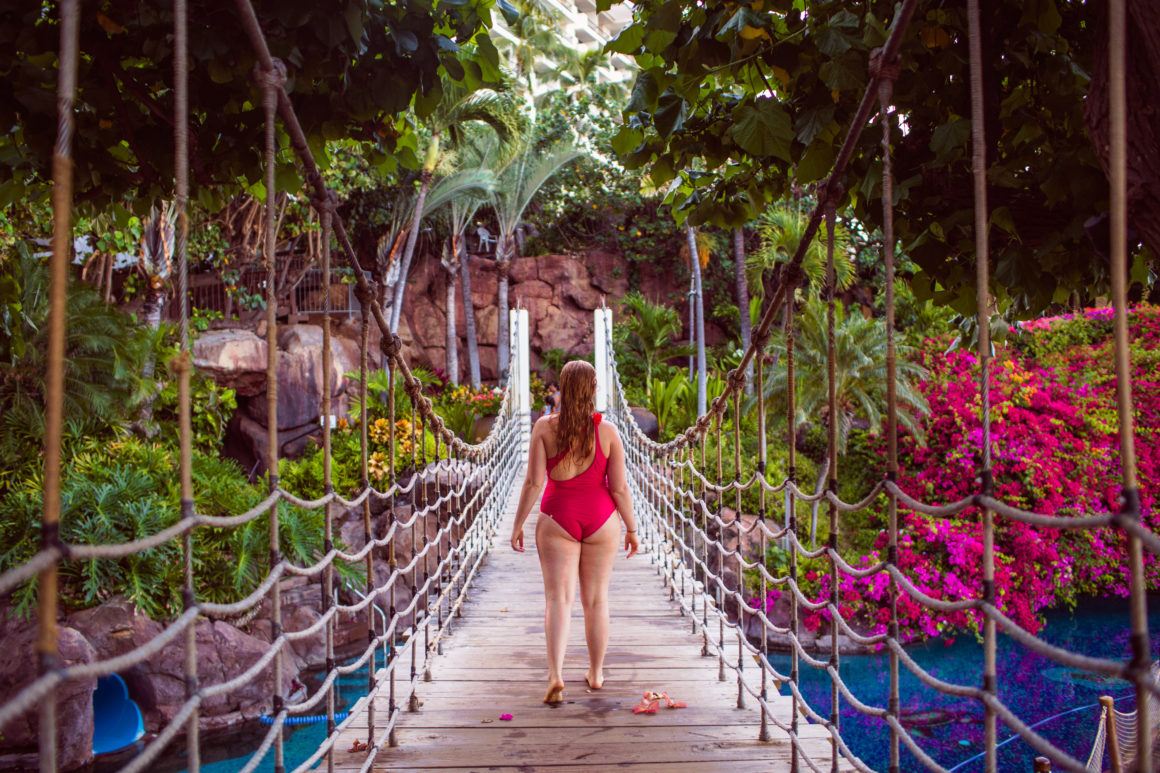 Ok, I'm getting to my perfect Maui itinerary, I promise. But before we do that, I wanted to quickly go over the must-things you have to pack to Maui and some of the really unique local cuisines that you have to try!
Local Maui Food You Must Try!
Shave Ice: WTF is shave ice you ask? Not, it's not shaved ice, which sounds more correct to me, but whatever. It's like a snow cone, but the tropical version. You'll find shave ice stands EVERYWHERE. It's the perfect thing to eat when it's hot out. My tip? Try the really wacky flavors. If you haven't heard of it before, give it a whirl.
Banana Bread: On the Road to Hana, you MUST try Banana Bread! There's a few famous stands along the way. We grab a warm loaf at the Halfway to Hana stand, along with a pineapple smoothie and I still daydream about that lunch. PERFECTION.
Maui Gold Pineapple: On the mainland, a single Maui Gold Pineapple can go for $30-$50, easily. On the island, around $7. I didn't believe they tasted any better but then I tried one.. and let's just say, once you go Maui Gold, you can never go back.
Maui Pineapple Wine: I'm usually not into sweet white wines, but one of my followers suggested I try the pineapple Maui Blanc from the winery MauiWines. Robin and I drank it on the beach one night under the stars and immediately went back to the store the next day for more.
Sushi: Hawaii are islands. Of course, they have some of the best sushi around! Make sure to try some one night.
Taro: You either love it, or hate it. It's a culturally significant food that I personally don't hate. Robin does, though. Look for it on a menu and make sure ti try it at least once.
Kuluaha Pork: *drools* just thinking about the Kuluaha Pork we had at our luau. If you eat meat, this is a meal that you'll remember for a while!
Moco Loco: I discovered Moco Loco at a restaurant here in San Francisco and turns out it's a Hawaiian dish! My Moco Loco at the Kehei Caffe was game-changing. It's a meat patty over rice with a special sauce. Perfect for when you're hungover after drinking all that pineapple wine!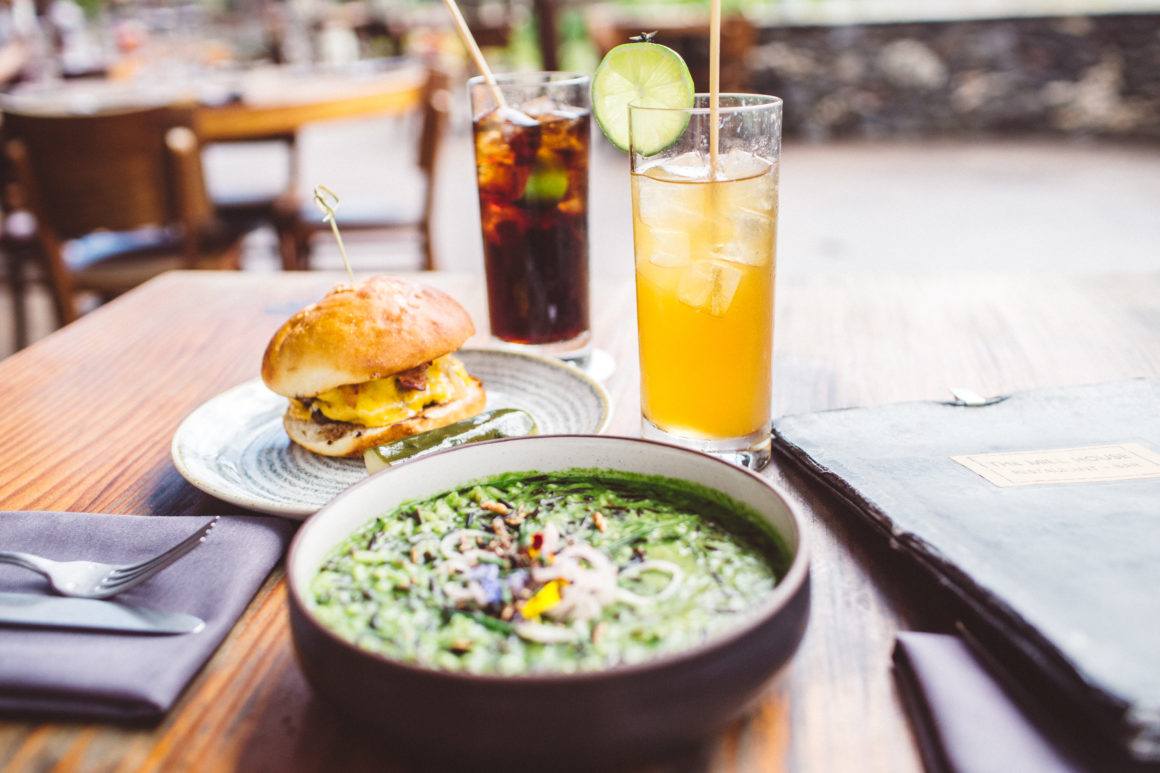 Maui 7 Days Packing List
7 nights in Maui means a lot of sunscreen and swimsuits! Here's my must-packing list.


Do You Need To Rent A Car In Maui?
OMG YES you will 100% need to rent a car on your trip to Maui! Don't rely on local transportation or Uber. It's a big island and you will need a car to get around.
We rented our car from rentalcars.com & and I highly recommend it for easy and cheap car rentals!! Get the pre-paid gas for the best value. We had to fill up once after our day trip to Hana, so you can expect ot fill up only once or twice.
UPDATE: Tons of news sources are saying how in 2021, the rental car market in Hawaii basically crashed. It's now very hard and very expensive to rent a car on the islands. I think having one is worth it, but right now it may be cheaper and easier to use Uber until the problem is solved.
7 Days in Maui Itinerary: Exactly How To Spend Your Time!
Skip the other travel guides, this is your perfect 7 day Maui itinerary. I really put a lot of thought and care into crafting this!
DAY ONE IN MAUI
Here's a sneaky pro-tip you won't read on other Hawaii travel guides. Make sure your plane arrives BEFORE 11am on any given day to avoid the crowds and NEVER (if you can help it) arrive on a Saturday.
This is an insider tip from an airport employee! We only had to wait about 30 minutes for our shuttle to the rental car place, but it can apparently take HOURS between 11am-4pm when most of the flights land and Saturdays are like Black Fridays.
Once you land, budget at least an hour and a half to pick up your rental car. Everything moves on Island Time here. Yes, it's frustrating, but at least you now know going in that there will be a wait!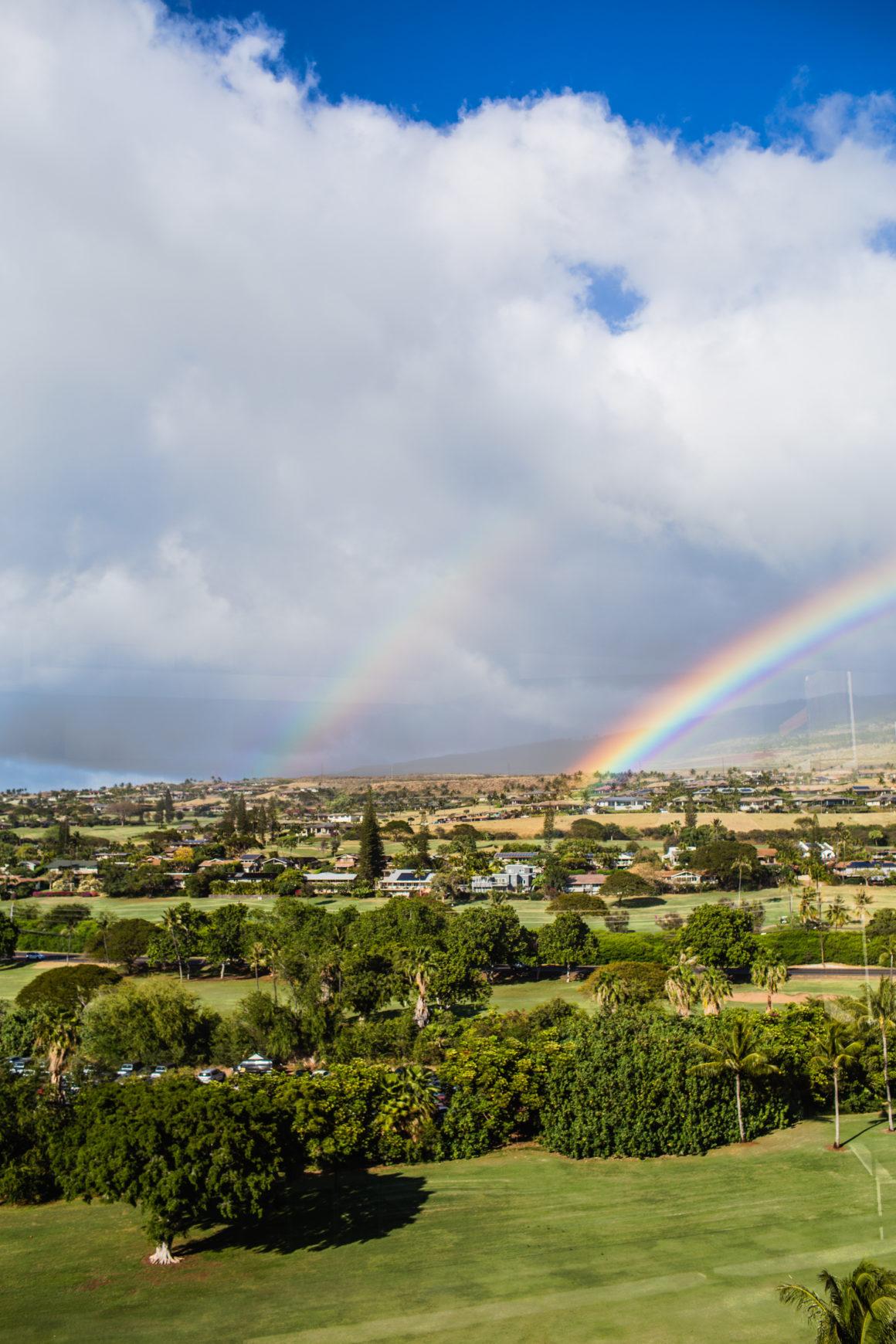 The airport is on East Maui and most visitors say somewhere on the West Coast (either South Maui, the central Kehi area or North Maui. ) On your way to your hotel, swing by Waikapu on 30 for lunch. It's a hole-in-the-wall place that's clearly loved by locals.
Order a Moco Loco here and eat it on the picnic tables outside! You'll be really hungry after your flight and this lunch which cost you about $20 for two people and fill you up nicely!
Drop your bags off at the hotel (or check-in if you can) and then hop back into your car to do some basic exploring! We always love to drive or walk around after arriving in a new place to get the lay of the land. If you're staying int he Kihei area, head south to Wailea and Makena Beach area. If you're in Kanpapali, check out Old Lahaina (South) or head North.
I don't know about you, but after a long day of travel, all I want is a cold beer. Head to Maui Brewing Company's taproom in Kihei for dinner! They have a large, modern space with tons of tables for sit-down dining, along with two patios and lawn games. They have a great happy hour special on pizzas (try the one with Maui Goat cheese!) Try all the locally crafted beer , sit back in the sunshine and enjoy.
DAY TWO IN MAUI
While you're still on Mainland time (3 hours from the West Coast, 6 hours from the East Coast), you should do the sunrise over Haleakala National Park! You MUST book tickets in advance and usually, you need to do so at least 6 weeks before your visit.
They only allow a set amount of visitors up to see the sunrise each morning and you WILL be turned away if you don't have a reservation! BOOK HERE!
I wrote a whole guide to doing a Haleakala sunrise tour that's packed with helpful tips that you should probably read in full. I know getting gup at 3am to watch the sunrise doesn't sound like a fun time but it honestly was one of my favorite memories from our trip.
9,000 feet up, you're above the cloud line. It feels like you're literally on top of the world and when that sun peaks over the horizon and starts to light the volcano crater with warm light, just WHOA. Words can't describe that feeling and you can't do that anywhere else in the world.
Haleakala tip: Make sure to swing by a grocery store the day before to pick up either fruit or a frozen breakfast burrito (to heat up in your hotel room) to keep you fueled for the trip. Don't forget a Starbucks coffee and water!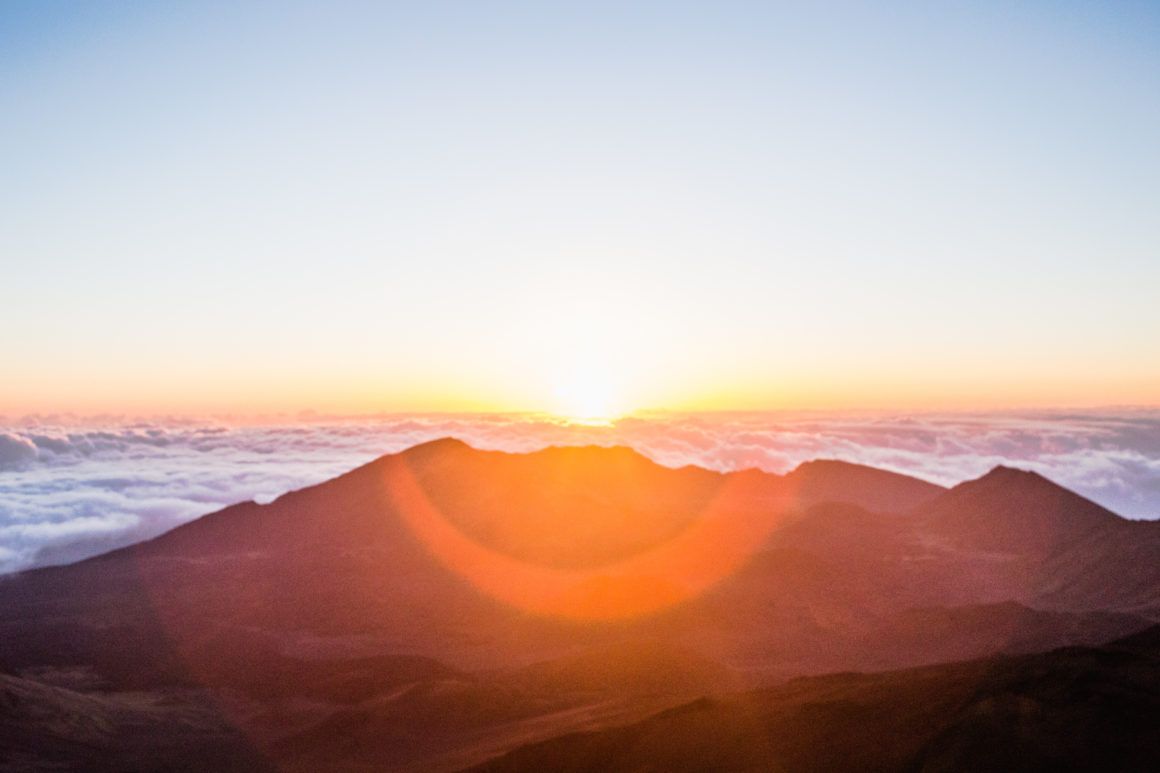 After the sunrise, head back down to Kihei and beeline to the Kihei Caffe for a brunch! There will probably be a line but don't worry, it moves quickly. Literally, everything on the menu is good, so you can't go wrong, that being said I ordered a Moco Loco here and was floored. It was the best one I've ever had! Plus, after being up since 3am, it gave me LIFE.
After brunch, change into a swimsuit and hit the beach for a nap on the hot sun. Or swim, or snorkel around or read. We really loved Keawakapu Beach but honestly, you can't go wrong with any Maui beach.
In the afternoon, walk around Kehei and explore the shops. Make sure to stop by the Kehei artisan market next door another Kihei Caffe, this is where you can find jewelry and souvenirs! For dinner, head to Coconuts Fish Cafe. It doesn't look like much from the outside, but the Pork tacos here low-key made me cry because they were so dang good.
Grab a seat by the windows so you can watch the sunset peaking between the buildings! If you still have the energy (which you probably won't considering how early you got up) bring a bottle of that pineapple wine ot the beach and sip under the stars.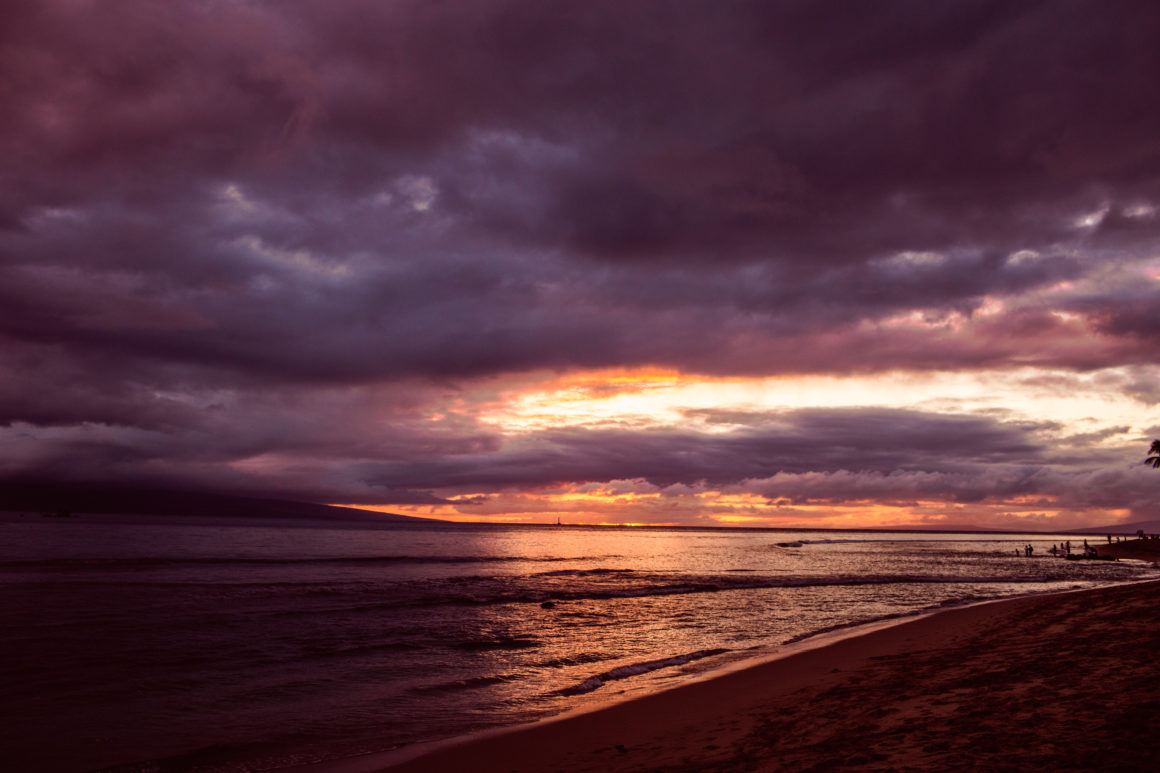 DAY THREE IN MAUI
It's time to drive the famous Road to Hana! This is an ALL DAY activity, so set aside the whole day and don't book anything else other than dinner reservations at the most.
The Road to Hana leads you to Hana, a small town on the South end of Maui. This road is the only way to get there. It's long, windy, narrow and in some area,s only one-lane. It takes HOURS to get to Hana and the locals like it that way.
On the drive, you'll pass countless waterfalls, botanical gardens, churches, banana bread stands and so much more.
We had a BLAST doing this drive. yes, the day was long, but a day slowly exploring a tropical island, jumping into a waterfall, stuffing my face with banana bread and pineapple and learning about the history of Maui is my idea of a fun day.
I have a whole, huge self-guided tour guide blog post about the Road to Hana that details ALL the best stops and what's not worth your time. Here's the important facts for those who are quick readers:
You 100% must be on the road by 8:30am, 9am the latest otherwise you'll get trapped in traffic and may not make it to Hana.
Download the Maui Gypsy app BEFORE you leave your hotel room. This app tells you about all the things you pass by, it's informative and really helpful when deciding what to stop at and what to pass.
There is NO cell service for the drive, just keep that in mind.
Wear a swimsuit as you'll be jumping in and out of waterfalls or the ocean. Also, this is the tropical side of the island and it'll probably rain at least once.
It's worth it to drive to Hana, so stick it out!
Bring cash for banana bread and fruit stands. Bring a LOT of water as well.
Check to see if the Seven Sacred Pools are open BEFORE you drive the extra 60 minutes past Hana to see them.
Read my whole Road to Hana travel guide for more information! Skip the guided Road to Hana Maui tours, these pack you into a large tour bus and take about 12 hours. Do it yourself!
For dinner, I suggest making reservations at Mama's Fish House. Make them later than you think you may need, as it's easy to get delayed on the Road to Hana. If you get back to Paia early, you can explore the town before dinner.
Heads up, Mama's Fish House is really expensive (I'm talking easily $45 for an entree) so we chose to skip it to cut back on food cost. That being said, literally, everyone I talked to about Maui raved about how good the food is here. If it's out of your budget, try the Paia Fish Market instead.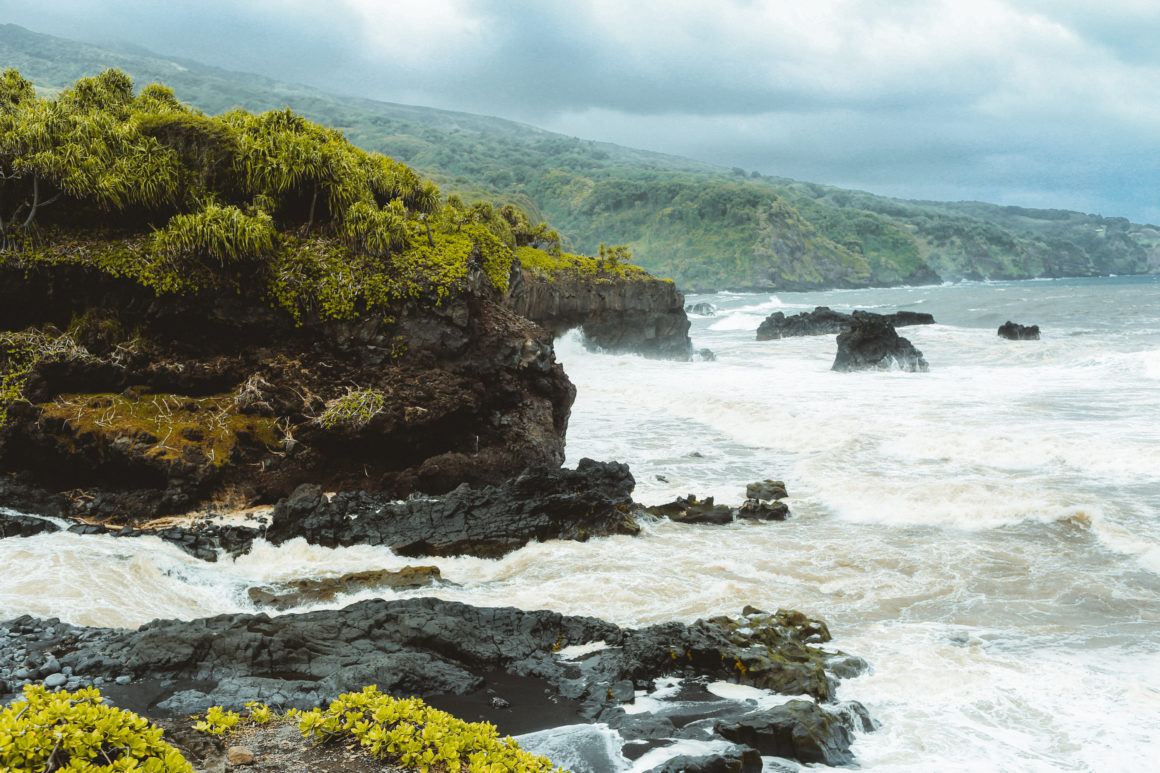 DAY FOUR IN MAUI
Time to go on a snorkeling cruise! While you can go snorkeling for free at any of the beaches, I think it's so worth it to book a snorkel cruise to Molokini and Turtle Town. If you are visiting Maui during whale migration season, this doubles as a whale-watching tour and island cruises!
Molokini is a small boomerang-shaped island that you can see from South Maui. It's famous for amazing snorkeling. Sadly, when we went on our cruise, it was too windy to go snorkeling at Molokini or Turtle Town.
I was really bummed out because we weren't told that until we were already on the boat. That being said, we still had a fun time snorkeling. The tour we booked took care of breakfast and lunch, along with unlimited beer. (Cheap beer, but still included!) We snorkeled for a couple of hours then enjoyed the sail around the ocean with a beer in hand.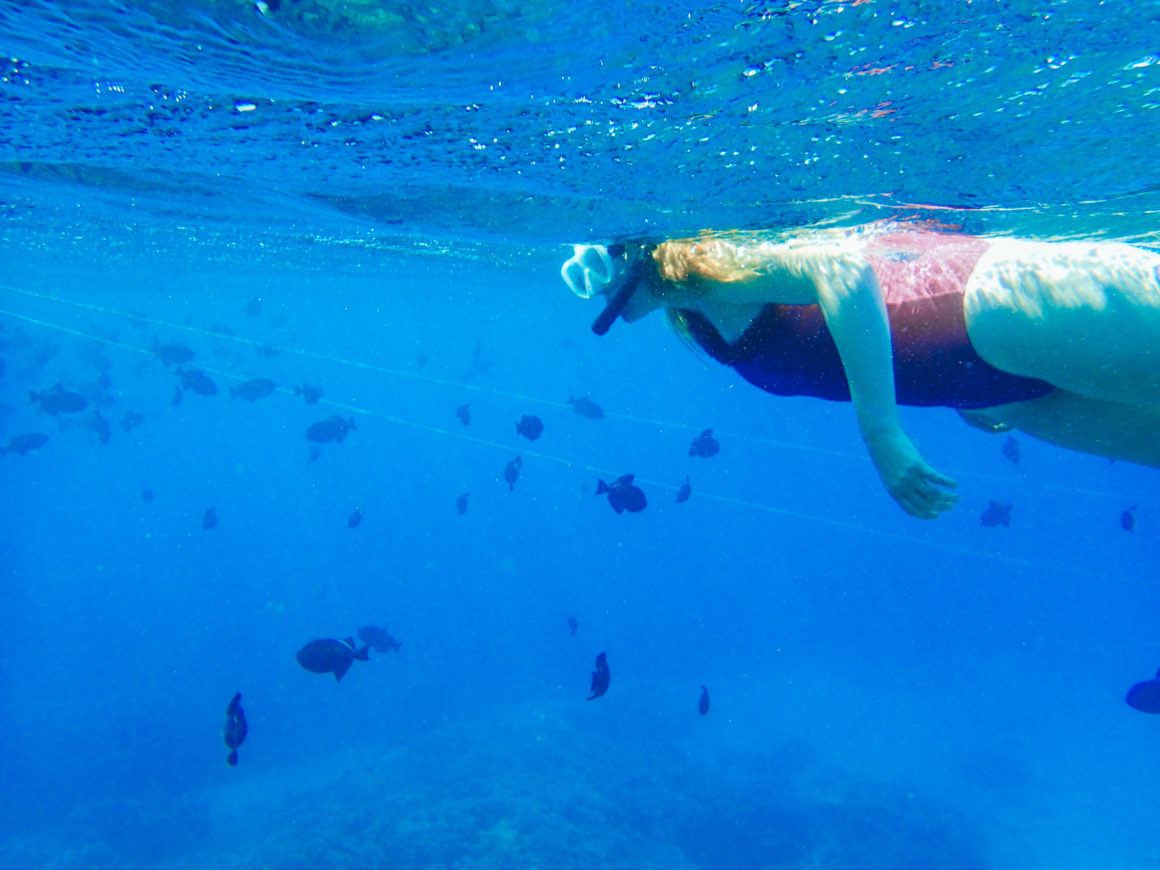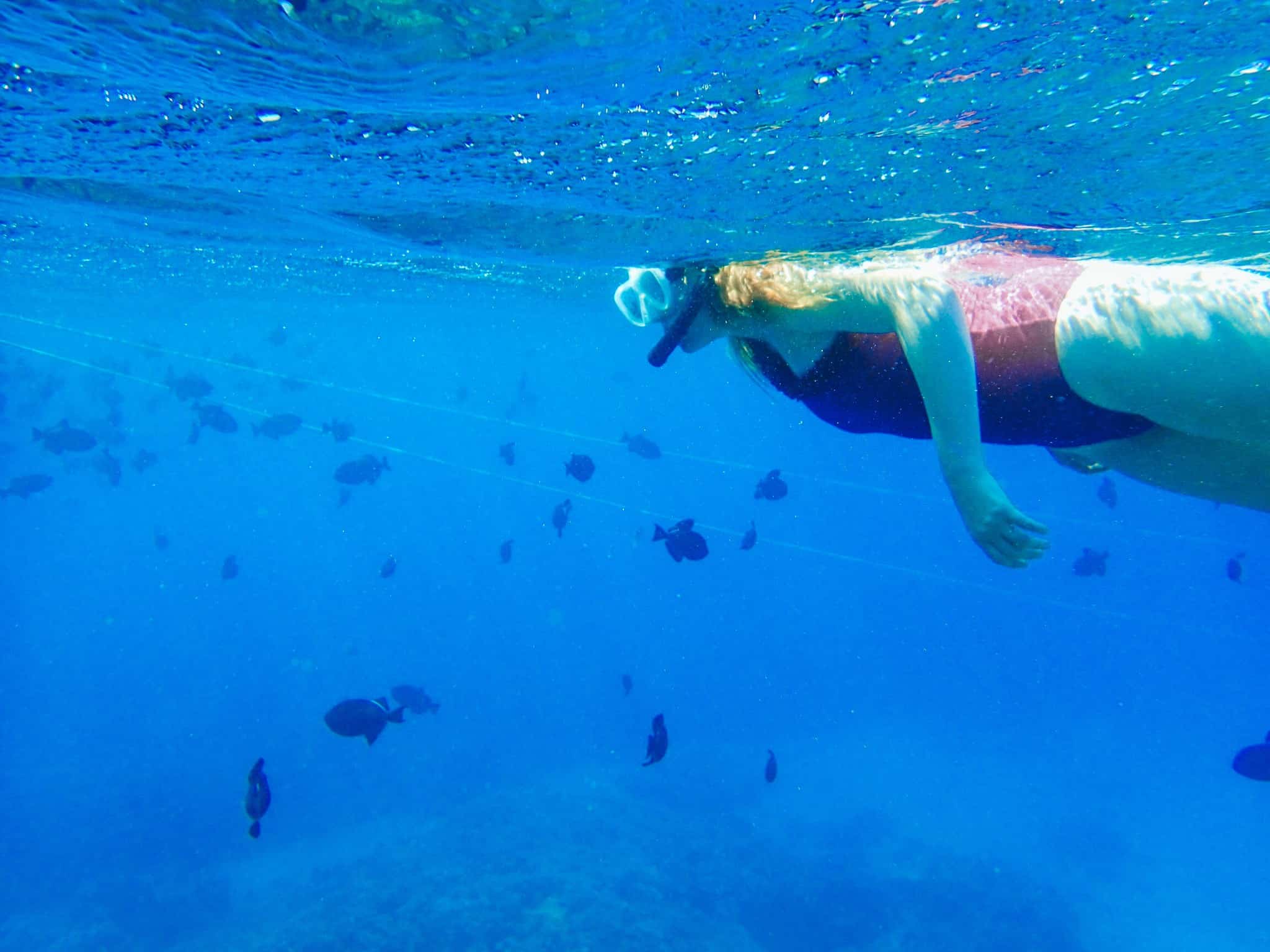 For dinner, head to Monkeypod at happy hour to score the best deals. We were ALL about the happy hours at restaurants to save money. Seriously, the sticker shock of Maui got us, and that's saying a lot from people who live in San Francisco!
Monkeypod is famous for their Mai Tais which I can confirm, are really good. But what I thought was even better was their flatbreads with truffle oil. I could eat that every day for the rest of my life and be happy.
DAY FIVE IN MAUI
Depending on if you're changing hotels or not, you may be spending your morning packing and heading to a different part of the island. If you'll be near, grab brunch at Gazebo. They are famous for their macadamia nut pancakes! This big brunch will hold you over until happy hour dining. Snack on some Shave Ice or fresh pineapple in-between if needed.
Even if you aren't swapping hotels, and especially if you are, take the morning and early afternoon to just relax by the pool or beach. Hawaii is all about the beach! Go surfing if that's your thing, or snorkel a bit (you may see a turtle!) but make sure to head to a new beach you haven't spent time at yet.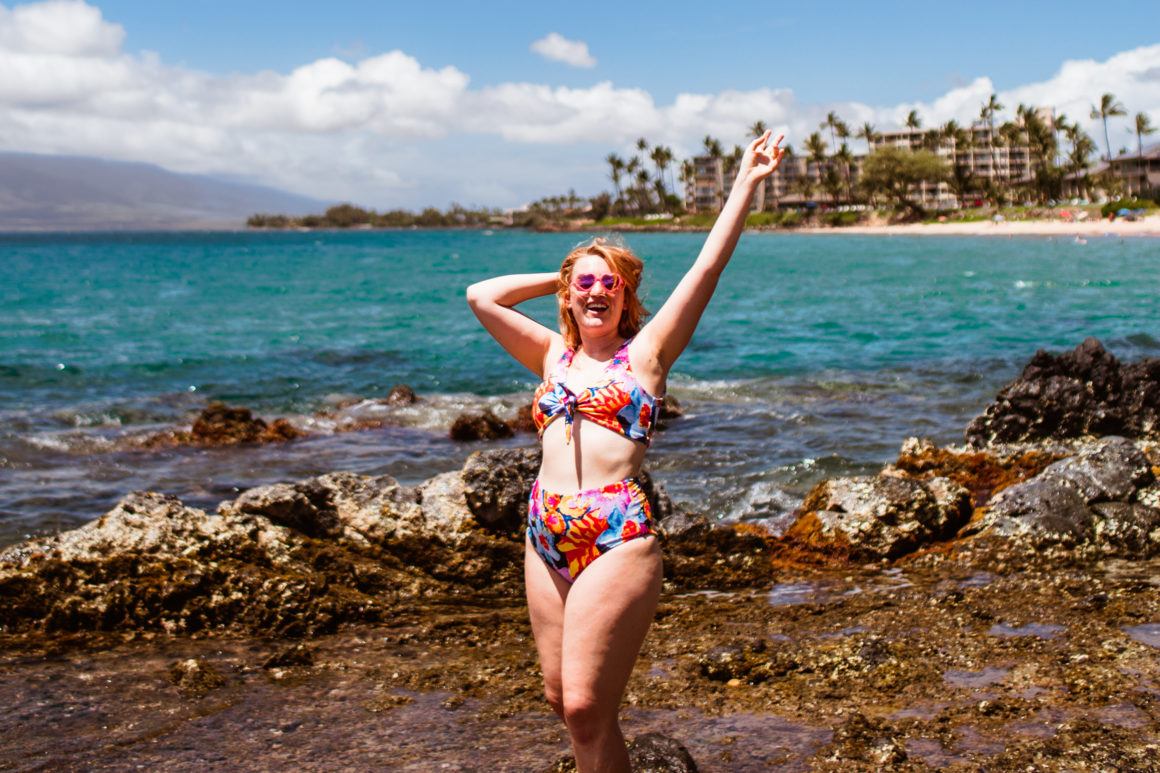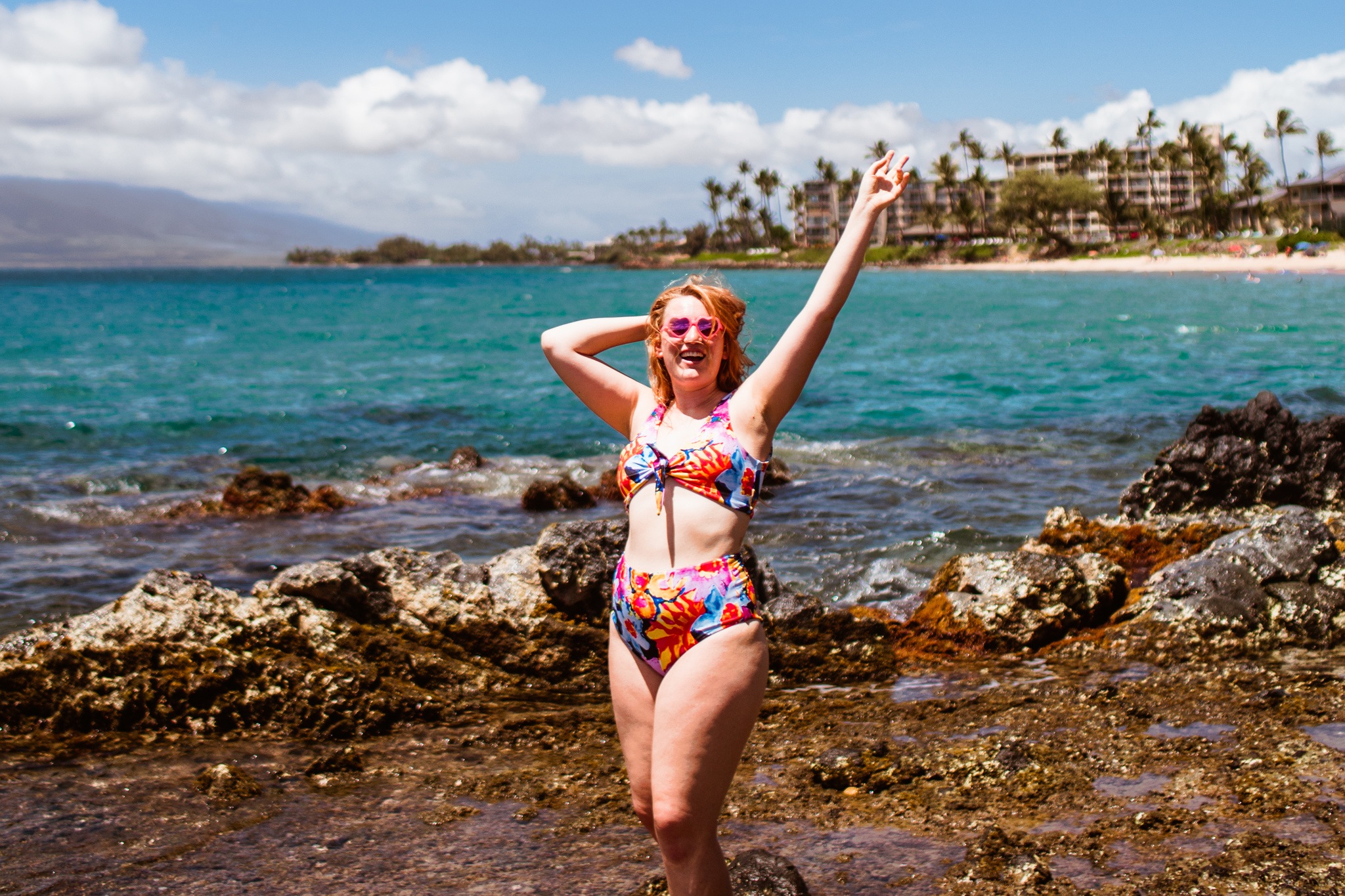 Book a tour at the Maui Tropical Plantation for late afternoon. It's a bit touristy, but we had fun riding that little rain through the plantation. They do a great job at educating you about the types of plants that grow on the island, teach you how to properly open a coconut and more. If you're trying to figure out fun things to do in Maui with kids this is perfect!
Plus, this plantation has a really good restaurant! After your tour, pop over for happy hour and dinner. Ask to sit on the back porch for a STUNNING view of the mountains. They usually attract rain clouds, so you can sit in sunshine but watch clouds circle the mountains. It's stunning.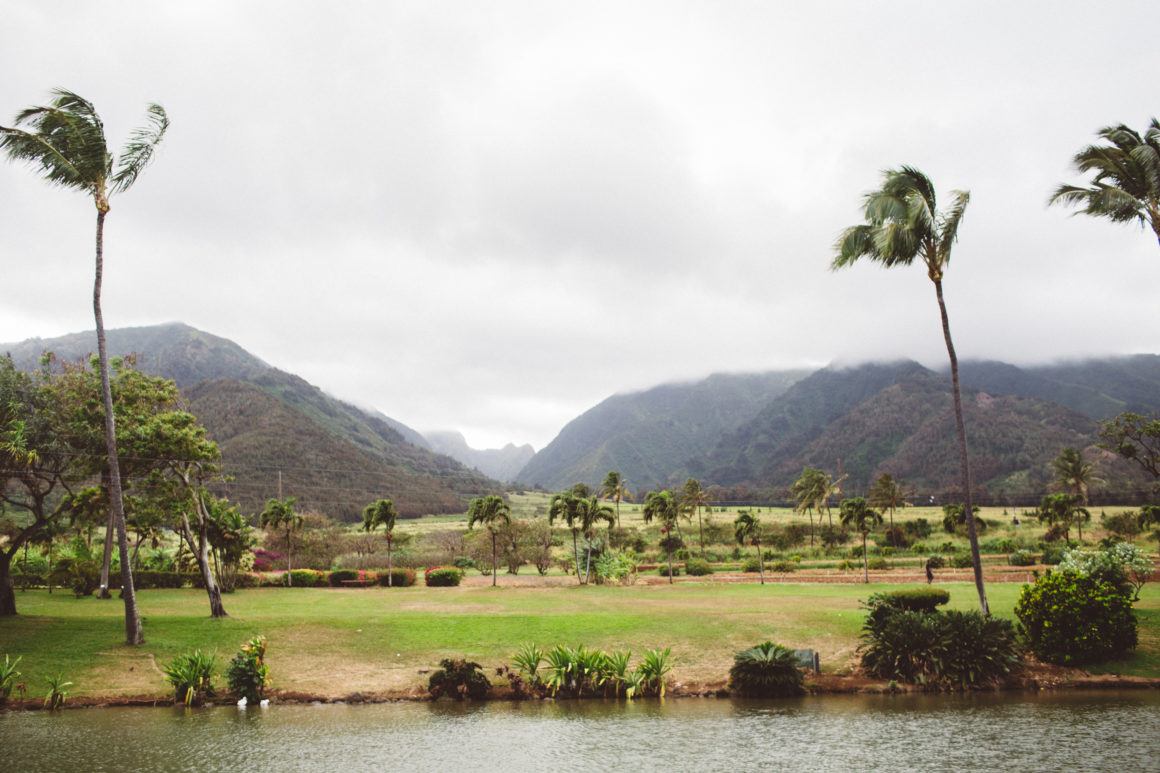 DAY SIX IN MAUI
We moved ourselves to the Hyatt in Kaanapali to get a different taste of Maui. Kaanapali is near Lahaina an old historic whaling village that I *believe* served as the capitol fo Maui for a short period time.
These days, it's a tourist hot stop but don't let that deter you! We happened to go on a Cruise Ship day so it was CRAZY, but I imagine much sleepier on normal days. There's tons of shops and reactants along with a harbor with a tiny lighthouse!
You can find a very old and large Bandon tree in the center of town. Across the street is the Cool Cat Cafe, a 1950's style diner that's very affordable but very tasty. Plus they have a great view from their porch! I recommend coming here for lunch.
After, grab a fresh lemonade from LuLu's lemonade and walk around town sipping on your cool drink and exploring. It's a really neat little place! Felt like a totally different country which was not what I was expecting.
Tip: Parking is really hard to find here, it's the only place we had to pay to park. Just a heads up!
Of course, in the afternoon, chill at the beach. Hyatt Maui has cabana rentals that I spent a whole blissful day in reading, or you can just plop on the beach. From this side of Maui, you can see the island of Lanai!
For your evening plans, tonight (your last night!) you should do a Luau! We had a BLAST at the Hyatt Maui Luau. The other popular one is the Old Lahaina Luau, but I suggest the Hyatt's instead. It was so much fun and it was my first time to a Luau, and I thought they did a great job at helping educate the audience on Maui's history.
I recommend splurging for the VIP tickets which means better seats and faster food service. Also, arrive early and be one of the first in line so you have even better seats. We snagged front row seats, can't beat that!
Drinks and food are unlimited, so come hungry as you watch this 2.5hour ish show. The MC guides you through the history of Maui and local cultures and the dancers are very talented. I went to a Luau in the Cook Islands (another Polynesia island) but it didn't compare to this luau. They spoil you! Plus, I got to dance on stage (I'm a star, baby!)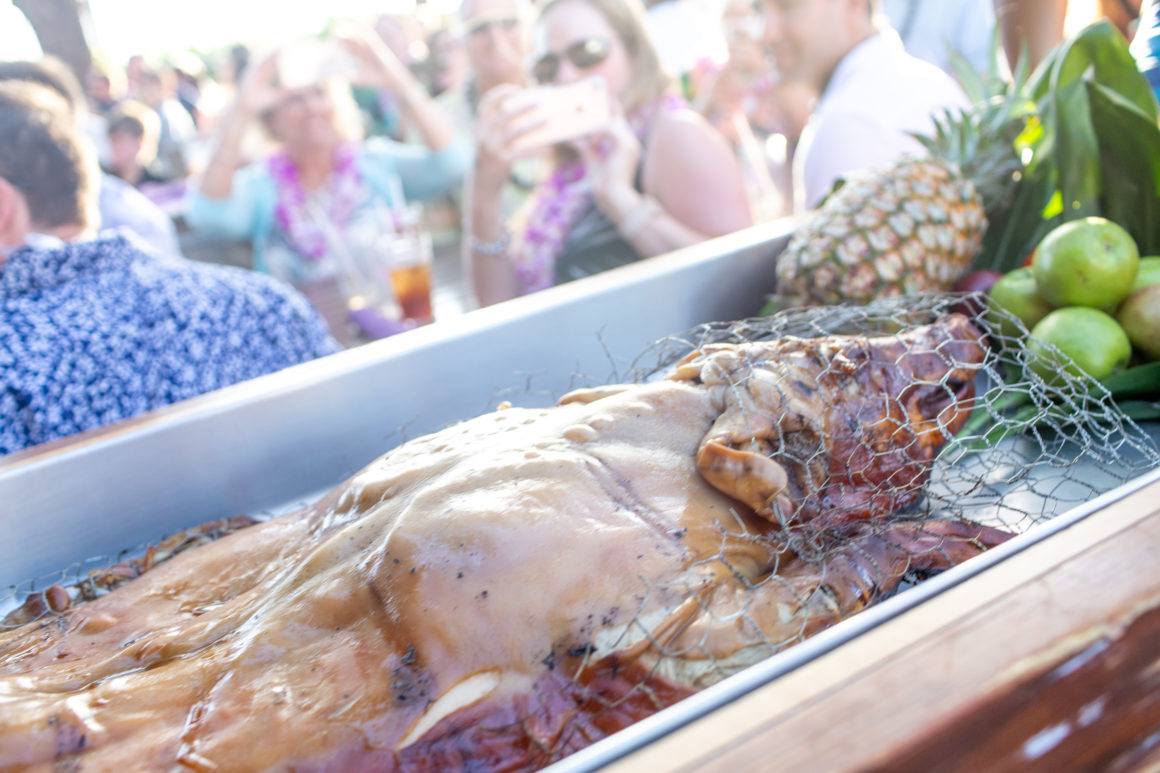 DAY SEVEN IN MAUI
On your last day, pack up and then lounge at the beach. Maui is all about beaches, so soak that in! I recommend you grab breakfast and lunch at or near your hotel.
If you are near Tamura's Liquor Store, grab one of their famous poke bowls (trust me on this one!) Another good spot is Star Noodle in Lahaina if that's close to you! If you have a late-night flight, grab dinner at Japengo at the Hyatt Maui. Request a table out back so you can watch the sunset with mouthwatering sushi rolls.
We found that returning our car was an easier and quicker process than getting it, so you don't need to get to the airport too crazy early. They have a couple of fast-food restaurants at the airport so you can grab food here as well if needed.
And with that, your Maui trip is coming to an end! Here's some other cool things to do in Maui if you want to swap activities to if lounging on the beach doing nothing isn't your jam.
Other Fun Things To do In Maui Hawaii
Winery tour: Head up the mountain the MauiWines. They offer free tours and free tastings!
Surfing Goat Dairy Farm Tour: You'll see Suring Goat cheese used all over the place in Maui, that's because IT'S AMAZING! (Trust me, I'm a Wisconsin gal, I know my cheese!) They offer tours where you can hang out with goats, eat cheese and meats and more.
Pineapple picking: Like pumpkin picking or apple picking, but with pineapples!
Black sand beach aka Waianapanapa State Park: This is on the Road to Hana but is a really famous park
The heart rock: At the Nakalele Blowhole is a famous rock that's shaped like a heart! We didn't have time to visit this one but I will next time!
Helicopter Tour over the island (I want to do this next time!!) Quick hack for the best views in Maui!
Pipiwai Trail / Bamboo Forest hike for you adventurous people!
Surfing, paddleboarding, windsurfing... like anything you can imagine or want to do, you probably can!
How many days in Maui should you plan to do?
I hope this Ultimate Maui Itinerary helps you plan your trip to Hawaii! A week may sound long, but I think you need at LEAST 5 days in Maui considering the first and last will be travel days. Anything less is too short and a waste of plane ticket money in my opinion.
There is SO much to do on this island, I can't imagine packing it all into a weekend. I really want to visit other islands like Kauai (the garden island) and Oahu, but I could come back to Maui and have a totally different vacation. There's just so much to do!
If you have any questions or things to add to my Maui travel guide, leave a comment below! Find me on Instagram @thewimsysoul for daily travel inspiration.
Other Posts You May Like