Avenue of the Giants: a bucket list drive in Northern California that I finally checked off on our campervan road trip!! I had no idea what to expect other than a LOT of redwoods.
I thought we were visiting a something like Muir Woods with a proper boundary, entrance fee, hiking trails, a visitor center, the whole shebang. What the Avenue of Giants actually is, is a 29-mile road that you can drive.
There's hiking trails and groves, of course, but it's centered around an auto tour much like the Ring of Kerry. It's free to visit and you start at one end (North or South) and drive the length, hoping out when you want to. In this blog post, I'll be sharing which stops are worth getting out for, must-know tips for visiting and more!
We started at the Avenue of the Giants North Entrance near Pepperwood, coming down after our night camping near Trinidad. On our campervan road trip, we started in San Francisco and drove up to Bend, Oregon and then back down Highway 101 to hit all the coastal scenic drives and famous Humboldt County.
I was most excited to visit the north coast (also dubbed the "lost coast") because not too many people make it up this far – it's rural, nature-filled and cell service is not always steady. It has an air of mystery around it that I was excited to visit in person.
Everywhere up here is green with vegetation, but there's a distinct shift once you turn onto the Avene of the Giants road.
Redwood coastal trees are among some of the oldest living things on earth, easily living 1200 years. They're extremely tall, hence called "giants". Despite being tall, the forest floor isn't dark. Instead, light filters through the giant redwoods in a slow, fairy-like way. It feels more like you stepped into the set of Jurassic Park than a state park.
Avenue of the Giants Directions
From San Francisco: 3 hours, 45 minutes (211 miles)
From Crescent City: 2 hours, 45 minutes (145 miles)
From Sacramento: 4 hours, 15 minutes (229 miles)
>> Make sure to also stop at one of the drive-thru trees in the area! Shrine Drive Thru Tree, Chandelier and Klamath (read more here.)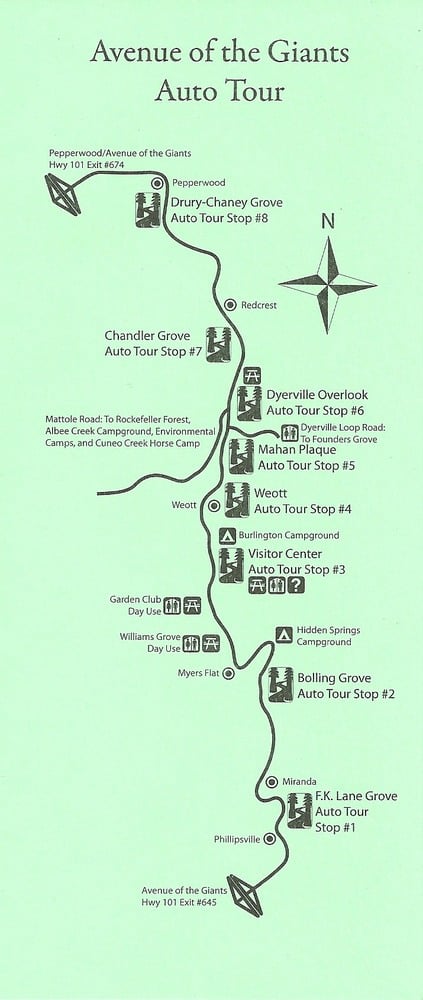 This is the Avenue of the Giants map pdf that you can download and save!
Make sure to pick up an actual map and brochure when you start your drive on the highway of the giants. It has tons of interesting facts and history to read as you drive (you won't have cell service!) On the North End, there's a little stand right near the entrance you can pick a brochure up from. If you are starting from the South End, stop by the Visitor's Center to get one.
The stops are 1-8. Stop 1 starts on the south end, stop 8 is at the North. It doesn't matter which way you drive, though!
Stop 8 – Drury Chaney Grove + Loop
The Redwood forest spans the whole 29 mile drive, but there are a handful of groves you can stop by and wander. This Drury Chaney Grove and Loop is Stop 8 and is the first one you hit when you start from the north side.
The trailhead is well marked and has plenty of roadside parking. This 2.4 mile loop is wheelchair accessible, unlike many of the trails here.
We popped in for just a few minutes. During our visit, there was an abnormal heatwave and it was about 95 degrees that day – not very good hiking weather! I would love to visit again in the winter when it's more hiking friendly so I can do more of the loops.
Redcrest – Immortal Tree
As noted, it was boiling hot the day we visited and we desperately needed more water and restroom break. Redcrest has a small RV park and gift shop that sells a few cold beverages. They also have bathrooms – this is the last easy bathroom stop until you hit the visitor center (stop #3)
Right next to the store is the Immortal Tree. Not an official stop, but so cool and very worth a visit. This tree is almost 1000 years old and has survived a wildfire, lightning strike and flood (on top of the countless earthquakes.) Redwood trees in California have to deal with it all and this one is especially resilient.
There's a little creek behind the tree. I found it delightful to dip my bare feet into and cool off before we started up on the drive again.
Stop 7 – Chandler Grove
Of all the Avenue of the Giants hikes, this is the easiest. Since it was so hot out, we opted to hike this short 1/2 mile loop so we could hike without dying.
Even though it's short, I really loved this hike. There are a few fallen trees and stumps, but for the most part, all the redwoods are standing. There's even on that you can climb down into a hole in the trunk and literally stand inside a giant redwood.
Make sure to stop by this grove and do this quick 30-minute hike!
Stop 6 – Dyerville Overlook
Looking over the South Fork Eel River Bridge, this flat area doesn't look like much now, but has a really cool history. Dyerville used to be a bustling town that stood rigth on this exact flat/overlook.
And then the Eel river flooded and destroyed the entire town.
Now, it's just an overlook and parking lot. If you're into history, you can stop here and read more about the history of the area on the signs. If not, keep driving as you can see the flat easily from the car as you pass by.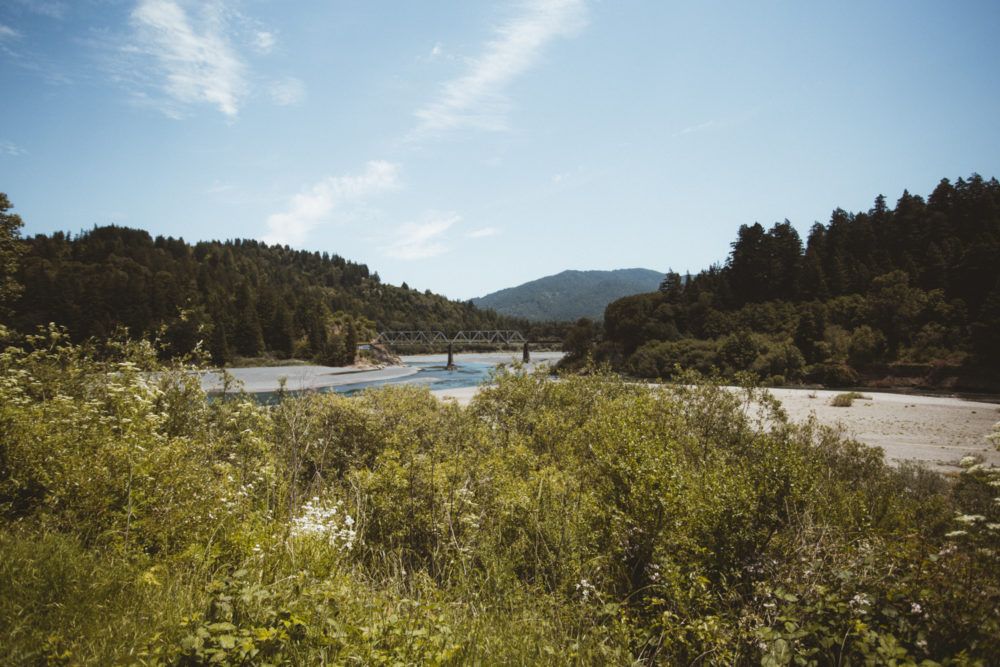 Stop 5 – Mahan Plaque
Know the phrase "tree hugger" It was basically started rigth now, so make sure to pull off and stop by the Mahan Plaque. It's an easy 1-mile loop for all ages and packs a cool history lesson as well.
In 1924, Laura Mahan literally chained herself to a Redwood tree in protest of corporations wanting to log the redwood forest. 6 years later, the Save-the-Redwoods League purchased the land the Avenue of the Giants is on and ensured that the forest is available for everyone to enjoy for the rest of time.
It's so strange to think that the California redwoods were almost completely destroyed by greed 100 years ago. Thanks to Laura Mahan and other progressive people of the time, we still have our famous redwoods!
Stop 4 – Weott
Another stop you can drive past, but do so slowly so you can look at the pole. in 1964, the Eel River flood (again) and you can see the pole where it marks how high the water level got.
Spoiler alert: it's insanely high. I want to say about 30 feet. It's really crazy looking at this area and picturing it literally all under 30 feet of water. Because of this flood, residents now all live in the hillside out of the flood zone.
Stop 3 – Visitor Center
If you need a bathroom, anything from a gift shop or want more information, make sure to stop by the visitor center! It's pretty large and has tons of informative displays and maps you can pick up.
There's also a camping ground near here and a small grove of redwoods you can walk. It looked pretty level and easy to hike for all ages.
Myers Flat (Small Town)
We drove through the small town of Myers Flat and didn't stop since we didn't need to. If you wanted lunch or snacks, there are a couple of places to fuel up here.
This is also where you can find the Shrine Drive Thru Tree BUT I believe it's currently closed after getting water damage from a recent flood. You can always stop by and see if they are open if you're set on driving through a redwood tree and missed the Klamath Tree up north!
Stop 2 – Boiling Grove
This stop was quick but I really enjoyed it. It's a fairy open grove with lots of space and some picnic tables. I liked being able to stand back and really take in the height of the redwood giants.
It was here we also saw a Westfalia and that sighting truly made this trip that classic California vacation. We can't drive stick, so we opted to rent an automatic transmission for our Hwy 1 road trip, but dang, I would have LOVED to drive around in a van like this!
>> We rented our van from Outdoorsy. Find a van rental near you here!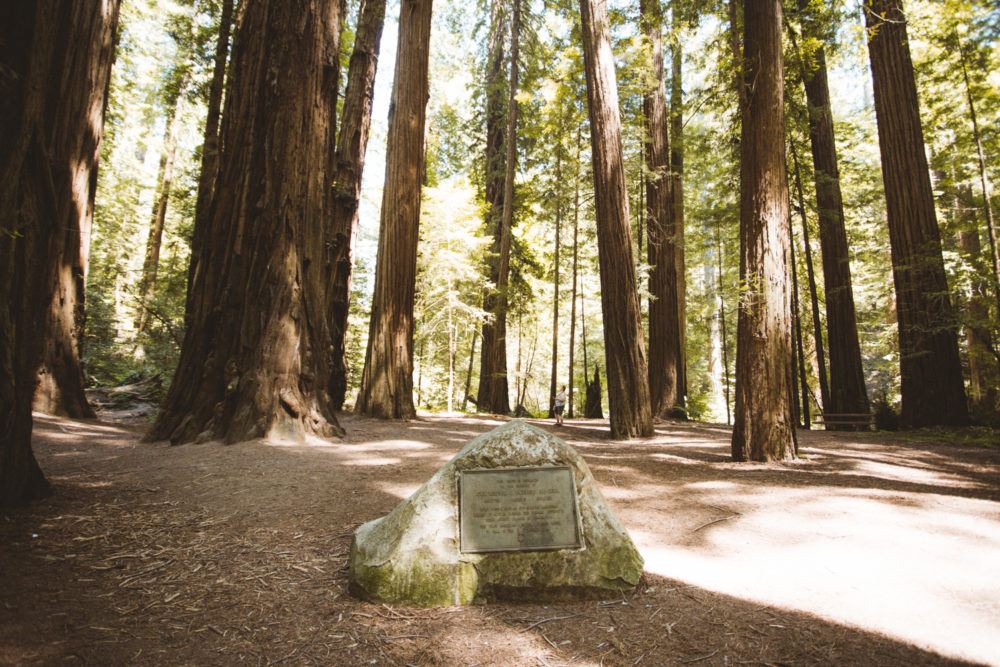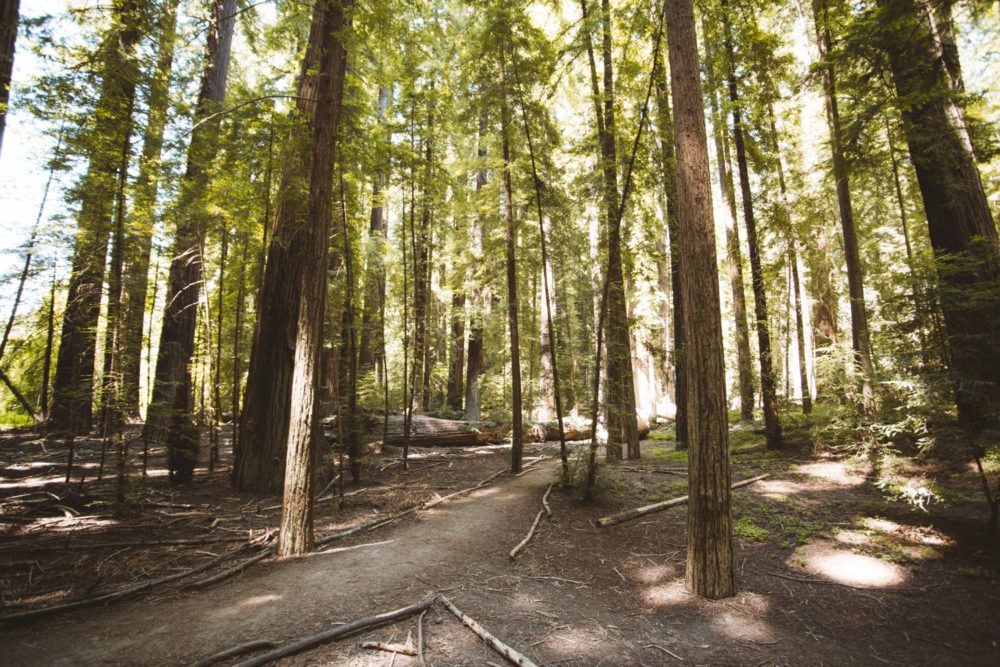 Stop 1 – F.K. Lane Grove
For us, this was the last stop on the highway of Giants, but it's the first if you are starting from the South. It's a lot like the Drury-Chaney stop because there's a hiking trail and it's a nice way to start out your Redwoods visit with a good hike!
Since it was our last stop, we just popped in real quick, climbed a fallen log, looked around but then kept on driving. This entire avenue is incredibly beautiful BUT, it all does sort of look the same after a while. Since we already went hiking and got our fill of redwoods, we kept going to our next camping spot.
Other things to do near the Avenue of the Giants
(basically, more redwood national parks and state parks – so many redwood trees up here!)
Avenue of the Giants Lodging
Looking to spend the night near the Avenue of the Giants? Check out some of these places!
Camping: There is plenty of Avenue of the Giants camping sites. Hidden Springs campground and Burlington campground are right on the highway. There are a handful of other camping sites just off the highway as well if those are all booked up! Find a full list here.
Benbow Historic Inn: Located in Garberville, this hotel looks like it was plucked from a fairytale. With gardens, an outdoor pool, bikes for use and located a short drive from many redwood parks, this hotel makes a great home base for your Avenue of Giants trip!
Treehouse Airbnb: Looking for some extra original place to stay? Check out this treehouse Airbnb for just $127 a night! It's whimsical and fun, and a close drive to the Avenue of the Giants.
PSST — use THIS LINK for $40 off your stay on Airbnb!
I hope this helps you plan your trip to the Avenue of the Giants California! It's a stunning place to travel to and I hope you make it up there one day.
If you have any questions about these giant redwood trees, road tripping in a campervan or anything else California, leave a comment below. Or, DM me on Instagram @thewhimsysoul and I'll be happy to help!
Looking for more Avenue of the Giants facts? Head here.
Other Posts You May Like
Fern Canyon Hiking Trail
What Nobody Tells You About Van Camping
The Secret Mossbrea Falls Hike
Weekend Guide to Mendocino
How To Find The Umpqua Hot Springs