Nicaragua has long been a favorite destination of experienced backpackers and intrepid travelers always searching for the next best thing lying off the beaten path.
This underrated country in the heart of Central America boasts a vibrant culture, a divine cuisine, luscious rainforests, a rugged coastline, and a blossoming tourism industry that still flies just below the radar.
If you've been wanderlusting over the likes of Costa Rica, Honduras, and Belize, then Nicaragua might just be the brilliant alternative you've been dreaming of. Here, you can hike volcanoes, wander historic villages, and snorkel with the fishies all in one day.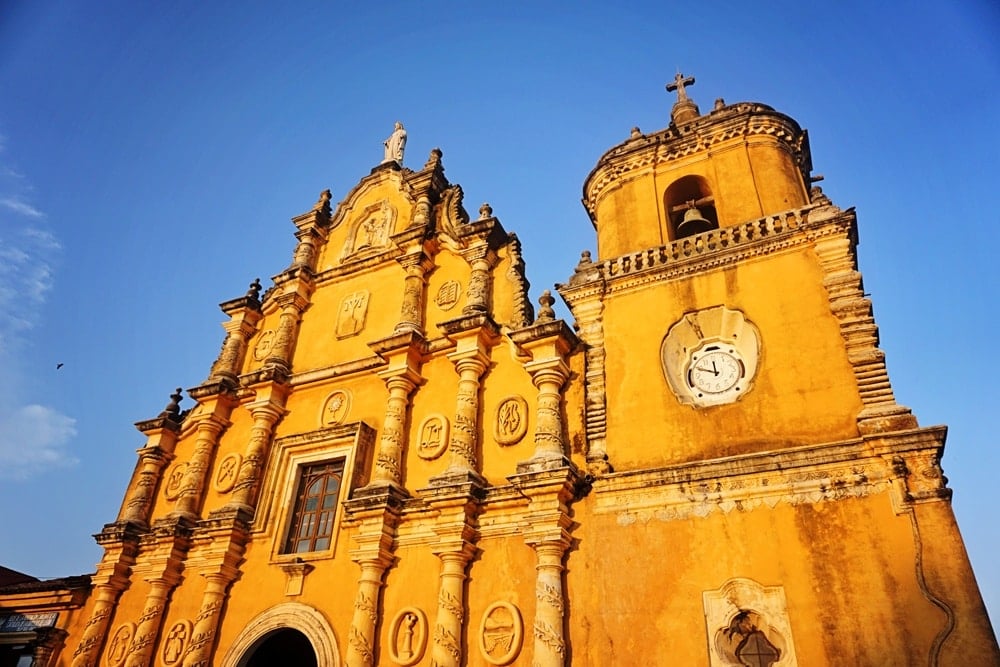 Your Complete Nicaragua Travel Guide
If a trip to Nicaragua has piqued your interest, you're going to love this comprehensive guide to planning your vacation; from things to go, places to stay, and all the FAQs you might have.
By the end of this read, you'll be ready to book those flights, pack your bags and start checking things off your Nicaragua bucket list!
Top Cities and Places to Visit
Nicaragua is a large enough country that choosing your home base will be a big factor in which parts of it you get to explore, especially if you don't have the time to backpack from one place to another.
Here are some of my top picks for places to visit in Nicaragua that would also make a great host city for your vacation.
San Juan Del Sur
All the beach lovers and amateur surfers will go head over heels for San Juan Del Sur the second they set foot on the white sand beaches.
Though this buzzing fishing village remains a somewhat hidden gem, it's starting to gain serious momentum with the tourist crowd since its allure is absolutely undeniable.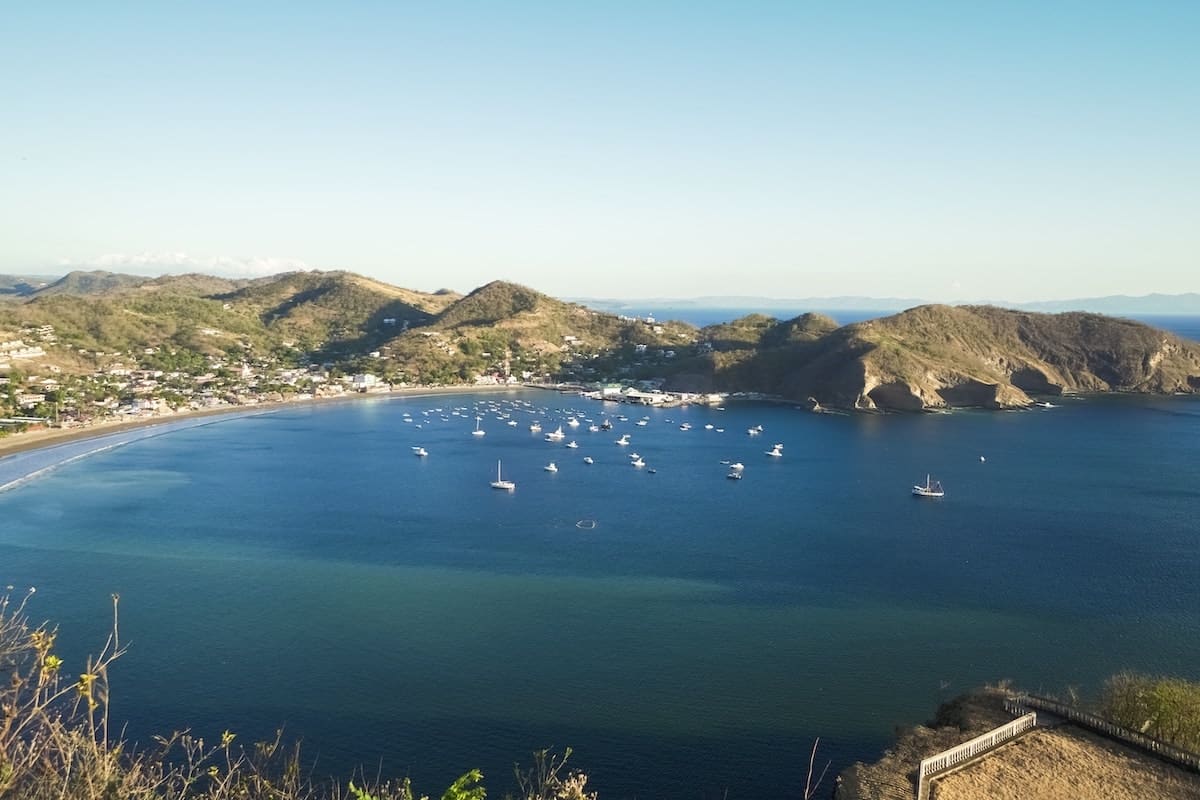 You'll find the party scene has a steady, if not loud, pulse here with a small collection of beachy bars and even a nightclub or two. Better even than the nightlife, though, is the food.
San Juan Del Sur is home to several popular Latin restaurants, a handful of American-style pubs, and all the fresh seafood your heart desires. The village is only a hop, skip, and a jump from Costa Rica's northern border, so if you fancy a longer backpacking trip, this is an easy addition.
Due to its proximity, this region of Nicaragua bears many similarities to Costa Rica, so if you've visited in the past and are looking for a new destination with the same vibe, this is the obvious choice.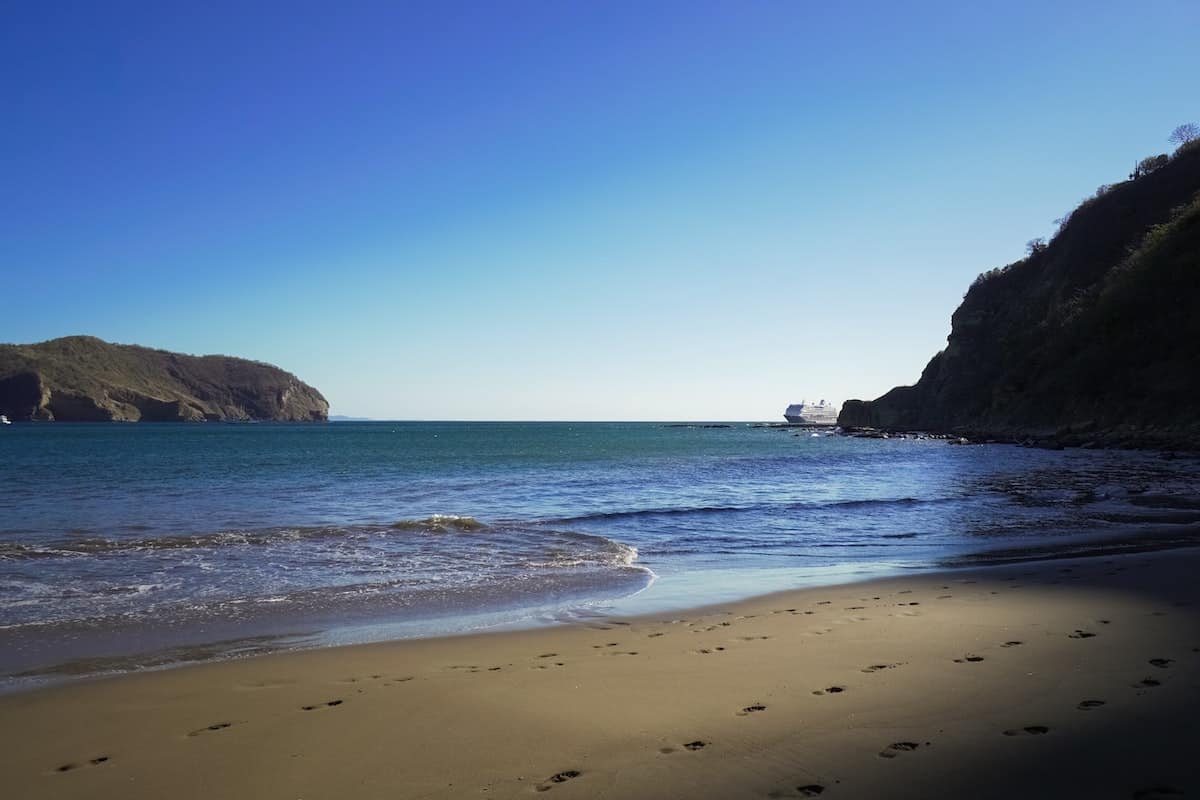 Granada
This colorful colonial city is one of Nicaragua's finest. An eclectic collection of historic architecture and bright casitas, the cobbled streets are certainly a sight for sore eyes.
Step into the postcard-worthy city and allow yourself to be enchanted. I recommend taking a tour around the city center by horse-drawn carriage for a journey back in time.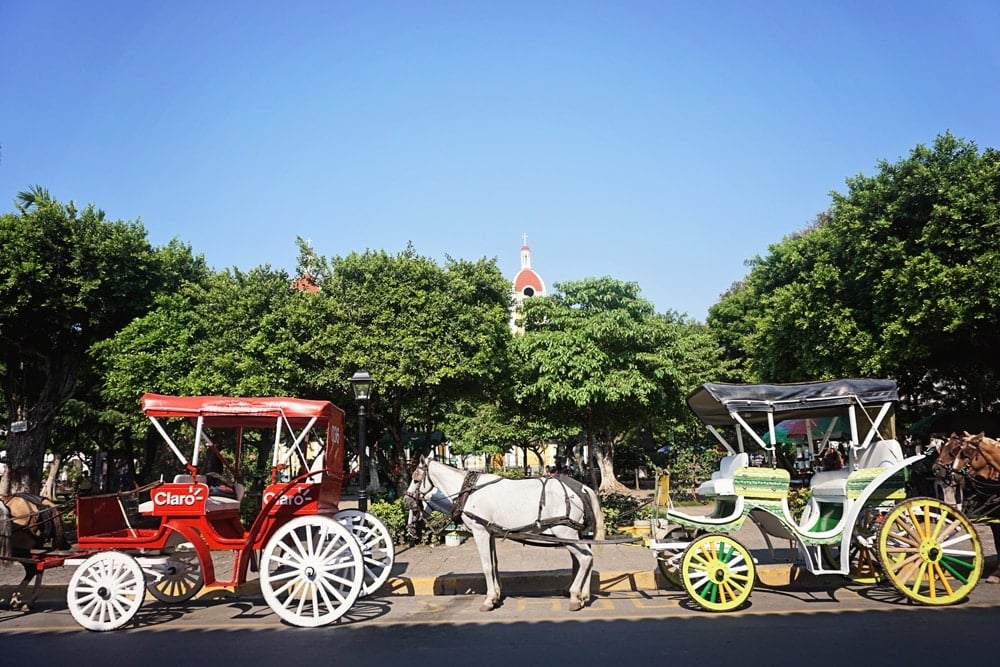 There's really not much you can't do in Granada, which is one of the many reasons tourists find it sure an attractive host city. Besides a hearty selection of tourist tours and attractions, you can also visit historic monuments, cruise the city streets and shop local artisan markets.
Get out of the city to enjoy a day out on Lake Nicaragua or see the Mombacho Volcano. Since this is such a tourist hotspot, Granada has many accommodation options ranging from spa retreats and luxury boutique hotels to backpackers hostels and trendy Airbnbs.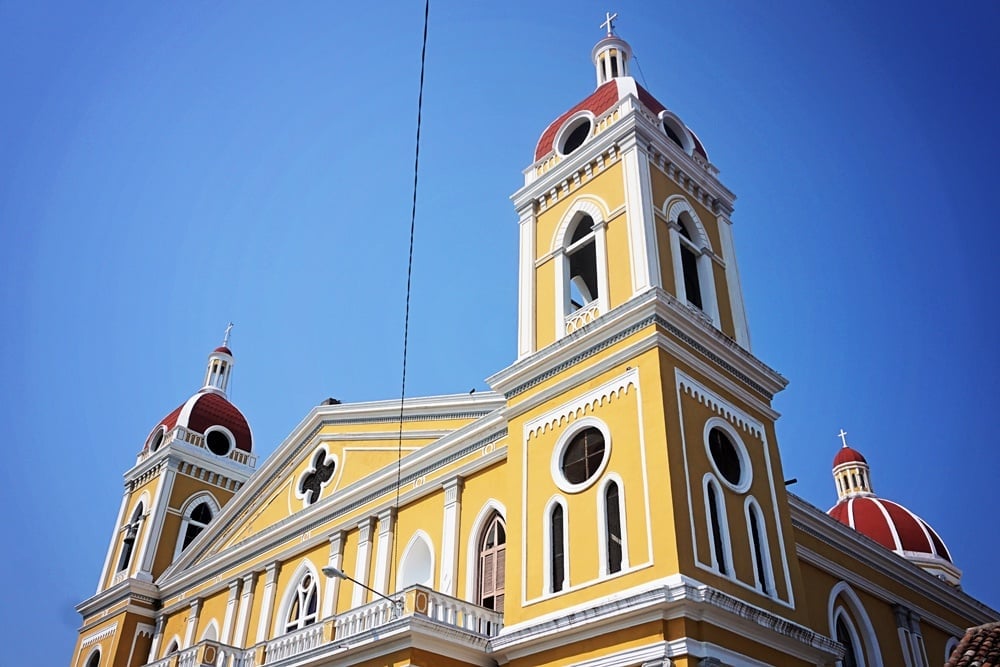 Leon
Leon is a sophisticated baroque city in the West that somehow manages to be a home base for all of Nicaragua's best adventures. Of course, you'll want to spend some time taking in the historic architecture and excellent culinary scene (HELLO amazing street food).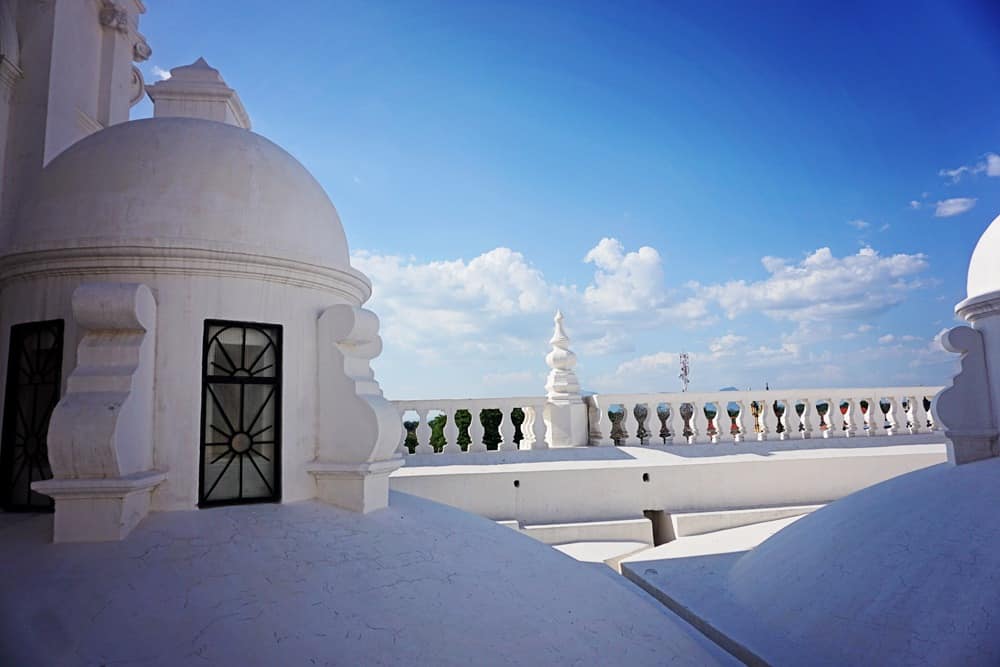 I'd argue the best thing about staying in this city is your ability to pack your itinerary with dozens of adrenaline-inducing activities. Leon is also home to Nicaragua's first vegan restaurant for all my plant-based foodies out there!
Go boarding at Cerro Negro Volcano, river tubing at Somoto Canyon, or learn to surf at one of Nicaragua's most famous sandy beaches. The possibilities are endless in Leon.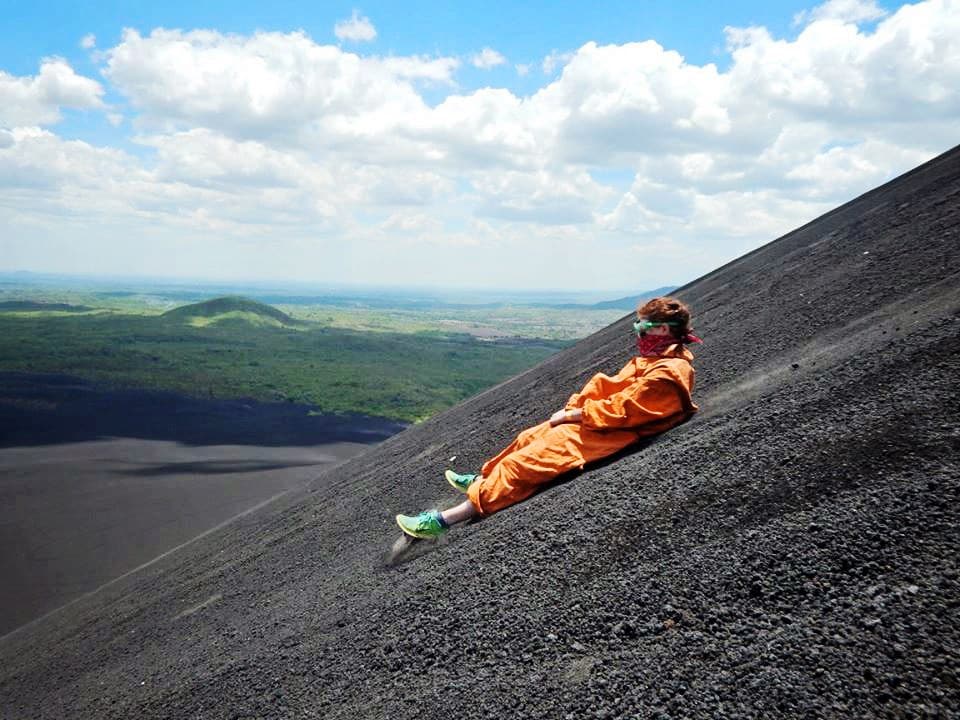 Managua
Managua is a city of museums and culture – it's also the nation's capital. If you're picturing stunning ancient cathedrals, and grand historic buildings filled with pre-Columbian era artifacts, then you're right on the money.
One of the more famous activities to do in the city is to seek out the fossilizations of the first footprints at Lake Managua, just one of the many treasures to be explored.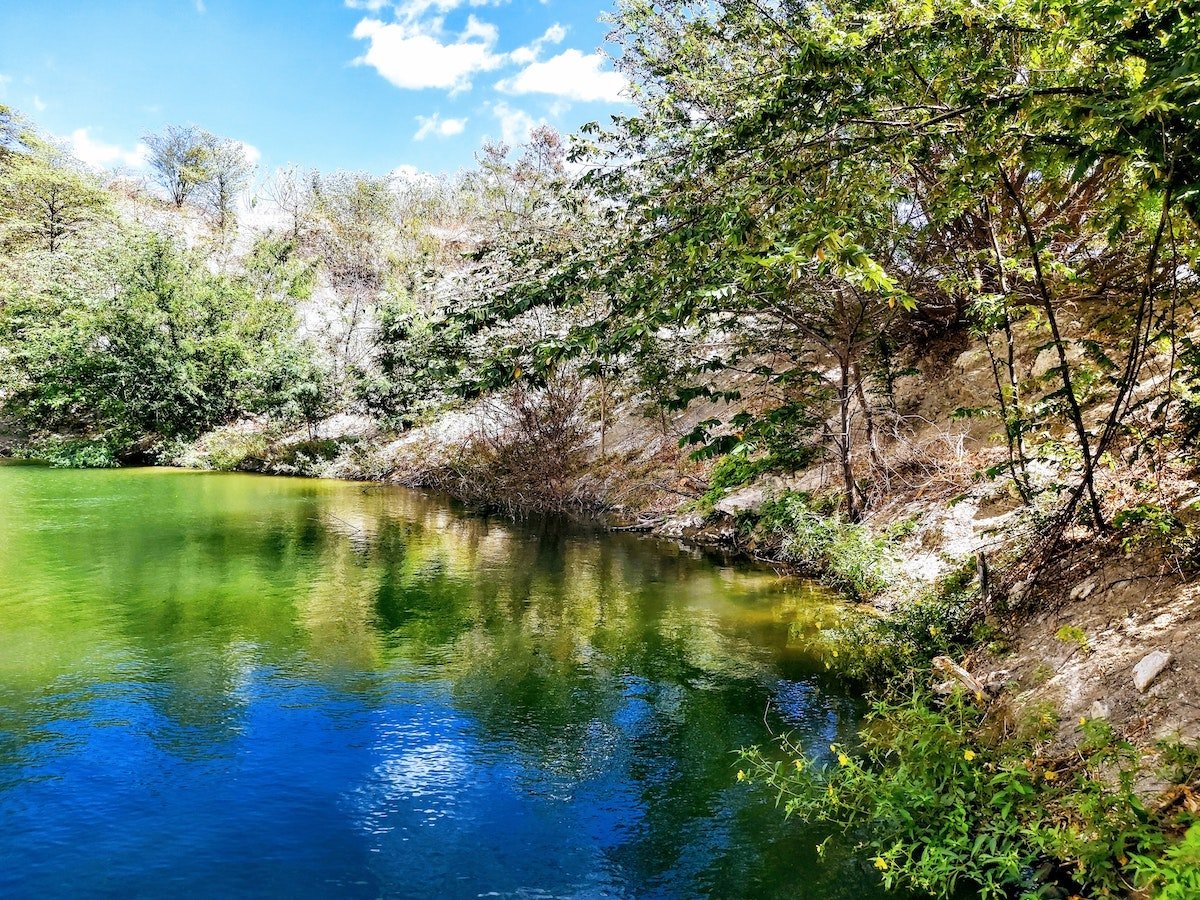 Frankly, I'd recommend hopping on a walking tour as soon as you arrive as this is a great way to expose yourself to all the wonderful things there are to see and do.
As a city, nightlife and dining options are also much more plentiful than some of the smaller beach towns. Despite Managua's "city" facade being at the forefront of tourist activities in the area, this Nicaraguan gem also has a wild side.
All within (or just outside) the city bounds, you'll find stunning rocky cliffs and thunderous cascading waterfalls that put Planet Earth footage to shame. Don't miss the Tipsica Lagoon Natural Reserve and or an active volcano in close proximity for lava tours.
San Jorge
San Jorge is one of the best Hidden gems in Nicaragua as far as I'm concerned. It is yet another example of a splendid little Nicaraguan town with lush forests and pretty waterfronts.
The skyline from the main tourist strip will treat you to gorgeous views of Isla Ometepe (to be explored later). For days you want to be active, there's opportunities like kayaking and ATVing.
San Jorge is a great choice for travelers who like to live more like locals. The accommodations options in the area are largely traditional haciendas and short-term vacation rentals (versus larger resorts).
Many of the restaurants are humble (yet remarkable) representations of Nicaraguan cuisine with alfresco waterfront dining available almost everywhere you go.
Isla Ometepe
Isla Ometepe (or Ometepe Island) is a naturalist's dream, and a must add to your travel itinerary. You could make this an easy day trip from San Jorge, or stay on the island itself if you want the full experience.
There's certainly no shortage of things to do here and you're not going to want to miss out on a single one. Spend a quiet day in the Ojo de Agua hidden lagoon or the Punta Jesus Maria peninsula.
When you're feeling a little more energetic, take a dip in the infamous San Ramon Waterfall, go ziplining or take a trek through the forest to the top of a volcano.
Craving more crystal clear waters? Check out these top beaches in Nicaragua: Redonda Bay, Isla Juan Venado, Pearl Cays and Miskito Cays.
The Corn Islands
The Corn Islands are a magical, tropical couplet off the Caribbean coast of Nicaragua. Both islands are well known for extraordinary rainbow reefs and a spectacular array of sea life (think stingrays, sharks, and dolphins) resulting in a booming dive culture!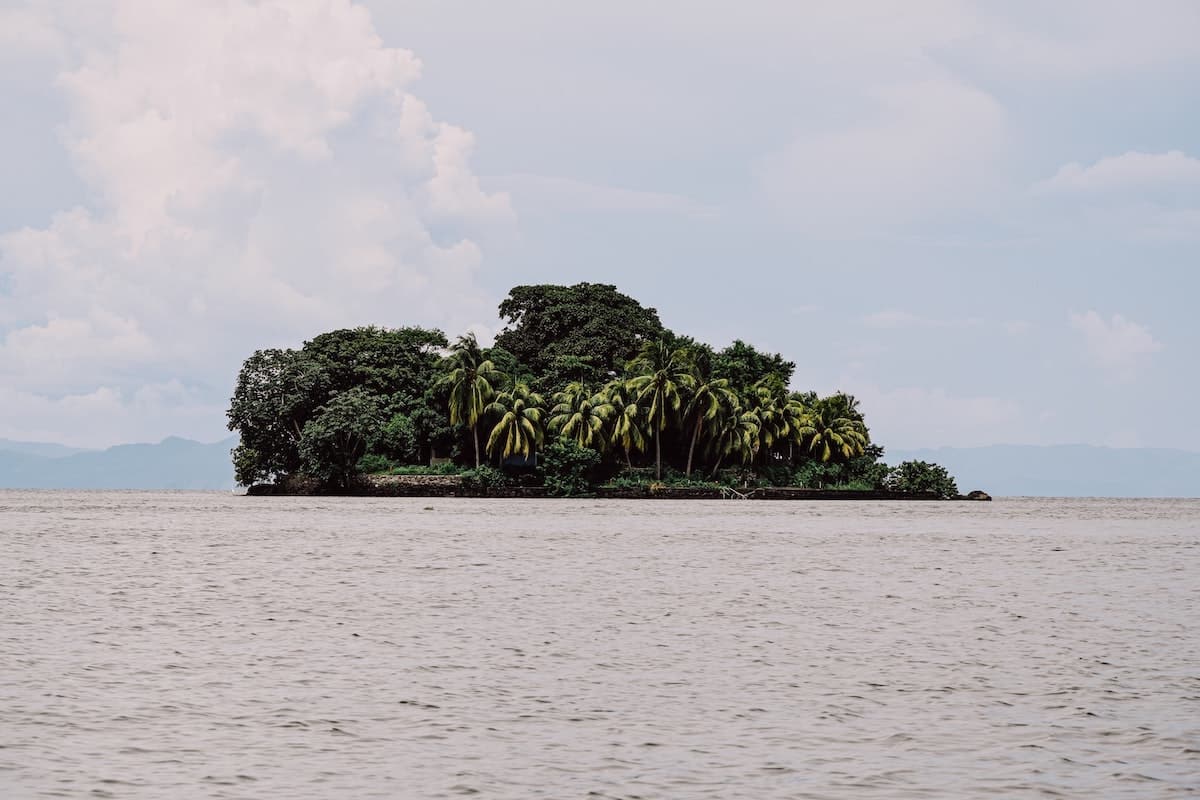 Big Corn, the more traveled of the two, is humble but well equipped with hotels and restaurants and is reasonably charming. Little Corn Island, though much less frequented and more challenging to travel to, is one of the most worthwhile trips within Nicaragua.
The island takes you back in time with much of it being completely undeveloped lush jungles and secluded beaches. Most of the island is walkable and motor vehicles are largely unavailable. If you have to choose between the two, definitely choose Little Corn.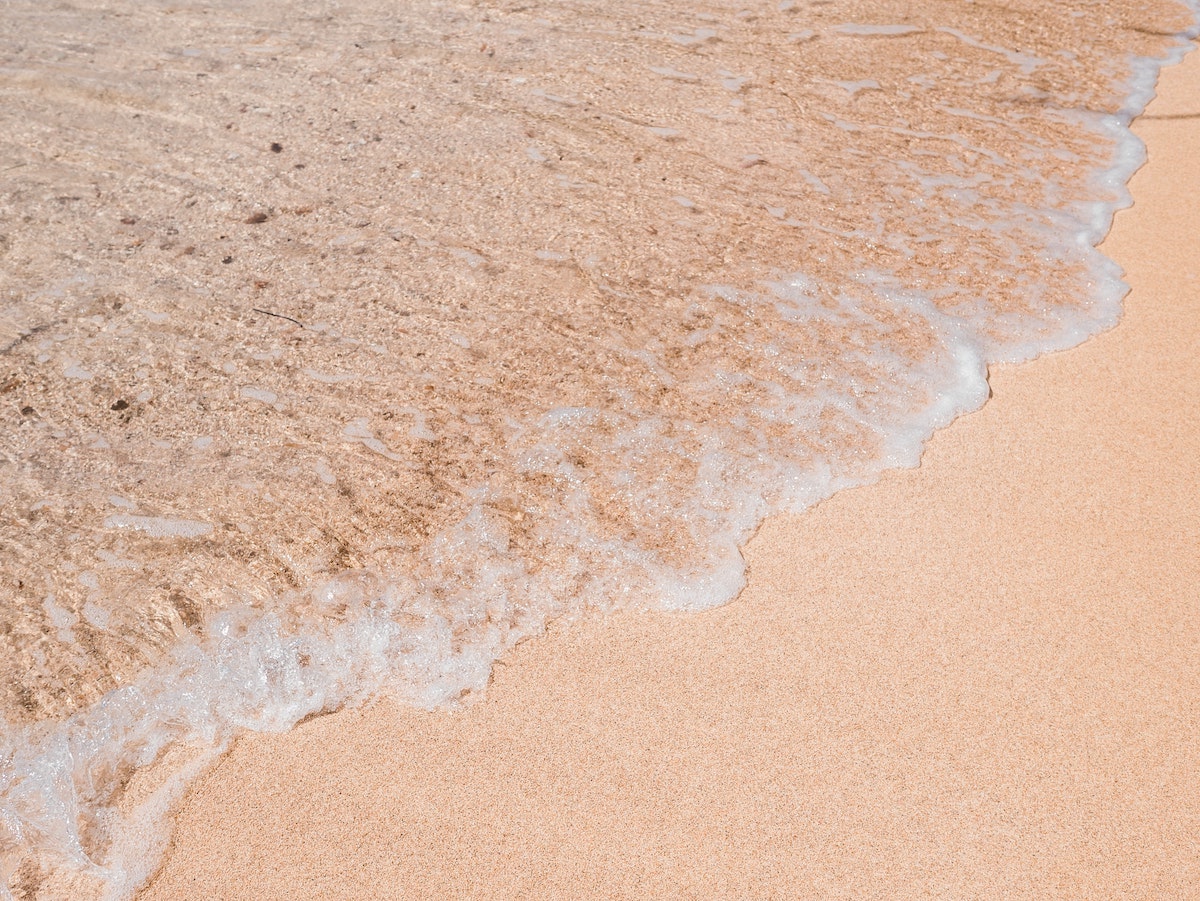 12 Top Things To Do In Nicaragua
There are SO MANY things to do in Nicaragua, but which ones absolutely demand a spot on your travel bucket list? Here are some of the best things to do in Nicaragua ranging from outdoor adventures to local delicacies you really must try! Buckle up for the time of your life.
1. Leon Volcano Boarding
One of the top Nicaragua tourist attractions is the extreme sport of volcano boarding in Leon which feels like the perfect introduction to this list.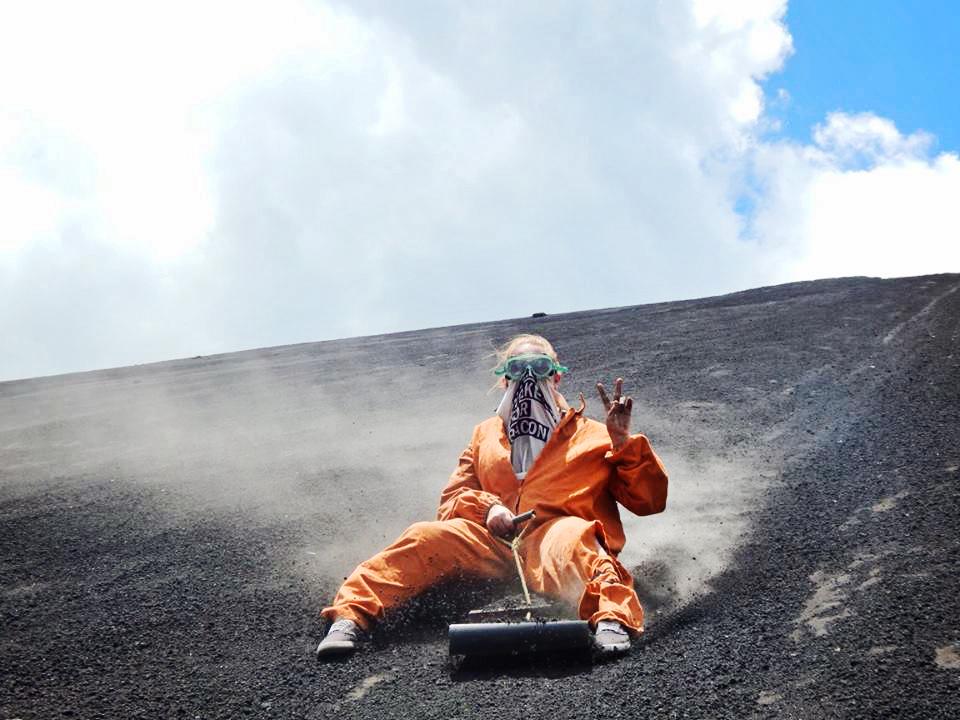 Though you can go volcano boarding in several different regions, Leon is the epicenter of volcanic tourism and activities in Nicaragua. Oftentimes, tours will include shuttles to/from your hotel, refreshments, and even professional photography to document the moment.
It's well worth the price tag for this once-in-a-lifetime experience.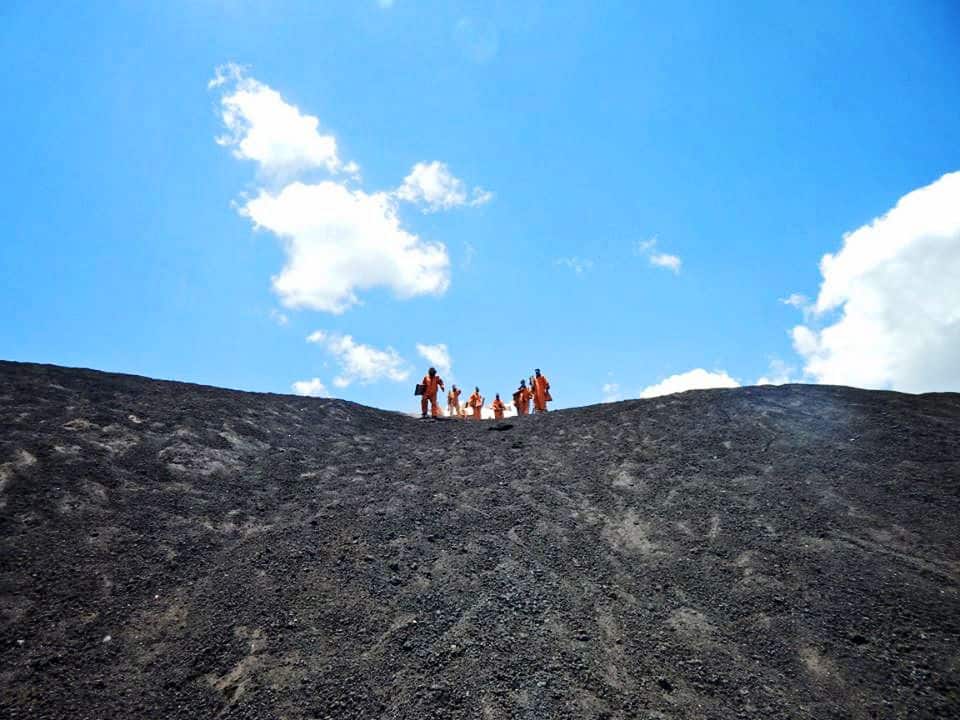 2. Masaya Volcano National Park
Have you ever seen a lava lake? With a visit to the Masaya Volcano National Park, you can. There are several ways to experience the active volcano.
From guided hikes to birds-eye-view helicopter rides, and then, of course, the ever-popular private Masaya Volcano night tour.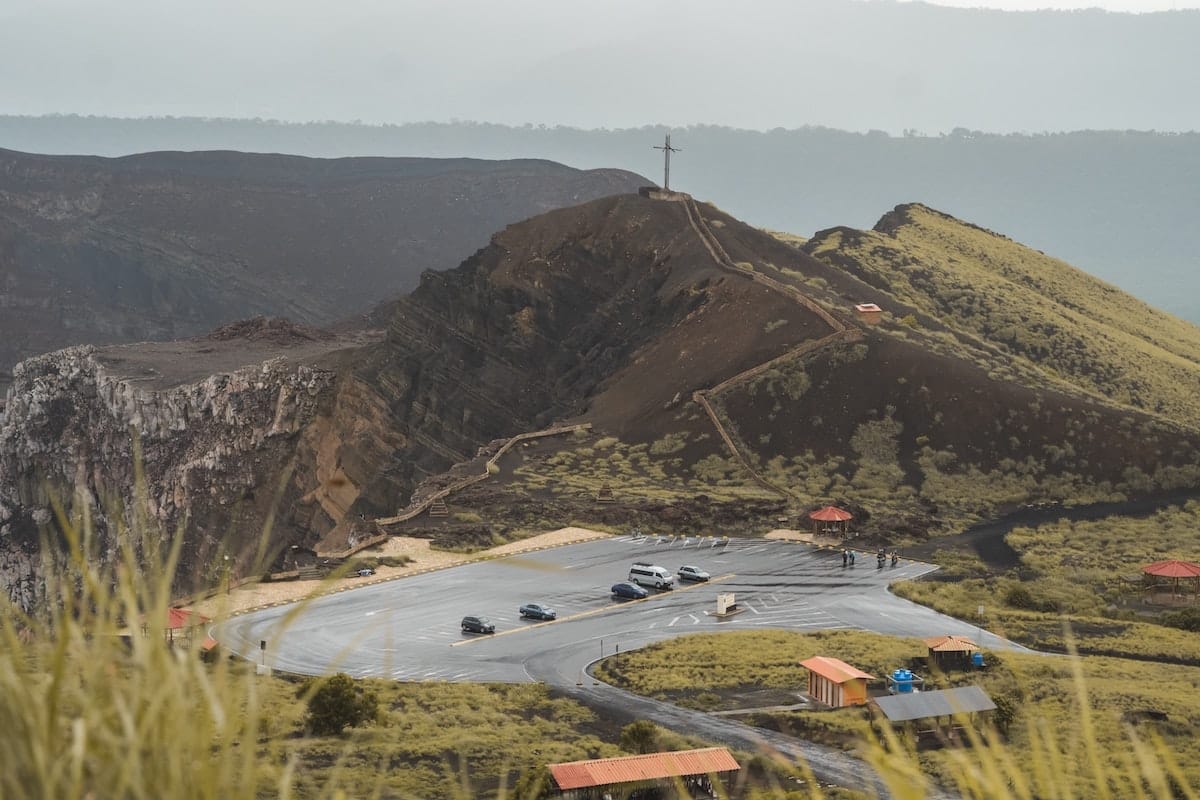 If you're staying in the Managua area, this is sure to be one of the biggest highlights of your itinerary so be sure not to miss it.
3. Sailing in San Juan Del Sur
If you want to explore the more luxurious side of Nicaragua tourism, why not go sailing in San Juan Del Sur?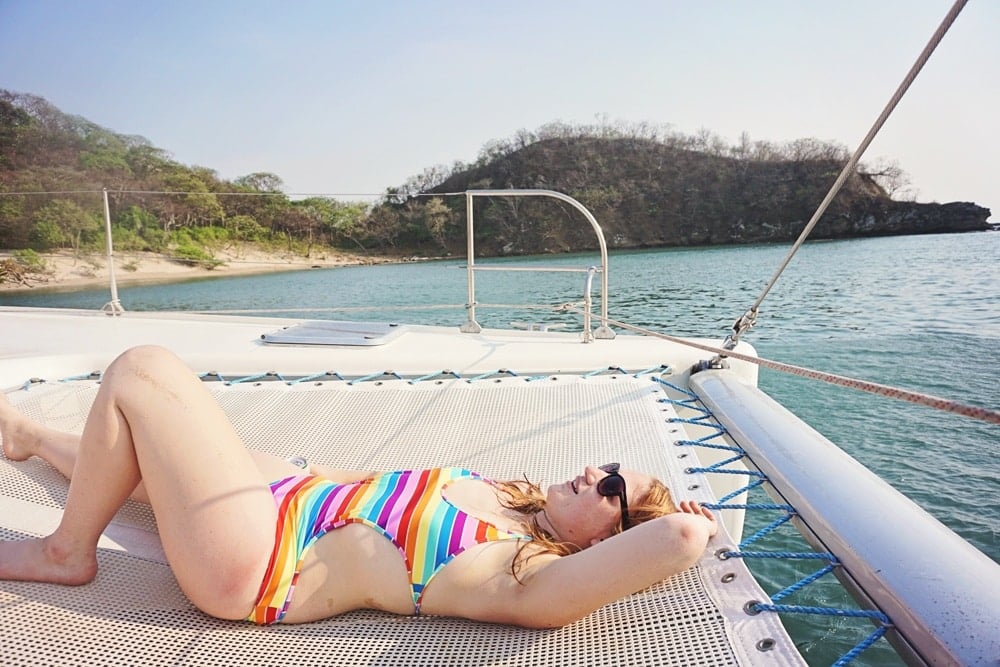 You can easily hop on a group tour or charter a private boat to sail around the islets (over 365) along the coast.
Be sure to bring something fun to toast with at sunset and a camera, because you're sure to see some pretty incredible scenery and wildlife on deck.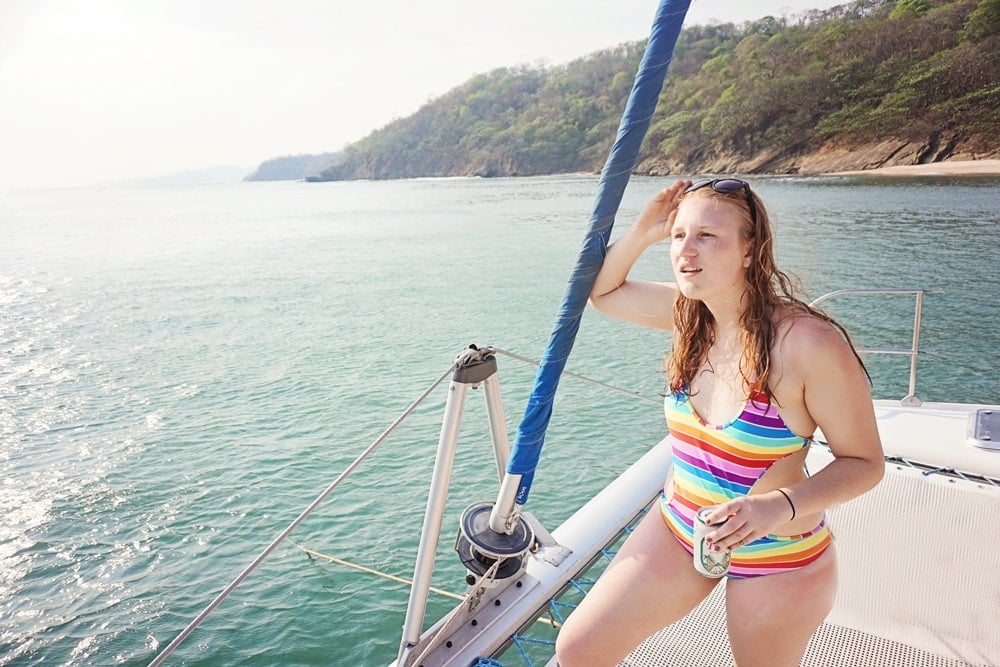 4. Kayaking Lake Nicaragua
The list of water activities in Nicaragua never ends, but did you know there are just as many things to do at freshwater destinations as there are to do by the sea.
If you're visiting Lake Nicaragua (and I highly recommend you do), plan to rent kayaks for the day and go exploring with your travel companions.
Many of the hotels in the area provide them, and it's surprisingly affordable if not. If kayaking isn't up your alley, you could also hunt down a stand-up paddleboard or canoe.
5. Cigar Factory Tour In Granada
On a totally chill day, a visit to the cigar factory in Granada makes a unique choice. It's also super-duper affordable for all my friends traveling on a budget.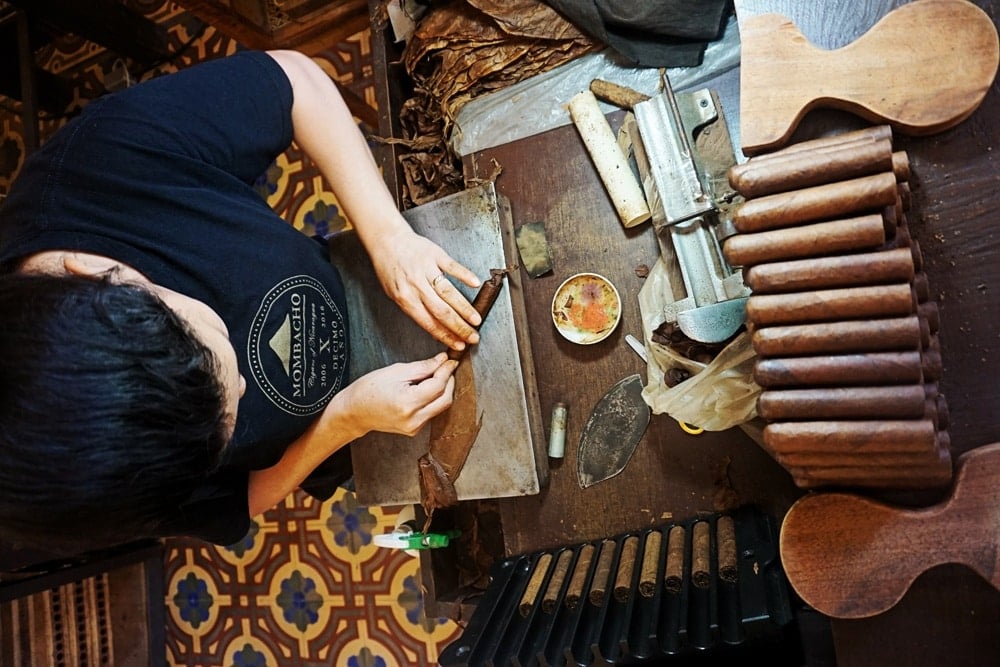 If you're a cigar lover yourself, you can stock up at the reserve humidor and unwind in the cigar lounge. Even if you've never smoked a cigar in your life, you'll find yourself bewildered by this refined art form and heartfelt approach to a massive industry.
Oh yeah, and you can even try your own hand at rolling tobacco. By the end of the day, you'll certainly agree that this is worthy of any list of Nicaraguan things to do.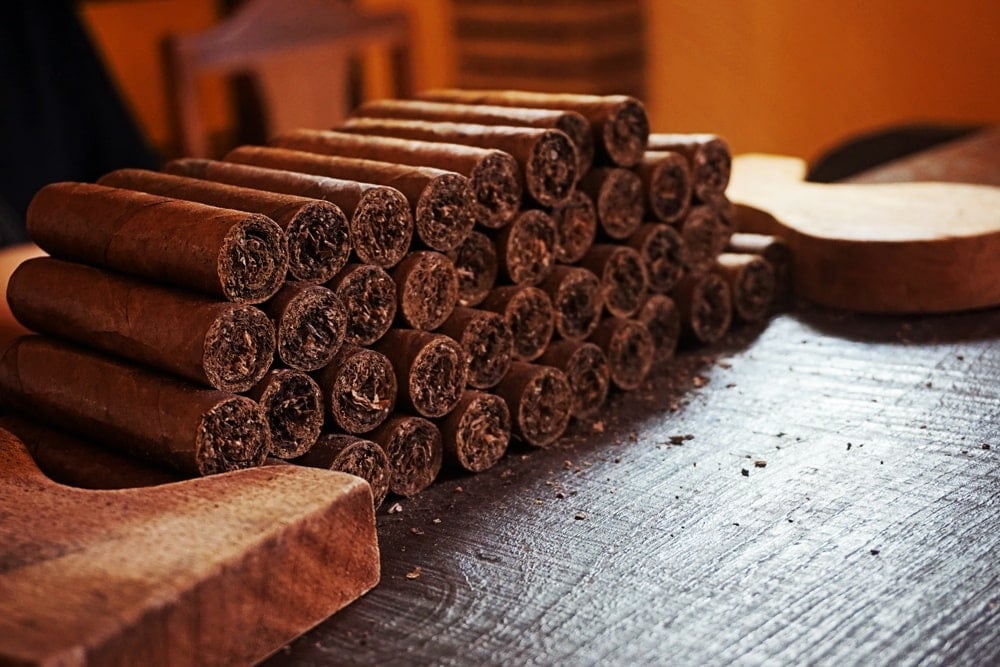 6. Hunt Out Colorful Doors in Granada
If you're looking for Nicaragua activities that are a little less strenuous, why not visit the colorful doors in Granada?
Throughout the city, you'll find many of the homes have elaborate doors with ornate tiles, rainbow paint or gorgeous iron detailing.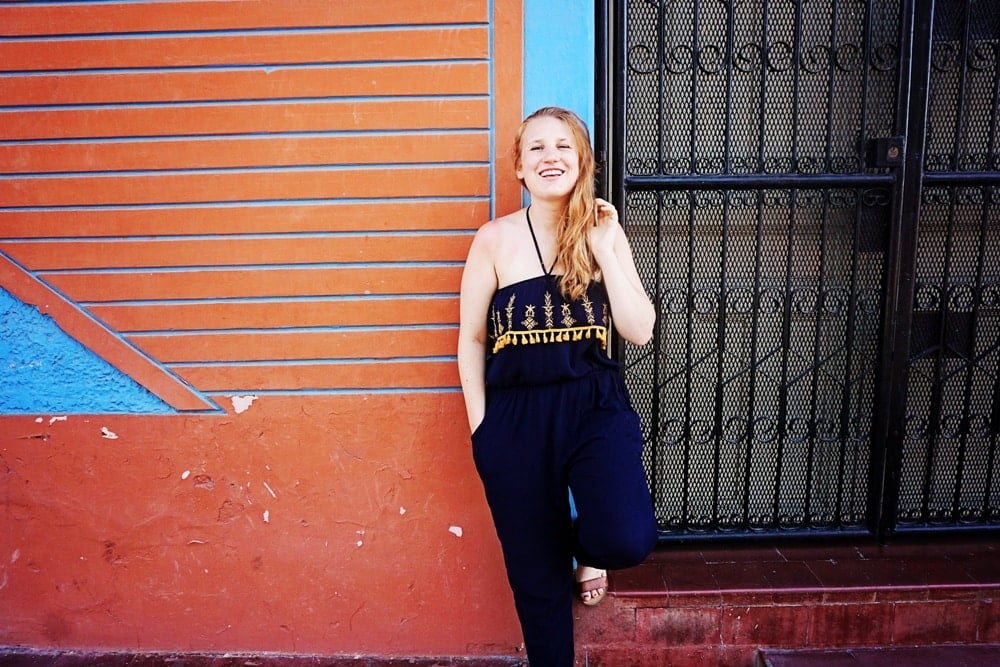 Grab a cold bevy, take the day at your own pace and peruse the streets with an open mind and a camera. You'll end up with some pretty cool shots and the perfect memory of the city.
7. Playa Maderas
Playa Maderas is hands down one of the best Nicaragua beaches on the Pacific coast.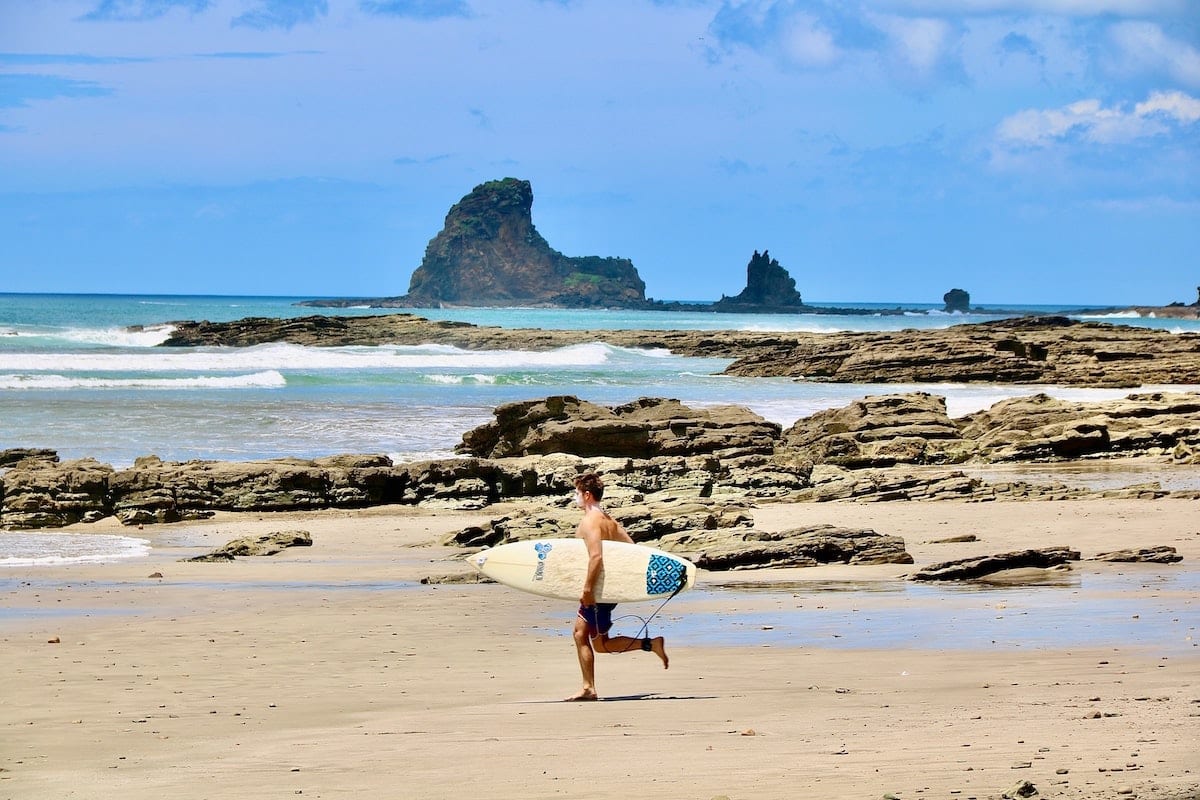 It's a popular choice for those seeking surf camps and yoga retreats so if you want a laid-back, beachy oasis, this is the place for you.
You'll find plenty of beach bars and clubs dotting the shoreline and plenty of places to hang out in a woven hammock.
8. Reserva Natural Miraflor
Another great option for the outdoor enthusiast is a visit to the Reserva Natural Miraflor. This smaller natural reserve has a mountain, several waterfalls, and endless stretches of rolling hills.
The trails wind past the agricultural villages. If you choose to visit with a guide, you're likely to meet some families who would gladly show you around their farms and learn a lot about Nicaragua's history from a local perspective.
9. Laguna de Apoyo
If I told you that you could swim inside a volcano, you probably wouldn't believe me. I don't blame you, it sounds downright wacky.
But at Laguna de Apoyo (aka Apoyo Lagoon Natural Reserve), that is a reality. This natural lagoon reserve is as pretty as can be and is situated inside an old volcano.
The volcano is (obviously) inactive and is more of a glistening lake flanked by forests these days, but it makes for a good story, doesn't it?
There are plenty of places to grab a snack after your swim, viewpoints for aerial photo opportunities, and the odd hammock if you'd like to rest the day away.
10. Bosawas Biosphere Reserve
If you're wondering where to go in Nicaragua for the best hiking, the UNESCO Bosawas Biosphere Reserve is the best of the best.
After the Amazon rainforest, this reserve is actually the second-largest rainforest in the Americas, and let me tell you, it's BEAUTIFUL.
The trails range from short, easy hikes to multi-day treks for experienced backpackers and along the way, you'll find exotic flowers, insane wildlife, and several bodies of water.
11. Go Horseback Riding at Rancho Chilamate
Rancho Chilamate is a sophisticated hacienda and working farm where you can set out on horseback riding and stargazing adventures.
Basically, you can choose your own adventure ranging from sunset beach rides, wildlife spotting in the forests, or leisurely countryside trails.
This guest ranch is quite romantic and you can actually stay here so if you're looking for a unique way to experience Nicaragua, you might be looking at it.
12. Take an Iconic Photo on the Roof of the Leon Cathedral
The Leon Cathedral is without a doubt one of the most famous places in Nicaragua.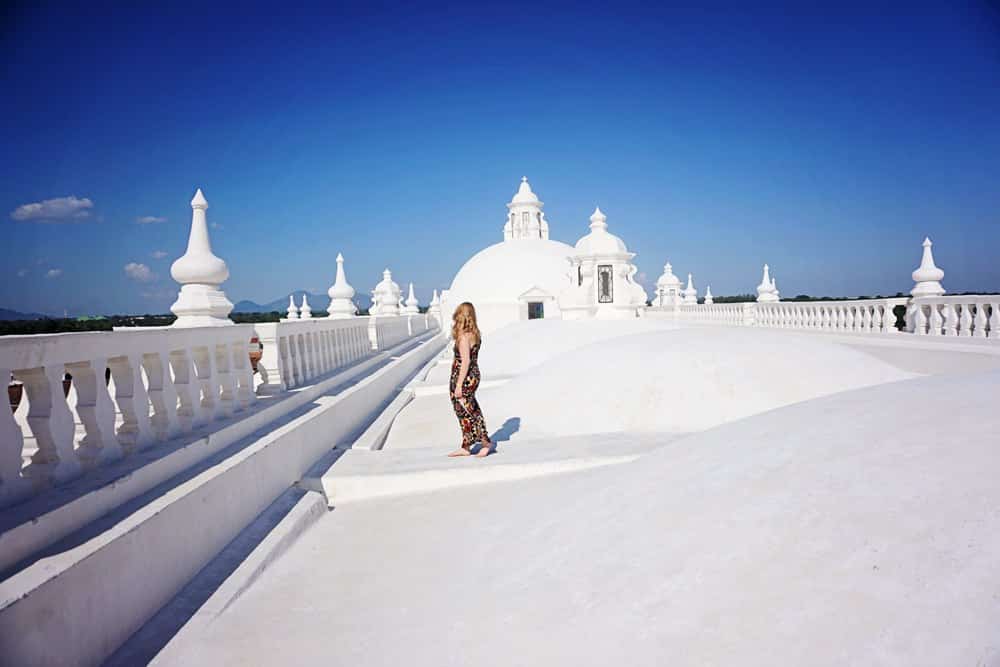 This UNESCO world heritage site is the largest cathedral in Central America and a climb up to its rooftop promises what are considered to be the best views of the city.
It's also extremely photogenic (chances are you've seen it pop across your Pinterest feed before) so if you're looking for the perfect backdrop for your #travelgoals post to show off your Nicaraguan experience, this is it.
Dine Like A Local: What & Where To Eat In Nicaragua
From exciting street stalls to sophisticated piquant dishes, it's no secret that cuisine is one of the greatest Nicaragua attractions. While I could go on and on, here are a few things you need to taste during your holiday. After all, no Nicaragua travel guide would be complete without these flavor experiences.
Chow down on Gallo Pinto
Gallo Pinto, translating to "spotted rooster" is a traditional Central American dish that is especially popular in both Nicaragua and Costa Rica.
You should be able to find this staple dish at most local restaurants but if you need somewhere to start: the Gallo Pino Cafe in Granada. The cafe shares its prestige with its namesake and serves just about the best rendition around.
Sip a Tona Beer
During your travels, you'll likely notice that there are two Nicaraguan beers that are present on every menu: Tona and Victoria.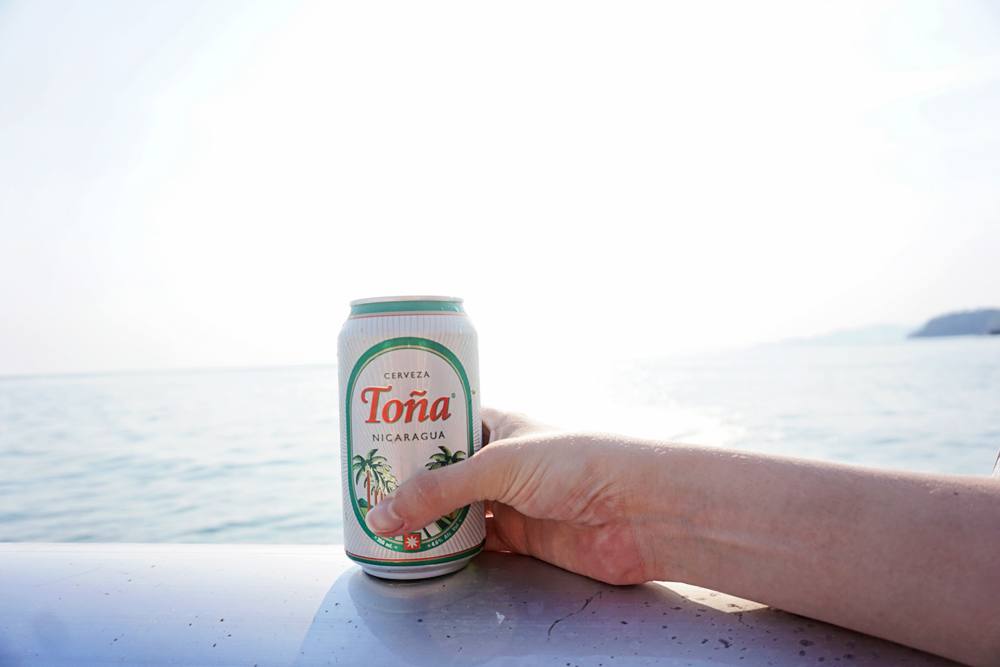 Especially if you're a beer lover, you can't pass up the opportunity to try an infamous local brew on one of your trips to the bar.
Tona beer seems to be the preferred choice between the two amongst tourists, which is why it has earned its spot on this list.
Eat Elote
I've already mentioned Nicaraguan street food is to die for and provided a couple of things to try during your stay. The last thing that I insist you seek out is elote.
You might recognize the name of this dish from the famous Mexican street corn, and Nicaraguan street corn is pretty much one and the same, with a few key flavor switches.
Indulge in a Quesillo
Where are all my cheese fanatics? I've just found your new favorite street food.
A quesillo is a fresh tortilla absolutely smothered in cheese and pickled onion. The cherry on top is a garnish of homemade crema and chili sauce. YUM!
Start your day with Nacatamales
Nacatamales are a Nicaraguan staple with ancient roots, similar to a Mexican tamale.
They are made of maize dough stuffed to the brim with yerba buena, pork and potatoes. The end product is wrapped in a pretty plantain leaf like a present and boiled to perfection – making it a must-have for any foodie's Instagram.
Taste the Nicaraguan Difference in a Cup of Joe
Many of the world's best coffees are grown in Nicaragua so it would be a downright shame to come all this way and not sample it, would it not?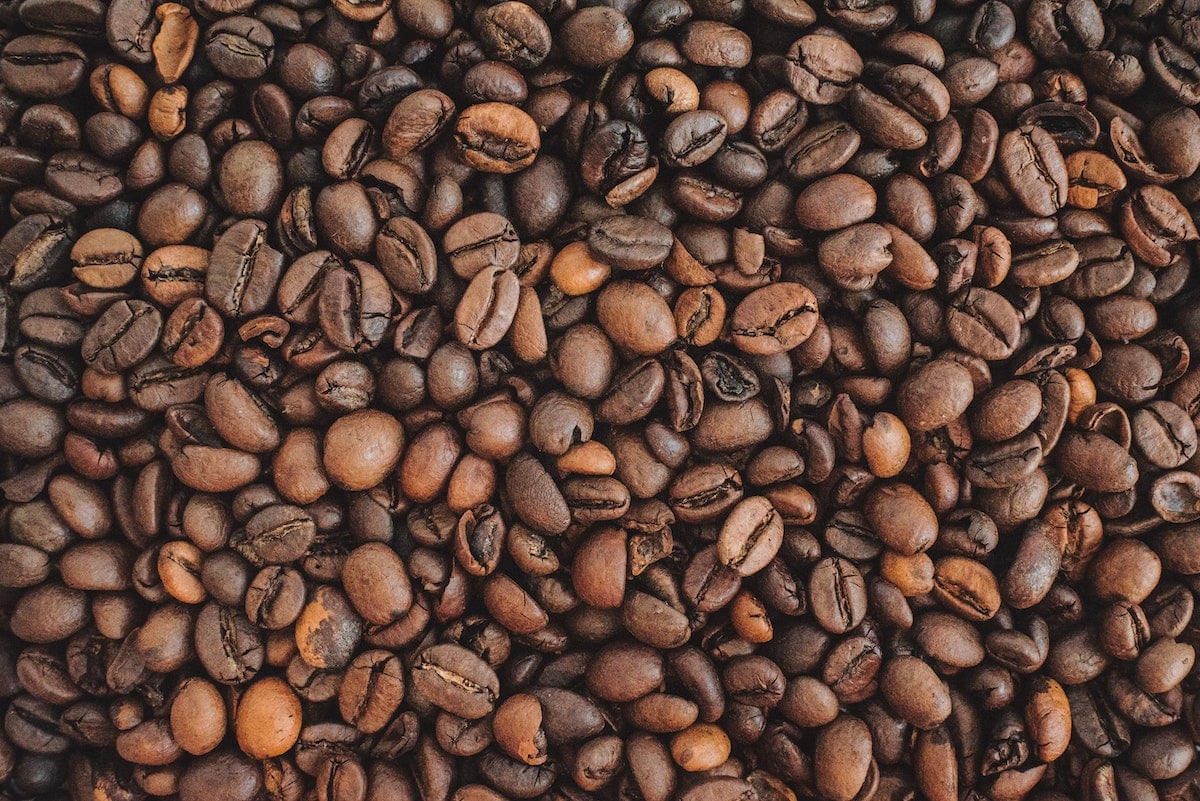 Many of the hotels and cafes in the area will be serving up this local specialty, but take it a step further with a coffee plantation tour.
Coffee lovers will rejoice while tasting exclusive varieties at their freshest!
Where To Stay: Best Nicaragua Hotels, Hostels & Airbnbs
There are plenty of good options, but if you'd like a few hotel recommendations, here are 3 of my favorites that should fulfill the needs of every type of traveler:
Rancho Santana
If you have a little $$$ to spend, you HAVE to check out the Rancho Santana, where luxury resort and boutique experience collide.
With almost 3,000 acres of coastline, white sand beaches, cliffs, rainforest, upscale guest lodges and private oceanside villas, it's an absolute marvel of modern tourism.
Frankly, you could get the full Nicaraguan experience without ever leaving resort grounds. As you could probably guess by the name, Rancho Santana is home to its very own horse stables – perfect for horseback riding at sunset.
The activities are endless – spot wildlife as you walk through the jungle, soak in the sun while surfing or paddleboarding in the ocean, sit around a classic beach bonfire under the stars, try your hand at sandboarding, find your zen with a yoga class or help release sea turtles at the resort's sanctuary.
Why I Love It:
Incredible restaurants including a taqueria, small plates lounge, and farm-to-table fine dining
On-site market with local produce and artisanal pantry provisions for passionate home chefs to bring back to their casitas
Complimentary beach shuttle for exploring the entire property
Private art gallery featuring local works

Isleta El Espino
Isleta El Espino is a beautiful eco-lodge on a private island in Lake Nicaragua and trust me when I say there are barely words to do this hotel justice.
Here you'll be promised an absolutely unforgettable experience at a shockingly budget-friendly price. The best part? You can feel good about where your dollars are going.
The people behind the lodge are guided by a large set of environmentally and socially responsible tourism principles.
You'll adore the views from the stunning yoga hut and the plunge pool at the water's edge. Feel your daily stresses melt away as you swing in your balcony hammock or treat yourself to a traditional massage.
Why I Love It:
Super-affordable activities including traditional net fishing with the locals
Delectable culinary offerings with a selection of menu options for plant-based and gluten-free travelers
Award-winning commitment to sustainability efforts on a solar power grid
A heartfelt and safety-first approach to tourism during COVID-19. 100% of staff and guests are required to follow vaccine mandates and PCR testing is available onsite as well as transport to Managua for same-day results.

Tribal Hotel
The Tribal Hotel is centrally located between all of the best destinations on this list. It's situated in the heart of Granada, just over an hour from San Juan del Sur beaches, and close enough to the Costa Rica border for a quick day trip (or trip extension).
The concierge is able to arrange for private transport to several activities mentioned previously and even offers private tours. This helps to ensure quality control and premier guest safety measures.
The location and activity selection is hardly the best thing about this hotel. Nearly everything in it was handmade by local artisans including large installations, bedside sculptures, woven rugs, ceramic pool tiles and unique basket chairs.
The hotel's aesthetic is tropical, colorful, and expertly blends Moroccan and Latin American influences. For the plant lovers, every corner is filled with monsteras, palms, and banana plants creating an urban jungle backdrop perfect for any travel blogger or #wanderlust Instagram posts.
Why I Love It:
Candlelit, alfresco tapas lounge in the courtyard
Daily breakfast is included and served to you on your private terrace
Affiliations with THREE of the best local restaurants
Romantic luxury daybeds by the pool, with ample room for two

El Coyol Airbnb (Private Island!)
You know I love a good Airbnb. El Coyol is one for the books. Listen, it's not exactly budget-friendly but if you're looking to splurge on the vacation of a lifetime, it's certainly worth it.
This ultra-modern, private island escape has room for 8 of your closest buddies, and offers a level of luxury usually only found at the most exclusive resorts.
One trip here and you'll be feeling like the rich and famous, and if you split the cost per person, it's pretty attainable.
Why I Love It:
Indoor/outdoor lounge spaces integrated with the jungle
3 alfresco dining setups for dining under the stars
Infinity pool and lakefront yoga platform
Lush gardens and landscaping

Frequently Asked Questions (FAQ)
Let's get down to basics. What are the things you absolutely need to know? What travel tips are imperative to having a good time? I've got you covered with this quick and easy FAQ.
What currency do they use in Nicaragua?
The Nicaraguan córdoba is the official currency of Nicaragua. Make sure you have a good amount of córdoba on hand, and do your exchange prior to arrival for the best rates.
It's especially important in the larger cities, but USD is widely accepted for tourist services such as taxis and hotels.
What is the best way to get around?
As with any big tourist destination, you're going to have a few choices on how to get around. But which one is the best?
If money isn't a concern, consider hiring a driver or shuttle for your bigger trips throughout the country like from your hotel to the airport or from one city to another. This is the main way we got around.
Renting a car is also an option, which will definitely cost you some cash but is more affordable than being chauffeured around.
That said, your safety should be paramount. Take this into consideration if you choose to road trip on your own because the roads in Nicaragua can get a little bit unsafe for tourists, especially women. We were told by multiple people prior to our trip that two young women shouldn't be driving a car around.
What's the most affordable, and reliable? Stick to local transportation modes such as taxis and even a chicken bus or two for authenticity.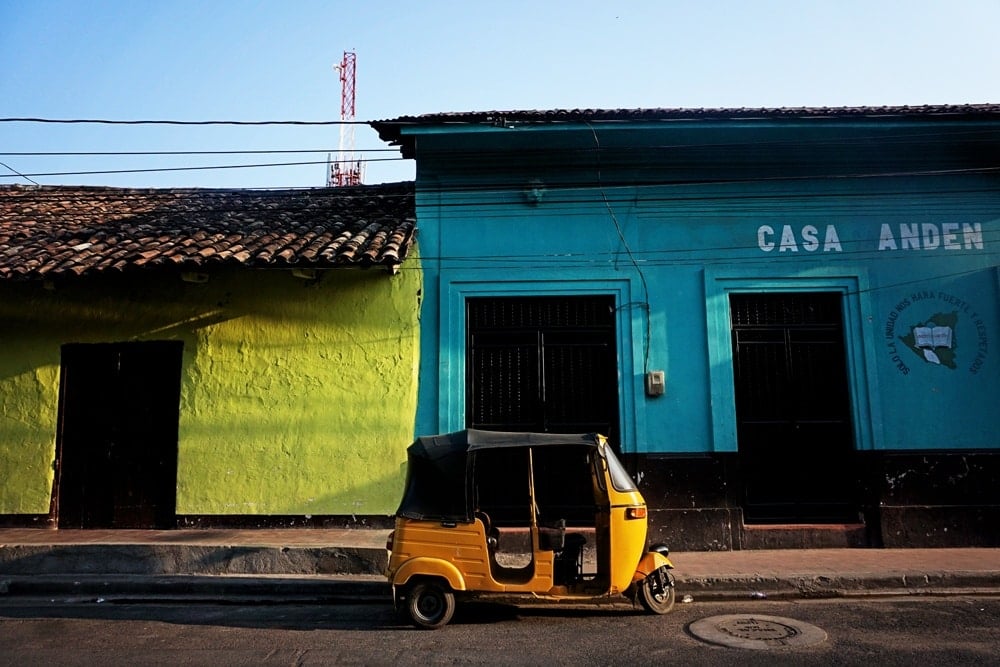 What is the best time of year to visit?
November to April is the country's dry season and makes up the bulk of Nicaragua's tourist season. After all, who wants to be rained out on holiday?
You can expect temperatures to remain between 77 and 82 degrees with plenty of sunshine and only the odd tropical rainfall during this time.
If you'd prefer to avoid the tourist crowds, try to visit right at the flanks of peak tourist season (aka shoulder season) to take advantage of the decent weather.
May to August is (technically speaking) the beginning of the rainy season, but there tends to be only a small risk of rain with short rainfall periods. If you come prepared, you can pretty well enjoy your vacation without too much interruption.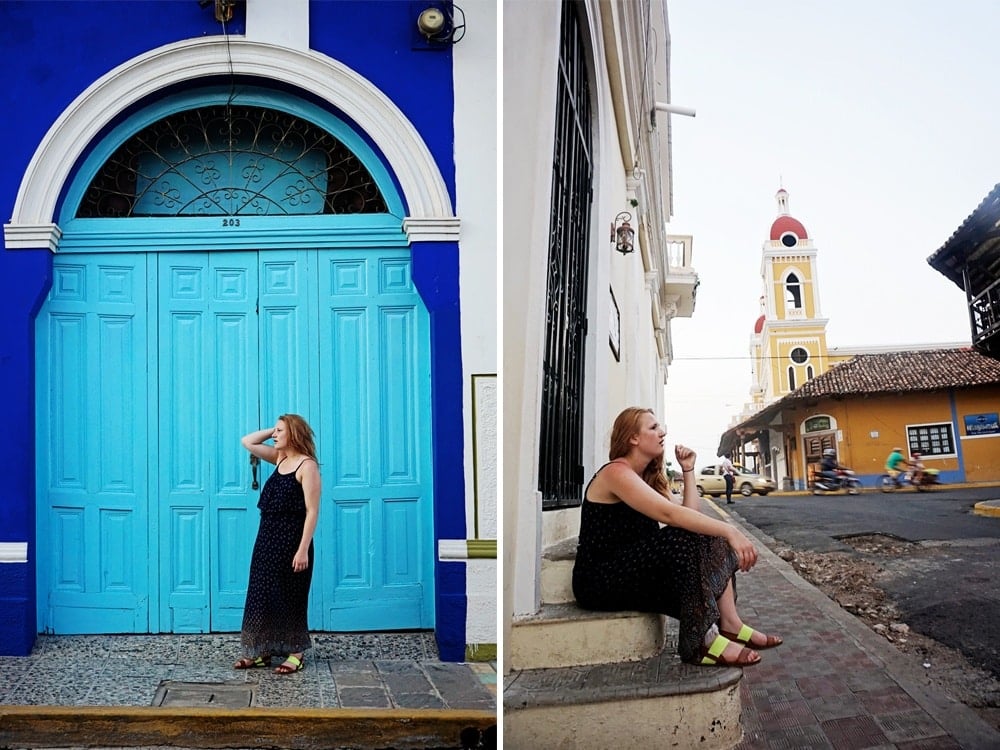 Is Nicaragua safe?
I want to be fully transparent. Nicaragua does experience bouts of political unrest, has a relatively low police presence in many tourist areas which can leave travelers susceptible to petty crime and theft.
For this reason, it's a better choice for seasoned travelers who are familiar with travel safety practices, and potentially have experience traveling through Central America.
Though it may not be the best choice for a first trip, Nicaragua can still be a safe option if you know how to take care of yourself and exercise common sense during your travels.
Do your research, avoid crime hotspots, carry small currency, and choose reputable hotels.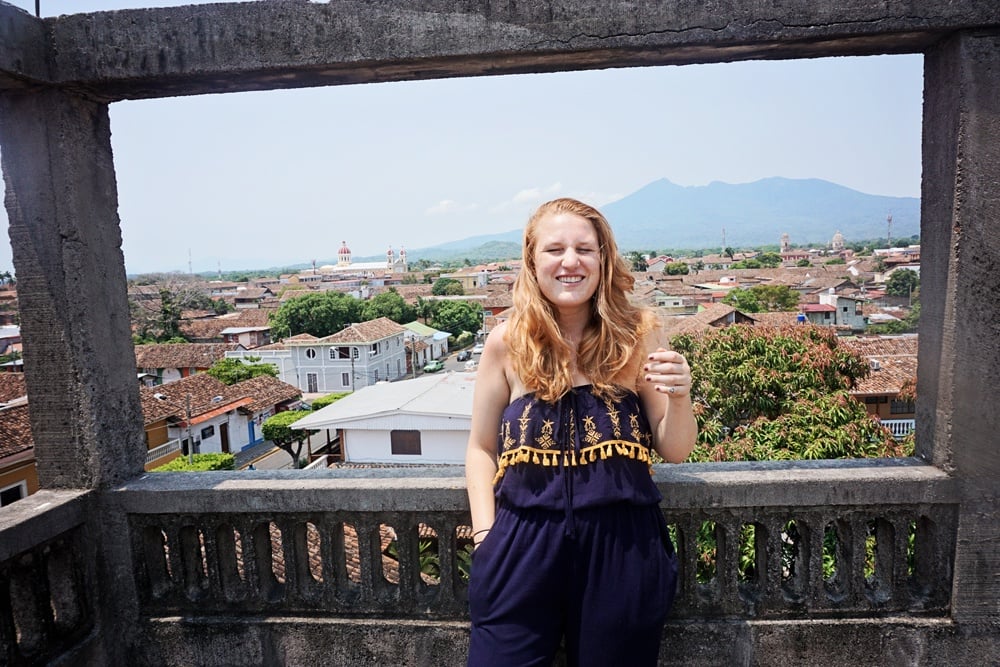 Do I need travel insurance?
Legally, you don't need travel insurance to enter the country. The massive caveat is due to petty crime and food-borne illness rates, it's definitely highly recommended.
I would personally say travel insurance is necessary in the current global climate with the ongoing pandemic causing travel regulations to change frequently. The last thing you want is dealing with a health crisis without insurance, or having to stay longer than planned without the funds to do so.
You can purchase travel insurance policies specially tailored to COVID-19, but always remember to read the small print! That being said, I think this is a must-have regardless of where you're planning to go.
How much should I budget for spending?
Obviously, your budget will vary drastically depending on your preferred travel style, everyday spending habits and souvenir selections.
Excluding hotel and airfare costs, data from real travelers suggest that a budget of approximately 1500 córdoba per day (~ $45USD) will be sufficient.
Broken down, this is roughly $10-$15 for meals and $8-$10 on transportation. It's also important to note that hotels, rental cars, fine dining and shopping will quickly impact your overall budget.
You can also expect to spend different amounts in bigger cities versus smaller towns.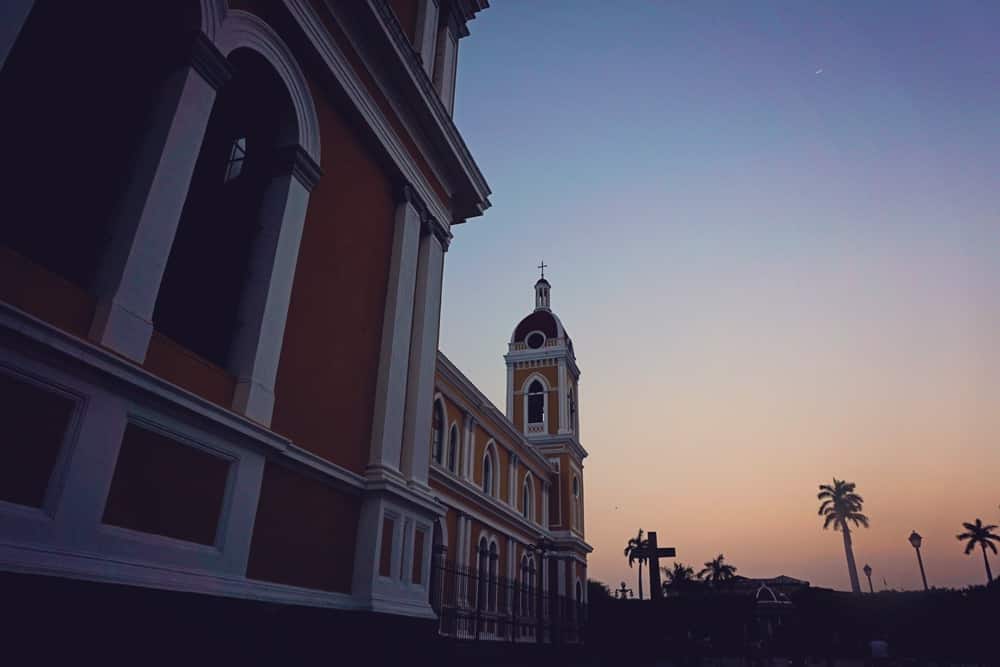 Whether you were looking for some travel itinerary inspiration for an upcoming trip, or you're on the fence to book flights, I hope this guide for planning a trip to Nicaragua has you absolutely pumped about your next vacation to this gorgeous country.
That's it for some of the best places to see, eat and stay in Nicaragua. If you have anything to add, we'd love to hear from you. Comment below or DM on Instagram @thewhimsysoul.