I grew up in the Midwest and was always lusting over international travel. It wasn't until my (now) husband and I packed up our tiny red car and drove from Wisconsin to San Francisco to start a new chapter in our lives almost a decade ago that I fell in love with the United States.
It's hard to grasp just how large our country is and how much stunning natural beauty it has. It actually makes it hard to plan a trip here! Where do you start? We do have 50 states after all.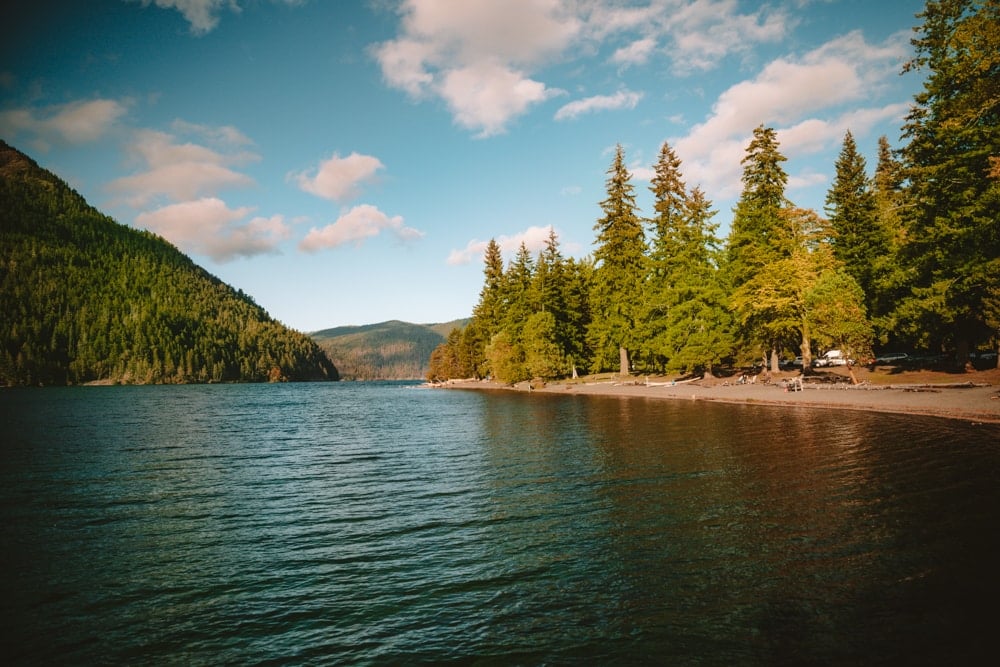 17 Of The Prettiest States in the US
Whether you're planning an RV road trip for the summer or flying in from abroad, these are the most beautiful states in the US to beeline to first.
Note: this is all personal experience and I truly believe everywhere in the world has its own beautiful parts in it! If your favorite state didn't make the list, please drop a comment below telling us why you think it's stunning!
1. California
I might be a little biased! But California really is one of the prettiest states with so many unique things to do. It's one of the few where you can get deserts, snowy mountains, flower fields, big cities, beaches, moody forests and wine country all in a one day drive!
And on top of all that- it's just beautiful. Filled with national parks and amazing views for all the awesome trips you'll be taking.
My favorite national park is, by far, Yosemite National Park. Just like California, this park is filled with all sorts of amazing natural landmarks- from deep valleys to wilderness areas to absolutely breathtaking waterfalls.
The best of which are found at Hetch Hetchy valley. Found in the northwest corner of the park, this valley has two of the tallest waterfalls in North America.
And of course, if you're looking for other great national parks: Joshua Tree is a must. There are just so many natural wonders in Joshua Tree– with black rock formations and breathtaking desert views. I put all my best spots and tips together for Joshua Tree, so you can plan your visit.
California is also home to the sweet, cute county of Mendocino. This coastal community is rich with views and with flavor- packed full of vineyards and delicious eateries.
And its vineyard collection truly is gorgeous. The wine is great, but the atmosphere is even better. And if you're looking for a little longer visit, Newport Inn and Ranch and The Heritage House Resort are great stays!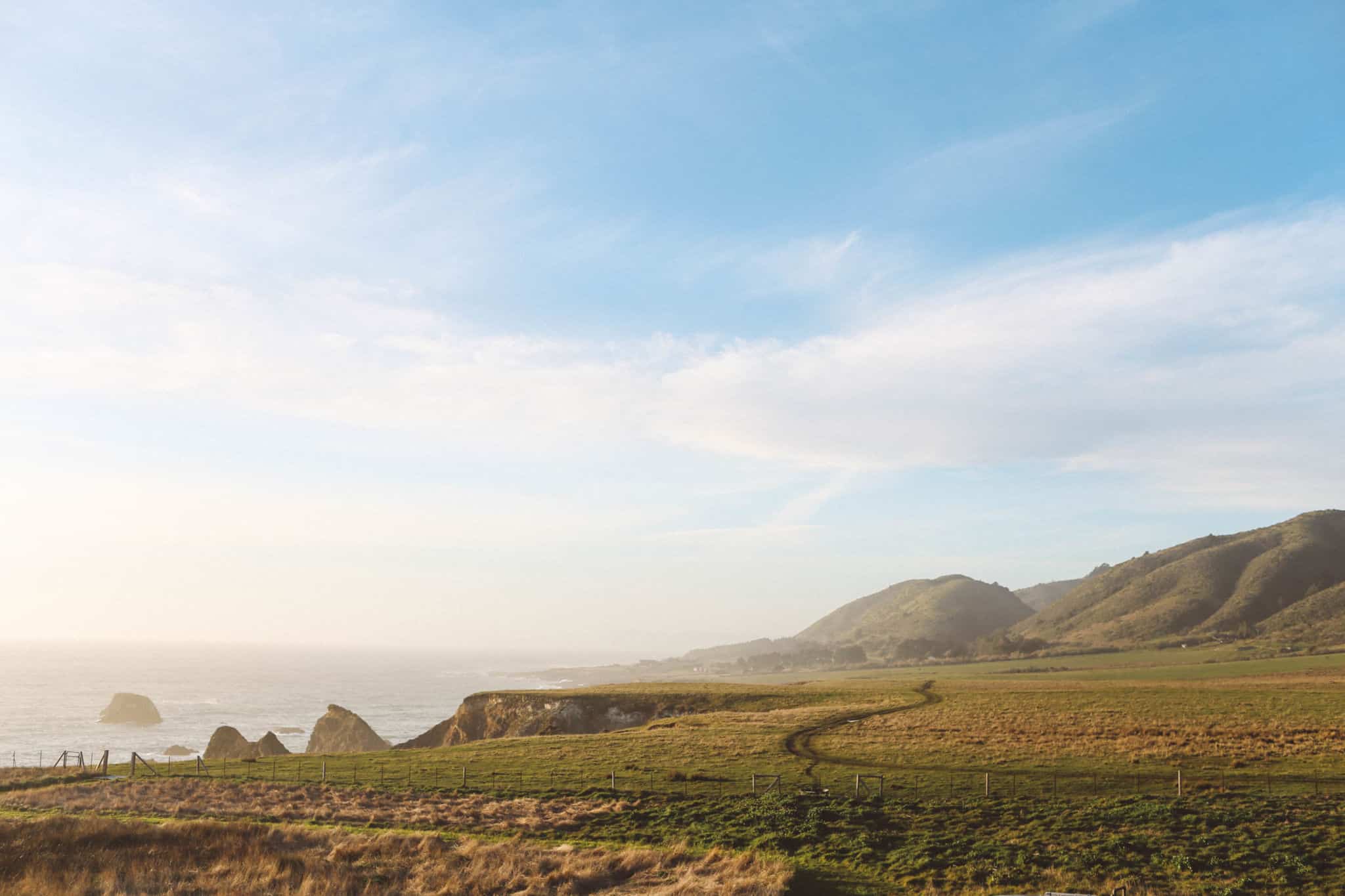 San Francisco just might be the prettiest city in the USA. I mean with sites like, the Painted Ladies and the Golden Gate Bridge, who can really argue?
The city has so much to offer from sun up to sun down- and some of the most stunning sunsets in the country. And San Francisco has some of the best places to catch the sunset.
With so many unique things to do, it's no surprise California is one of the most beautiful states in the USA.
2. Alaska
Alaska is a staggeringly astonishing state. I think it's often overlooked when thinking of pretty states; however, Alaska deserves its spot on the list of prettiest states.
Alaska is home to the Denali National Park, a six million acre nature preserve. The natural beauty of this park is absolutely otherworldly. When one of the park's main lakes is titled Wonder Lake, you know that the scenery is going to be magnificent.
And it's not the only park in Alaska that is truly unlike any other national park. Glacier Bay National Park is home to glaciers- obvious- but also rainforests, mountain ranges, and is a World Heritage Site.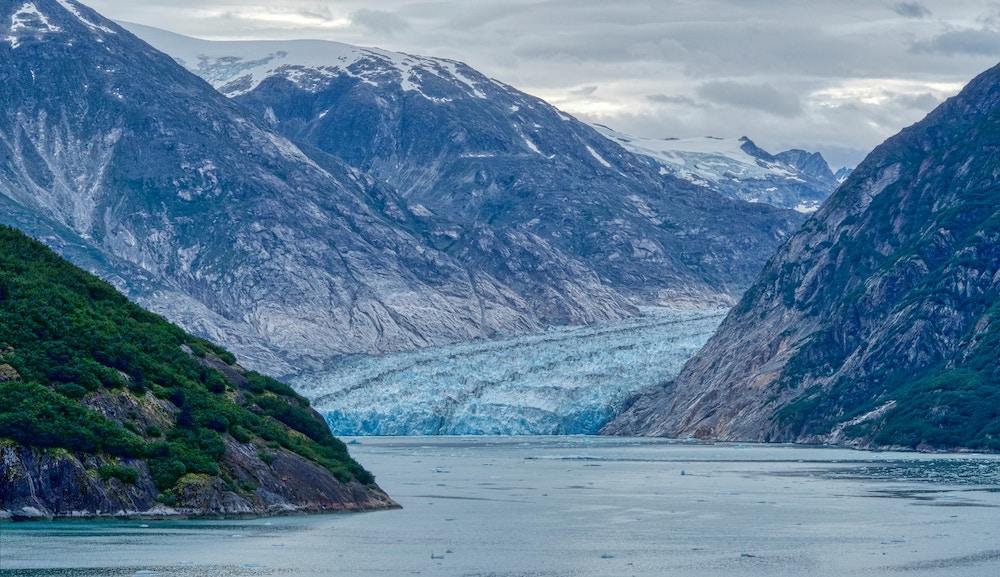 If you plan on visiting Alaska in the spring or summer, you might want to take a trip to Fairbanks, Alaska. For several months this town experiences sunlight all day, which is really a bizarre but totally cool experience.
And for the best views of the state's stunning scenery, I definitely suggest booking a ticket on one of their train excursions. The White Pass & Yukon Route offer trips around some of the most beautiful sights of Alaska in some historic and authentic train cars.
3. Wisconsin
Wisconsin is a super underrated state! It has more lakes than Minnesota and rich dense forests.
One of my favorite spots when visiting Wisconsin is Door County. I went boating on the great lakes while there, and it's truly a once in a lifetime experience!
If you're looking to explore more of the water in Wisconsin, there's Devil's Lake which is just as extraordinary. And, further up north, the Apostle Islands (which offer amazing water activities like scuba diving and kayaking).
Madison is also a great place to check out the natural lakes and waters of Wisconsin, and, as the state's capital, a really cool stop on your trip.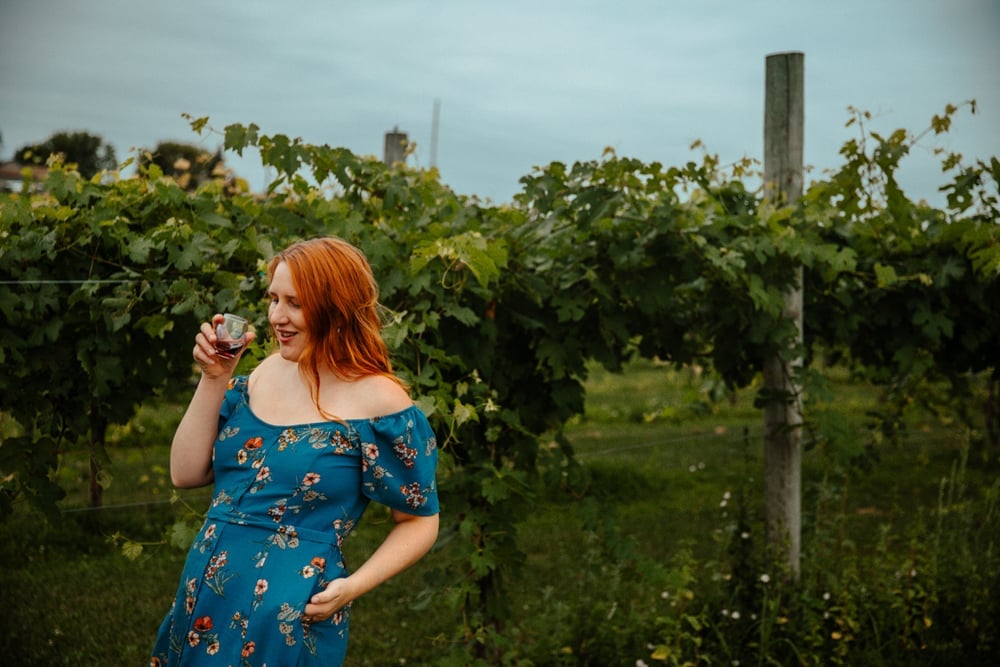 Wisconsin also has a great wine scene. The winery Wollersheim Winery is rich in history (and in taste). Its public tours take you on a taste testing journey along with a journey through the history of the estate (including a really cool cave).
4. Arizona
I can't write about how amazing Arizona is without bringing up the Grand Canyon. The park holds tours of the canyon via foot, bus, and bike; however, one of the best views of the canyon is from the Skywalk.
The Skywalk is found outside of the National park, on a native reserve- it's a glass walkway that stretches over the mouth of the canyon so that you're literally walking above the canyon (quick heads up, you have to book tickets before visiting).
Scottsdale, AZ is another great stop in Arizona- it's got a really incredible art scene and a lot of history. Old Town is a sweet little piece of history sandwiched between the Arts District and Civic Center Park. Old Town was founded in the late 1800s and pays tribute to the Native American population that surrounds it.
There are amazing and unique art exhibits grounded in Scottsdale, like the Frank Lloyd Wright Foundation that offers a tour of the renowned architect's designs, and Costani Originals, which is an open art museum with outdoor art installations.
If you still need inspiration to visit this beautiful place, I've got a whole list to encourage you to visit that you can check out here.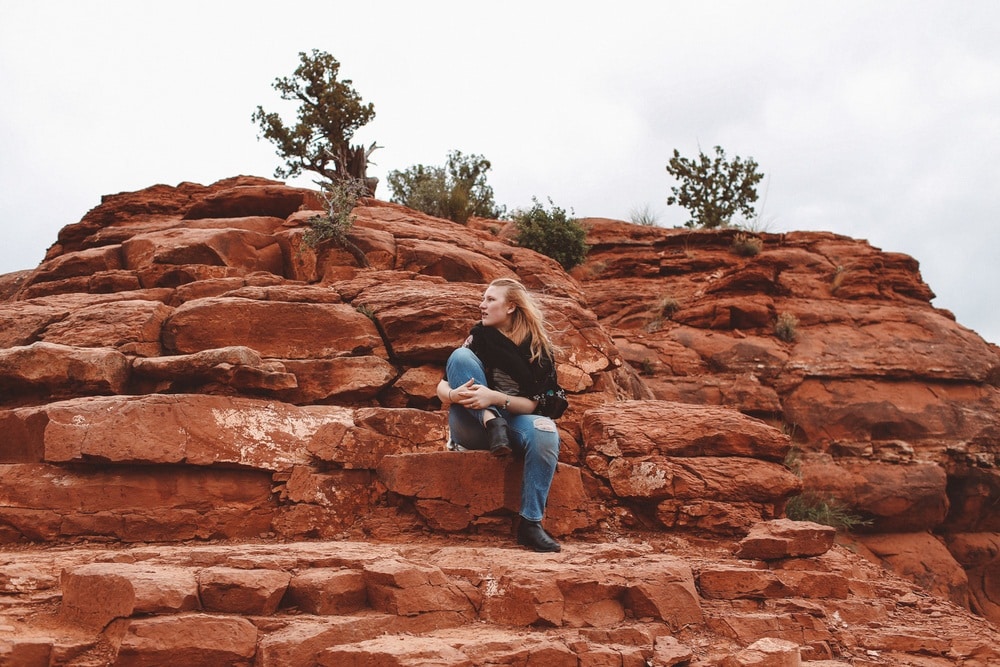 I'd also really encourage you to stop by Sedona– it's truly a unique and naturally show stopping city. I loved visiting the Chapel of the Holy Cross, which is a really cool architectural visit- the building is literally built into the rocks that surround it.
5. Maine
For something on the East coast, especially for all you vagabonds in New York City looking to cross a couple states and not the entire country; Maine is really really breathtaking.
The state, like California, has a variety of features like cute towns, beaches, and islands. The state's rugged coast is packed full of stunning sights, but also makes Maine home to so many fascinating historic lighthouses- even some that stand on their own island like the Burnt Island Lighthouse that was built in 1821.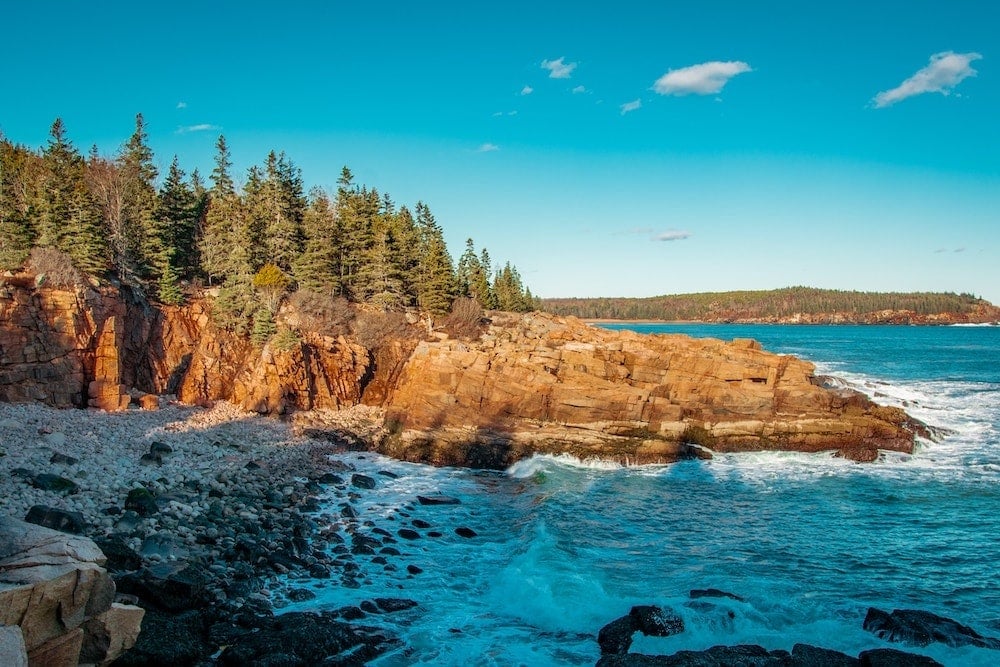 Maine also has Acadia National Park, which is known as the "Crown Jewel of the North Atlantic Coast." With this park, there's no denying that Maine is one of the naturally beautiful states. You can visit a Seawall on a stone pebble beach to dip your toes in the Atlantic or board a boat out to Baker Island.
And who can travel to Maine without trying some of the state's signature lobster dishes. Some of the best lobster shacks in Maine don't open for the season until May.
Five Islands Lobster Co is one of those places, but the wait is well worth it. If you're looking for some good lobster before May, I suggest you check out the Fish Camp in Southwest Harbour (It's literally on the water).
Road tripping along the East Coast? Add a stop somewhere in Rhode Island which is only about 5 hours away from Maine (at least that what Google Map says)!
6. Washington State
If you're a true National Park junky- Washington state is going to be at the top of your list for prettiest states to visit. The state is home to Olympic National Park, Rainier National Park, and North Cascades National Park.
Olympia envelopes the Hoh National Rainforest, which is an amazing secret pocket of lush greenery. But before you get there, you have to check out Port Angeles. So cute and much more to do than you think!
Taking one of the park's hikes through the rainforest, you'll be reminded of just how fantastic nature can be- the moss and foliage in this rainforest is nothing like I've ever seen before. Olympia also has many mountains and valleys, and even moody beaches.
And if you're visiting Mt. Rainier, Cannibal Hot Tub is a must stop! It's the perfect stop after tons of hiking to unwind and soothe your aching muscles.
Off the coast of Washington is a collection of islands, including the Orcas Islands. These quaint islands give small town vibes with northwest air.
The islands have local wineries, whale watching excursions, and kayak tours that take you out into the surrounding water. You will have to book a seat on a ferry to get across the water to these islands, so make sure to buy a ticket.
7. Vermont
Planning a fall trip? Go to Vermont. It has all the best fall colors (Autumn colors always make me want to say this is the most beautiful state to visit).
To see some of these great oranges and yellows of the foliage, Lake Shaftsbury State Park is known among the Vermont locals for having some of the best leaves. Many of its trails cross through the great sights, so they'll be no missing all the remarkable colors.
Many of the small towns in Vermont are also great spots to sit and enjoy the fall season. Woodstock and Manchester are both charming small towns that are rich in colonial style buildings and- when it comes to autumn- stunning fall vibes.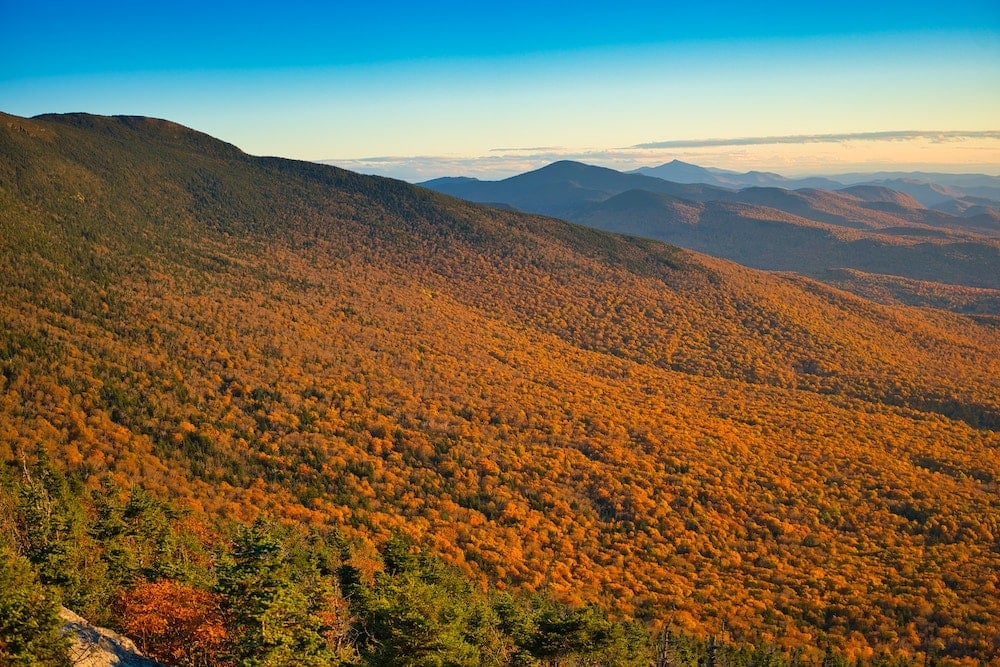 Stowe, Vermont, is another sweet small town- packed full of neighborly activities that make this place feel like a home away from home. This town has so many quaint local inns for you to book your stay at.
The Stowe Village Inn is especially outstanding- operating out of an old farm house that was flipped into cozy guest rooms. While visiting Stowe you have to check out Moss Glen Falls- a waterfall tucked away in Stowe's historic village. And for a little fun to wrap up the night, check out the local brewery.
8. Colorado
Anybody who knows me, knows I love Colorado. And I really love Vail, Colorado- with its fun ski resorts to its cute small town. (If you want to see all the fun stuff I love in Vail you can see it here!)

But this state has so many great spots and views that you might not know about. For example, Estes Park, the home of the Rocky Mountain National Park and overall just an adorable town in Colorado.
After exploring the park and enjoying the natural views, Estes has a unique collection of breweries, coffee shops, and wineries.
Durango is another little known stop in Colorado that not many people talk about. It's right by the New Mexico border and was founded in 1881. Its historic district pays tribute to the roots of the town with Victorian era buildings and the embrace of the wild west aesthetic.
I'd also really encourage you to go to the hot springs in South Canyon. I had an amazing time while I was there- the hot springs are always a fun experience (and super relaxing).
9. Florida
Of course Florida was going to be on this list- Florida has some of the greatest sights in the country! I'm biased to Pensacola, where my little sister moved after college, and told me all the best places to go!
Like the gorgeous Florida Keys! This group of islands has great beaches, breathtaking reserves, and some really fun activities.
The Key West Butterfly and Nature Conservatory is so charming- its abundance of butterflies and collection of native plants makes this a great stop on a sunny afternoon to duck out of the seemingly constant sun and enjoy some nature.
If you're planning on ways to see the gorgeous views of Florida, you'll have to stop by Dry Tortugas National park. This is by far one of the more unique national parks I've ever seen. It's made primarily of islands and is only accessible via boat. This park is a must though when visiting the keys.
The Everglades are another great way to get in touch with nature while in Florida. The Everglades are the largest subtropical wilderness preserve and a World Heritage Site. These wetlands are full of incredible native plants and is a reserve for many different animals like sharks, alligators and lizards.
10. Utah
Utah is a state made for those who like to get lost in the woods and wander along hiking trails. With absolutely incredible national parks and amazing foliage, Utal is definitely one of the most beautiful states in the fall. This state is vibrant, to say the least, in autumn- and I've got all the best places to see these colors right here.
I also highly recommend you stop by Homestead Crater to swim in a natural hot spring in a cave. It's epic.
As for national parks, Arches National Park has some of the greatest red rock formations in the country. The park is filled with these natural stone arches, and has hikes to many of the best sites. You can also still visit the first national park of Utah: Zion National Park.
11. Hawaii
We all know that Hawaii is gorgeous. It's our country's not so well kept secret, and for good reason. Beautiful places like the Hawaiian islands should be admired and adored by everyone.
Maui left me in awe when I visited- with its endless beautiful views and welcoming air. I would really encourage a visit for those looking to lay back and relax in the sun. I know I enjoyed staying on the beach and partaking in some of the nightlife. A luau is a great way to end the night in Hawaii, I really enjoyed the one at Hyatt Maui (get tickets in advance). For some more tips or places to visit, I wrote all about my trip to Maui here.
The road to Hana does an amazing job at capturing all these stunning views. This long stretch of road takes you on a tour of Maui along its coast, bringing you to waterfalls, lookouts, and sand beaches. I would suggest renting a car and going on a self guided tour of the road, to better take your time at each stop. (If that's your vibe, I've got my take on the self-guided tour right here.)
12. West Virginia
There's a song about this state- so it has to be good! West Virginia is as amazing as John Denver made it out to be (lol).
New River Gorge National Park is a great example of the incredible views, and New River Gorge also preserves really cool history in West Virginia.
Throughout the park there are old stations, historic coal mines and decades old bridges that let you get a bird's eye view of the park.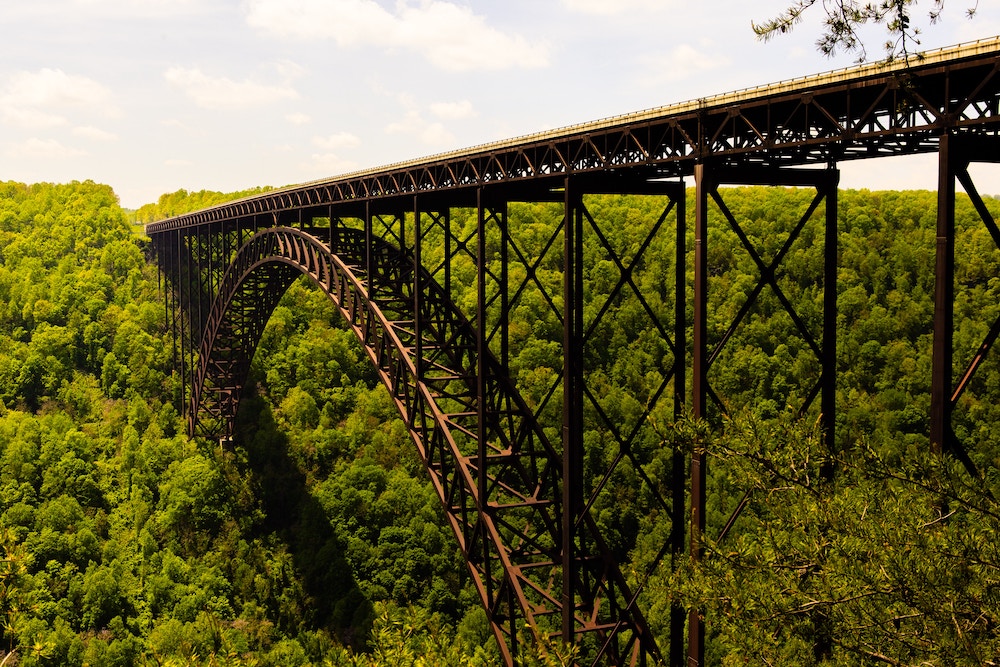 But this isn't the only amazing park in West Virginia- the state has 6 national parks, and some really incredible state parks, like Blackwater Falls State Park.
West Virginia's Harpers Ferry is another example of how charming this state is- and yet another combo of pretty sights that are rich in history. Not only is this sweet little town filled with historic buildings- both museums and vintage resorts- but it's also filled with beautiful ski mountains and state parks.
If you're more of a history buff, I'd suggest a quick trip to the ruins of St. John Episcopal Church- the grounds are left as they were since the mid 1800s.
13. Montana
Montana's beauty has been maintained for all to enjoy for the longest time. The first national park was established there, you might know it as Yellowstone National Park. The park holds the amazing landmarks- like Old Faithful- and offers some one of a kind tours of the park grounds.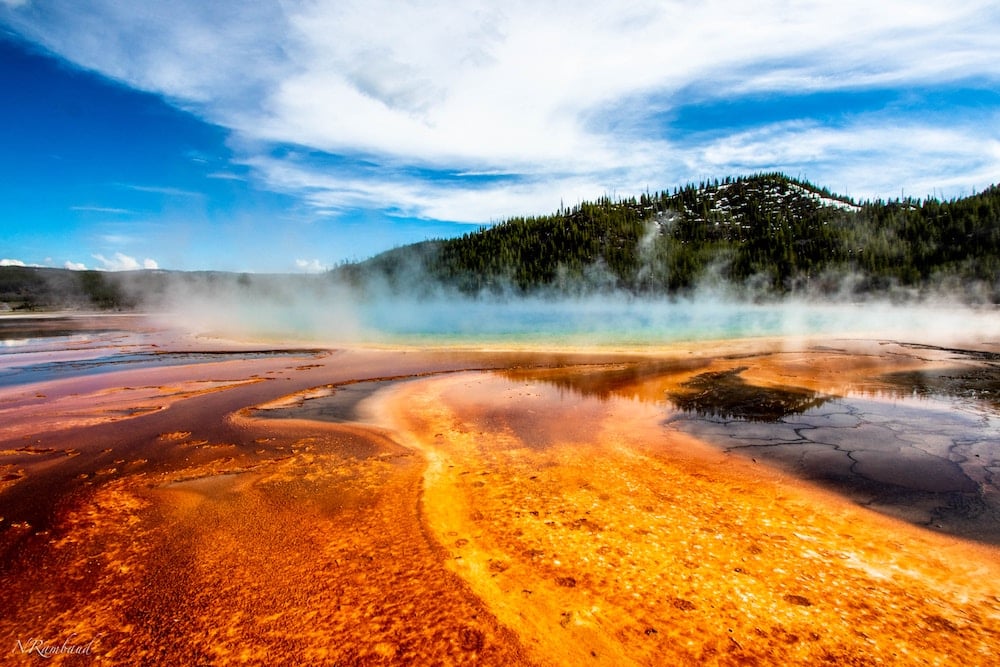 In addition to hiking tours and biking tours, you can also get tickets for boating tours and painting tours (for those of us who are a little more art inclined) of Yellowstone.
You can also make a day of visiting the parks and take the drive over to Wyoming to visit Grand Teton National Park.
There's also Glacier National Park- which I suggest checking out if not for the beautiful views than for the rich history. This park offers a "Native American Speaks" program, which is the longest running indigenous persons series. The program involves a presentation on the history of the land and offers a platform for Indigenous people to relay their history.
14. South Carolina
Just under the Blue Ridge Mountains of North Carolina is the great and pretty state of South Carolina.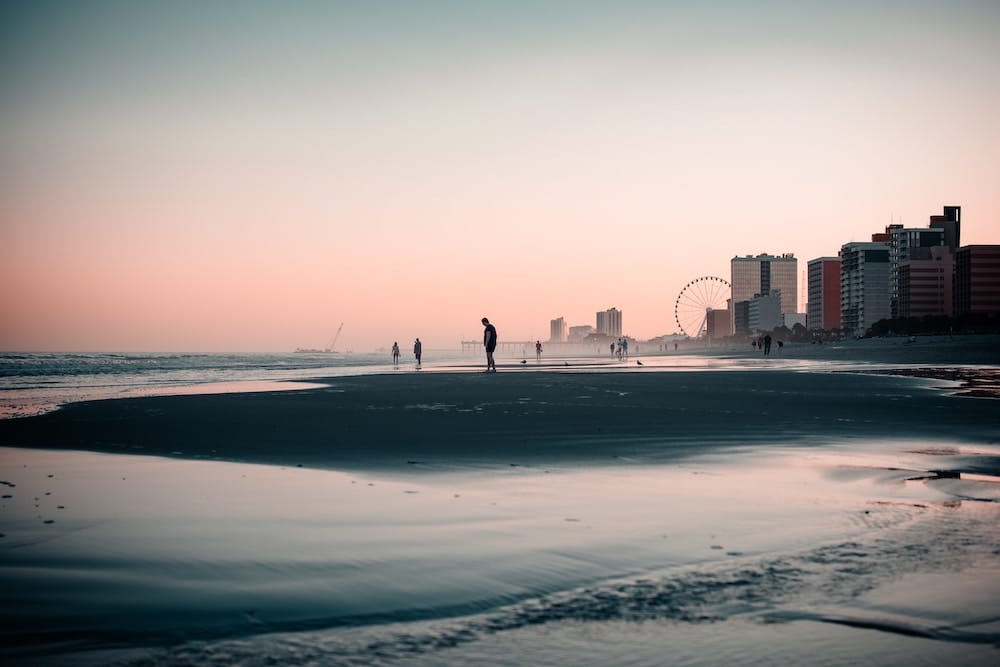 To experience the true beauty of this state, you have to go to Myrtle Beach. If the sandy beaches aren't enough, Pier 41 and the amazing boardwalk are always a great way to spend the day.
And just around the corner is the Brookgreen Gardens. The arboretum has some stunning views (and insta worthy spots) but is also scattered with incredible art.
Take a day trip to Smoky Mountains National Park which is only three hours away. The park offers some naturally carved views- with the deep creek, a series of valleys, and a series of running water sites; like the Roaring Fork, a stream running along the side of a mountain.
15. New York
New York state really has so many breathtaking views. So much of this stunning state is washed out by New York City that it's easy to forget some of the more natural beauties this place has to offer.
The Finger Lakes are a series of 11 lakes from the great lake: Lake Ontario. A great way to see the spectacular sights of the lakes and also get a taste of the Finger Lakes is to go on a wine tour of the many vineyards in the area.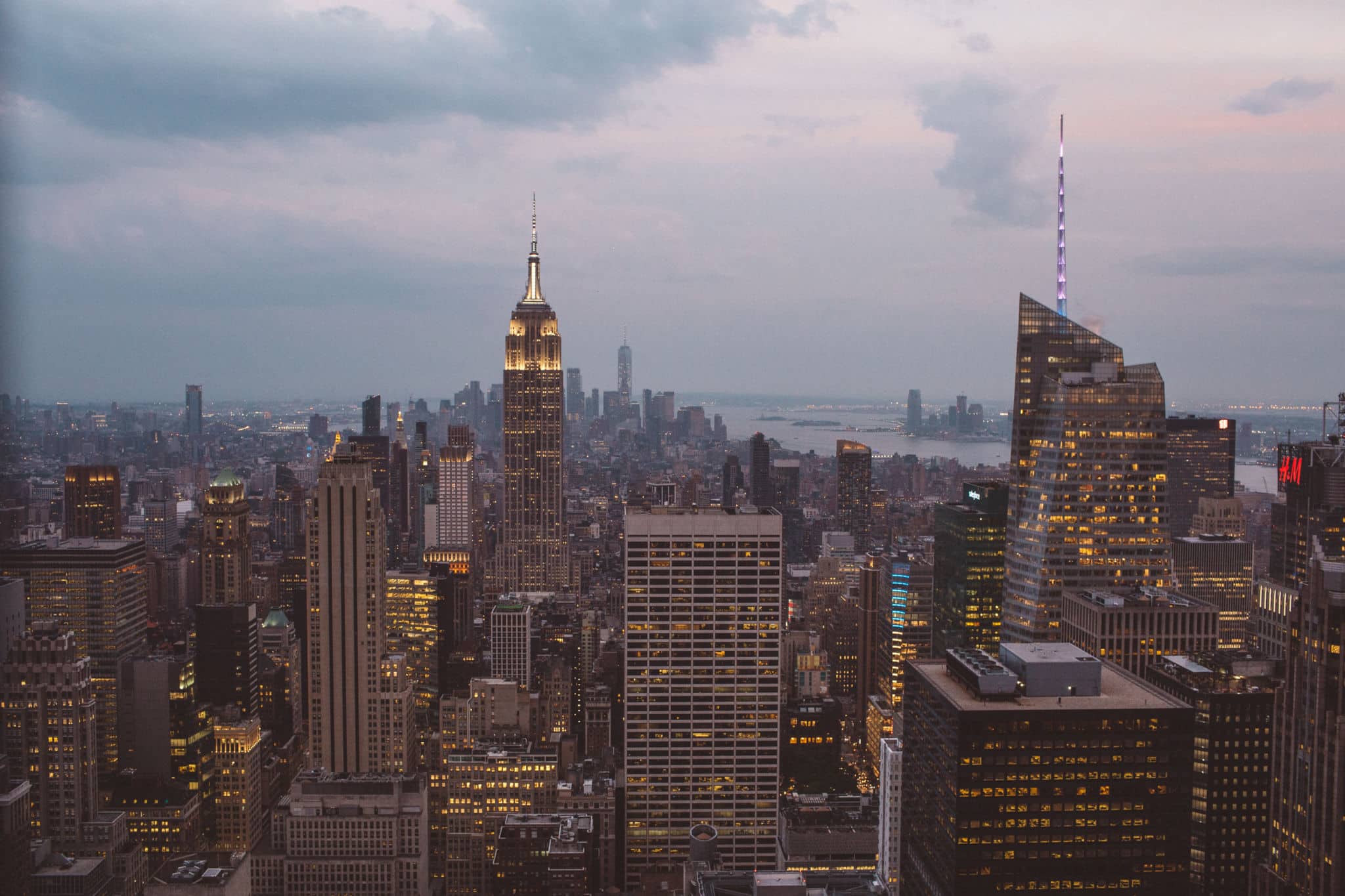 The Finger Lakes Winery tours are broken up into the West and East sides of the lakes, and take you around over 15 wineries. (They also have a beer tour and a cheese tour of the lakes that are equally as cool.)
And the Catskills are another beautiful place to visit in New York. You can paddle board in the water, go hiking along their many walking trails, and even go whitewater rafting. The great scenery around the Catskills is what makes this place so beautiful.
This mountain area is so connected to its history as well, with cultural events and museums on site that you can visit during your stay. The Woodstock Way Hotel is a great place to shack up while visiting, and their sister restaurant Que Lo Que pays tribute to the Latin heritage in the area.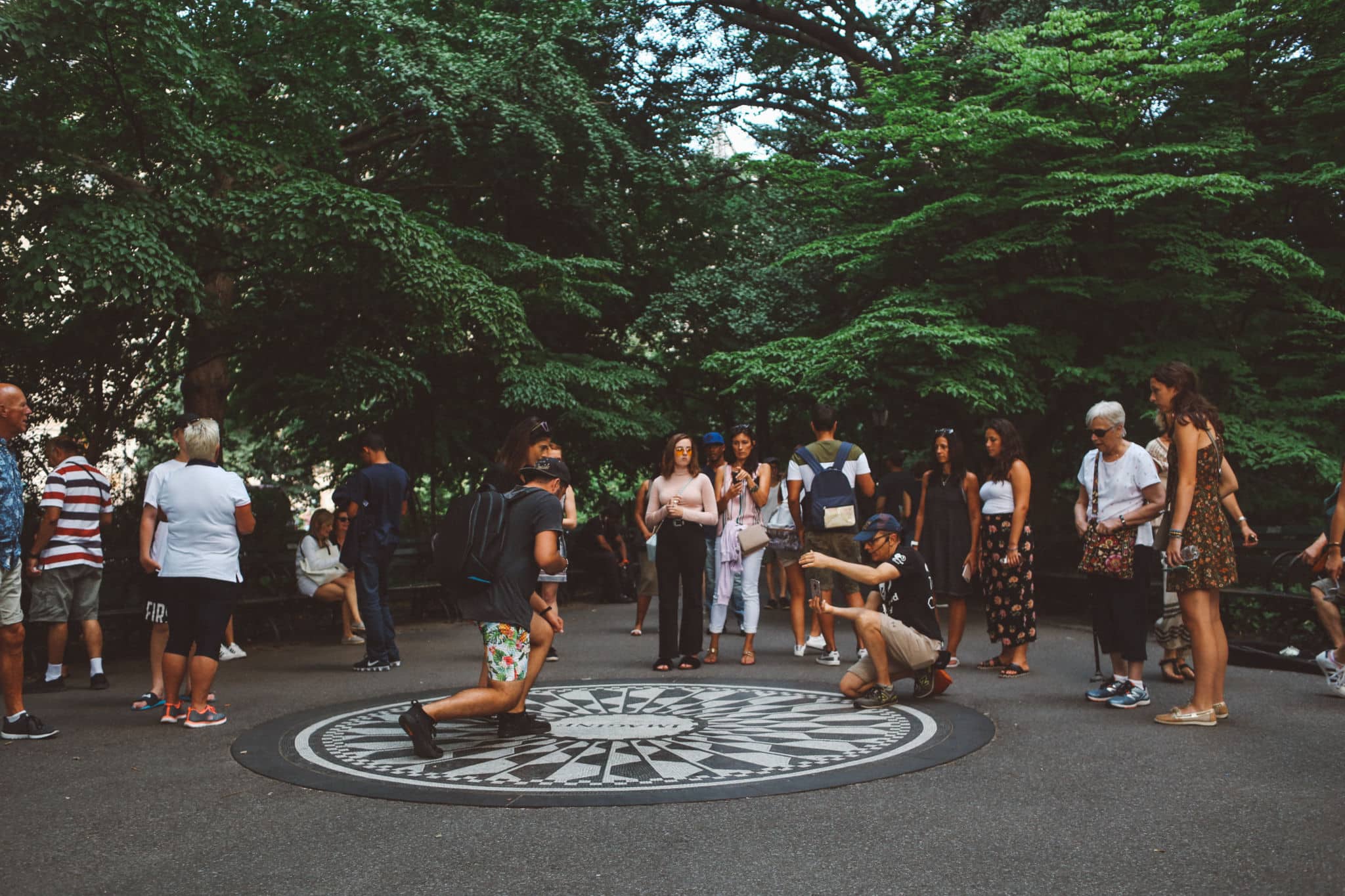 16. New Mexico
A lot of New Mexico is out of this world- the huge rock formations, the extraordinary sunsets, and the deserts are simply incomparable. Even the night sky is something that'll take your breath away- New Mexico has some of the biggest and cleanest skies that allow for great star gazing.
It's such a incredible sight- they even have parks set aside for best viewing (which you can check out here)
White Sands National Park in New Mexico which is covered in snowy-like sand dunes that you can sled down or just take off your shoes and roam for a while. And when you're done in the sun, you can duck underground to see some of the most vast and unique caverns at Carlsbad Caverns National Park.
And not many people know, but New Mexico is filled with some of the oldest historical sites in the US. The Gila Cliff Dwellings are open to the public and are 700 years old- Bandelier is even older, being suggested at nearly 11,000 years old. I just find something so beautiful in learning about this history that New Mexico has done so much to preserve.
This is really a road trip stop, New Mexico has so many amazing sites, but you'll have to be prepared to drive! (I promise it's all worth it though!)
17. Oregon
Last on the list is the gorgeous, the stunning: Oregon. Portland, Oregon is a great and gorgeous visit when traveling to Oregon. Just like DC, Portland is home to many cherry blossoms that bloom in the spring, and make the city so pretty.
I mean, Oregon has so many hidden gems that not many people know about!
And if those blooms aren't enough, Portland has an immersive Japanese Garden. The gardens are rich in culture, filled with unique and stunning plants and flowers, and often hold art exhibits. It does cost to get in so book tickets. There is a free outdoor garden, the Hoyt Arboretum, which is known as a living tree museum- with trees that are over 100 years old.
For a great taste of Oregon, there are so many really cool wineries and breweries. Fullerton Wines offers a tasting room wine tour or a tour of their vineyard. Their tasting room offers a unique palette of their many housemade wines and some really great food.
And Steeplejack Beer is just a really interesting brew pub- it's located in a renovated cathedral and still has a lot of the old architectural touches.
And if you're planning on staying, Portland has so many unique and fun places to stay. Like Slabtown Village, which is a luxury tiny home hotel. And the Canopy by Hilton that brings downtown Portland inside its design.
Did your state make the list?! If not, tell us WHY it should in the comments!