As an air sign, you love to soar, Gemini! Hot air balloons, glider rides, suspension bridges, and high altitudes are your jam. You love a good road trip with your girlfriends, rocking out to your favorite playlist, convertible top down, wind in your hair.
Travel Next: Vancouver or Avila Beach
If you're looking for a little bit of a thrill while you walk amongst the treetops… the Capilano Suspension Bridge in Vancouver is for you. The wooden walkways are suspended 300 feet above the forest floor. You'll think you've stepped into Narnia!
If you want more of an ocean view with your high-flying adventure… find the hidden rope swing at Point San Luis Lighthouse in San Luis Obispo county! Book a morning kayak paddle at Avila Beach, paddle past the sea lions, then up the secret beach to the lighthouse – the rope swing is off to the left, where you can swing to your heart's content with a stunning ocean view.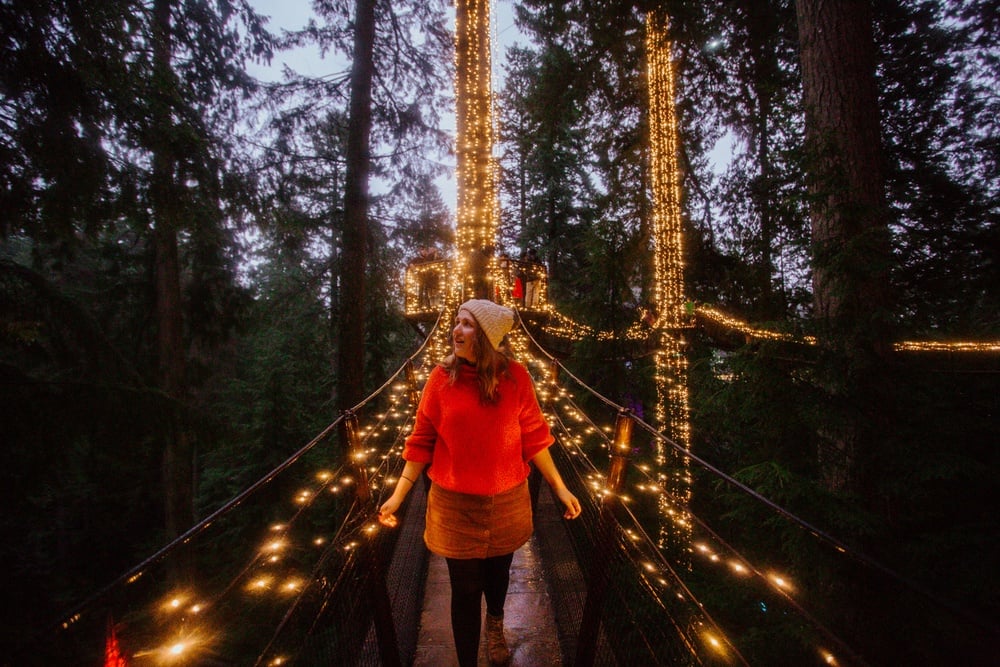 Capilano Suspension Bridge At A Glance
When I saw this suspension bridge is magical, it felt like straight-up fairytale wonderland, especially during Vancouver Christmas time when I visited. Come wander the treetops lined with lights and be prepared for rain (it is the PNW after all!)
Where To Stay: Capilano Suspension Bridge is right outside Vancouver, so it's best to stay downtown. We loved the Shangra-La hotel for views and a really good hot tub.
Best Time To Visit: December when the suspension bridge park gets all dressed up for Christmas.
What to wear: Rainboots and a rain jacket.
We love Vancouver. If you're visiting and need more travel tips, our huge Vancouver travel guide has all the details on fun things to do, even in the rain!
Avila Beach At A Glance
Just North of Pismo Beach, Avila is a cute little beach town that has some of the best kayaking on the Central Coast. And, a really cool hidden rope swing. You can hike to it, but the best way to access it is via kayak. You park your kayak on the sand, do a quick walk up to the lighthouse and BOOM, you'll have a rope swing overlooking the ocean.
Best Time To Visit: Summer and fall when the weather is warm is the best time go. Be wary of foggy days, though.
What To Do Nearby: Make sure to stop for lunch at Avila Valley Barn, the coolest barn / market / petting zoo / lunch spot around.