Christmas markets, string lights twinkling, Christmas dress is almost every plaza, red bows on stores.
Yes, Vancouver is a special place in North America to visit year-round. BUT, I think the Chrismas season is the best time to visit Vancouver and I'll fight you on that. Or, instead, grab an egg nog, keep reading and let me show you why!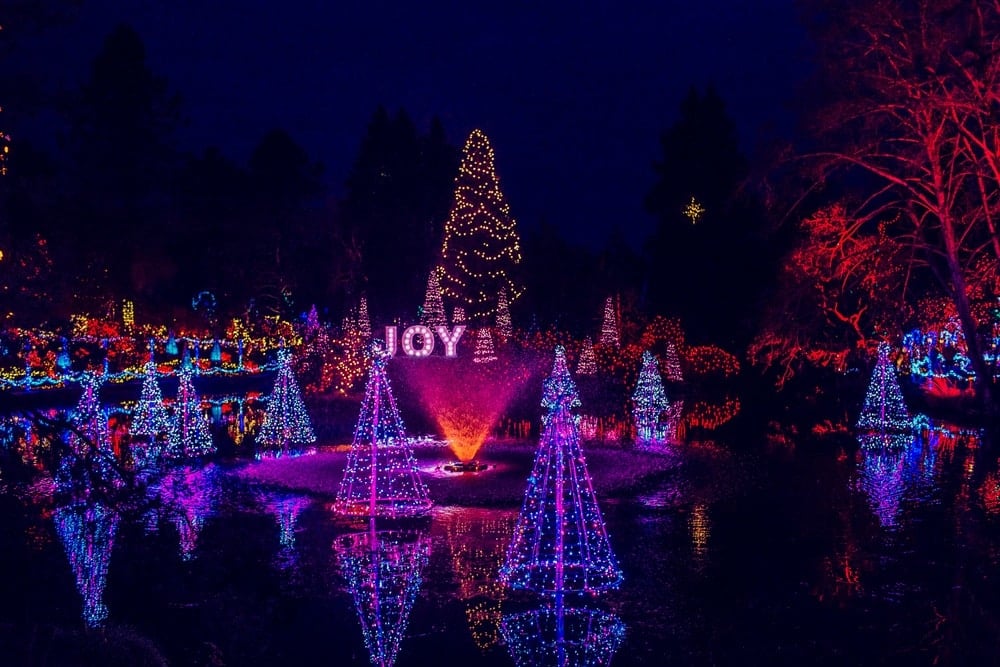 5 Reasons Christmas Is The Best Time To Visit Vancouver
Robin and I have been in the habit of taking Christmas trips for the past few years. We live in San Francisco now, but both grew up in Wisconsin and always miss the chilly weather, festive decor and all that fun holiday stuff that California is lacking on.
Last year we had a blast in Leavenworth, Washington (which is like, an IRL Santa's village) and thought a few days in the Pacific Northwest again would be the perfect place to celebrate the holidays.
>> Got a question about Vancouver that you need answered quickly? DM me on Instagram @thewhimsysoul and I'll be happy to help!
I found a sale on flights into Vancouver International airport, planned a week trip on the mainland and also to Victoria. I pictured moody skies, sweater weather, hot chocolate, Christmas lights and hints at European charm (hey, it's Canada after all) but I honestly wasn't prepared for just how much Vancouver goes all out for Christmas.
Why Christmas Is The Best Time To Go To Vancouver
Now, onto why I think the holidays are the best time of year to visit Vancouver!!
Off-Season
Which means cool Vancouver hotels tend to be cheaper and there's less tourist to bump shoulders with. The month of December through January and February tends to see fewer travelers (I guess the word hasn't gotten out yet about how dang cool British Columbia is in the winter?!)
Maybe it's because I'm used to 60 degrees and foggy weather here in the Bay Area, but I didn't find Vancouver winter weather to be harsh at all. The average temperature is around mid-40's in December. It never snowed in the city (apparently it's not common for snow as it's sea level) and it didn't even rain that much. I felt super comfortable walking around in a medium sweater and medium coat (sans gloves!)
We also did a fair amount of outdoor activities – like explore Stanley Park – and weren't bothered by the weather at all. So, don't let the idea of a "cold Canadian winter" prevent you from visit Vancouver during the Christmas season! It's not really that cold.
And, because there's fewer tourists buying hotel rooms, that means, in general, you can find better prices at better hotels! My top two choices for hotels in Vancouver are the Burrard and Shangri-la hotel, the latter which we stayed at. This hotel is super fancy with huge rooms, great amenities and even perks like a rooftop hot tub and pool!
If you're looking for something more on the budget side, check out the Burrard Hotel. It's a trendy motel with Instagramable corners.
German Christmas Market
I think German Christmas Markets are the best kind of holiday festival out there. If you've never been, these family-friendly markets are full of artisan booths selling crafts, twinkling string lights, Christmas trees and decorations, fun things do like carousels and of course, you can't forget the endless supply of Gluhwein!
The Vancouver German Christmas Market is located in downtown Vancouver and honestly, the night we spent running around this market was my favorite memory from our whole trip. It was like the ultimate holiday date night.
We drank warm Gluhwein, watch a STUNNING pink sunset behind the skyline of Vancouver. Saw the market transition from daylight to dusk to nighttime (and all the twinkling lights!) Ate brats and chimney cakes, which I'm totally obsessed with.
The United States just doesn't do Christmas Markets quite the same… at least from what I've found! (Please – if you've been to any AWESOME and authentic German Christmas markets in the states, please tell me!)
I did take a road trip to Nevada City here in California for their Victorian Christmas Market this past year, which is the closet thing to an authentic German Christmas Market I've found in the state. BUT, there wasn't nearly enough mulled wine in my opinion, lol.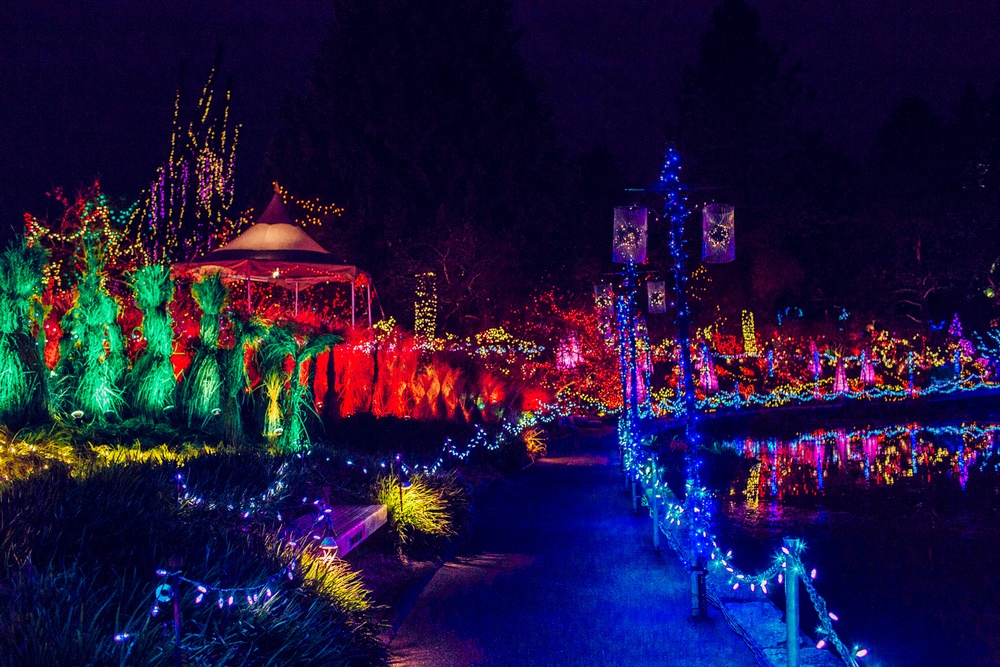 VanDusen Botanical Gardens Light Show
WOW is really all I can say after our visit to the VanDusen Christmas lights. If you're looking for a Christmas lights festival/show, these guys do it perfectly.
There's music pipping throughout the botanical gardens to get your holly jolly on, and the entire place is dressed up in stunning light scenes. My favorite was the pink tunnel (pictured above) which is something I've never seen before. But that's not the only tunnel – they also have a larger one with yellow lights you can stroll through.
Oh, and a giant ornament perfect for photo ops, a pond that says JOY, a carousel that you can ride for free and SO many other fun surprises that I won't mention because it may ruin the fun for you.
Pro Tip: We attended on a weeknight, which I recommend as there were fewer crowds than I think it pulls in on a weekend.
Grouse Mountain Lights + Skiing
While it doesn't snow too often in the city of Vancouver (it's at sea-level, after all) you can find snow up on Grouse Mountain, which is a short 30ish minute drive from Downtown Vancouver. It boasts a stunning view of the water and city.
In the winter, this is a popular skiing spot. I also saw on Instagram that they put some fun holiday lights, like a cool Tunnel as well. We sadly didn't have quite enough time in our packed itinerary to visit (I got FOMO!)
OR, if you're looking to really to go all out on winter skiing and snowboarding, use Vancouver as a launchpad to road trip to Whistler, a couple hours drive away from the city. As pictured above, this ski village has ALL the holiday vibes come December!
Capilano Suspension Bridge Canyon of Lights
If you're aren't aware, British Columbia is sort of known for suspension bridge parks. There's a few of them around but by far, the biggest and most popular is the Capilano Suspension Bridge. Hey, their main bridge (yes, the park has MANY bridges, not just one) can hold up to 96 fully grown elephants.
It's also just 15 minutes from downtown Vancouver but set back into the evergreen trees, so much so that you can't hear cars and you totally forget that you are still in the greater Vancouver area.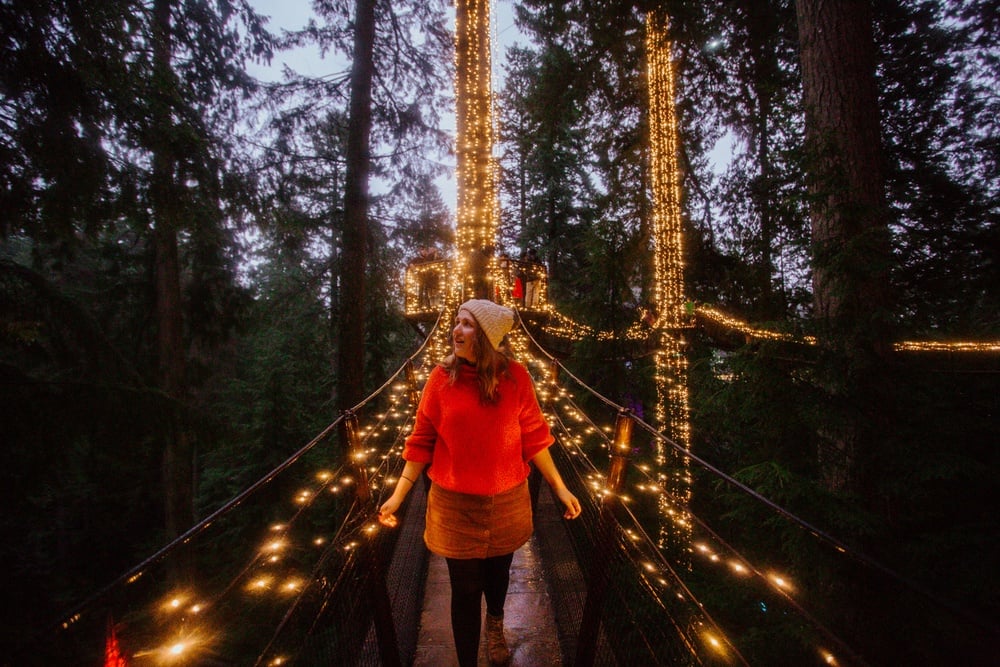 Capilano Suspension Bridge park is open year-round BUT if you come during the holiday season, you'll be rewarded with the Canyons of Lights festival where the whole park is dressed up literally in millions of lights and to call it magical simply doesn't express how freaking cool this park is.
I wrote a whole guide full of tips for visiting the park during the Christmas lights, so make sure to check that out so you know things like the best time to show up and where to get discount tickets.
Day Trips From Vancouver
Flying from San Francisco to Vancouver is a pretty long trip! So we extended our time with a visit to Victoria. I absolutely loved it and the trip over was nice to see more of this part of Canada.
Victoria
Vancouver is on mainland Canada while Victoria (the capital of British Columbia) is on Vancouver Island. Which, if you can't figure out, is an island. Like, a really big one but it does require a 1.5 hour ferry ride to reach (you can also fly there from Vancouver via a seaplane.)
But because we didn't have $400 to drop on a seaplane ride, we took the BC Ferry which ended up being really fun. This ferry ride is STUNNING! It takes you past smaller islands that have cute cabins and tiny lighthouses. In the morning there was fog hovering over the water and it was picture-perfect PNW. I also think you can probably spot whales from the ferry during whale watching Season/migration in the summer.
Anyways, we took the ferry to Victoria for a few days since I was itching to check this historic city out, especially during the holidays. We spent a few nights at the Fairmont Empress, aka the Castle on the Coast (highly recommend you book your hotel here, it's such a staple of the Victoria culture!)
We visited the Fidgard Lighthouse, saw ANOTHER botanical gardens light show at Butchart Gardens, had festive High Tea, toured a castle, saw a Christmas parade and totally fell in love with the city. I'm so happy we tacked on a few extra days to our British Columbia holiday trip to come to Victoria!
Ahh, just writing this post makes me want to book another Christmas trip to Vancouver. It's currently January, I'm sitting on my couch in PJs writing and debating where to order food from for the Chinese New Year (we always celebrate since my sister was adopted from China.)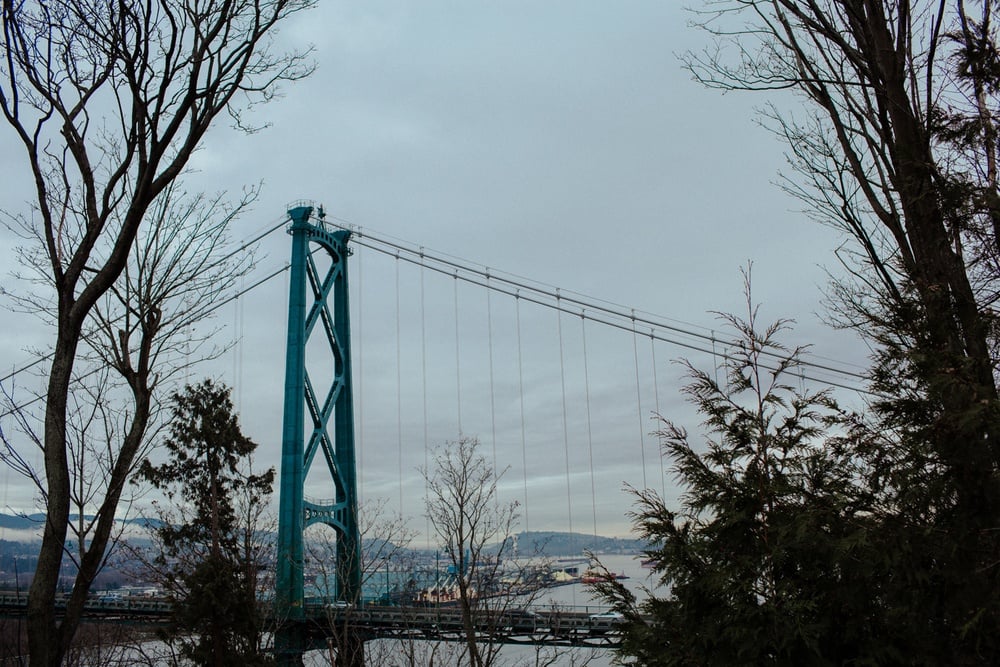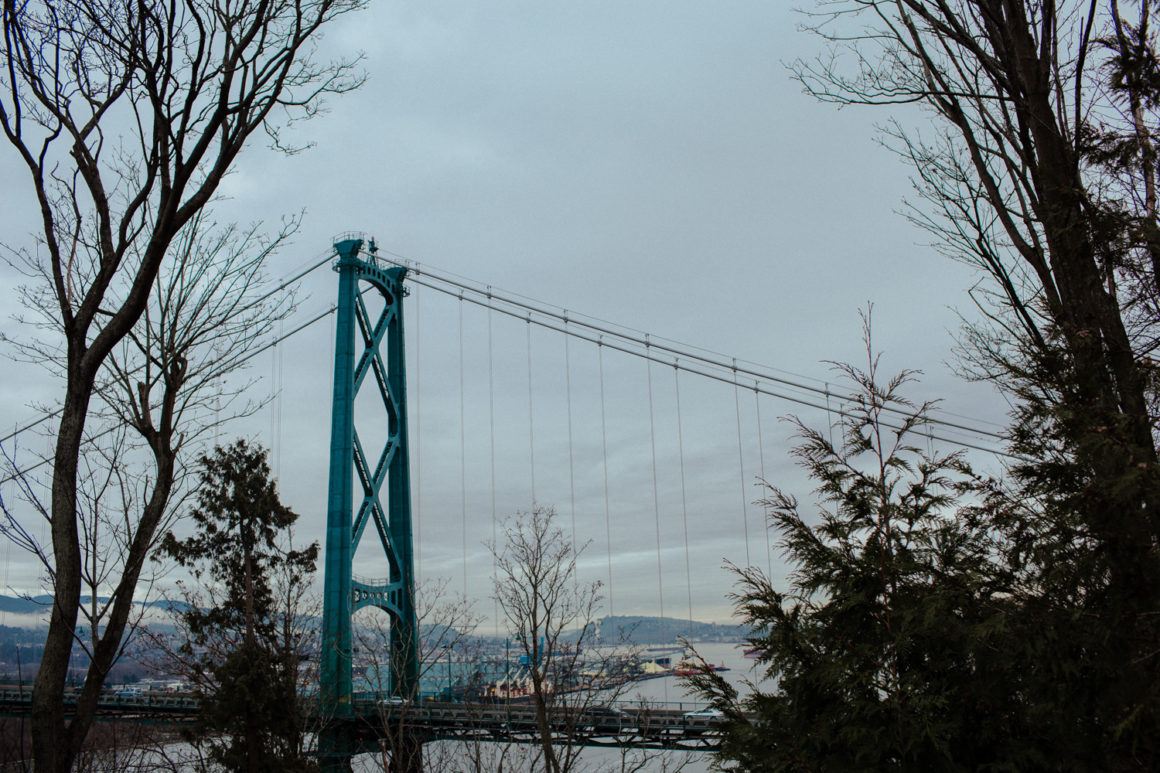 When To Visit Vancouver (Other Than Christmas time!)
While I'm adamant that Christmas is the best time to visit Vancouver, I know many can't take off work or have to visit family, so I wanted to share some other great times to visit. I want to come back in September or October to see BC with fall foliage, but the peak season to visit are the summer months.
Fill your sunny days with jazz music at the Vancouver International Jazz Festival that runs in June and July, or head to north Vancouver for hiking in the North Shore Mountains.
Spring is also a good time to see the city blooming with cherry blossoms. The Vancouver Cherry Blossom Festival is typically in the end of March, early April. Honestly, I don't think there's a bad time with lots of indoor and outdoor activities, you can find something to fill your time and experience Vancouver's unique culture.
Again, I really do think Christmas is the best time to visit Vancouver. What do you think? Do you agree? Leave a comment below! If you have any questions about things to do in Vancouver, drop a comment or DM me on Instagram @thewhimsysoul and I'll be happy to help! Happy adventures.
Looking for more British Columbia + Canada travel guides?