My alter ego is Queen of Autumn. I love living in San Francisco but I grew up in a state with seasons so each October, I'm craving fall leaves. Lake Tahoe is one of my go-to spots to visit to hunt down changing colors.
Tahoe isn't Vermont; there's a lot of evergreens up there and it's not like you can throw a rock and hit a grove of yellow aspens or red maples – you have to know where to look to find Lake Tahoe fall colors.
After many autumn visits, I've rounded up the definitive fall color guide for you. Grab your camera and Kiel James Patrick sweaters to go leaf peeping!!
Best Time To See Fall Colors In Lake Tahoe
The best time to visit Lake Tahoe in the fall is when the colors are popping off!
If you're an autumn betch like I am, you know the tricky part about chasing fall colors is timing it right. Not only do autumn colors peak at different times each year but they'll pop off at different times based on elevation.
Especially in a mountainous place like the Western & Eastern Sierras where you can switch 2,000 feet of elevation with a quick drive, it's hard to time the fall foliage Lake Tahoe season.
That being said, you can do it!!! In general, the peak fall colors Lake Tahoe and Hope Valley have pop off mid-late October. The trees at higher elevations will turn colors earlier than the ones at lower elevations closer to Lake Tahoe basin.
Keep a close eye on local fall foliage predictors which is updated daily to help you track the exact timing this year. If a cold wave comes through early, leaves will peak and fall before you can drive over to the mountains. But, that's why it's called chasing fall colors – you have to work for the big payout!!
The Best Places To See Fall Colors In Lake Tahoe & Hope Valley
Ok, now to the list!! Most of these don't require too much hiking but there are some really nice long hikes if that's what you're looking for. Please remember two rules:
Be kind to mother nature at all times.
If your foliage hunting takes you near residential streets, remember people live there. Be polite and respectful.
1. Desolation Hotel Hope Valley (Formally Wylder Hotel Hope Valley)
Hope Valley fall colors are legendary. The roads are lined with tons of beautiful fall aspens that turn bright yellow and last for a couple of weeks. But, they can be hard to pull over and stop to take photos.
That's why the Wylder Hotel is a secret gem for photographers and leaf lovers. (Pst – this rebranded to the Desolation Hotel in 2023!)
This entire resort is filled with Aspen trees that turn bright yellow during October. It's like walking through a winter wonderland but with fall foliage instead of snow.
I audibly gasped the first time we visited. I think this experience is the nearest thing California has compared to what foliage is like in New England.
We some thinking ahead and trip planning, in 2022 my friend and I snagged reservations in one of the luxury yurts in Hope Valley. We timed it right and everything was popping off with yellow. We had bubbly and dinner on the property and loved their sauna.
2. Camp Richardson
Another beautiful grove you can't miss is near Camp Richardson. I think this is the most popular Lake Tahoe in fall spot for photos since it's so easy to drive to and park. You really can't miss it.
As you're on Emerald Bay Road heading towards Vikingholms Castle, you'll see a bright yellow and orange grove to your left.
There is a dirt area to park here so you can explore and take photos! Keep in mind, on weekends there will be other people here so if you want to come without crowds get up early or visit on a weekday.
3. South Lake Tahoe Taylor Creek Visitor Center
Nearby the Camp Richardson spot is the Taylor Creek Visitor Center. This area is pretty flat and has tons of trails that take you over bridges to spot kokanee salmon, down to Lake Tahoe shores and also to Fallen Leaf Lake.
You'll find plenty of trees turning colors here and it makes a really nice walk, especially if you've been in a car for a while driving from Hope Valley.
4. Mount Rose Meadows Trail
If you're in Lake Tahoe at the beginning of October, head to the Mount Rose Highway pass, one of the highest elevation passes where leaves turn first.
You can go big and hike to the top of Mount Rose for views of Lake Tahoe, Carson City and Reno. Or if you're lazy like me, stick around Mount Rose Meadows Trail for golden yellow vibes on accessible trails.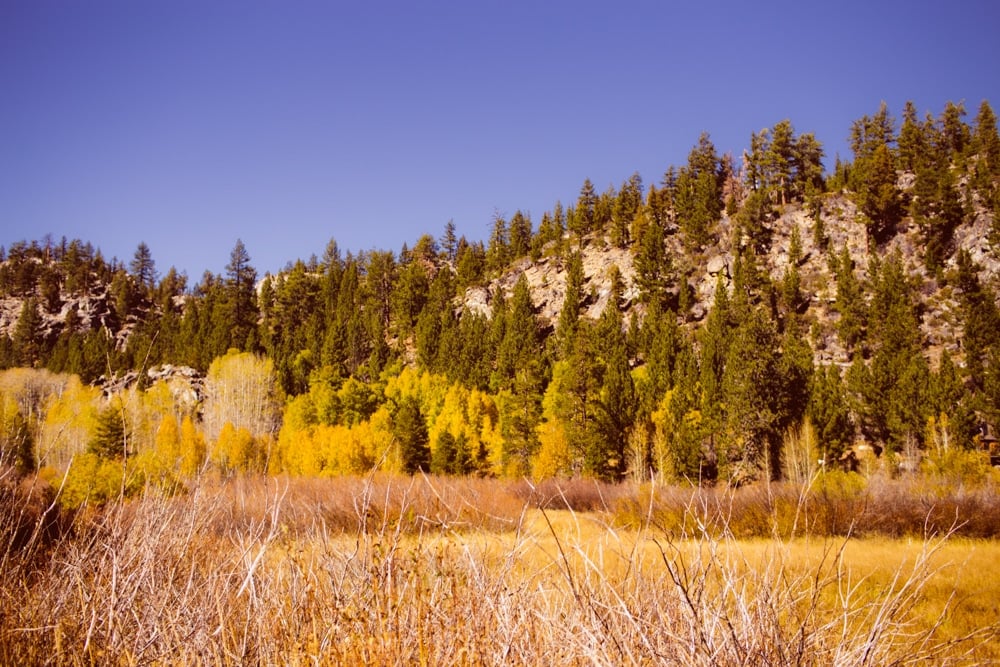 5. Pioneer Trail South Lake Tahoe
There's fall foliage all over South Lake Tahoe, but when in doubt head to Pioneer Trail road. There are various groves of Aspens here, so drive along and pull off when you find a grove that looks good to you.
Last year, we found a beautiful grove around Charlesworth Court and were able to take really cool photos from the street.
6. Hyatt Lake Tahoe Incline Village
Of all the Lake Tahoe Resorts, the Hyatt Incline Village is my favorite. It sits right on the North Shore and has cabins that are just a short jaunt from the beach and firepits to roast autumn marshmallows.
But, the best part is the bright red maple trees that sit right outside their cabins so you can sit on the porch and sip your coffee in a fall wonderland.
North Lake Tahoe in the fall is really peaceful since it's in between summer and winter travelers, so I find the Hyatt to be slightly less crowded this time of year which is another bonus! It's easy to find a fire pit or spot on the pier to hang out without battling other guests.
7. Hope Valley Hwy 89 Forest Service Road
For more Hope Valley California fall colors, keep your eyes peeled on Hwy 89 / Luthers Pass. There's lots of aspen trees lining the highways over here but it's hard to pull off to all of them. BUT, there is this one area set back from the road you can safely drive up and pull out to find a grove of yellow Aspen trees!
The forest service road is a few miles up from Picketts Junction on Hwy 89 (look at the Google Map in this post for the exact location!) As you drive away from Hope Valey it'll be on your right.
8. Zephyr Cove resort
For another lake front resort with some leaves, head to Zephyr Cove on the Lake Tahoe Nevada side.
They are famous for a few treees that turn bright colors on their property and the even set up benches near them so you can grab coffee and sip under the trees while overlooking the lake.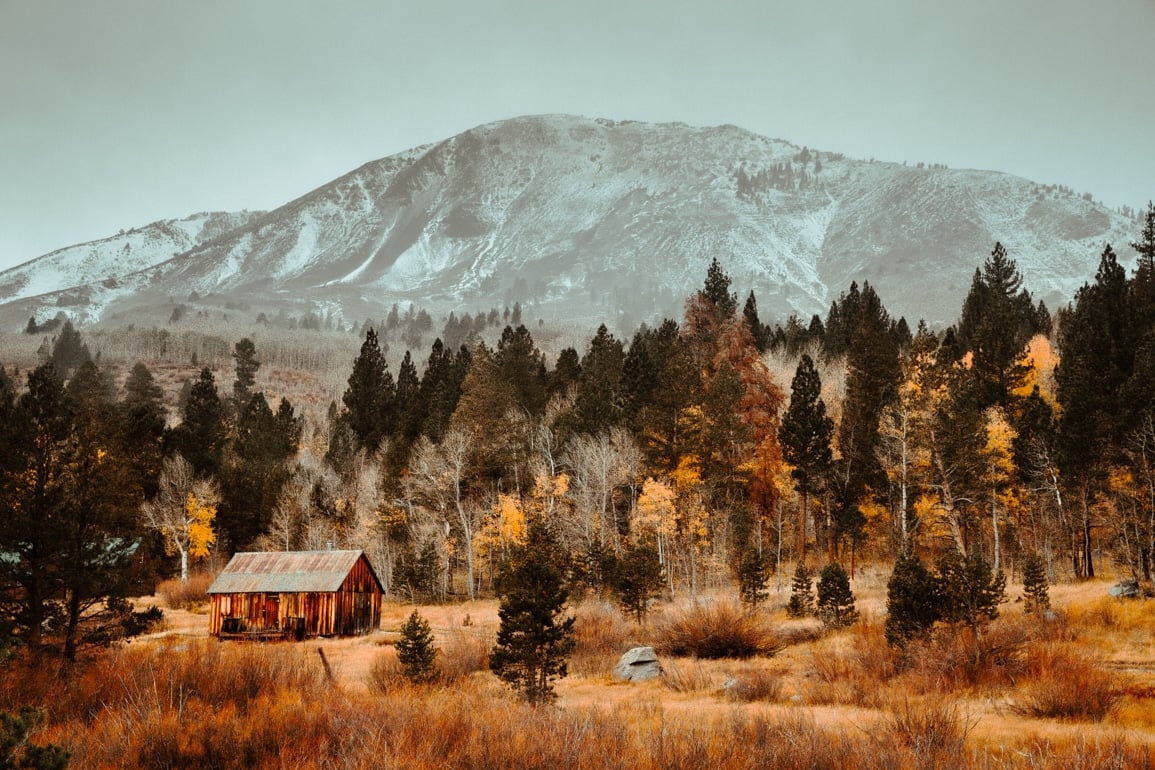 9. Hope Valley Barn
Hope Valley fall colors got so popular due to the Red Creek Falls cabin. Photographers travel from all over the United States to photograph this barn / cabin that sits in the middle of the forest with Red Lake Peek behind it. It's iconic.
When we visited last year it started snowing just a little bit and that was magical seeing the snow and fall colors at once.
This is on Carson Pass Highway, a busy road, but there is a wide shoulder you can park on. Please be careful as cars drive past fast! The barn is on private property so bring your zoom lens for those pics.
10. Marlette Lake Trail
A popular trail for avid hikers looking for colorful day hikes is Merlette Lake Trail.
It's over near Spooner Lake on the Nevada side and is a 10 mile in and out trail. It usually takes people at least 4 hours to complete (though more if you're stopping to take photos.)
11. Ebbetts Pass Sierra Nevada
The Sierra Nevadas have so many little mountain passes that will all probably have some colorful trees on them, but Ebbetts Pass is a known area for great yellow trees come early October. The Pacific Crest Trail cuts right across the pass and while hikers will probably be done by the time you're seeking fall colors, it's still cool to walk part of this famous trail.
Set your maps to Reynolds Peak Monument as the PCT and Kinney Reservoir are nearby, both of which always have fall leaves to peep! Keep in mind this is really high elevation so if the forecast looks cloudy, bring snow chains.
12. Downtown Truckee
Truckee is one of my favorite mountain towns in all of California. I love the historic downtown lined with local shops and of course, tons of yellow trees.
I spent a weekend up in Truckee with girlfriends one October a few years ago and loved sipping coffee on the deck in the cool autumn morning air and going on area hikes in the fall colors before heading downtown for lucnh and seeing even more yellow trees!
13. Donner Lake
Next door to Truckee is the famous Donner Lake (yes, THAT Donner Party!) It's lined with pine trees and aspens. On a cool fall afternoon, I love heading here and finding one of the public docks to lounge on in the sunshine for a little autumn picnic.
If you're lucky, you may get to see the annual witch paddle where locals dress up as witches and paddle around the lake! It's really fun.
14. Luther Pass
Another pass between El Dorado County and Alpine County, which I have yet to be on in the fall but I hear it is also a great spot to swing by on your falls colors California trip to Lake Tahoe!
The following are locations mentioned in online forums and other blog posts. I haven't been able to find much information about the fall foliage but did want to include these for you! If you do go visit them, please drop a comment below letting me know what you find so I can update this post properly. Thank you!
Spooner Lake
Monitor Pass

Carson River

Echo Summit
Lake Tahoe & Hope Valley Fall Colors Map
Other Places In California To Find Fall Foliage
Yes, California gets fall foliage all over the state! Of course, the mountains are the best place to head to see tons of colorful leaves all at once. These are 3 of my other favorite spots to visit in the mountains:
Yosemite National Park: Arrive for sunrise to get low-hanging fog among the orange and yellow trees in the valley!
June Lake Loop: Near Mammoth Lakes, June Lake is famous for fall colors. I went a few years ago and saw tons of yellow and orange trees!
Big Bear Lake: For San Diego and LA folks, head to Big Big Lake in October for aspens and maples. There's tons of fun things to do here in the fall!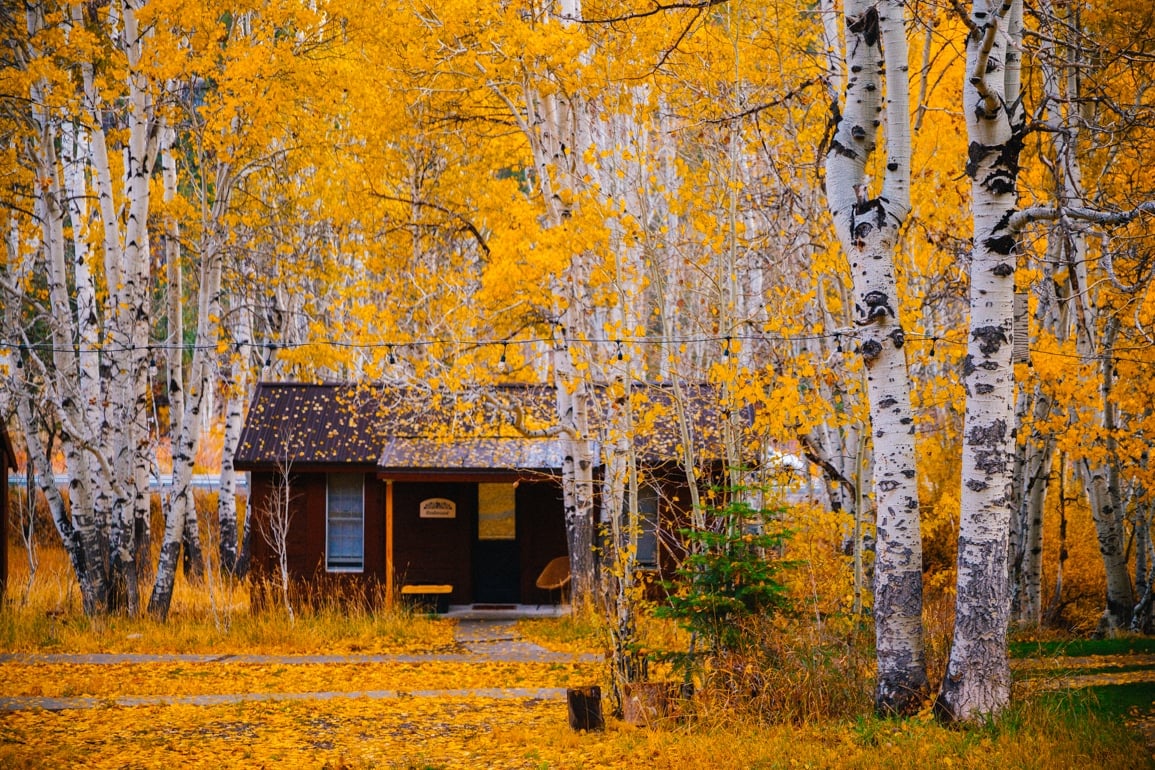 I hope this helps you find some bangin' fall foliage in Lake Tahoe and Hope Valley! If you find new spots to add to this list, please drop a comment below so we can all see.
And while you're here, check out my guide for all the best things to do in Lake Tahoe in the winter.