Inspired by London's Kew Gardens, the San Francisco Conservatory of Flowers is a whimsical garden house that's always surrounded by colorful flowers and absolutely should be on your Golden Gate Park itinerary.
On the inside are thousands of tropical plants and flowers The air is humid and warm, a stark difference from the usually foggy and chilly weather in the city. You can get lost inside here for hours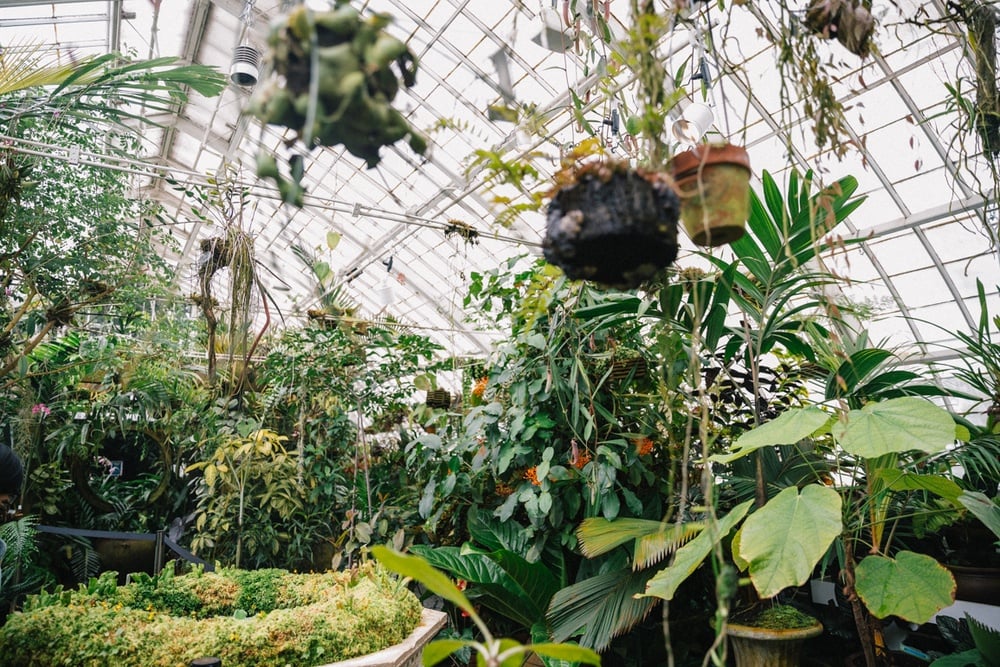 Location: 100 John F Kennedy Drive
Hours: 10am-4:30pm
Free Day: First Tuesday of every month
Tours: Currently self-guided only
Major Hack! How To Save Money Visiting The Conservatory of Flowers San Francisco
Here's what you'll want to do: buy a family membership for $75. Yes, it's more expensive than traditional adult tickets but hear me out. The membership gets you and 3 other people (up to 4) into the building for free. AND it's part of a botanical gardens system, so with a membership pass you can get into over 300 other gardens and museums across the country!!
In San Francisco, it works on the Botanical Gardens and Japanese Tea Garden, right there already saving you at least $20 per person in your party. Then you can use the pass in the future on other trips, or places nearby your home.
Of course, you could always visit on the first Tuesday of every month to get in totally for free, but it's always crowded on those days and getting a membership will pay off in the long run.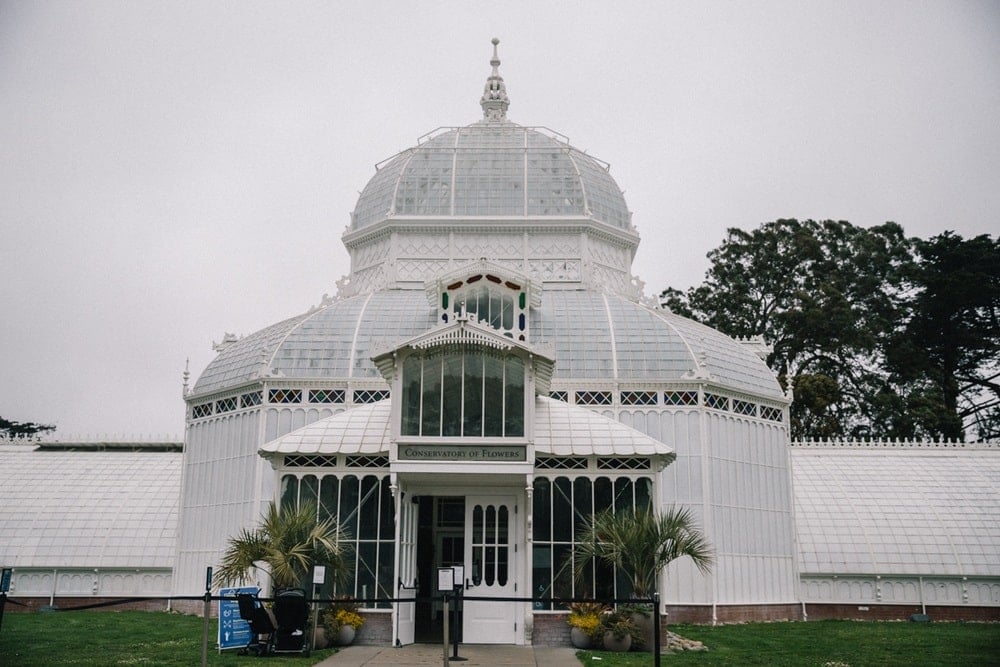 Photo tip:
wear red clothing (like
this red dress
I'm wearing) to really POP in photos! All white dresses also look very nice. Just avoid green, browns or blacks as those colors will blend in.
CONFESSION: I've lived in San Francisco for over 6 years and only just finally visited the inside of the Conservatory. I've had countless picnics in the gardens out front and have walked by it even more times on strolls through the park. I'm excited to visit this historic building even more now with our membership to make up for lost time!
Did You Know? The Conservatory Is the Oldest Building in the Park!
It was built in 1879, making it the oldest building in Golden Gate Park. You can totally feel that old-world charm to it, especially around the Victorian architecture exterior that almost feels like lace to me. It's no wonder so many wedding parties like to take photos here!
There's 5 rooms, all full of exotic and rare plants. The Lowland Tropics Gallery is under the main tall dome, which has colored stained glass pieces for extra flare. Aquatic plants gallery is extra hot, but is currently hosting a super-rare plant to totally worth the sweating. The Highland tropics gallery has some carnivorous plants and the Potted Plants Gallery wing is where you find the wood circle, which you may recognize from Instagram. It's a popular spot for engagement photos!
Best Time To Visit Conservatory of Flowers
As with most museums in the city, weekends will be the most crowded at the Conservatory. So will the first Tuesday of the month, which is the free admission day. To avoid crowds, come on a weekday. If you really want to avoid people, I would enter at 4pm and be one of the last people allowed in. It's open until 4:30pm but by then most other visitors will have filtered out.
It gets really hot and humid inside, so if you are visiting on a hot day or a really sunny day (which doesn't happen too much in San Francisco) it's going to be uncomfortable in there, so consider going on a foggy day instead.
Conservatory of Flowers Night Bloom
Night Bloom (aka the Conversvaotyr of Flowers Light Show) is a yearly event around the holiday season usually running from late November to the first week of January. They light up the entire building inside and out with colorful lights and lazers. It's a blast!
There's food trucks and drinks available and it's a big party. There's always events happening at the Conservatory but this is hands-down the best event of the year.
Exploring more of Golden Gate Park? Make sure to stop by the Dutch Windmills to see the tulip garden, especially if you are visiting in the springtime. There's also the California Academy and deYoung Museum, the latter has my favorite free public art piece in the city. They're both next door to the Ferris wheel, which is totally worth a ride, you can see the whole Bay Area from the top!
More United States Travel You'll Love