I exclusively fly economy class when traveling, so I'm a pro at dealing with long haul flights in small seats. I've been traveling regularly since the age of 14 when I went to Mexico with my 8th grade Spanish trip. Since then I've been to over 15 countries, many of them requiring brutal 12+hour long flights to get there.
So, low-key brag here, one of my special skills is being able to roll off a long flight feeling pretty dang rested and ready to explore. I have a lot of tricks I use to make the peasant class actually sorta fun. These are my long haul travel tips to share with anyone looking to minimize the discomfort of flying economy. Keep on reading for all my hacks!
How to survive long flights in economy: game-changing tips that'll completely change the way you travel.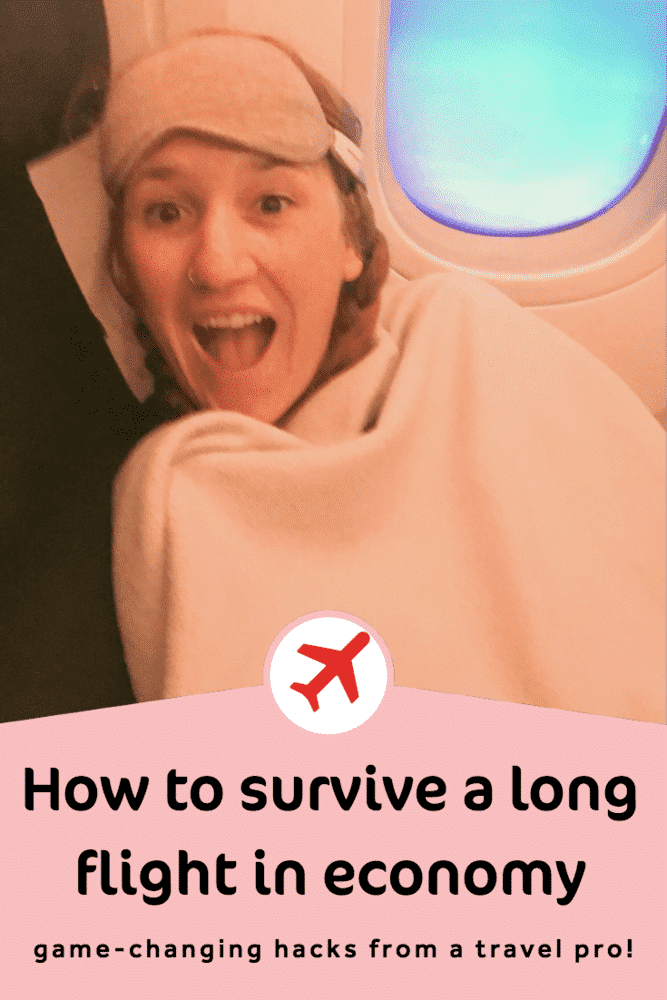 >> Got a question about flights or travel that you need answered quickly? DM me on Instagram @thewhimsysoul and I'll be happy to help!
Storytime: I did get the opportunity to fly business class once to Germany & let me tell you – the other half travels in STYLE, man! Upon sitting down in my massage-chair size seat, I was handed a glass of champagne. I could fully lay down to sleep & the dinner I had was not only the best I've ever had on a plane, but better than some restaurant I've dined at.
And that was business class. I can only dream what First Class is like…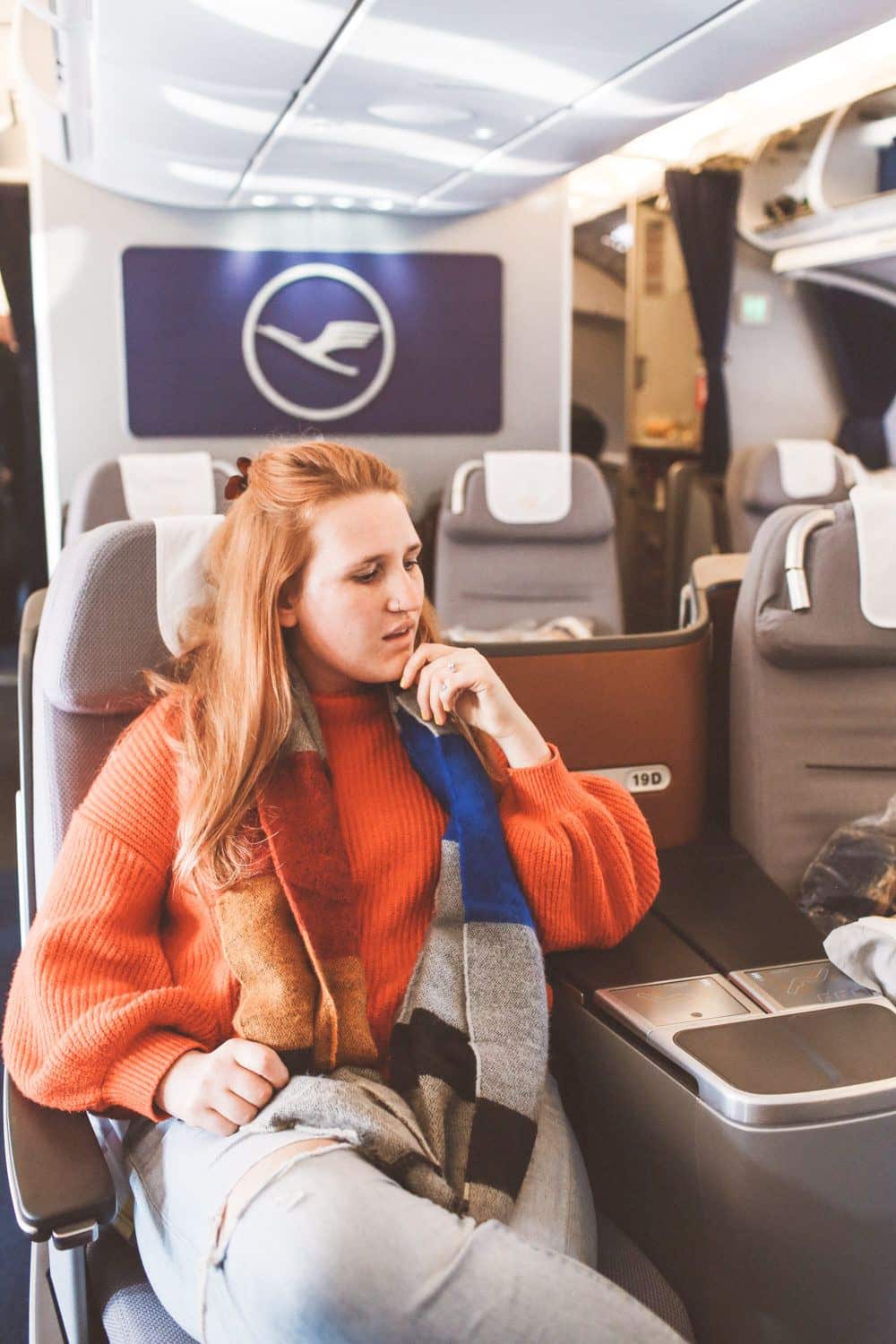 But, as you know, economy class is nothing like that. It's tight, loud, cramped and either really hot or really cold. Why is that? WHY CAN IT NEVER BE THE PERFECT TEMPERATURE?! Flying economy is like an extreme sport, but if you prepare you'll be just fine.
How to survive long flights in economy
The longest flight I ever took was 14 hours from Chicago to Beijing. And honestly, it wasn't that bad because I prepared properly! (Well, minus the thunderstorm that we flew through over the coast of Alaska. I never get nervous flying, but that leg of the journey scared the shits out of me.)
Really, it's all about thinking ahead and thinking of every scenario because it SUCKS forgetting something but being trapped in a tiny space that you don't have control over for hours and hours suffering.
I think the base routine of how to survive long flights in economy is pretty simple:
get comfy in the seat
have 1-2 alcoholic drinks
do a bedtime skincare routine
pop a melatonin
put on a movie
sleep
Wake up at destination!
This basic formula has gotten me through so many 12 hour flights. If you read choose not to read further, just remember those basic steps and I promise you'll have a better plane ride. BUT, there's like SO much more that does into have a comfortable trip.Keep reading for my detailed long haul flights tips and tricks list!! The fun doesn't stop here, folks.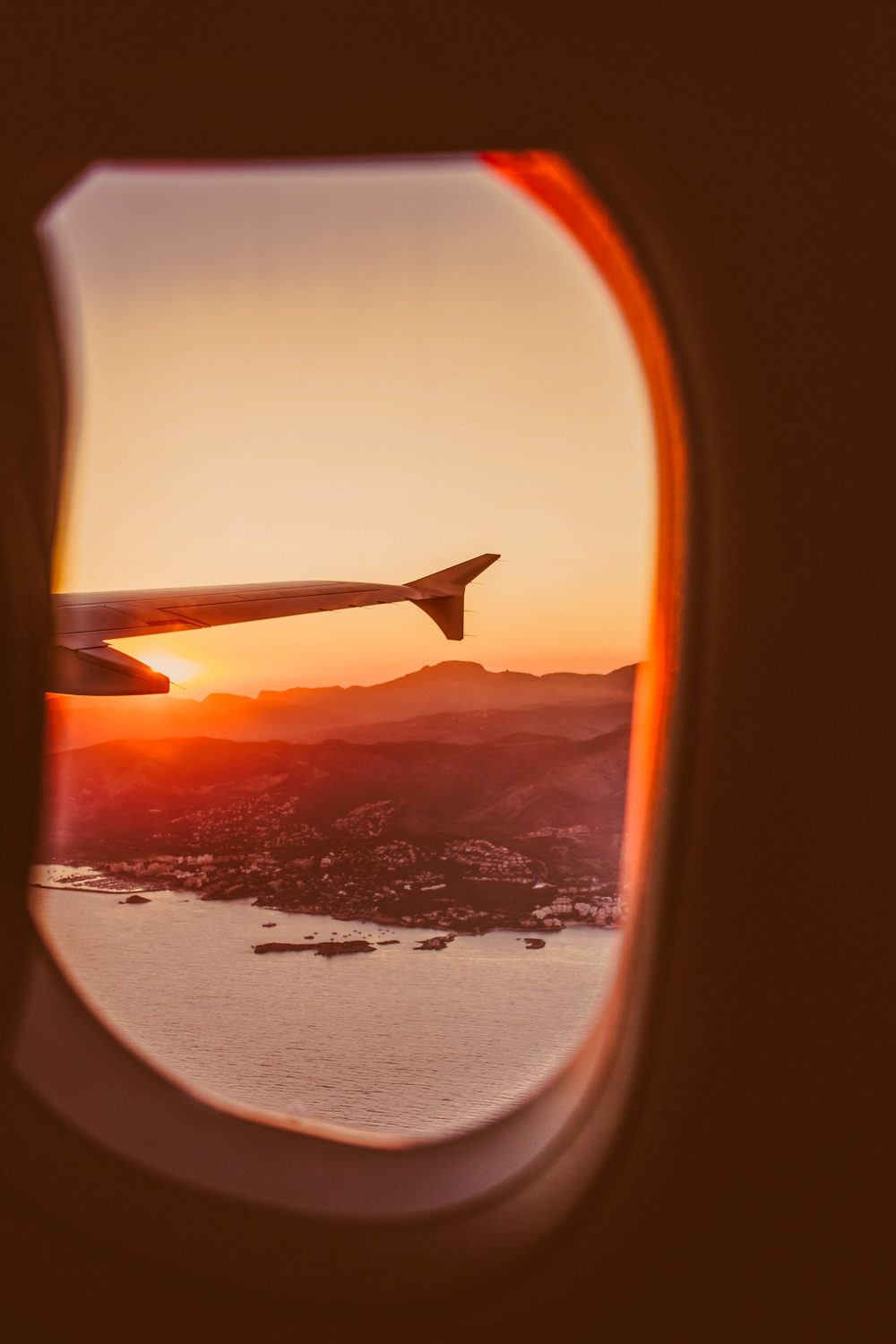 Which seat should you pick for a long haul flight?
The sad truth of flying in the economy section is that your comfort heavily depends on where you're sitting. By strangers or your partner? By someone who talks loudly to friends or a screaming baby? Stuck in the middle or do you have an empty row to yourself? Next to the bathrooms or do you have an emergency exit row seat?
Surviving a long flight requires picking the right seat in advance. Obviously, avoid the middle seat at all costs, but especially avoid the middle seat in the center of the plan (versus the rows that are on the sides of the plane.) On most airlines, international flight center rows tend to be 5 seats across. That's a LOT of people to squeeze by if you have to go to the bathroom!
I prefer a window seat because I use the wall of the plane to lean my head against to sleep. I'm 5'5" so I don't have too much trouble with legroom. But, my friend Melanie is an amazon woman and always picks an aisle seat so she can stretch her legs out. If you do an aisle seat, just make sure to bring a neck pillow so you have something to support your head while sleeping since you won't have the wall!
Pro tip: We use Skyscanner to find crazy cheap flights & get alerts on flash sales!
I also avoid seats in the WAY back of the plane. That's because the engine is really loud back there and it gives me a headache. That's also where the gally (aka where the flight attendants work) and the bathrooms are, so the back of the plane is always bright, loud and full of people walking back and forth. Aka, not what you want to be stuck sitting next to for 12 hours.
If at all possible, do yourself a favor and upgrade to a premium economy seat, which usually has a tiny bit more legroom (like an inch but HEY every inch counts on a long flight!) and sometimes other perks like faster service or free snacks that other seats may not have. When we flew to New York last year (a 6-hour flight from San Francisco) we sat in the premium which meant free booze and much better service, along with a lot more legroom. Worth it!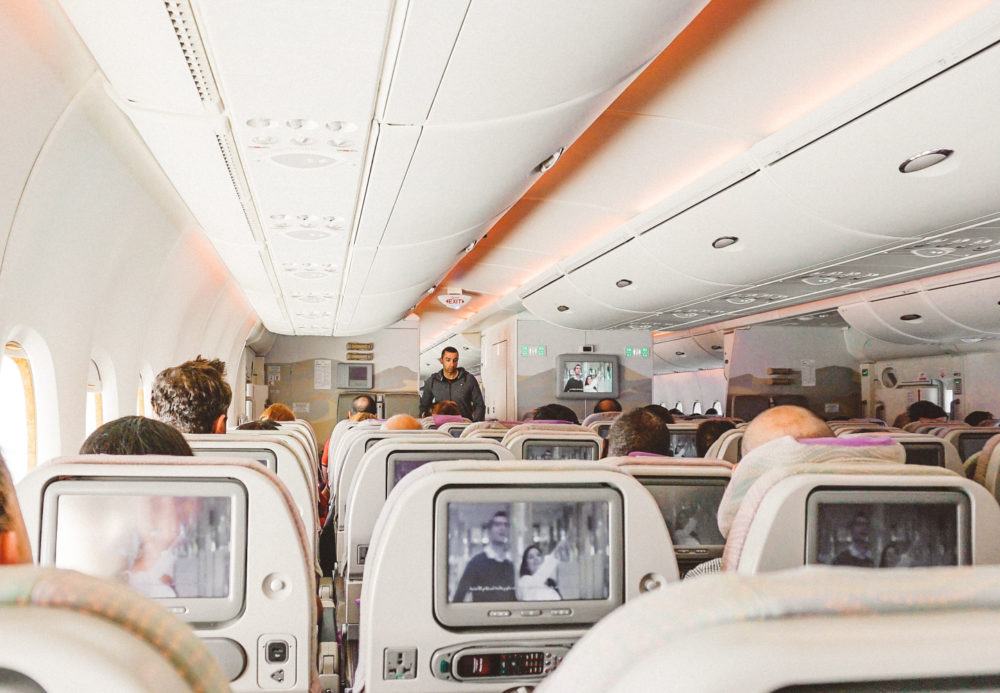 Long Haul Flight Essentials
Ok, after you picked the best seat for you and your budget, the next step if packing the right items in your carry-on. WARNING: this may sound a bit "mom" ish to you, in the sense the list is rather long, but stick with me here.
Everything I put in my carry-on / on this list below is things I have forgotten once and REALLY REALLY wanted or needed. So I learned from my mistakes and now you can also learn from my mistakes! This is how to prepare for a long flight the right way. Put this in your bag!!
(I'm assuming that you already know to what to wear on a long haul flight — comfy clothes! Skip the jeans or heels, wear something like this travel set that actually looks cute, too! I wear this on flights all the time, highly recommend.)
Melatonin
Trying to figure out how to sleep on a long haul flight? Melatonin my friend! I don't know what I did before I discovered this. Melatonin is a hormone that regulates the sleep-wake cycle and thus is a natural way to promote sleep (aka not a heavy drug.) It's a natural thing the human body already makes but you can take it in a high dose pill form to reap the sleepiness benefits when you can't easily fall asleep.
After waking up from a melatonin-induced sleep, water and coffee while looking out the window at sunlight instantly makes me feel energized and ready to explore when the plane lands!
As I mentioned above, I find that drinking a couple of glasses o red wine (which makes me sleepy) and then taking melatonin afterward always knocks me out but in a good way. Melatonin helps put me to sleep and stay asleep, but I never wake up feeling groggy. In fact, I usually wake up feeling pretty good, which is exactly how to survive a long flight the right way. No jet lag!
Eye mask + earplugs
A soft eye mask and good earplugs are also a must for falling asleep on a plane! You can't rely on airline providing you with earplugs, so bring your own. You'll want to be able to tune out talking, babies crying, cartwheels squeaking, pilot announcements and anything else that goes bump throughout the journey.
Noise Canceling Headphones
A good pair of noise cancelling headphones can make all the difference in being able to watch/hear your movie or being constantly distracted by noise around you. I always bring my own headphones because you can't trust the airline to provide you working headphones.
I once got onto a flight only to discover the provided headphones were broken and I had to pay $14 to buy new ones on the flight because they wouldn't give me new ones, so I just skipped watching anything and stared out the window which was NOT fun!)
Make sure to pack headphones that fit into a normal jack as those are what the seats take, but also pack your headphones that fit your iPhone in case you want to listen to music or a podcast on your phone!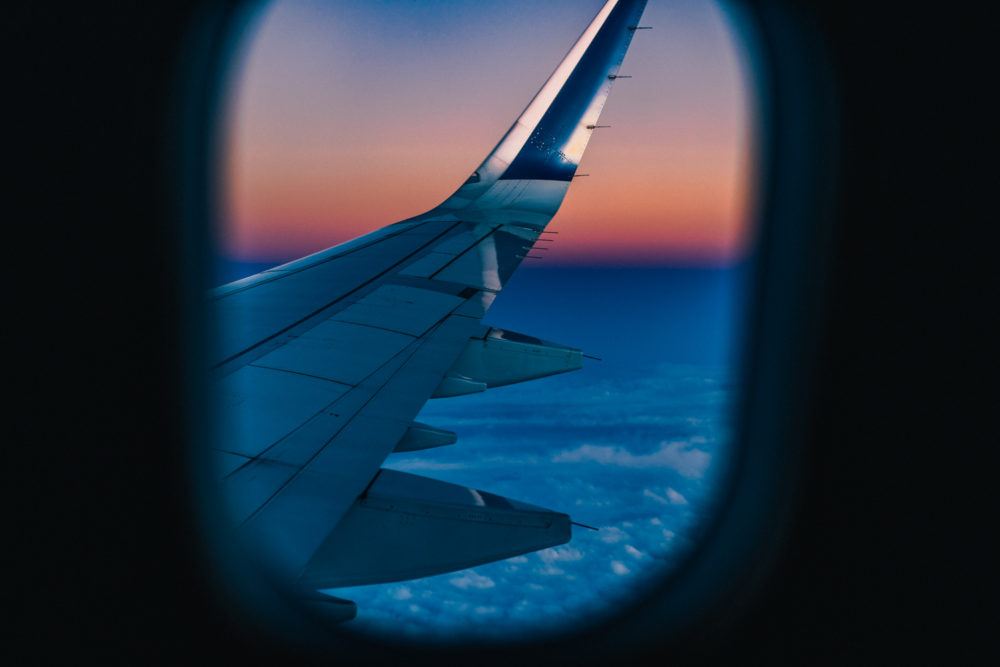 Hand lotion + Hand sanitizer
Airplanes are DIRTY you guys! I never trust the lukewarm non-potable water in the bathrooms to properly wash my hands, so I always pack hand sanitizer when flying. I used to get sick all the time when traveling but no so much anymore, now that I've started to religiously apply sanitizer after using the restroom. Kill the germs!
I also bring hand lotion because my hands get dry really easily, especially after hand sanitizer and also the dry air that planes always have. I hate the feeling of dry hands, it drives me crazy! So if you are like me, do yourself a favor and pack some hand lotion!
Beauty Bag
I have a very specific skincare routine I do on long flights. I love taking my makeup off, hydrating my skin with mists and lotions, and of course, putting makeup on in the morning before we land. It sounds super high maintenance, I know, but once I started doing a beauty routine on a plane I slept better and felt more awake in the mornings.
Waterbottle
Always pack a water bottle! The altitude and dry air on planes seriously dehydrate you. Being dehydrated can cause headaches, stomach aches and general discomfort.
"But they give us water on planes, Kara!" Yeah, but not a lot and you're totally at the mercy of flight attendants. They usually don't start drink service until 30-60 minutes AFTER reaching 30,000 feet, so that usually is about 1.5-2 hours into a flight. That's a long time to go without water. And then when you do get water, it's like 3 sips worth because those cups are so tiny.
Socks
I'm all about comfort on long flights and I can't sleep when my toes are cold. I just find it so annoying and uncomfortable! I always keep an extra pair of socks in a random carry-on backpack pocket to put on as I don't always wear shoes that require socks on flights. (I adore traveling in my Rothy's but I don't wear socks with those!)
Optional: Swap for compression socks to help with deep vein thrombosis if that's an issue for you!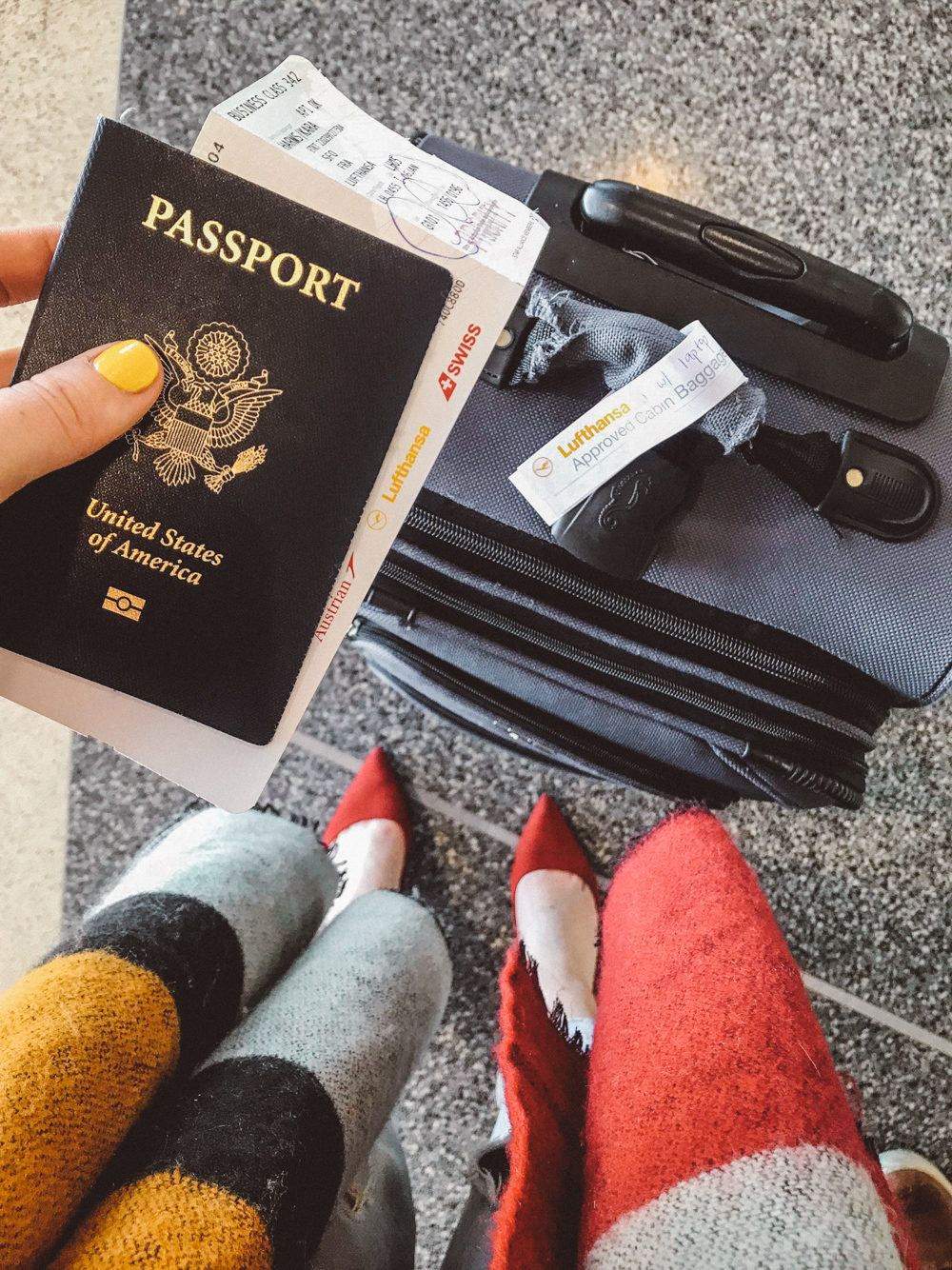 Sweater
Airplane comfort is minimal, so I always wear or pack a cozy sweater to fall asleep in. I use it as a blanket sometimes too! A good sweater is the best hack for how to sleep comfortably in economy class because you can't rely on those thin paper blankets to get cozy.
I also have used sweaters balled up and as a pillow before, usually when the temperature in a plane is too hot vs. too cold. Ahh the joys of airplane travel… on that note, if you don't want to use your sweater as a pillow, the best travel pillow for long haul flights is this on.
A book
I love to watch movies while on a plane, but sometimes I'm just in the mood to read a book. Check out my favorite travel books here for ideas of what to pack along with you! I love to physically hold a book but you can also download one n your phone or kindle if that's easier.
Glasses
Lastly, your classes! I wear contacts every day and if you also wear contacts, you know that by bedtime, they usually start to get itchy and dry. There's no way you can survive a long flight with the same contacts you put in, at home, 20+ hours before.
I wear daily contacts so I just chuck my used ones and put on my glasses before I go to sleep. I then pack new contacts and put those in during my morning beauty routine. it sucks when you forget your glasses, trust me! (hello red bloodshot eyes!)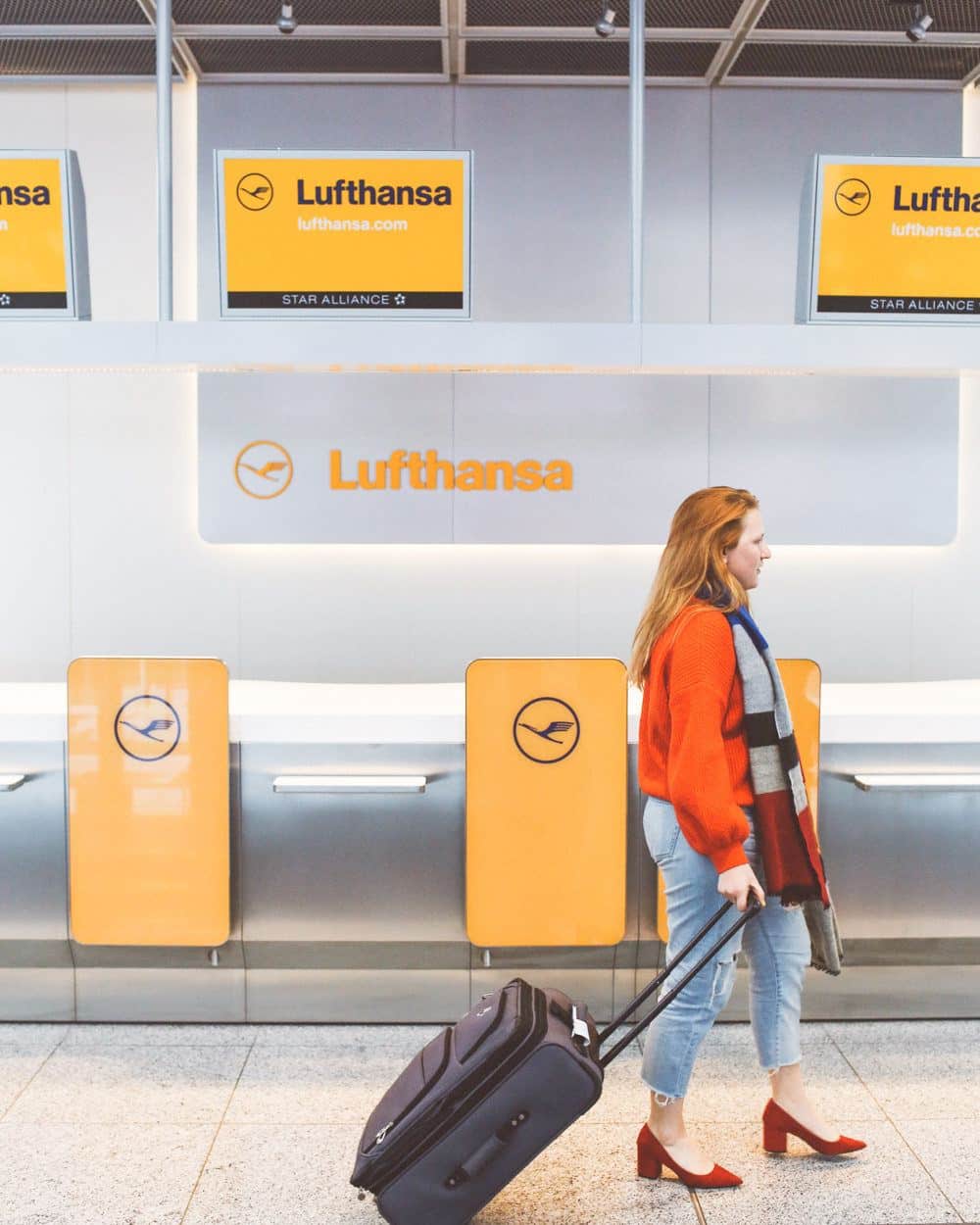 Surviving long flights can be easy with the right preparation! I know this guide is a bit long, but I hope you find it helpful when preparing for your trip!
Of all the long haul flight tips I can give, my biggest one is: go into it with a positive attitude. No, NOBODY loves sitting in economy for 15+ hours, but you can make the experience fun. Most airlines have new blockbuster movies you can watch, so I just binge watch award-winning movies back to back.
Also, free drinks! Flight attendants want passengers to drink because then they get sleepy and docile. Most international flights offer unlimited free drinks (well, if you get rowdy they'll probably cut you off but I've never seen that happen before.) Think of the flight as a party. Just, a really long & tight one.
If you have any travel tips for long flights to add, leave a comment below so everyone can see! If you have any questions, leave a comment or DM me on Instagram @thewhimsysoul and I'll be happy to help!
Other posts you may like