Anderson Valley is almost like the lost wine region of Northern California. Ask even Bay Area natives if they've visited and most will tell you "No." And honestly? I sort of like it that way.
Anderson Valley wineries don't have the steep price tag of Napa Valley or the crowds, but the tasting rooms have all the same rustic charm you find in Sonoma. And the pinots in this valley just happen to be some of the best in the entire world.
We always stop by Anderson Valley when we're en route to Mendocino County, a little wine tasting before we can check into our hotel. More visitors are passing through on Highway 128 to the coast – the road does lead directly to the ocean, after all.
Anderson Valley Wineries: Where To Find Free Wine Tastings & More Travel Tips!
I've visited this valley a few times now, so keep reading for my favorite wineries (including where you can wine taste for FREE!) best local eats, where to stay and more fun things to do in the area.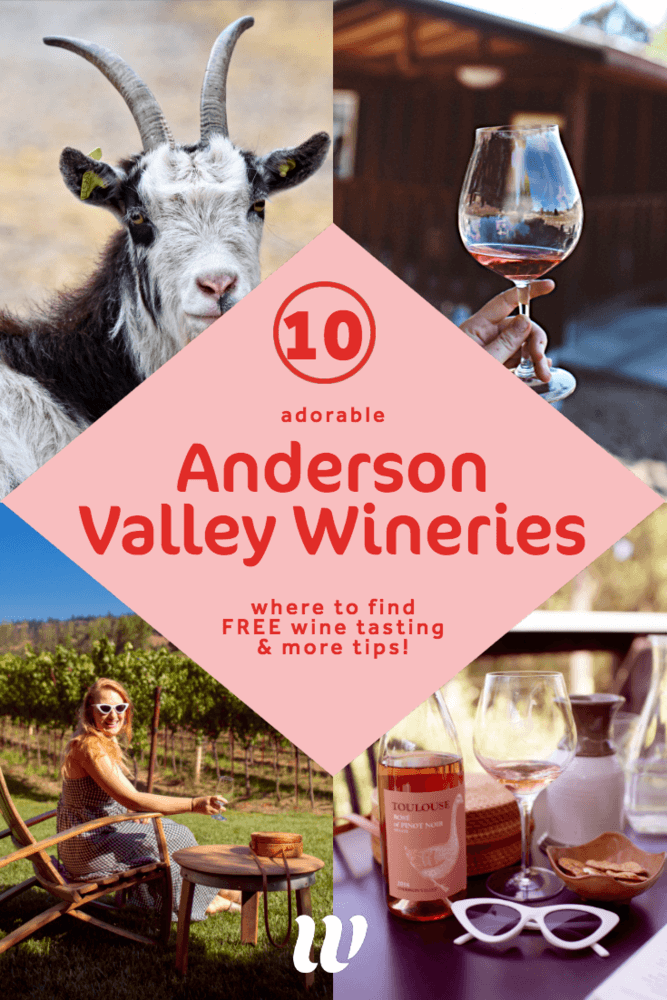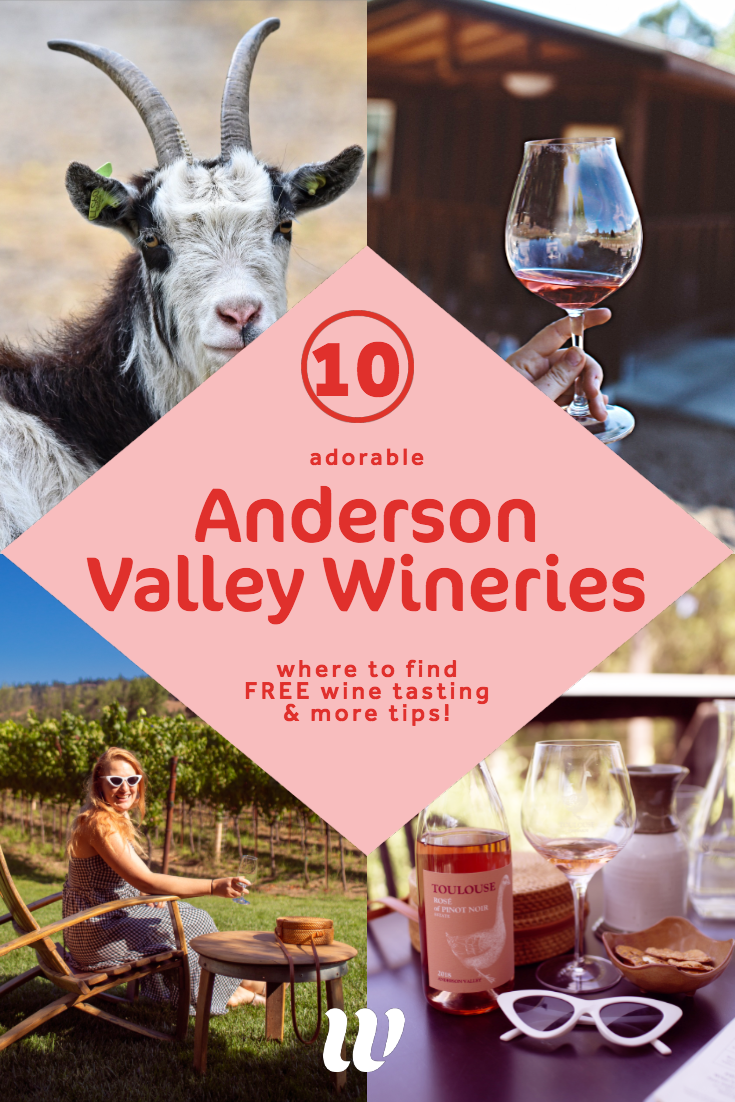 >> Got a question about Anderson Valley wineries or Mendocino that you need answered quickly? DM me on Instagram @thewhimsysoul and I'll be happy to help!
Where The Heck Is Anderson Valley Anyway?
Are you reading this and a *little* confused where Anderson Valley California is? This wine country valley is North of Healdsburg and South of Mendocino along Highway 128. It's a bit hidden in the sense that most wine tasters don't make it past Healdsburg, but the valley isn't hard to get to.
The biggest town in Anderson Valley is Booneville and there's also Philo. Both are small but packed with charm. This area is also rapidly changing, every time we come back there's new stores, restaurants or wine tasting rooms.
San Francisco to Boonville: 115 miles / 2 hours 15 minutes
Sacramento to Boonville: 158 miles / 3 hours
Mendocino to Boonville: 40 miles / 53 minutes
Ukiah to Boonville: 21 miles / 35 minutes
As you can see, it's not terribly far away from San Francisco, but fair warning: Highway 128 is CURVY AF. I always get car sick when we drive it. Don't worry- once you reach Booneville the road turns flat and mostly straight until you read the Redwoods, and all the tasting rooms are on the same wine road, it's easy to drive around once you start tasting.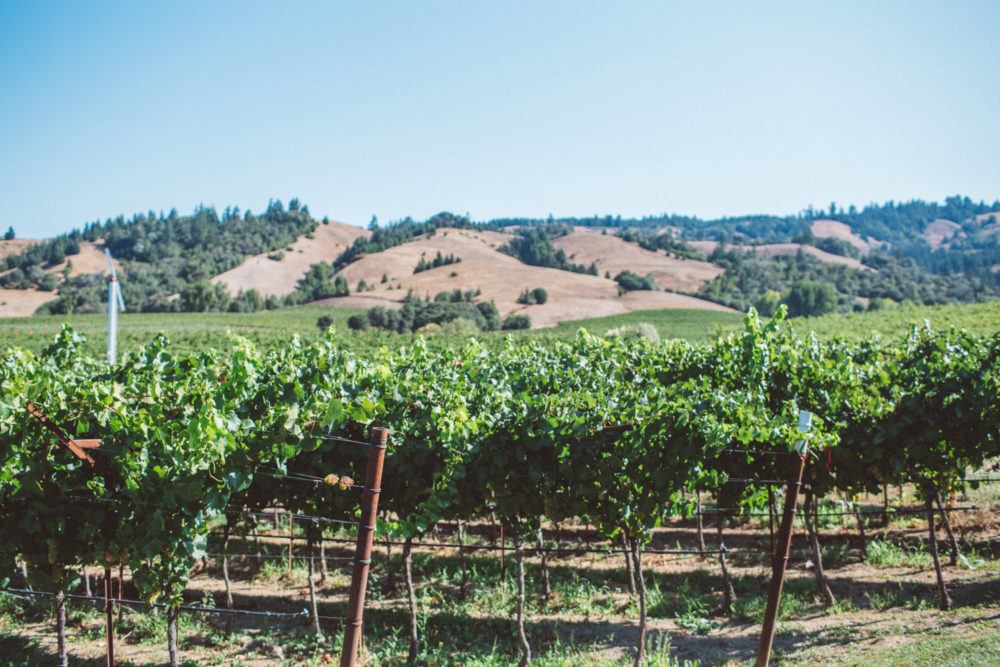 My Favorite Anderson Valley Wineries
What are the best wineries in Anderson Valley? Well, buckle in! There are about 26 wineries in the valley, these are my favorites. Some of them are places we still have yet to visit but come highly recommended from wine snob friends and locals.
Open: Daily 11am-5pm
Cost: $10 tasting fee waived with bottle purchase
I can't rave enough about this spot – it's one of the best wineries in Anderson Valley! If you choose to just visit one place, head here. Why do I love Toulouse so much?
The Toulouse tasting room is rustic chic. We rolled up and were greeted by a golden retriever puppy (best way to start any wine tasting, right?!) and ushered to the patio which has probably the best view of the valley.
And of course, their wine is just fantastic. Everyone makes good Anderson valley pinot noir wines in the valley, but I really loved the unique ones here (like one pinot blend has brambleberry and Sassafrass notes!) Surprisingly, I bought a bottle of Gewurztraminer here. Normally we don't buy white wines but their Gewurztraminer is utterly unique, I've never tasted anything like it before. I noticed other visitors bought a bottle of it as well.
But what really makes Toulouse stand out is their people. Robin accidentally locked our keys in our car and staff members and even the winemaker himself came to our rescue to help us jimmy our way in! That would have NEVER happened at a Napa Valley winery, I promise you. We ended up having to pay $80 roadside assistance, but I was still blown away by how quickly the team jumped into action. (I grew up in Wisconsin and this totally reminded me of that classic Farmboy Midwestern kindness!)
Open: Daily 11am-5pm
Cost: $10 tasting fee waived with bottle purchase
Lula is our other favorite winery in the valley! It was actually the very first winery we visited back in circa 2016 during our first trip to Mendocino. We fell in love with the property at this winery!
You're welcome to bring your own pup here!
The tasting room is a small building with an intimate tasting bar, but there's tons of outdoor seating, too. It's right beside a small pond and there's lounging chairs lining the water which you can do your tasting in! I adore when a winery has stunning outdoor space. I hate being crammed at a tiny bar in a dark room – give me a glass of sav blanc to enjoy in the sunshine!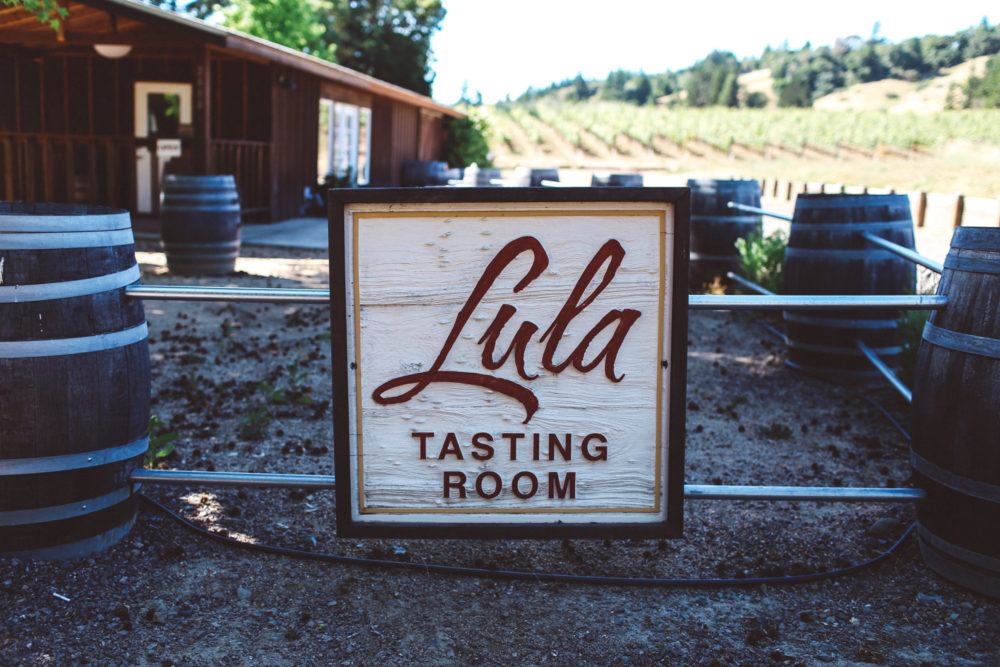 Open: Daily 11am-5pm
Cost: $10 tasting fee waived
If you like sparkling wines, come here! Locals rave that Roederer has the best Anderson Valley champagne, and I agree – we had a bottle at the hotel Brewery Gulch Inn and I loved it! We haven't had a chance to visit their tasting room yet, but plan on stopping by next time.
Open: Daily 10am-5pm
Cost: Varies based on the tour or tasting you do!
If you're looking for family-friendly wineries Anderson Valley, Pennyroyal Farm is it. Also, if YOU like goats, cheese and wine, head here. Why? Pennyroyal is a goat farm & creamery! And also a winery!
Come tour the farm, see the animals, do a cheese and wine tasting, and so much more (like Friday night music or occasional brunches!) This farm is on the edge of Booneville and while brand new, has already become a pillar of Anderson Valley. If you want a different wine tasting experience (or just a break from wine) head here!'
Open: Daily 11am-5pm
Cost: FREE
Of al the Anderson Valley vineyards, you probably have heard of Navarro before (they're usually the go-to Anderson valley winery for Bay Area restaurants.) This is where you can find FREE wine tastings
Navarro winery is open daily and free – even their twice-daily walking tour of the vineyard is free. I loved how pretty Navarro is – there's a large back patio and seating area right against the vineyard. Tons of flowers and gardens and, while they weren't in the lower pasture when we visited, sometimes their sheep are grazing near the tasting room, too!
Navarro has a LOT of wines available to taste, so it's a good place to visit when you have a large group because everyone will find something they love. I usually gravitate to their pinots. Ask to taste their pinots side by side (example: 2015 vs 2016 vs 2017).
Open: Daily 11am-6pm
Cost: Varied based on the beer or flights you choose
Ok, so we haven't stopped by their taproom (yet) but Robin and I LOVE Anderson Valley Brewing beers! Despite writing a lot about wine here on Whimsy Soul, beer is actually our go-to drink at home (hey, we did grow up in Wisconsin after all!)
Their taproom is located right across the road from Pennyroyal Farm in Booneville. It's large, has an outdoor garden and seating and, like any brewery taproom, has beer on tap that you can't always find in store. Sometimes you need to take a break from wine and switch to beer, so head here!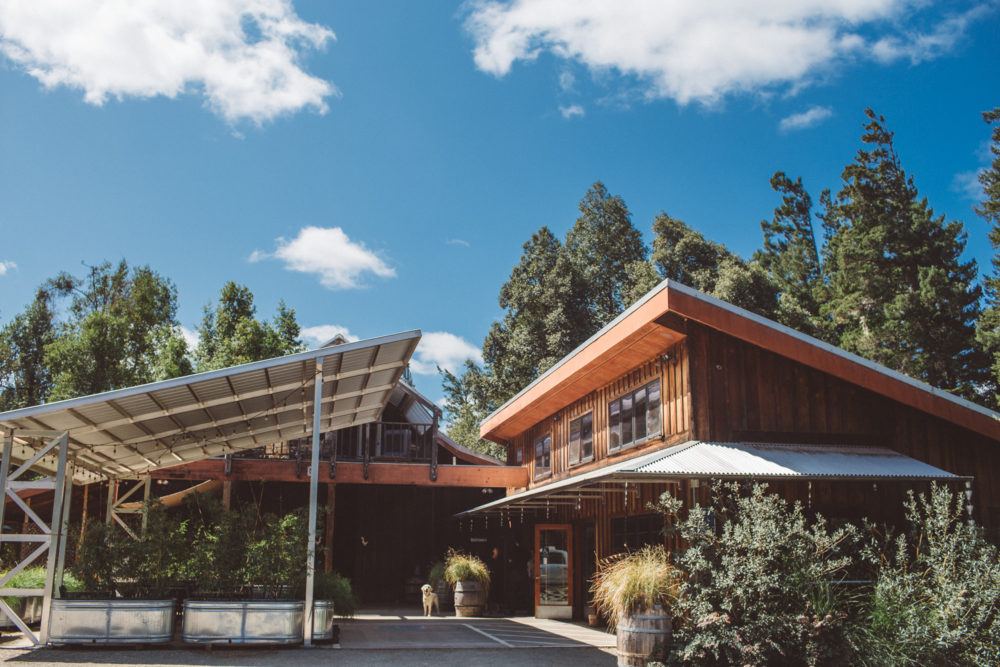 And finally, these are a few wineries I'm curious to visit but haven't visited in person yet or know anyone who has, so I'm putting these down and tentatively great wineries!
Open: Daily 10am-5pm
Cost: Unclear on website
Open: Daily 11am-5pm
Cost: Unclear on website
Open: Daily 11am-5pm
Cost: Unclear on website
Open: Tuesday-Sunday Noon-5pm
Cost: $15 tasting fee
Check out the Anderson Valley Wine Map below for more wineries you can visit!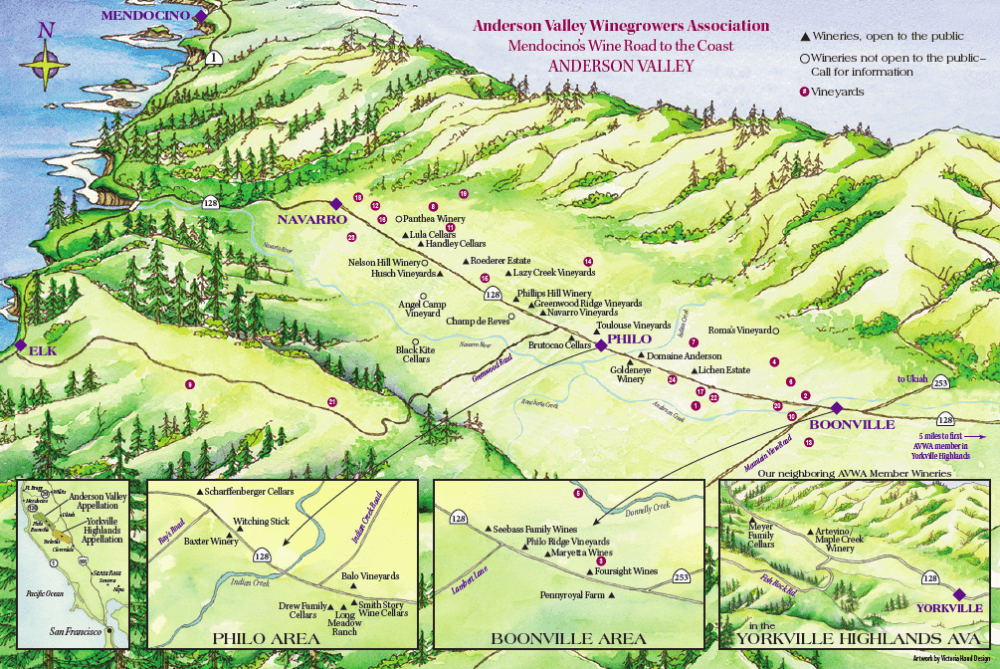 Best Wineries in Mendocino
So here's the thing: there aren't really any Mendocino vineyards. There are some tasting rooms downtown, but not actual vineyards anywhere that I've found (and I've been 5 times!)
If you ask your hotel front desk person for wine tasting, they'll send you 45 minutes south to Anderson Valley.
I found this a bit confusing the first few times we visited Mendocino and Fort Bragg. Travel guides kept talking about Mendocino wine tasting but I couldn't actually find any Mendocino wineries on the map in town (other than tasting rooms, but I prefer to visit vineyards!)
Turns out, everyone is talking about Anderson Valley, which is basically Mendocino's backyard and actually technically inside Mendocino County (so they aren't wrong to say " Mendocino county wineries ", it's just a bit confusing!)
So, if you are heading up to Mendocino, which should, it's one of my favorite places in the entire world, go wine tastings in Booneville and Philo on the way up. Aka, use this exact guide to find the best Anderson Valley wineries!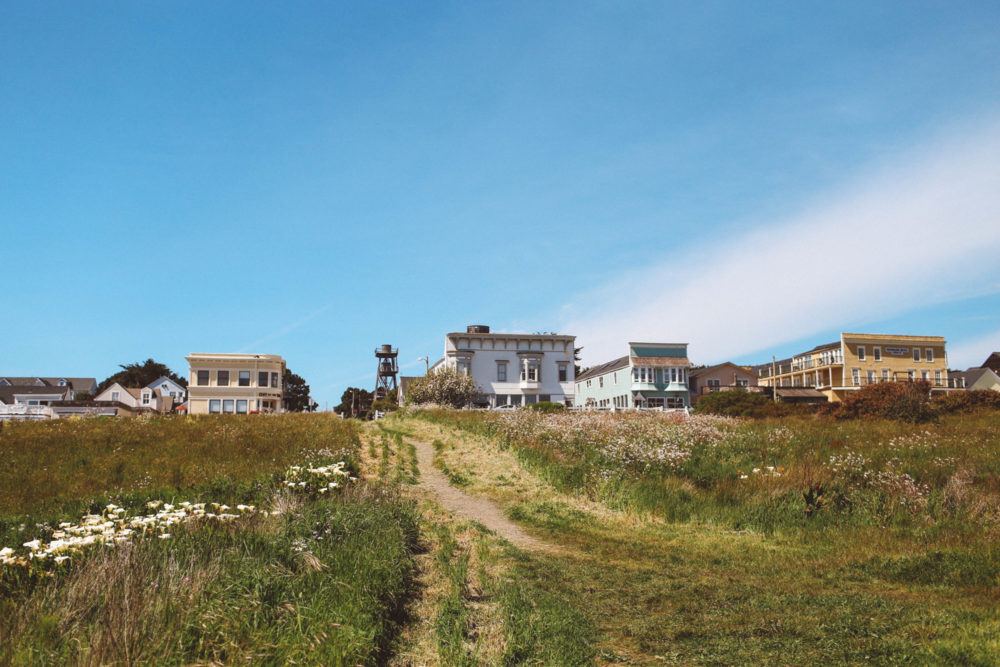 Where To Stay in Anderson Valley
Unlike Napa Valley hotels, which are large & luxurious (and very pricey) Anderson Valley hotels are quainter. Most people don't spend the night in Anderson Valley but instead, choose to head to the coast to visit Mendocino or Fort Bragg.
That's what we have always done, but I think next time we'll spend the night somewhere in the valley so we can explore more of the area! It's quickly changing and 5 years ago there weren't many good hotel options in Booneville or Philo, but that's slowly starting to change.
Hotels In Anderson Valley proper
My Favorite Mendocino Hotels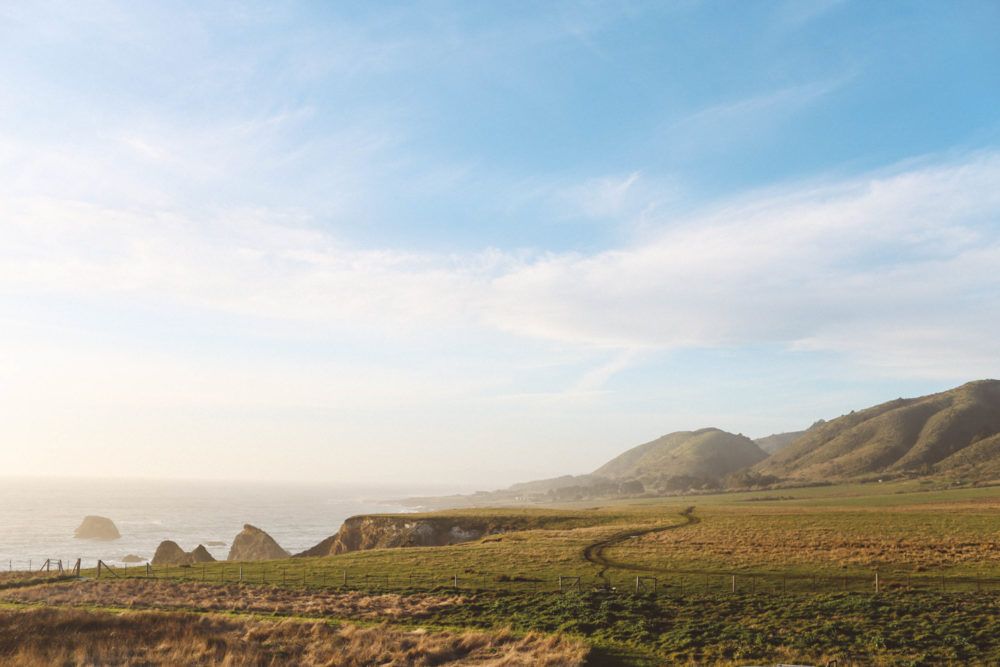 Where to Eat in Anderson Valley
We usually always stop for lunch in Booneville as we tend to arrive from San Francisco right around noon. Here's some spots to try out:
I hope you find this Anderson Valley wineries guide helpful! I love Mendocino and Anderson Valley – it's cute, charming and quickly changing, so visit fast before the free wine tastings are taken away.
Got any other Anderson Valley wine tasting tips? Leave a comment below so everyone can see! Got questions? Comment below or DM me on Instagram @thewhimsysoul and I'll be happy to help!
Other Posts You May Like