I've always felt that my eyebrows just kind of trickle off into nothing. So, to be totally honest, that's why I've never been really into the world of brows like many other women are.
A brow pencil? Don't own one. Waxing or threading? Never have gone near a chair. Only a couple of years ago I finally picked up some brow color and occasionally would darken them when I felt like it. (Sometimes not very well – back at my first few attempts I picked a shade WAY to dark for me ad then quit doing anything to my brows for almost a year declaring it just wasn't for me.)
That's why it took me almost 30 years of my life to learn about – and try – a brow tint. I was kayaking with a friend who was telling me all about how she just got her lashes and brow hairs tinted at Benefit Cosmetics for $35.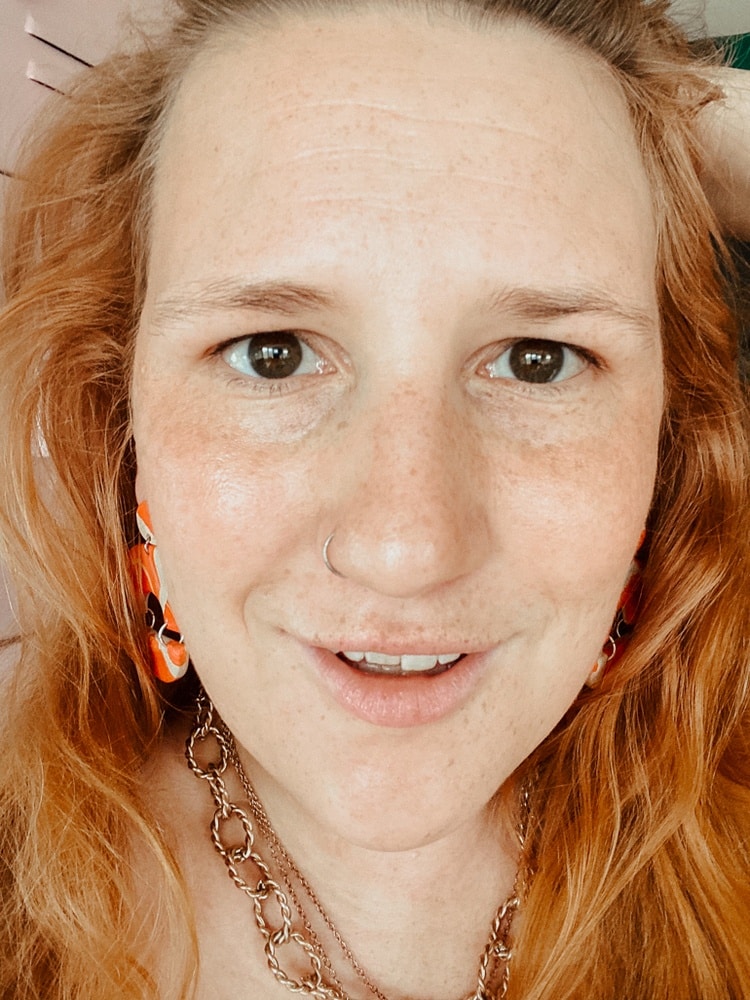 She told me all about how she hasn't put on mascara for days since she got her lashes tinted, or touched her eyebrow color. But her brows still looked full and defined. I liked the sound of that.
See, I go in and out of makeup phases. Sometimes I'm into a dramatic eye and bold lips. But most days I learn towards a more natural face, using beauty products that hydrate my dry skin and help my natural freckles pop. With summer on the horizon, the time of the year I really don't wear much makeup, I figured it was finally time to try out brow tinting.
I scheduled an appointment at Benefit for the next week and in I went. In this post, I'll be sharing the process of tinting brows (and lashes) for any other newbies out there wanting to learn more. And then I'll be sharing before and after eyebrow tinting photos along with if the treatment is worth it to try.
How Does Eyebrow Tinting Work?
Tinting eyebrows is a really fast and simple process. Your technician will ask you some questions and make sure she matched you with the best shade to match your hair color. The brow gel they use to dye is similar to henna, so it's a semi-permanent treatment.
When I went in, the girl suggested we add a tad bit of red hues to my brow tint to match my strawberry red hair. She cleaned the brow area and then used a little stencil to help her apply the brow tint correctly. I then just sat in the chair for about ten minutes, it was kind of relaxing.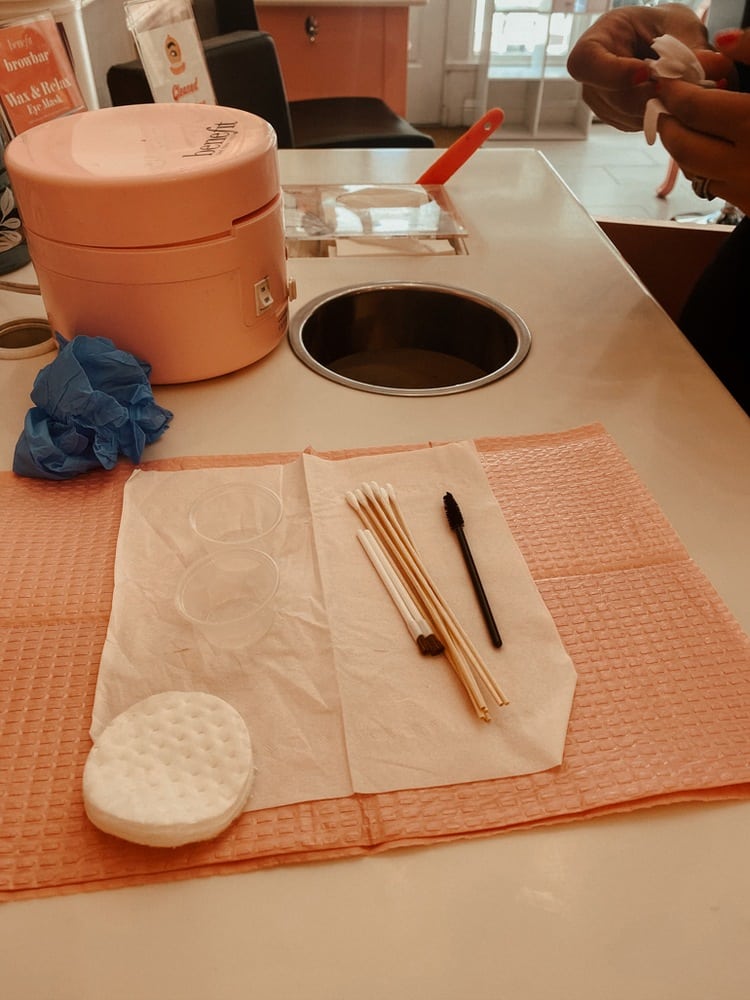 I also went in for a lash tint as a combo deal. Dude – it hurt like HECK. The tint stung my eyes and I low-key thought I was going to go blind. And, when the whole process was done I couldn't even tell that I had lash tinting happen, so I won't be doing that again. Lash tinting just isn't the same as false lashes.
How Long Does Eyebrow Tinting Last?
Brow tints vary in time, but generally last 3-8 weeks. I think it really depends on your technician, the products she used and then, of course, the products you use at home and your lifestyle. If you love doing Drunk Elephant facial peels at home, or go swimming in a pool every day, your eyebrow tint and shape will probably fade faster.
My tinted brows lasted about 3-4 weeks. The first few days were really pigmented (maybe a little too pigmented) but things evened out soon to be really natural looking. Then, it just slowly and evenly fades out to your orginal brow.
Is Eyebrow Tinting Worth It? Eyebrow Tinting Before and After Photos
So, was it worth it? YES. I felt that tinting eyebrows was totally worth it. My eyebrows were darker, but not too dark, and added more of an anchor to my face shape. I do wish my color lasted longer than it did so that's my only complaint. But for $20, it was I felt like it was worth the price and time to not have to bother touching my eyebrows for almost a month.
Maybe in the future, I'll do it at home? I had so many followers on Instagram share how they do their eyebrow tint at home with kits that are a fraction of the price. But right now I know I don't have the skill set to tackle this on my own without messing it up, so I'll be sticking to professionally tinted eyebrows.
If you're thinking of trying it out, I say go for it! It's especially a handy beauty treatment to do around the summertime when most people (like myself) are trying to wear at little makeup as possible.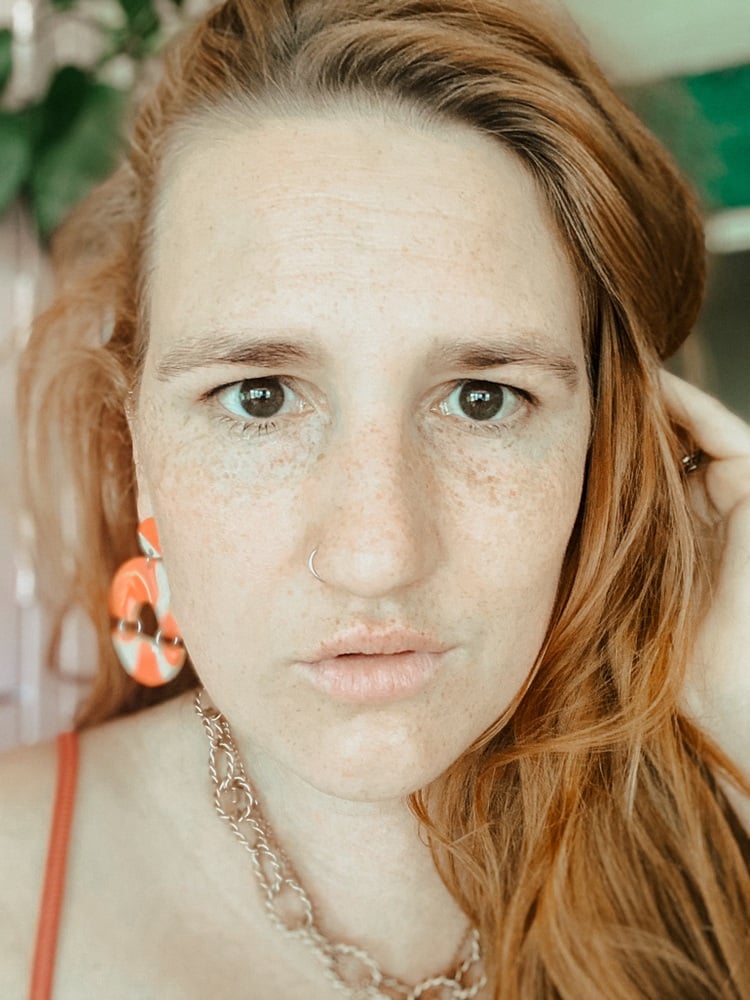 If you have any tips to add, drop a comment below so everyone can see them. Got questions? Comment or DM me on Instagram @thewhimsysoul and I'll be happy to help!