It's official – I'm a natural hot springs junkie.
Miracle Hot Springs along the Kern River are special for a few reasons. There's multiple tubs all with drastically different temperatures. They're easy to find and hike into, making them friendly for all ages but are tucked enough into the mountains that they aren't too crowded. AND they overlook the Kern River so you can plunge in the river and then warm up in the tub (yass!)
In this post I'm sharing Kern River Hot Springs directions, must-know tips before you go and more photos!
Name: Miracle Hot Springs
Address: Kern Canyon Road near Hobo Campground
Fee: Free – it's on Sequoia National Forest Service Land
Best time to visit: Early morning to avoid crowds, late afternoon for a party
Located along the Lower Kern River about 10 minutes away from Lake Isabella are these amazing natural hot springs. They're on Sequoia National Forest Service Land, which means they are free and public for anyone to access at any time.
Don't confuse this with Sequoia National Park! The Three Rivers entrance to the national park is about a 2-hour drive away! Not at all the same spot.
Directions To Miracle Hot Springs
These pools are located near Hobo Campground which is outside Bakersfield about 30 or so minutes in the mountains. There's no cell service or gas station anywhere near here so you need to fill up in town prior to leaving for the hot springs.
If you pop " Miracle Hot Springs Kern River " into Google Maps it'll bring you to the wrong place. Instead, look for Hobo Campground. The trailhead to access the hot springs is here. The campground has a really large parking lot and some porta-potties if you need use them. The trail from the parking lot to the tubs is really short – takes just a couple of minutes to walk. Makes it easy for trips back to the car if you forgot anything!
Hobo Campground is the best site for Kern river hot springs camping! You're just right there to access the pools for a sunrise dip or late-night star gazing. It's about $20 a night and check the website first to make sure it's open when you want (though I would gander that if the campsite is closed you can still park overnight in the lot if you have a van.)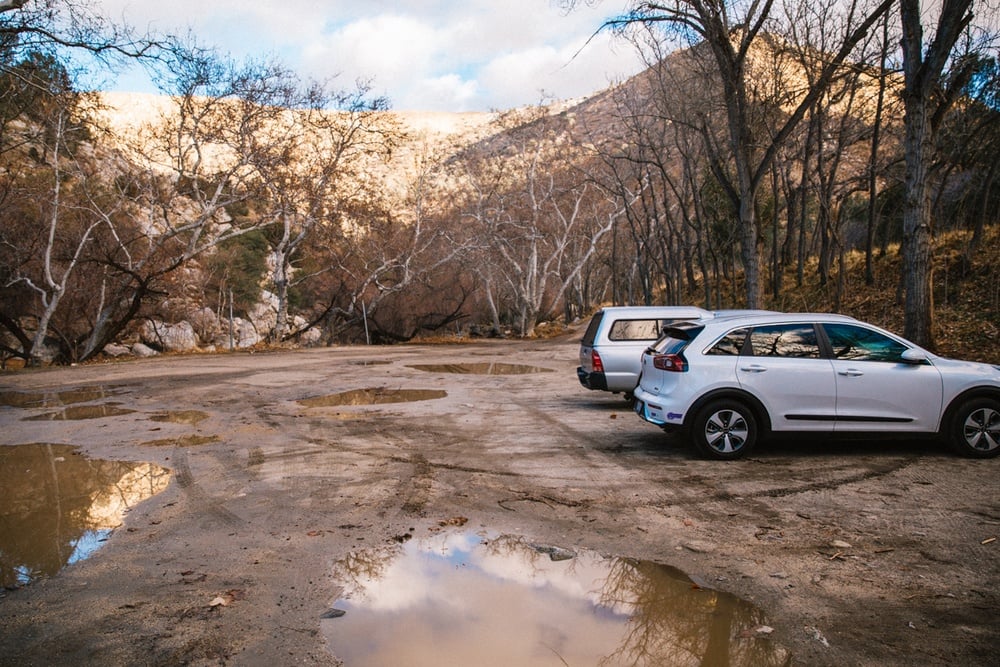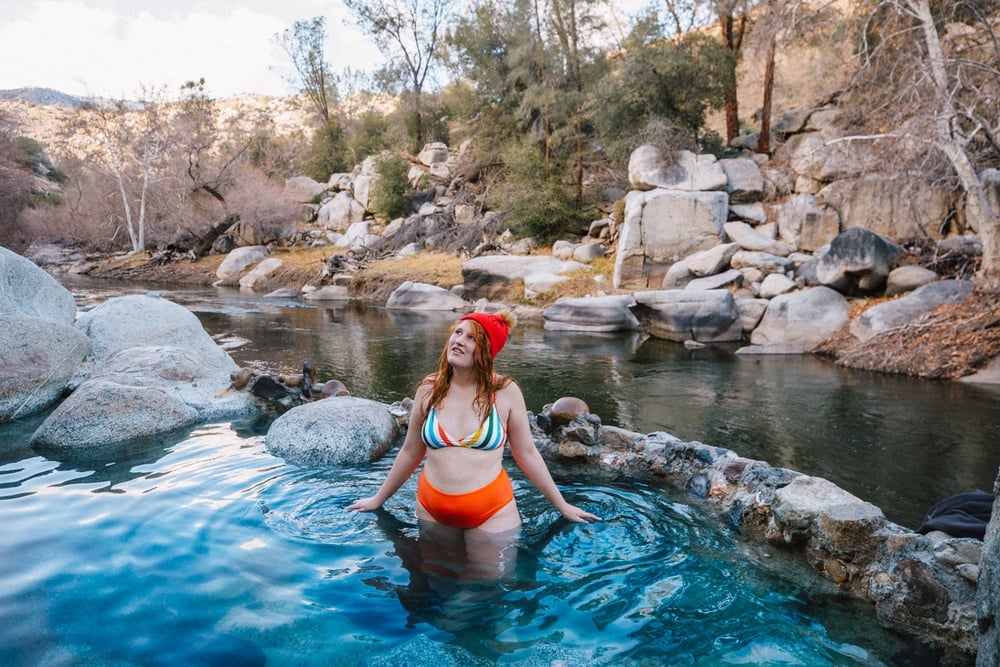 What To Prepare Before Your Visit To Miracle Hot Springs
Download Maps Offline: No cell service here! While I personally think the road is pretty easy to navigate back if you get lost, it's still always smart to download your maps offline while you have service. t usually always forget to do this so saying it now to remind you!
Fill up on gas: The nearest gas station is in Bakersfield (unless you're coming from Lake Isabella). Either way, there's not a place to fill up nearby. Don't get stranded. Can't call for a tow truck out here!
Bring snacks + water: During the summer this area can get hot hot hot so on top of getting dehydrated from soaking in hot springs, water is key. Pack in your snacks and water, the latter I would bring extra of just in case. And of course, pack out!
Trash bags: I always bring trash bags to hot springs since they're so dull purpose. You can place belongings on them to stay dry and then fill it with any trash when you leave.
Tell someone where you are going: The first rule of any outdoor activity – tell someone where you are going, just in case you have an emergency. Again – no cell service up there.
8 Rules & Tips For Visiting Miracle Hot Springs, California
Don't visit unless you can pack out your own trash
Seriously. Just because hot springs are public and free doesn't make them your trash can. There aren't paid onsite attendants here to pick up after you. Bring a garbage bag (two – one for your wet clothes and one for trash) and clean up after yourself AND others. If there's abandoned face masks or trash from other people, pick it up instead of walking by it.
On that note, there are locals who visit these hot springs frequently who do seem to clean out the tubs of dirt, etc and keep the area clean. I was super grateful for a couple of guys sweeping out dirt from a tub but it shouldn't just be on a few locals to maintain this spot. If you visit the hot springs, come with the mentality that you need to leave it better than when you arrived.
Pro tip: bring some cash with you and if you see a local actively cleaning the springs, tip them so they can keep buying cleaning supplies to keep the area safe and clean for everyone!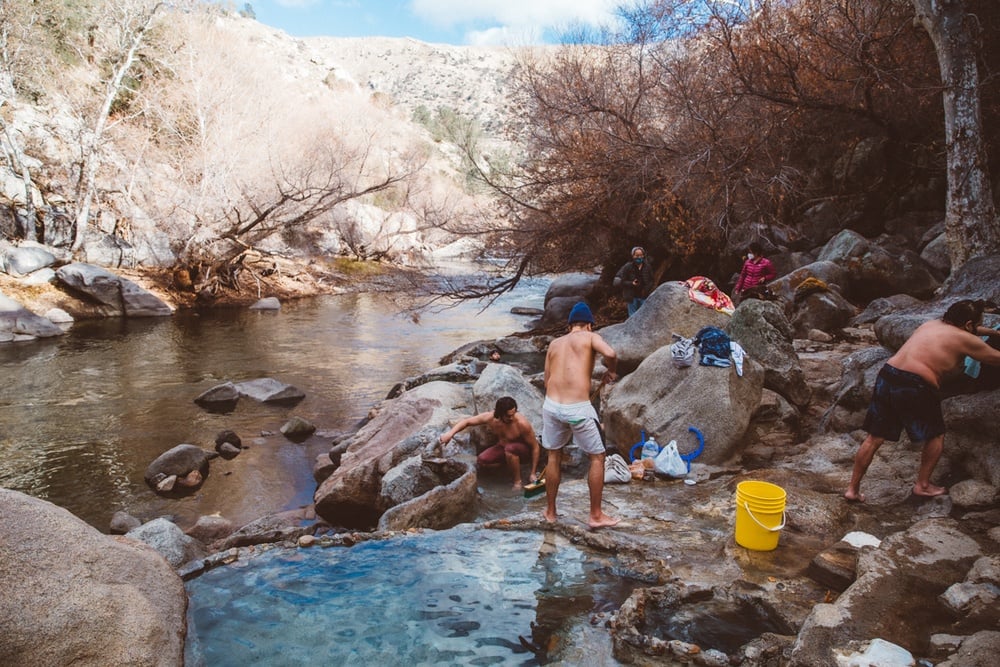 Some tubs are really hot, some are cool so test before diving in
Some hot springs I've visited, like Wild Willy's, aren't crazy hot and you can safely jump right in. Miracle Hot Springs has about 4-5 different tubs and they are all different sizes and temperatures. Some were over 120 degrees and HURT to touch. We didn't sit in those.
Some were really cool and I got a tad chilly sitting in those during our February visit. We played around trying out tubs and finally found one we all really liked. So we settled in to enjoy the view along the river. Depending on what time of day you visit, you may have to wait your turn to get into a tub. Just take your time and don't rush the experience.
Get there at sunrise for a private soaking
A general rule of thumb when trying to visit hot springs is that the early bird gets the good tubs. If you want the hot springs all to yourself then plan to arrive for sunrise. Tubs are usually hotter in the mornings, too, since there wasn't bodies splashing out water throughout the night, so be extra careful of testing temperatures before you sit.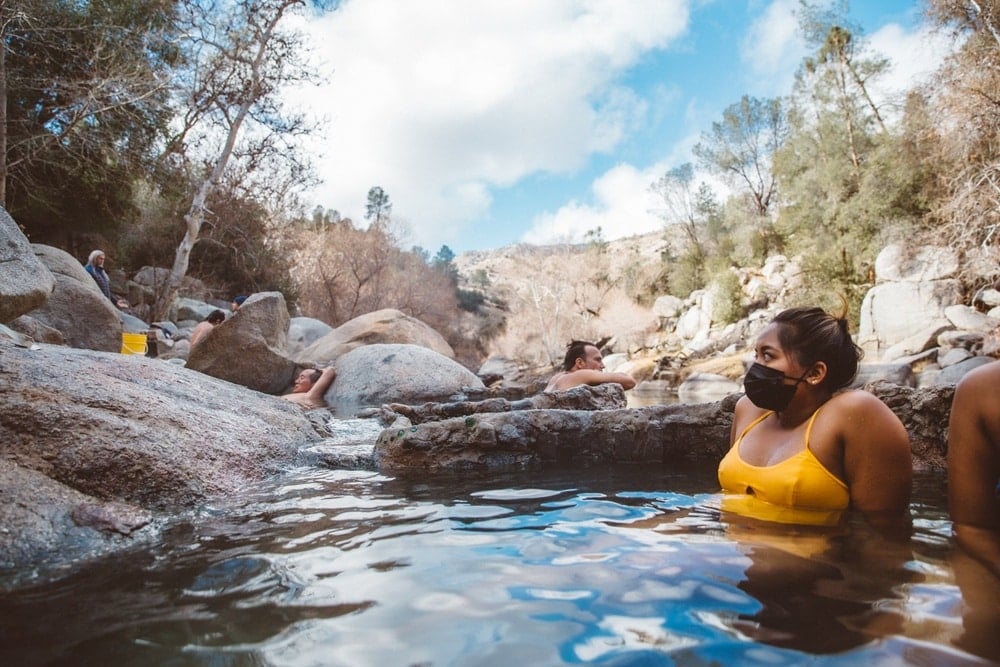 Be prepared for nudity
All-natural hot springs like these are clothing optional. Usually, during the day people wear swimsuits but come nighttime (or sunrise), it's not uncommon for the clothes to come off. That being said, once when I was hanging out in Umpqua Hot Springs in Oregon, we arrived at like 3pm one day. It was crowded since it was the afternoon, but i was still really surprised to see a group of guys just butt-ass naked soaking in a tub, casually having conversations with other soaks like you weren't starring directly at their junk in bright daylight.
So, no matter what time you visit Miracle Hot Springs, know you may encounter nudity so be respectful and don't let it alarm you. But for the most part, people keep clothing on during the day. And you absolutely do not have to soak nude if you don't want to (but it's fun, trust me!)
Dip into the river (but be careful of current)
I was so delighted to see that these hot springs are right up against the Kern River! This meant that you can soak in the tubs and then jump into the ice water, and then back into the tubs (kinda like what they do in Scandinavia in saunas and ice baths.) It's what makes Miracle Hot Springs really unique from other California Hot Springs.
YES it's cold but it's so fun! I did it twice and I felt so alive afterward. It's must-do if you're visiting these hot springs! The main key is to be mindful of any strong currents. The river was calm when I visited but I was told by someone at the pools that it can sometimes be pretty wild and strong.
While we visited in the winter, there was this little squirrel that kept trying to sneak into our backpacks since we had snacks. We had to repack our stuff to the scent was better hidden and he couldn't grab something and run away. I've never seen that at a hot spring before so I wanted to call it out so you can be watchful of sneaky wild animals who also want your Clif bars.
Also, some people on Alltrails have noted that in the summertime there will be a lot of bees around here too. I remember having that problem at Travertine Hot Springs. If you're allergic, pack along your EpiPen or anything else you need and watch your step when climbing in and out of pools.
Wear natural body products
Just like when you visit places like Hawai'i, who ask people to wear reef-safe sunscreen, it's also a good idea to keep your body products to a minimum or all-natural based on the day you're soaking in the pools. This helps keep the biome in the water as natural as possible and is a curtsey to other people soaking. Corpus is my favorite natural deodorant if you want to try it out.
Be nice to locals
As mentioned above, these hot springs are frequented by locals. And they're really nice people! So be nice back. Not all the hot springs I've visited seem to be cared for in the same way these tubs are. For instance – Umpqua Hot Springs was full of trash and dirt. Miracle Hot Springs was super clean and safe because locals upkeep them.
Yes, the tubs are on public land and EVERYONE has a right to be there. That being said, don't be a dick to the locals who come here. Share the tubs, make friends and play nice.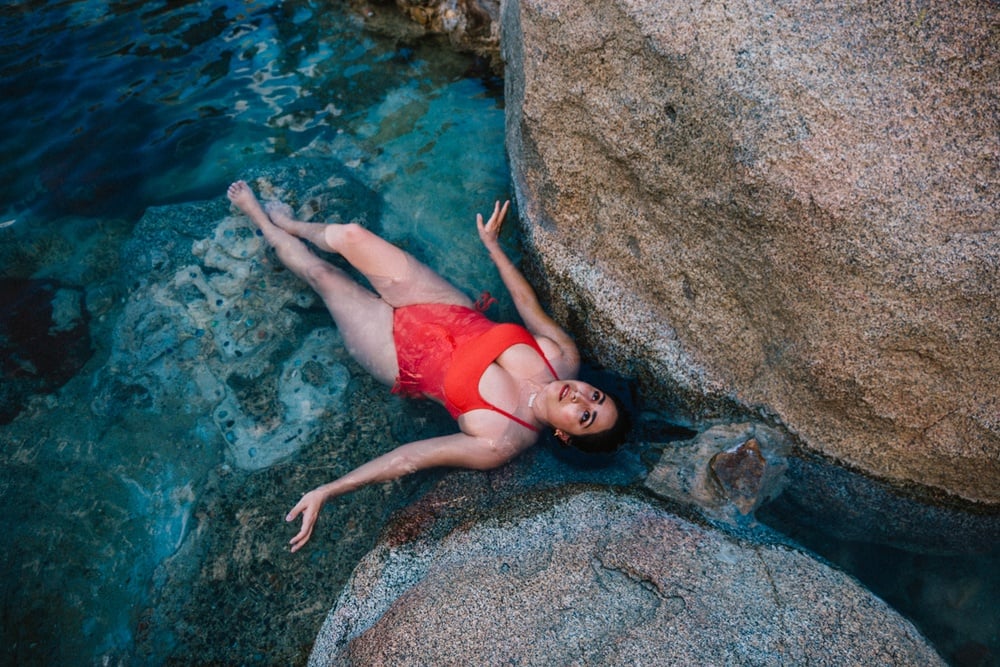 Other Nearby Kern River Hot Springs
There are a lot of kern hot springs along the river. We didn't get to check all of them out on this trip but here's the top Kern pools you can swing by as well!
What To Pack & Wear To A Hot Springs Soak
Bikini swimsuit: I prefer bikinis when soaking in hot tubs so it's easier to run to the bathroom or pop a squat if needed. I adore Summersalt swimsuits (they flatter every body type, I swear they're magic!)
Backpack: To carry water, towels, trash bags, phone, clothes, etc.
Towels: You'll want to dry off and clean your body from mud after soaking.
Trash bags: As chatted about above. At least 2 bags! Bonus points if they're compostable.
Natural deodorant: Skip Dove and wear a natural stick like Corpus.
Backup dry pair of clothes: As a backup in case your clothes fall into the water. TRUST ME on this. Learn from my mistakes ha!
I hope this helps you plan a fun and safe visit to Miracle Hot Springs!! They've quickly become one of my favorite hot springs on the West Coast and I can't wait to come back down to the area soon to explore some of the other pools.
If you have any questions about visiting these hot springs, or just about hot spring etiquette in general, drop a comment below or DM me on Instagram @thewhimsysoul and I'll be happy to help! Pretty much just be nice to people and nature and you're good to go.