Sprawling bat caves, huge rock formations, trails with epic views that go for miles and California Condors… Pinnacles National Park is the country's newest National Park and it just happens to be a quick 1.5 hour drive from the Bay Area making it an excellent week trip or even day trip.
I've been to Pinnacles a couple of times now and most recently Robin and I spent a night camping in the park so we could fall asleep under the Dark Sky and wake up near the trailheads. This park can be a bit tricky to plan a trip to, so I wanted to put together a handy itinerary for one day in Pinnacles National Park (I also include camping info in case you want to make it an overnight trip!)
Pinnacles National Park At A Glance
Location:
California 1.5 hours South of San Jose
Advanced Reservations:
Not required (fees still required to enter, just not reservations!)
Known for
: steep, pointy rocks (aka Pinnacles), rock climbing, Tulas caves and viewing California Condors.
Best Season To Visit
: Spring or Fall, as summers get over 100 degrees
Best Entrance For A Day Trip
: East Entrance
Cell Service
: None, and no free park wifi (so download things in advance!)
Alerts
: Caves & trails are sometimes closed for bats or Raptors.
Please check park website.
Also – since Pinnacles was established in 2013, it's still a relatively new national park so the wildlife are VERY present. We both agreed this park had the most wildlife encounters. Mostly Mule deer, birds, Condors (from afar), squirrels and bunnies but also a gang of raccoons that raided our campsite neighbors. Keep an eye out and drive slowly!
Note: The Best Time To Visit Pinnacles National Park is NOT The Summer (It's Not Fun Then!)
The first time Robin and I visited the park was back in August 2017 and we did very little planning or research, which was in hindsight was very stupid. We also live in San Francisco when August is all foggy and low-key forgot that other parts of the state get summer weather.
We did a shuttle service that drove us down to the park. They dropped us off at the West Entrance and we planned to do the Juniper Canyon Trail to High Peaks to Bear Gulch Cave, which took us over the pinnacles and back down the other side.
That day was one of the most excruciating hikes I've down in my entire life. The whole hiked ended up being like, 9 miles one way and a lot of elevation gains, but what really made it painful was that we went in August. When the park easily reaches three digits. That day it was 109 degrees on the rocks and there's little to no shade on these trails.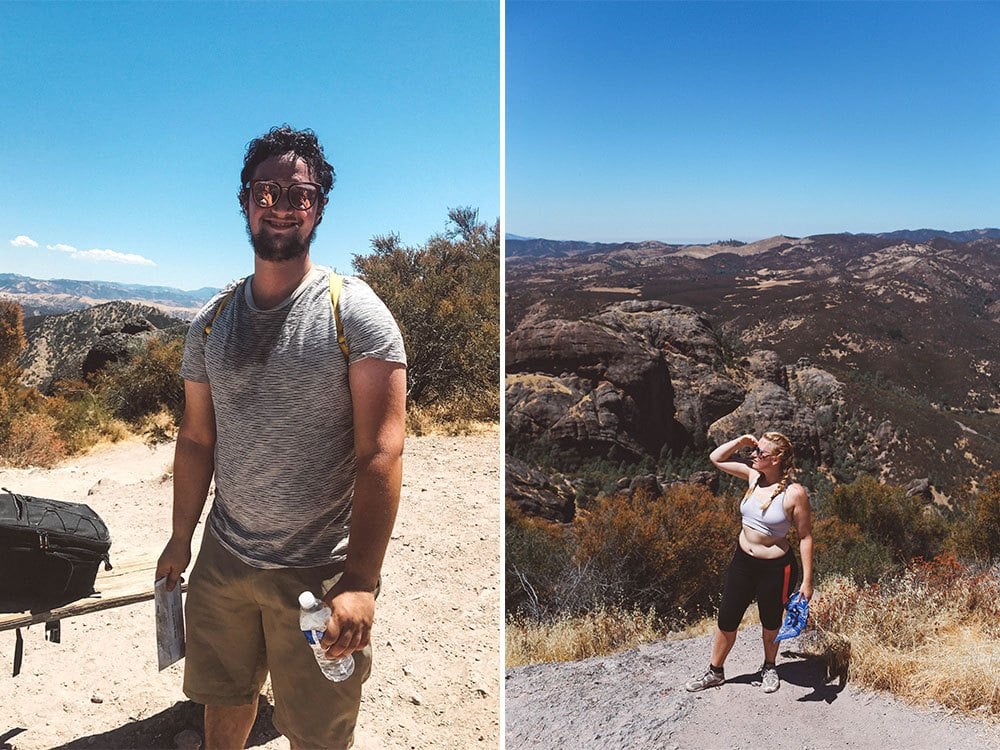 There's also fewer visitor centers and resources like Yosemite National Park has, so we were on our own (and were idiots who didn't pack enough water). We eventually stumbled back dehydrated and hot into the East Side of the park near the Bear Gulch Parking Area only to find out our van's engine overheated so we had to wait a few hours more in the heat while we waited for another van to arrive.
NEVER AGAIN. This time around, Robin and I went camping / hiking the first weekend of May and it was beautiful. I didn't feel like we were dying so I could actually take time to soak up the views, look for condors and enjoy myself. So please, just know it's not like other parks and should NOT be visited in the summer unless you are prepared for the heat. Also, check Pinnacles National Park weather before your day trip to ensure there's not a heat wave.
NOTICE – CAVE CLOSURES FOR BATS
In my opinion, the parts of the park that really makes Pinnacles unique compared to other national parks are the cave systems. The annoying thing is, the caves aren't always open to the public. I never want to be that person who says things that could be on one of those National Park One Star Posters BUT, Pinnacles is a wee bit underwhelming if you can't explore the caves.
So, make sure you're doing your day trip to Pinnacles when at least the lower caves are open. Bonus points if the upper caves are also open! They're one of the coolest things to do in Pinnacles National Park that you can't do anywhere else in the United States that I know of. You can check open dates online ahead of time.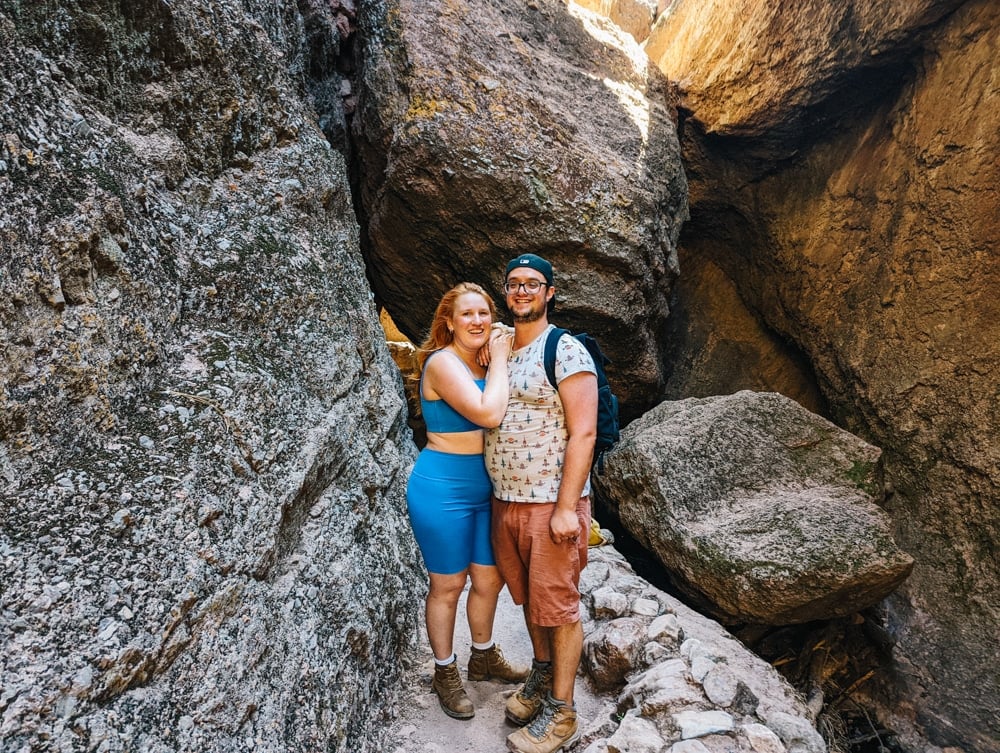 What To Bring With You For You One Day In Pinnacles National Park
Hiking Pinnacles National Park requires a lot of water and snacks, no matter what season you are visiting. You'll also want a headlamp for the caves as it gets really dark in some spots. I don't recommend using your phone as a flashlight as the paths are narrow / you'll want to be hands-free. We saw a LOT of new iPhones at the bottom of crevicess that other hikers dropped. Headlamps are much cheaper than a new phone.
Water bottle (2 per person in warm months) + extra water in car
Electrolytes (we love DripDrop!)
Teva sandals or sturdy hiking boots
Packed lunch
Trail mix + energy bars (we love Clif bars!)
Sweater if visiting in winter
AllTrails downloaded with maps
One Day In Pinnacles National Park Itinerary: Best 7 Hikes, Things To Do & How To Plan Your Day
Now, onto how to structure your day! I added in some variations to trails / hikes so you can tailor the itinerary to your group's skill level.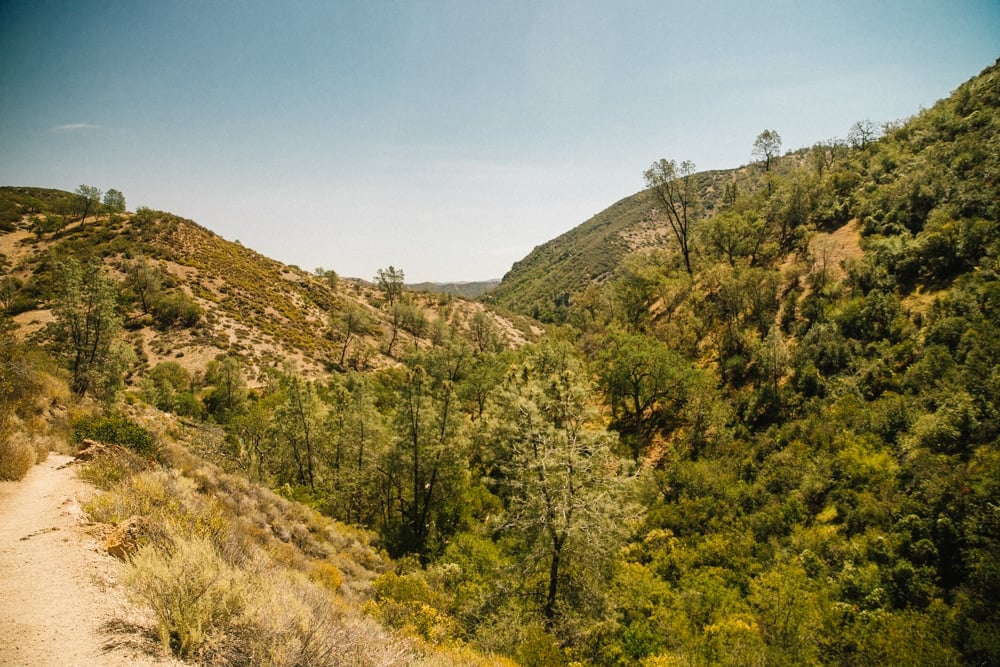 8am: Arrive At The National Park East Entrance
Like with any National Park, beating the crowds is essential for finding easy parking, having fewer people on trails and just being able to soak up nature without other humans. Pinnacles is smaller than a lot of other parks which means the parking options are also limited.
They do have a weekend shuttle that runs from the East Pinnacles Visitor Center up to the Bear Gulch Parking Area if you need it, but plan on getting to the parking lot around 8am when there shouldn't be many cars.
8:30am-10am: Bear Gulch Trail to Bear Gulch Reservoir
Once you park, follow the signs for Bear Gulch Reservoir / Caves. It's a short hike up to the base of the caves (again, make sure they are open for your Bear Gulch day and if the gates are closed by the National Park Service, do NOT jump them. The bats need peace!)
Exploring Bear Gulch Cave Trail is so much fun! This has always been the highlight of my trips to Pinnacles. These Talus caves are different than the Lava Tube Caves up in Oregon since they start at the base of the rocks and you have to hike up and through them. You'll gain a lot of elevation in the caves and pop out with a great view.
The caves aren't totally dark as light peep through in some spots, but they are pretty dang dark so make sure you have those headlamps. Expect a narrow staircase to climb (another reason to get there early so you aren't waiting for people to cross!) and a small area you will have to small on your knees to pass. But it's not that bad.
The caves are an incredibly cool experience I think this is one of the best hikes in Pinnacles National Park for all ages, skill levels and seasons. We saw children and the elderly do this hike, though it can be rough for them to do fast, so plan on doubling the estimated time if you have those folks with you.
Note: I've never been to the park when the Upper Caves are opened (just the lower caves). If they are open when you visit, modify this itinerary so you can explore those caves before moving on to the next step. If both the caves are closed, you can still hike to the reservoir via the Moses Spring Trail.
10am: Rest At
Bear Gulch Reservoir
We're 30 years old but by the time we finished climbing our way through the caves, our bodies were tired and already getting sore. You'll know you're near the Bear Gulch Reservoir when you reach the iconic giant rock that is wedged between the cave walls. Stop to take some photos here! There's a steep, narrow staircase that goes up and at the top you'll pop out to the water.
Up here is such a nice place to pause for a water break, snack break and to catch your breath. Pick a spot anywhere to lounge out and rest, though keep an eye on the squirrels up here. They're conditioned for humans already and WILL steal your food. One tried to steal my phone since it thought it was a snack.
No swimming is allowed in the Reservoir. As a water bug, I love finding spots in parks for a swim – like at the Alpine lakes in Lassen National park. But, no swimming is allowed here so don't hop into the water.

10:30am-Noon: Finish Rim Trail Loop
Ok, after your rest it's time to keep heading up the Rim Trail into the Pinnacles and back down to the visitor center. This 2.5 mile is a loop that will take you back down to the Bear Gulch Visitor Center / the parking lot you parked in.
You'll start to get some really nice views of the rocks here and pass a few famous spots like Teacher Rock so make time to pause and soak in the views. If it's getting really hot out when you visit and you don't want to be in the sun longer than you have to, I suggest you go back down via the caves so you can hit them up twice! And be in the shade.
Optional 10:30am-1:30pm: High Peaks Trail to Condor Gulch Trail ( ~5.5 miles round trip )
We love hiking but we're not like, crazy intense hikers. I also think that the first grueling experience in the park scared us so we didn't go on the Hike Peaks Trail again on our last visit. BUT, if you're looking for a long hike in the park, do The Condor Gulch – High Peaks Loop instead.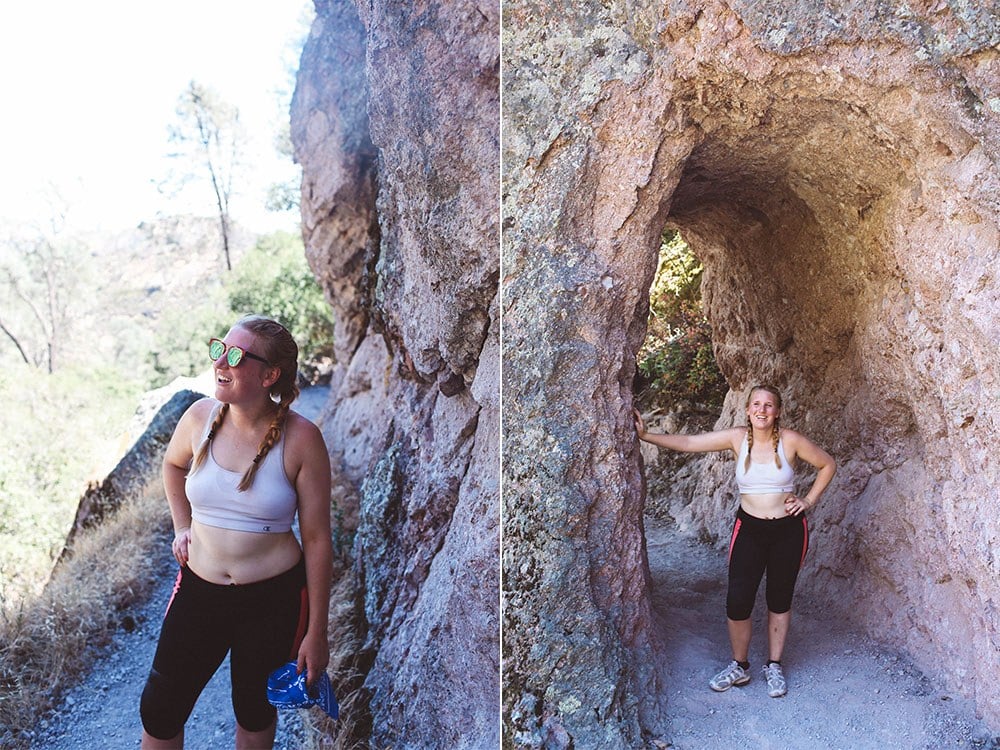 You'll hop on the Rim Trail at the Reservoir and then hang a left onto the High Peaks Trail. It loops up and around with insane views, and connects to the Condor Gulch Trail. Take this trail – it'll eventually start going downhill and spit you back right at your car. If you do this, plan on it taking you at least 3 hours.
One of the classic things to do at Pinnacles National Park is birdwatch for wild Condors. If you do this long loop, you'll pack the Condor Gulch Overlook as you come back down! As per the name, this is a great spot to try and see some wild California Condors. As of 2020, only 504 California condors remain living wild or in captivity so they are a special site to see.
Noon-1pm: Picnic Lunch At Bear Gulch
Lunchtime! You should have packed in sandwiches, or whatever you love for a picnic. I recommend keeping it in the car in a cooler and then using one of the many shaded picnic tables at Bear Gulch to rest and eat. They have water spouts to refill on water along with bathrooms.
After lunch, it's time to head over to the West Park Entrance for more hiking!!
2:30: Arrive At West Entrance
It takes about 1.5 hours to drive from the East side of the park to the West Side's Chaparral Parking Area. Again, this is the annoying part of the park. They don't offer shuttles to the other side so if you choose to hike across the peaks, you have to double back to return to your car (that's like, a LOT of up and down hiking – but I do recommend a trail below if that's your thing!)
But, perhaps the more enjoyable way to explore the East Side of the park is driving over there. While the East has Bear Gulch, the West has The Balconies Cave Trail. More Talus Caves to see!!!
2:30pm-4pm: Balconies Cave Loop
The Balconies Cave loop trail is about 2.6 miles in and out to complete. You'll want to go left/clockwise around this loop as it's a bit easier with less UP and more DOWN. Just with the other caves, you'll want to bring your headlamps for this and get ready for a lot of crawling, climbing and squeezing around rocks.
As you can probably tell, I'm very obsessed with these Talus Caves. I can't get enough of them so I think it's totally worth it to visit both of the cave systems Pinnacles has to offer. Balconies is small but more treacherous, so you can really feel like you are spelunking in this one. I love it!!!
The nice thing about the West Side is it has a large parking lot and doesn't always attract the same level of crowds as the East. Plus, it's just a 25-minute drive to the town of Soledad which has hotels, restaurants and wineries for post-hike wine tasting.
OPTIONAL 2:30-5pm: Old Pinnacles Parking Lot To Hike & And Out
If you didn't want to drive over to the West Side, you can instead stay on the East Side and do a long in and out hike to the West Side via the Old Pinnacles Trail. It's a 5 mile trail and the easiest way to hike from the East to West side as it's pretty flat most of the way.
Always know your body's limits. Doing the Bear Gulch, High Peaks AND Old Pinnacles to Balconies Trail is a LOT of hiking in one day, especially if it's hot out. Stay safe!
4-5pm: Head Home (Or Go Wine Tasting!)
After your time exploring the Balconies Trail, it's time to wrap up your mega one day at Pinnacles National Park! From here, you can hop back into your car at the Chaparral and drive home. OR, you can stick around Soledad for a little wine tasting before heading home.
We recommend Hahn Family Wines, Smith Family Wines or Wrath Wines for a wine tasting stop after your hike. It's such a nice way to close out a day in the park. Soledad also has restaurants and markets if you wanted to grab a bite to eat before heading home.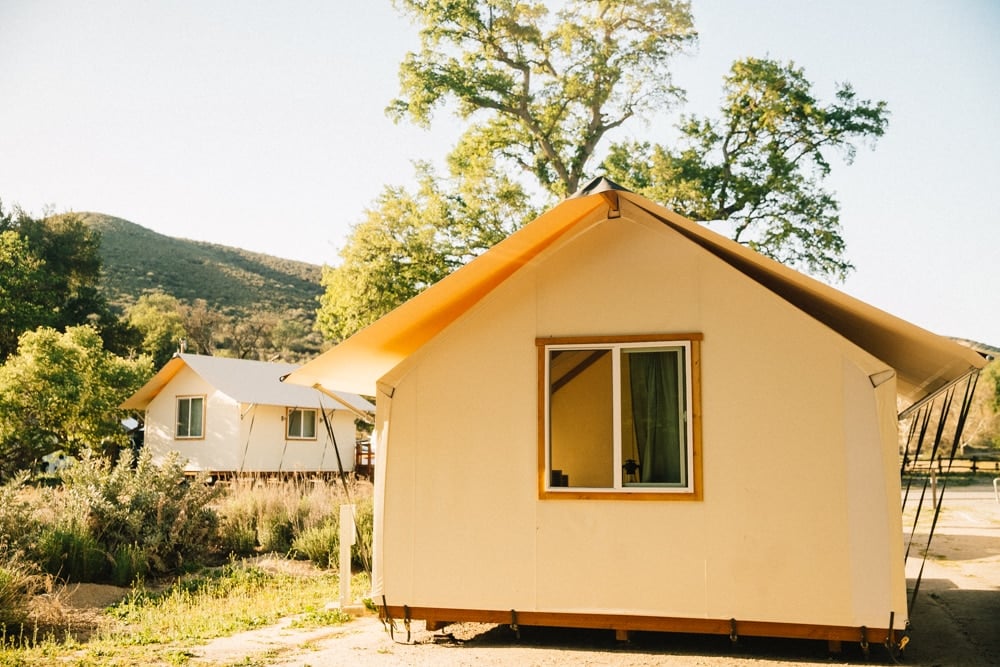 What To Know If You Are Camping At Pinnacles National Park Campground
Want to extend your Pinnacles National Park day trip to an overnight? Try camping! There is only one campground at Pinnacles and it's on the East Side. Robin and I spent a night two nights here our visit to Pinnacles in one of their new glamping tents which was super fun. But they have tent campsites and RV campsites, too.
Personally, I loved the glamping tents. They were much nicer than the Yosemite Half Dome Village glamping tents and had outlets to charge devices, a space heater, fan, windows that opened, a lamp and chairs. Because the park gets so hot in the day, even in May, it was nice to have the fan running to cool it off before we went to bed.
This campsite also has the only swimming pool in any national park across the country. It's small, but on a hot day it's really refreshing to jump into. Like with most camping in California, sites reserve quickly so make sure to plan well in advance if you want to stay here.
It's really wonderful. I love sitting around the fire after the long day hiking in the park and watching the sunset over the Pinnacles. And, the campground keeps it dark to avoid light pollution which means you can see crazy cool stars at night.
Note: the Pinnacle visitor center doubles as the camp store. Unlike other California national parks we've visited, this campsite doesn't sell alcohol. Want 3 different kombucha selections or a vegan energy bar? They have that, but no booze. So bring in everything you may want to drink.
Frequently Asked Questions About Visiting Pinnacles National Park
How Long To Spend At Pinnacles National Park? I honestly think a Pinnacles day trip or weekend trip with camping at the park is enough time. It's a small park, you can reasonably do all the best Pinnacles hikes in 1 day or 2 if you want to spread them out.
How To Get To The Pinnacles: It's in the middle of Hwy 101 and Hwy 25, about 1.5 hours South of San Jose.
How Far is San Francisco to Pinnacles National Park? It took us about 2.5 hours to drive from San Francisco to the National Park Pinnacles East Entrance (through Hollister).
Where Can I Download the Pinnacles National Park Hiking Map? You can view the park trail map system here.
Is There Cell Service Or Wifi? No. Some National Parks have cell service and/or free wifi at visitor centers. Neither of us had any bars in the park, and the visitor center / camp store charges a fee to use their wifi. That's ok – you're in a park! You don't need to look at TikTok. Just make sure to plan ahead by saving this guide, downloading maps offline and anything else you may need.

Which Is The Best Pinnacles National Park Entrance? As we covered above, I think the East Entrance is the one that is the most enjoyable to visit and do you one day trip at. The West Pinnacles side has fewer trails and caves to explore and since it takes over 1.5 hours to drive from one entrance to the next (or like, a 9 mile hike one way) it's best to pick a side.
What are fun things to do near Pinnacles National Park? Pinnacles is kind of out there, but as I mentioned above Soledad offers wine tasting as an activity to do afterward. There is a nearby horse ranch on the East Side that offers trail rides which I haven't done but looks cool.
I hope this helps you plan an epic one-day in Pinnacles National Park trip!! If you have any tips to add, please drop a comment below so everyone can see them. Got questions? Comment or me on Instagram @thewhimsysoul and I'll try to get back to ya!