Hello from Scottsdale! Robin and I are here in Arizona for a few days with the Experience Scottsdale tourism team. We LOVE Arizona – it's basically become our go-to "back yard" to play in, and Scottsdale is probably my favorite city in the state.
It's colorful, quirky, but still has tons of nature. And of course, some of the best margaritas in the country!! To match the colorful vibes here in Scottsdale, I packed a lot of color and decided to GO BIG on our first night here for dinner.
I dressed in this bright red and pink combo with yellow heels and a straw purse I picked up in Cabo last month. Both are lightweight fabrics that are perfect for the desert heat and made it easy to wear this in the hot afternoon through the evening for dinner.

I love pairing pink and red together, especailly in the fall and for holidays. A lot of people think they are a Valentine's Day only combo but I just love how pink and red work together (heck, some of my blog's colors are pink and red!!)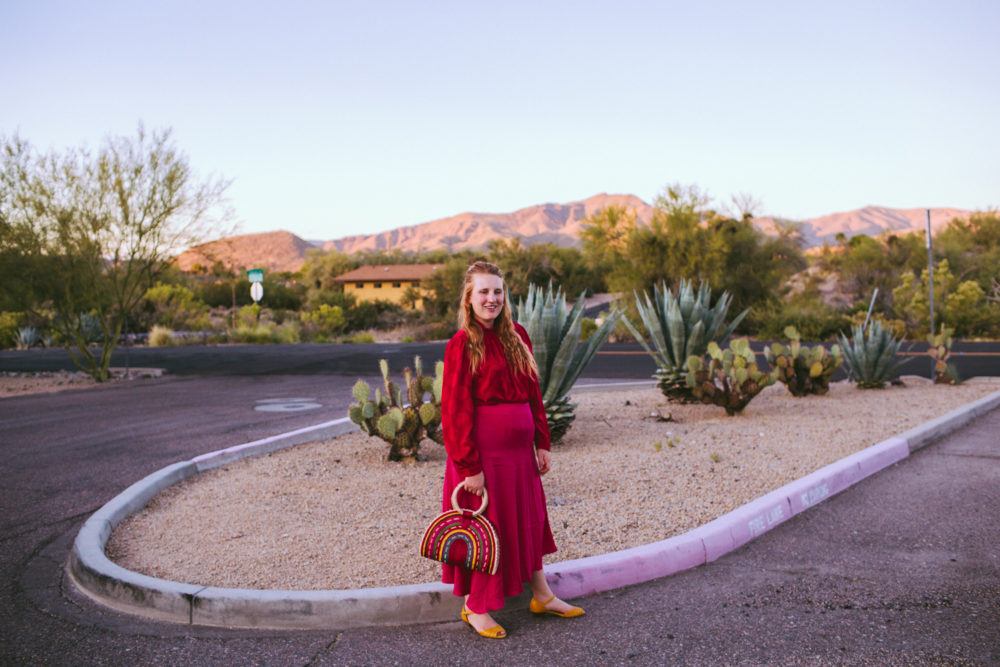 Today I spent time at the pool between getting settled into Scottdale (and eating a lot of food!) The team has us doing a lot of fun things we haven't done in this area before. Check out my Scottsdale city guide for suggestions of fun things to do during your first time to the city!