Unlike Northern Arizona, Scottsdale is all about sunshine, palm trees, cacti towering over your heads, poolside afternoons and champagne.
A quick flight from SFO and suddenly we're walking through the doors of Hotel Valley Ho's colorful decor and courtyard palm trees. From short weekend trips, to Bachelorette parties, holiday festivities or long stays for an escape from reality, Scottsdale is my newest favorite city to visit.
My Scottsdale, AZ travel guide is jammed packed with the best eats, top things to do and my favorite hotels. It leans heavy on holiday-related activities, as we went a couple weeks before Christmas, but fear not! Scottsdale is charming year-round and I promise you'll still find great idea nuggets from this guide. Read on to find my quick list highlights, day-to-day itinerary and then my suggested packing list!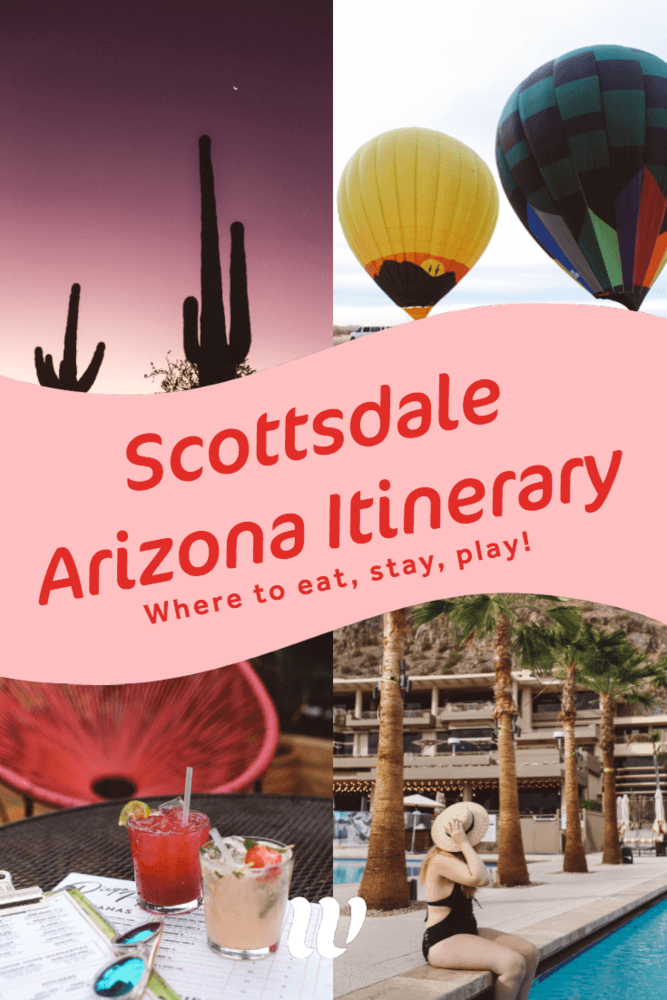 DAY ONE
Airport to Scottsdale
Phoenix and Scottsdale are right next to each other. It's about a 15-minute drive from the airport to Scottsdale, so take an Uber or Lyft for a quick ride into town!
Hotel
During our visit, we stayed at both Hotel Valley Ho and The Phoenician. Valley Ho has been around since the 50's and is full of midcentury charm, a colorful pool area and has easy access to downtown/Old Town Scottsdale if you plan on going out into the town a lot.
The Phoenician is 5-star luxury. It's grand and stunning and located right at the base of Camelback, a bit farther from town. Either one is a great option! There are also a handful of really cool Airbnbs in Scottsdale that are great if you are traveling in groups.
LimeBike
The easiest way to tour Scottsdale is by LimeBike, the bike-sharing program. Your first 5 rides are free and from there, it's only $1 a ride. OR, if you plan on biking more than 7 times, I suggest getting the 100 rides for 14 cents a ride. They're everywhere and really easy to use, plus Scottsdale is very safe to bike.
Lunch
For lunch, beeline to Diego Pops. Either rideshare, or grab a LimeBike. I fell in love with the eclectic decor at DiegoPop at first sight. Make sure to sit on the patio to enjoy the weather if it's not too hot. I suggest ordering one of their house-made margaritas, the Brussel sprouts nachos and the California burrito – make sure to try all the house-made sauces as well!
Poolside
Every good vacation starts with some quaintly r&r next to the pool. Hotel Valley Ho's OH Pool can be a big party and The Phoenician is grand and sprawling. Bring your sunscreen and relax!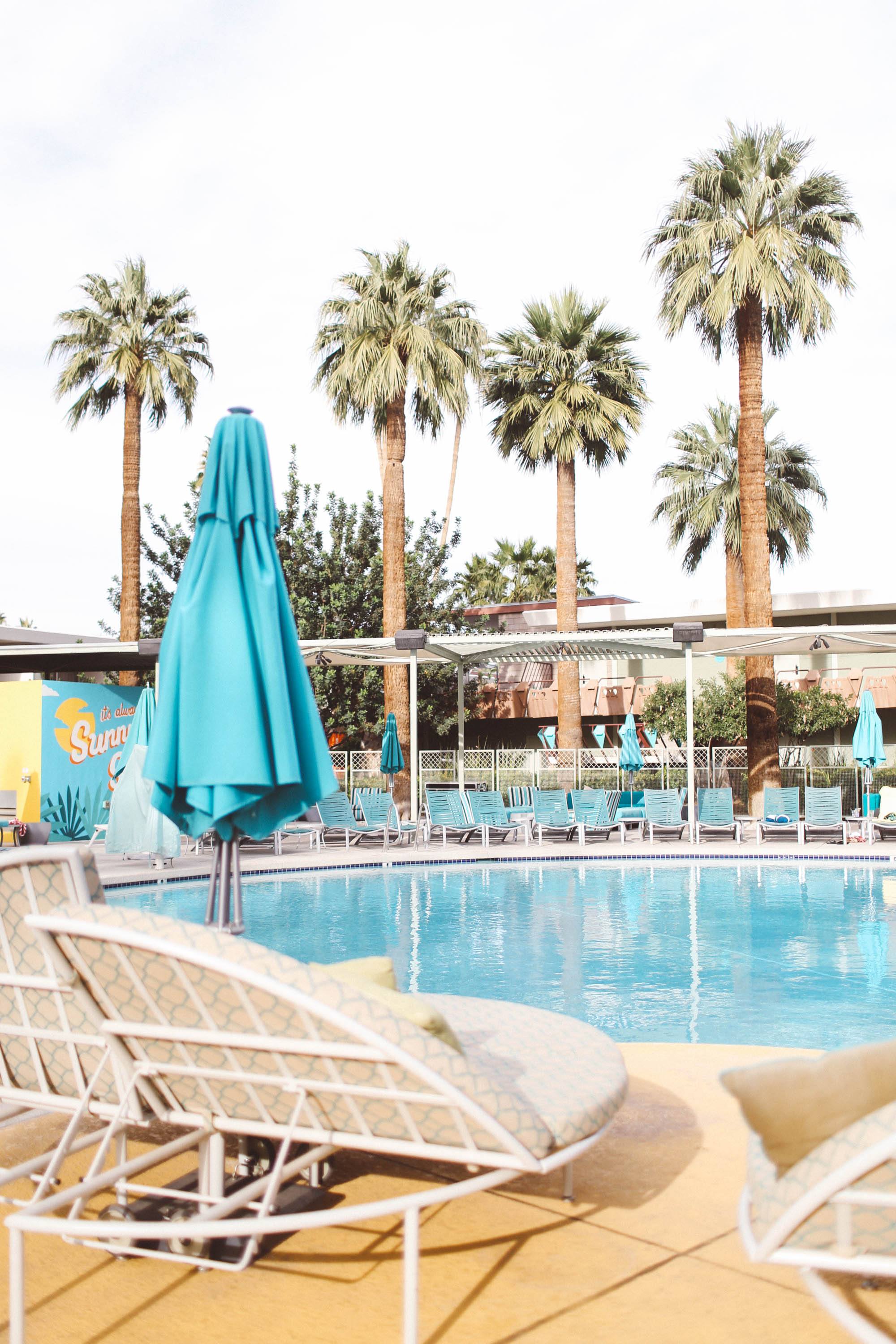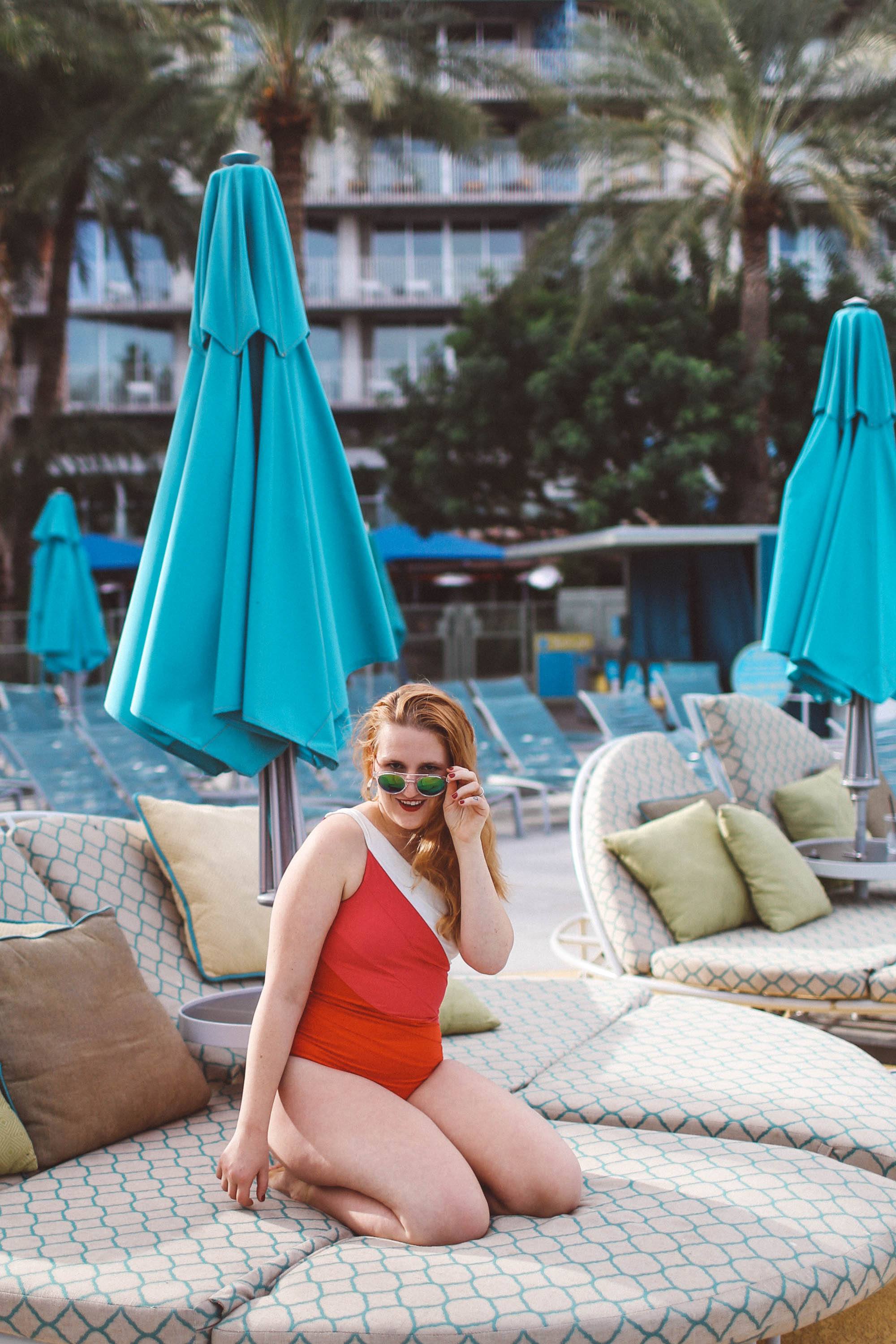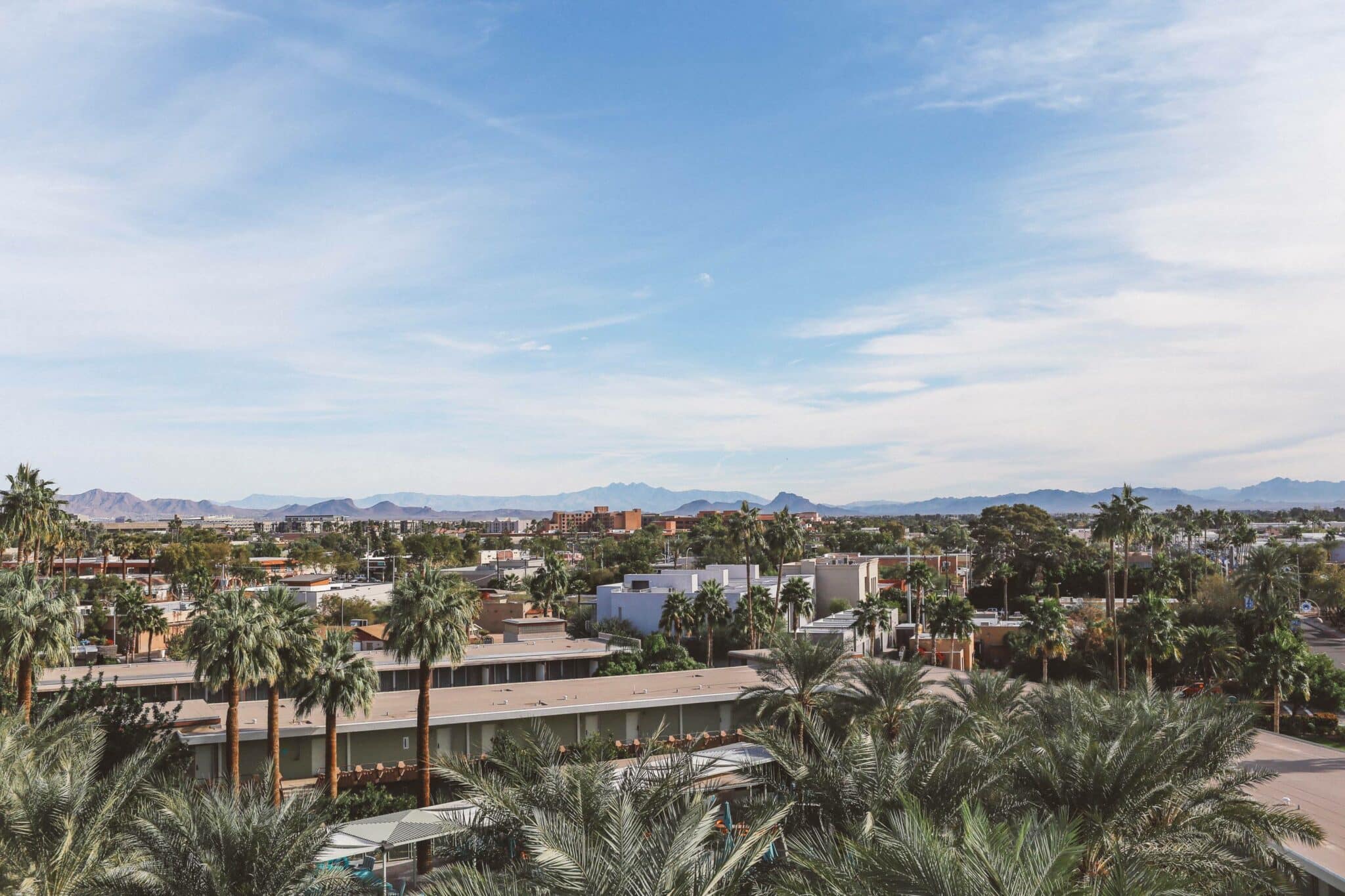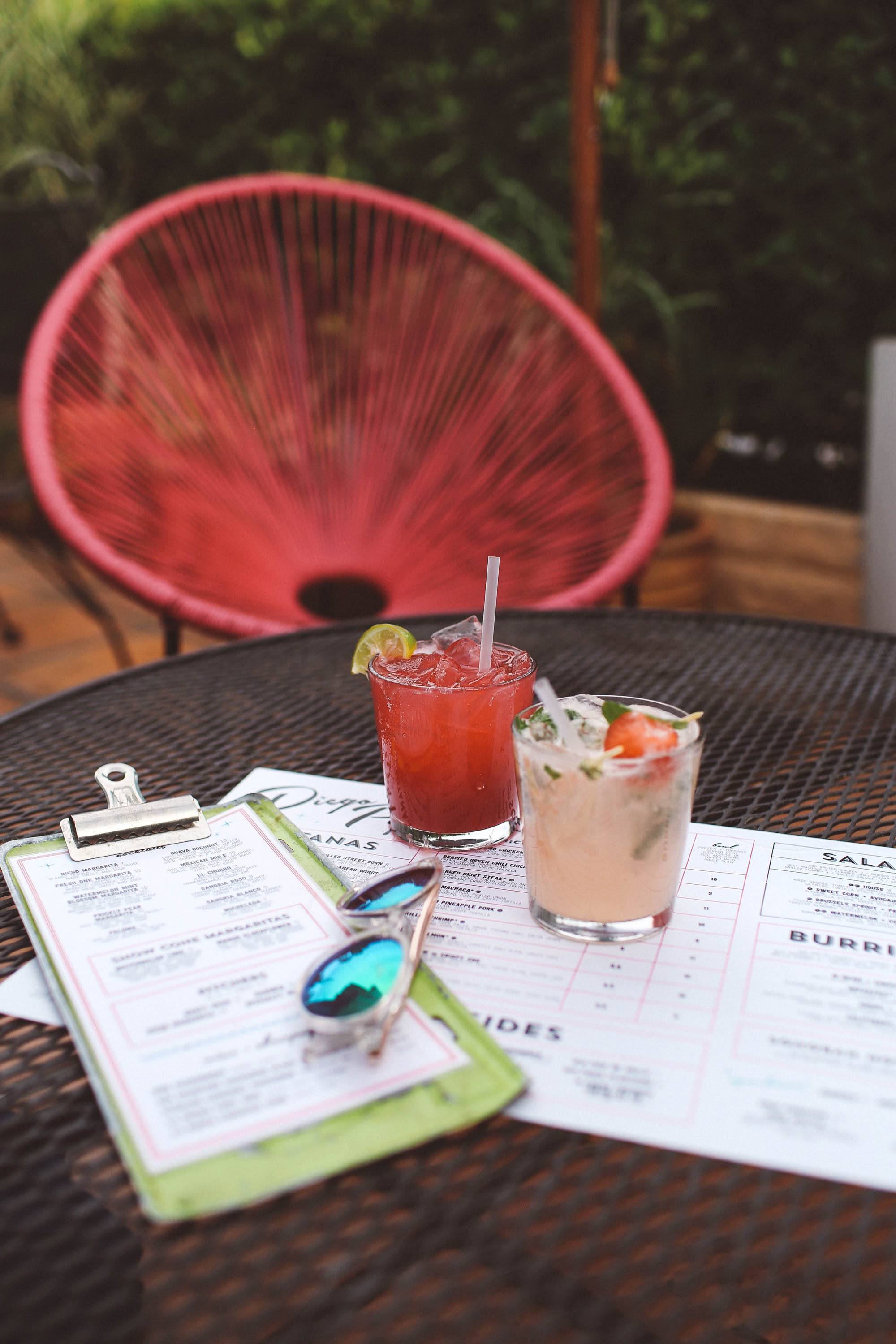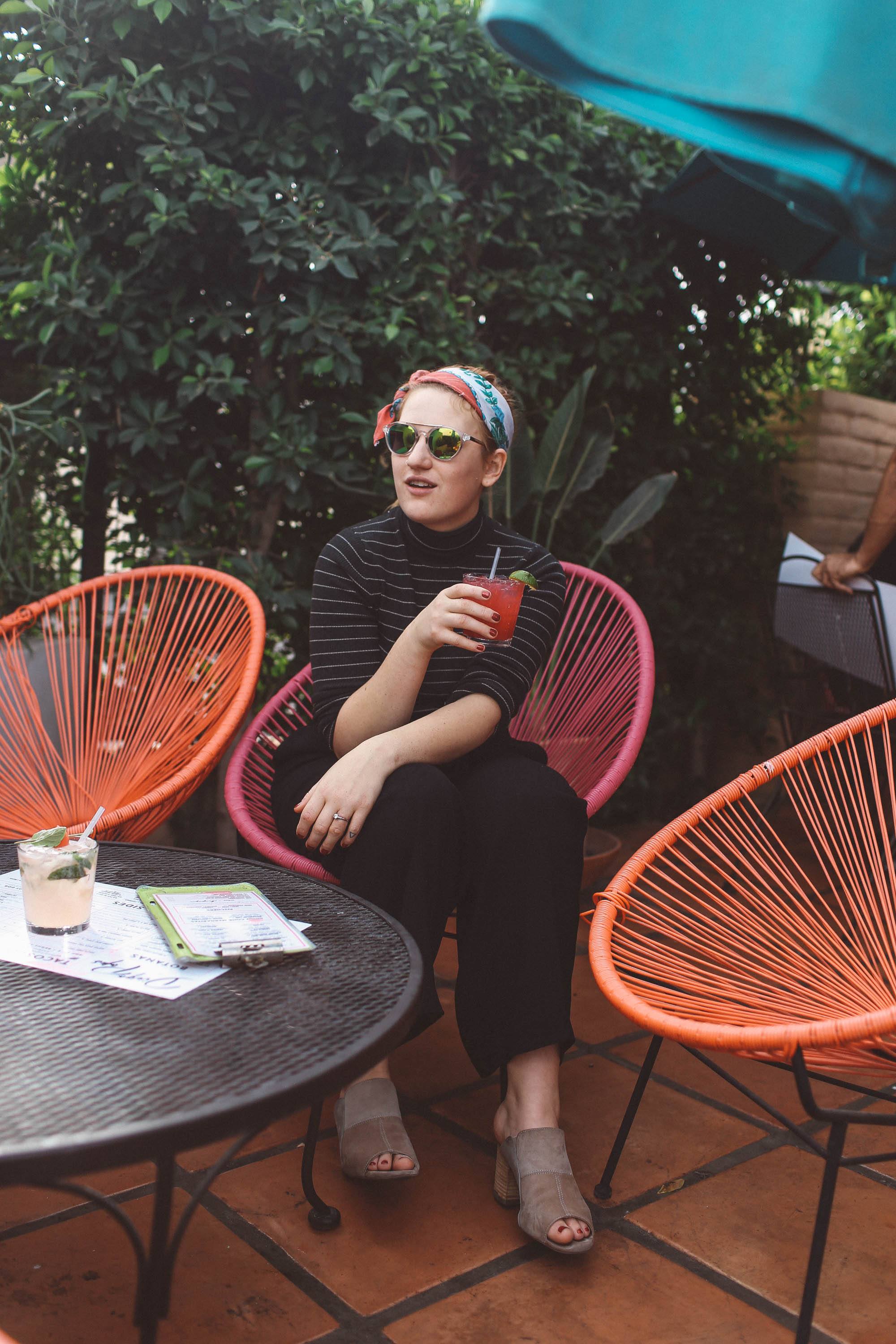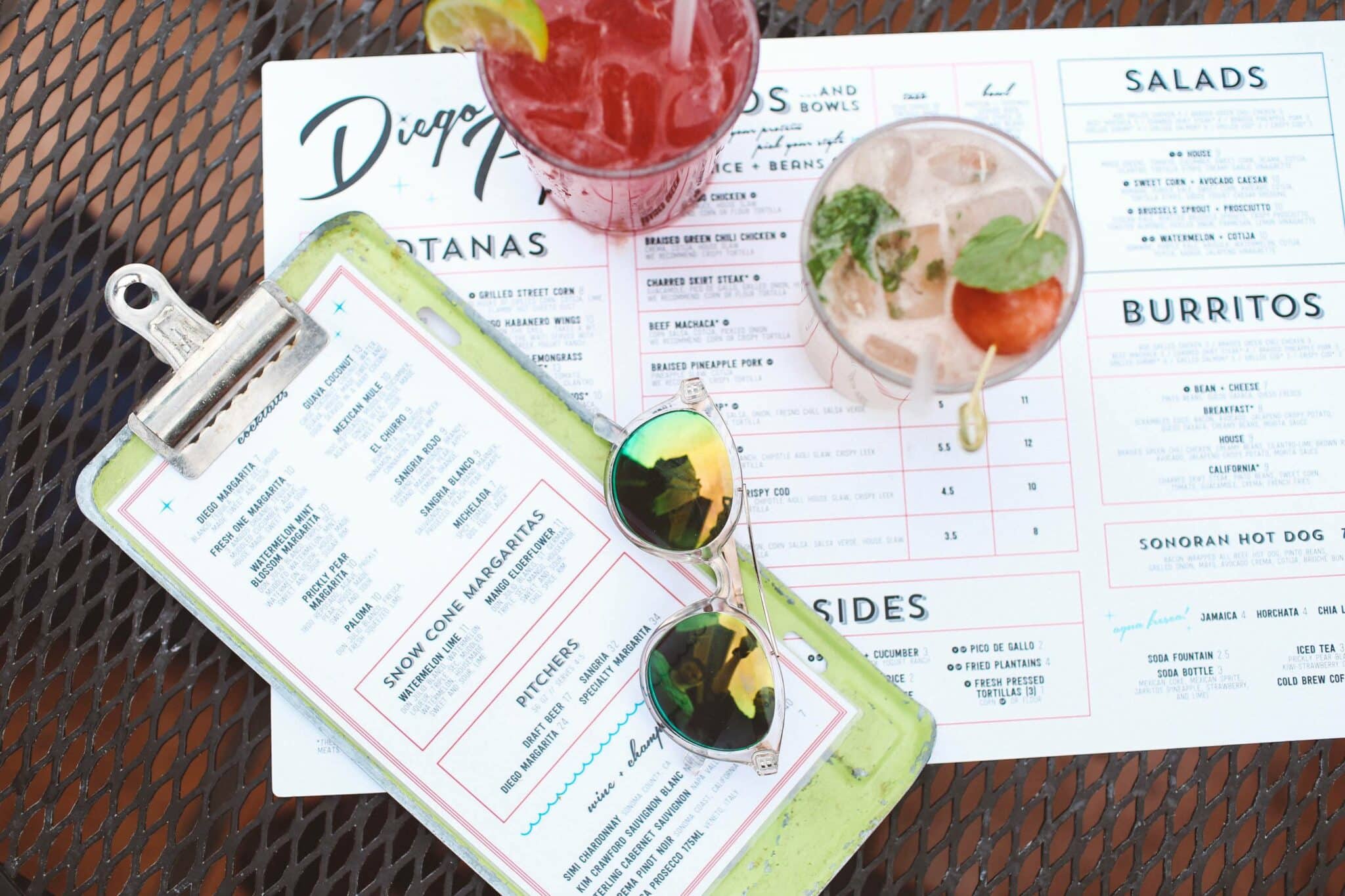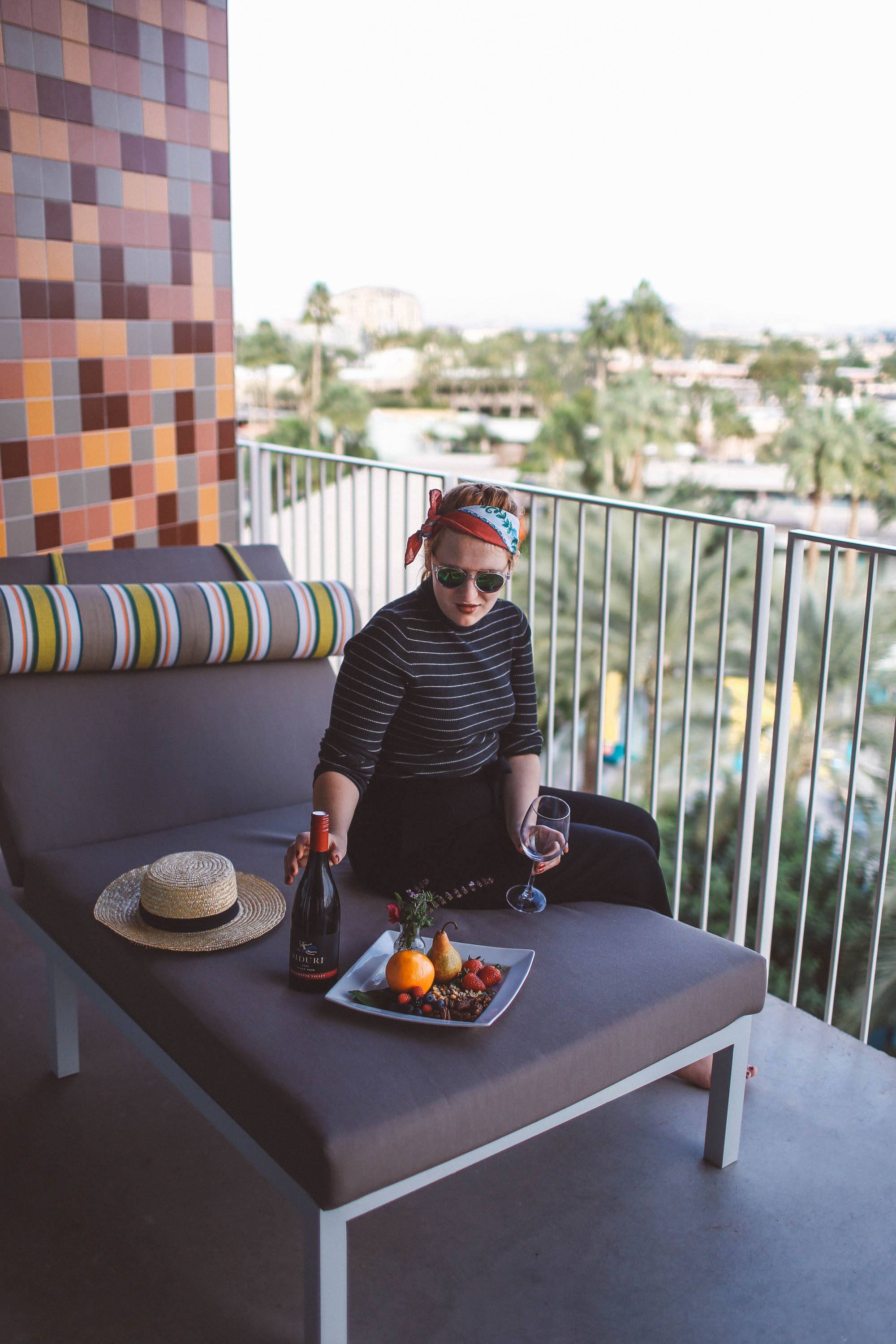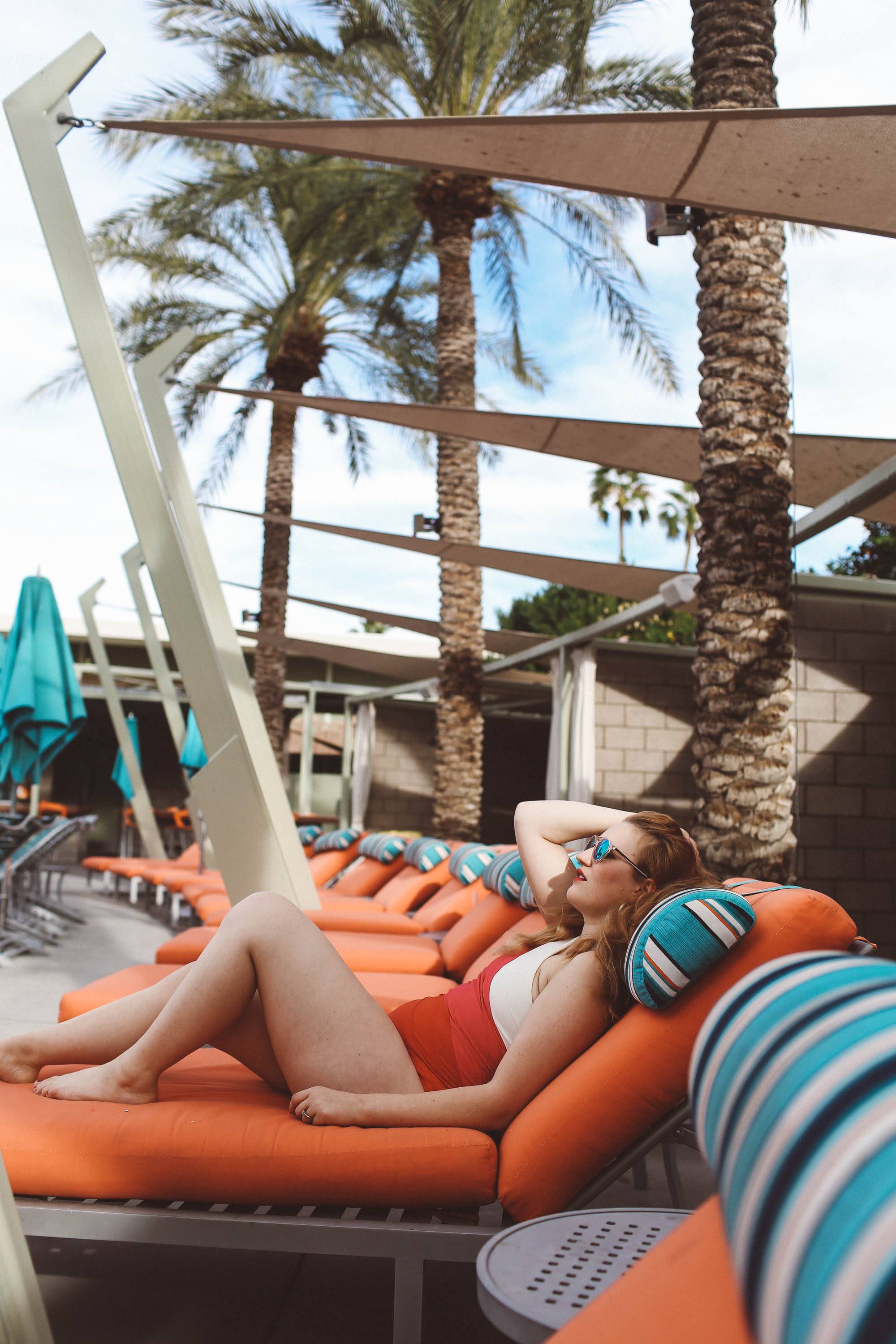 Soleri Bridge
Before dinner, swing by the Soleri Bridge to see all the pretty Christmas decorations and the cool art installations up. Gets you in the holiday spirit!
Dinner
Mountain Shadows Resort, in Paradise Valley, is known for their Sunday Supper Clubs at the Hearth61 restaurant. One Sunday each month is set aside for a 4-course dinner and wine pairings night. We came on the Battle of Champagnes – Napa vs France, so of course, we had a blast comparing Califrnoain bubbly to the classic French styles. If you are looking for a unique way of dining, make sure to head to one of these supper clubs. They're pretty generous on the wine as well.
Las Noches de las Luminarias
After dinner, head to the Desert Botanical Garden for the Las Noches de las Luminarias! Offered a few weekends in the holiday, this event transforms the whole garden almost into that scene from Tangled. Paper lanterns light the trails, cacti are strung with lights and there are a lot of different bands in corners. From holiday music to rock, grab a glass of wine and stroll the garden under the stars.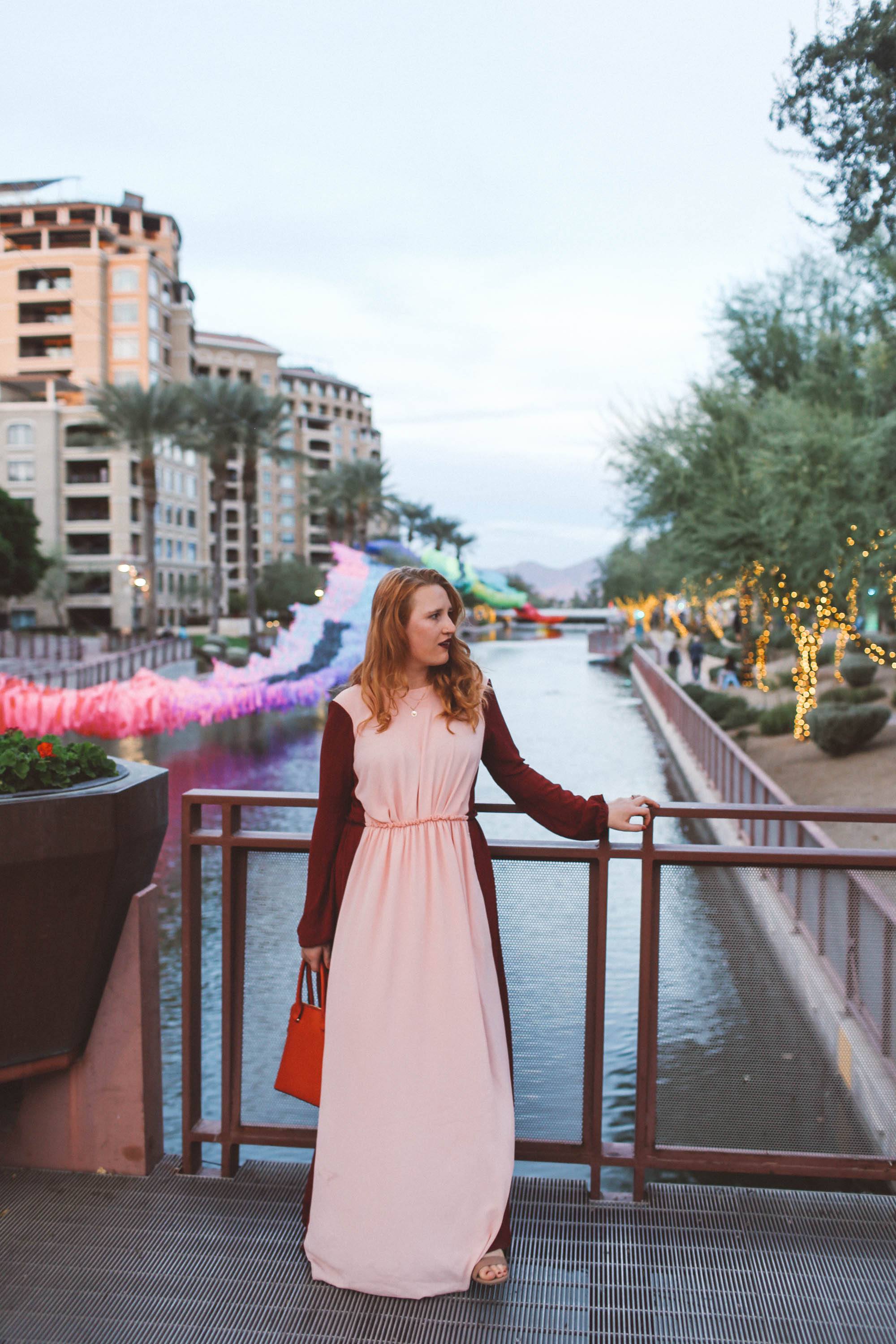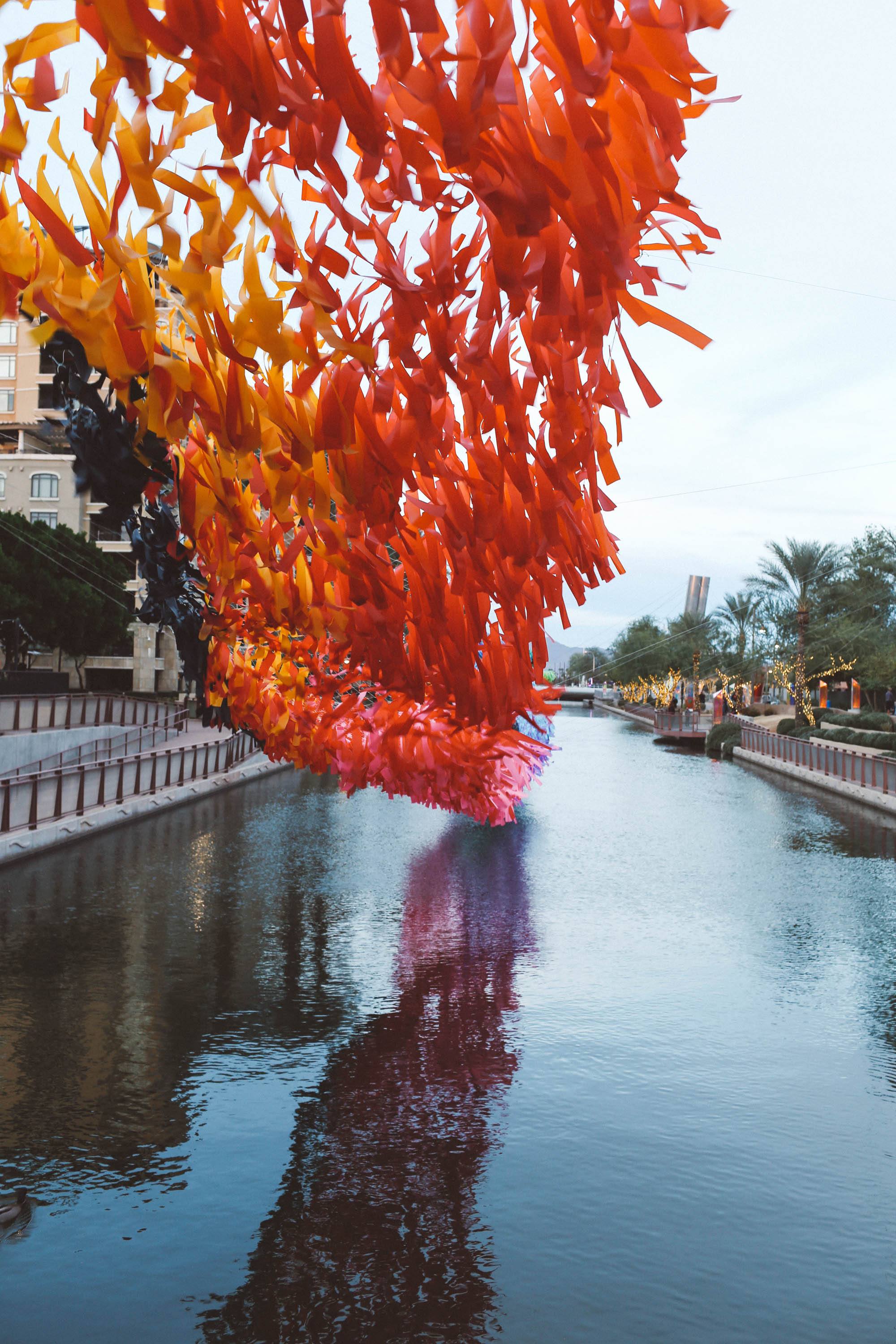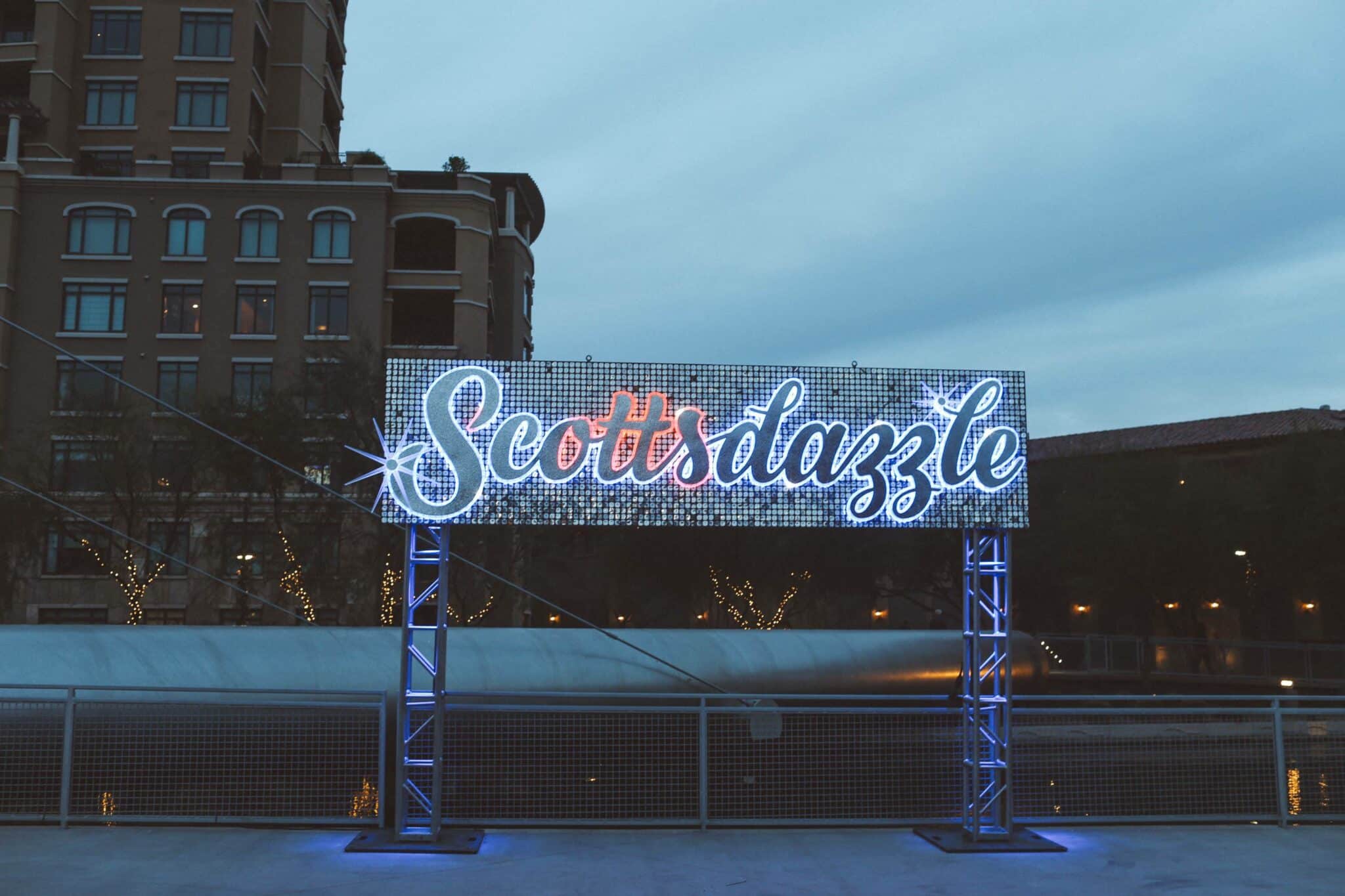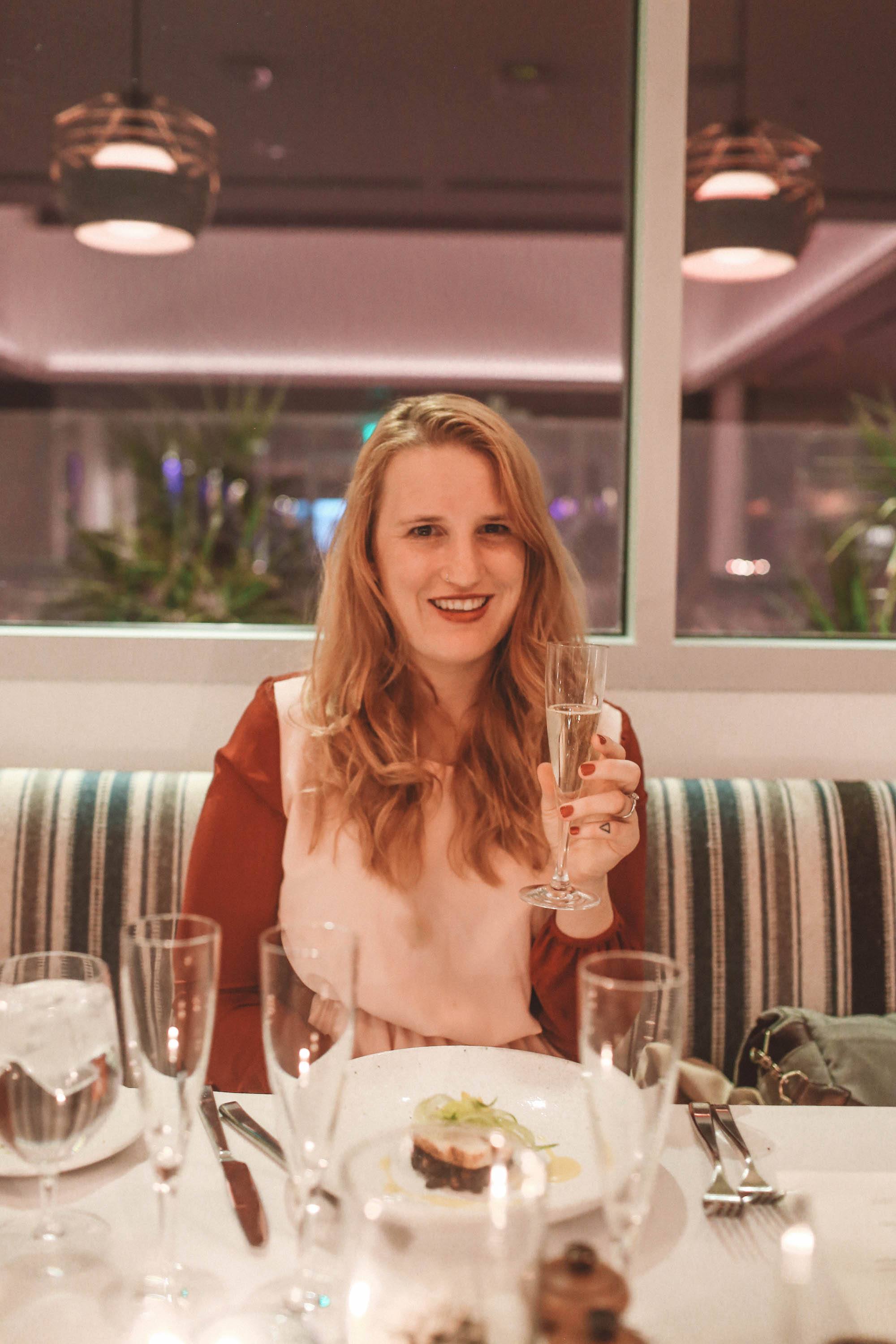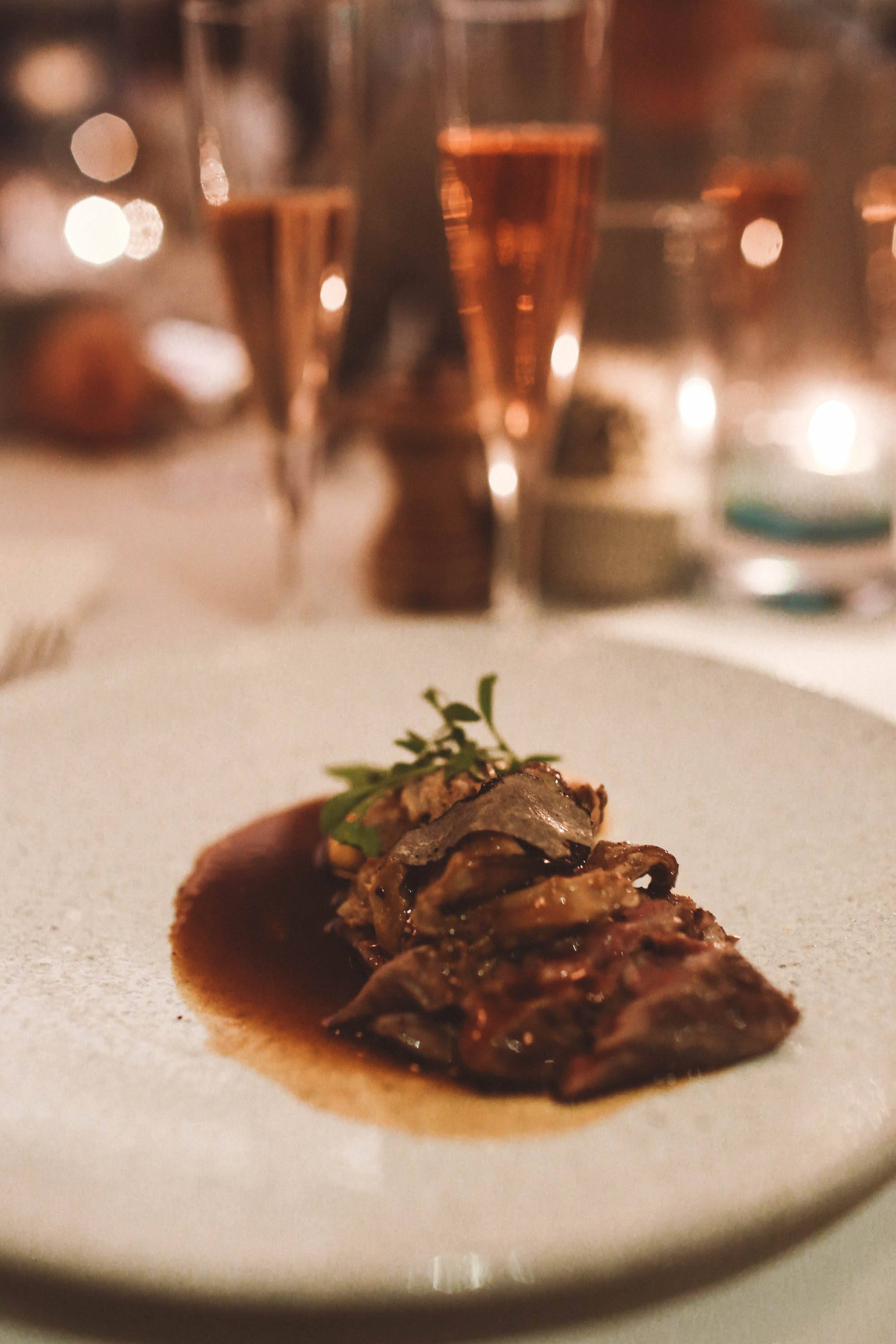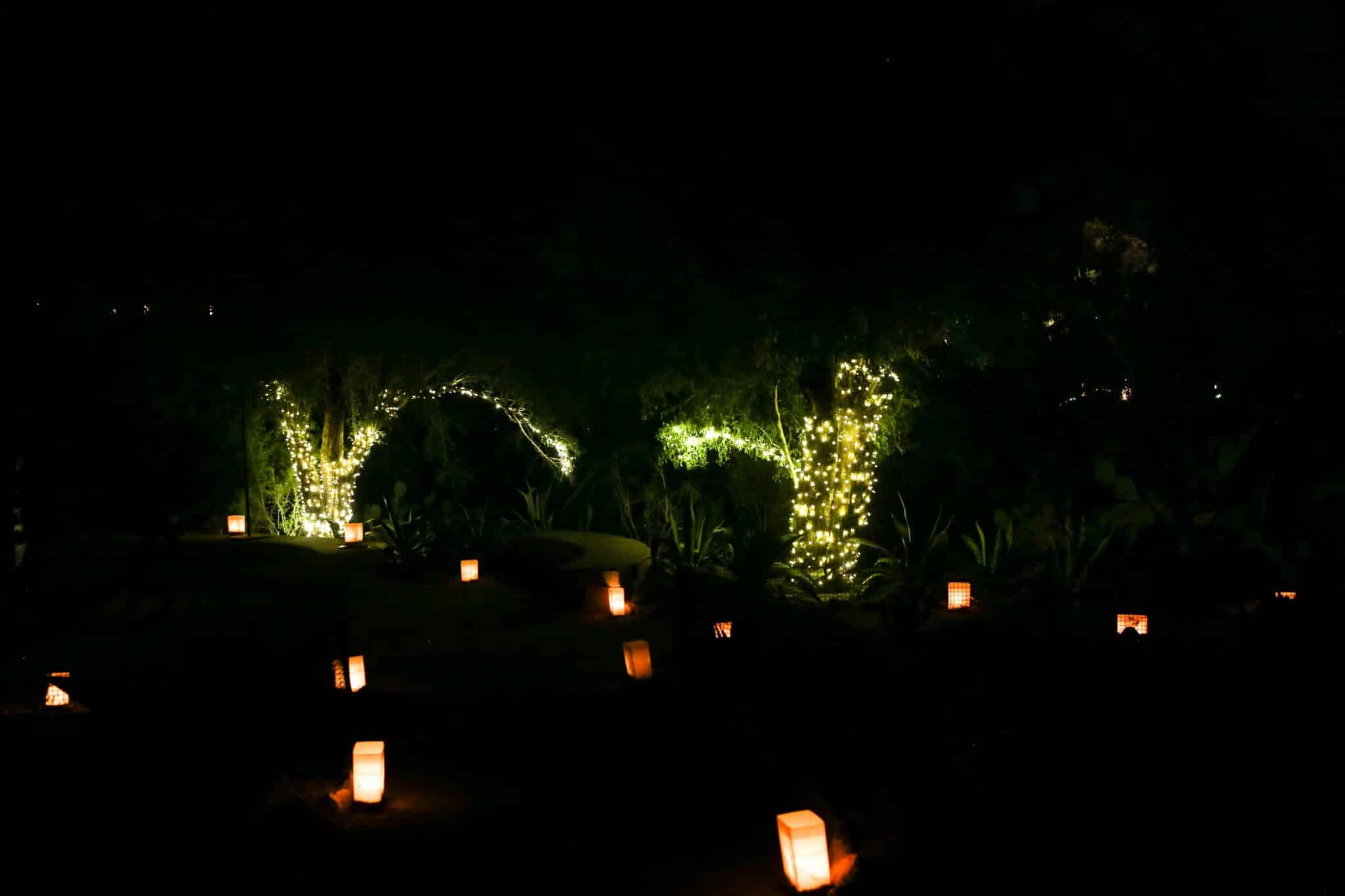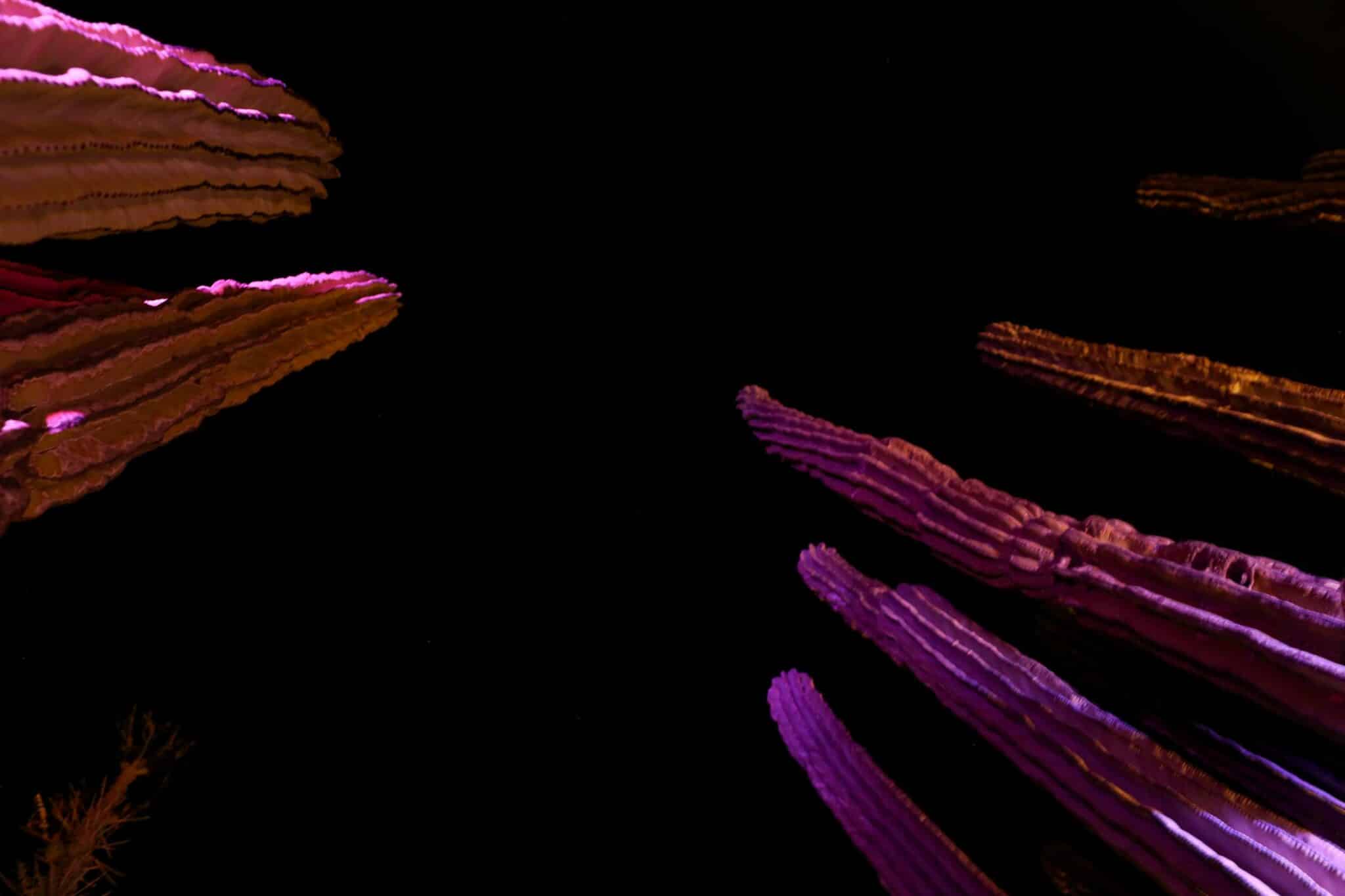 DAY TWO
Hot Air Balloon Ride
You'll have to get up before sunrise, but it's worth it, I promise! We flew with Hot Air Expeditions and couldn't be more impressed with safety, education about the area and the ease of the ride as a whole. My favorite part was watching the balloon fill up with air and jumping into the basket, ready for adventure. So happy to finally check this off my bucket list! This company ends you with a light breakfast and bubbly served wherever your balloon lands. That's right – they whip out tables and set everything up so you can have breakfast in the desert!
Farm & Craft
For lunch, I suggest heading to Farm & Craft. The cute yellow chairs are begging for an Instagram photo, plus their food is fresh, local and tasty. I loved my Greek Salad, Robin got the burger. We both tried the Matcha Mule which was like nothing I've ever had before.
Bike Downtown
LimeBikes are so easy to rent and use! Use this time to cruise around Old Town Scottsdale to see all the cute western-is style shops, art galleries, and restaurants.
Poolside
You know I love the pool… in the afternoon, make sure to set some time aside to relax and get some sun.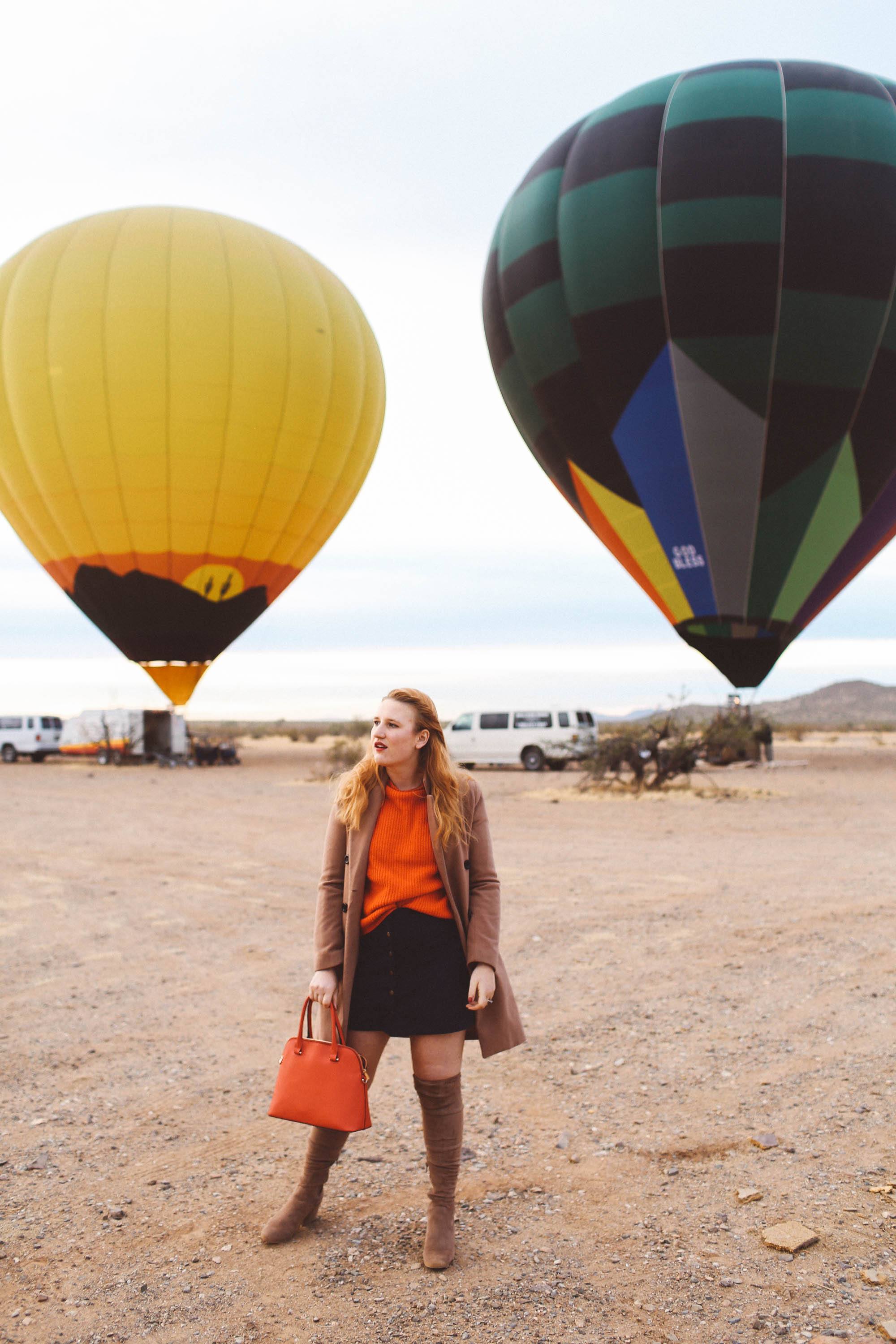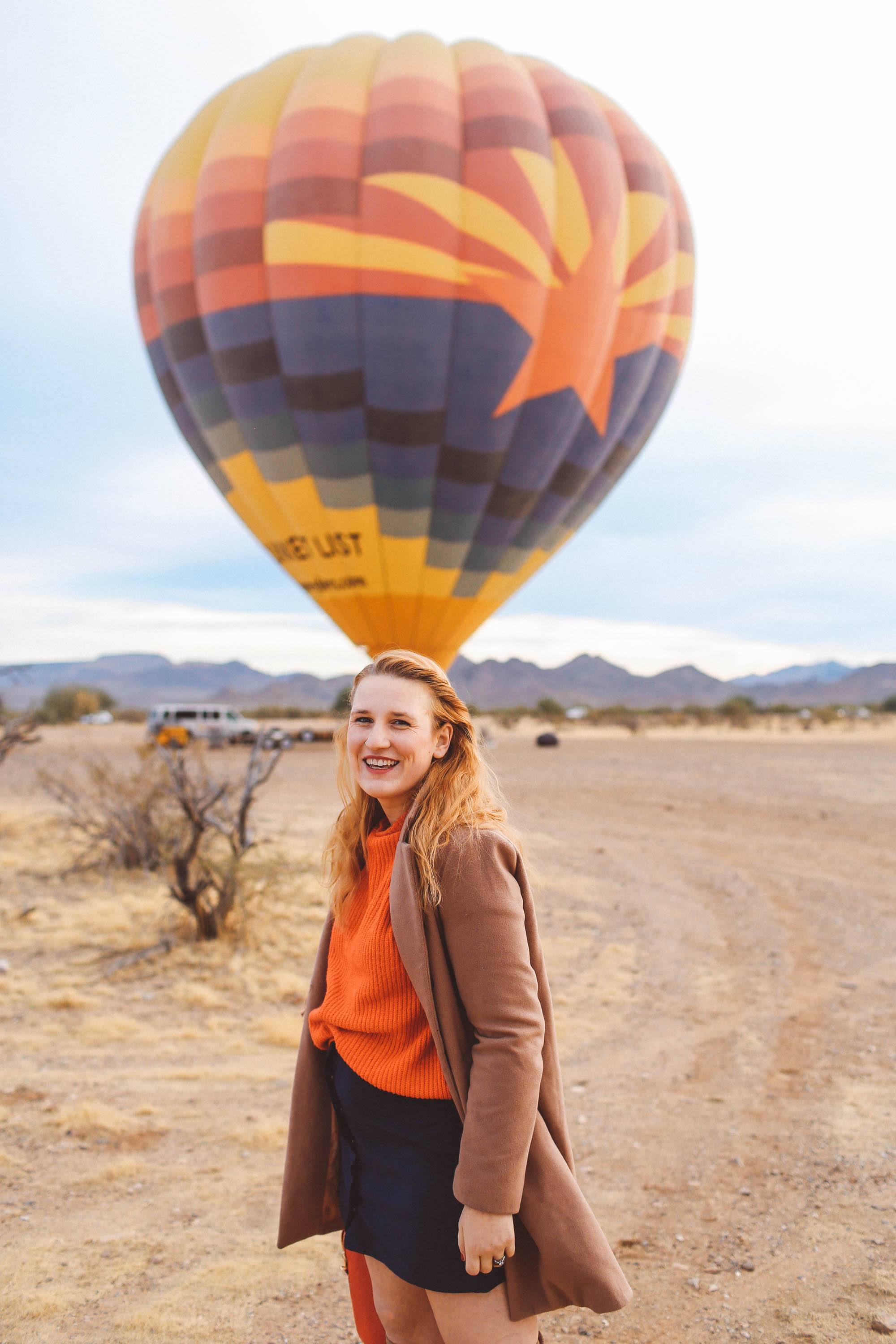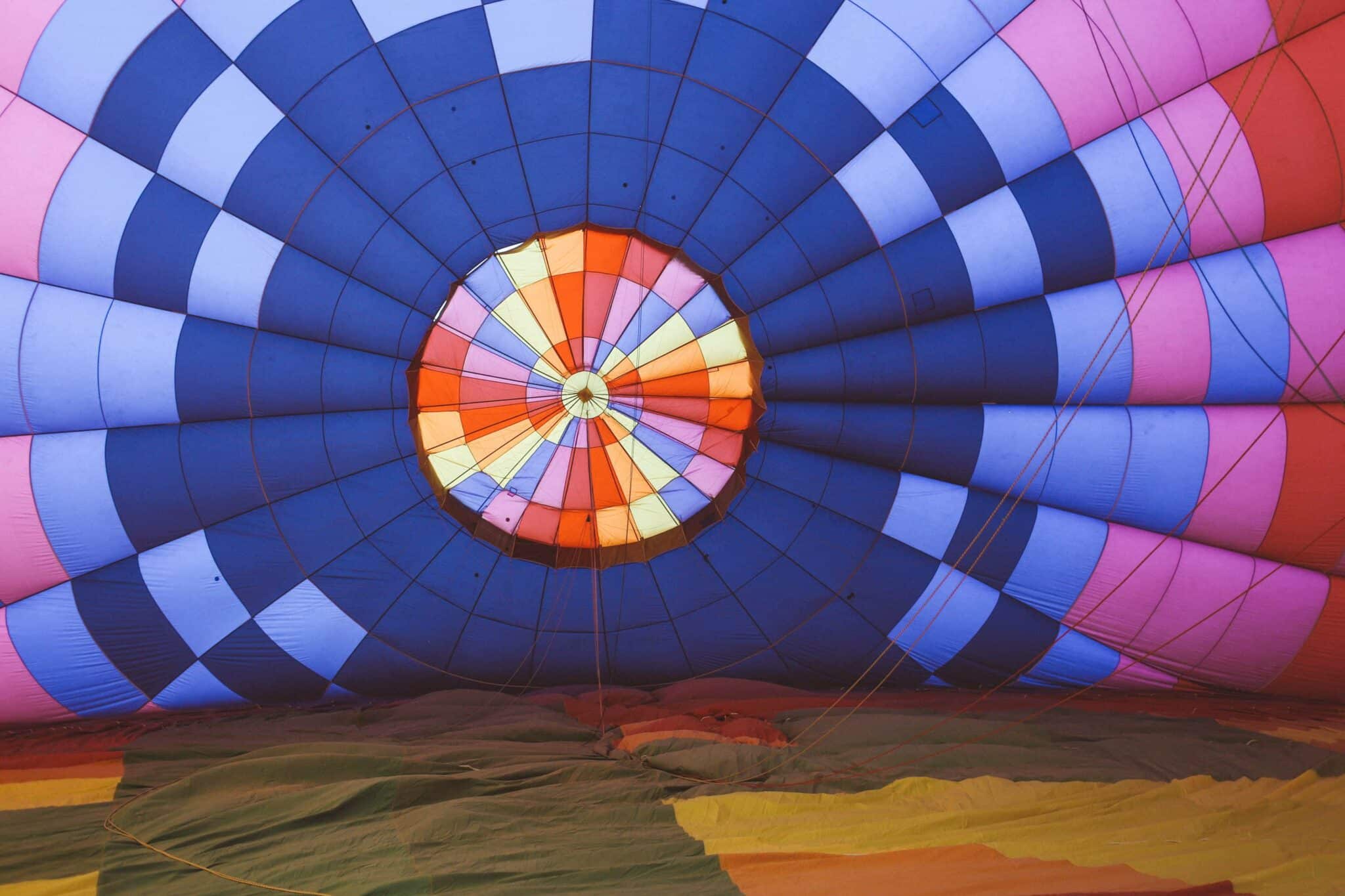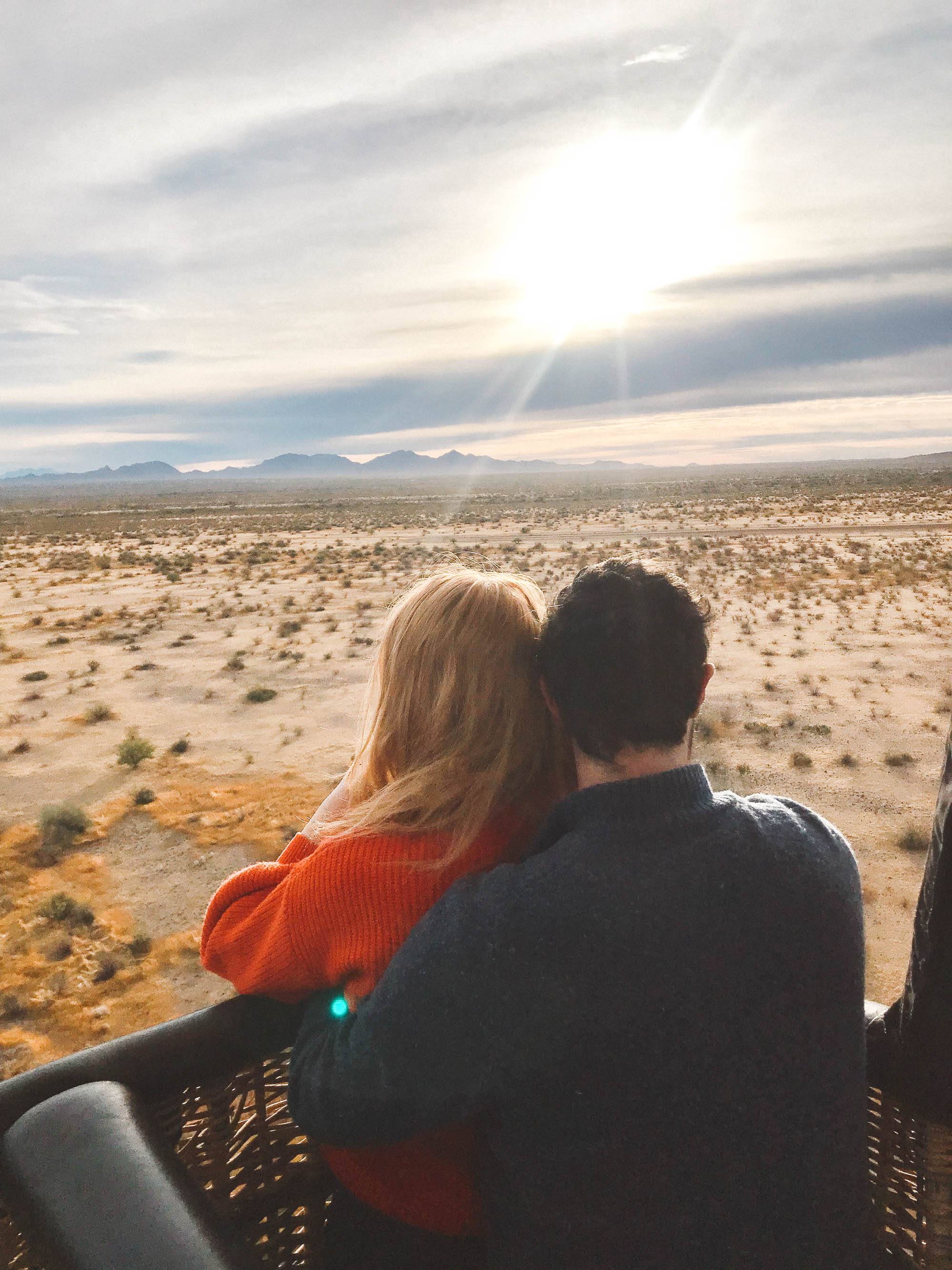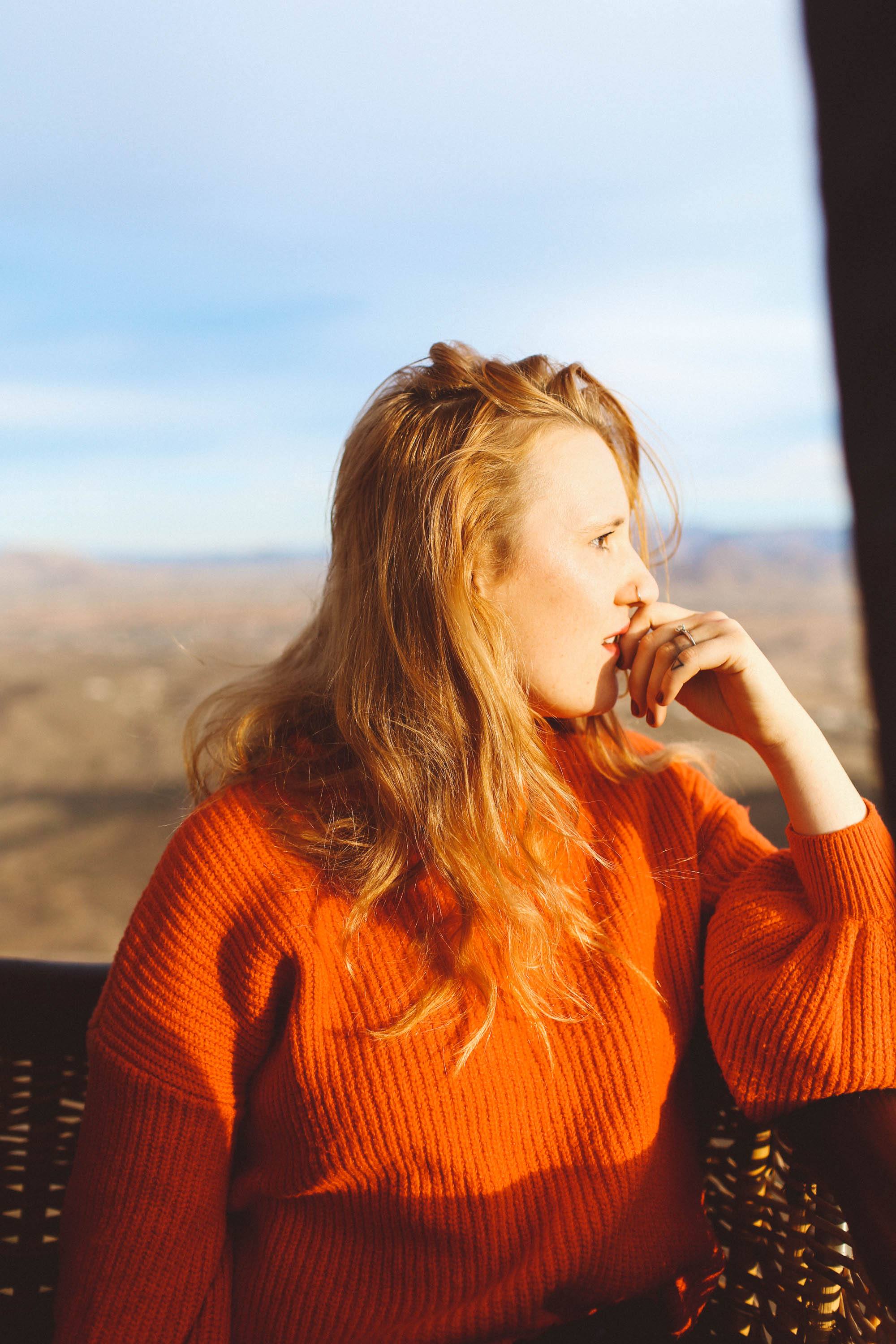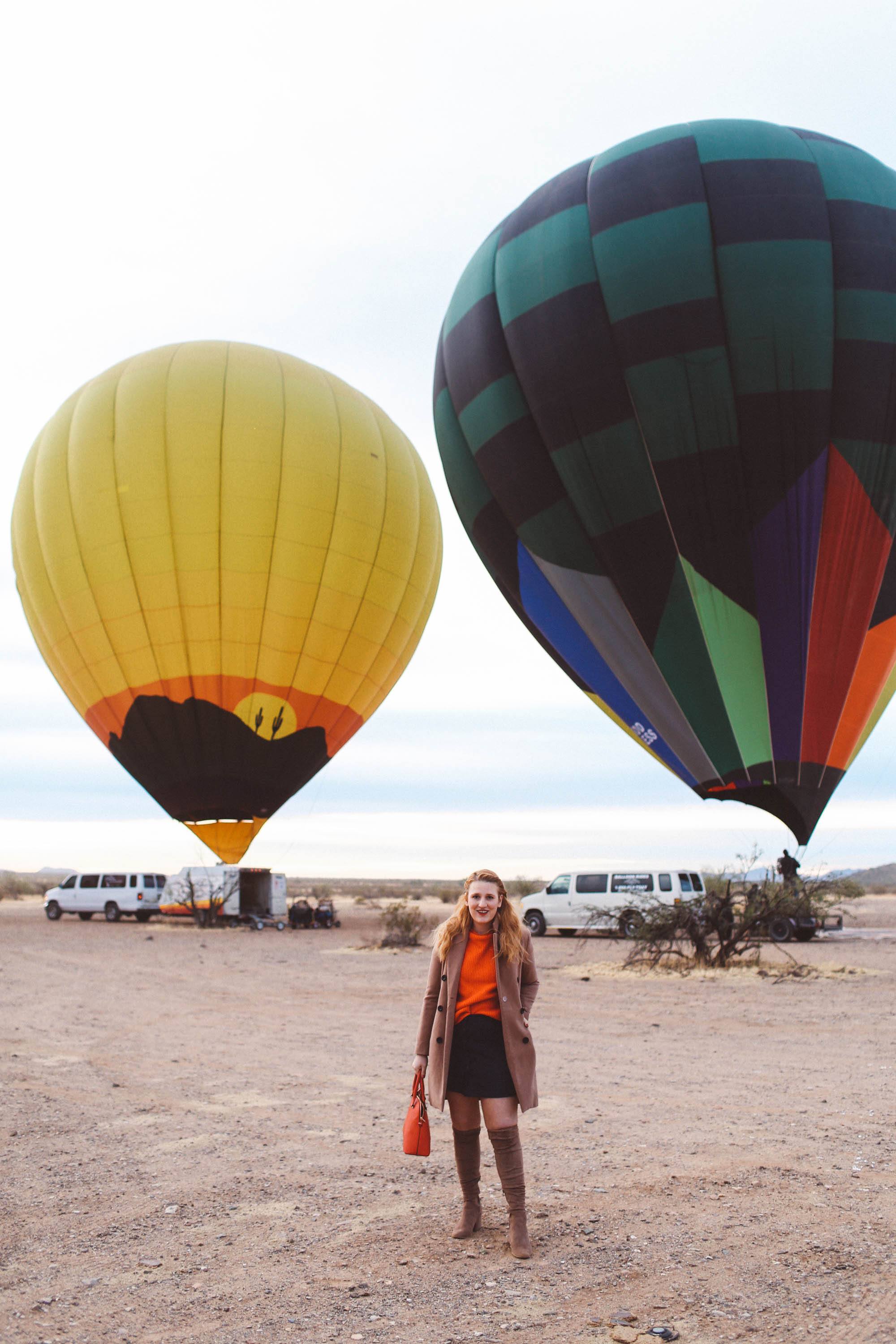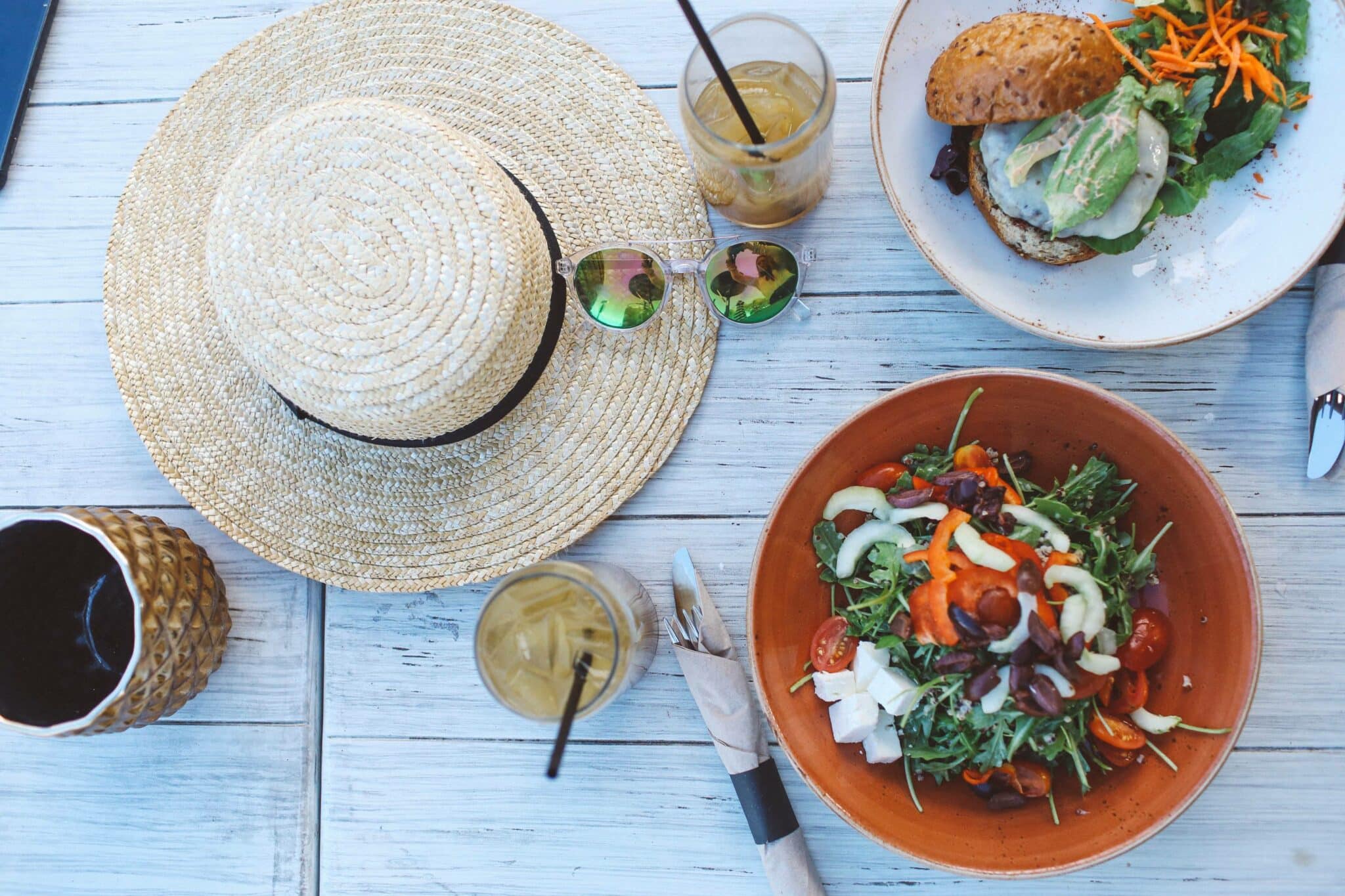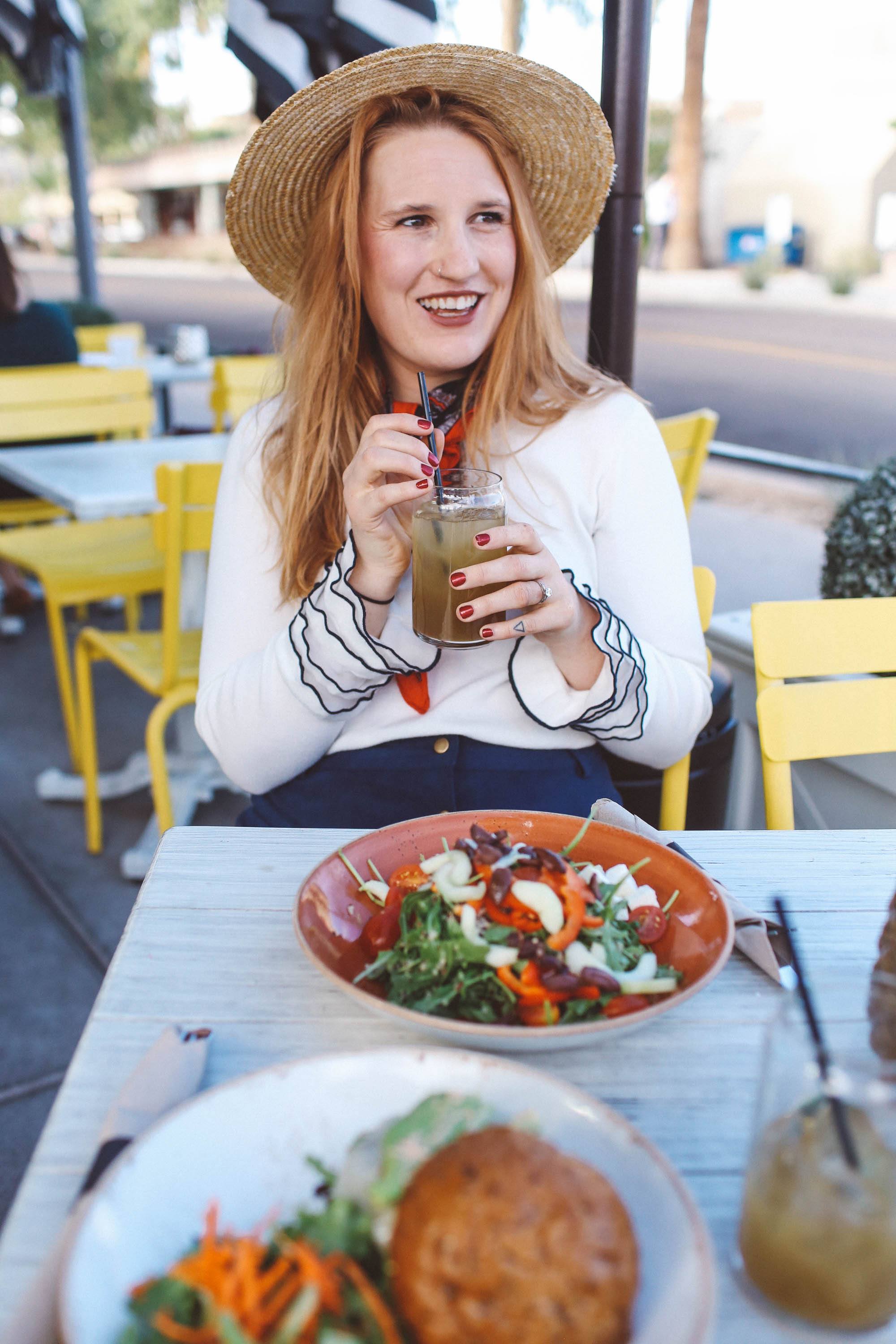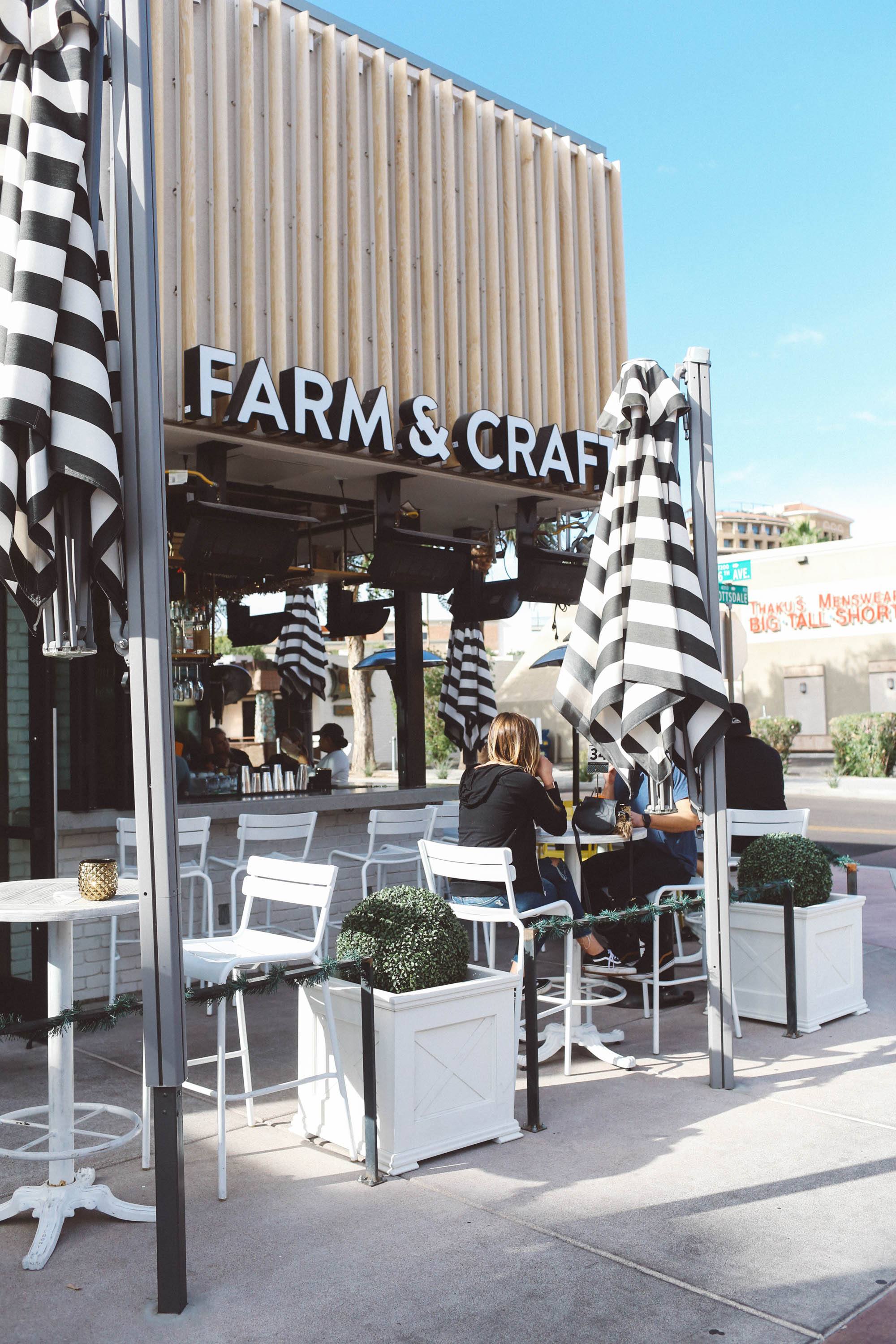 Fairmont Princess
The Fairmont does Christmas BIG! It's a huge hotel property and almost very corners decked out in something holiday themed. From a giant Christmas tree to an ice-skating rink to a whole carnival corner and s'more making station, it's a fun place to wander around a bit to soak it all up. We loved out Ferris wheel ride at sunset and walking around the lights show by the lake.
ZuZu's Monthly Monday Night Chef's Table
Like Hearth61, ZuZu, the restaurant inside Hotel Valley Ho, also hosts a multi-course dinner and wine pairing. If you didn't make it to Hearth61, make sure you come here! Or you can be like us an hit both of them up!
If the dinners aren't happening while you are visiting, try Roaring Fork or Culinary Dropout instead.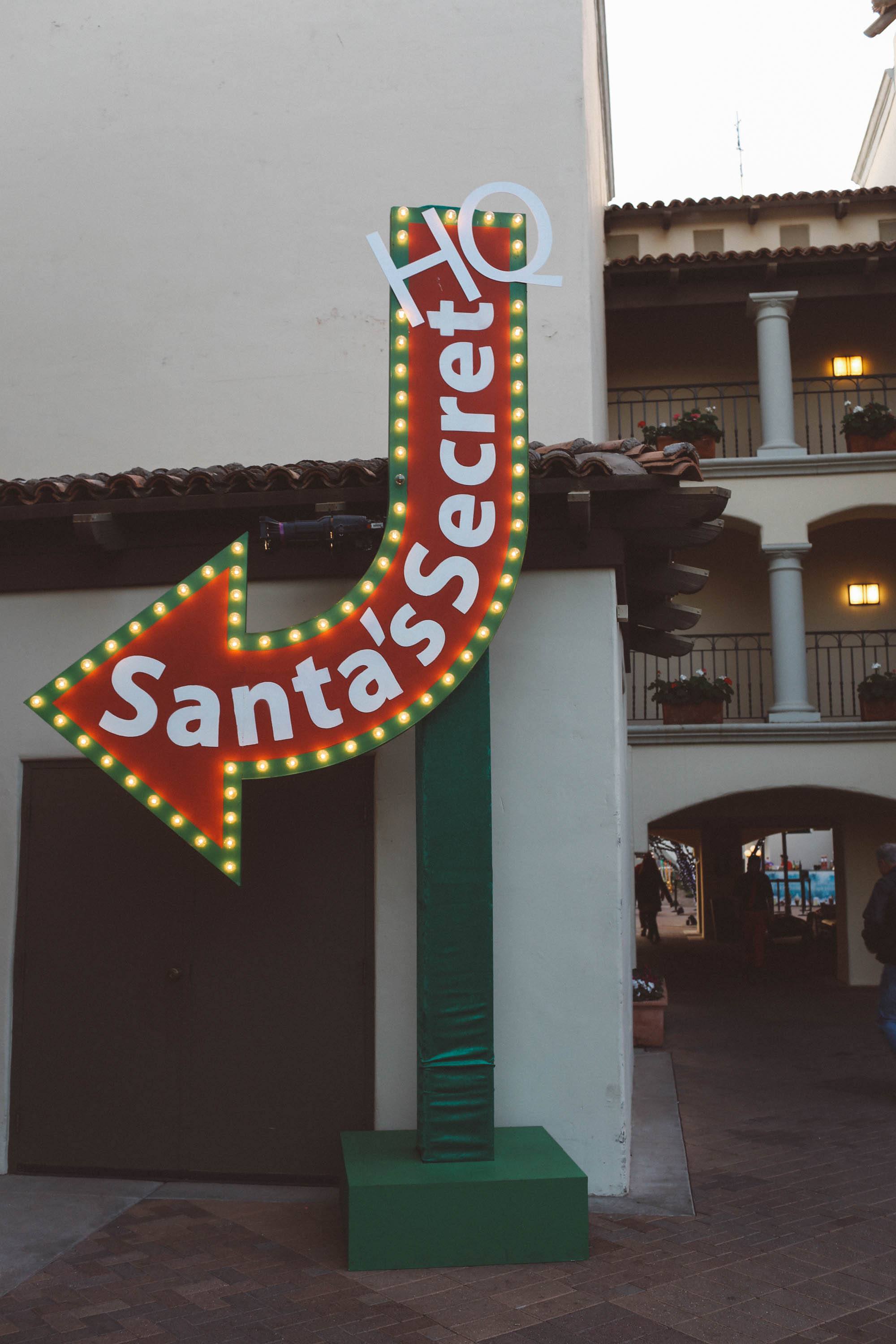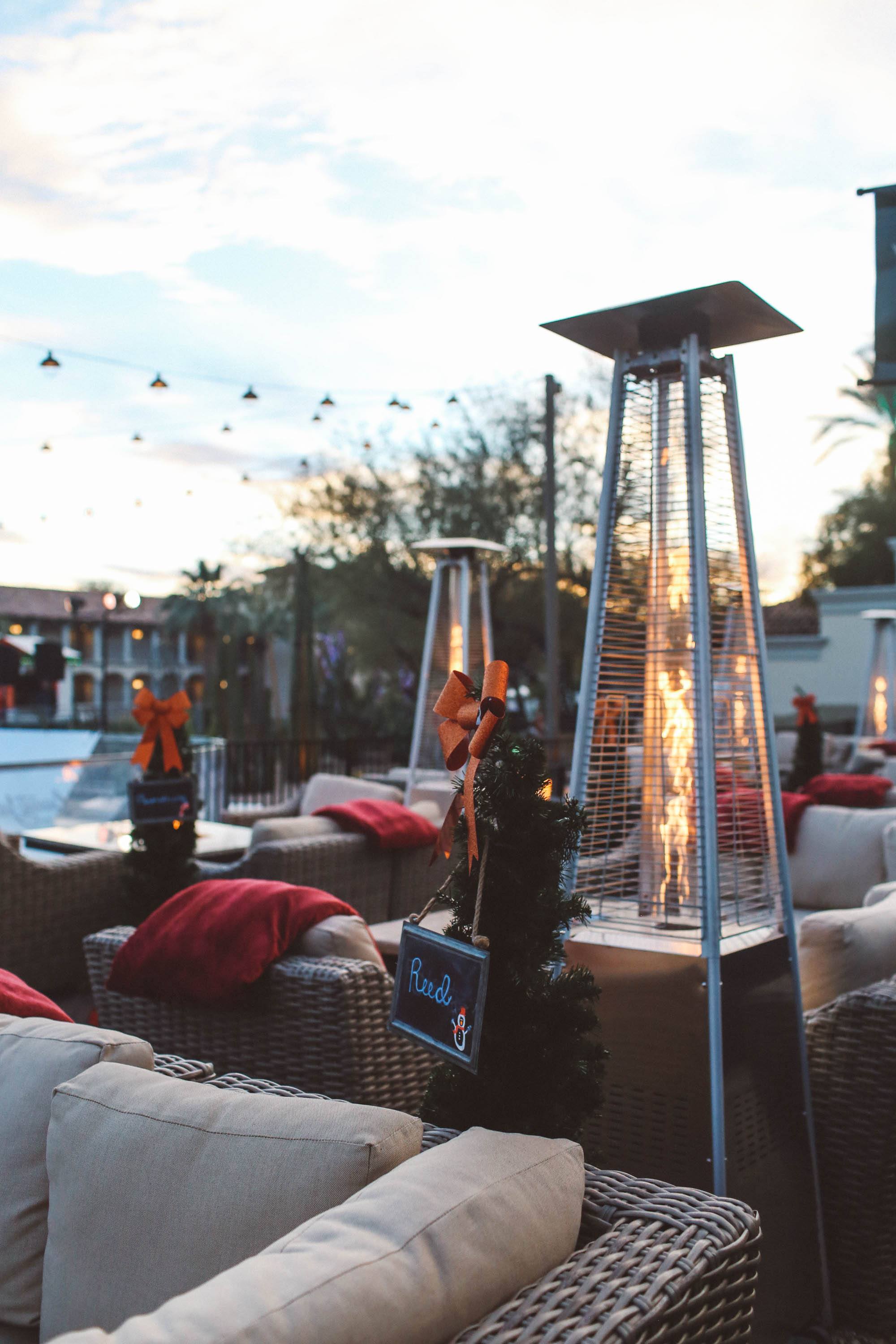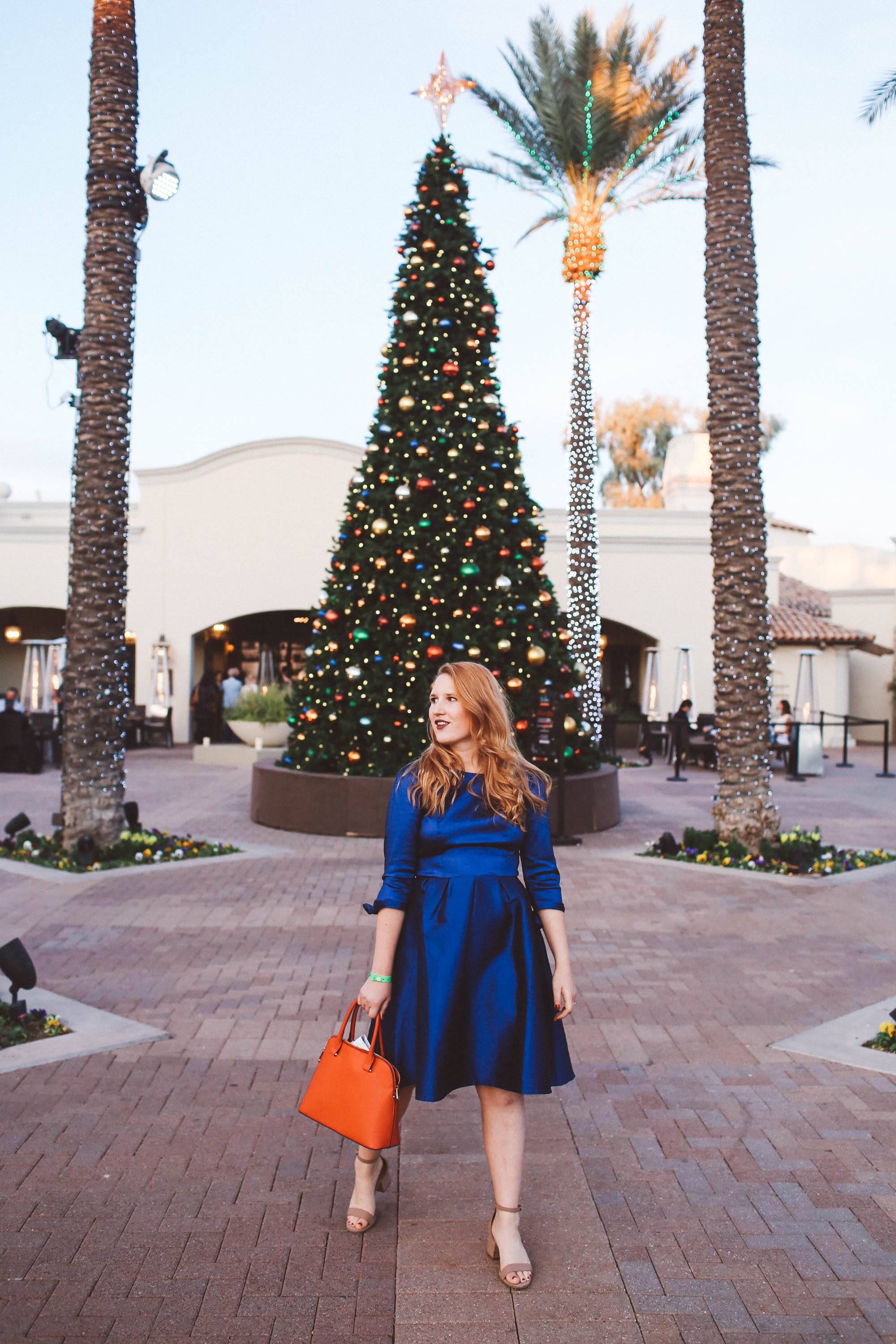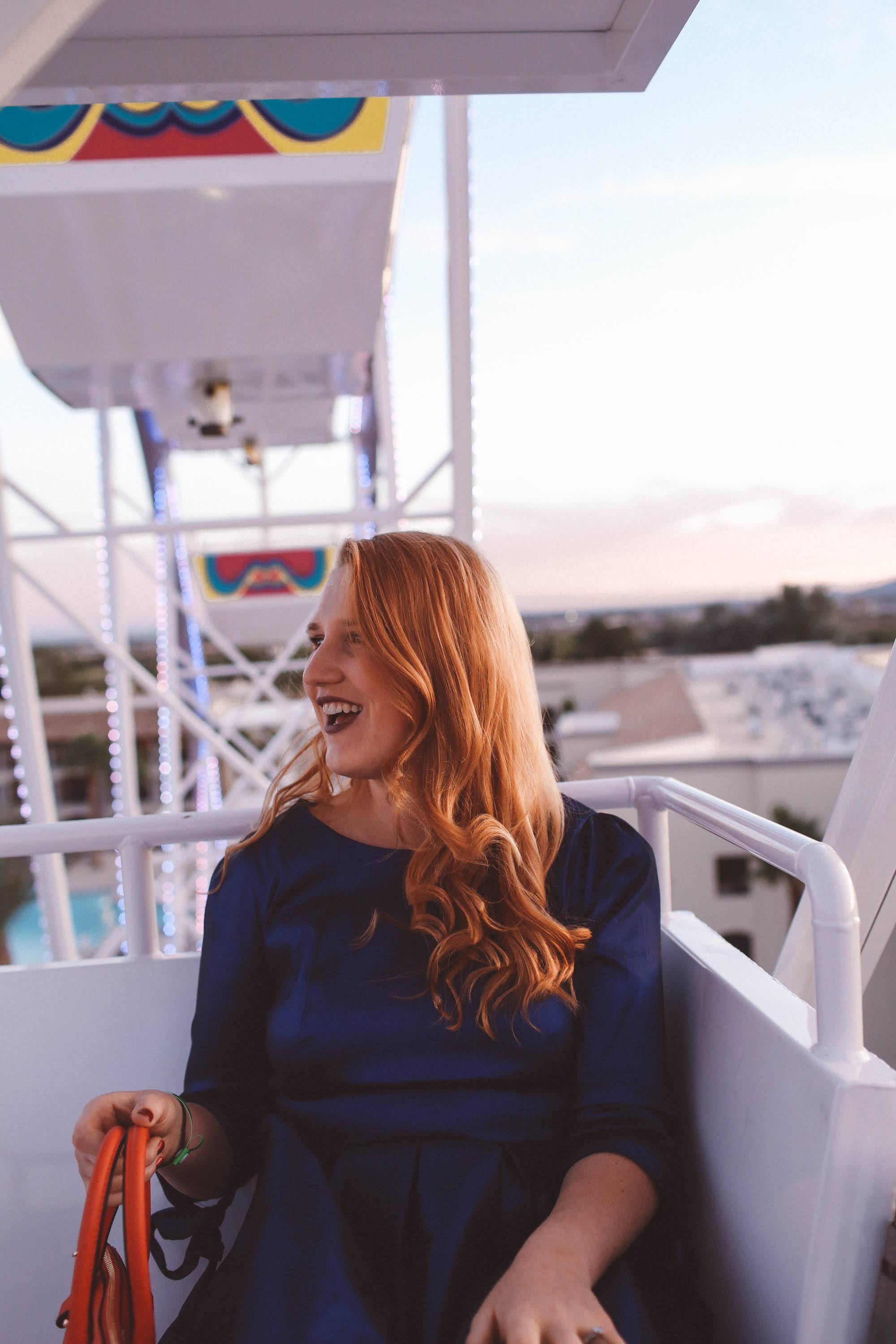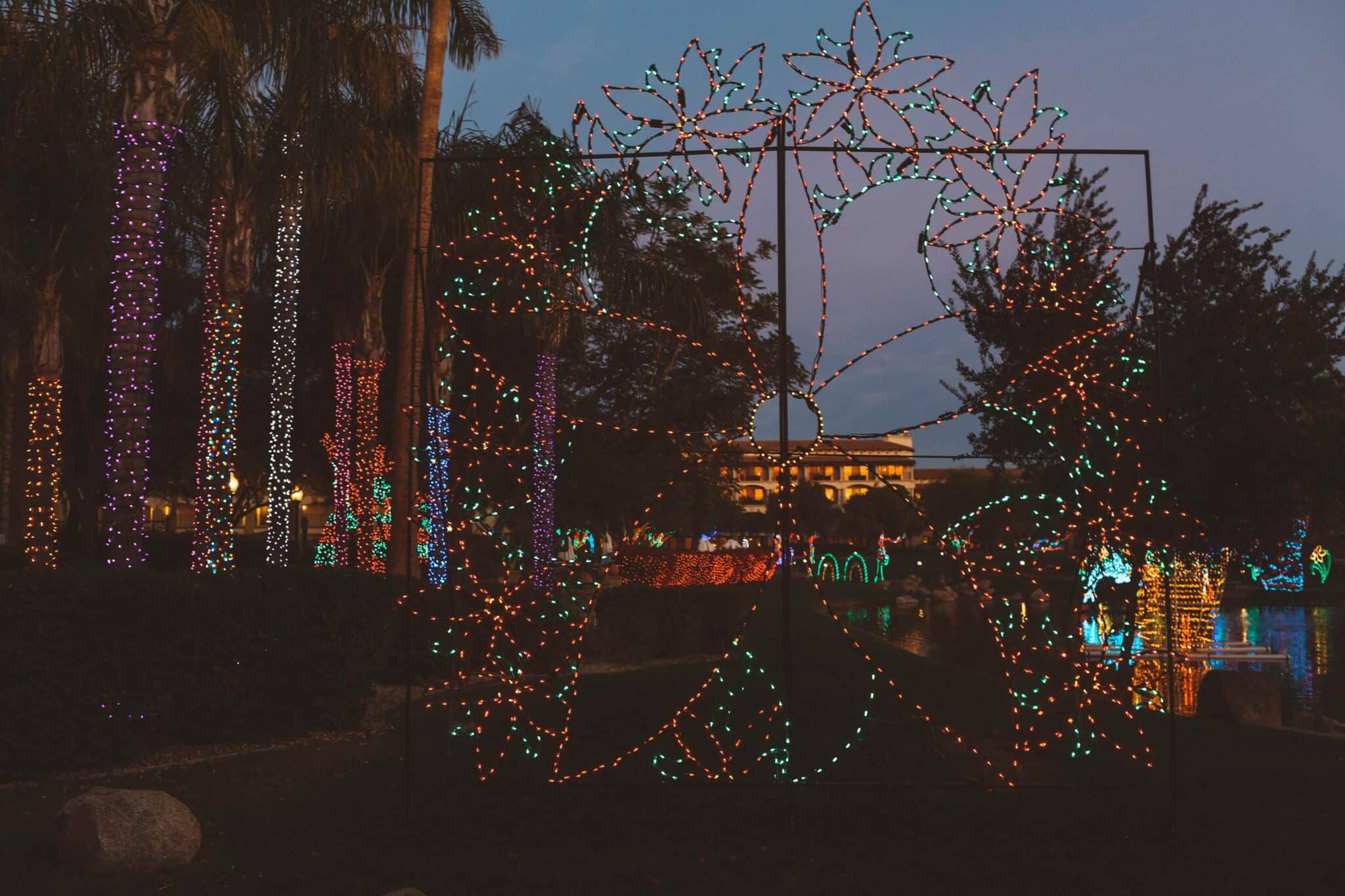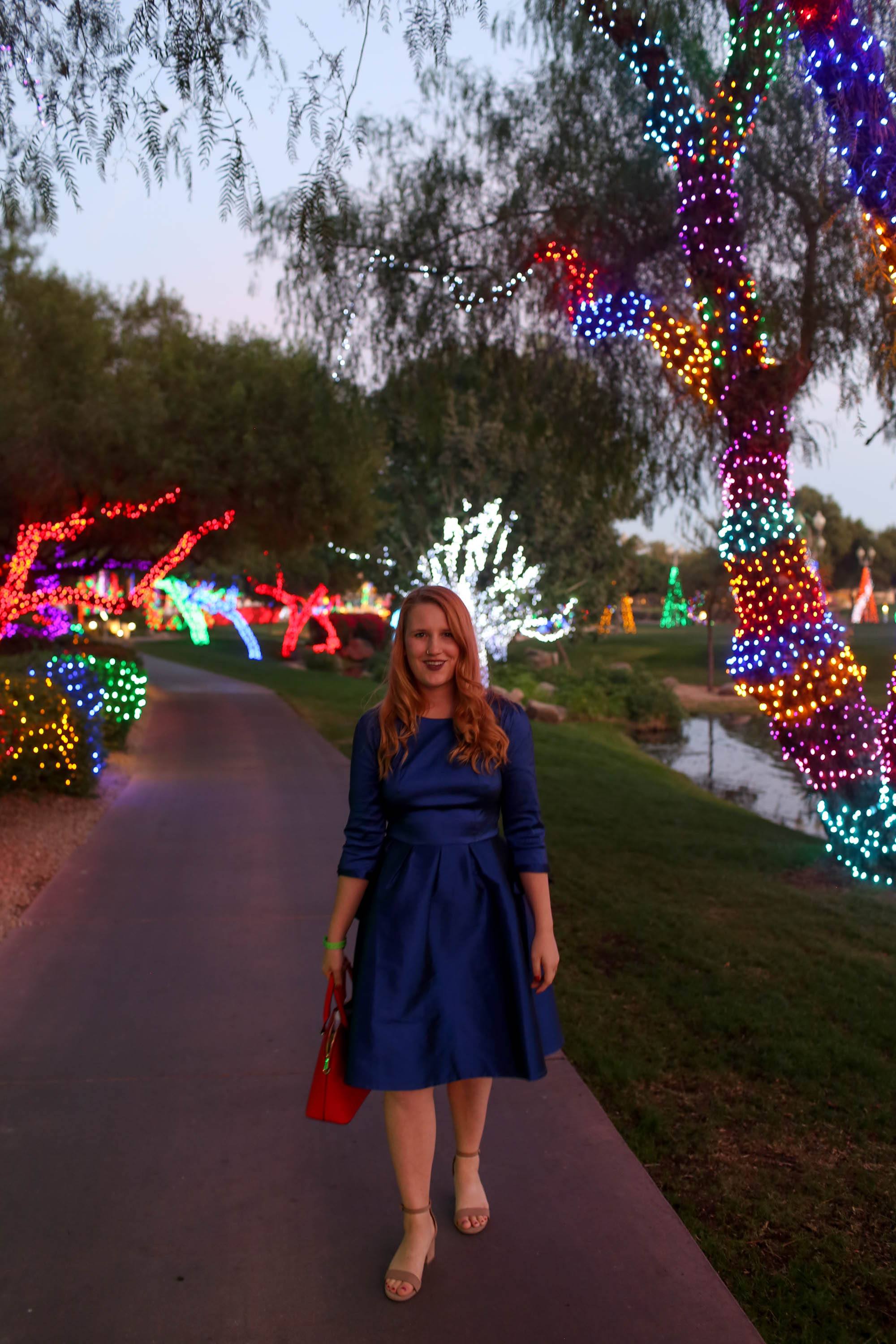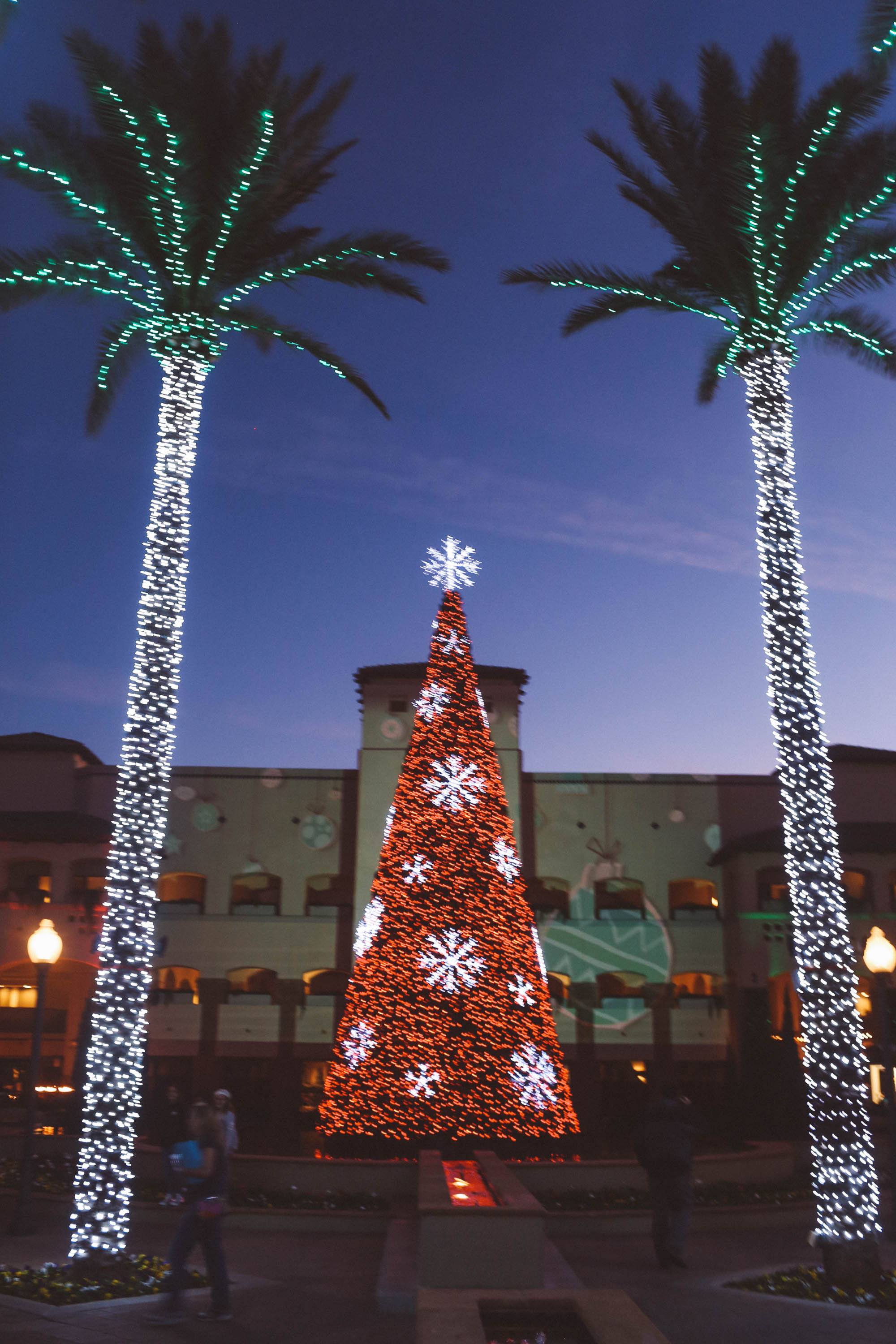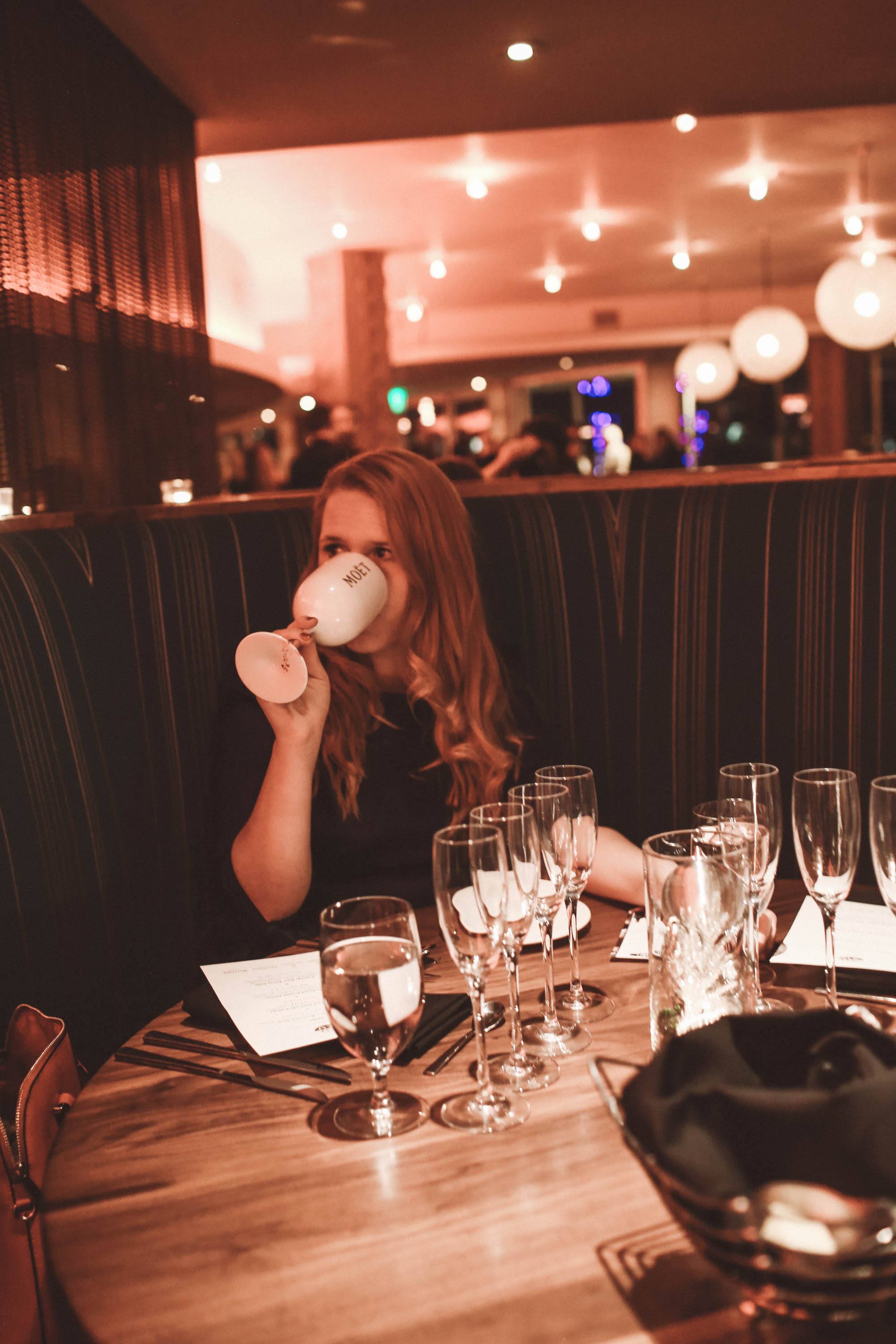 ---
DAY THREE
Bike For Breakfast
For Breakfast, grab a LimeBike and stop by Cartel Coffee for an iced brew. After, walk down to ChopShop to grab a fresh breakfast bowl (I loved the Veggie Hash one!)
Art
There are so many art galleries in Scottsdale. I recommend checking out Cosanti, which is a ceramics and metal foundry. They open their workshop up to the public and the architecture inside looks a bit like we walked into the Flintstones.
Lunch
For lunch, the Brat Haus is a great option. Located downtown, they have a large patio area and lawn games. I recommend the Andouille Sausage and the Wedge Salad along with a flight of local beer. Then, head to Super Chunk for dessert!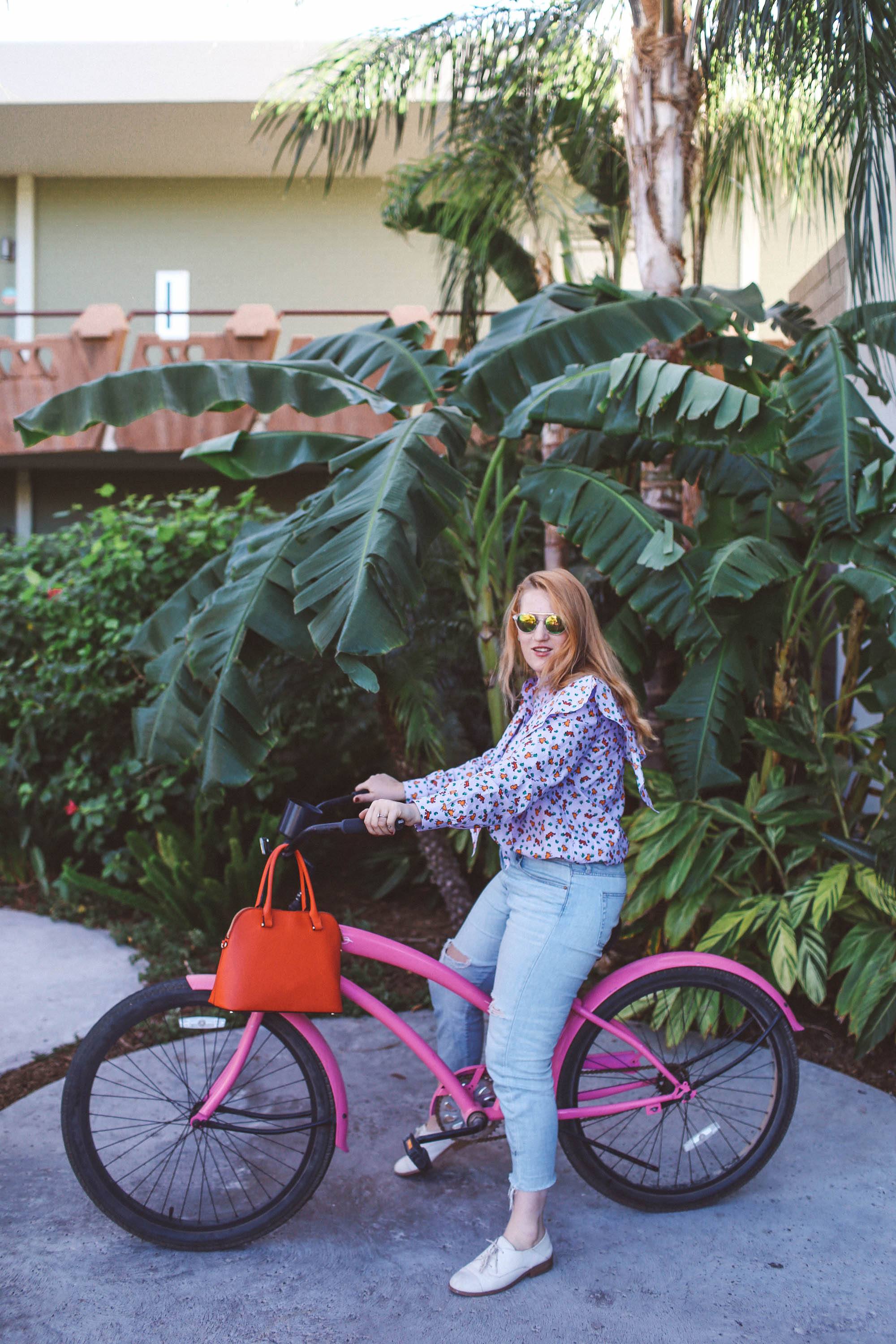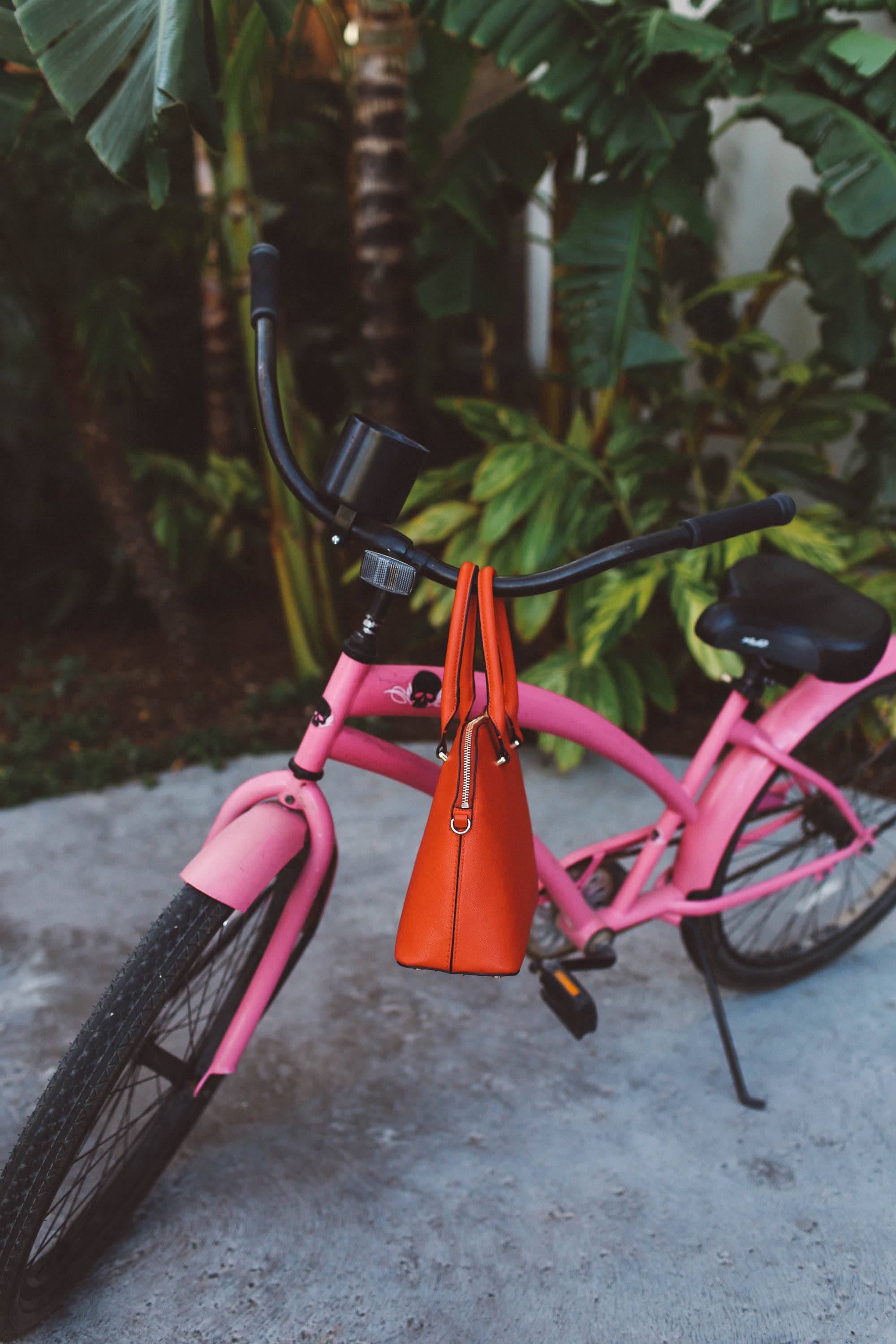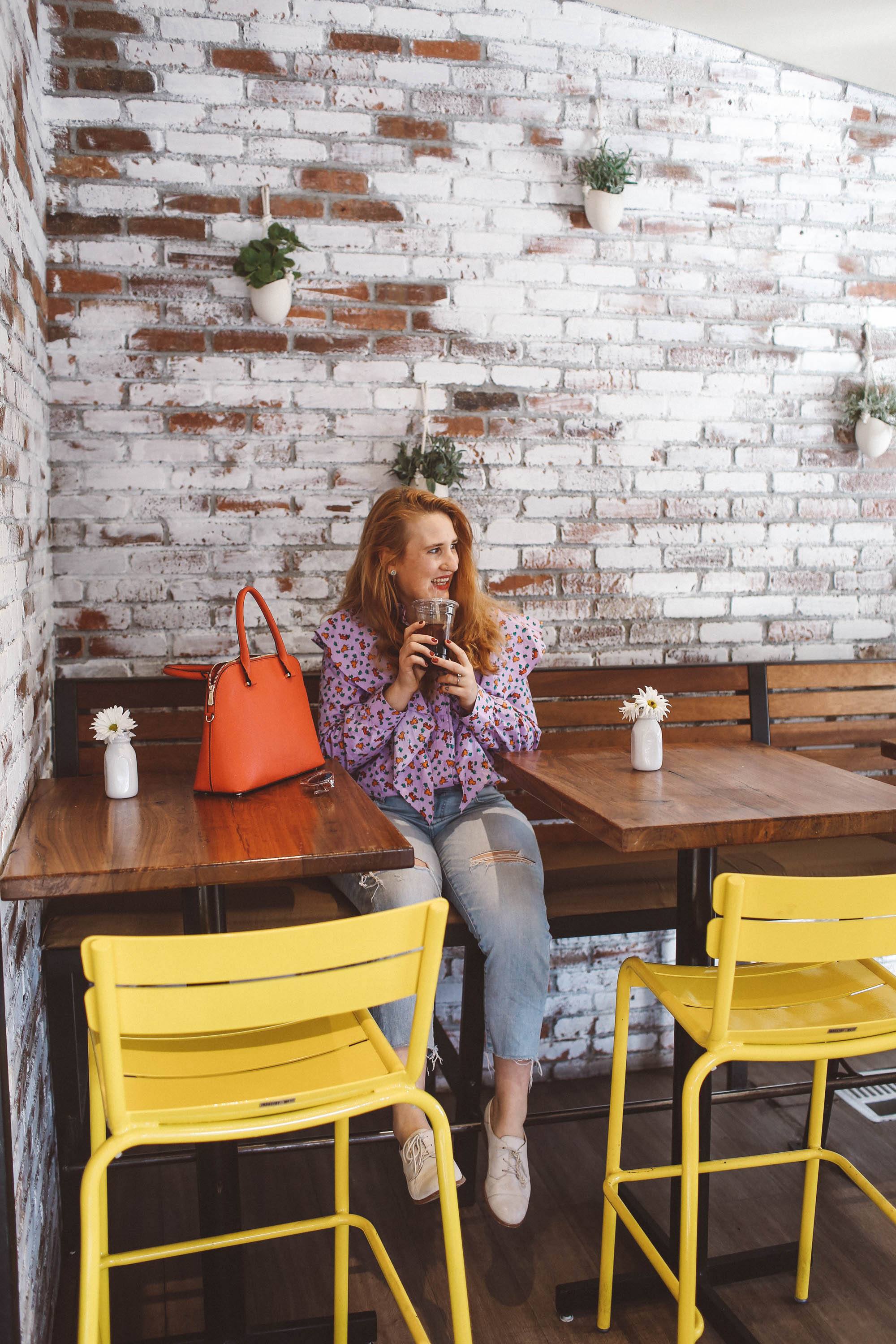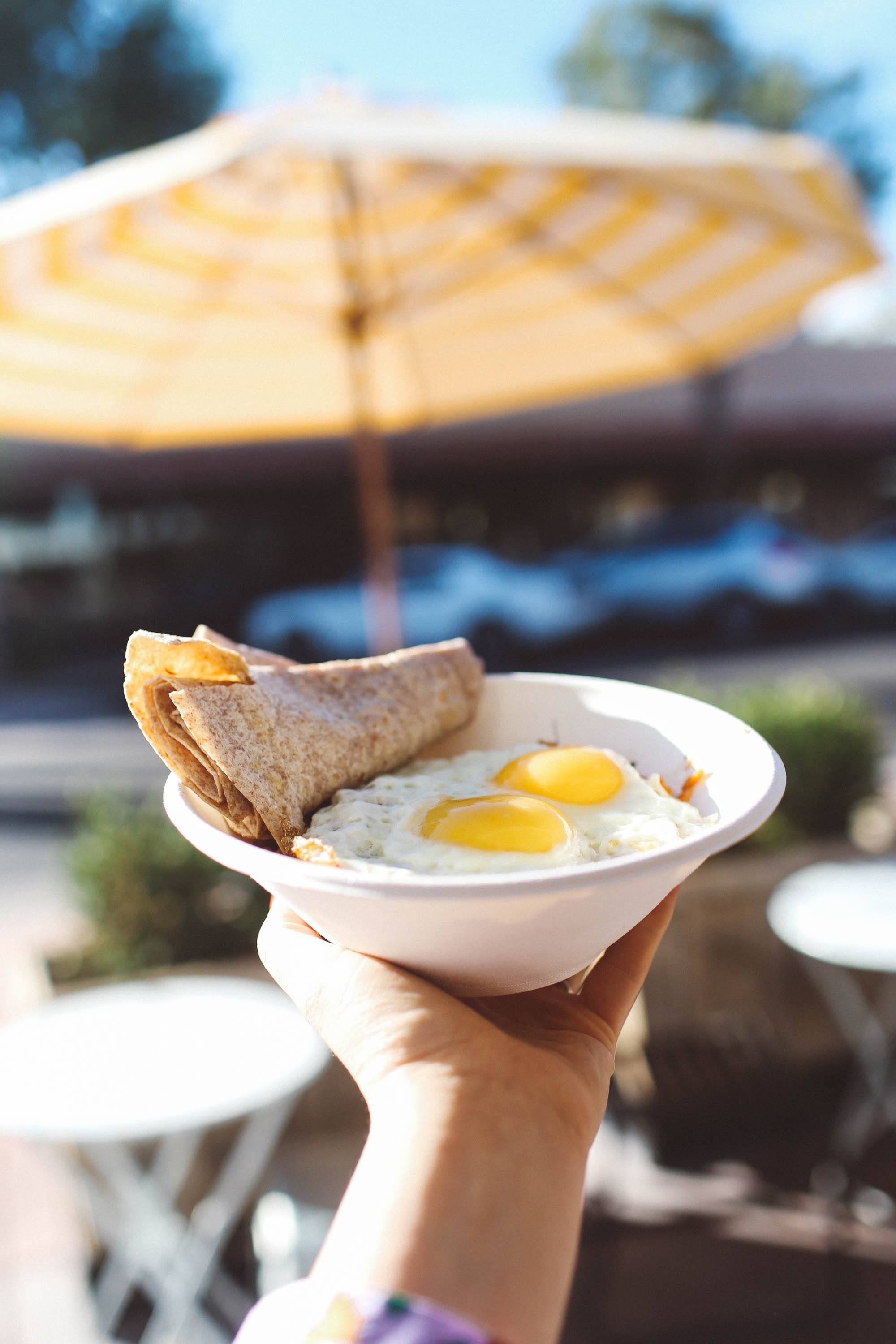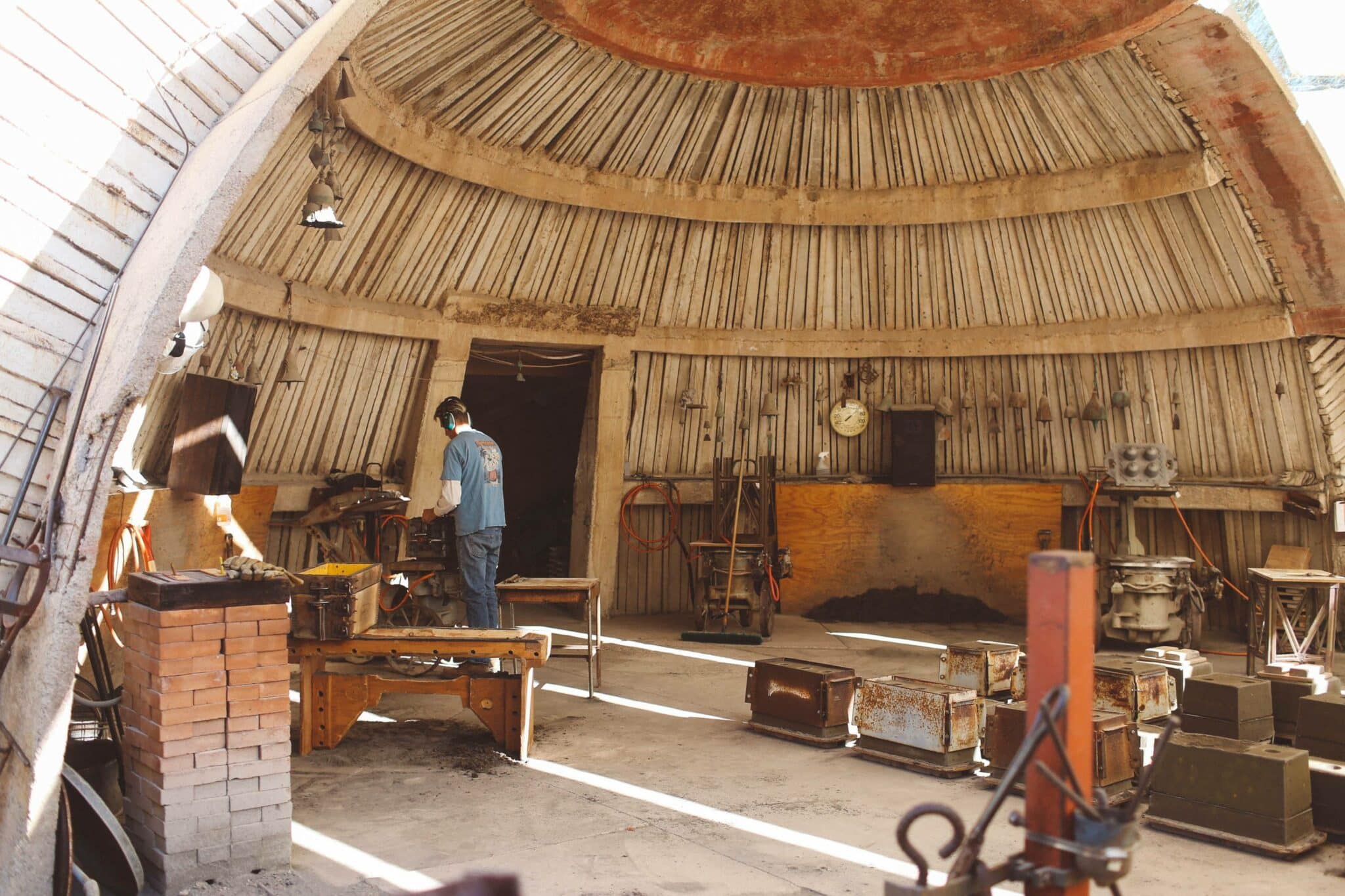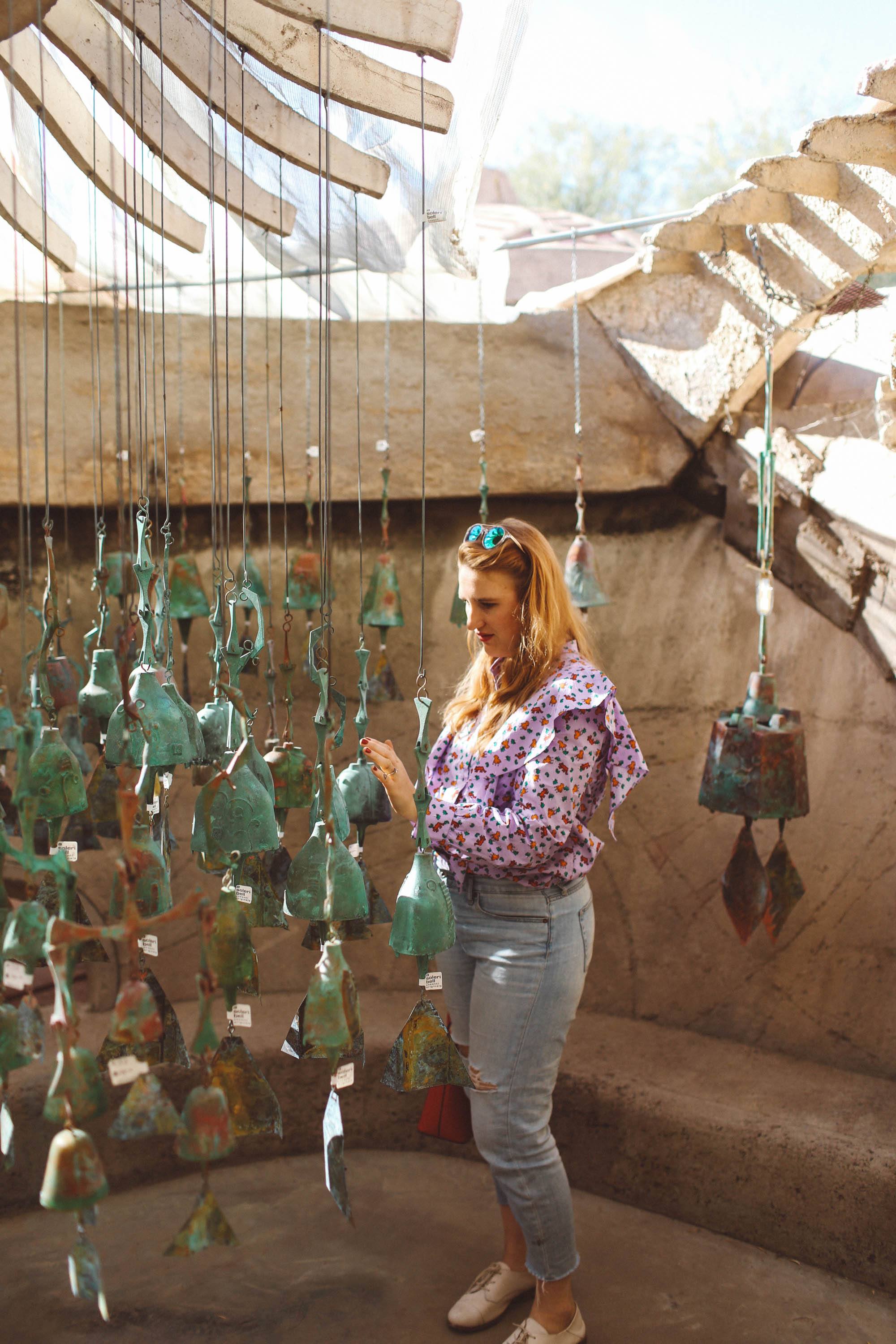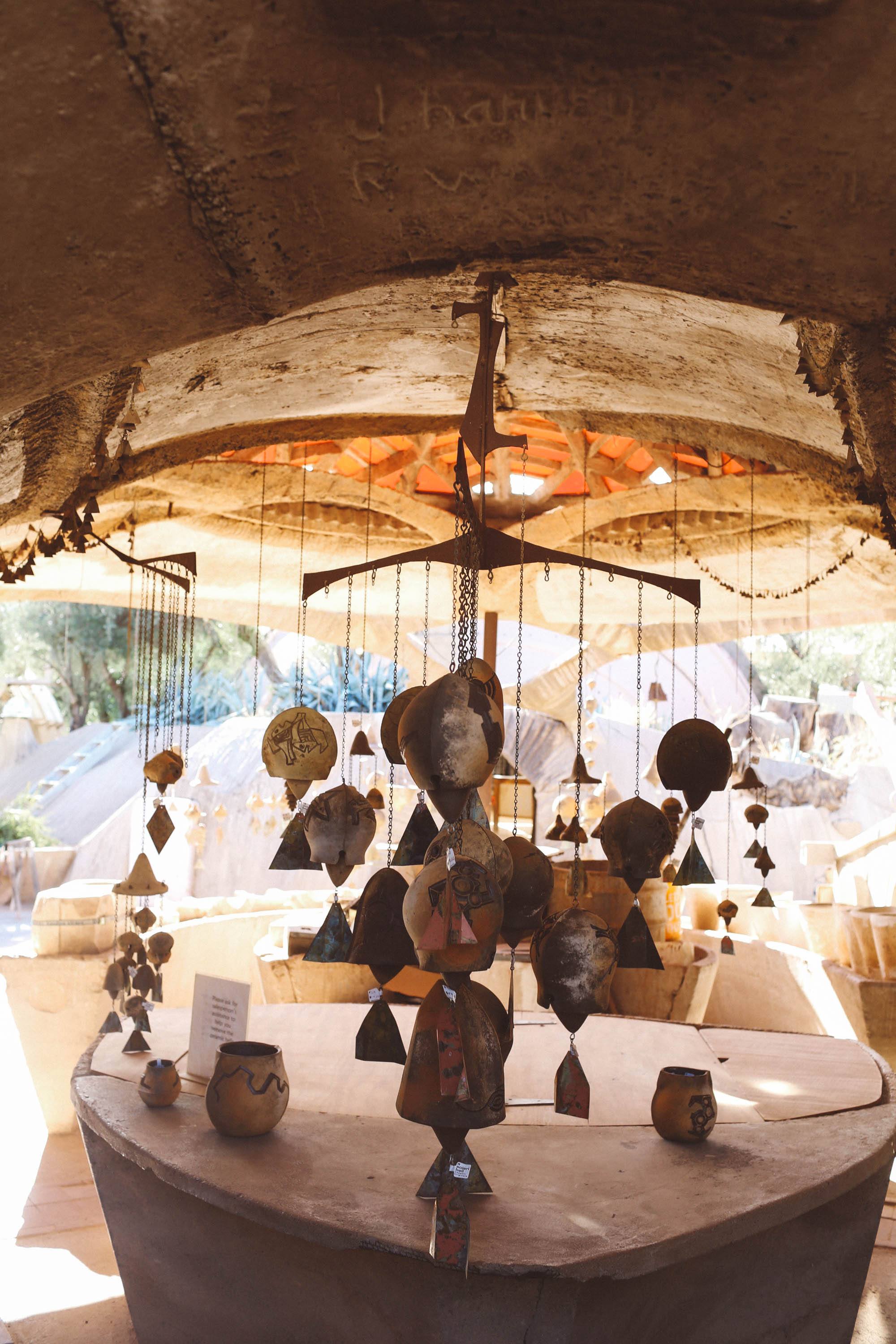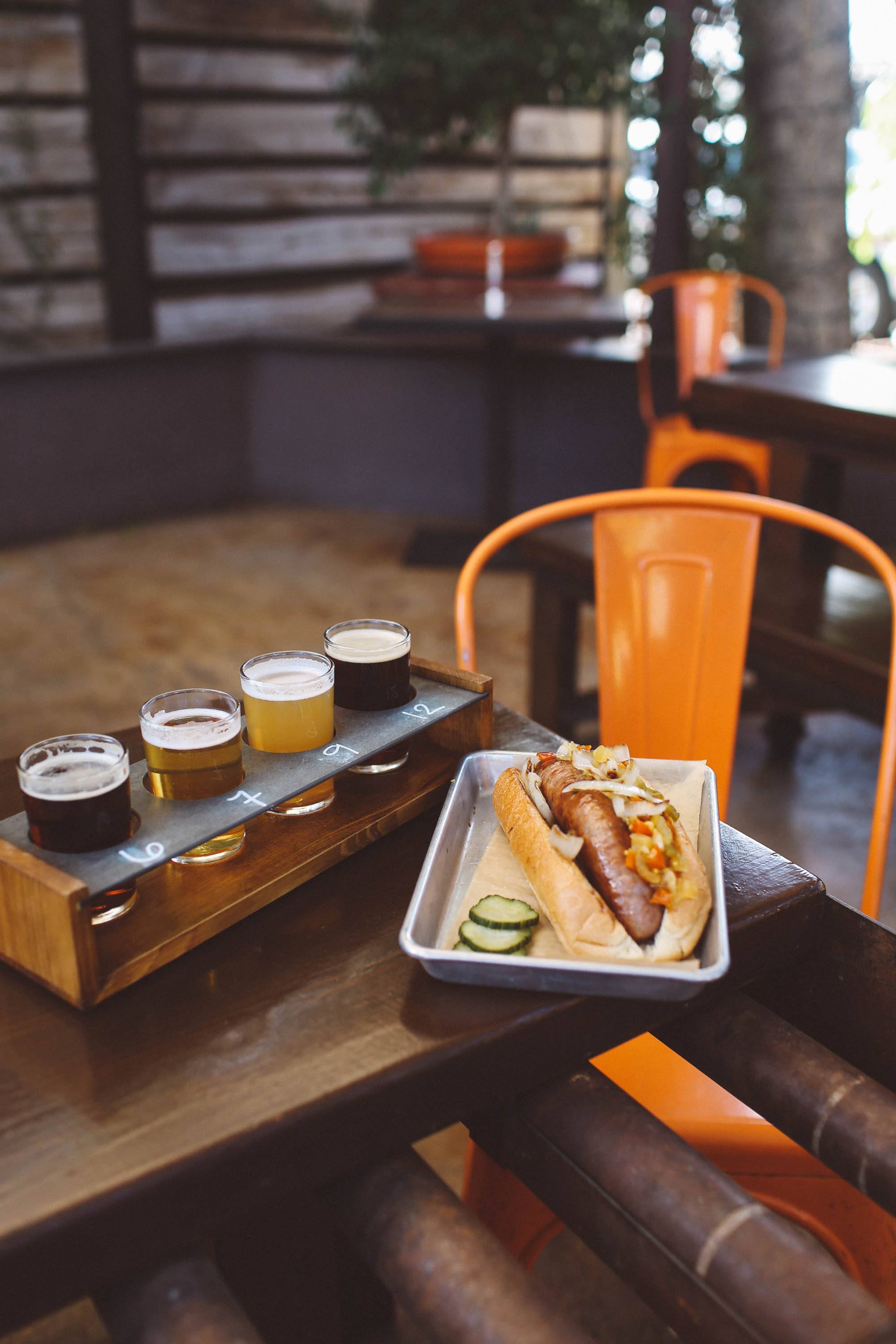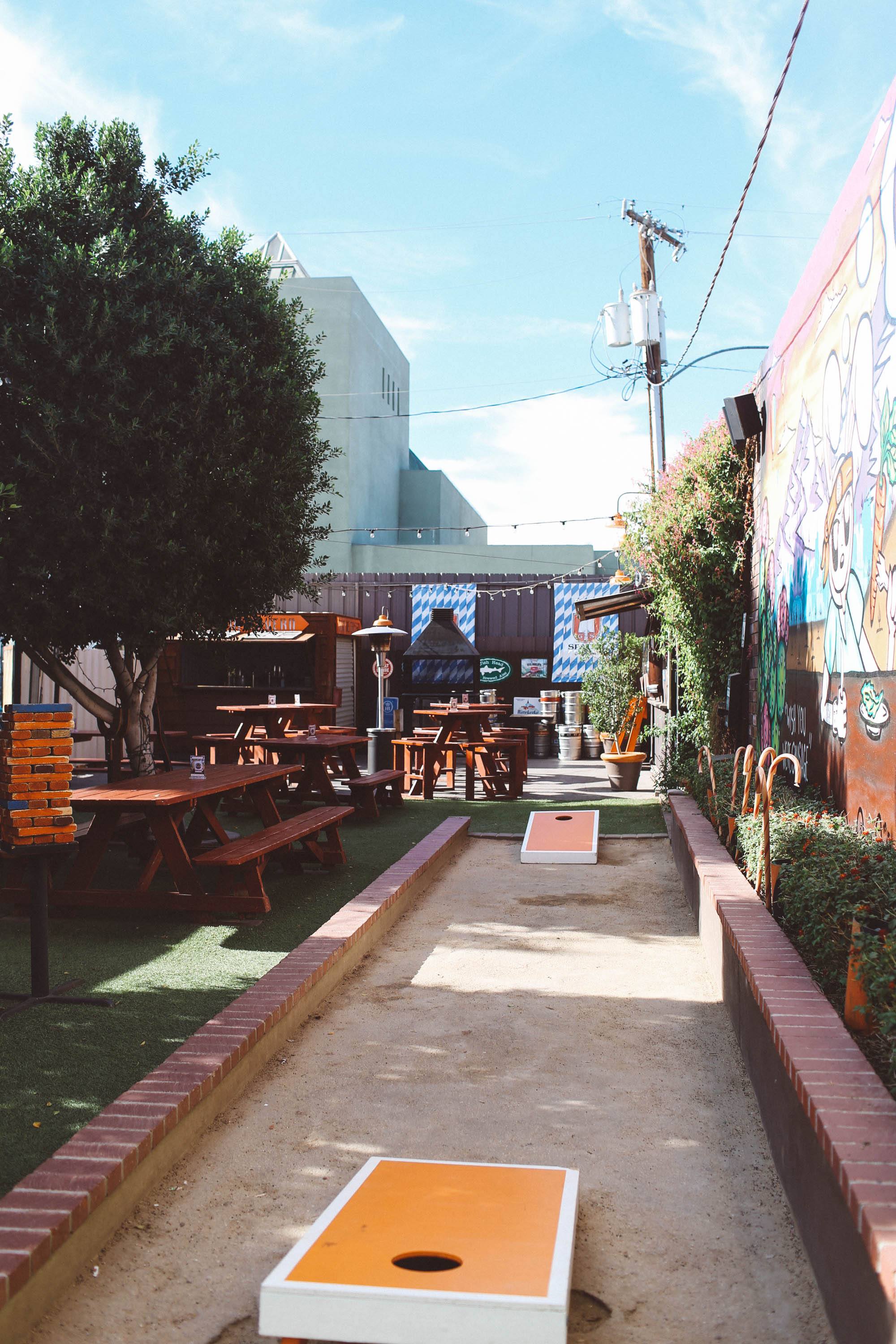 Poolside
At this point, we checked into The Phoenician and spent a few hours soaking up sun by their pool. Scottsdale is made for a good podcast and a poolchair.
Dinner
For dinner, I recommend Mowry & Cotton inside the Phoenician, even if you aren't staying there. It's decorated in what I can only describe as hipster-chic. The menu is designed almost like a tapas menu – you're supposed to share! Everything is thoughtfully cooked, but my favorite was the lamb tacos and pheasant. Make sure to grab dessert – the smores are amazing!
Drinks
If you want late night drinks I recommend the Coach House, During the holidays they deck the whole place out with thousands of string lights. Almost every corner is covered in them! I've never heard of a bar that has done this before.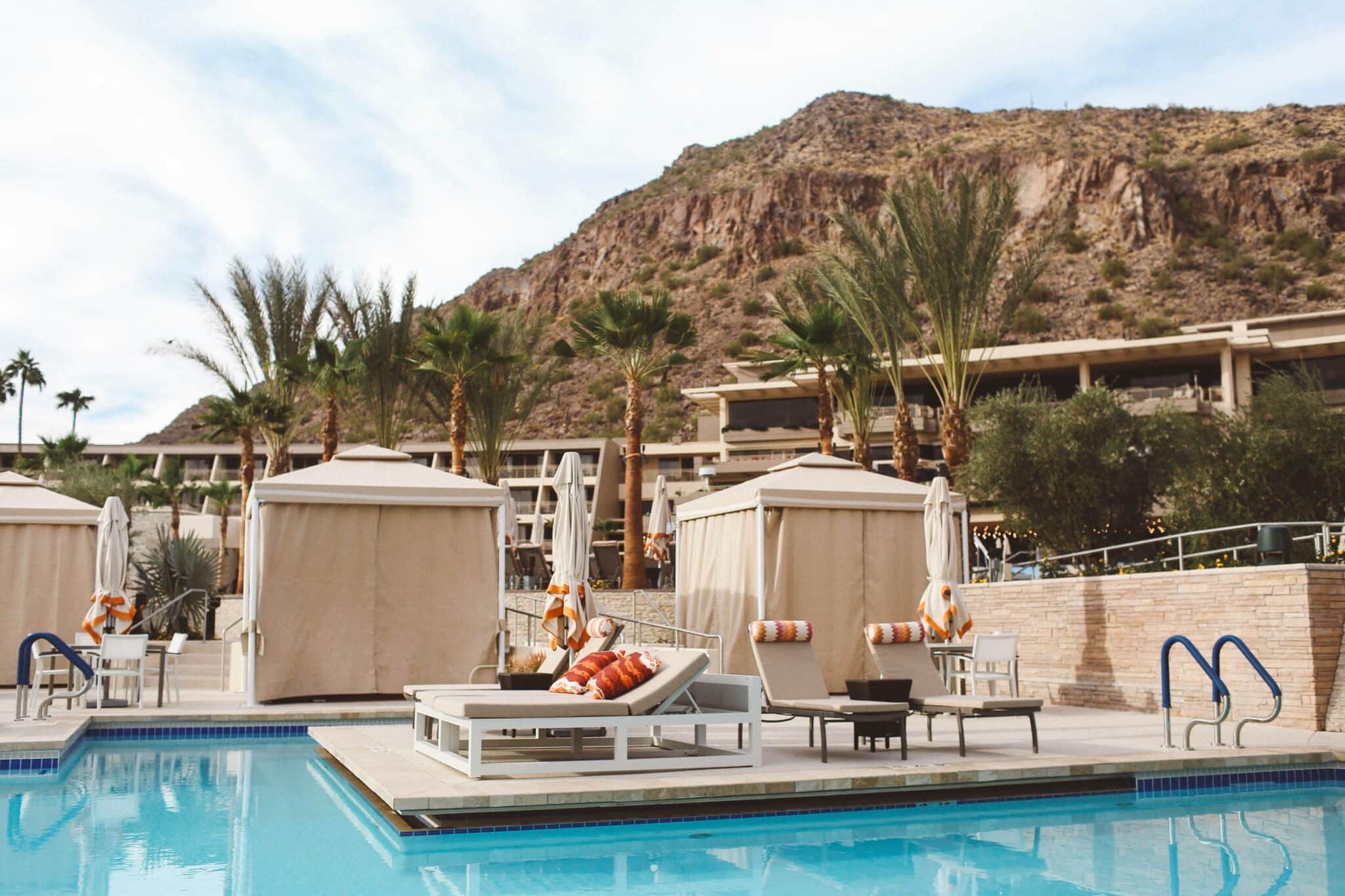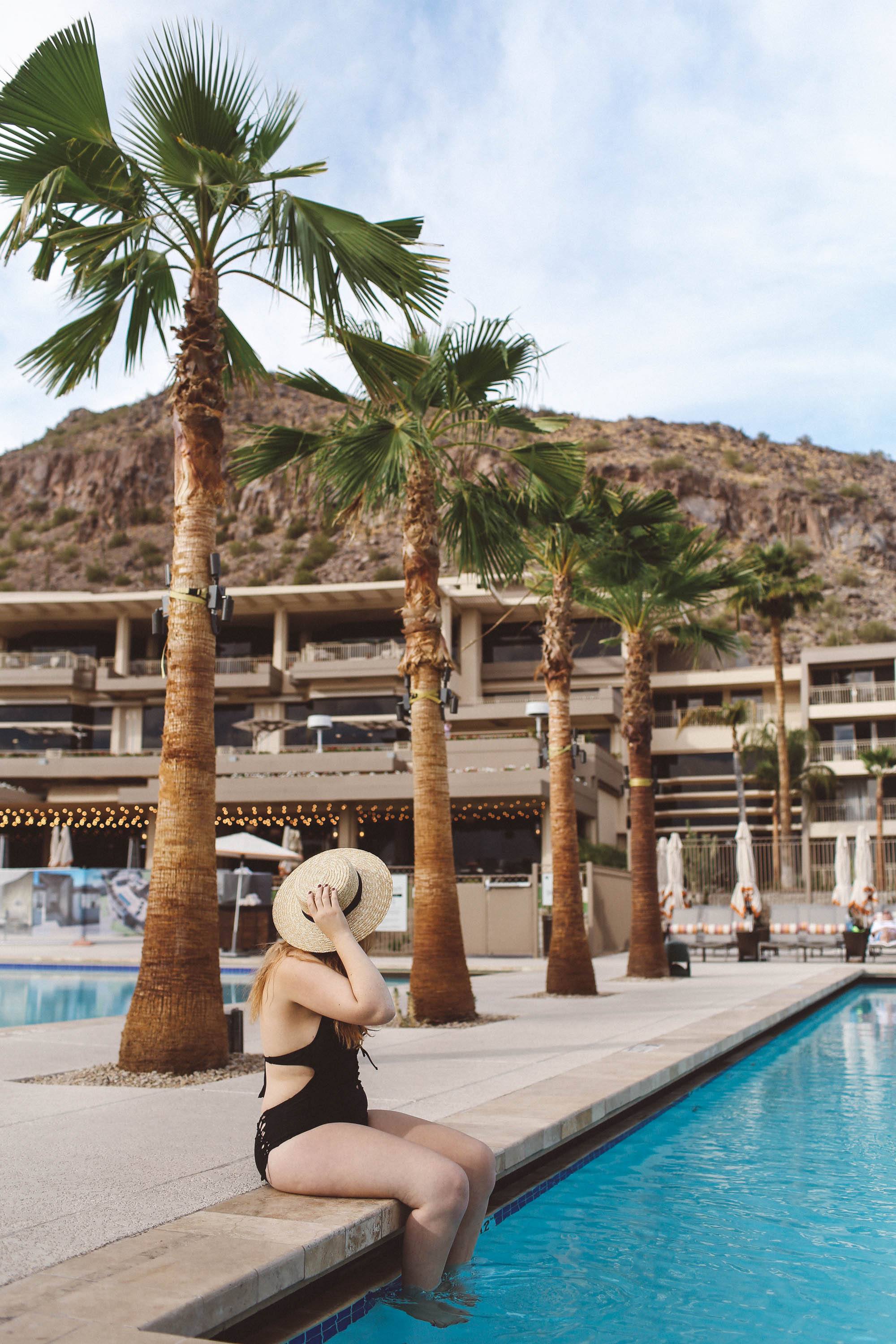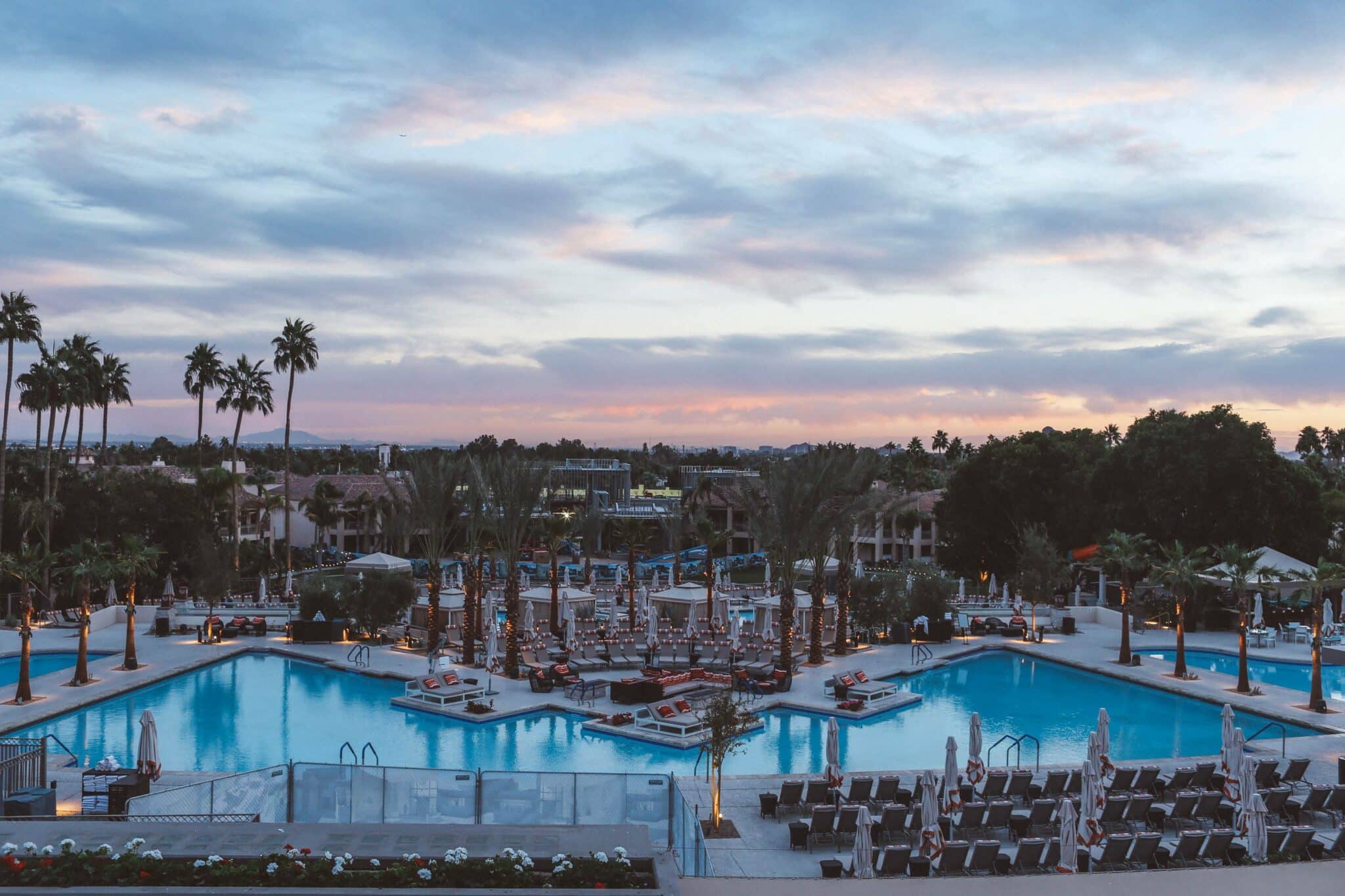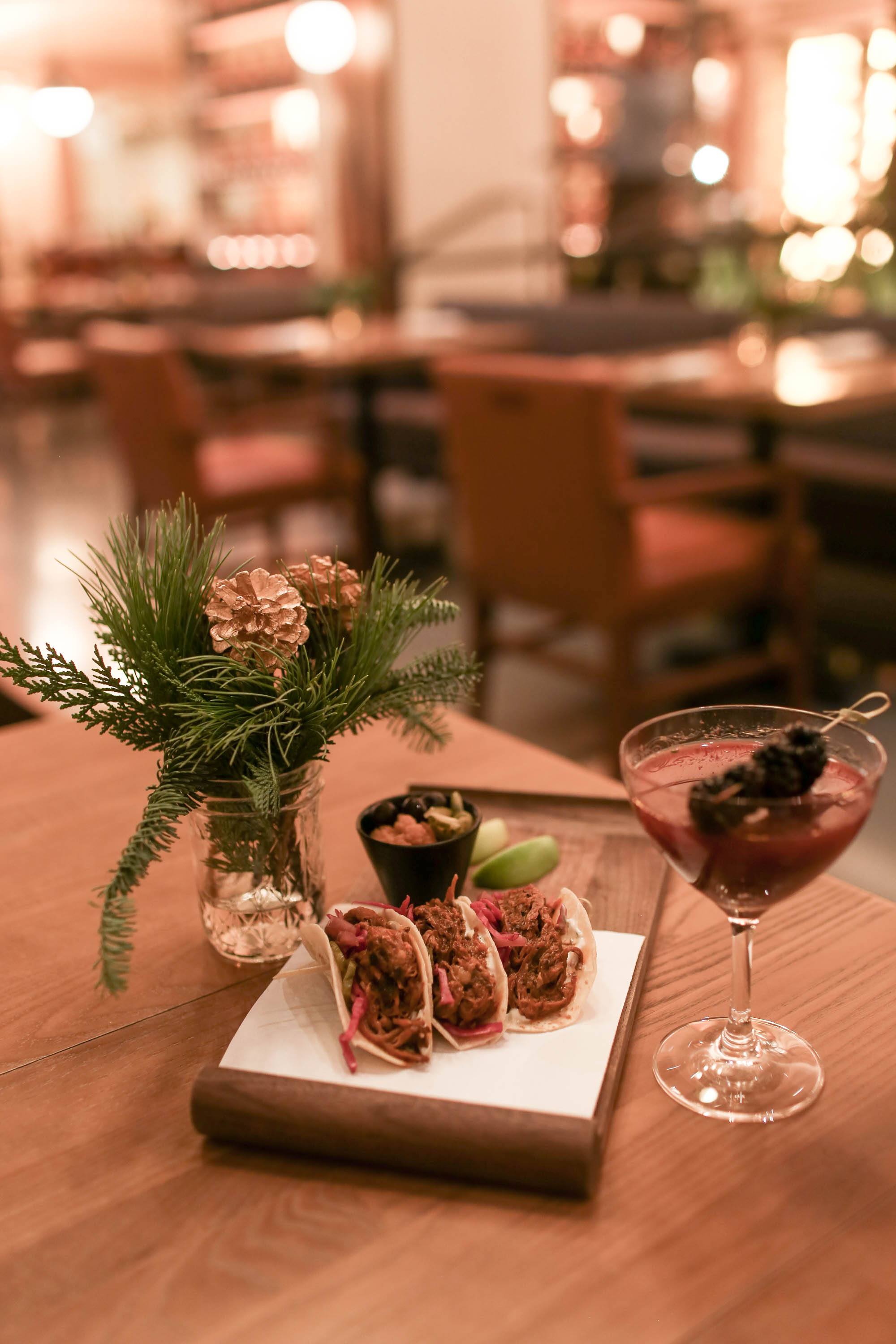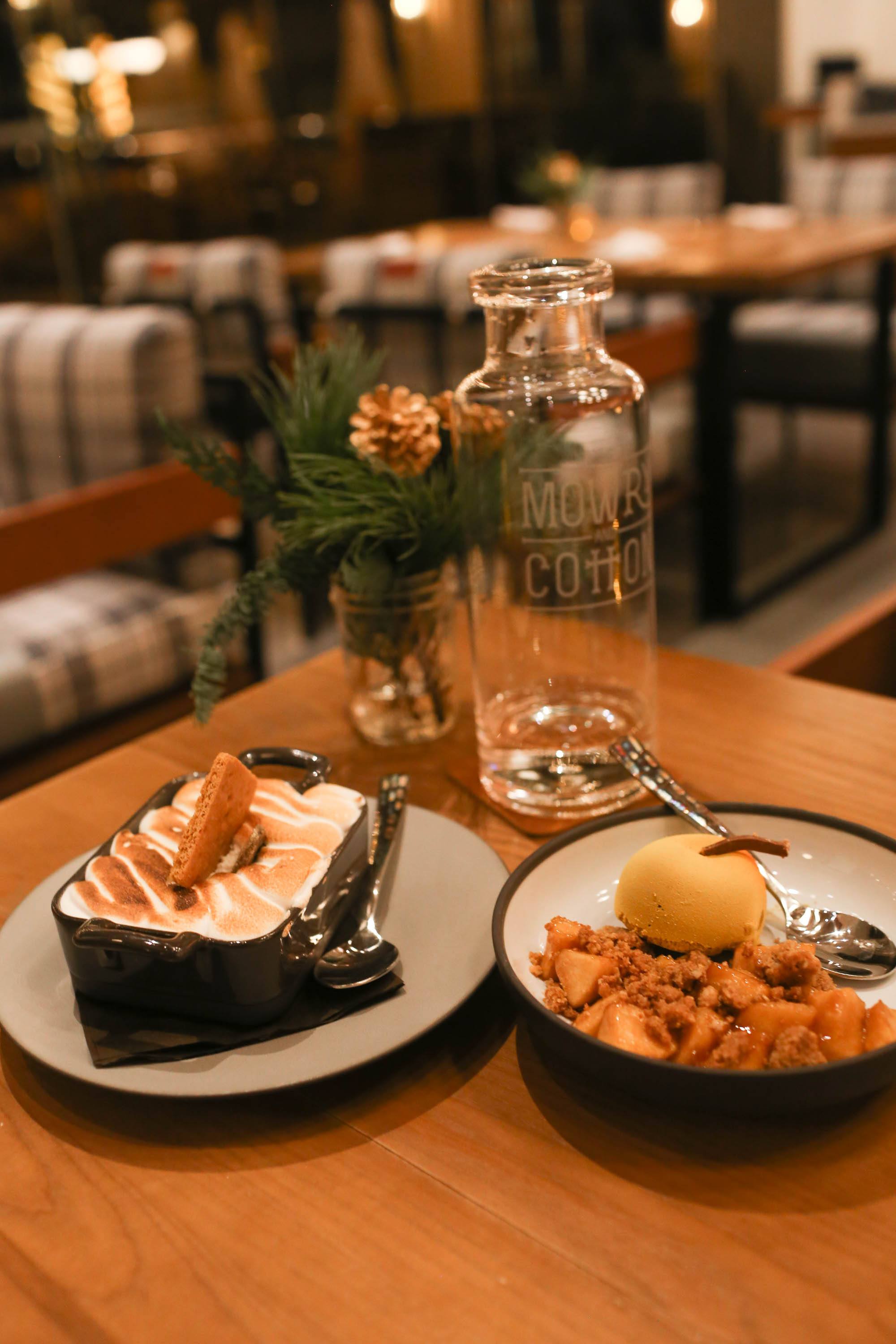 ---
DAY FOUR
Morning Hike
Grab some coffee and your hiking shoes because a sunrise hike at the McDowell Sonoran Perseve is a must experience! There are a variety of trails you can take. If you're up for a longer hike, the Gateway Trail is about 4.5 miles roundtrip. Or, if you were a bit sleep like we were, there's a shorter loop around the Horseshoe trail that's under 2 miles round trip and mostly flat. We loved walking among the towering cacti and watching the sky slowly turn from
Brunch
Try here for a post-hike brunch.
Trapeze
If you're up for something totally unique, try a trapeze class at The Phoenician! In under an hour, they'll teach you how to flip and do that classic trapeze catch in the air! I had no idea what to expect. I joked to Robin that I have an artist's body and wouldn't be any sorts of graceful during the class, but the instructors were incredibly skilled and were able to help me make the catch. It's truly a once in a lifetime experience!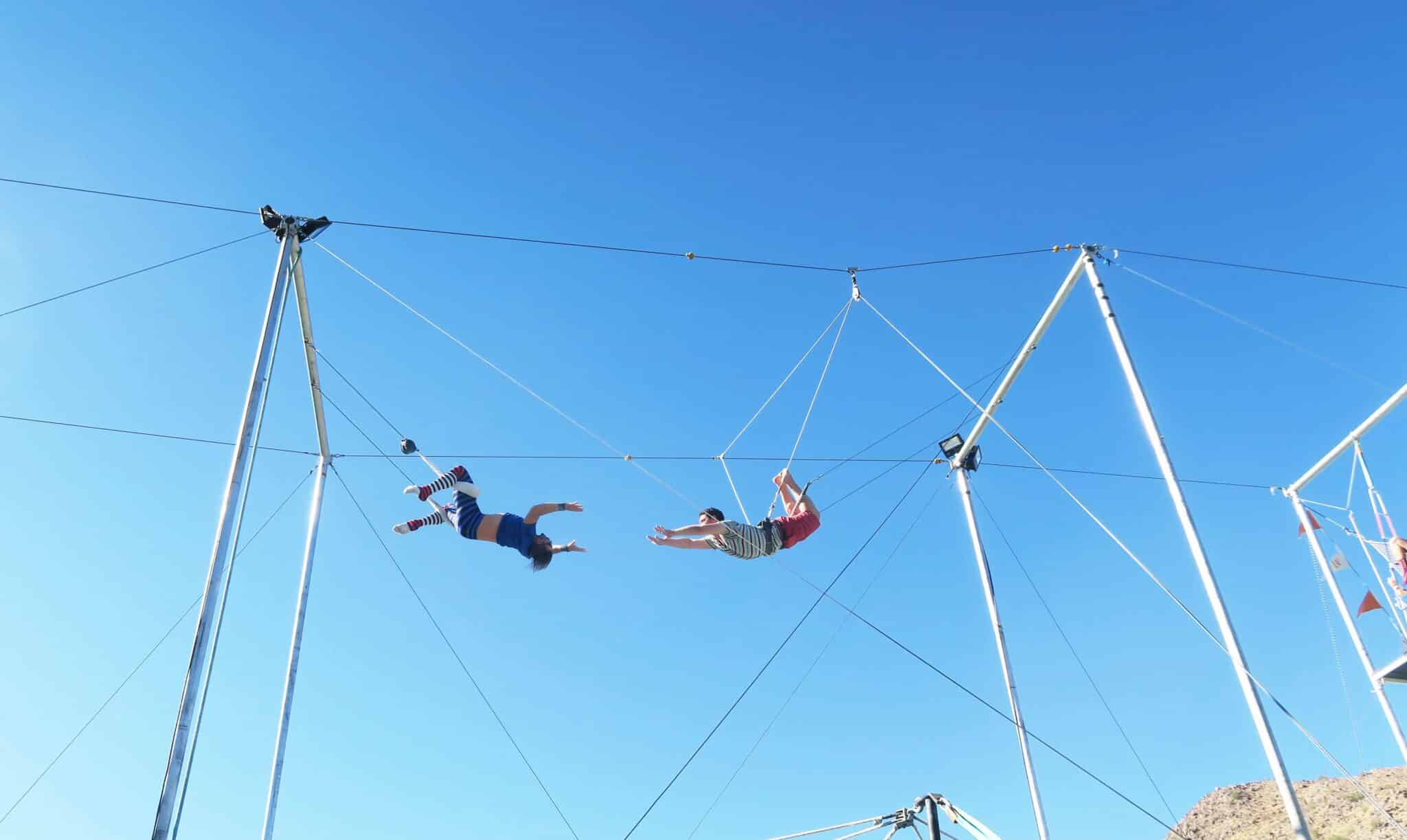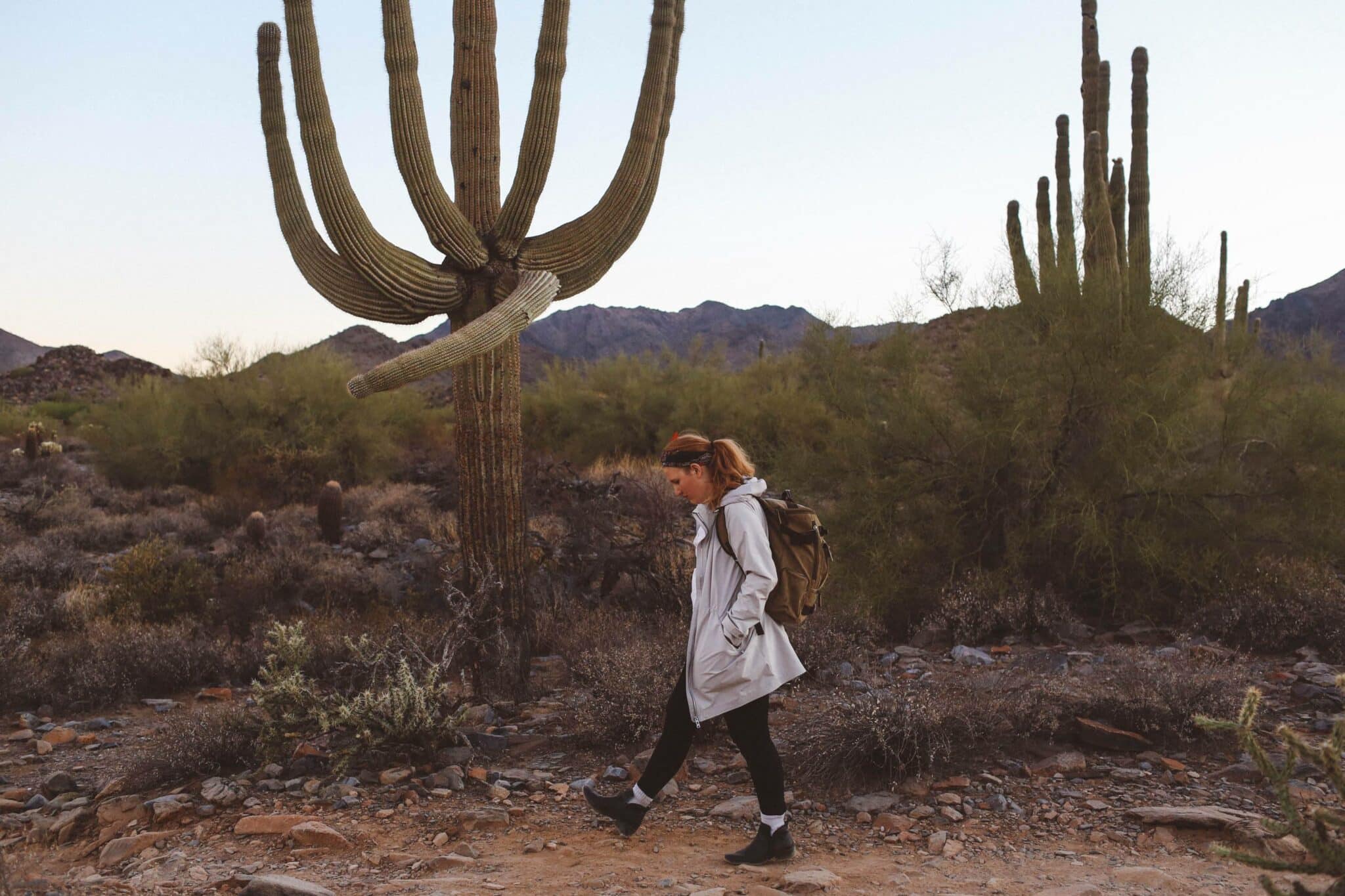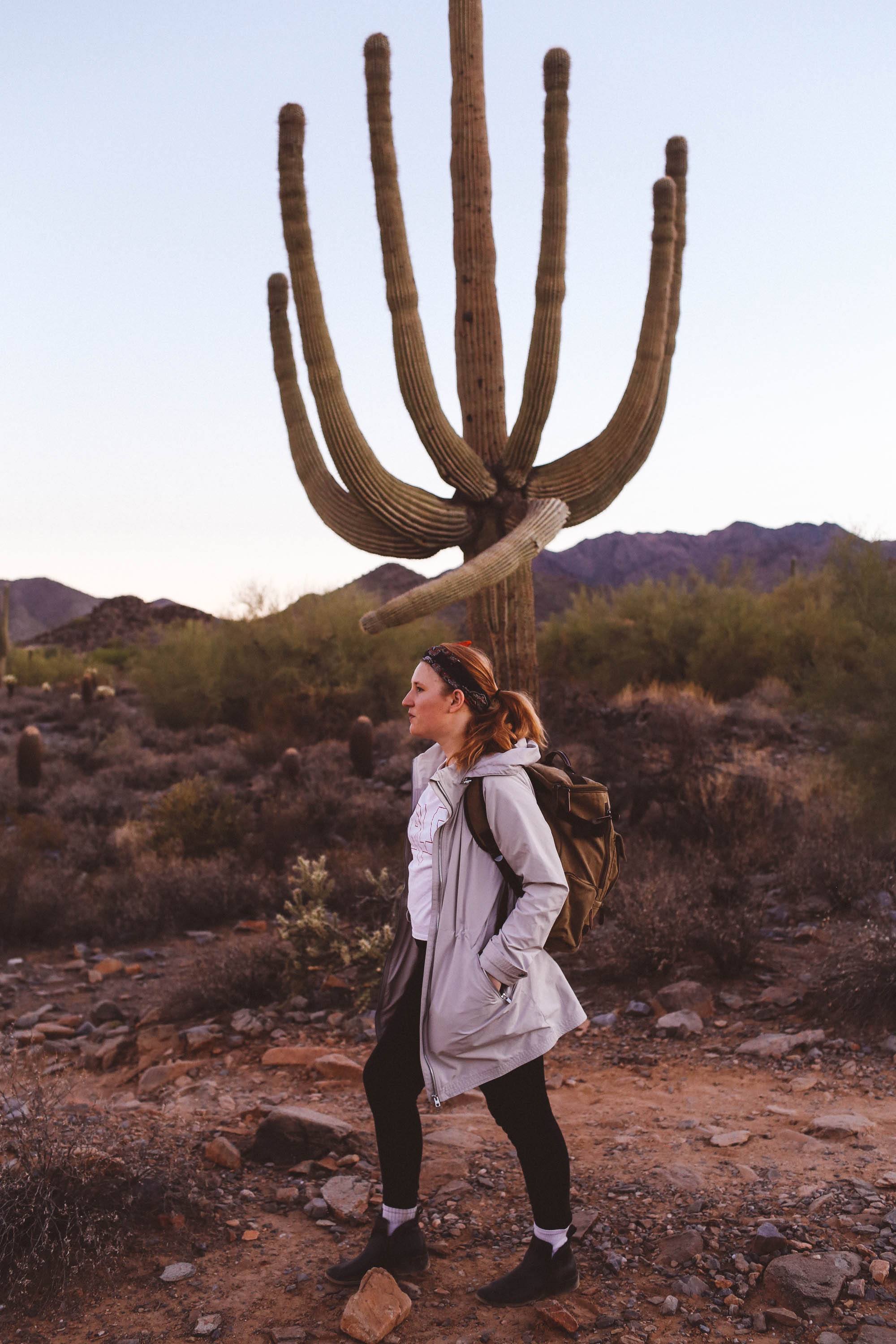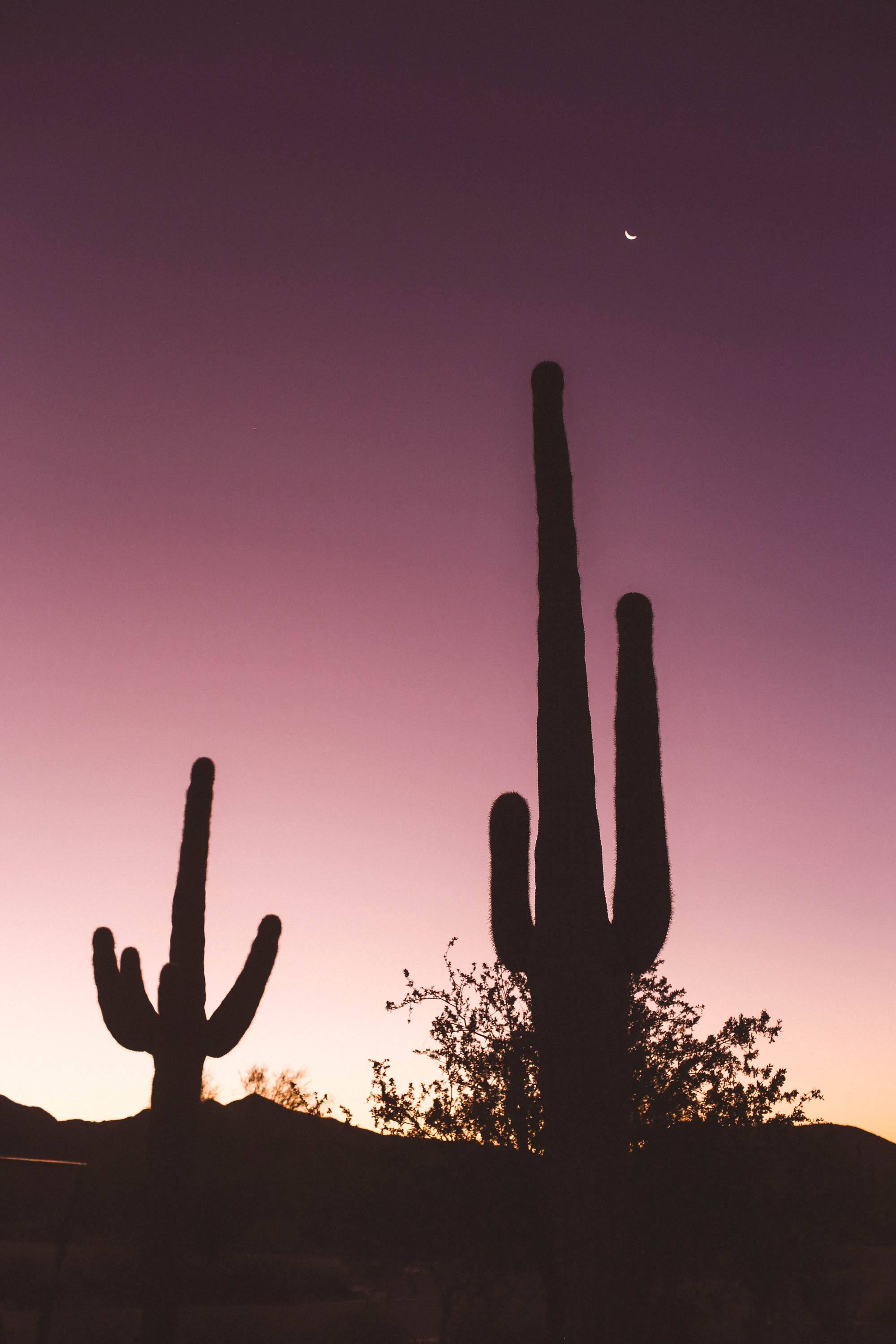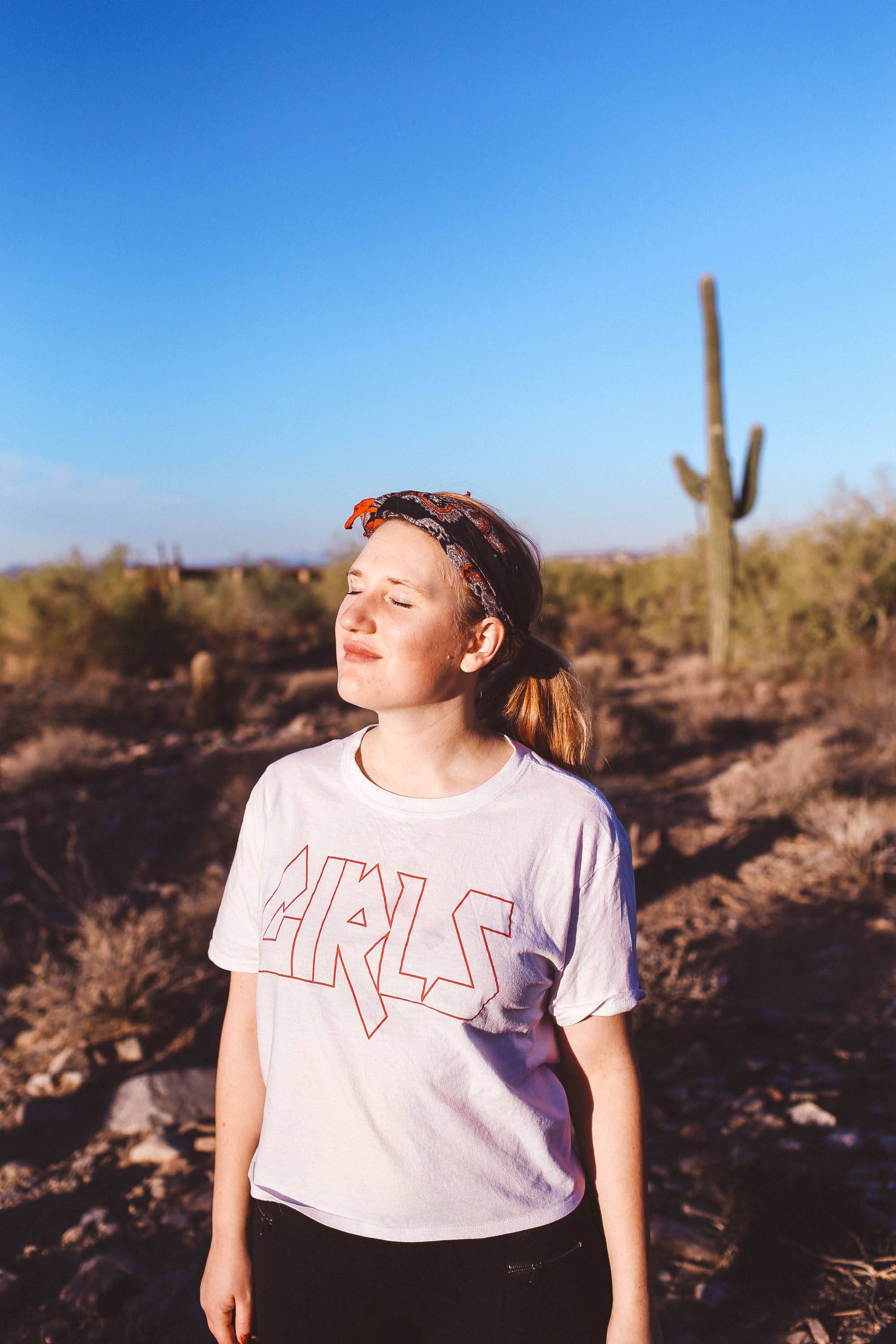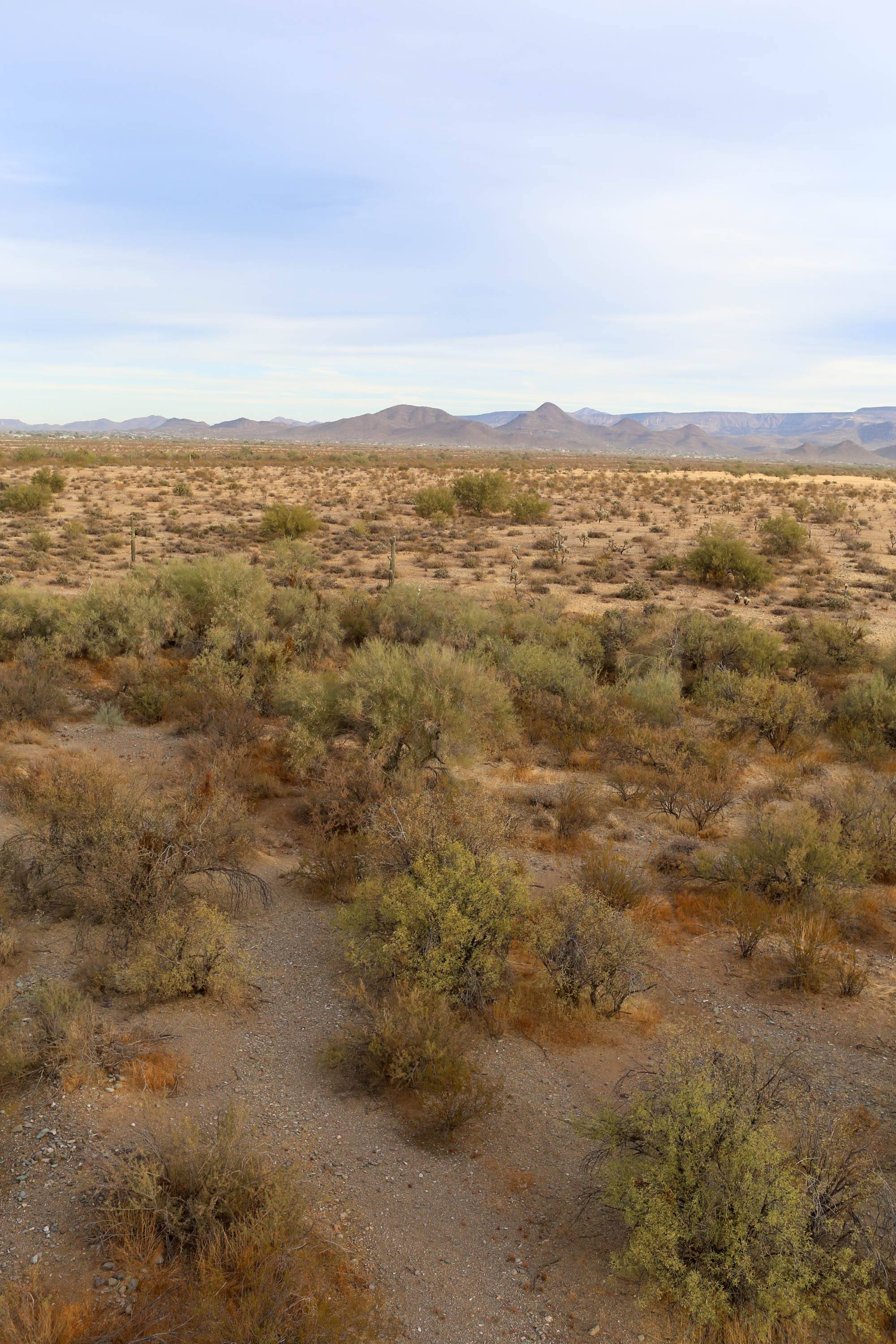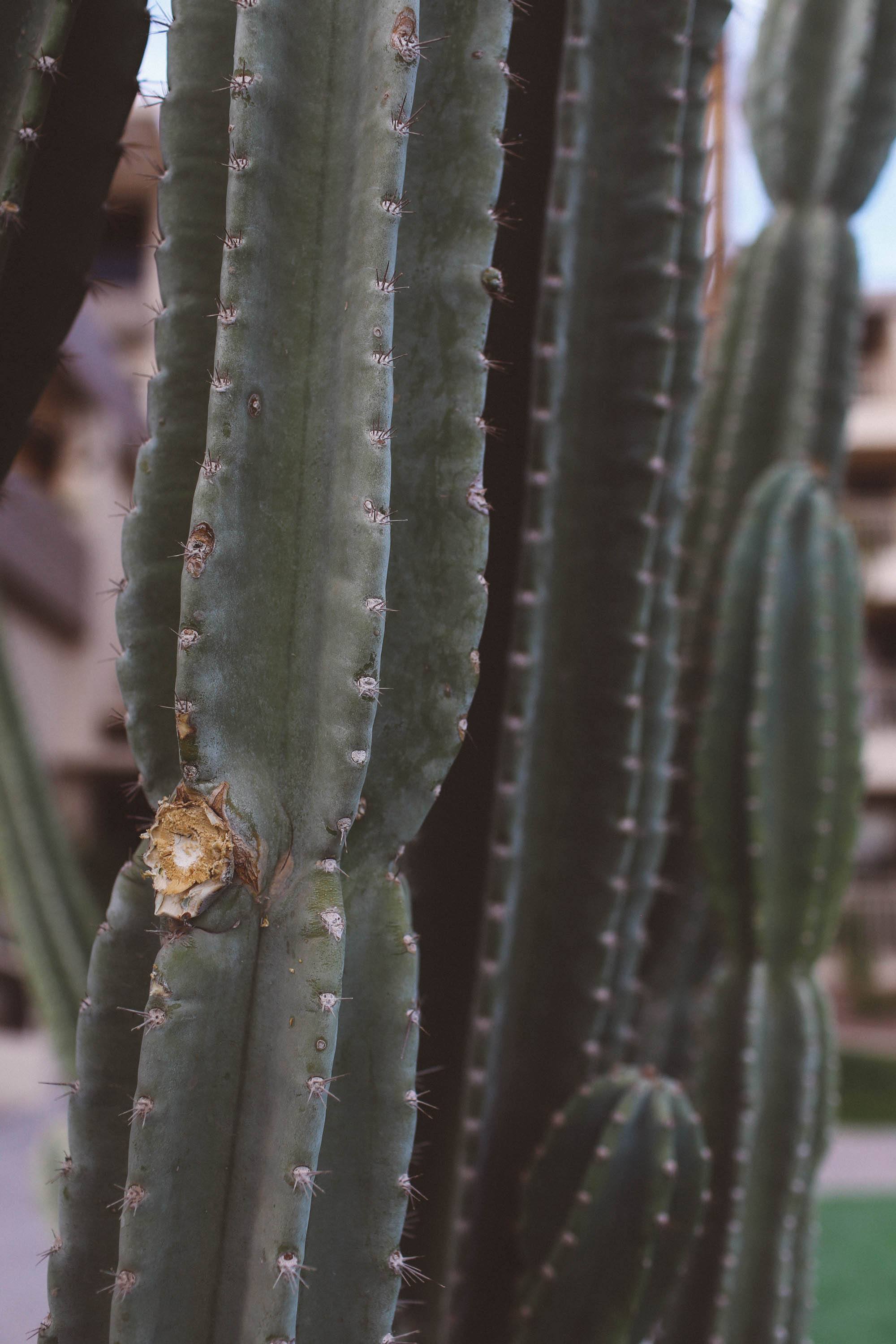 Afternoon Tea
The Phoenician hosts daily High Afternoon Tea that is just a blast – especially during the holiday season! After visiting London, we both fell in love with High Tea and were so excited for an afternoon of scones, tiny sandwiches, tea and bubbly. Make sure to reserve in advance as it's a popular activity!
Wine Tasting
After tea, head to downtown Scottsdale for some wine tasting! We learned that there's a big wine region in Southern Arizona I recommend Aridus Wine Company and Carlson Creek, both within walking distance. They both take walk-ins and are around $10 per tasting.
Dinner
For dinner, I recommend FnB, which is just a couple blocks from Carlson. While they serve meat, they do an incredible job at cooking unique vegetable-based dishes. I highly recommend also treating this dinner like tapas – order a bunch of different dishes to split among the crew. We loved the falafel, which was the moistest and tastiest falafel have ever had. The roasted cauliflower was another favorite along with the lamb The menu changes seasonally, so expect only the freshest and the best.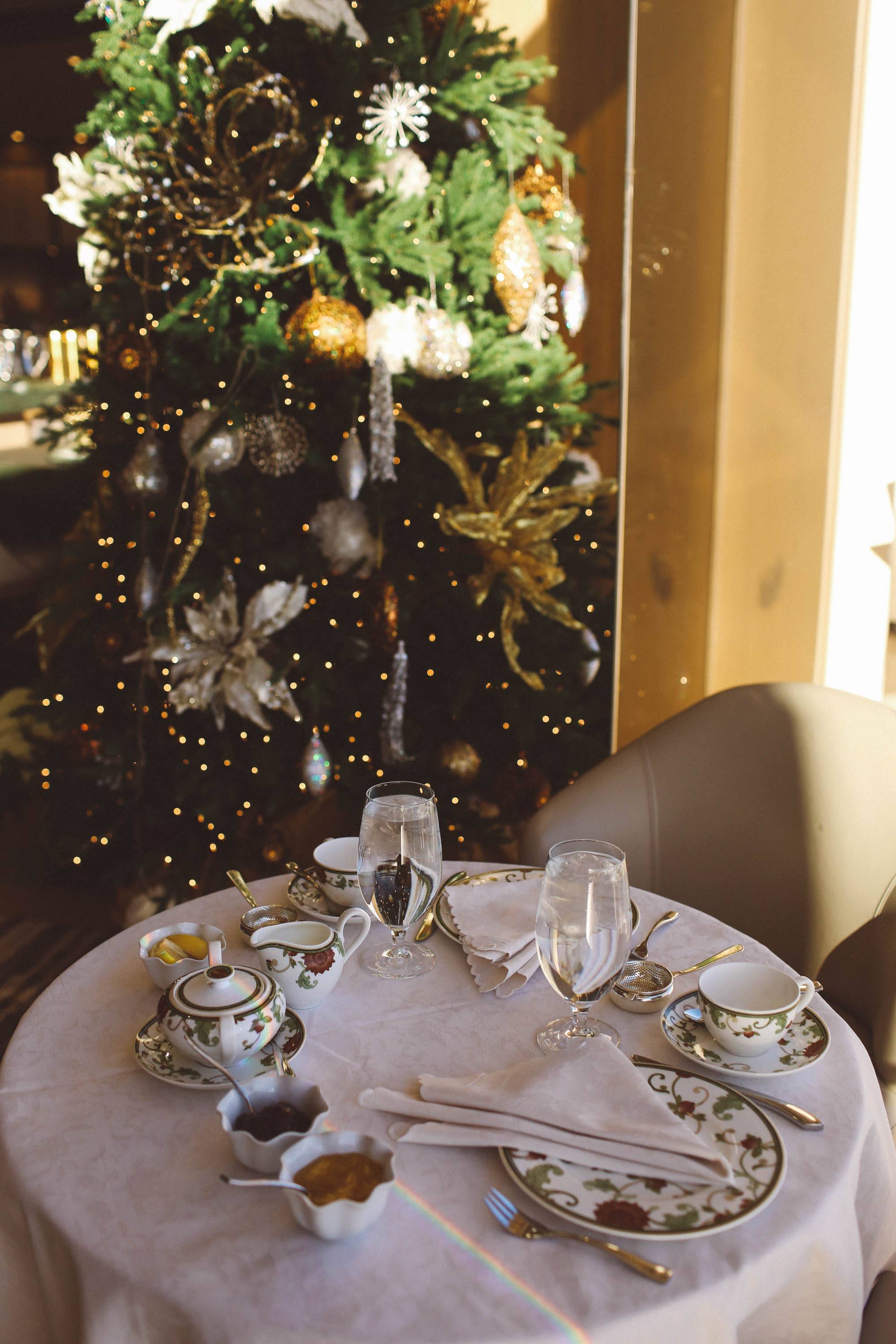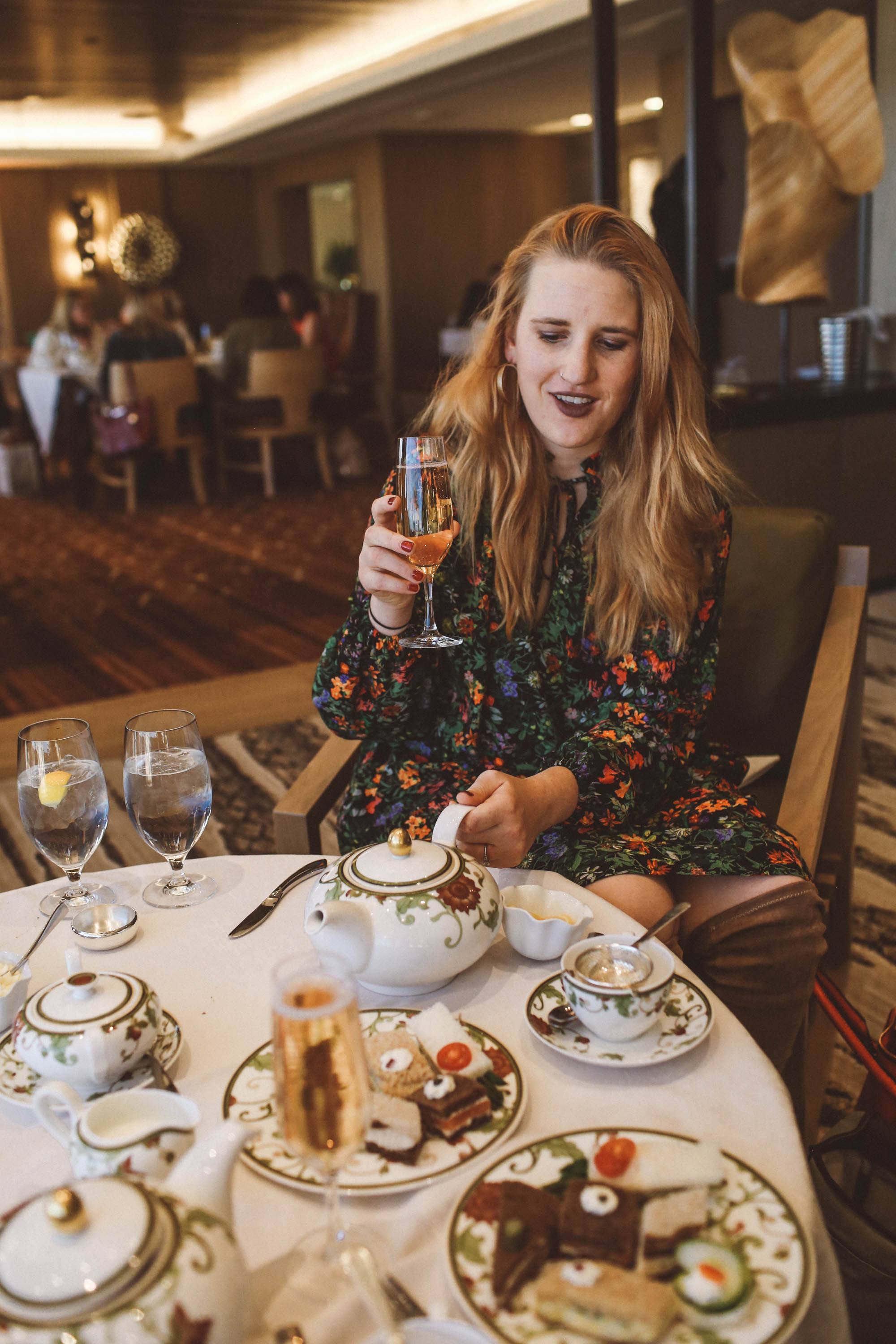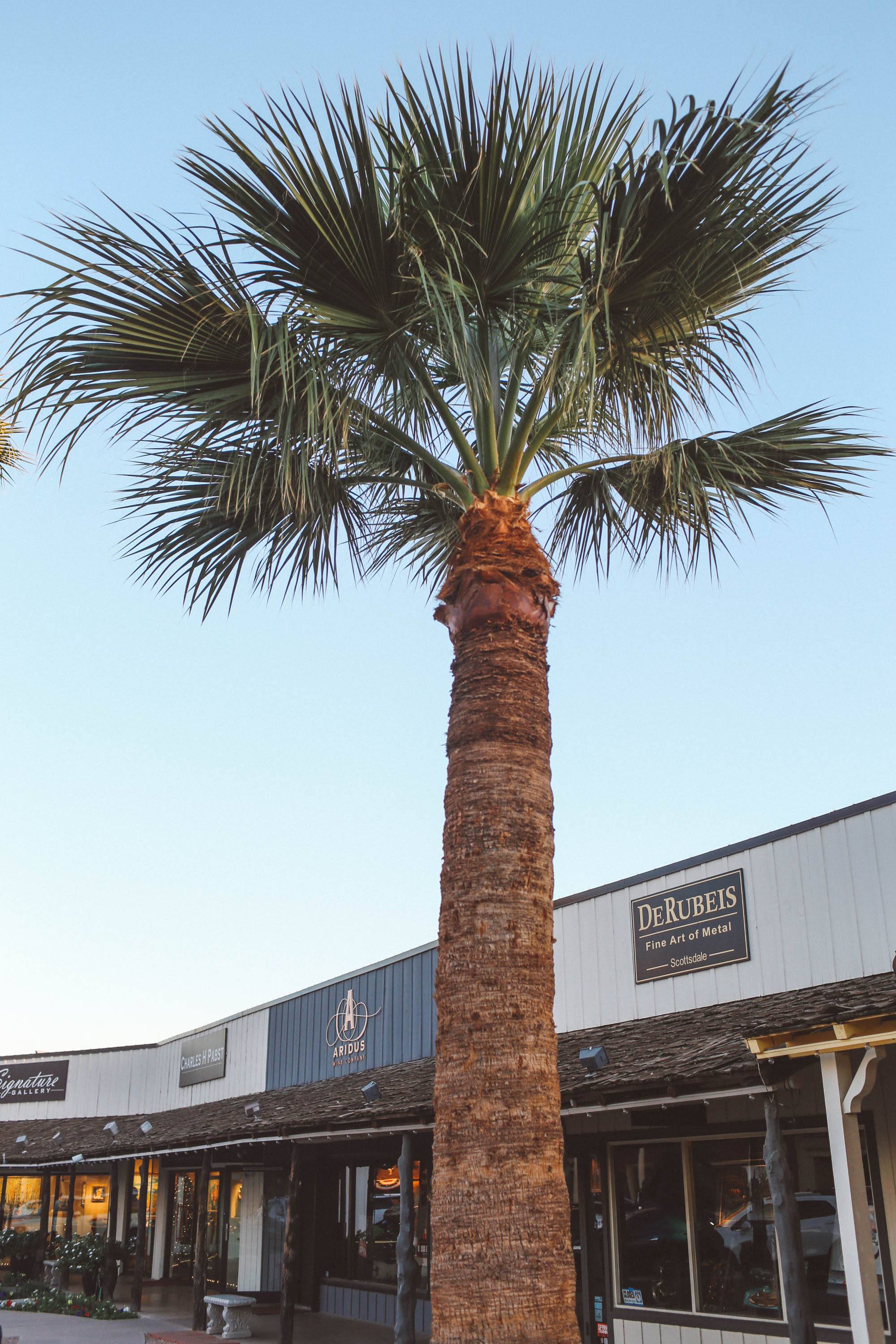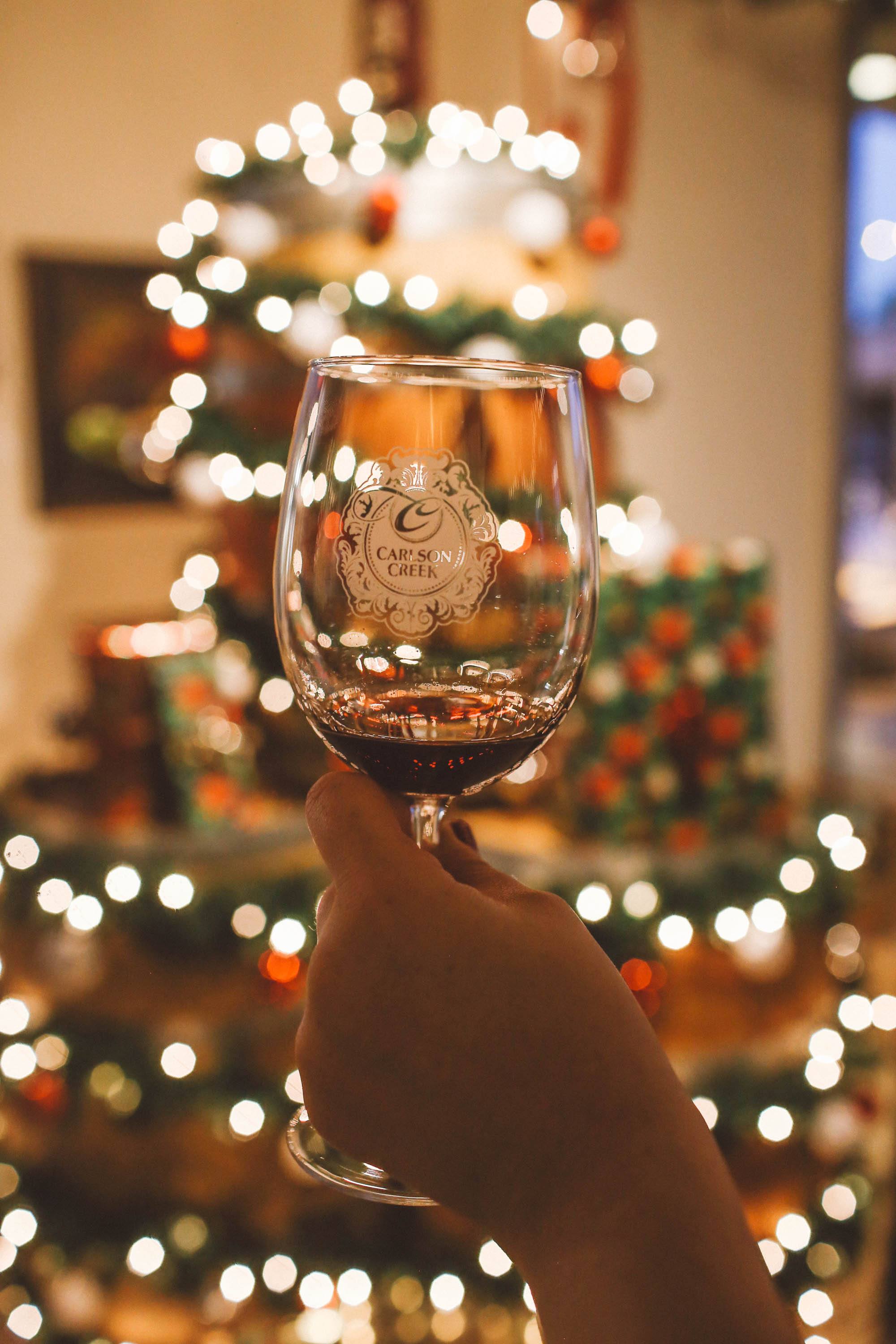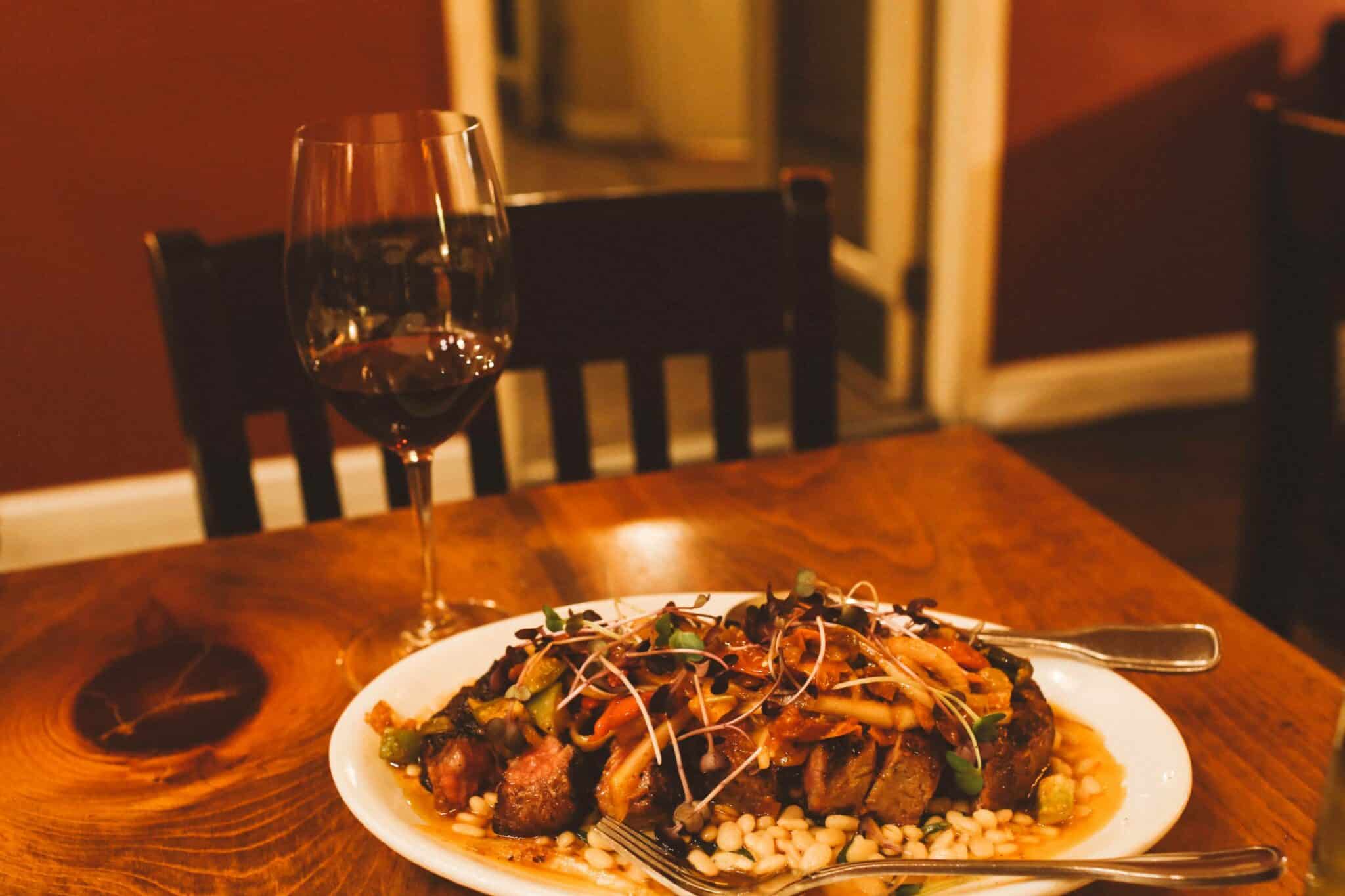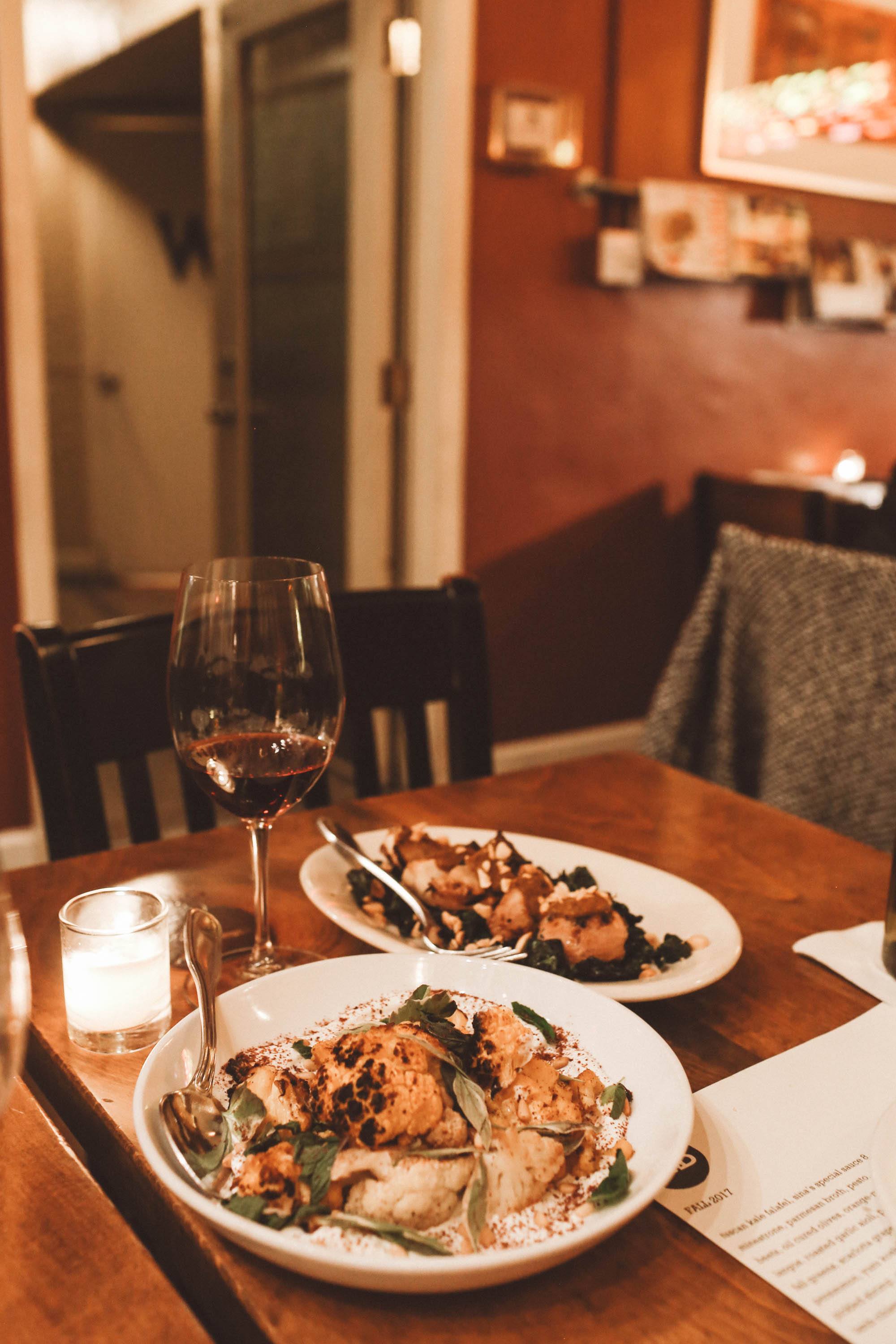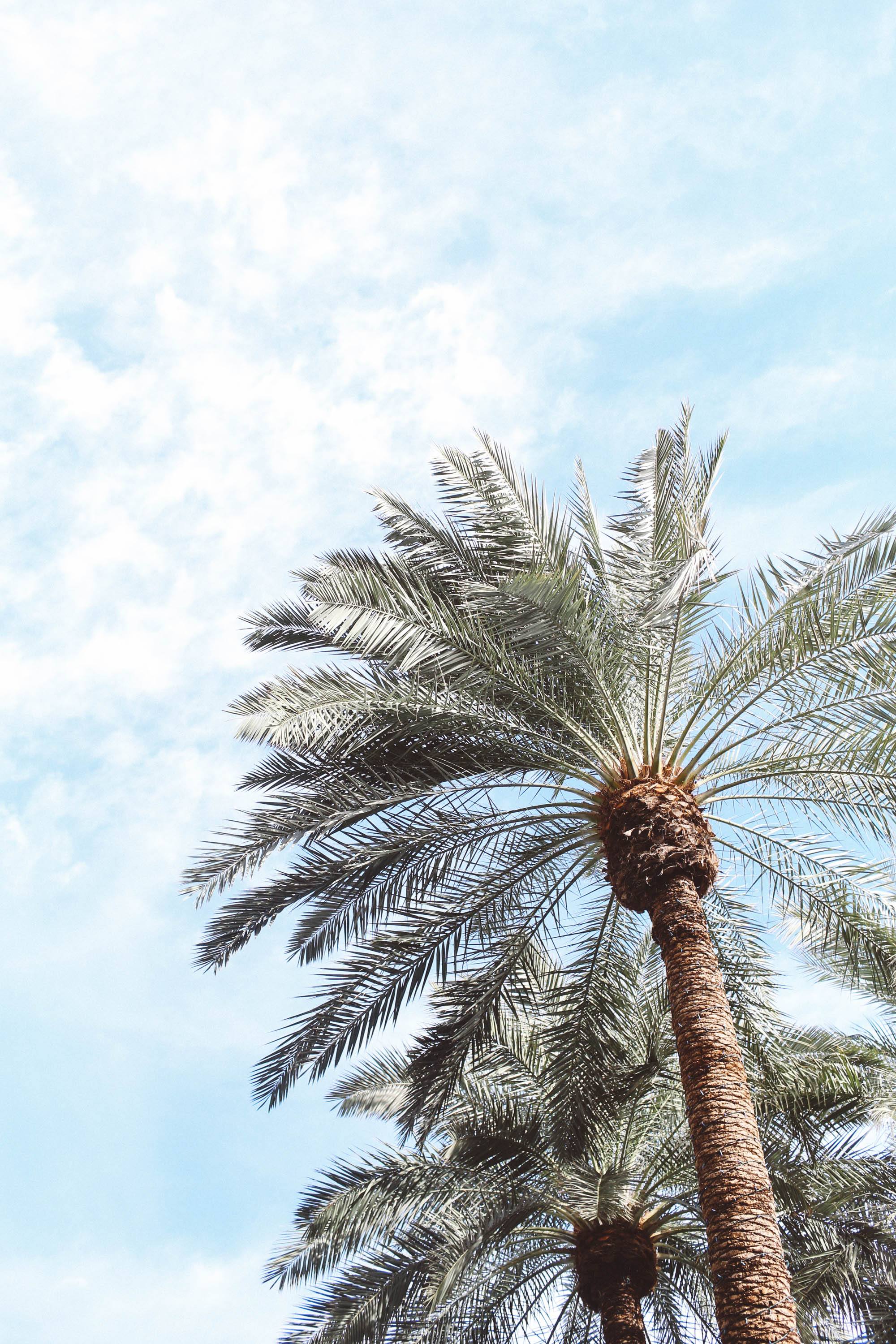 WHAT TO PACK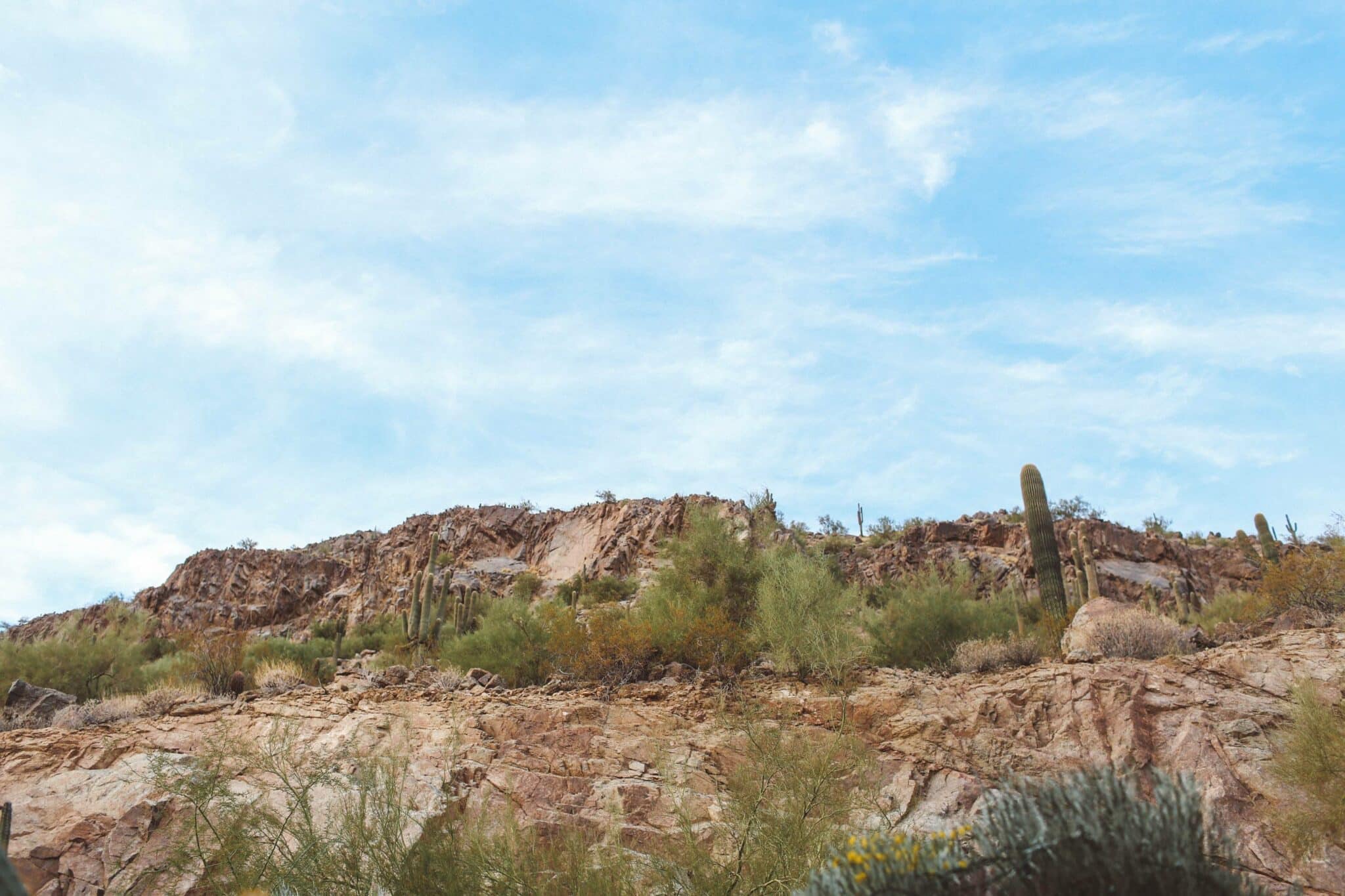 I hope this helps you plan a fun trip to Scottsdale, especially during the holiday season!! If you have any questions at all, drop them below and I'll get back to you! Or, you can DM me on Instagram @thewhimsysoul and I'll help you out.
We've been to Arizona a LOT, especially Scottsdale so I highly recommend you poke around my site to find other blog posts to help you plan your trip even further. If you have time, I suggest taking a few days to road trip up to Sedona, which is a stunning city tucked in RedRocks.
So many fun things to do in Scottsdale! Happy travels!