I got to Yosemite National Park at least once a year – sometimes more – and I've been obsessed with trying out all the Yosemite cabins and hotels so I can put together the definitive lodging guide for you guys.
Yosemite is a BIG national park and there are a plethora of places you can stay (hotels, campsites, cabins, glamping even!) If you haven't been before, or even if you have been before, it can be a little overwhelming to figure out where to book your stay.
In this post, I go over my personal favorite places to stay near Yosemite or in the park, along with highlighting the pros and cons of each so you can book the BEST room for you and your group!
One of my favorite perks of living in San Francisco is I'm located so close to some of the best National Parks in the United States. Muir Woods is 25 minutes away, Lassen about 4 hours and Yosemite is around 3.5 hours, so I try to visit them all at least once a year.
I've stayed at all the park entrances and even inside the park, so I can give you the real honest tea on what hotels, cabins and campsites are actually better than others. But first, let's help you decide if you should stay inside the valley or outside Yosemite.
Should I Stay In Yosemite Valley Or Outside The Park?
Pros Of Hotels In The Valley
No daily drive into the park
No risk of morning rush-hour traffic into the park
Can get to trails faster in the morning
Easier to photograph Yosemite's Instagram spots
You get to sleep in Yosemite!!
Cons Of Hotels In The Valley
Limited dining options
Lack of nightlife
Can be crowded in the summer
Expensive
Pros Of Hotels Outside The Valley
More lodging options at all budgets
Cool local nightlife available
Tons of dining options
Other activities & attractions (kayaking, museums, etc)
Cons Of Hotels Outside The Valley
Risk of traffic going into the park on holiday weekends
~1 hour drive required to get into the valley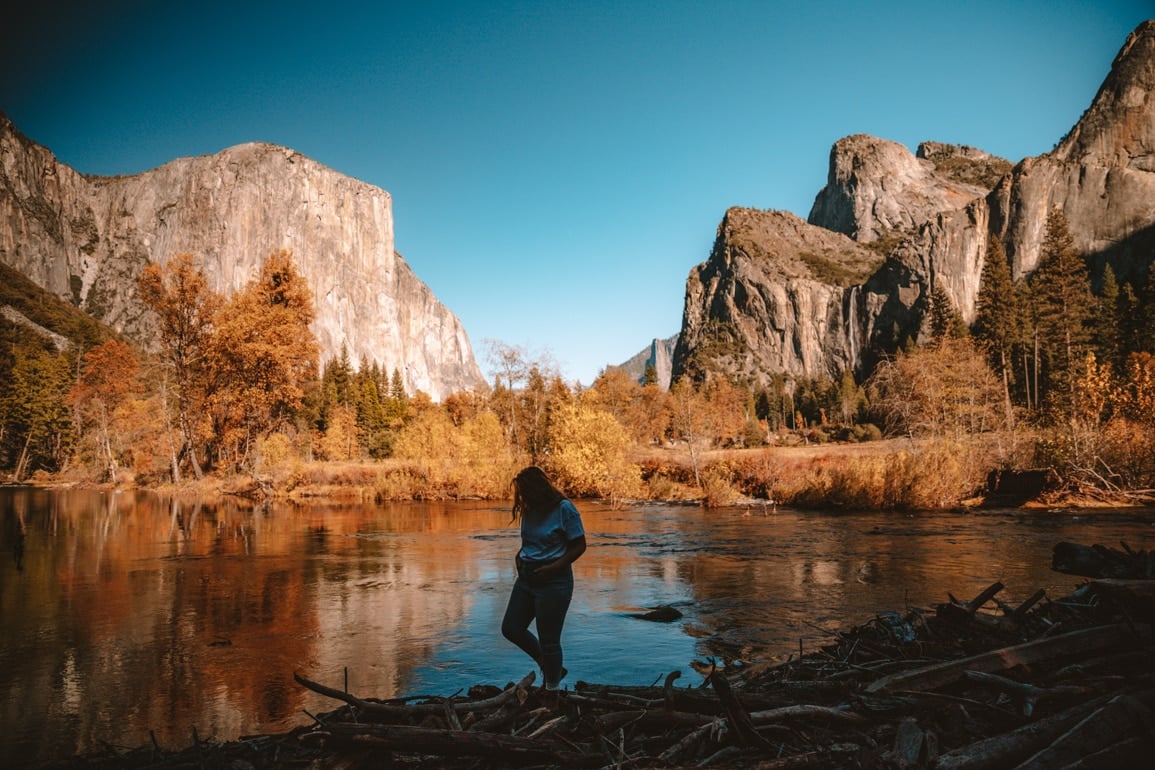 Where To Stay When Visiting Yosemite National Park
These are all Yosemite cabins or hotels I have stayed at personally OR trusted friends have stayed at and give their stamp of approval. Your ultimate guide for where to stay when visiting Yosemite National Park!
Where To Stay In Yosemite National Park
My favorite Yosemite lodging that's INSIDE the park boundaries! There's not a lot of lodging in Yosemite but these are the best.
Location: Yosemite National Park Valley
Season: Summer
If you love glamping (which I do) and your National Park road trips are in the summer, then you need book a stay at Curry Village / Half Dome Village which is inside Yosemite National Park. (Curry is the older name and is still often referenced that, just for clarity!) These are National Park lodging tent cabins in the middle of the valley. Some have heat, some don't, but all have a light bulb, beds, trash can and a bear locker.
The first time I visited Yosemite years ago, my husband and I stayed at Half Dome Village for a few nights. It was such a unique experience to fall wake up under Glacier Point and just be right here in the valley. We loved how close the tents are to major trailheads, like Mirror Lake and Vernal Falls, and had fun sipping Firefall beer and watching the sunset over Half Dome each night.
These are glamping tents, though, so the bathroom is far away and there is no running water in the tents. I also recommend you get a heated tent, even in the summer, as the valley can get cold at night. It's a bit more per night but worth it. Have fun!!
Location: Yosemite Valley
Season: Year-round
If glamping isn't your thing, don't worry! There aren't many Yosemite National Park hotels inside the park but there are some, and the Awhanee is my favorite.
It's historic, super majestic and has all those old-world cabin vibes you want, but with modern perks. Their dining room is my favorite place to grab dinner inside the park (that french onion soup!!) and they have a pool for summertime visits! Or, come at Christmas for an extra special Christmas show with live actors.
The other hotel option in the valley is Yosemite Valley Lodge but it's a bit run down and not as nice as the Ahwahnee. At that point, just stay at Half Dome for a more unique experience. So, one of the best places to stay in Yosemite other than the tents is Ahwanhee!
Location: Near Curry Village
Season: Summer
Yosemite camping can be so much fun, but absolutely competitive to snag a campsite (like with all of California, you usually have to book at least 6 months out!) There are 13 campgrounds in Yosemite. Some are seasonal, some are year-round, and they are scattered all around the park.
I recommend North Pines Campground, as it's tucked away from the main road so you won't be bombarded by cars and tour buses all day, but it's still close enough to Curry Village for supplies and major trailheads and things to do in Yosemite. Lower Pines and Upper Pines are also good options, but a tad busier.
Photo Credit: www.travelyosemite.com
Location: Tioga Road
Season: Summer only
The Tuolumne Meadows Lodge tent cabins are very similar to Half Dome Village / Curry Village. But, these are located near the Tioga Pass Entrance, are only open in the summer and are made more for backpackers on through hikes in the Yosemite wilderness / Sierra Nevada Mountains.
There's limited national park services up there but they do offer daily meals (reservations recommended) so you don't have to worry about food. I do want to stay here one day, even though it's rustic and far from the valley! They're just such unique places to stay at Yosemite! They're actually much closer to Lee Vining and Mammoth Lakes, so perhaps do a visit to June Lake and the Mammoth Lakes Hot Springs first, then a few nights at the tent cabins!
Where To Stay Near Yosemite National Park (Outside)
Now onto my favorite places to stay near Yosemite - the best hotels and cabins around the park entrances that are unique and special!
Location: Oakhurst / The South Entrance
Season: Year-round
All the rooms are in unique tiny cabins! It's a cross between glamping and a proper hotel. I stayed at Siera Meadows last year when we visited Oakhurst (aka the Southern Entrance town) and it's now probably my favorite lodging for Yosemite option. They're just so dang fun!
These tiny cabins fit a bed, mini-fridge, nightstands, benches, have AC/Heat plus lights and wifi. The bathrooms are a short walk away. Some are even dog-friendly cabins, too. My husband and I stayed here 3 nights and I loved every second. These special Yosemite accommodations should be on your California hotel bucket list!
Location: Groveland / Hetch Hetchy Entrance / Big Oak Flat Entrance
Season: Year-round (favorite is autumn!)
I just got back from a weekend at Evergreen Lodge near Yosemite and WOW! If you're looking for where to stay in Yosemite in October, this is THE hotel! The fall colors here are insane.
All the rooms are inside private cabins with porches that overlook the forest. I saw a herd of deer from my balcony one morning just chilling 3 feet away from me!
This resort doesn't just have cool cabins. There's free nightly s'mores, tons of free wifi all over the property, a hot tub and pool, sunset viewing points, game rooms and more. Oh, and the Evergreen Tavern has drool-worthy food. Not many hotels near to Yosemite National Park have dining options this good. Very farm to table with unique recipes and craft cocktails that hint at the 1920's speakeasy era. YUM!
Location: Bass Lake / Southern Entrance
Season: Year-round
A cool place to stay in Yosemite is this cabin on Bass Lake. Look how pretty it is! I low-key want to move in here forever. This house has a fully equipped kitchen, wrap-around porch, huge living room with tall windows and tons of little details to make the experience feel magical. It's a 4 bedroom home and can fit up to 8 people, making it the perfect Yosemite house to rent if you have a large group or family!
This cool cabin is outside Oakhurst, aka the Southern Entrance to Yosemite. There's so many fun things to do in Oakhurst and Bass Lake year-round, so this is a smart choice if you're staying more than just a few days in the Yosemite area.
Photo Credit: rushcreeklodge.com
Location: Groveland / Big Oak Flat Entrance
Season: Year-round
If you're looking to get swanky while visiting Yosemite, Rush Creek Lodge & Spa is for you!! It's a super gorgeous property and makes for the perfect romantic Yosemite getaway. You simply must book a spa treatment here (feels so good after a day of hiking!)
I love their outdoor pool and hot tub, which gets covered in snow in the winter for extra cool Instagram photos. It's iterally just a few miles from the Big Oak park entrance and the Hetch Hetchy entrance, so another great option for lodging by Yosemite!
Location: Southern Entrance
Season: Year-round (favorite is Christmas!)
Tenaya is another favorite Yosemite Southgate Hotel if you can't book at Sierra meadows. Free parking, wifi and tons of activities like ice skating, hikes and a spa.
The hotel is super close to the Sugar Pine Railroad, which is extra magical during the winter season when the forest is covered in snow (feels like you're riding the Hogwarts Express!) This is my favorite Yosemite hotel to book during the Christmas season, as they put a giant tree in the lobby. I stayed at Tenaya in December a few years ago and loved all the festive vibes.
You still have to travel into the valley from here, but the hotel is right next to the park entrance and Mariposa Grove. Oh, and I recommend booking a room in the lodge vs a private cabin.
Location: Mariposa / Arch Rock Entrance
Season: Year-round
This is no ordinary Best Western. Located in Mariposa County, a cute old mining town on the Arch Rock Entrance, the Yosemite Gateway Inn has tons of retro vibes. Just look at that lobby! Many rooms have balconies overlooking trees.
I adore Mariposa since it's full of cute shops and local dining options, like craft breweries and farm-to-table restaurants. There's always a little bit of a nightlife buzz here.
Location: Mariposa
Season: Year-round
Looking for where to stay in Yosemite with family? Rent a huge cabin! There are tons of cabin vacation rentals around Yosemite but not all of them are in the best of shape. This cabin is super cute, though. Ithas huge vaulted living room with pine ceilings, woodstove with gorgeous slate hearth, floor to ceiling windows, large family room with additional wood stove, slate hearth and wet bar, very large dining area perfect for entertaining, gourmet kitchen, breakfast nook, walk in pantry, indoor laundry, an oversized master bedroom, guest bedroom, and two baths.
Frequently Asked Questions About Hotels In Yosemite
What Are Cheap Hotels Near Yosemite National Park?
The options above range in prices from $65-300 per night, so you can find cheap yet cute and travel writer-approved options. But, when in doubt, the Yosemite View Lodge is probably the best super cheap option. It's always under $100 a night, is in El Portal (aka really close to the Valley) and rooms overlook the Merced River.
Should I Stay In Fish Camp?
There are spots like the Wawona Hotel near Fish Camp but I personally think Fish Camp Yosemite Hotels and cabin are both too far from nightlife and too far from the valley to make it the best choice out there. The exception is Tenaya Lodge, which has multiple dining options, stores and activities and is still a close drive to Oakhurst for more nightlight. But they also provide enough of their own nightlife!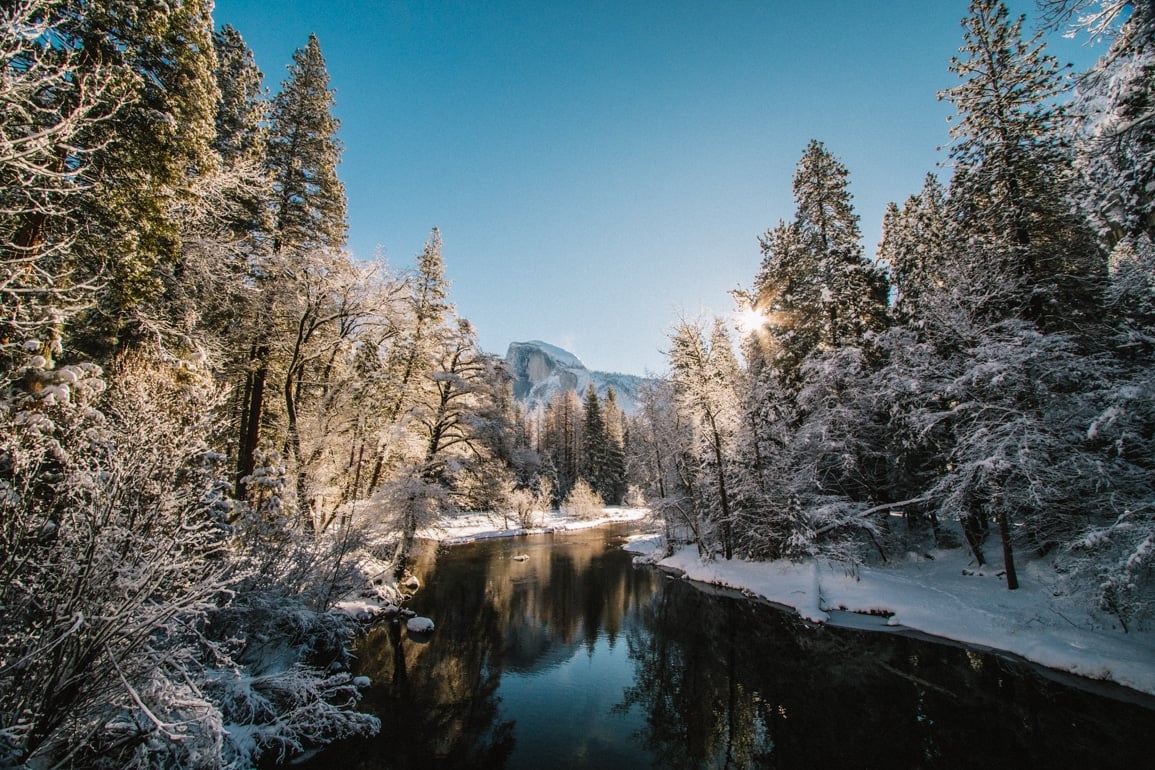 Where To Stay In Yosemite In Winter?
Winter in the park is stunning. Everything is covered in snow and it's a true winter wonderland and a fraction of the crowd. But – everything is covered in snow, which means it takes longer to drive into the valley, you'll probably need chains and some of the roads will be closed.
During the winter, it may make sense for your to stay at the Ahwahnee inside the park to limit the number of times you make that commute. Or, somewhere near the Mariposa or Groveland entrance. This is because Tioga Pass always closes in the winter,r ti's it not uncommon for Wawona Road (Southern Entrance) to have limited driving hours in the winter.
Do I Need Yosemite Reservations?
Ever since 2020, you may need to make Yosemite reservations prior to entering the park, even if you have a annual pass. They seem to bring this back around in the summer months, and drop it in the fall and winter.
Check before you road trip out there and make sure to book your slot early! This is different from the Yosemite day pass / annual pass. The good news is, if you didn't grab passes in time, you can still enter the park as long as you get in before the gates open at 9am!
I hope this guide helps you decide where to stay for Yosemite National Park! You'll have so much fun no matter the season you go, but your Yosemite lodging does matter to help you have the best trip possible.
Did the best Yosemite hotels and cabins not make the list? Drop your favorite hotel at Yosemite reviews below in the comments so everyone can see. Got more questions? Comment below or DM me on Instagram @thewhimsysoul and I'll be happy to help!