The day in 2019 when Instagram crash worldwide was eye-opening to me. Our entire world revolves around this app through two things: photos and captions.
As a professional blogger/influencer, I know the importance of good photo captions for Instagram. But, it can also be a lot of pressure to come up with the PERFECT caption for Instagram photos, especially if you are posting every day, are trying to grow and account or are just short on time.
I've been there, when I need a creative refresh on captions! So, to help my fellow Instagrammers out, I put together a HUGE list of all the best Instagram captions broken down by category (along with some basic marketing tips to increase engagement on your posts!)
200+ Best Instagram Captions For All Type of Posts SO GENIUS For Growing A Following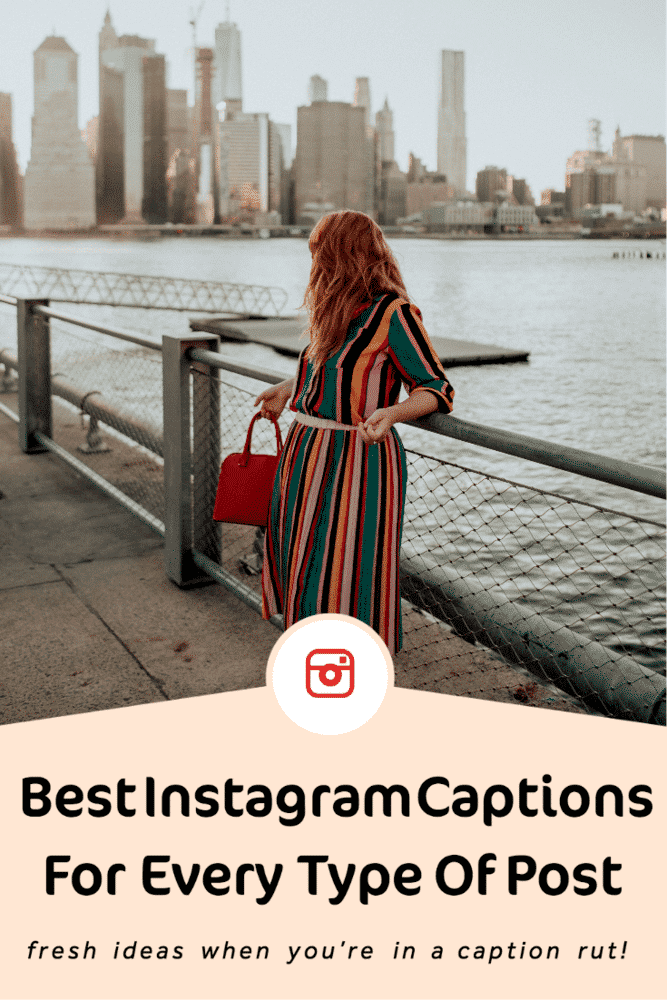 What Are Good Instagram Captions?
Or, let's ask this question: what is the best Instagram caption ever? It's the one that makes the strongest emotional connection with a follower.
I get DMs on @thewhimsysoul almost every single day from followers wanting to know how to grow their profile, how to blog fulltime, how to win at the Instagram game. And of course, there are a lot of tactics that go into a smart Instagram strategy (like using smart hashtags!) but it all boils down to the simple concept of connecting with another person on the "other side" of the app.
Does your post make them smile? Does your caption reference a popular TV show quote they can feel like they're on the inside joke of, too? Is the caption funny? Or motivational?
Want more social media marketing tips & advice for making money with your Instagram? Sign up for my FREE course below!
I think about this every time I sit down to pick an image and write an Instagram caption. Sometimes I write huge, long novels of a caption that almost fill the character limit. But sometimes, I opt for a short Instagram caption that I call a "little hit" of Whimsy Soul (not everyone wants to read huge novels every day!)
I've used a lot of these captions in this list in the past to help grow my following on Instagram, but also to stay connected with my current followers… keep them engaged and form real relationships with them.
Whether you are a blogger, a brand or just a normal user looking to step up your Instagram game, I hope this handy list of the best Instagram captions per category is helpful! Copy and paste directly, or use them as a starting point for a longer caption.
Travel Instagram Captions To Inspire Wanderlust
As a travel bug, I think coming up with travel Instagram captions takes up most of my time. I sometimes struggle because I'll feel like I captured a travel photo that's worth a 1000 words… so how do I come up with words to caption that photo? You know what I mean? If you're ever in the situation, try one of these wanderlust caption ideas to compliment your snapshot.
I'm in a relationship with my passport.
I haven't been everywhere, but it's on my list.
Catch flights, not feelings.
"Good girls go to heaven, bad girls go everywhere." – Mae West
OOO indefinitely.
We travel not to escape life, but for life not to escape us.
To travel is to live.
Do you really want to look back on your life and see how wonderful it could have been had you not been afraid to live in?
An adventure a day keeps the doctor away.
"Life is either a daring adventure or nothing at all." -Helen Keller
I don't know where I'm going, but I'm on my way.
Travel, because money returns. Time doesn't.
"She was free in her wildness. She was a wanderess, a drop of free water. She belonged to no man and to no city" ― Roman Payne
The mountains are calling and I must go.
>> Love to travel? Use my handy Plan A Trip page to find travel inspiration!

Funny Instagram Captions To Make People Smile
It's the little things in life, and I always enjoy when someone cracks a joke on Instagram. People don't need serious posts on their feed all the time. Try one of these funny insta captions (I won't tell anyone you got them here!)
Onions make me sad. A lot of people don't realize that.
Life is short. Smile while you still have teeth.
I need a six month holiday, twice a year.
I walk around like everything is fine, but deep down, inside my shoe, my sock is sliding off.
There may be no excuse for laziness, but I'm still looking.
Need an ark? I Noah guy.
Reality called, so I hung up.
My prince is not coming on a white horse… he's obviously riding a turtle somewhere, really confused.
I don't sweat—I sparkle.
…Moonwalks out of an awkward situation.
Cute Instagram Captions For Couples In Love
There's more unique ways to say "I love you" with a caption. When I'm not sharing detailed personal stories on a photo of my husband and me, I like to keep it short and simple with something cute!
Mischief managed.
Thanks for being so good at killing spiders.
Loving you is easy.
Some people are worth melting for.
You're the cheese to my macaroni.
If you're a bird, I'm a bird.
You are my favorite distraction.
We got together like milk and cookies.
All of me loves all of you.
Like rain, I fell for you.
Fun Instagram Captions For Friends
I LOVE my girlfriends! They are all so funny, smart, kind and great humans. I have SO many fun selfies with my girls. If you're posting a squad goals photo, use one of these cool captions (and don't forget to tag them — tagging relevant people in your photos helps increase engagement!)
I live for the nights that I can't remember with the people that I won't forget.
You are my best friend because I wouldn't dare be this weird with anyone else.
Best friends don't care if your house is clean. They care if you have wine.
If you live to be 100, I hope I live to be 100 minus 1 day, so I never have to live without you.
A friend is someone who understands your past, believes in your future, and accepts you just the way you are.
Good friends are like stars.
A good friend knows how you take your coffee. A great friend adds booze
Having those weird conversations with your friend and thinking, If anyone heard us, we'd be in a mental hospital.
I hope we're friends until we die. Then, I hope we stay ghost friends so we can walk through walls and scare the crap out of people together.
Clever Instagram Selfie Captions
Hey, I'm a Myspace born kid. I LOVE a good selfie and my camera roll is FULL of them. Though these days I left the emo vibes behind me and I'm no longer worried about who's in my top 8.
I have no selfie control.
Felt cute, might delete later…
I woke up like this.
I was born passport-ready.
I am not taking a selfie, I am just checking my camera quality
Sending my selfie to NASA, because I'm a star.
Embrace the glorious mess that you are!
Be happy, it drives people crazy.
Keep calm & take a seflie.
Leave a little sparkle wherever you go.
There's a girl out there with love in her eyes and flowers in her hair.
I ain't got a lotta money but I got a lotta style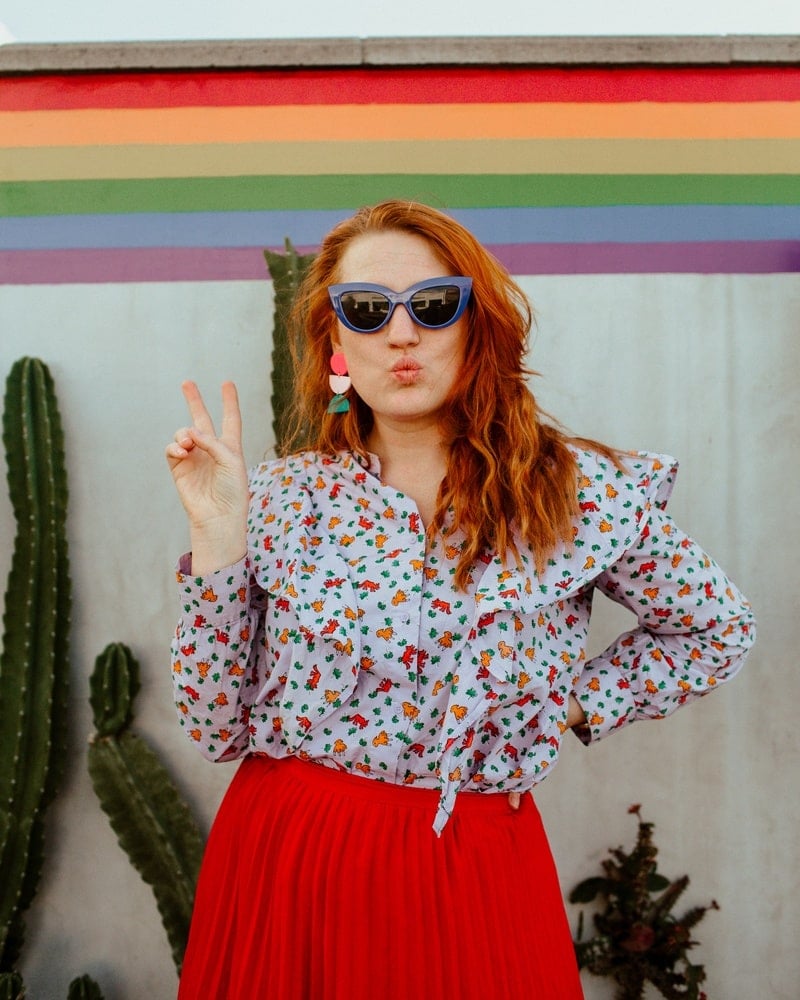 Sassy Instagram Captions
Sometimes I find myself throwing a little sass to the camera, just to shake things up in photos. People LOVE sass sometimes (it's a fun, visually engaging pose) so you need a good caption to go with.
Who needs self-awareness when I can make you aware of me instead?
Confidence level: Kanye West.
May your coffee be hot and your eyeliner even.
Kinda classy, kinda hood.
Since there is only one of me, does that make me a limited edition?
If you are testing my water, you better know how to swim.
I think you are lacking vitamin me.
Be yourself, there's no one better.
Fall Caption Ideas For All Your October Instagram Posts
Cider, crunchy leaves, crisp air… I love bonkers for fall each year. Seriously – whether it's hunting down the best fall foliage in California or plotting road trips around Vermont, I seek out fall leaves each October and love using funny (or punny) fall captions.
#SquashGoals
Hay there!
You are unbe-leaf-able.
Can you ?? this fall weather?!
Spice, spice baby.
Maybe she's born with it. Maybe it's maple leaves.
We got lost in this maize.
I love these bad ass witches.
I can't be held responsible for stolen candy.
I'll never ? you.
I need to be home before midnight…??
Feeling gourdgeous.
This witch likes wine.
I'm the ? of autumn!
"I'm a mouse, duh." – Mean Girls
Stop being a zombie. Find something that you're excited about in your life. Otherwise, you're just walking dead.
Autumn shows us how beautiful it is to let things go.
You are never too old to play in the leaves.
? spice and everything nice.
Christmas Instagram Captions So Good It's Like Santa Wrote Them
I have a huge love for Fall, but I love Christmas even more!! Especially Christmas out here on the West Coast. From a cute Santa's village in Washington to a huge park with millions of Christmas lights in Vancouver, I can't resist a good holiday-themed caption.
Do you want to build a snowman?
I'm dreaming of a white Christmas, but if the white runs out, I'll drink the red.
But first, let me take an elfie.
I'm only a morning person on December 25th.
Some people are worth melting for.
Santa Claus has the right idea. Visit people only once a year.
Gangsta wrapper
The best way to spread Christmas cheer is singing loud for all to hear.
"Dear Santa, define 'nice.'"
The elf did it.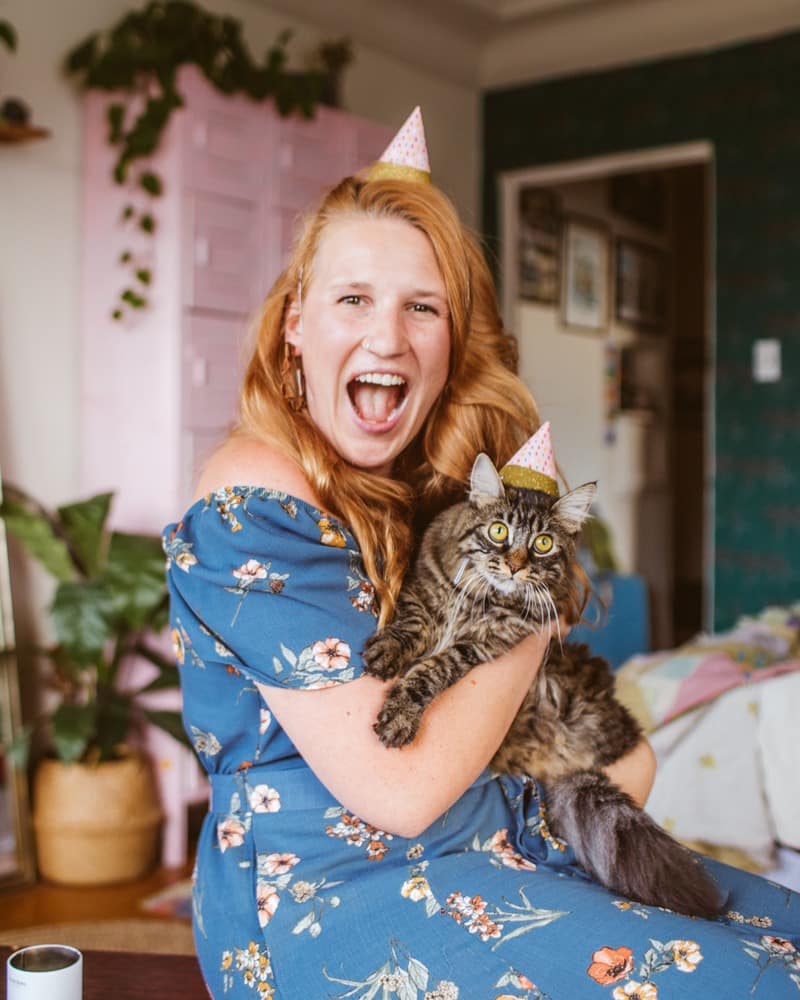 The Best Birthday Instagram Captions For Friends
Say " Happy Birthday " to your friend in a unique way! Or your cat. I can't be the only crazy cat mom who has thrown a birthday for their fur baby and posted it to Instagram, right?
Happy birthday to one of the few people whose birthday I can remember without a Facebook reminder.
Count your life by smiles, not tears. Count your age by friends, not years. Happy birthday!
I'm just here for the birthday cake.
Birthdays are nature's way of telling us to eat more cake.
Birthdays are good for you. Statistics show that the more you have the longer you live.
I don't know about you, but I'm feeling 22.
Wanna see my I.D.?
Being 21 is nothing to wine about.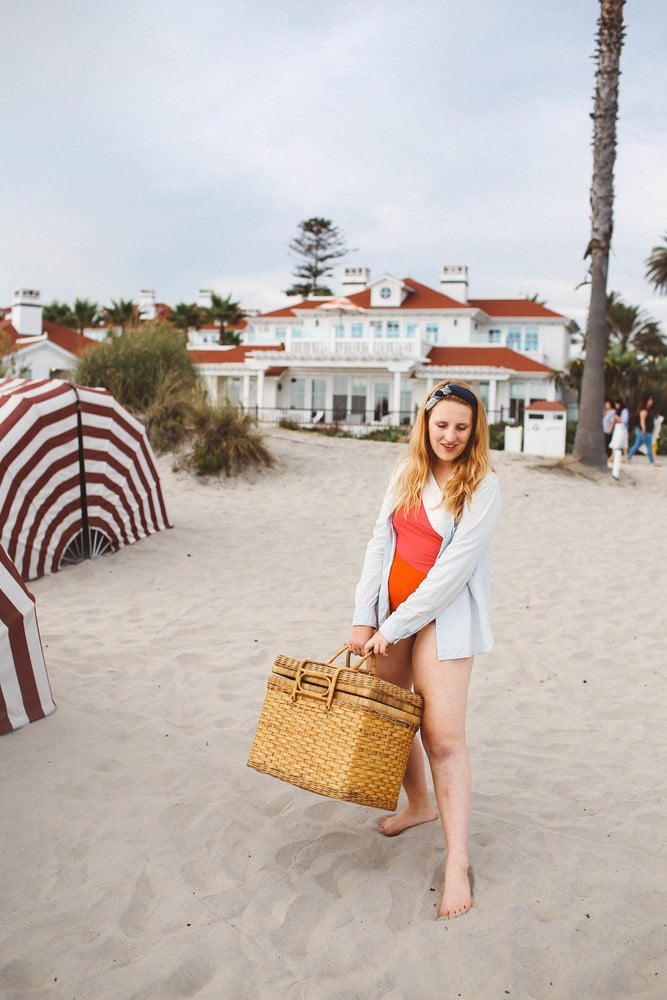 Beach Instagram Captions For Four Summer Vacation Posts
Yes, we all know the Vitamin Sea pun, but there are so many more clever captions to use for your beach vacation posts to keep your followers engaged!
Salt in the air. Sand in my hair.
If it requires a bikini, my answer is yes.
Sea you soon.
Don't worry, Beach happy.
Autumn shows us how beautiful it is to let things go.
You are never too old to play in the leaves.
? spice and everything nice.
One-touch of nature makes the whale world kin
Resting beach face
I washed up like this
This mermaid needs mer-wine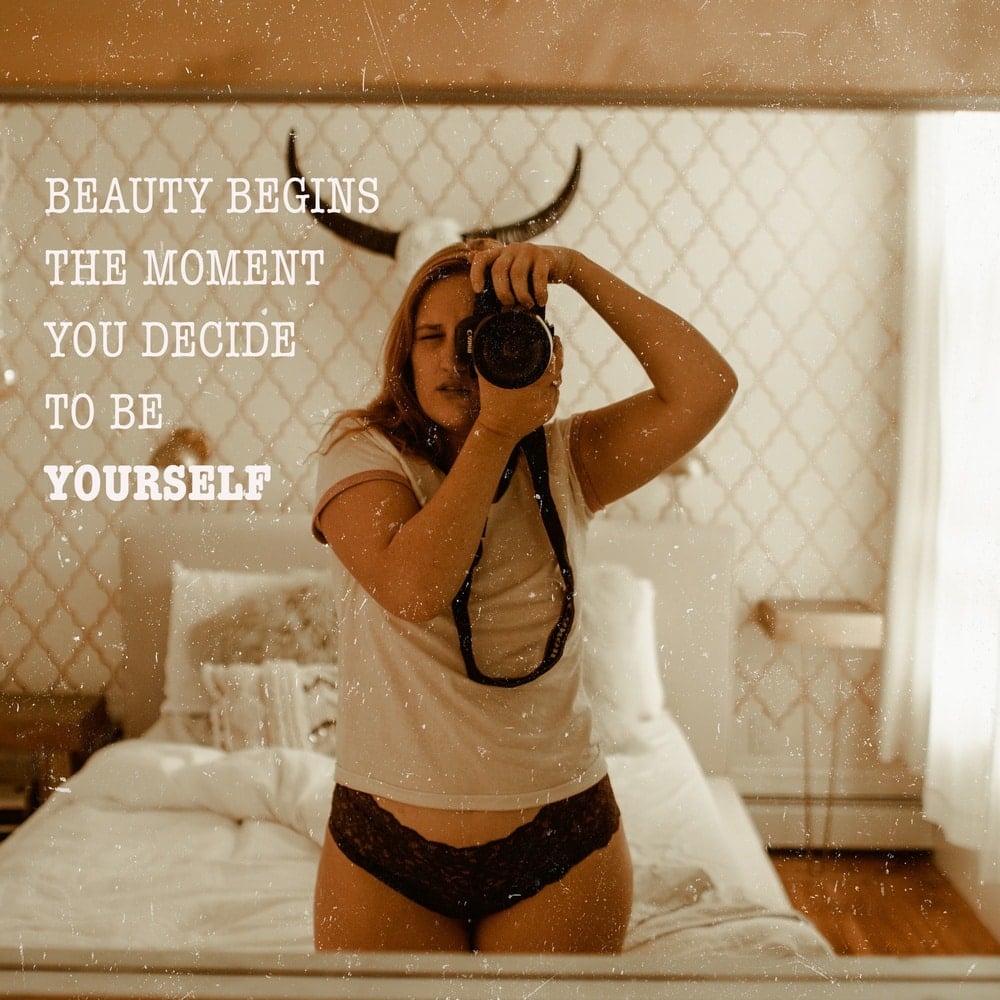 Best Motivational Quotes To Inspire Happiness & Change
I started opening up about body image here on Whimsy Soul and sharing raw stories, and motivational quotes/thoughts have lead to so many strong connections with followers. Next time you're not sure what to caption an image, opt for something that can inspire change.
Try to be a rainbow in someone's cloud.
When nothing goes right, go left instead!
Know your worth and stop giving people discounts.
No matter how you feel, get up, dress up, show up, and never give up.
Your intuition will lead the way. You don't need to ask for directions.
1 Year = 365 Opportunities.
The doors will be open to those who are bold enough to knock.
Doubt kills more dreams than failure ever will.
Phew, that's a long list!!!
I hope this helps you find a good caption for your Instagram post! Remember: a caption compliments your photo. It should have a purpose (drive a connection, a call to action, make someone laugh or tell a story.)
Don't forget to sign up for my FREE course to learn more to make money with your Instagram and blog!
Got any questions about social media, Instagram or blogging? Leave a comment below or DM me on Instagram @thewhimsysoul and I'll be happy to help!