Casual barbeque joints, swimming holes, fancy rooftop cocktail bars, live music dance halls, hot summers, cool winters and weather that turns in an instant… Austin, Texas can actually be a little hard to pack for.
Don't worry – I got you. In this post I'm sharing all my real life outfits (and some girlfriends') that we wore in Austin, along with Austin packing tips and handy things you may not realize will be #majorkey to bring with you so you don't have to make any spur of the moment Target runs when you should be eating tacos. Let's go!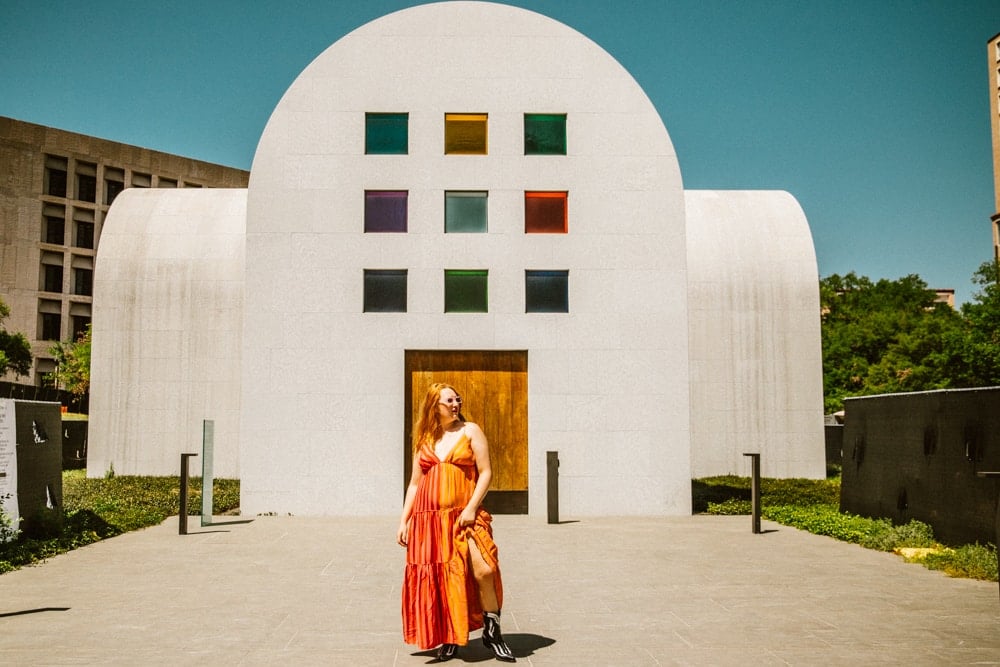 The first time I went to Austin was back in 2017 on my real-life Austin bachelorette party. Then, a friend of mine moved to Texas last year (2021) so I just got back from a week running around Austin playing tourist but also getting a peek at the local's life. High time I wrote a packing and outfits for Austin TX guide for you!
What Is Austin Street Style Like?
I saw Austin Texas attire change a bit over the past few years. As the city has been changing, growing and evolving so has the street style. While this is still Texas and you'll find the conservative and/or prim & proper Southern dress, most people opted for trendier outfits. Think if Los Angeles and Texas had a baby – that's what the street style looks like these days.
Austin Average Temperatures & Weather
As you probably know, visiting Austin in the summer means hot hot hot and humid days. It can easily get over 100 degrees in the summer (not counting humidity!) But what threw me for a loop the first time I traveled to Austin was the random chilly weather spurts you'll get in the springtime.
I went to Austin at the end of March/early April for my Bachelorette Party and while the first few days were sunny and in the 80's on the last day of our trip temps dropped in the low 60's. This was a problem since all of our Austin outfits were centered around hot weather so we were shivering a lot on that last day.
And of course, on this most recent visit even though it was the same time of year, the weather was in the 90's and almost 100% humidity every day. The jacket I packed as backup stayed in my suitcase the entire week.
The moral of my travel fail is if you are visiting in winter, fall or spring, bring some layers with you and be prepared for a sudden shift in weather. Or thunderstorms (that happens a lot here!) Your travel wardrobe needs to vary a bit based on the season you are coming.
Austin Winter: Temps can drop to single digits but usually stay between the 40-50's. Pack sweaters and a coat. It probably won't snow, so skip the snow boots.
Austin Spring: Spring is a toss-up. It can be chilly & cloudy, or in the 90's and humid. Your outfits for Austin Texas springtime need to be layers & versatile.
Austin Summer: Heat. Sweating. Humidity. Sunshine. Just like in Palm Springs, plan on wearing as little as possible to stay cool.
Austin Fall: It'll still bein the 80's in October (no scarfs and PSL here!) Texas in November will start to swing to low 70's and 60's (my favorite weather) and by December it'll be cooler.
Austin Texas Outfit Ideas + Packing List Guide For What To Wear In Austin
1. Floral High To Low Dress (With Optional Boots And Hat)
This was one of my favorite outfits to wear in Austin Tx. It just screams "Texas" to me, but in a fun modern way that still fits my low-key cottagecore dress style. The midi high to low off-the-shoulder dress I am wearing is from Cupshe (and I'm wearing a size XL).
It's light and breezy for hot days, so I totally expect to wear this all through summer. I personally paired it with my cowboy hat and new cowboy boots for that Austin Texas style clothing twist. You can dress it down or up – it's super versatile and even looks good with jackets with the Texas weather turns!
Shop My Dress + Similar Dresses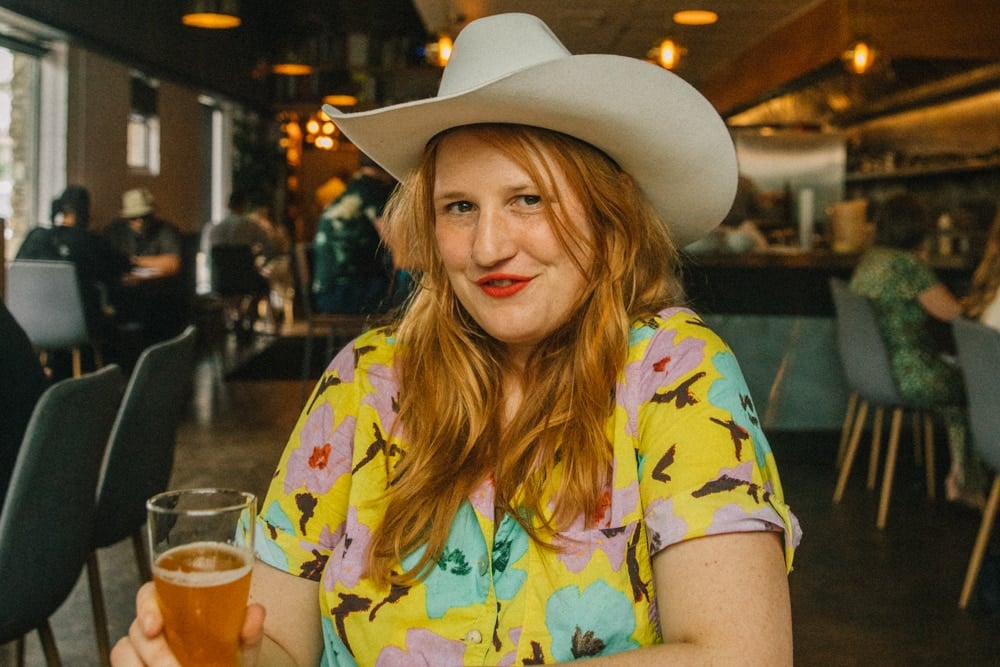 2. Cowboy Hat
Hey, this is Texas after all! After horse backing riding in Arizona, I got major FOMO from not having a cowboy hat so I immediately drove to Boot Barn and bought myself a white Resistol Hat. A couple weeks later I wore it horseback riding (again) in Smith Rock State Park in Oregon and felt very pleased with myself.
Of course, I had to bring my new hate to Austin!! While Austin is a major city and most folks aren't in a full cowboy get-up cowboy boots and hats, but are perfectly normal to street style wear. (Especially by Bachelorette parties!) Really, when else will you have the chance to unironically sport a cowboy hat?
If you want to buy one while here, Allen Boots is the place to go. They sell mostly cowboy boots, but also hats that are fairly priced. You can also find hats and boots around various other local boutiques, but when in doubt head to Allen's because other spots will jack up the prices.
Pro Tip: Leave room in your suitcase so you can go shopping on Congress Street at Allen Boots and bring home a pair of Texan cowboy boots with you!!
3. Red Bikini
Well, any bikini will work but I'm especially obsessed with this red bikini. It flatters all body types so well and looks fire on camera! And you'll want swimming suits for Austin. There are so many refreshing swimming holes in Texas, and Austin is home to quite a handful.
Barton Springs is the most popular, but there are also some more hidden ones along Barton Creek you can do a mini hike to. On a hot summer day, there is nothing better than hitting up a local natural springs pool, so you need to bring a swimsuit! I actually recommend bringing a couple swimsuits as you'll probably want to visit a hole every day and those babies take a while to dry.
My favorite company to shop swimsuits from is Cupshe. They have other fashion items, like dresses and cover-ups but region supreme on all sorts of swimsuit styles and do carry plus sizes. I always shop travel swimsuits from them since they're affordable and cute.
Shop My Red Bikini & Other Curvy-Approved Faves

4. Mini Floral Dress
I've been wearing this mini floral dress everywhere lately. (Size XL). It's one of my favorite Cupshe dresses – It flatters my curves perfectly and pairs so dang well with a variety of shoes. Here I wore my hiking sandals with good support because I was walking a lot around the city.
This dress is long enough to pair chaffing shorts underneath but sort enough to be flirty and fun. At night I swapped my sandals for nude heels for happy hour & dinner on South Congress Street.
Shop My Floral Dress + Similar Dresses

5. White Mini Dress
I love a flirty and fun dress, especially with the Texas heat. I wore a white Deep V Floral Mini Dress (that really looks more like a romper) while wine tasting in Texas. Did you know that there is a huge wine tasting region just an hour away from Austin?
My friend and I spent a day at the wineries sipping reds and enjoying Texas Hill County. I wore flats with this dress as they're super comfy and breathable, plus my cowboy hat because as you can tell, I am so obsessed.
6. Jumpsuit With A Fun Print
As you can probably tell, I love a good colorful print. I rented this bright and loud jumpsuit from Nuuly for a day out in Austin and on Rainey Street. I got SO many compliments on my outfit! Austin is kind of a quirky city. Just like Portland, it has the motto "Keep Austin Weird" so it's the perfect place to sport loud prints you may not wear at home.
This jumpsuit is super lightweight fabric so I stayed cool all day AND protected my thighs! That's the key when picking a jumpsuit to wear in Austin. It has to be breathable so you don't overheat.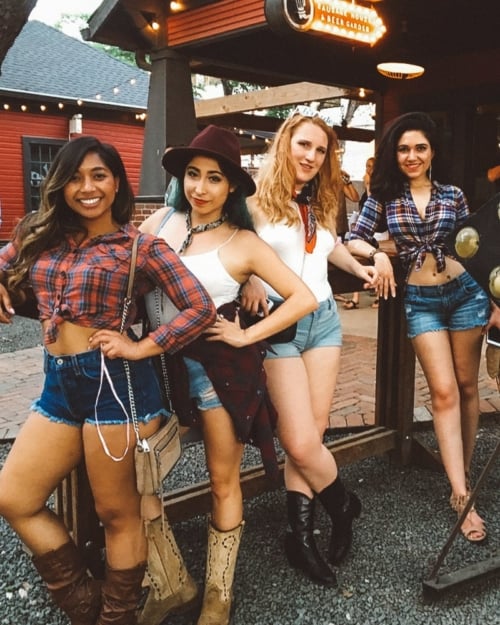 7. Jean Shorts & White Tee & Cowboy Boots
Ahh, throwback photo to 2017 at my Bachelorette Party! If you're coming to Austin with the girls, it's so fun to get dressed up in jean shorts, cowboy boots and a white tee or button-up and play "cowgirl" for a night on the town.
8. Wine Tasting Dress
Look how cute my friend is!! This is what she wore while wine tasting Texas. It's a sweetheart midi dress in dark green and black. She has a more preppy/classic style compared to me and I love showcasing other people's sense of fashion in these guides.
What I really loved about this particular dress is that it totally works well with a jacket, especially a jean jacket, if the Austin weather turns and gets chilly. But it works so well solo, too!
9. Fun Retro Sunglasses
Hey, this is Texas after all! You'll need sunglasses (even on overcast days as it's still oddly bright) and retro sunnies are super fun for this city. I thrifted these guys a few years ago and get so many compliments every time I wear them!
10. Flowy Maxi Dress
Austin at its heart is a foodie city. I swear almost every restaurant had a huge outdoor patio to lounge in. You'll be eating a LOT while here, and probably doing in outside in the heat. Thus, flowy and comfy (yet airy!) maxi dresses are a lifesaver.
I wore a maxi dress and loved it!! Super comfy, pairs well with boots or flats and can be dressed up or down depending on where I went. During the day I put on cowboy boots to head to the Blanton Museum of Art, but at night I swapped them for heels for dinner in East Austin.
Must-Have Austin Packing List Items
Your Austin travel packing list (aka items you may forget to bring!)
Chafing Shorts: In typical Texas fashion, expect to sweat a lot. As a curvy gal, humidity is the bane of my thigh's existence. When I went to New York City I forgot about humidity, walked all day and ended up with high welts on my inner thighs. OUCH. When thinking about how to dress in Austin Texas, plan around chafing shorts. They are a must-have.
Chafing Cream: If shorts don't vibe with your Texas fashion ideas, opt for chaffing cream instead. I love Mega Babe to help prevent my thighs from rubbing together too much but any deo will work in a pinch.
Sunscreen: I forgot to wear sunscreen on day one and totally got a burn. Make sure to pack facial sunscreen and body SPF!
Comfy, Breathable Shoes: Unless it's winter, you'll want your Austin style to be focused on keeping you cool as you walk and explore the city. I wore Tevas and Rothy's the most as they are comfy for long walks on Congress Street but also cute!
Swimsuits: Yes, multiple! Austin has tons of secret swimming holes, plus your hotel probably has a pool.
External Charger: Get power on the go as you may not spend a lot of time in your hotel charging up! I found my battery to drain extra fast here in the heat.
Waterbottle: Gotta style hydrated in the heat!
Fanny Pack: I'm loving that fanny packs are back in style. They're functional and cute, and perfect for exploring Austin.

General Texas Style Tips & FAQ
What To Wear To 6th Street Austin, Tx?
6th Street is also called "Dirty 6th" for a reason. It's the college party street and can get super sloppy at night. It's also really fun, especially with a large group of friends. Wear what you normally would wear clubbing or for a night of bar hopping.
BUT – here's a little tip. If you are in town with girlfriends but not a bachelorette party, still buy and pack a bride sash. Have someone wear it and tell everyone it's your bach party. Clubs will let you in for free and give you free drinks.
What to Wear In Austin In Winter?
Your Austin Texas outfits winter addition need to be prepared for single digits and ice storms. Skip the snow boots but do pack a winter coat and sweaters if you are coming to December-February.
How Common Is It To See Texans Wearing Cowboy Boots And Hats?
Fashion in Austin Texas is getting more West Coast influence but at the heart is still Texas. I myself wore a cowboy hat and boots a few days and absolutely saw others doing the same. You won't be out of place if you want to spot this look, too!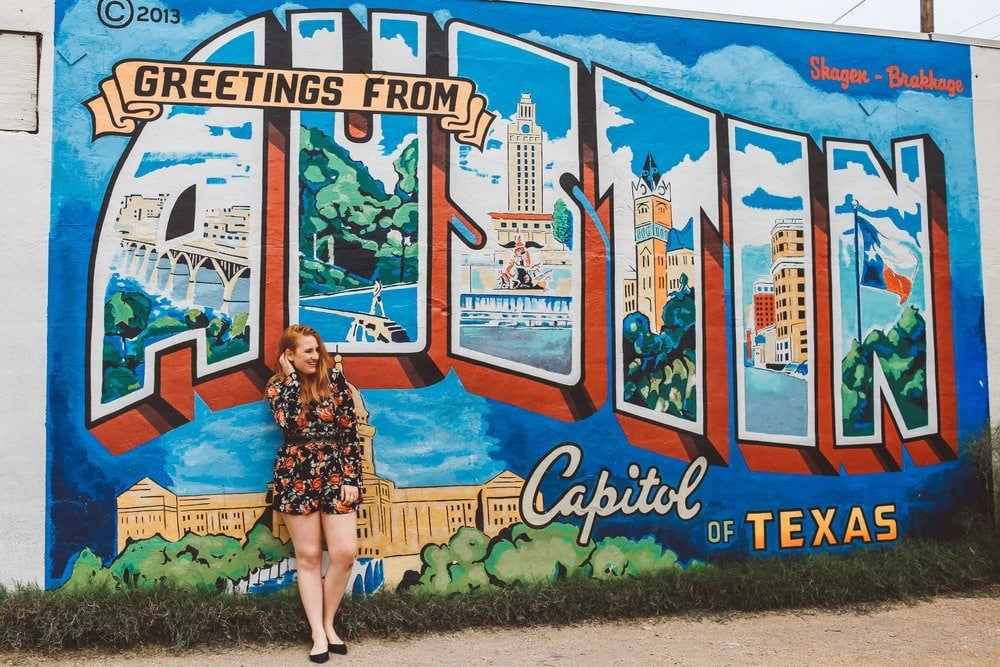 Maybe you're coming for a wedding, to SXSW or another festival, a romantic couple weekend or just a business trip. No matter what, I hope my Austin packing guide helped you get inspiration on cute outfits to wear in Austin and handy things to bring with you.
More Travel Content & Guides You'll Love