(Updated October 2020) Mendocino County is my happy place. It's one of the most beautiful and underrated places in the entire United States, in my opinion. And one of the best ways to spend time here is via Mendocino glamping!
And, I've found the best glamping site in Mendocino for you. This new Mendocino glamping ground creates the perfect luxury camping experience, but at an affordable price and just 2-minute drive from downtown. Keep on reading to take a peek inside my stay at Mendocino Grove!!
Mendocino Glamping: Inside The Instagram-Famous Mendocino Grove
>> Got a question about Mendocino glamping that you need answered quickly? DM me on Instagram @thewhimsysoul and I'll be happy to help!
I grew up on 16 acres of forest in Wisconsin. I learned how to build a fire at age 7. I spent entire summers barefoot and am entirely way too comfortable peeing in the woods if needed. Camping is something I have on lockdown, but glamping California is the hot, trendy way to travel.
Mendocino Grove is doing everything right. And I won't lie, I was worried glamping as a whole would be too "posh" and removed from everything I love about camping – the connection to nature, the gathering around campfires, the detachment from real-word duties. Turns out, it's a happy balance of comfort and camping.
Each Mendocino Grove safari tent is cute AF, has a fire pit and even heated beds, which was such a luxury during the chilly nights. There are communal bathrooms on site but these aren't your average campground bathrooms, these are legit nicer than my bathroom at home (think cute tile, industrial-chic accents, etc.)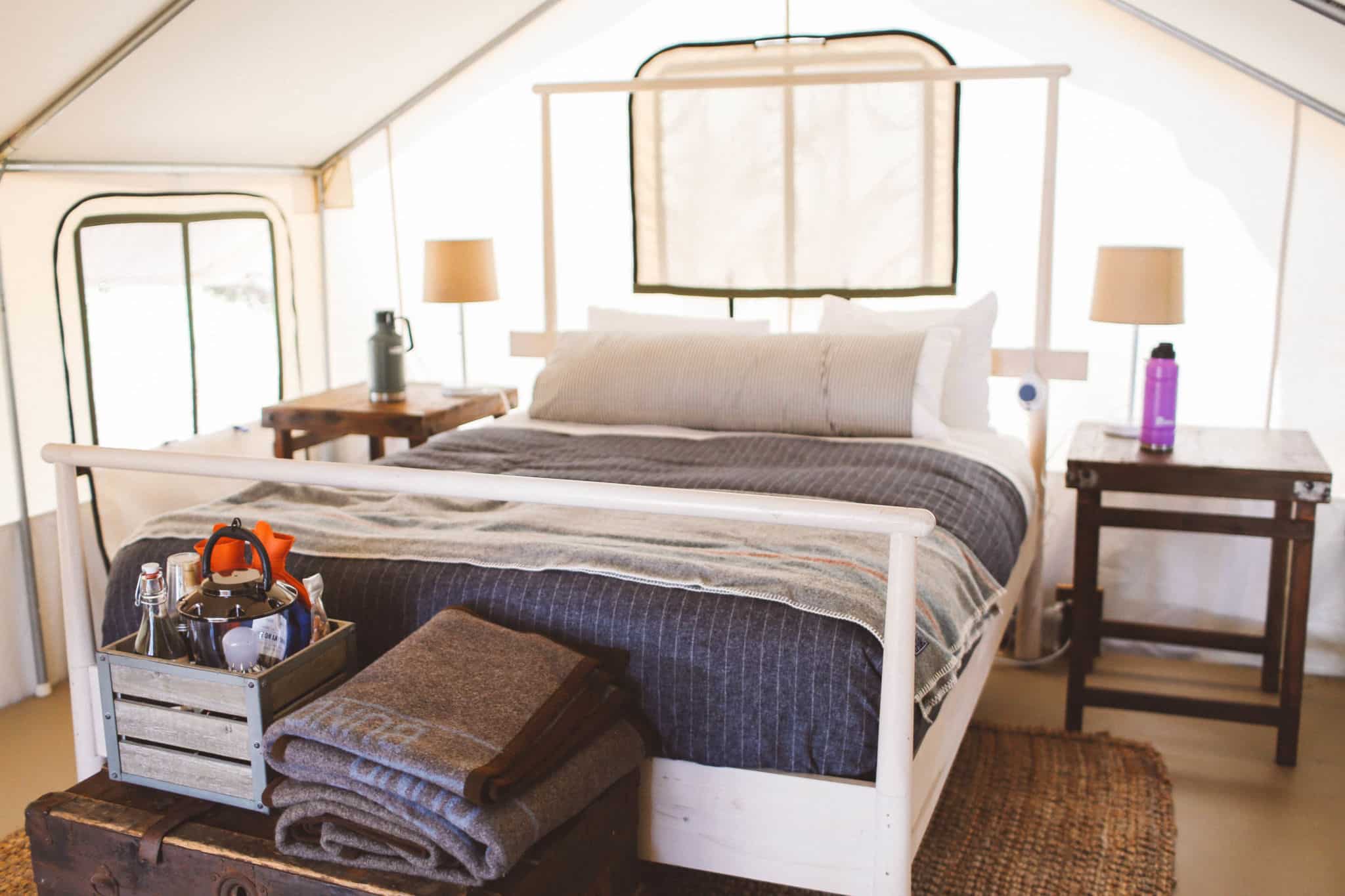 There's a big center field full of games and a communal fire pit, along with private pits at each tent. Guests can take a complimentary nature hike around the property in the mornings and then roast marshmallows for s'mores at night.
Got a family? Check out one of their "family rent rooms" that can fit the whole gang!
They've got a beautiful property that is just a 2-minute drive from downtown Mendocino. You can even see the town and some ocean views through trees if you stand in the right places! . In between exploring the property, you are close to all the best spots in Fort Bragg and Mendocino for exploring (like the Cabrillo Lighthouse, Glass Beach, Russian River Gulch for hikes and more!)
While I'll always love hiking into a site, setting up a tent, gathering firewood and just doing the dang thing, glamping is nice. Like, really nice. Having heated beds and cute s'mores kits and fresh coffee already brewed in the morning is totally better than trying to start a fire at 7am to boil water to cure your coffee headache.
Frequently Asked Questions About Mendocino Glamping
Where Is Mendocino?
Mendocino is on the coast of Northern California. It's south of Eureka and North of Sonoma County.
From San Francisco: 3 hours
From Sacramento: 4 hours
From Bend, Oregon: 9 hours
How Do Glamping and Camping Differ?
I find that each glampsite varies in terms of what they offer guests but in general, camping is where you have to bring everything. Tent, tools, tarps – everything. I just went camping in Lassen Volcanic National Park and forgot how much stuff you need to camp properly!
Glamping is basically like a hotel, but outside. They provide you tent, bedding, tools and things you need to sleep outside. You just need to bring clothes!
Is Mendocino Grove Pet Friendly?
Yes, they are dog friendly! And as an added perk, don't search Mendocino Yelp reviews to see which restaurants in town are dog-friendly, the glampsite has a list for you ready to go!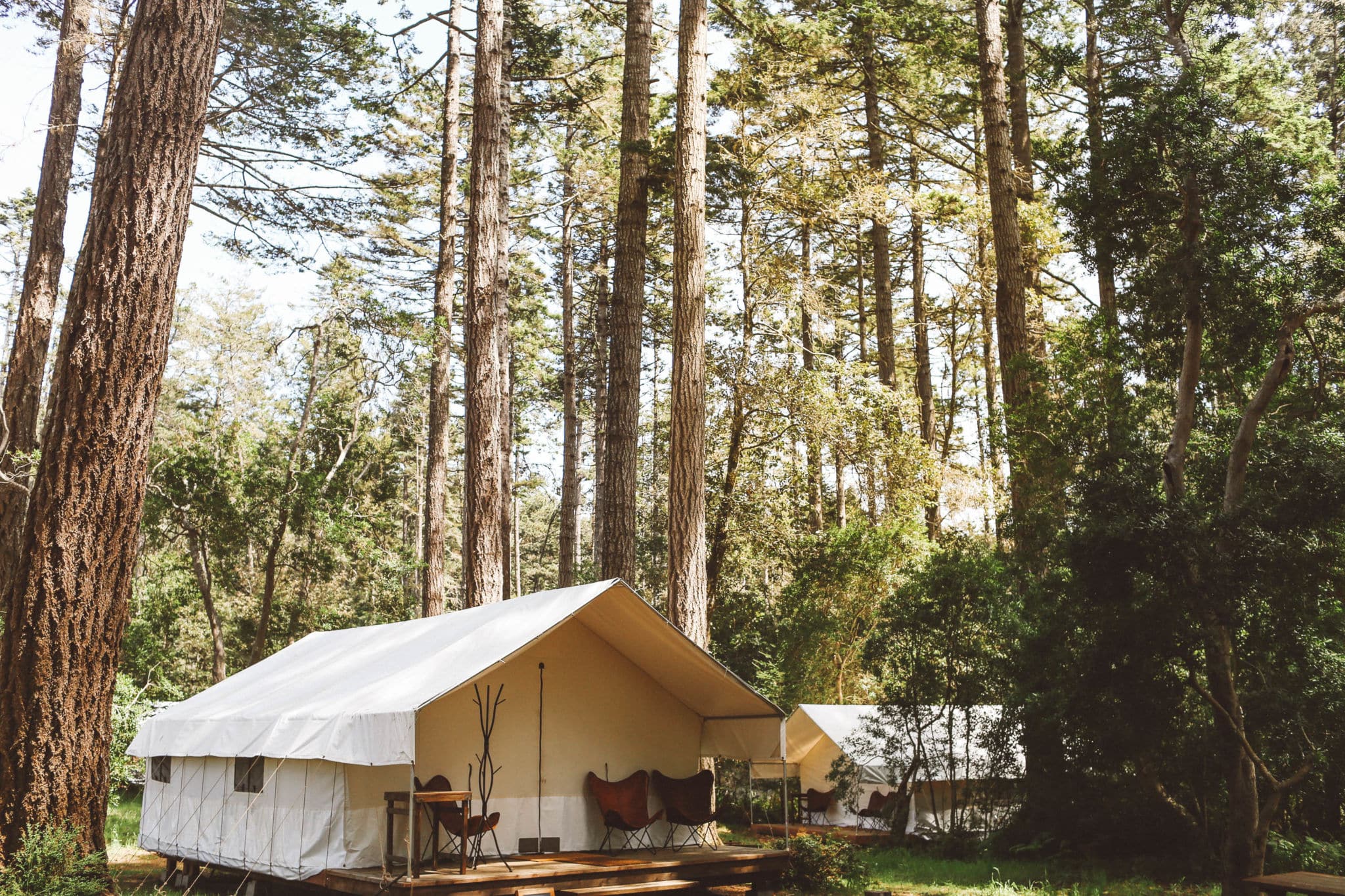 What Do I Need To Pack?
Mendocino Grove provided blankets, pillows, outlets in the tents, a lamp, matches, toilet paper, etc. If you plan on cooking your own meals on your site, bring charcoal, food and the needed tools (foil, etc.) You may also want to bring cards or other games. But basically, pack normal!
I do recommend you bring sturdy shoes and an extra sweater as this area of the state can get really chilly at night. And perhaps also a headlamp for use at night!
Can You Go Camping in Mendocino?
Yes! There are actual campsites in Mendocino County. I stayed at Navarro Beach on my van trip down the Pacific Hwy 1 a few summers ago.
What Are Fun Things To Do In Mendocino?
Oh my, there are so many fun things to do here! I like to visit each year and over the years have curated a super detailed listed of all the best things to do in Mendocino and Fort Bragg you should check out! Highlights include the North Coast Brewery, kayaking the sea caves, hiking the state parks, the lighthouse and eating mushroom ice cream in downtown Mendocino.
I'm Not Ready To Glamp Yet – What Are The Best Mendocino Hotels?
I think you'll love glamping at Mendocino Grove, but if you aren't ready yet, we adore Newport Inn and Ranch. It's one of my favorite hotels in all of America. I low-key want to move to that house. There's also Mendocino Brewery Gulch Inn and Heritage House. Oh, head down to coast about 20 minutes and book at stay at this super cool off the grid water tower Airbnb we stayed in earlier this year!
I hope this helps convince you to stay at my favorite glamping Northern California site! They did a fantastic job of creating a magical escape on the coast and I can't wait to visit again soon.
Got tips to add? Leave a comment below! Got questions? Drop a comment or DM me on Instagram @thewhimsysoul and I'll be happy to help!
Not sure what to pack for a glamping trip? Your items will vary a bit based on season and the tent (some are barebones, other are luxury glamping resorts.) Use my complete glamping packinglist to help you plan so you have an awesome adventure!