Roasted chestnuts, mulled wine, festive old-world decor… I heard about the Nevada City Victorian Christmas from a friend and patiently waited all year for December to roll around.
The idea of an entire historic mountain town dressing up (literally – there are people dressed in Victorian-style clothes walking around) and putting on a Christmas market twice a week for the holidays just tickled me. I had to go!
So, I grabbed my girlfriend Justina and we road tripped from San Francisco to Nevada City to attend the Victorian Christmas event. And, we picked up a lot of insights I wanted to share with you so you can have THE BEST visit possible. Keep reading for my insider tips on making the most of your visit to Nevada City, California for the holiday season!
Essential Things To Know Before Attending Victorian Christmas in Nevada City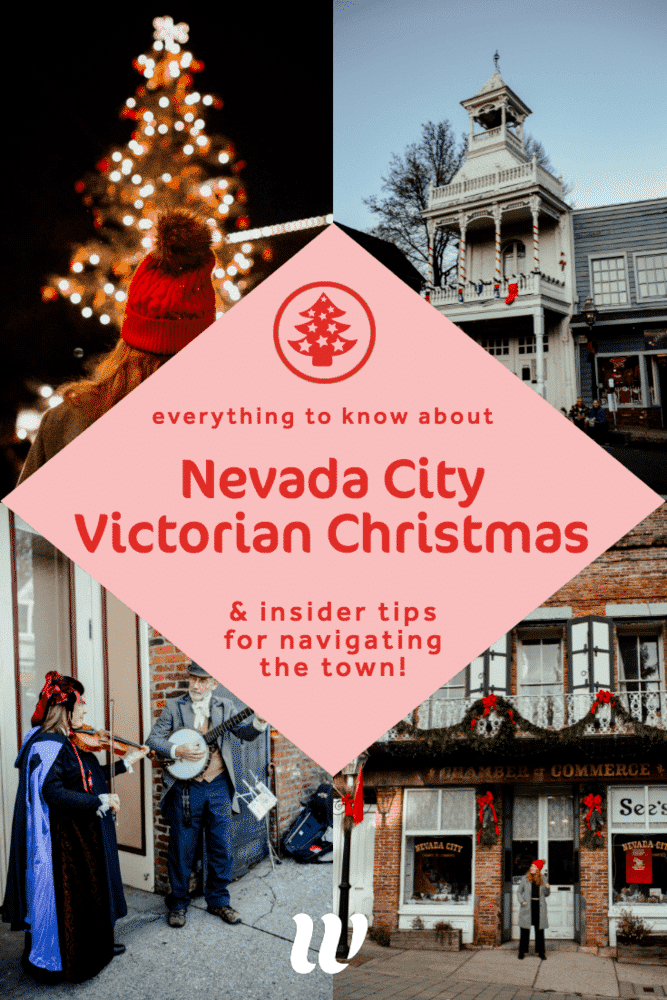 >> Got a question about Nevada City that you need answered quickly? DM me on Instagram @thewhimsysoul and I'll be happy to help!
So, you're probably wondering: why does a random mountain town throw a huge Victorian Christmas festival each year? Isn't that kinda random?
Well, Nevada City is an actual Victorian City. It has a super interesting history as it once was a thriving Gold Rush town. The locals are big on preserving that history and got the entire downtown area registered as a National Historic Place, which means the buildings are all authentic. Toss in people dressed up in Victorian-era clothing and it really does feel like you stepped back into time.
There aren't many Christmas towns in California that I know of – you know, ones that really go all out for the holidays. I hear Solvang does one, but I know the weather isn't as chilly there and since I grew up in Wisconsin, Christmas to me means cold and snow. That's why I loved Nevada City at Christmas time a lot! I truly got into the holly jolly spirit.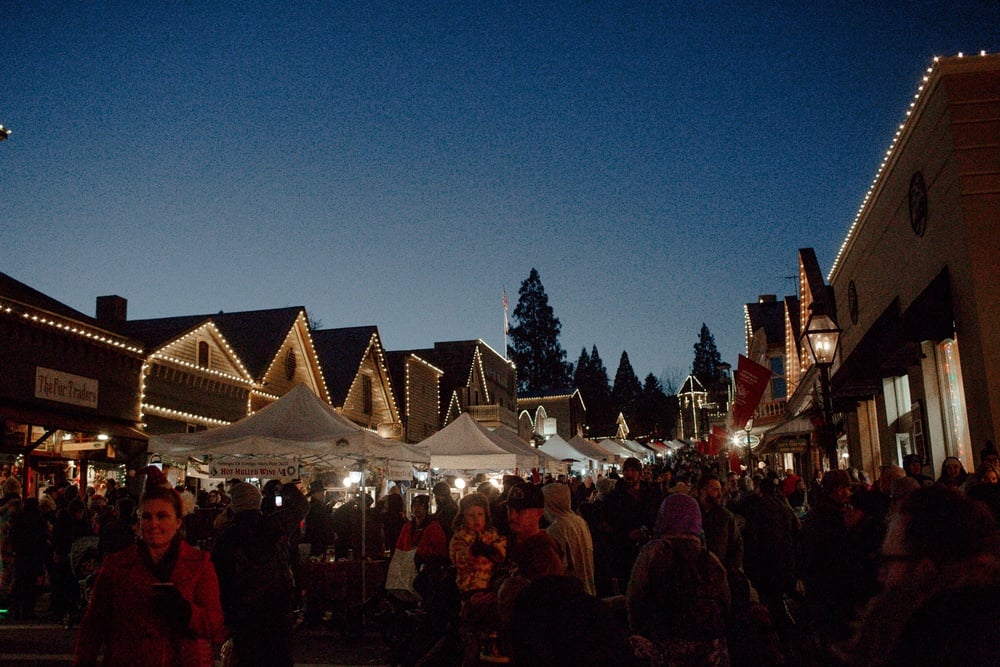 First tip? Bring cash to Victorian Christmas Nevada City!!! Most of the booths and food trucks are cash only and there was only one ATM in the town that we found (located at Bonza Market.) Budget about $15 for lunch, $4 for every glass of wine you expect to drink, $25 for dinner and more for any holiday shopping you want to do! If you plan on taking the shuttle, it's $5 per person.
Also, this fair is VERY dog-friendly. As a crazy dog lady, I was super thrilled to make tons of new dog friends. Just make sure you leash 'em up.
When Is The Victorian Christmas Nevada City 2020 Event?
The Nevada City Victorian Christmas festival is on Sunday and Wednesday afternoons. Yes, I agree – the dates are a bit inconvenient for people who live out of town to visit. I point this out because my friends and I totally assumed the Victorian Festival was on a Saturday and were planning on spending Friday and Saturday night in the area to work around 9-5 job schedules.
Plus, I was hoping to enjoy the mulled wine that Christmas markets are famous for (and crash at a hotel in town) and also not have to worry about driving back home to San Francisco in the mountains in the dark.
But alas, the Nevada City Christmas is on Wednesday and Sunday starting at 1pm. Despite not being able to spend the night, I still had a BLAST attending this festival and you should totally go, even if it means hustling back to the city for work the next morning.
Funny story: I didn't think I would make it to Nevada City this year. Justina and I made very last minute plans to go up with a friend who lives in Sacramento but her daughter got sick the night before so she had to opt-out. What did I do the night before our trip? I attended a holiday party here in San Francisco and drank a little too much egg nog and had one of the worst hangovers of my adult life on the morning we were setting out to drive up to Nevada County.
I'll spare the gritty details, but I couldn't keep anything down that morning. But I RALLIED, and I'm so thankful I did, because this Christmas fair is super unique to California and I can't wait to make it a yearly tradition!
Ok, so now you know the history and when the festival is. Now it's time to share all my insider tips like where to park, where to eat, where to stay if you're spending the night, what to wear and more handy tips to know!
Where To Park For The Nevada City Christmas Fair
Parking is hard here, you guys! Remember: this is a historically preserved town and the Gold Rushers certainly didn't have cars, so there's a limited amount of parking lots in the area. This usually isn't a problem outside large events like the Victorian Christmas.
I was very worried we'd have to deal with the shuttle, which runs during busy times and is $5 each, but we thankfully arrived early enough (around 11am) that we were able to find street parking a few blocks away from downtown where the market was being held. If you're heading into town just for the day, I highly recommend you come before 11am. The fair doesn't start until 1pm, but you can use this time to grab lunch and explore a bit instead of sitting in traffic.
The market takes over Broad Street. The fair spills out to some side streets, like Commerical Street and Spring Street, so expect this whole area to be blocked off on festival days. We found parking up the hill on Main Street and we walked down to the festival from there. I recommend you start your parking hunt on the outer side streets for the most luck.
PS: Make sure to turn your wheels on the hills so you won't get a ticket!
Where To Eat In Nevada City
I had no idea what to expect in Nevada City in terms of the local food scene. In my experience, small mountain towns are a total hit or miss so I was totally blown away to discover that Nevada City doesn't skimp on the restaurants.
I wish we were able to spend the weekend so I could visit more restaurants and cafes, but we did have lunch, dinner and a snack here. These are the best places to eat while attending the fair!
Food Trucks
During the Victorian Christmas fair, Commerical Street will turn into a food truck park. We grabbed food from food trucks for dinner as they had trucks offering everything from Hawaiian, Mexican, pizza and more. There's something for everyone and the city sets up chairs and tables to eat at.
I picked the Falafel place but honestly, I had total FOMO over the pastie food truck called An Honest Pie. I didn't see it and ended up sitting next to a woman who was raving about how good their pasties were. (After my trip to London I'm totally obsessed with pasties!)
OMG you guys, this place is amazing! Justina and I had lunch here after we arrived in town. Heartwood is a cafe that specializes in gourmet toasts and prices on the menu range from $4.50-$11, so it's super affordable. I had one of the best lox avocado toasts of my life here and Justina devoured her permission goat cheese toast. As you can see from the photos, the inside is industrial chic with tons of wood, antique and fresh flowers. It's a must-stop for lunch!
If you're craving ice cream, Treats is a cute artisan ice cream shop complete with a fireplace to warm up next to during the chilly December weather. They have unique flavors like Saffron Rose Pistachio, Bourbon Breakfast and Basil.
We didn't get to eat here, but Justina and I did walk through Golden Era and it's simply stunning! The building dates back to 1904 and the decor still reflects that era (the ceiling is entirely a gold color, TBD on if it's real!!) If you're looking for craft cocktails in Nevada City, this is the bar to hit up.
I had one of the best chocolate chip cookies of my entire life at Búho Bakery. I'm low-key drooling just thinking about it… This bakery is airy and bright, with pops of yellow and blue. And while it's very Instagramable, it's also worth a stop to stock up on cookies for the holidays.
Robin and I LOVE beer (hey, we are from Wisconsin after all!) and I was really thrilled to find a brewery in downtown Nevada City, even though we didn't have time to eat here. On top of craft beer, you can also find wood fire pizzas at Three Forks. If you're attending the Victorian Christmas fair on a cold night, it may be a good idea to grab dinner inside here to warm up with a slice and a pint!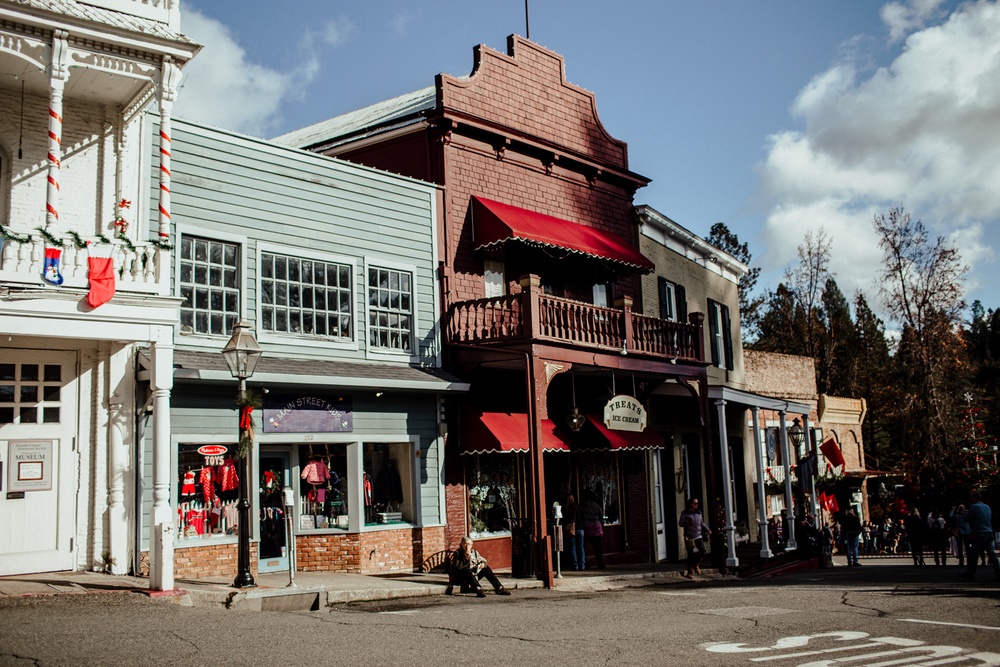 The Best Things To Do At The Victorian Christmas Festival
Alrighty, so now you know where to eat in the city and where to park. Let's chat about my favorite things to do at the Victorian Christmas Nevada City festival!! Overall, it's fun to just walk around and explore, but here's the stuff you should make time to do.
Sip on Mulled Wine
Mulled wine (or called Glühwein in German) is a popular Christmas market drink you can find pretty much at any Christmas market around the world. It's a hot spiced red wine that's made in a bunch of different ways, but they're all good. There's a booth at the Victorian Christmas fair that serves mulled wine for $4 (cash only.) When your fingers get cold, grab a glass!
Shop Local
The fair is full of artisan booths selling everything form healing crystals, handmade furniture, jams and more. But, the downtown area of Nevada City is also home to a lot of boutiques and small businesses! Come ready to get your holiday shopping done while supporting local artists and business owners, too.
Watch Street Musicians & Entertainers
Hey, this is a festival after all, so of course, you can find street musicians and entertainers here! My favorites were carolers dressed in Victorian-era clothing and singing holiday classics. But we also spotted an aerial artist, a brass band and even a guy dressed up as a T-Rex rollerskating, but I'm not sure if that last one was affiliated with the festival…. HA!
Snap photos At The Chamber of Commerce
The Nevada City Chamber of Commerce is a super cute building that gets dressed up for the holidays. Outside there's a huge Christmas tree and all together, the Chamber of Commerce makes for a great spot to snap family photos to remember the trip by! We actually visited here three times (day, dusk and night time) to see the way the light on the plaza changes (hey, we are both photographers, after all!) My favorite time was night when the tree was all twinkly.
Find Father Christmas, Time + The Christmas Tree
You're probably like, what now? At some point during the fair, we noticed that there was a man dressed as Father Christmas, a woman dressed as Time (I think it was Time, at least, maybe she was Winter?) and another woman dressed like a giant Christmas Tree. Kids were stopping to take photos and it was super cute. Plus that tree costume just made me laugh.
So, during your trip to the festival, keep an eye out for these characters walking around! I wish I grabbed photos of them to show you.
Look at the houses
Ok, so you can do this any time of year but I really loved wandering the residential streets of Nevada City to look at all the authentic, historic Victorian houses. Many of the homeowners go all into decorations with cute bows, wreaths and lights. I have a soft spot for old houses since I grew up in a 100-year-old farmhouse myself.
View Art Galleries
There are a few galleries around town but I really loved Osborn Woods Gallery, next door to the Market at the Foundry. The owner is incredibly sweet and she has curated a great collection of shoppable art. Justina brought home a cute mug from a local artist here.
Market at the Foundry
On select weekends, the Miners Foundry Cultural Center also has a craft fair to complement the Victorian Christmas Fair. There's over 70 booths inside featuring artisan goods. It cost $5 to enter, so we chose to skip it but if you're itching for more art and crafts, head here!
Pro Tip: Gotta use the restroom? The public restroom on the plaza of the Chamber of Commerce always has a HUGE line but there's another public restroom on Commerical Street up a few blocks behind New Moon Cafe that was empty!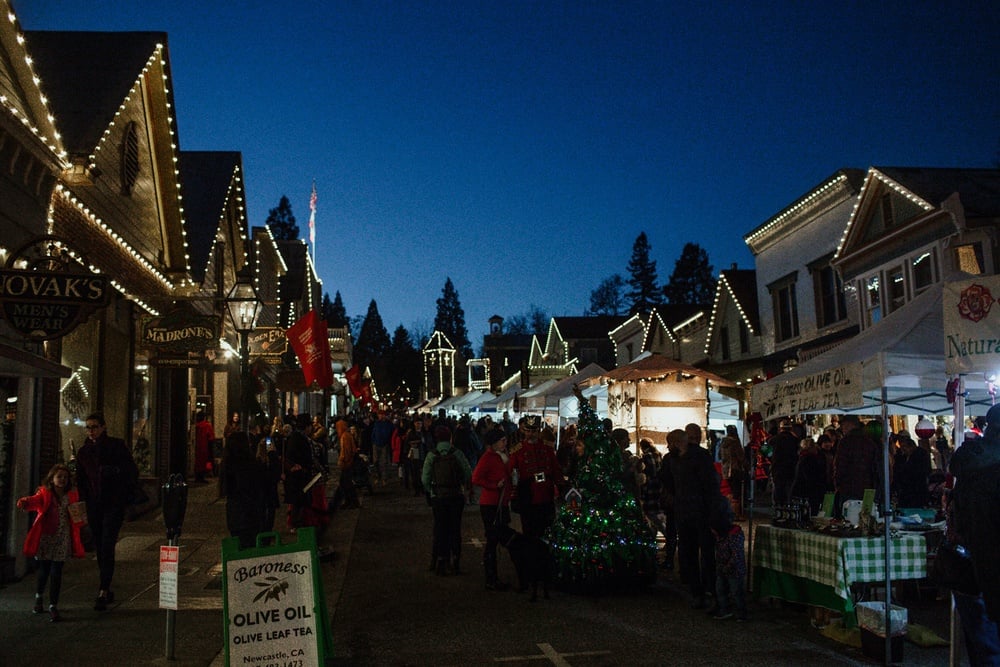 What To Wear To Victorian Christmas in Nevada City
Plan on it being chilly during your visit to the Victorian Christmas fair. Nevada City is in the mountains, after all, and while the high was in the 50's during our visit, the temps rapidly dropped after sunset. We also walked like, a LOT that day so wear comfy shoes!
I wore a sweater, thick coat, and a hat. I wish I also brought gloves and a scarf. And I'm from Wisconsin where I'm used to months of below zero temps! (Or maybe living in California has just made me soft? Lol.)
I think it's fun to dress up in something cute so you can grab some festive feeling holiday photos around the fair. Of course, you can dress up in Victorian outfits if you want to go big!
Outfit Inspiration





The Best Hotels in Nevada City
Next time, we'll be spending a couple of nights in Nevada City to make a whole weekend out of it.
Justina and I stumbled upon this adorable inn during our walking tour of all the Victorian houses in town. It's actually in an old Victorian house! We stopped by, saw the lobby, which was decorated for the holiday and chatted with the owner (who is super nice, by the way.) If you're looking to sleep inside a historic house, this is the spot for you.
Built in 1856 and located right downtown, the National Exchange Hotel is truly part of Nevada City's history. It was also in need of a HUGE makeover because hey, it's over 150 years old. I'd need one, too. The hotel is currently undergoing a massive update and from what we saw, this hotel is going to pay homage to the history with all the modern hipstery cute vibes you want in a city like this. I can't wait to see how it turns out!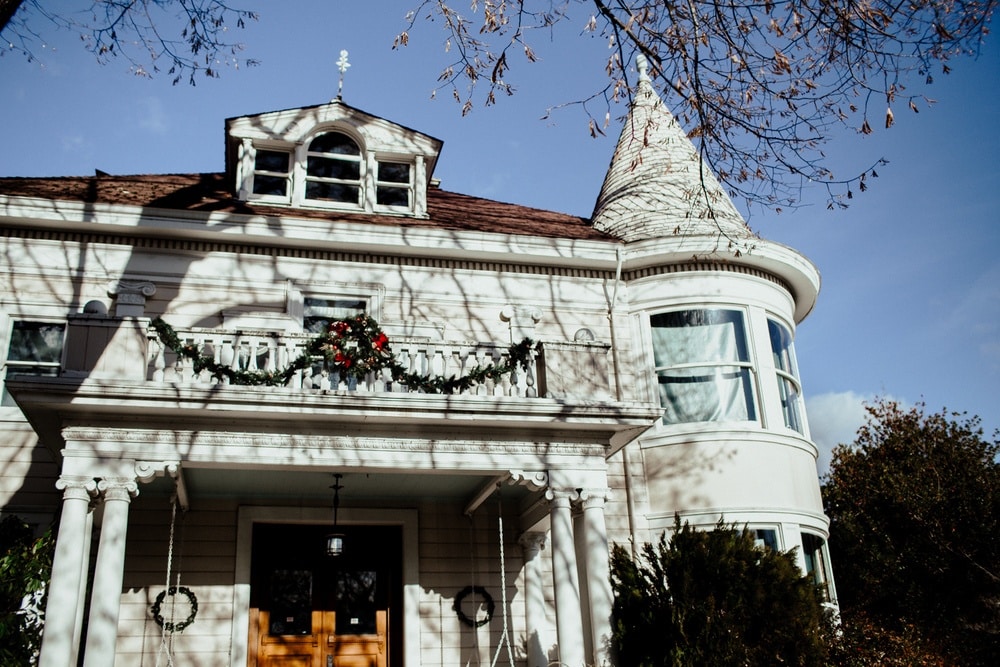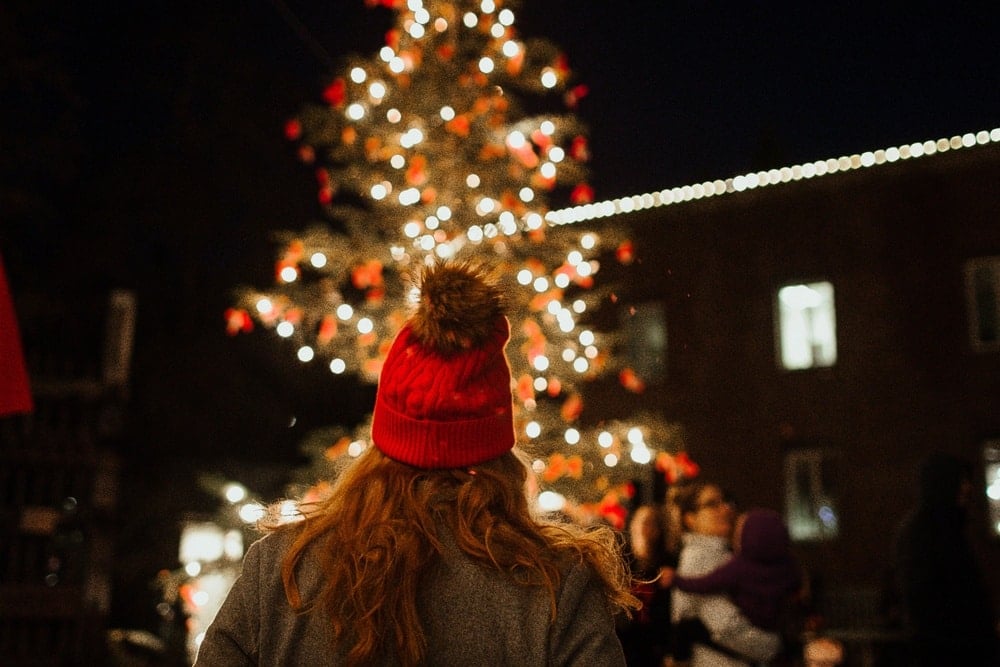 I hope this helps you plan an awesome trip to Nevada City for their Victorian Christmas event!! I hear that there's a Cornish Christmas in Grass Valley, too, if you're itching for more old-world holiday festivals.
As I mentioned, I think I'll be making this yearly tradition. Next time, I want to spend the night so I can drink all the mulled wine at the fair! Plus, I want to check out that new hotel.
If you have any tips to add, leave a comment below so everyone can see! And if you have any questions, comment or DM me on Instagram @thewhimsysoul and I'll be happy you out! Happy travels.