The air was warm as we sat on the edge of the field of lights. We waited as the sun sunk over the hill, turning the sky from blue to pink to black. Slowly the colorful lights grew stronger and stronger until suddenly, the light faded enough and we were plunged into a magical space of music and lights.
Sensorio Paso Robles is like nothing I've ever seen before. Honestly, magic almost feels like an understatement to describe this event. It's more like walking into a dream world. If you're heading to see the Paso Robles lights, I'm sharing all my must-know tips to make sure you have a fun, dream-like visit (there are a few things to be aware of!)
Walking through Sensorio Paso Robles field of lights felt like time had stopped for a moment. Artist Bruce Munro, the man behind the light field, made this field by constructing thousands of small glass spheres on narrow stems, which are powered by solar panels and move in the wind to really make it look dream-like.
Address: 4380 Highway 46 East Paso Robles, California
Tickets: Starting at $33
Open Days: Thursday – Sunday
Sensorio Paso Robles: 7 Important Tips For This Enchanting Paso Robles Lights Field
I live in San Francisco and had been itching to visit this ever since it opened up. Ugg, just writing this post makes me want to drive back down to Paso Robles and visit again!!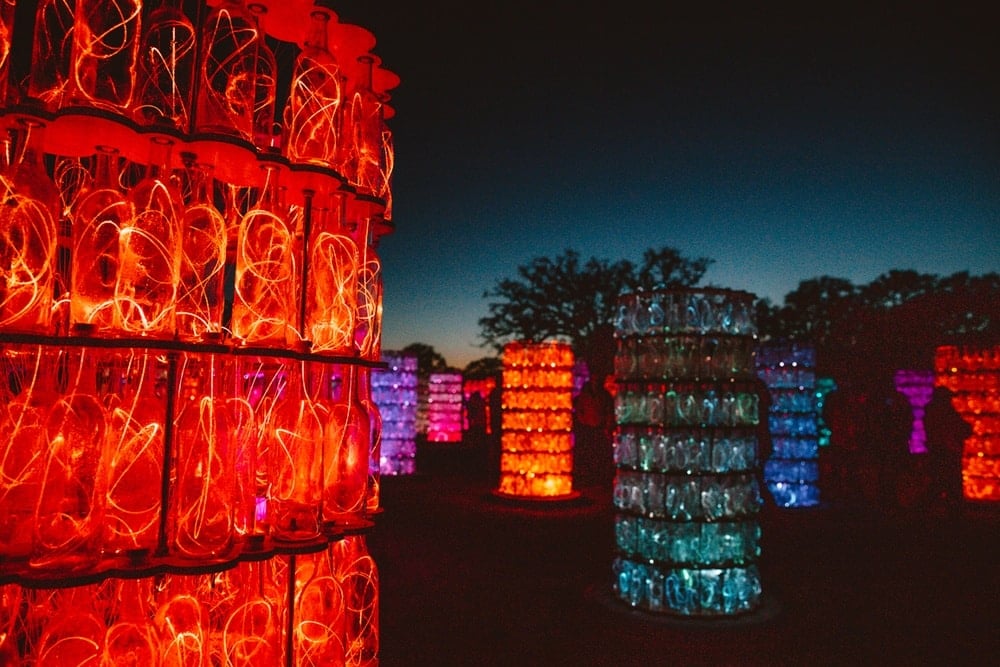 1. Buy Tickets Online In Advance
Make sure to buy your Sensorio Paso Robles tickets online in advance! The second you decide to come to Paso Robles, grab your Sensorio tickets. Tickets sell out FAST and the event is only offered Thursday-Sunday, so it can be a bit competitive. When we arrived (with pre-bought tickets) we saw a huge line of about 40 people who weren't able to get tickets and were hoping to be able to get a ticket at the door, but not all of them had luck.
2. Come 45 Minutes Before Sunset
For the best experience, I recommend coming before sunset. This requires reserving the right timeslot, and those time slots will vary based on the time of year you visit. I came during June, when the sunset is at 8:30pm. So we bought 8pm time slot tickets but showed up at 7:45pm. This 45-minute window allowed us time to get through security, walk to the event, and find a nice bench to sit on before everyone else showed up.
I adored just being still, listening to the music playing and watching the installations slowly glow brighter and brighter as night crept in. Instead of showing up in pitch black, this is the better way to experience the event.
3. Don't Bring Water (Or Hide It Well)
I'm not sure why, but this event has strict security. You have to go through a metal detector and a security guard will check your bag. I had brought a water bottle since it was hot out and I knew there would be a bunch of walking involved, but he made me pour it out just like airport security does. (Personally seems a bit strict for an all-outdoor light exhibition in the middle of a field.)
The line at the food trucks was too long to grab water before the sunset, so I was super dehydrated by the end of the event and was bummed I didn't hide my water bottle in the bottom of my bag. So, my advice to you is to either not bring water and plan to spend extra money to buy some from a good truck inside or bring your water but just hide it better in your backpack.
4. Wear Flat Shoes & A Jacket
The Sensorio Paso Robles location is on the outskirts of town in the middle of a 15-acre field. We attended in June and even in the middle of the summer, it got cold at night. The winds picked up and we both were shivering by 9pm. Bringing a warm jacket or sweater is KEY for the field of lights Paso Robles.
I also recommend flat, comfy shoes. You have to walk on a gravel path from the parking lot to the event space, and then of course around the 15-acre field of lights. We ended up walking about 2 miles by the end of the night, so heels are NOT the shoe to wear for this place. Try sneakers or something like Rothys.
5. Head To The Light Towers First
Sensorio used to just be a field of lights, but this year (2021) after it was decided the event will be permanent, a new installation was built. The new Light Towers pay homage to Paso Robles wine country in the coolest way possible. Made from over 17, 000 wine bot­tles which are illu­mi­nat­ed with glow­ing optic fibers in different col­ors that change along with a custom musi­cal score (which felt very Lion Kingy).
Unlike the field, you can walk around the towers and get up close, so it's a popular spot for visitors. Especially with the music playing in this section, it felt very dreamy and calming. We beelined to the towers right away and were here for dusk and sunset. Since they're tall and bright, I think the towers make for the best photos if you're trying to grab something for Instagram or Tiktok.
6. Stay After For Drinks And Food Trucks
As mentioned above, there are food trucks, heat lamps and live music at Sensorio! It's a whole vibe. If you aren't planning on coming early to have dinner and drinks before sunset, you should plan on staying afterward. Grab a seat next to a heat lamp, listen to live music and order some great local food. It's a whole vibe.
7. Skip The DSLR, iPhones Take Better Photos
As a photographer, I love my DSLR for photos but I found my iPhone took way better photos of the event than my DSLR could. This is because newer iPhones have an amazing low-light sensor to capture dark scenes. And while DSLR cameras can totally do that, you usually need a tripod to pull it off (but tripods aren't allowed.)
If you're coming to take photos or itching for a viral Instagram post, skip the DSLR. Your back will thank you and your photos will turn out better anyways. Elise and I both ended up wearing the same silver dress which we rented from Nuuly. It glittered in the lights and made for really cool photos, so I recommend dressing up if you plan on snapping photos!
Unlike the field of lights San Francisco event called Entwined, which was temporary, Sensorio Paso Robles is here to stay, so you'll have plenty of time to get down to San Luis Obispo County and check the light exhibit out.
What Are The Best Paso Robles Hotels?
Allegretto: This is one of the only good hotels near Sensorio Paso Robles fields of light. It's literally about a 10-minute drive to the lights show, so it's a really easy home base. Plus, the Allegretto is a cool hotel filled with Tuscany vibes, a pool, sound garden and an epic restaurant. I suggest eating at their restaurant, Cello, before driving over to Sensorio!
Justin Inn: Tucked behind the Justin Winery, this little boutique hotel is literally right next door to vineyards and gardens. Staying here makes you feel like you lived in the Paso countryside, I loved it. It's further way from the Bruce Munro Field of Light art installations but it's a really cool hotel either way. Just be prepared to drive in the dark on windy country roads when you come back.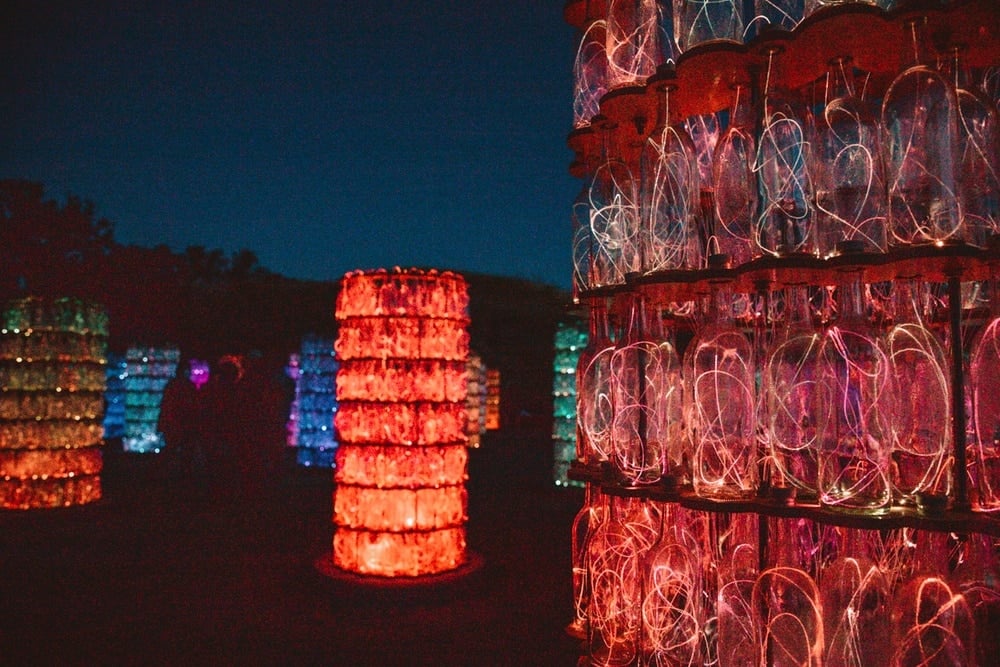 I hope you make it down to the Sensorio field of lights! I could go many times and not get tired of this. If you have any additional or your own Sensorio reviews to add, drop a comment below so everyone can see. Got questions? Comment or DM me on Instagram @thewhimsysoul and I'll be happy to help!