Luxury resorts with infinity pools overlooking the desert. Sunrise hot air balloon rides that end with champagne. Amazing local cuisine, sunshine for days… Arizona makes one hell of a romantic getaway.
No need to travel halfway across the world to get the best mix of adventure, relaxation and romance. It's here, in the Sonoran Desert.
The Perfect Arizona Honeymoon Itinerary: Romantic Resorts, Epic Adventures & More
>> Got a question about things to do in Arizona that you need answered quickly? DM me on Instagram @thewhimsysoul and I'll be happy to help!
Full disclosure, my husband and I didn't do our own honeymoon in Arizona. (We did a 3-week stint in Ireland + UK) But whenever we're itching for a couples getaway, just us two, we go to Arizona. We visit at least once a year, sometimes more and (tooting my own horn here) are low-key experts on things to do in Arizona.
We're always making romantic memories here together as a married couple. So I finally crafted the perfect Arizona honeymoon itinerary that I would do myself, leaning on lessons I learned from my own honeymoon and highlighting all the travel tips I have for the state.
Sit back, I've done all the planning for you!
10 Day Honeymoon In Arizona Itinerary
How Long Should I Honeymoon In Arizona For?
Obviously, that will depend on your budget, time off work availability, etc. But I'm a fan of a nice, big vacation together, so I'm recommending a 10-day itinerary packed with all the best Arizona getaways for couples and hidden gems perfect for exploring on your honeymoon.
Where To Fly Into Arizona
Unless you live nearby and are driving over, most likely you'll be flying into Arizona. Fly into Phoenix Sky Harbor. It's a huge airport and you can easily find an affordable flight connecting from just about anywhere in the country.
Should I Rent A Car?
YES! You'll need a car for this Arizona honeymoon trip and it's always easier to rent at the airport so you can drop it off with ease on your way home. We've never had any trouble with parking at hotels in Arizona. You will also probably want to Uber a bit here and there for dinners (so you can enjoy those margaritas!), so budget for that transportation cost as well.
Now onto the good stuff! Make sure to Pin this post to Pinterest so you can find it later!
3 Nights In Scottsdale: Spa Resort, Hot Air Balloon Ride & Relaxations
Hotel:
CIVANA
Activities
: Spa treatments, hot air balloon ride, hiking, pool days
Where to eat
: Onsite at CIVANA, Bryan's Black Mountain Barbecue
Start your honeymoon in Scottsdale. It's next door to Phoenix so you can roll off the plane and immediately beeline to one of the best couples retreats in Arizona: CIVANA Wellness Resort & Spa.
Book A CIVANA All-Inclusive Stay
My husband and I spent a couple of nights here on our last Arizona visit and WOW, I daydream about that spa almost every day if I'm being completely honest with you. Tucked up on the edge of North Scottsdale in the desert is this beautiful resort. It oozes relaxation without being pretentious. It's peaceful, airy and has magical starry sky views. It's one of the best romantic getaways in Arizona.
You'll make this your home base for the first few days of your honeymoon. Take it from me: you're going to be EXHAUSTED after the wedding. We took a full week between our wedding and honeymoon and I was still exhausted. (So much I even got a nasty cold!) Starting your honeymoon off with tons of spa treatments, healthy food, desert views and lazy pool days will be exactly what you'll need to recover from wedding madness.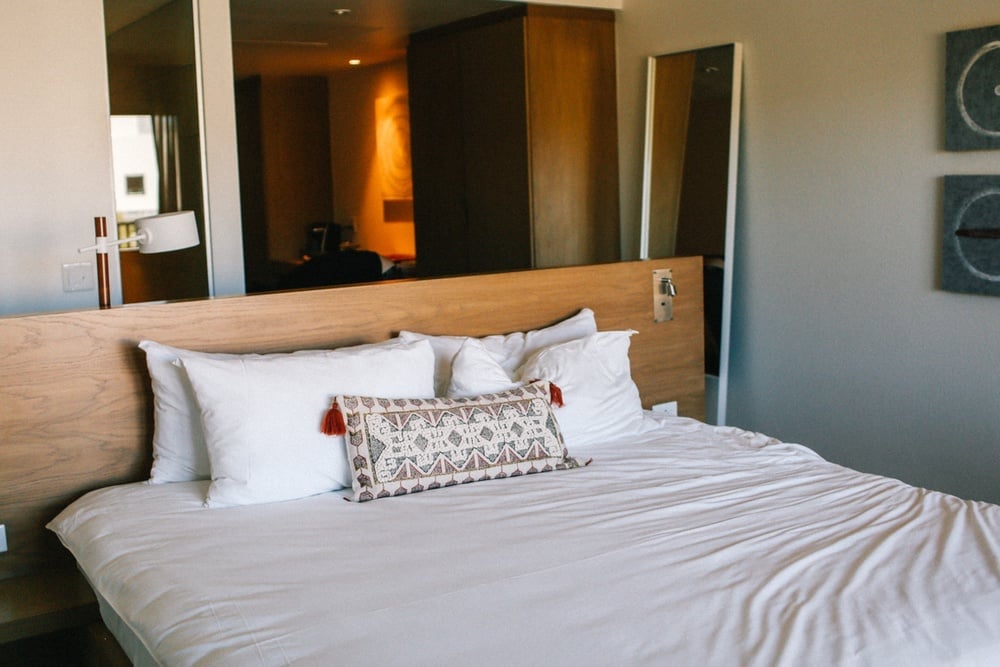 I recommend getting their all-inclusive package so you can have spa treatments each day. The hotel is so beautiful and relaxing, you won't want to leave, so don't. Eat there (the restaurants are GOOD!) Or at Bryan's Black Mountain Barbecue down the road.
CIVANA also has daily workout classes and hikes so you can still explore while unwinding from the wedding. The spa here is open to guests if you have an appointment, so you can come to use the spa pool or aquatic center anytime that day.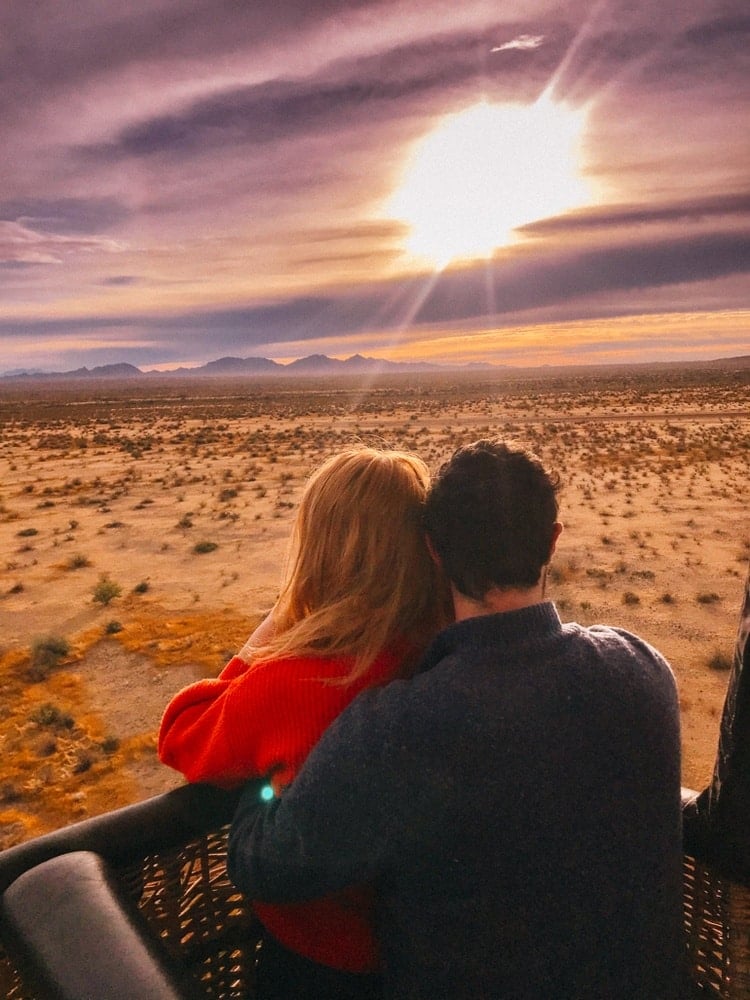 Sunrise Hot Air Balloon Ride
On your second morning, do a sunrise hot air balloon flight with Hot Air Expeditions. Hot air balloons are always super romantic yet adventurous at the same time. Robin and I did a sunrise desert ride a few years ago that ended with brunch and champagne, and WOW. Really all I can say is WOW. It's your honeymoon, go all out with a hot air balloon.
And, yes, the early morning wake-up call will hurt a little bit (but you'll have a pool chair to retreat to after, I promise!) And they make it easy for you. The hot air balloon company will pick guests up from their hotels so you can wake up and roll out (and then nap in the van as I did – ha!)
Blowing up the balloon is loud and exciting, everyone is buzzing with energy. But when you finally get up in the air, it's silence. The rise is timed so you're going up as the sun is rising and the sheer power of nature makes everyone fall into a hush. It all ends with a pop-up brunch in the desert with bubbly, and then they drive you back to your hotel. You also have the option of meeting at a pickup point, if you prefer to drive separately in your rental car!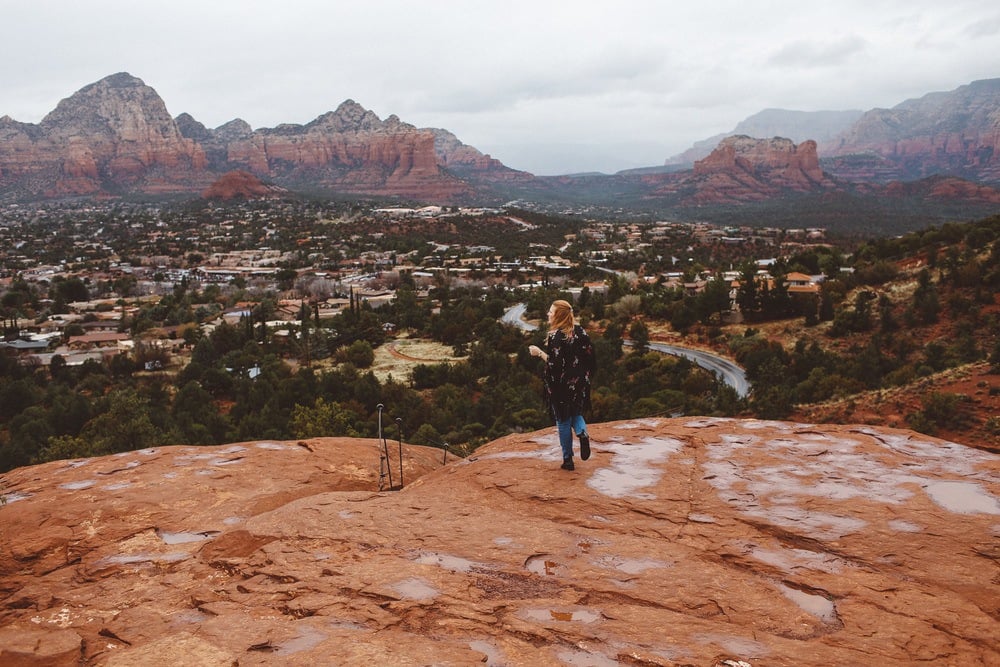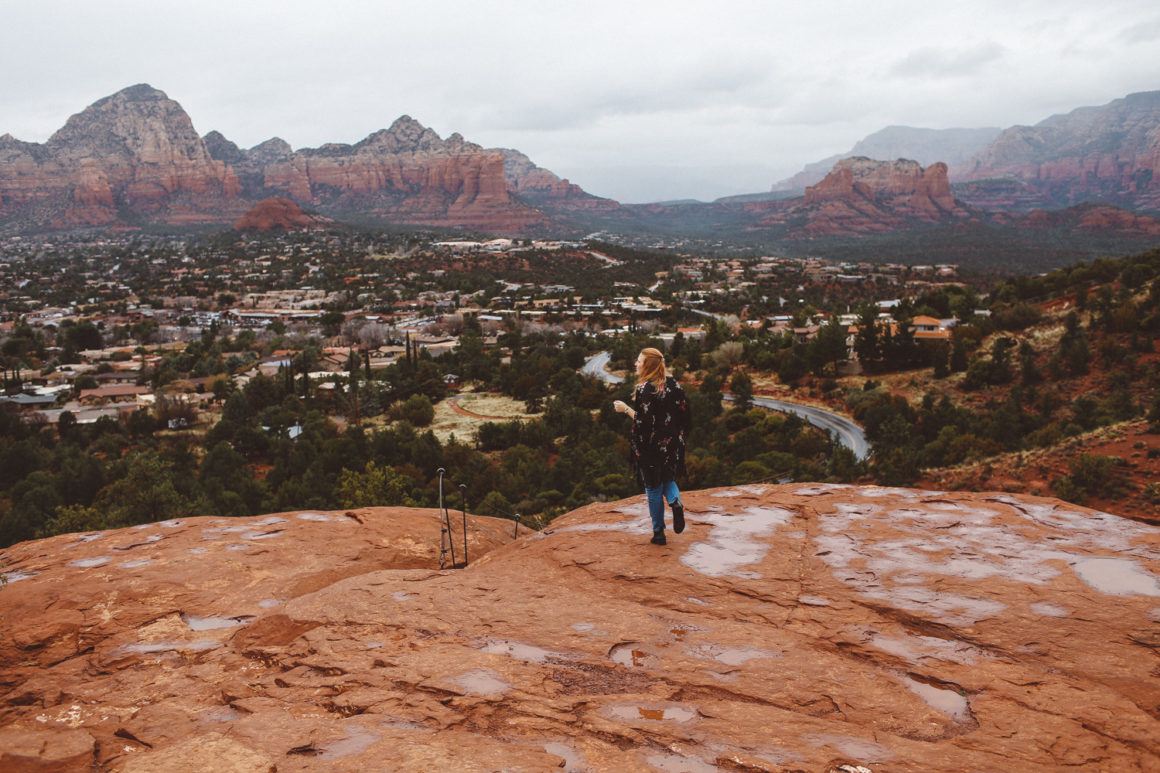 2 Nights In Sedona: Vortexes, Hiking in Red Rocks, Margaritas, Shopping
Hotel:
Kimpton Amara
or
Airbnb
Activities
: Hiking the Red Rocks + Vortexes, Margaritas, Pink Jeep Tour
Where to eat
: SaltRock, Wildflower Bread Company
After a few days of rest, it's time to venture to Sedona, Arizona! Just about 2 hours from CIVANA is Sedona, one of my personal favorite towns for hiking and getting into the desert landscape. Here is where you can find the famous Sedona Red Rocks and Vortexes, which are naturally forming areas that are thought to be centers of energy that are conducive to healing, meditation and self-growth. They're pretty awesome.
Your Sedona honeymoon stop should be about 2 nights. The town is small so you can see most of the sights, hikes and squeeze in some relaxation into 2 nights. (Though if you are looking for a longer honeymoon, add on an extra day or two here.)
Stay At The Kimpton Amara
I loved this hotel. It's in downtown Sedona so it's easy to walk places, but it's down a hill and right up against the red rocks, so it feels secluded. Their infinity pool is heavenly and Robin and I have such fun memories soaking in that hot tub at night and stargazing. We also LOVED the margaritas at the hotel restaurant here.
You can also book an Airbnb if you're looking for something more unique, like a tiny house with hot tubs, or glamping in the desert. There's so many cool vacation rentals here and some of the most romantic cabins in Arizona!
Vortex Hikes: A Must Do In Sedona
WTF is a Vortex? Doesn't it sound like some crazy sci-fi experience with swirling winds and spiritual beings shooting down from the heavens to guide you? In reality, they're just areas amongst the red rocks where nature's energy is thought to be more powerful than in other areas.
No swirling winds here. You'll have to be open to feel the vibrations/energy in these spots otherwise you'll pass right on by. My husband 100% couldn't feel any difference standing in the middle of a vortex compared to the bottom of the trail, but I SWEAR I could feel it. (Like a big wave of calm).
My favorite vortex hike was the Boynton Canyon Vortex trail. You get treated to sweeping views of the landscape from the top of it. I also recommend Airport Vortex which is almost in downtown Sedona. This trail is easier for anyone not looking for a huge hike. Make sure to set aside time on your second morning in Sedona to go on a Vortex hike!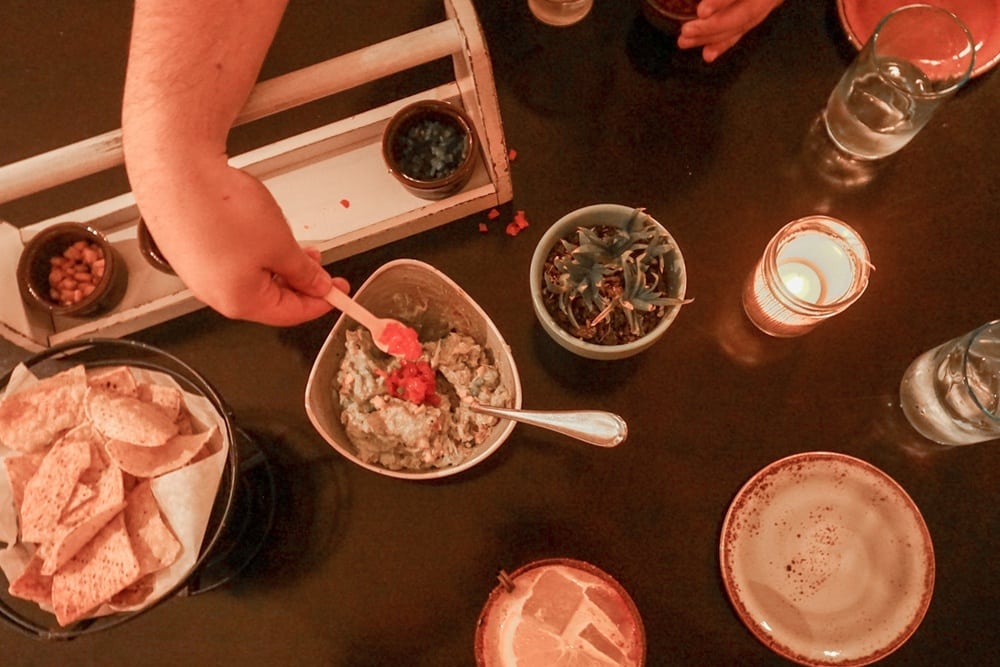 Best Sedona Restaurants
There are a LOT of fun places to eat in Sedona. Here are suggestions:
Pink Jeep Tour
I haven't done a Pink Jeep Tour yet, but it's the THING to do in Sedona. A friend of mine went and raved about how fun it was. They're big on safety so you can't drive it yourself but that's alright! Load into a cute AF pink jeep and your guide take you off-roading around the red rocks. You can see things that are hard to hike to and learn a lot about the area from a local!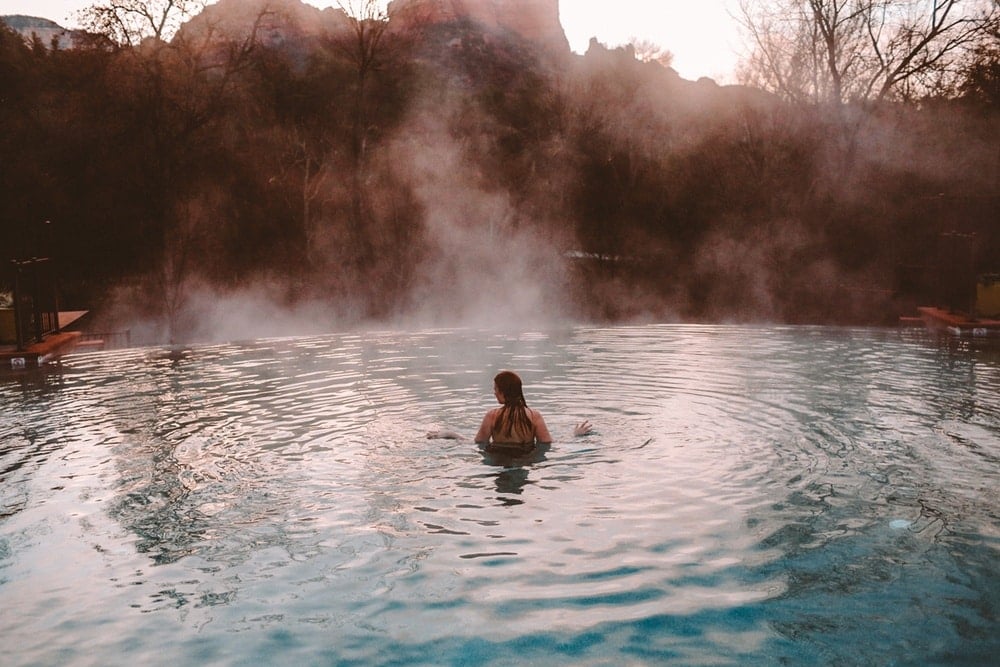 2 Nights At The Grand Canyon: Bucket-list National Park + Hiking
Hey, you can't have a road trip around Arizona and NOT stop at the Grand Canyon National Park! It's about 2 hours from Sedona and you're next stop on your perfect Arizona honeymoon!
Go Glamping Near The Grand Canyon
The Grand Canyon (like most National Parks) is way out in the middle of nowhere. I remember driving for about 45 minutes past fields – no towns – on our way into the park. There is a little village near the park entrance with hotels, restaurants, etc but it's pretty touristy.
Instead, I recommend you go glamping or rent a cute cabin near the park! A lot of really cool Grand Canyon Area Airbnbs have popped up in that 45-minute radius outside the entrance. You can find classic log cabins, stargazing domes, retro glamping airstreams and other fun spots to make your home base.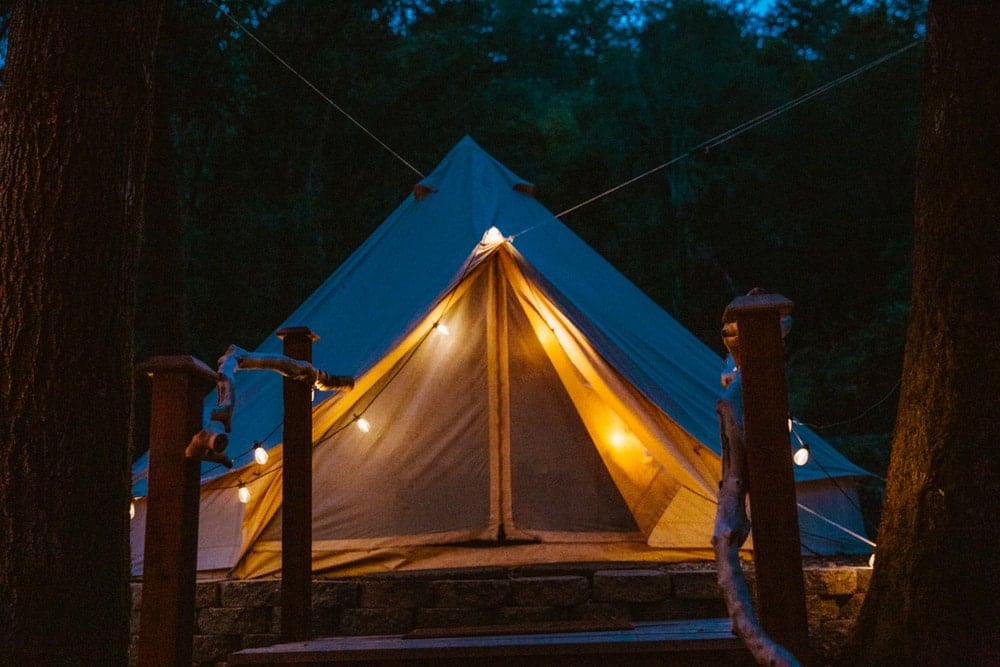 If that doesn't sound like your jam, these are my two other recommendations: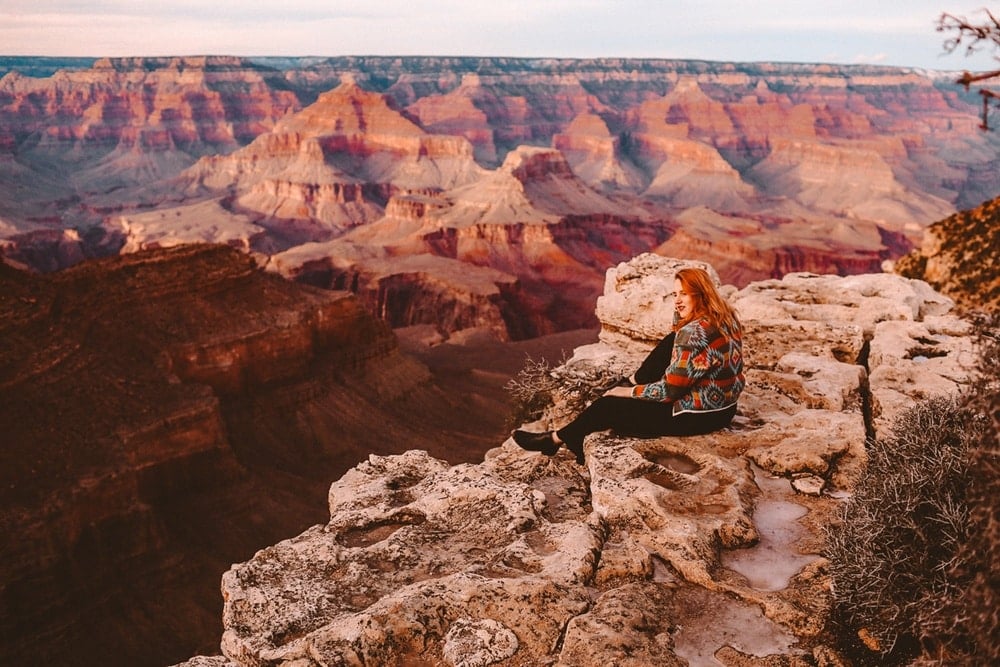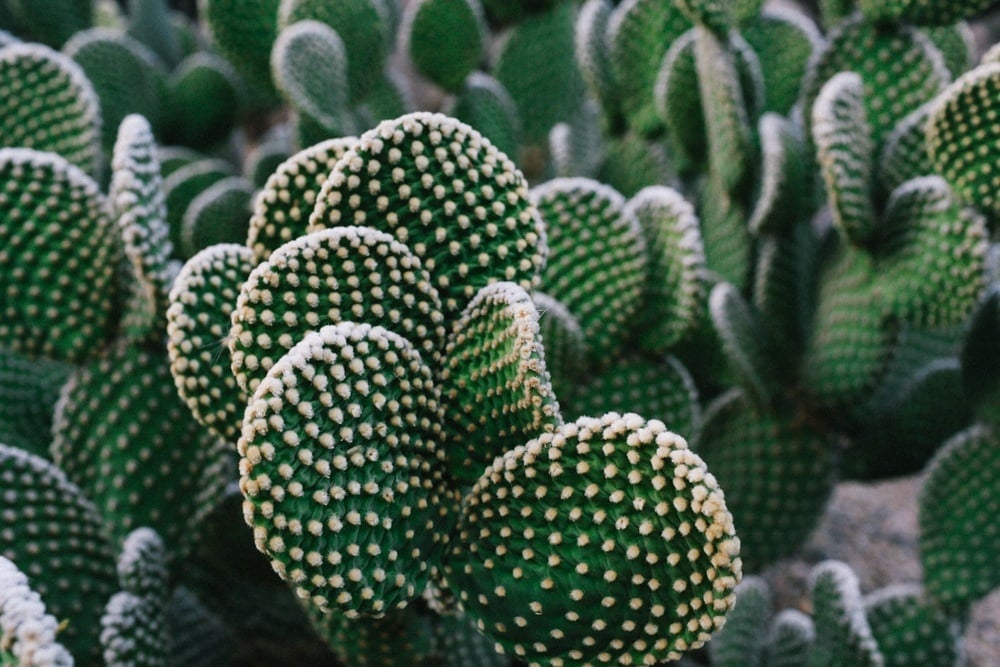 Spend A Whole Day Hiking & Exploring The Grand Canyon
Your full day at the Grand Canyon should be spent taking your time exploring the National Park! There are activities great for all ages and skill levels here. You can be EPIC and hike to the bottom of the canyon and back up. You can also enjoy easier trails or just stick to lookout points. Here's some top things to do at the Grand Canyon National Park on a day trip:
Don't forget to bring in all your snacks and water! It's always hard to buy food inside parks. Also, keep in mind you'll need $30 (cash or card) at the park entrance to enter if you don't have an annual pass.
3 Days In Scottsdale: Foodie's Paradise, Pool Days, Wine Tasting & Exploring The Town
After your epic day exploring the Grand Canyon, head back down to Scottsdale (about a 4-hour drive). Scottsdale is one of our favorite cities to visit in the entire United States – it vibes a lot like Palm Springs with colorful houses, restaurants with patios, great nightlife and beautiful hotels. (But it's usually a lot more affordable than Palm Springs)!!
We always make time to hang out in Scottsdale on any Arizona trip. It's easy, as it's next door to Phoenix. Since you spent your first part of your Arizona honeymoon at a wellness spa, you really need to set aside time to explore Scottsdale properly.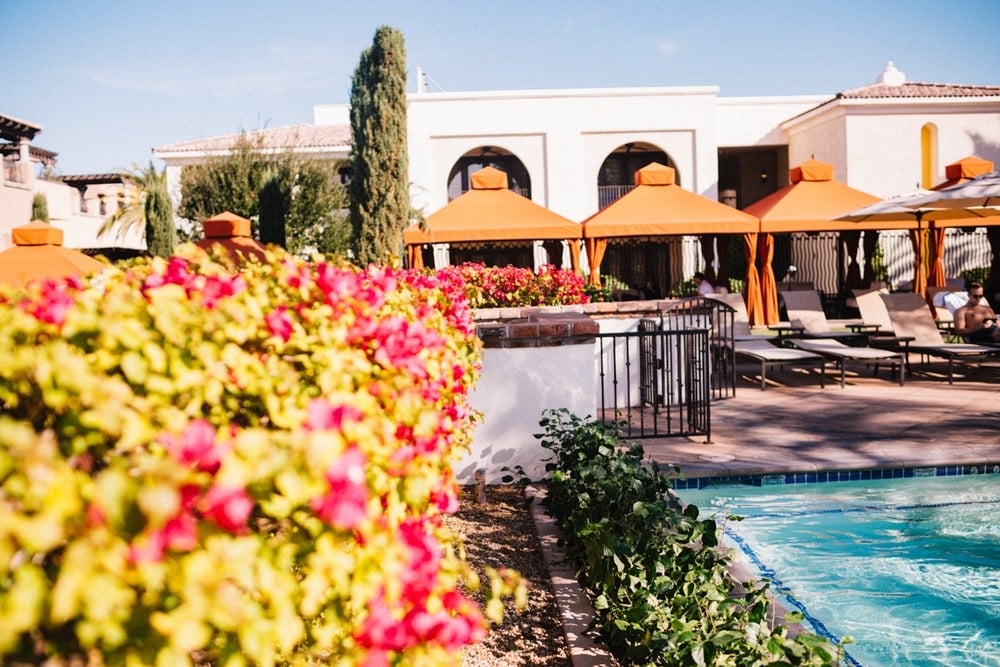 Book A Suite At The Omni Resort
The Omni Scottsdale Resort & Spa at Montelucia is hands down one of the most romantic resorts in Arizona. I had to do a double take when we arrived on this property – it looks more like something you would find in Spain, not Arizona. Think colorful walls with oriental tiles, tall palm trees, whimsical foundations and flowers everywhere.
I could easily spend a whole week just walking around this property with a drink in hand and soaking up all the romance vibes.
I ADORE the pool here. Well, there's three pool areas here (so you can switch it up) but the main area I love the best because you can lounge in a private cabana with views of Camelback Mountain and pool service. YASS queen.
I also was swooning over the Joya Spa pool area. This one is small but it's a couple of stories up in the spa building, meaning it's a rooftop pool that overlooks the whole resort. SO fun. The spa here is a totally different vibe than at CIVANA. It's dim and relaxing like something you would find in Morocco. If you feel like you need a treatment after hiking, make sure to book something here.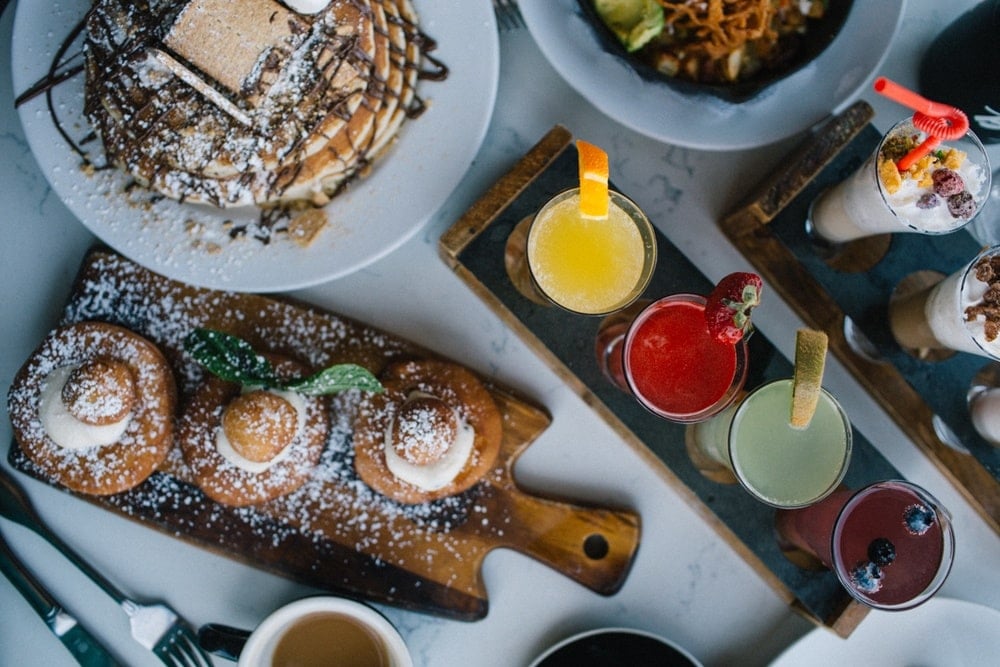 Foodie's Paradise – My Favorite Scottsdale Restaurants
Scottsdale has a bangin' food scene. Make sure to pack some comfy dresses so you can eat all the things while visiting! Here's some of my favorite restaurants in Scottsdale:
Explore Downtown Scottsdale
There are SO many fun things to take up an afternoon in Downtown Scottsdale / Old Town Scottsdale. Make sure to set some time aside to wander the town.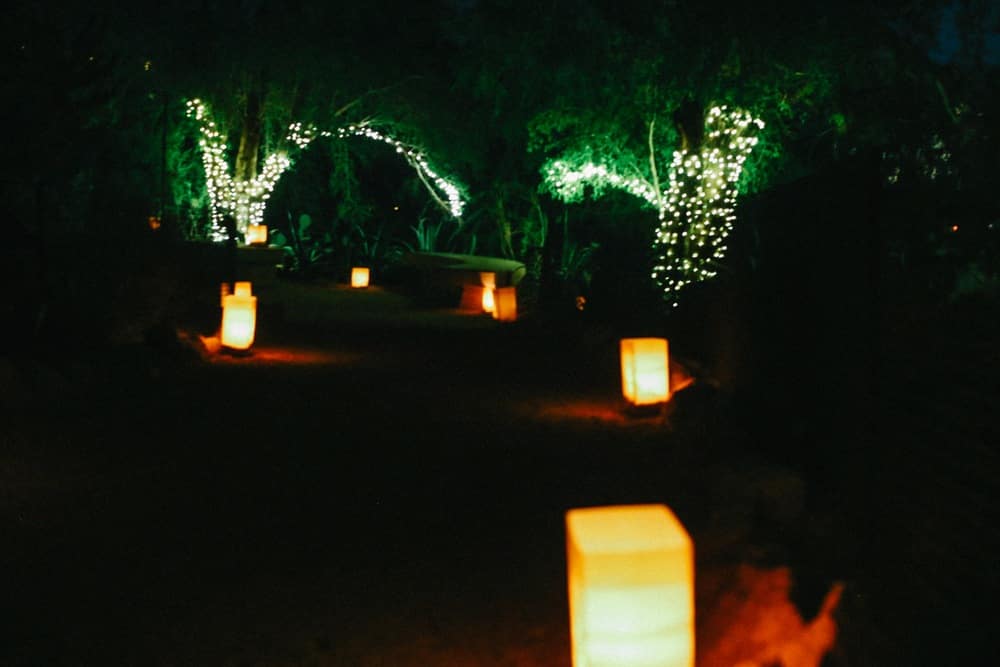 Desert Botanical Garden
The plant lady in me always loves botanical gardens but let me tell you – the Desert Botanical Garden outside Phoenix is AMAZING. So many gardens and trails are available to wander here, including some super tall Saguaros.
If you happen to honeymoon around December for the holidays, you simply MUST come for Las Noches de Las Luminarias which, is absolutely one of the most magical events I've ever attended. The entire garden is filled with lanterns, string lights and other light art pieces. Bands are tucked around playing music and it's such a fun time.
Fly Out From Phoenix Airport
When it's time to go home, Phoenix Airport is just a short drive from The Omni so it'll be easy to pack up and roll out. And, hopefully, start planning your return trip because I think you'll fall in love with Arizona as much as I did on my first visit years ago.
WOW, ok that's a lot to take in but I hope you can see there's just so many fun things to do on an Arizona honeymoon. Don't forget to Pin this post to Pinterest so you can find it later.
If you have any questions at all, drop a comment below or DM me on Instagram @thewhimsysoul and I'll be happy to help!! And if you have additional honeymoon in Arizona tips to add, leave a comment so everyone can see.