Back in 2018, Robin and I were walking around Stow Lake, our favorite part of Golden Gate Park. In one area there's a waterfall and around the corner, a Chinese Pavillon. I suddenly realized that if you didn't know that waterfall was in the middle of San Francisco, it could pass for being in Thailand, or Bali. That Pavillon could easily pass for being in a beautiful Chinese garden instead of America.
That's when we were inspired to start a new photo project about San Francisco, the Chameleon City. A project dedicated to finding all the places in San Francisco that look like other countries, or cities.
I already had a few spots in mind but I also spent a couple of weeks deep in Google Maps Street View looking around the city for inspiration. And I narrowed it down to 8 spots that could totally pass as other countries.
And then I posted them all to my Instagram @thewhimsysoul and it was a wildly popular series. (So popular, some of the photo spots I found blew up in the Instagram world and are now semi-popular with other local influencers for photoshoots!)
I also had a lot of fun with it, so the next year in 2019 I decided to do the project again with 6 more new San Francisco hidden gems that feel like it maybe doesn't belong in the Bay Area. Honestly, that's what I really love about this city. It keeps you on your toes. I've lived in San Francisco for almost 7 years now and I'm still finding new things all the time.
Will there be a part 3 to this series? YES. We got a little delayed with the pandemic but plan on a part 3 very soon, so stay tuned to my Instagram @thewhimsysoul.
Places In San Francisco That Look Like Other Countries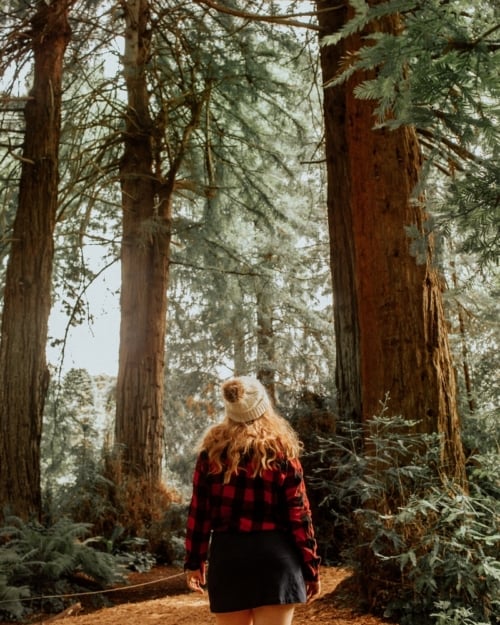 1. California Redwoods
Location: Botanical Gardens
Behind the Shot: As a San Francisco resident, we can enter the Botanical Gardens in the Golden Gate Park for free. Since we live nearby the gardens, we frequently take afternoon walks over here. Their Redwoods section is my favorite spot in the Botanical Gardens.
This area sits below the busy street line. Combined with the towering trees, it's harder to hear the sounds of the city when you are in this grove. The air also smells amazing, like fresh cedar and moss. So many tourists come to Northern California wanting to see Redwoods but can't (the nearest park is Muir Woods which can be a hassle to get to without a car.) But, you can still get that Redwood experience right here in the city! I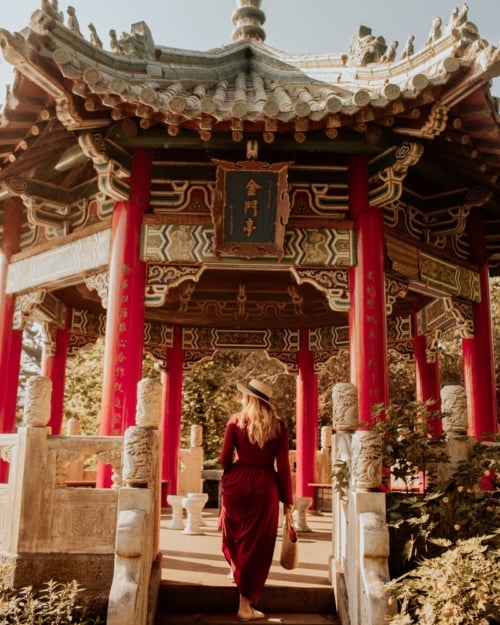 2. A Chinese Pavilion
Location: Stow Lake, Golden Gate Park
Behind the Shot: Another of our favorite spots to walk around is Stow Lake, a little lake in the middle of the city. There's Strawberry Hill, an island on the lake, where this Pavilion stands. We walk by it all the time and frequently see elderly Asian women doing morning stretches or people playing chess here. It's very much loved by the local community.
I've always felt that if you plopped me here without any reference, I would totally believe I was standing in the middle of a garden in China instead of San Francisco.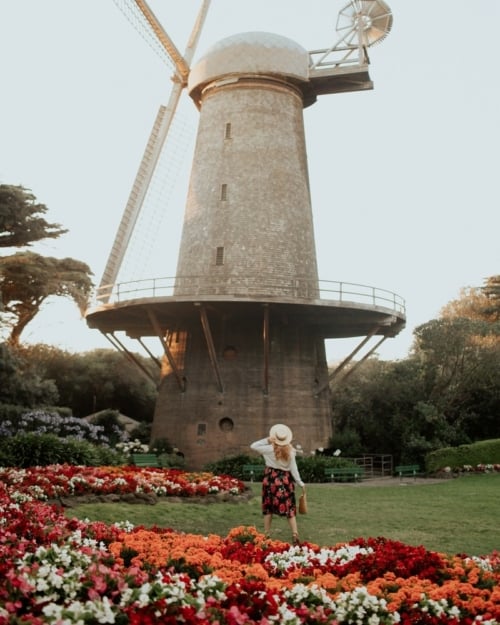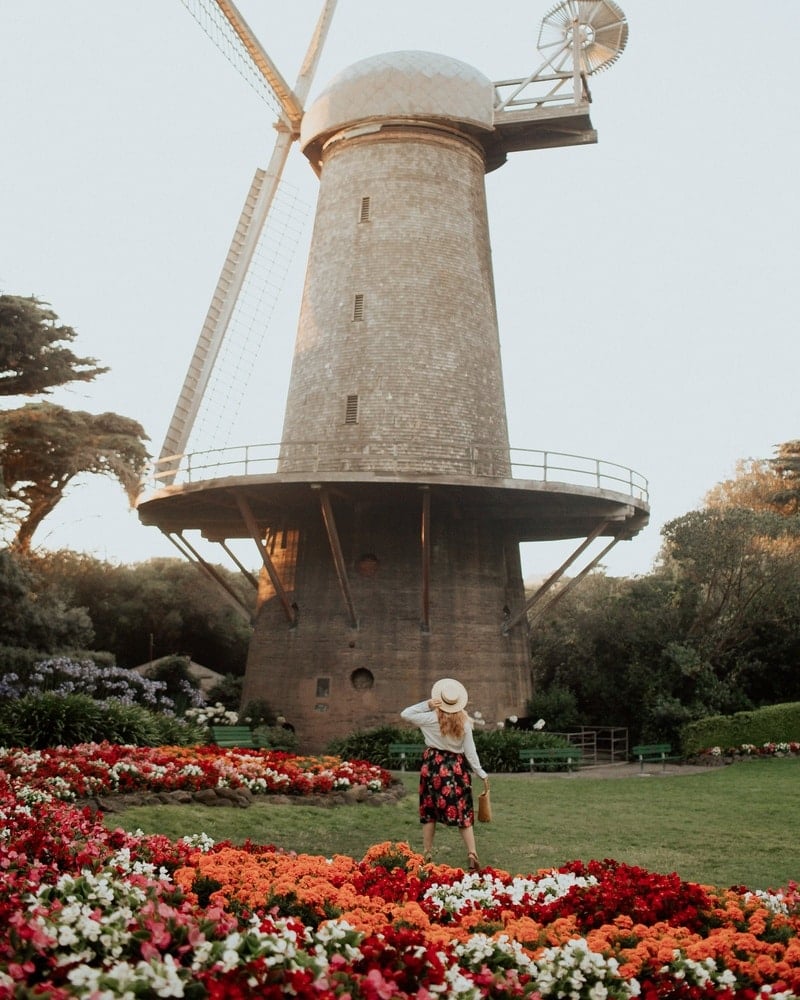 3. Dutch Windmills
Location: Golden Gate Park
Behind The Shot: If you venture out to the West side of the city, you'll find two Dutch Windmills at the end Golden Gate Park! ? They were originally installed to help pump water to help build the park and other structures in the city. They aren't operational anymore, but are still incredibly beautiful, especially when all the tulips are in bloom.
I've always wanted to visit the Netherlands during a tulip festival but stopping by these windmills totally does the trick (until I can get myself out there for real one day.) I recommend visiting on a sunny evening (aka not a foggy day) for the most beautiful evening light. After, walk the block to Ocean Beach to watch the sunset over the sea.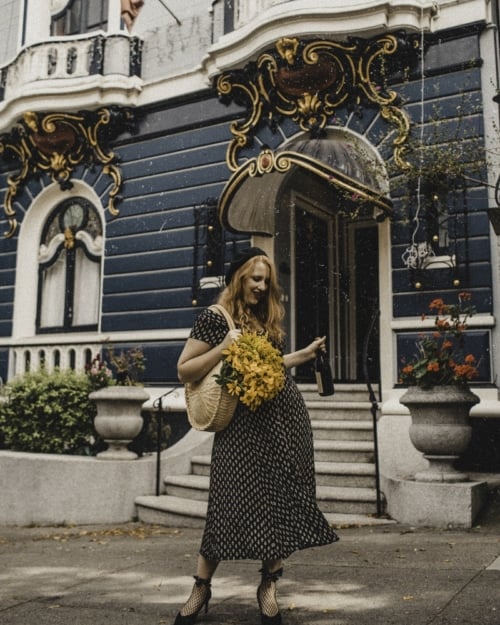 4. A French Village
Location: One block off Alamo Square
Behind the Shot: This house is just a block North of Alamo Square and has major France vibes! I love all the different architectural style of houses in this city, but this is the only one that makes me feel like it was originally built in France.
The motifs on the front are totally unique, I haven't seen that on any of the other houses here in the city. Beauty and the Beast came out about a year before, so those small provincial towns were still on my mind. I grabbed some wine and my beret to make this shot come together!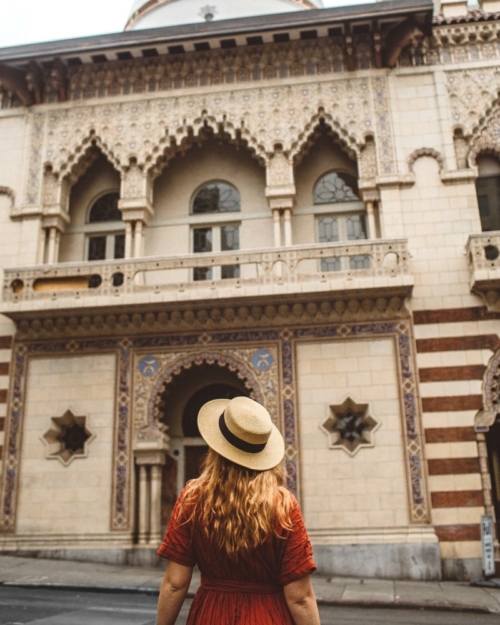 5. An Iran Mosque
Location: Alcazar Theatre
Behind the Shot: This is actually the Alcazar Theatre in downtown San Francisco. I absolutely adore the design of this building, it looks like a mosque in Iran or another Middle Eastern country. I've always wanted to visit that part of the world and hope to one day!
To get this shot, we woke up at like, 5:30am on a Saturday and took an uber downtown. This spot is on Geary Street, one of the busiest streets in the city, so we knew we'd have people and cars to work around. We opted for an early morning shoot on a day when the street parking was enacted, so we didn't have to deal with cars blocking the front and getting in the way!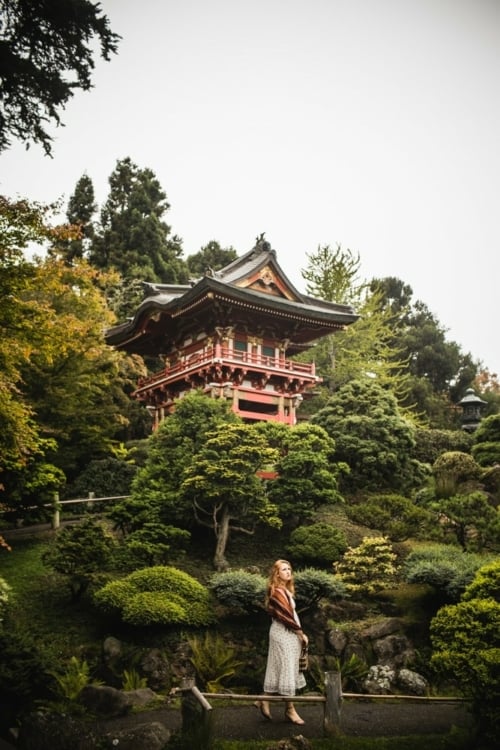 6. Japan
Location: Japanese Tea Garden
Behind the Shot: Inside the Golden Gate Park (there so many things in this park if you haven't figured it out) is a Japanese Tea Garden. It's a stunning little garden that really does a great job at making you feel like you stepped into an actual Japnese garden. From pagodas to a tea room to a fun circular bridge that is pretty impossible to walk up easily, I love this spot.
We chose to visit on one of their free days (tickets are about $7 per person otherwise) and went right away in the morning. It got crowded fast, so I'm happy we got in right away to snap this shot!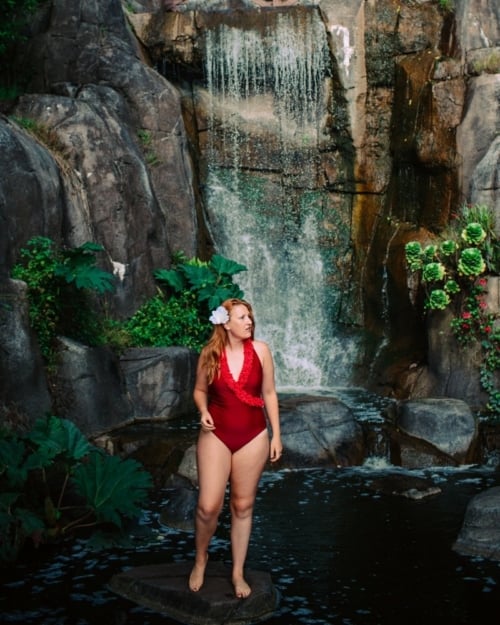 7. Bali
Location: Stow Lake, Golden Gate Park
Behind the Shot: This waterfall at Stow Lake in Golden Gate Park feels like it shouldn't belong in the city, because it's always so misty and tropical feeling. Seriously – you walk over to this area and the air suddenly gets humid.
Did I get some strange looks for stripping down to a swimsuit for this shot? Totally. HA! But this is one of my favorite photos from the series because Bali is one of those places I see all over Instagram and get FOMO over. But it's so far away – aka, a huge ass plane ticket. But you can find tropical feeling spots anywhere, even in the middle of this foggy city!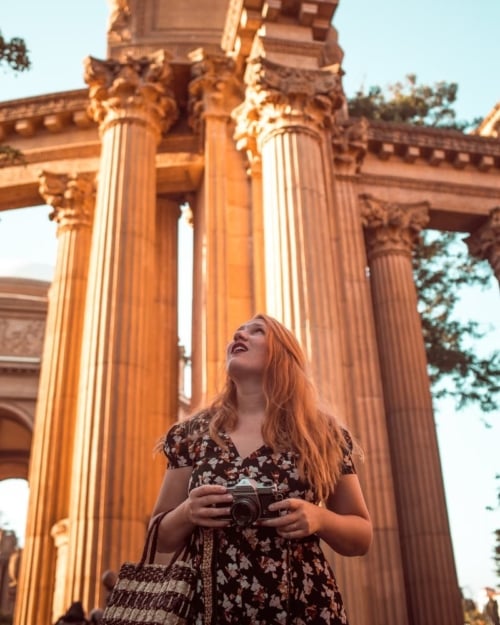 8. Roman Forum
Location: Palace of Fine Arts
Behind the Shot: The Palace of Fine Arts in the Marina is totally inspired by Roman and Greek architecture. Just look at it! Did you know I studied abroad in Rome in college? This spot brought me back to the days I spent exploring the Roman Forum with those towering columns above me.
My favorite time of day to visit the Palace is at golden hour. It gets packed during the day with tourists, but the mostly filter out in the evening. Set aside some time to wander the grounds and pretend like you're in Italy. After, hop over to an Italian restaurant and treat yourself to a bottle of wine.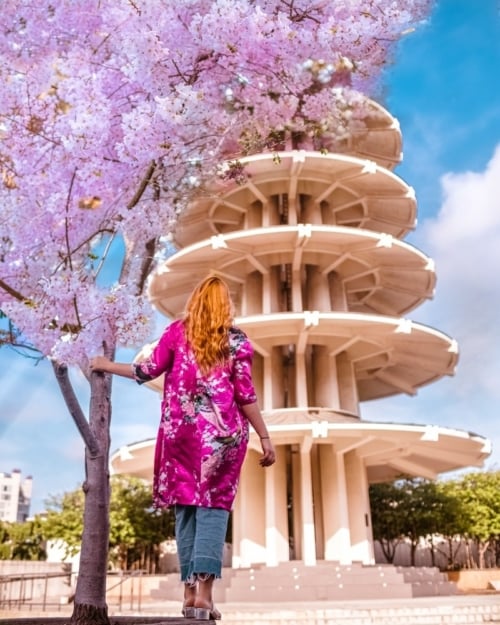 9. Taiwan Lotus Pond Pagoda
Location: Japantown
Behind the Shot: Welcome to the Lotus Pond in Taiwan! This is actually the plaza of Japantown, but this tower has always reminded me of the Dragon and Tiger Pagodas in Taiwan at the Lotus Pond. This plaza gets busy over the course of the day so if you are visiting for this shot, come early in the morning!
I want steer away from Taiwan vibes & chat real quick about Japantown. It used to span over 30 blocks but now is just a tiny neighborhood. Why? Because during WWII after the bombing of Pearl Harbor, scared Americans rounded up Japanese people and put them in internment camps out of fear. You may not have learned about this in school as our systems tend to focus just on the Holocaust instead of the camps that happened rigth here in America.
I wouldn't have really known about these camps accept randomly drew this topic from a hat for an 8th-grade research paper. Ever wonder why basically every major city in the USA has Chinatowns but not Japantown? It's because we persecuted the Japanese & now there are only 3 Japantowns in the entire USA (San Francisco, San Jose, and Los Angeles.) This is a reminder to learn from mistakes in history & not let fear (and the fear of losing power) dictate our lives & the lives of strangers.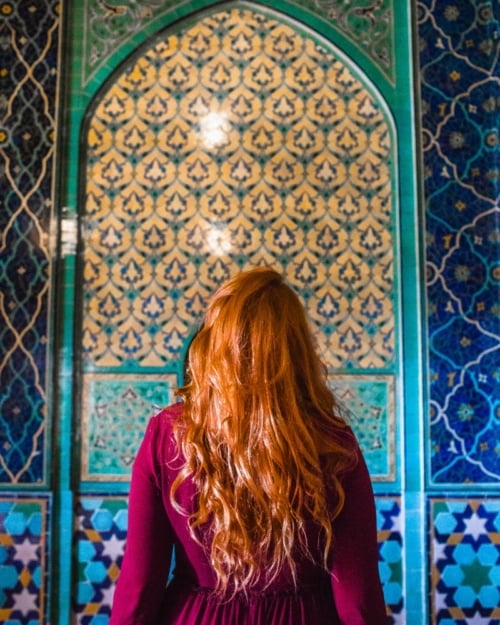 10. Moroccan Mosque
Location: Fairmont Hotel
Behind the Shot: Jumped over to Morocco for the day to see a mosque. Probably going to ride a camel later and shop for colorful ceramics at the market. (Just kidding!) This room is in the Fairmont Hotel here in San Francisco. It's probably one of my favorite rooms in the entire city – it makes you instantly feel like you were transported to a mosque.
This room was inspired by Morocco, but I actually think it also looks exactly like the blue mosque of Samarkand in Uzbekistan. Either way, it's stunning. This is the only spot in my series that you can't access publicly. I was invited to a party in the Penthouse Suite at the Fairmont Hotel, where this was taken. If you ever have a chance to attend an event or party in the suite, do it!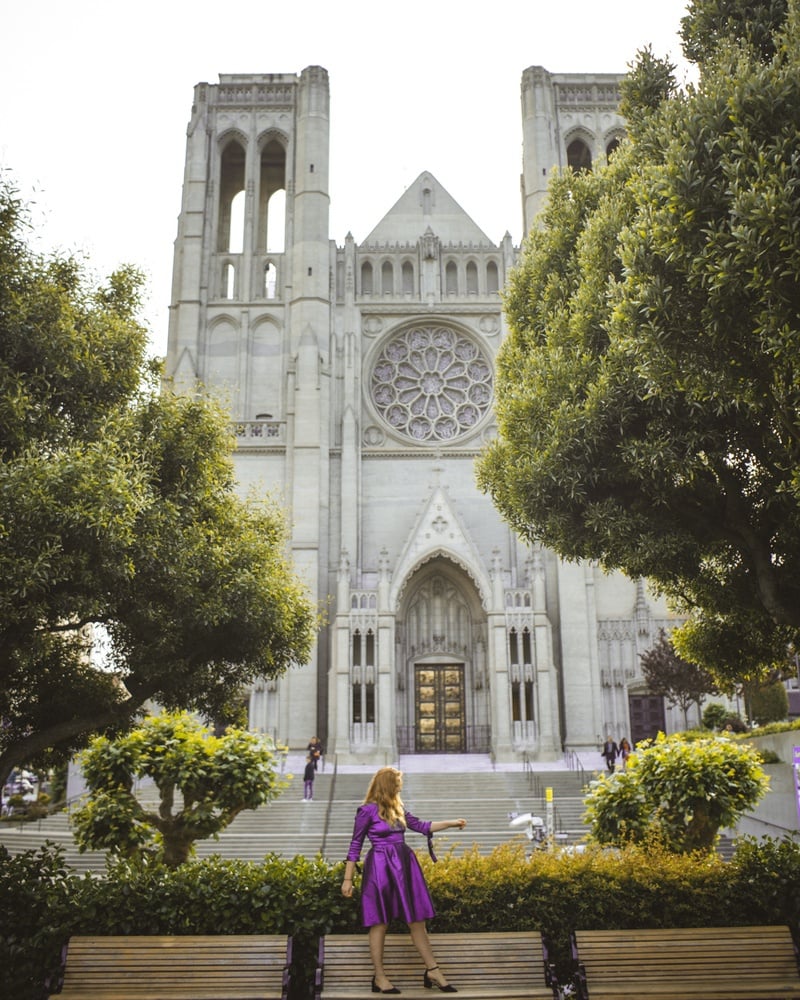 11. Cathédrale Notre Dame de Paris
Location: Grace Cathedral
Behind The Shot: I have ALWAYS thought Grace Cathedral on Nob Hill looks like the famous Notre Dame. I mean, it even has a spire like the one in Paris does (or did – this photo was taken before the fire.) And I Googled it and found out the church really was inspired by the French Gothic architecture that Notre Dame is styled in.
Though I really think the architect stole a lot more than a vague style here. They both have a spire, similar stain glass windows and a circle motif in front. To get this shot where the Cathedrals look like twins, head to the park across the street! Best in the last evening or early morning.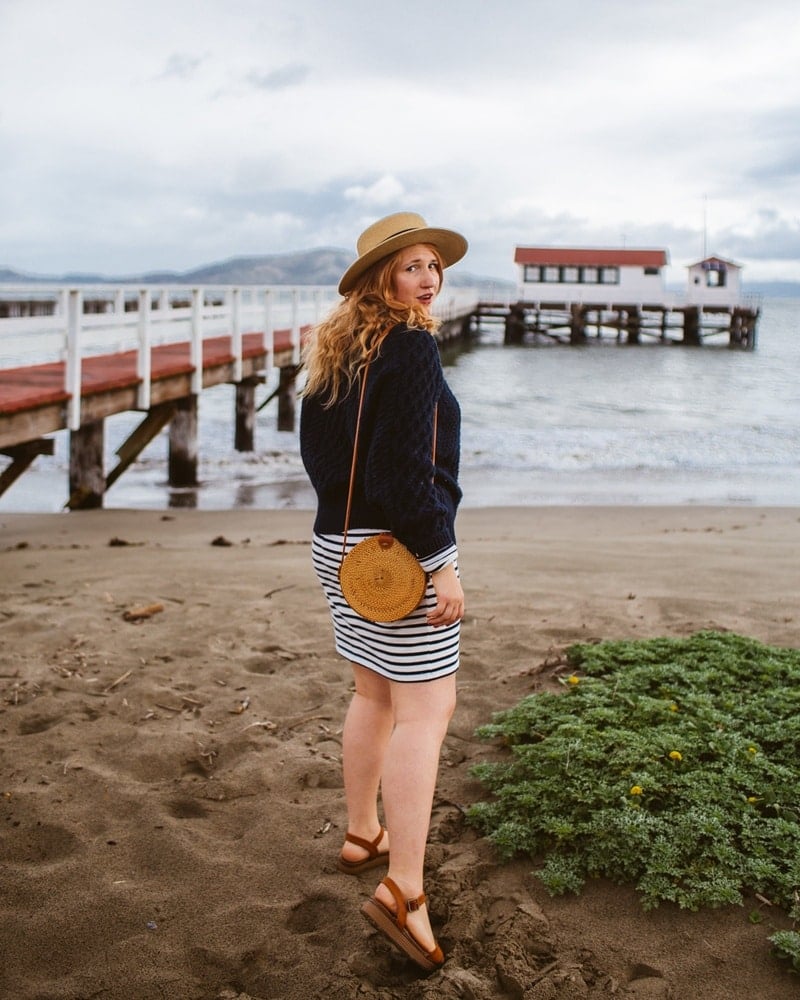 12. Cape Cod
Location: Crissy Field Piers
Behind The Shot: There's something about this corner of Crissy Field – with the white buildings and red roofs – that makes me feel like I'm on the East Coast. Especially on a chilly morning, if I couldn't see the Golden Gate Bridge in the background, I could swear I was walking along a beach on the other side of the country.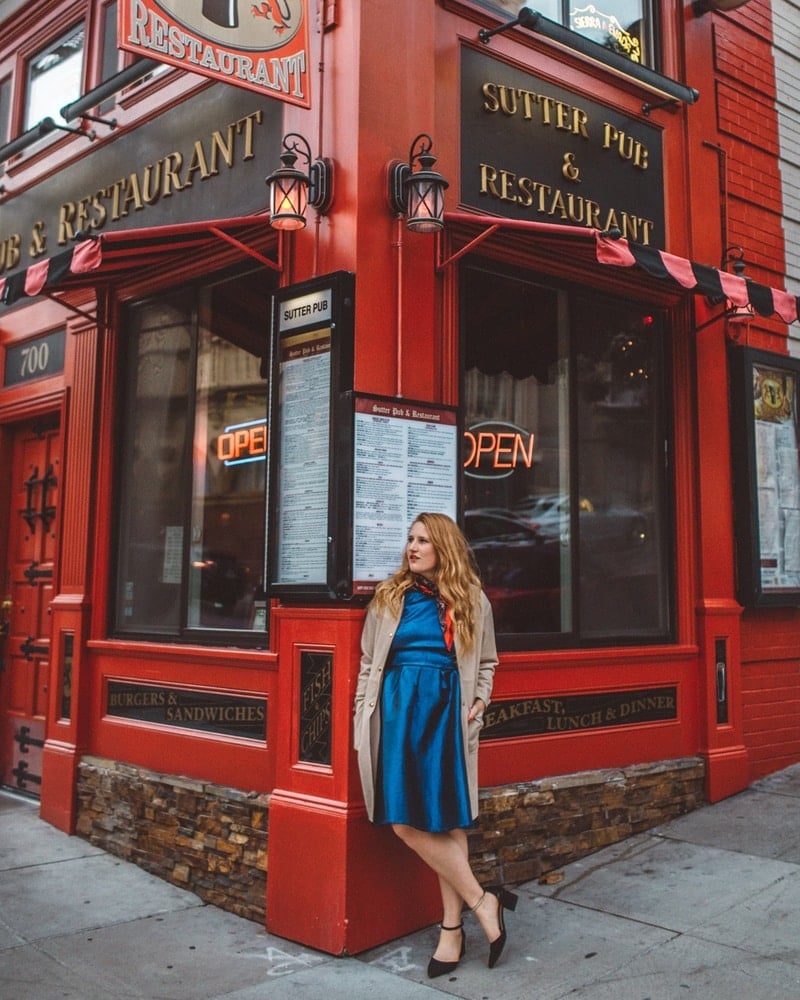 13. An English Pub
Location: Sutter Pub in Nob Hill
Behind The Shot: We originally wanted to shoot inside the pub because they have a suit of armor in there! But it was a packed night and too crowded. I still think the outside of this pub looks like it belongs in England, what do you think?