We walked past the lobby into the pool area of Pueblo Bonito Blanco and I had a double-take. Where was I again?? I know I'm in Mexico (the customs agents proved that!) but this hotel looks like I was magically transported to Greece.
I just got back from a 3 day/4 night trip to Cabo San Lucas Mexico with some girlfriends. My amazing type-A friend did a ton of research and booked us at Pueblo Bonito Blanco under their All-Inclusive offers (for about $1000 for 3 nights and 4 people. TOTAL.)
Location: Cabo San Lucas Mexico
Type: All-Inclusive Resort
Good For: Couples, friends, family friendly
So, I'm assuming you're here because you also felt like that deal was too good to be true. We were super anxious to get to the hotel and see what $250 per person for FOUR DAYS was actually like. In this post, I'll be sharing my honest thoughts about Pueblo Bonito Los Cabos, the pros and cons of their all-inclusive and some tips for getting the best deals.
Pueblo Bonito Blanco Is The Best Cabo San Lucas All-Inclusive Resort (Here's Why)
>> Got a question about Cabo or Pueblo Bonito that you need answered quickly? DM me on Instagram @thewhimsysoul and I'll be happy to help!
REVIEW: Pueblo Bonito Los Cabos All Inclusive
My friends and I like to go on vacations together a few times a year, but usually always just to Sonoma for wine tasting. This was our first time traveling internationally together and after a busy summer in San Francisco, we just wanted to chill the F out a bit down in Baja California.
My friend, Amy, found an All-Inclusive deal at Pueblo Bonito Blanco, which is part of the Pueblo Bonito Los Cabo hotel family, for just a little over $1000. For four people. For three nights. That broke down to about $250 per person for the whole trip (not counting flights from San Francisco.)
*Cue mic drop*
That's an insanely good deal, considering that their all-inclusive package also includes alcohol! That's about $83 per night in Los Cabos Mexico with unlimited meals and drinks and access to their sister properties. YES PLEASE. But, is the food good? Was the hotel nice? Is it worth it?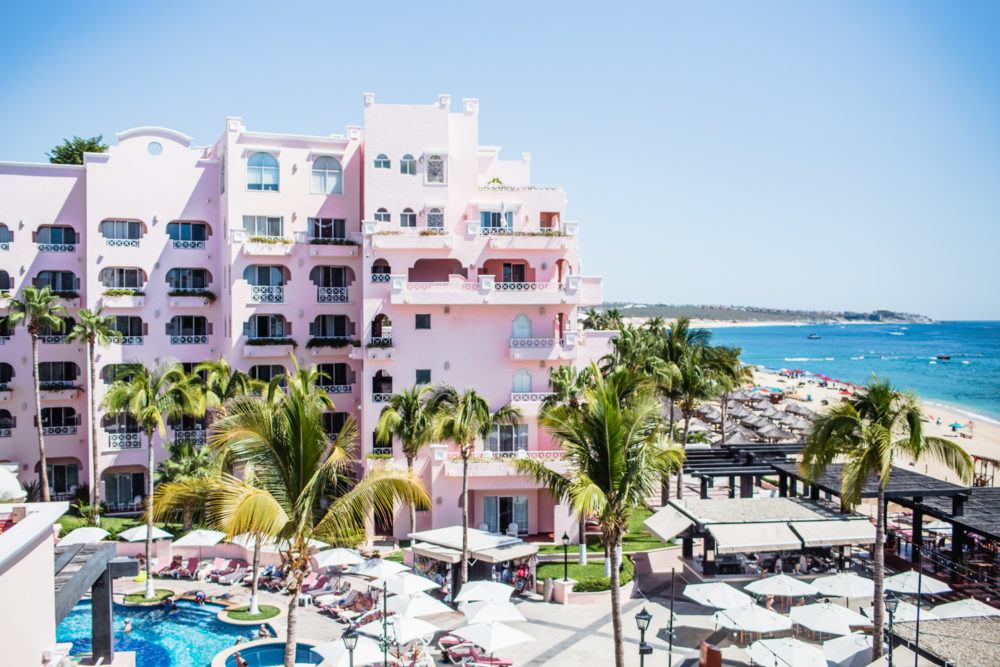 Before I dive into all the good parts (spoiler alert, I highly recommend staying at hotel Pueblo Bonito Los Cabos Blanco) let's go over the things I didn't like, just to get it out of the way.
Things I DIDN'T Like About Pueblo Bonito Blanco
Overall, Pueblo Bonito Cabo is a great experience but there are a few things I think could be improved upon:
The Wifi Isn't Very Good: Granted, this really isn't an issue for most visitors. The whole point of coming to a beach resort is to chill out and be at the beach, right? But for me (a travel blogger who only works remotely and needs to post in real-time during trips) not being able to connect to wifi easily was frustrating. It did work, but only in certain areas and it kept disconnecting every few minutes.
Tons of hard liquor, very limited wine options: I can't express the struggle we had to find a Rose wine in Cabo. As a group of Bay Area ladies, we're a bit spoiled with wine options (Napa is just an hour north of the city) but considering Cabo attracts a lot of Californias I was surprised by the limited wines. They appeared to serve just one winery and had a Chardonnay (yuck), Sav Blanc, Merlot and Cab. The Cab was the best of the bunch, but overall the wines weren't very good.
Rooms vary in the same price point: We somehow lucked out and got a fantastic room with stunning ocean views and two patios, so it was always full of natural light. But not all the junior suites are the same. Under the same price point, we could have been stuck with a ground-level hotel snugged right up to a busy pool or bar, which would have been a VERY different experience than our dreamy 3rd-floor paradise right under the Pueblo Bonito Los Cabos luxury suite on the top floors.
PS, this is why I recommend Blanco over Rose or Sunset: every single room at Blanco has an ocean view, while you may end up looking at the hotel or pool area if you stay at one of the other resorts.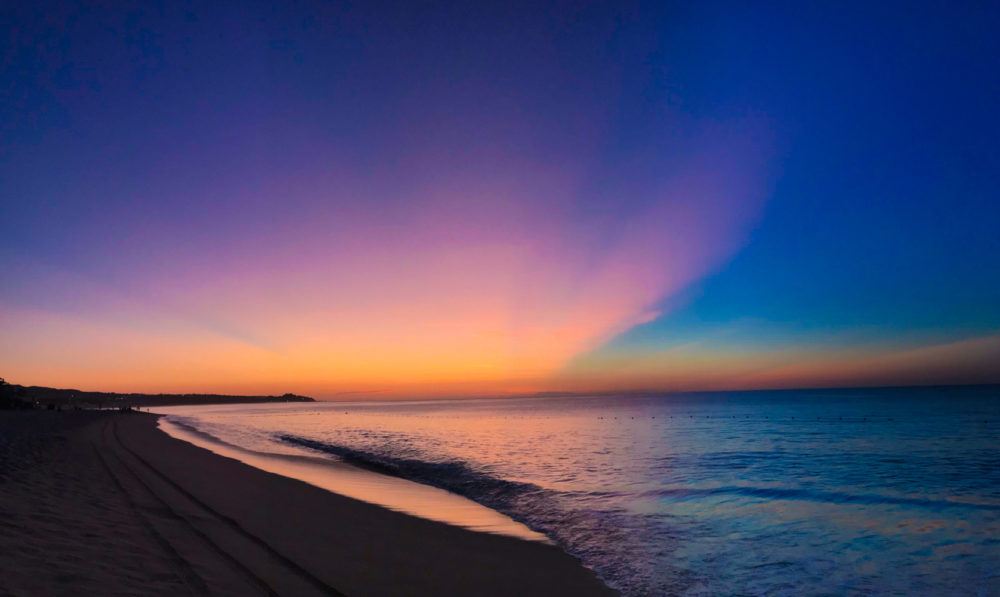 Now, time to chat all about the good stuff and insider tips for making the most of your stay at a Pueblo Bonito Resort Los Cabos!
Which Is Better: Pueblo Bonito Blanco Vs Rose Vs Sunset
There are four Los Cabos resorts under the Pueblo Bonito family:
Blanco
Rose
Sunset
Pacifica
We never visited Pueblo Bonito Pacifica Cabo because it's not part of the all-inclusive package. (It looks like a fancy golf resort online) The other three hotels are part of the package! This means that, even though we were sleeping in Blanco, we could walk over to Rose or Sunset and dine at any of their restaurants, use their pool, etc.
Pueblo Bonito Rose and Blanco are right next to each other and right up against the beach. Rose is pink, Blanco is blue and white. Blanco is a bit smaller than Rose, but all the rooms have ocean views. I also liked how Blanco – being smaller – meant it was calmer.
I loved being able to walk next door to Rose to dine at their restaurants or use their pool, but it was also busier. It was fantastic being able to seek retreat from crowds over at Blanco. The best of both worlds!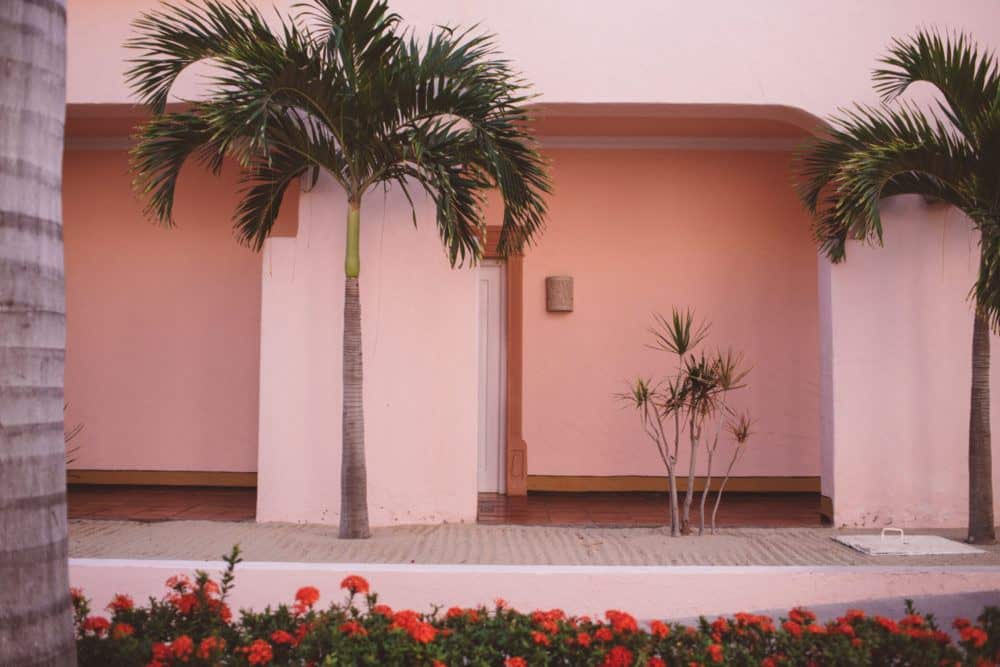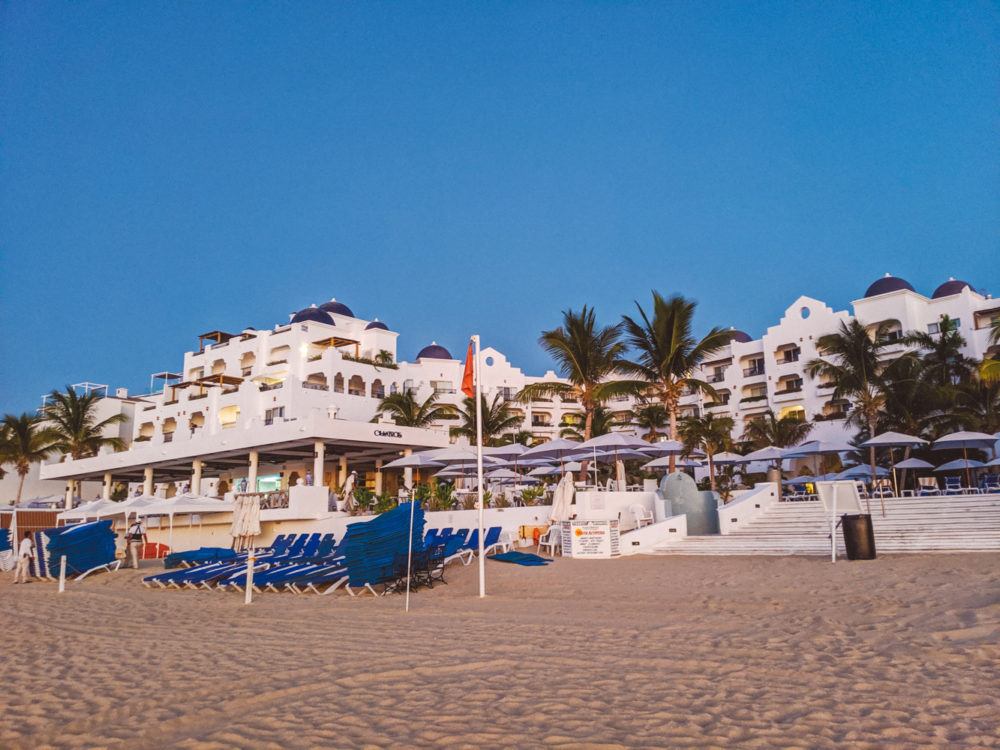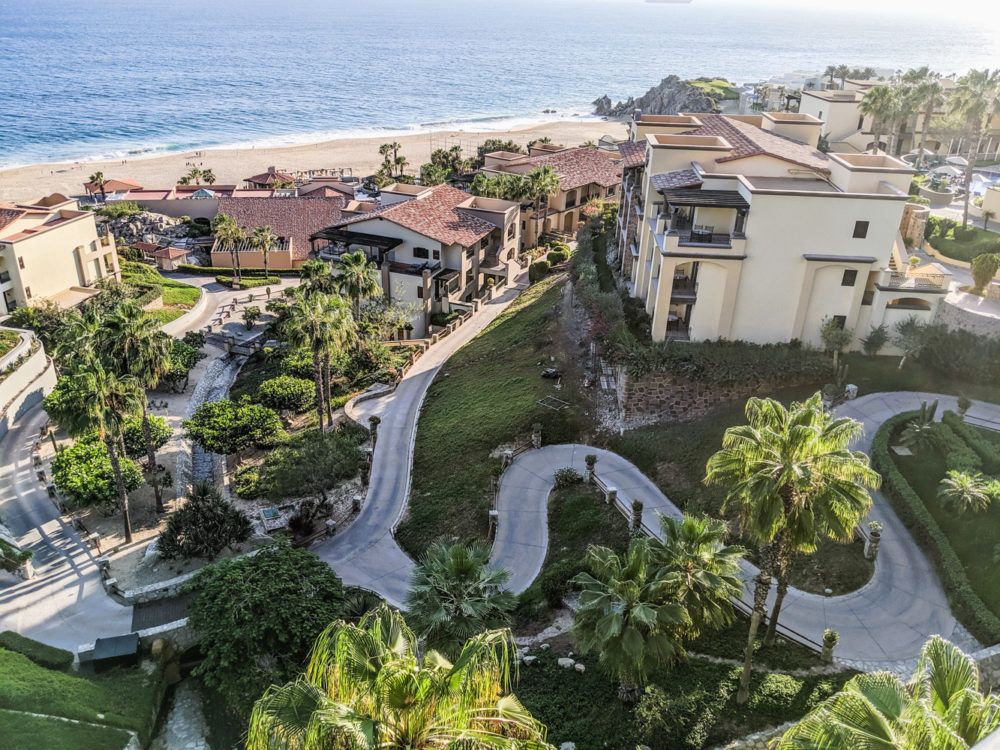 Rose and Blanco face East, which means they get the sunrise each morning. I actually woke up to catch the sunrise every single day, which never happens on vacations, but the hotel is literally on the beach so it was easy to slip out, grab a coffee downstairs and watch the day start. On our last day we even did a sunrise swim in the ocean!
Pueblo Bonito Sunset Cabo is on the West Side of the city, so it has stunning sunsets (hence the name!) Sunset is different than Blanco and Rose as it's more of a condo/ exclusive residential development area. It honestly looks a bit like a tiny town vs a hotel. It was fun to visit for dinner but I'm glad we didn't stay there.
It takes about 20 minutes to drive there, and there's a free shuttle you can take, but on our way there we opted for an Uber instead so we could go on our own time (Ubers are very very cheap here, about $2-5 per ride.)
I recommend you book at Blanco. It's the best deal in the best location and all the rooms have ocean views!
The Sunset resort is large and sprawling and feels remote like it's just you and the ocean. I really loved coming here for dinner one night (their sushi place was our favorite dinner of the whole trip!) but I was really happy we were staying at Blanco.
I love feeling like I'm in the mix of things. My fear was that an all-inclusive resort would be too disconnected from local culture, but Blanco was on a popular beach and just a short walk from town, so I felt like I actually got ot experience Cabo properly. Plus, it made it really easy to get to Cabo excursions like sailing!
What Does All Inclusive At Pueblo Bonito Blanco Include?
Mexican cuisine is one of my all-time favorites and I was pleasantly surprised to find the food was really really good. Everything from the seafood to steak to desserts was delicious and well cooked. We really felt like we got our money's worth with our all-inclusive package!
Amenities
Unlimited drinks (water, bottom shelf had liquor, corona, Modelo and a bottom shelf wine.)
Unlimited food from 3 resorts
Room with a view
Work out classes
Gym
Daily housekeeping
Kitchen, fridge, microwave in room
Safe in room
Wifi
Beach service
Lounge chairs on the beach with umbrellas
3+ pools
Ocean swimming
Beach towels
Free shuttle to sister properties
Elevator
24/7 room service
The package does NOT include spa credit, access to a select few fancy restaurants on the property and a few fitness classes.
BOOKING TIP: Skip the travel agents or even booking on the website directly. You can get the best rates available at hotels.com! They also offer free cancellation rates.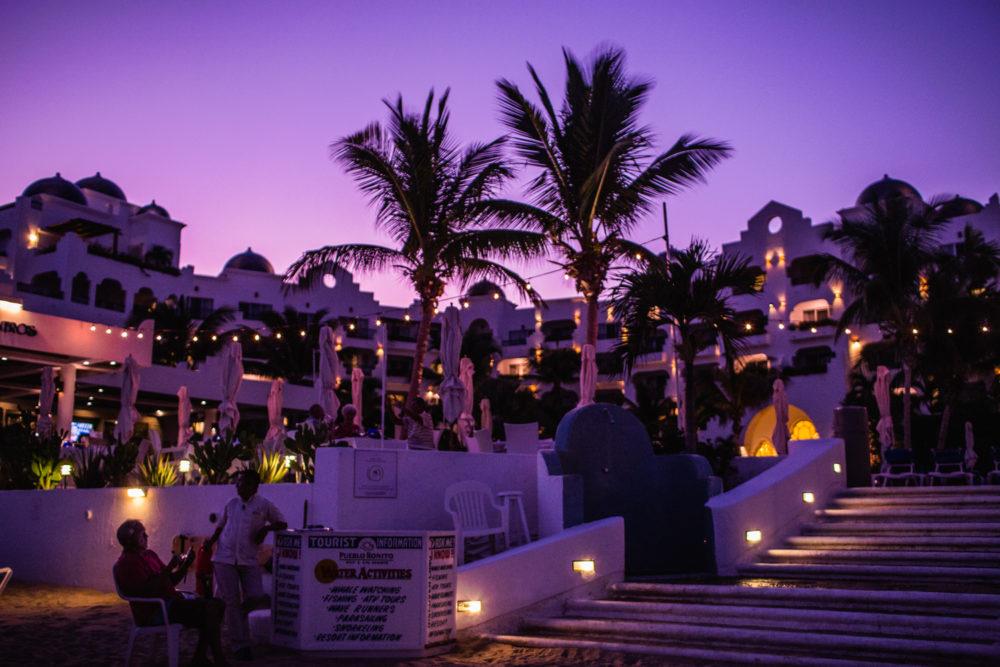 Can You Swim At Pueblo Bonito Blanco?
That's one thing I really loved about Blanco and Rose — you can actually swim in the ocean here! So many resorts in Cabo San Lucas and Cabo San Jose don't allow swimming on their beaches because the waves are crazy strong and literally deadly.
But you can swim at Rose and Blanco. Granted, the waves can be strong (we got knocked over a lot getting out) but once you get past the wave line it's fine. This was a HUGE perk for me, as I love swimming in the ocean vs in a pool. They have a lot of lounge chairs right on the beach which never seemed to get full, so we always had shade just steps away from the water.
As mentioned above, this beach is open to the public which I loved. Locals selling sunglasses and clothes walk buy every few minutes, guests at other resorts taking long walks on the beaches pass, but so do locals running with their dogs or simply going to work. You can see downtown Cabo from here and it's also right in front of where all the cruise ships dock. Basically, there was always people watching available.
Shop my favorite swimsuits for your Cabo trip!

I had such a great time hanging out with great girls at a great resort in Mexico. This place is very affordable and totally delivers on food, service and the hotel itself. If you are coming to Cabo and looking for all-inclusive at an affordable price, book here!
San Jose del Cabo is one of my favorite places to jet down to from California since I'm on the west coast. It can take a while to get from the airport to your hotel, but the question of how to get to Tulum from Cancun if you are on the East Coast is also: it'll take a while. So we're even.
I hope this helps you learn more about Pueblo Bonito Cabo San Lucas and help you pick the best Los Cabos San Lucas resort for your group! We had such a fun time at Blanco and it was honestly hard to leave. If you have any questions about the resort that I didn't answer, leave a comment below or DM me on Instagram @thewhimsysoul and I'll be happy to help!
Other posts you may like