Way out in the desert past Joshua Tree is Pioneertown, an Old West Town that was built and used as a film set in the 1950's. These days it's no longer used to make Old West movies. Instead, it's a real town with a few houses, restaurants and all the remains of the movie set that you actually walk around.
Pioneertown makes such a fun day trip from Joshua Tree or Palm Springs. I've been many times and in this post I'm sharing my favorite things to do while visiting Pioneertown so you can have an epic adventure!
Directions to Pioneertown
From Joshua Tree: 12 miles North West
From Landers: 19 miles South West
Where To Stay In Pioneertown
Pioneertown Motel: The most famous Pioneertown hotel (and only, I think) is the Pioneertown Motel. You can't miss it when exploring the town. It's cute AF and has a fun outdoor space. There aren't many rooms to book ahead if you want to stay here.
Pioneertown Airbnb: There are some pretty epic vacation rentals in Pioneertown. If you're traveling with a large group, book this epic sprawling ranch with so many photo ops. If it's just you and your boo, this cute cabin will do the trick!
Nearby Joshua Tree Airbnb: Of course, there are a lot of cool houses and glamping spots in the town of Joshua Tree. These are my 19 favorite Joshua Tree Airbnbs to rent!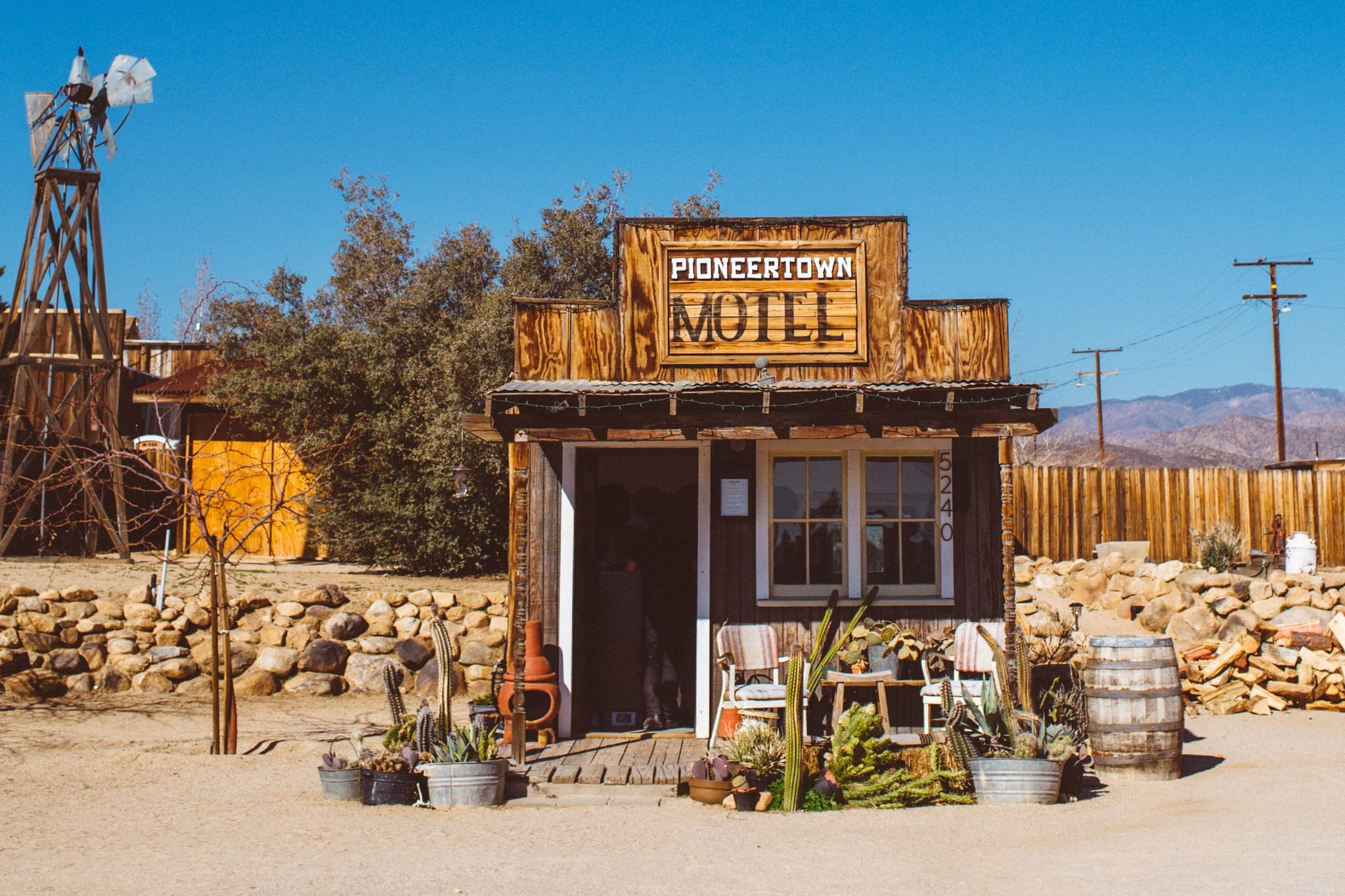 How Far Is Pioneertown from Joshua Tree? About 20 minutes
How Far Is Pioneertown from Palm Springs? About an hour
7 Must-Do Things To Do In Pioneertown California (An Old West Town Near Joshua Tree!)
So you have a couple of options. You can either book an Airbnb or motel in Pioneertown and center your desert vacation here. Or you can day trip from Joshua Tree or Palm Springs. Either way, you'll have fun doing the things on my list below!
1. Lunch at Pappy's and Harriets
There aren't many Pioneertown restaurants but Pappy's is the BEST. I would drive back down there right now just to spend lazy afternoon drinking cocktails and eating that mesquite bbq and mac & cheese again. This bar in Pioneertown has a sprawling outdoor space (with heat lamps if it's a chilly day) and will host live music inside on weekends.
It's THE spot to hang out in town and tons of people visiting Joshua Tree will drive out just to dine here as well. You may have to put your name on a waitlist, so the second you pull into Pioneertown, stop by to put your name down or reserve a table and ask to sit outside if you can! It's my favorite of the places to eat in Pioneertown.
2. Catch The Wild West Show Show On Mane Street
Yee-haw! Every 2nd and 4th Saturday, catch the Mane Street Stampede, a Wild West Show featuring cowboys, outlaws, ladies and a shoot-out, or two. Since this whole town was made in 1946 to film movies, it's extra fun to see it come alive with actors and pretend like you, too, are on the set of a real Wild West film.
3. Hike The Pioneertown Mountains Preserve
Looking for a morning hike before lunch at Pappy's? Try the Pioneertown Mountains Preserve. This preserve is just a few miles outside Pioneertown and has 6 different trails with different difficulty levels. Come for epic desert landscape, canyons, a little rock scrambling, boulder formations and cool cacti. Some trails are dog, friendly too!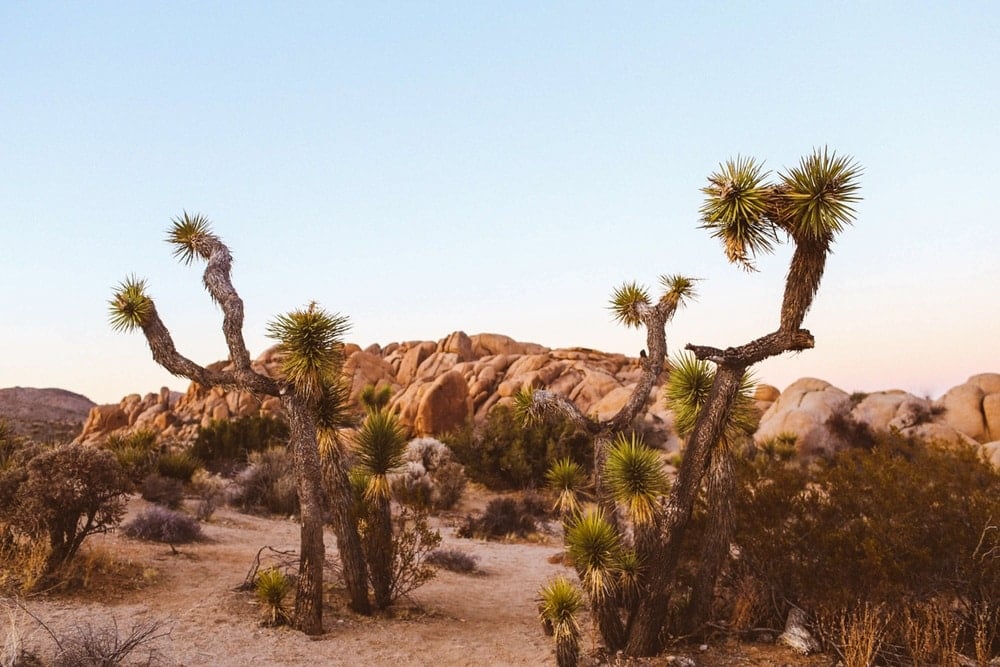 4. Hike Sand to Snow: Black Lava Butte and Flat Top Mesa
Another awesome nearby trail is Black Lava Butte and Flat Top Mesa trail. This trail is on the Sand To Snow National Monument which is Bureau of Land Management land, meaning it's totally free for the public to access anytime. If you're trying to hike on a budget, this is your trail!
The monument's highlights are San Gorgonio Mountain and the deserve ecological landscape. The best hike is the Black Lava Butte and Flat Top Mesa trail which takes you through boulders and up to a lookout point. At the top are petroglyphs and preserved artifacts from the Cahuilla Indians who have lived on the Yucca Valley are land for thousands of years.
5. Shop The Pioneertown General Store
Stop by this cute little apothecary on Mane Street with clothes, jewelry, books, vintage gems, candles, etc. You can also find tinctures, lotions and palo santo here. The vintage stores in Joshua Tree can sometimes be really overpriced and over picked but the Pioneer General Store tends to have better finds. Come ready to shop all the cool things!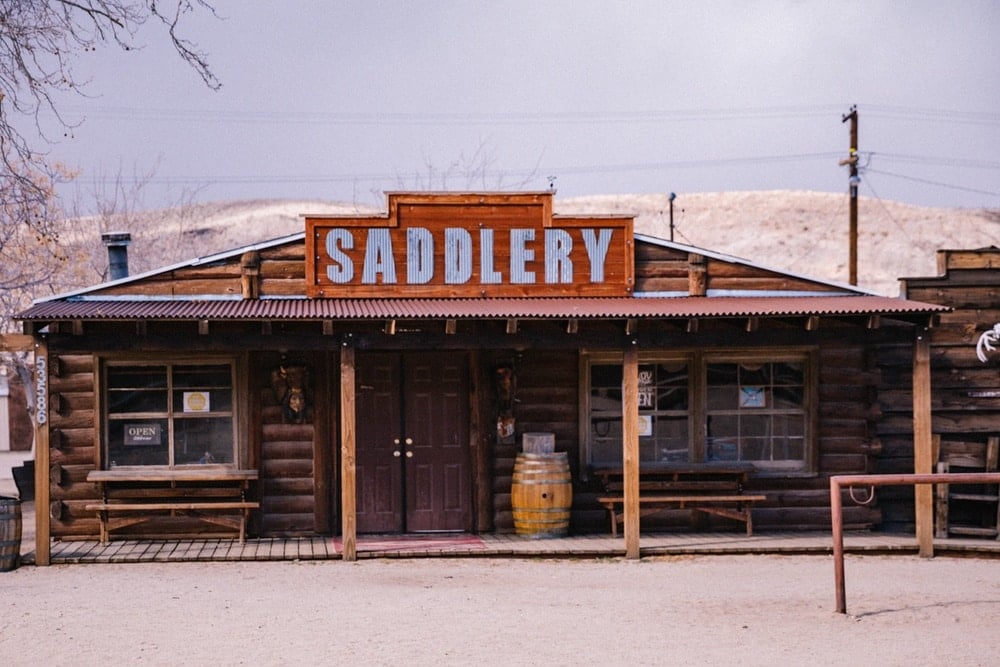 6. Pet The Goats
In the summer, you can find the Yogi Goat Farm goats on Mane Street! Visitors can pet them and give the goats tons of snuggles. Sadly they aren't there in the winter or off-season but all the reviews online make me want to drive down there this summer to hug one (even though I try to avoid the desert during the hot heat!)
7. Touch Giant Rock (A UFO Sighting Spot)
Do you believe in aliens? You MUST trek out to Giant Rock in Landers! Techincally it's not in Pioneertown but holy moly, this place is so cool and unique. And it's just about 25 minutes away so you might as well drive out there. Giant Rock is 7 stories tall and has a ton of alien lore around it. It makes you feel so small when you stand next to it.
There's also the nearby Integration building, which is connected with Giant Rock. It was once built to make contact with aliens but now it's used as a Sound Bath center. It's sometimes open to the public if you wanted to experience a desert sunset sound bath.
Day Trips To Joshua Tree
Of course, you can always day trip into Joshua Tree National Park from Pioneertown! Most people do. The town itself has tons of vintage stores, vegan restaurants, hip cafes and boutiques. But I always love to slip into the national park to hike and soak up al the desert vibes. There's a LOT of gems, but these are my My Favorite Things To Do In Joshua Tree National Park:
Skull Rock: A giant rock that looks JUST like a skull, I swear! It's really cool for photos.
Cholla Cactus Garden: A small yet beautiful garden of Cholla Cacti. Especially stunning at golden hour.
Keys View Lookout Point: A lookout point at the ned of the park with sweeping panoramic views of mesas, mountains & Coachella Valley. Best at sunset!
If you are into weird art, you must also visit the Noah Purifoy center, which is a few miles outside of Twentynine Palms / Joshua Tree.
What To Wear To Pioneertown
Like with most desert places, Pioneertown weather is all over the place. Expect it to be freezing in the winter. Well, more like late fall through spring, it can be really cold. On my most recent trip to Pioneertown, it was March and had such a cold wind. I was silly and didn't bring a winter jacket so I froze my tits off.
On the other hand, summer is hot hot hot. Wear light clothes breezy outfits like dresses, or activewear like Girlfriend Collective. Don't forget your sunscreen and water, you'll need to stay hydrated.
Shop My Pioneertown Outfit

Need more outfit inspiration? Check out my
Joshua Tree Outfit Ideas guide
, it's full of photos of all the outfits I've worn to Joshua Tree and Pioneertown over the years!
Day Trip To Palm Springs
Pioneertown is really close to Palm Springs, about an hour away give or take traffic. If you've booked a vacation rental in Pioneertown or Joshua tree, you must set aside at least one day to go explore Palm Springs. I have SO many Palm Springs travel guides for you to get inspiration:
I hope my Pioneertown guide helps you find all the fun things to do in the Pioneertown Joshua Tree area! There's a lot of cool things to do in Yucca Valley and I keep discovering new cafes, shops or hikes in the area. If your favorite activity didn't make the list, drop a comment below so everyone can see.
Got questions? Drop a comment or DM me on Instagram @thewhimsysoul and I'll be happy to help!
Meanwhile, I'm over here in San Francisco trying to plan my next road trip to the desert. I love all the art pottery, trails, the hints at the movie stars like Gene Autry and overall cool vibe of Pioneertown. I'll always keep coming back!
More United States Travel Posts You'll Love