Obviously I'm biased since I live here, but San Francisco is just so unbelievably cool. It's like an onion – layers and layers to this city. At first glance, you see colorful houses but probably don't know there are secret tunnels under some of them… or how some of the most important social movements were started here, or that the city was quite literally saved by Redwood trees at one point.
Grab a glass of wine – in this post I'm chatting all the fun facts about San Francisco (the strange, interesting, wacky and delightful!)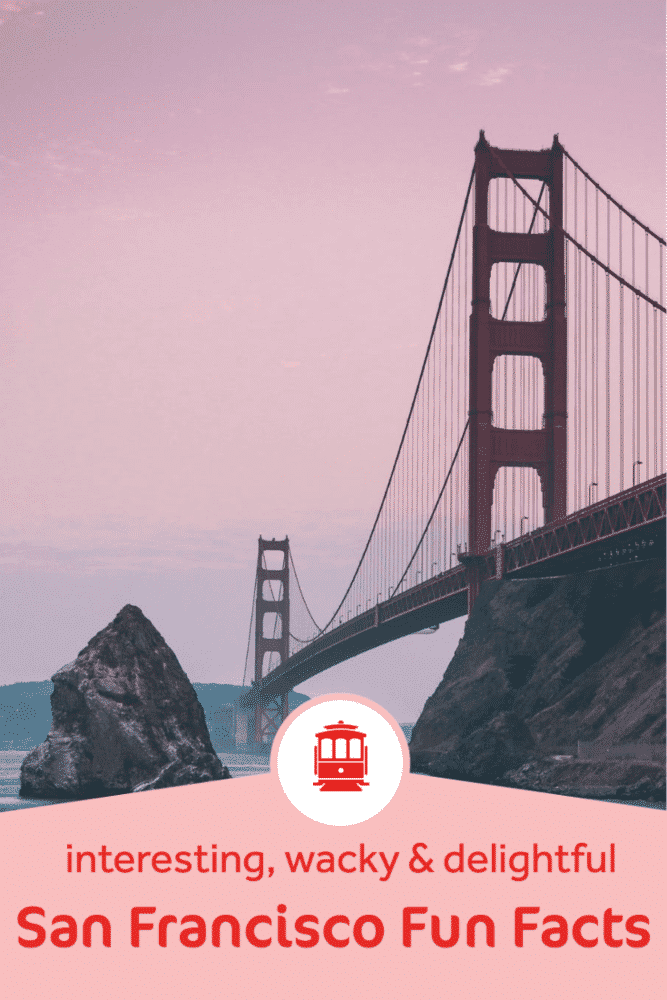 23 San Francisco Facts: Interesting, Wacky & Delightful Facts About Fog City
I've lived in San Francisco for almost 6 years. Just when I think I've learned all the cool, interesting facts about San Francisco there is know, I stumble upon something else. I racked my brain for this post and tried to include all the fun facts I've learned about the city over the years. This post is sort of like a love letter to my home!
Golden Gate Park is Larger than Central Park
It's true! Central Park in New York covers 778 acres while Golden Gate Park covers 1,017 acres, making it about 20% larger. I once got into a heated argument with a New Yorker in the back of an Uber Pool over this fact, but it's true.
There are Bison in Golden Gate Park
Oh, I have a LOT of Golden Gate Park – related facts in this post, but one of my favorite San Francisco fun facts is that there are bison in the middle of Golden Gate Park! There have been bison in the park dating back to 1890 when the first mother and bull arrived as a symbol of the Wild West. You can view them at the Bison Paddock roaming or feeding.
The Wave Organ Is Made From Headstones & Cemetary Parks
On the topic of cemeteries, the famous Wave Organ in the Marina is made from the headstones and other parts left over from the Laurel Hill Cemetery demolition. (Most cemeteries were moved to Colma in the 1940's to make room for more housing. That's why the dead outnumber the living to about 1000/1 in Colma!) Anyways, the Wave Organ is super cool, it's built so pipes make a sound was the tide comes in and out. But, it is a bit creepy because some of the headstones are very noticeable.
Divisidero Is Named Because It Marks The Fog Line
Running North to South, Divisidero Street got its name because it quite literally divided the city from the sunny Eastern side to the foggy Western side. Obviously, the fog drifts over the street but as a local, I can attest that Divisidero is usually where the fog starts to burn off. There's also a rumor that Divisidero was named as the dividing line between the city and the dunes that were here before the western half of the city was built upon them. I can see both being correct!
San Francisco Has A Pet Cemetery
Tucked under the 101 overpass in the Presido next to Crissy Field is the Presidio Pet Cemetery! Founded around the 1950's, this small cemetery is the final resting place for over 400 pets belonging to military families. There's cats, dogs and even fish buried here next to a small sign that reads "The love these animals gave will never be forgotten."​ I'm not crying you are.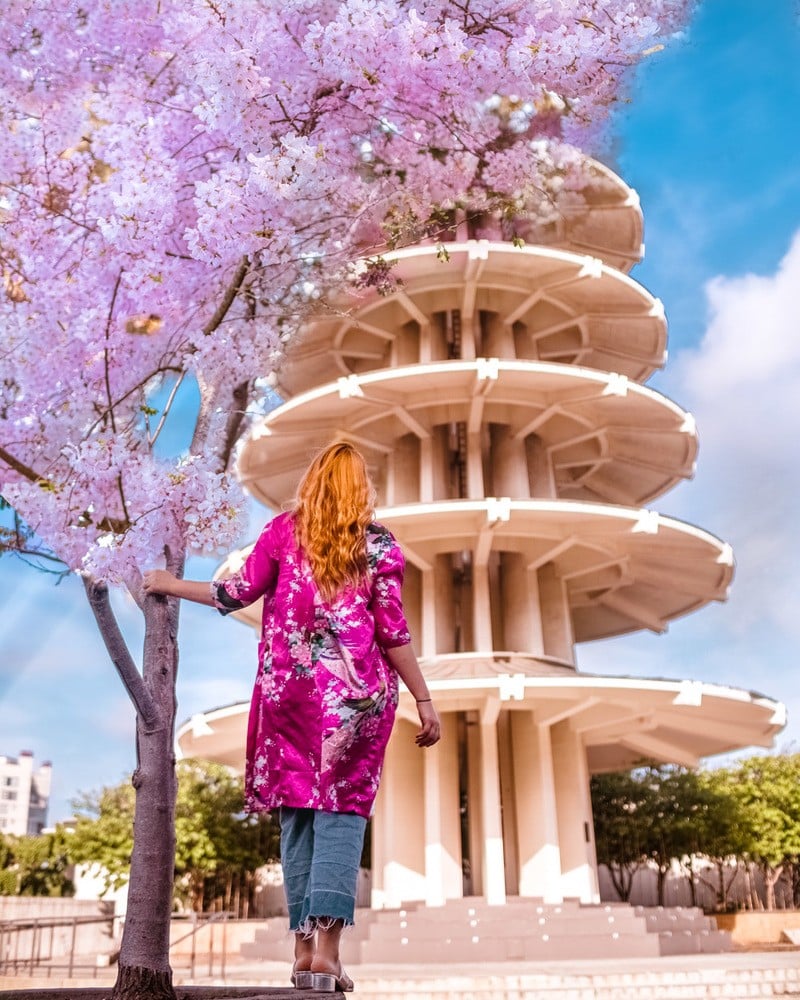 San Francisco Has One of Three Japantowns in The United States
At one point, there were 43 different Japantowns in California alone. But, after World War II when the United States Government wrongly imprisoned its own Japanese-American citizens in concentration camps, most Japantowns were lost. There are now just three. They are located in San Francisco, San Jose and Los Angeles.
I recommend coming to San Francisco's Japantown for a sushi lunch during the springtime when the cherry blossoms are blooming. Make time to browse the shops afterward! If you want more Japanese vibes, head over to the Japanese Tea Garden.
San Francisco Is Home To The Oldest Chinatown in North America
Established in 1848, San Francisco's Chinatown is the oldest in North America. You can feel that history as you stroll down Grant Avenue, or pop into one of the alleyways. It's easy to get lost in Chinatown (it does span 24 square blocks after all!) I love coming here for $6 all you can eat dim sum or pick up a treat from Golden Gate Bakery before heading to Washington Square Park for a picnic.
There Were Secret Tunnels Under North Beach
The Barbary Coast era of San Francisco begins with the Gold rush and generally refers to the "underworld" of the city. The sailors, gamblers, sex workers, bootleggers, criminals, etc. Tunnels around North Beach were built in this time. Some people think the tunnels were used to smuggle illegal goods onto/off ships. Others believe they were vital in slave trade and human trafficking. After the 1989 earthquake, all that's left of these tunnels is a small portion under the Artist & Craftsman Supply Shop.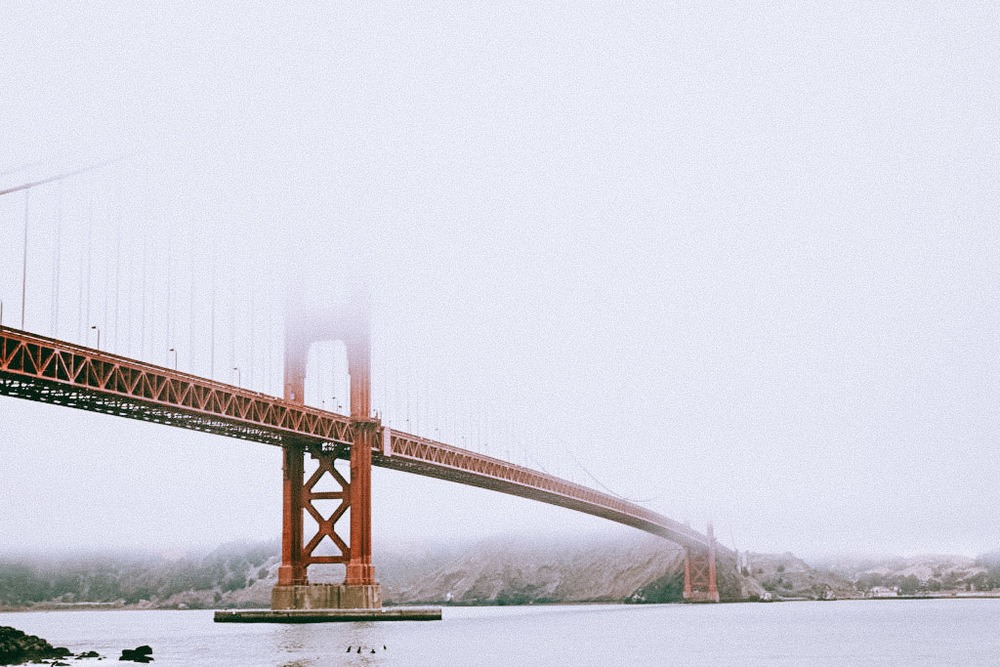 Our Fog Has A Name
What is San Francisco known for? Hills! And the fog. All true San Franciscans refer to the fog by his name: Karl. The origin of the name is a bit unclear. Some people believe it was started around 2003 and named after the giant Karl from the move Big Fish. But, I've chatted with an elder person who lived here in the 70's who is adamant that they called the fog Karl back then. So, I'm not sure what the truth is but regardless, know that the city's most famous resident indeed has a name. And an Instagram account that has more followers than you do.
San Francisco Has Microclimates Galore
As a non-native to San Francisco, one of the most surprising things I had to adapt to after moving to The Bay Area was all the extreme microclimates. One person over on Ocean Beach can be bundled up in sweaters to keep warm from the 55-degree fog and wind while someone over in the Mission District just a few miles away can be brunching on a patio in a sunny 70-degree day. San Francisco has dozens of micro-climates, and our seasons are bit messed up. Summers are usually the coolest time of the year (June, July and August bring chilly fog, while September and October tend to be sunnier and warmer!)
Regardless of the time of year, the saying "If You Don't Like The Weather, Walk A Few Blocks" is completely accurate, which is why figuring out what to wear in San Francisco can be challenging. A good rule of thumb is always having a sweater on hand!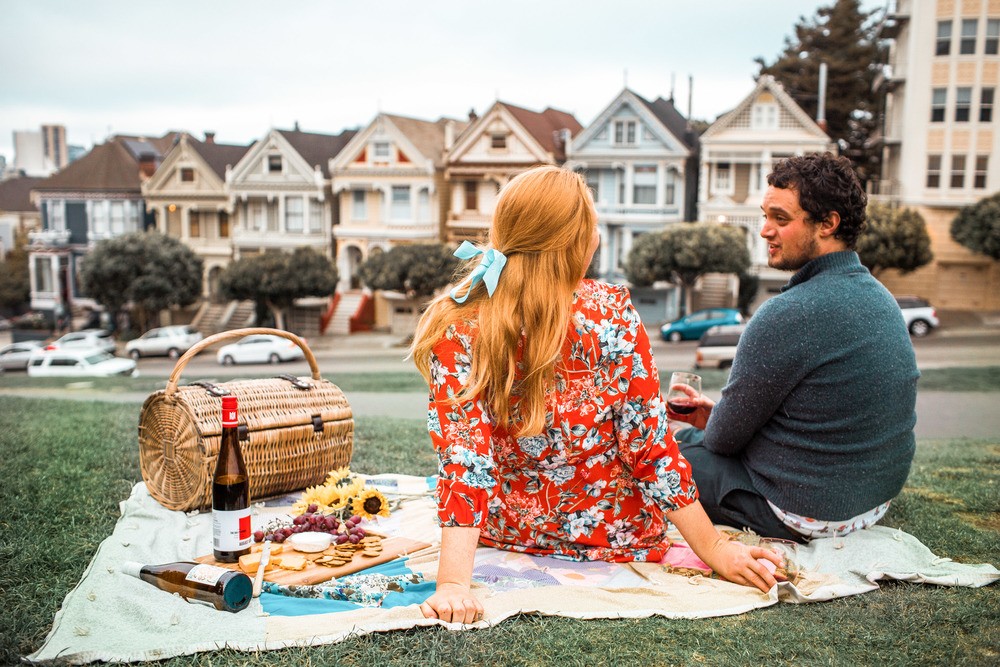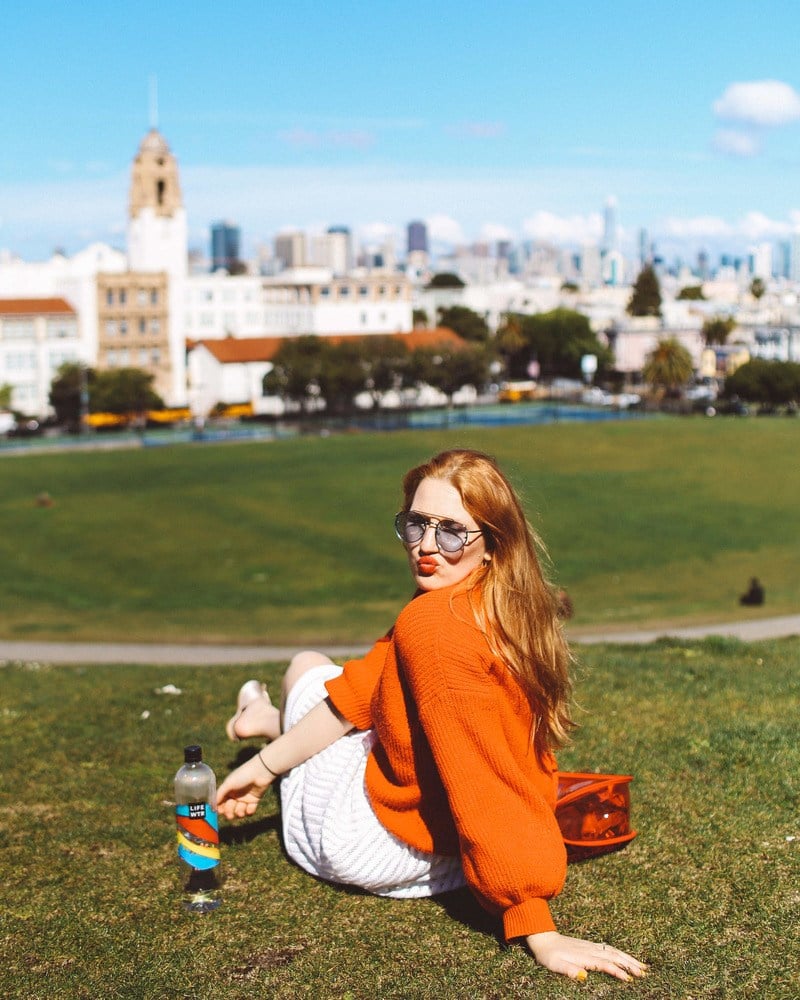 It's Legal To Drink Wine & Beer In Most San Francisco Parks
Weekend days drinking with friends in the park is a very San Francisco thing to do. On any given Saturday or Sunday, regardless of weather (but especially on nice days) the parks are flooded with locals sipping beer and hanging out. The most popular parks are Dolores and Golden Gate Park. For the longest time I thought police just looked away or had given up trying to regulate the open containers, but it turns out it's actually legal to consume wine and beer (but not hard alcohol) in most of the city parks.
The Dolores Park Truffle Man Started His Own Chocolate Company
On that note, the famous Truffle Man was so popular at selling his pot truffles in Dolores Park on weekends that he was able to start producing chocolates legally. He upgraded to a warehouse and you can now buy his chocolates at local stores.
The Dutch Windmills Used To Be Functioning
The two Dutch Windmills located on the North and South corners of Golden Gate Park's west side used to be functioning. They were vital tools that could pump as much as 1.5 million gallons of water into the park and city daily. Now, at over 100 years old, they are no longer operational but they still stand as pieces of the city's history. Come around February – March to view the tulip gardens in bloom, which are planted under the North Windmill.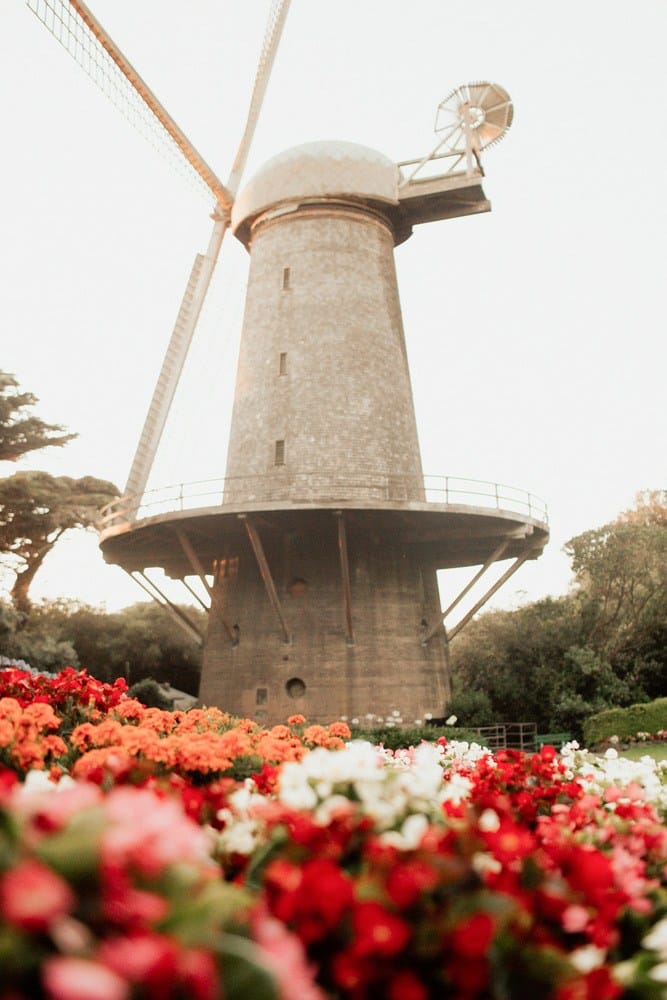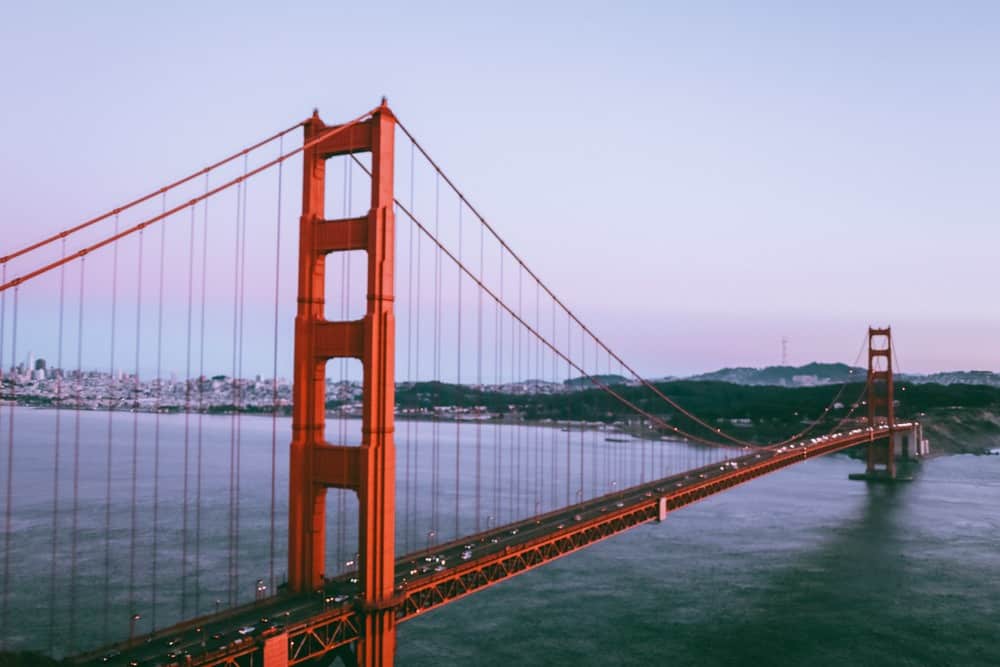 The Golden Gate Bridge Was Intended To Be Black & Gold
The famous red color (which is actually apparently orange, but I think it's totally red) was just a primer paint. The bridge was supposed to be black and gold, as most bridges of that time were painted. But an architect on the project advocated for the bridge to be painted a bold, striking color. It took a lot of convincing but eventually stuck. And it's a good thing, too, because the red/orange color is far easier to see in the fog than black. It also pops nicely against the blue ocean and green rolling hills of the Marin Headlands!
Levi Strauss Invented the Levi Jeans Right Here in San Francisco
Yes, the classic American jean was created here in California. Levi Stauss, a Bavarian immigrant, came to San Francisco in the 1850's and quickly saw a business opportunity for creating must-needed clothing for the gold rush miners. Now the Levi name is world-famous, but the city still honors this piece of history by naming a plaza after the founder (Levi Plaza, located in FiDi.)
Maiden Lane Used To Be A Street of Brothels
These days, Maiden Lane is a charming little street off Union Square full of luxury stores and adorned with twinkling string lights. But, it earned its name by being the turn of the century go-to spot in the city for sex work. (Some people believe it was named b a jeweler hoping to turn the street into a fancy New-York style shopping district.)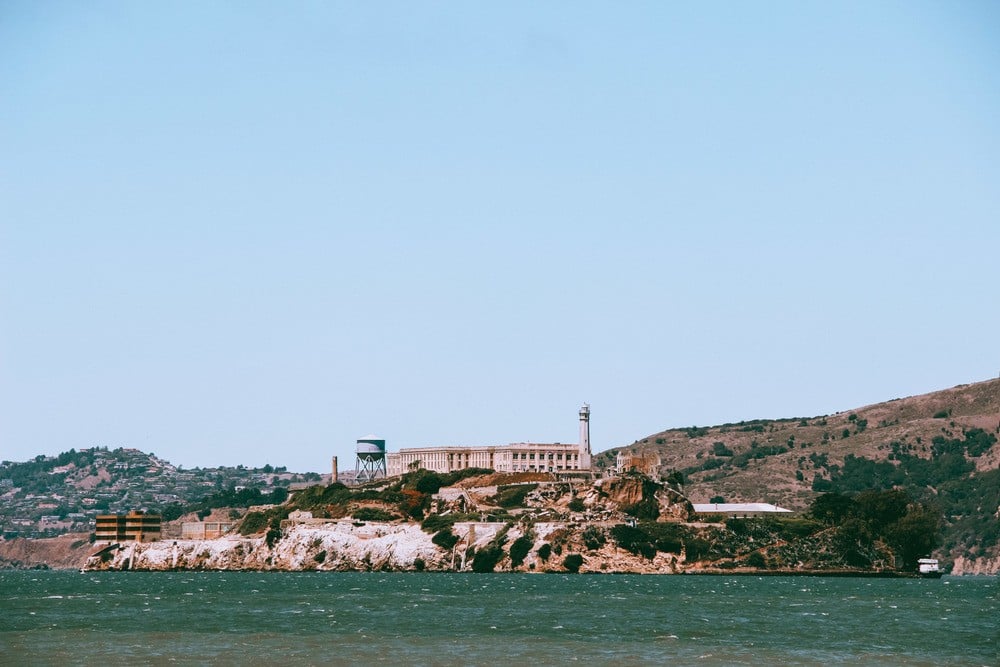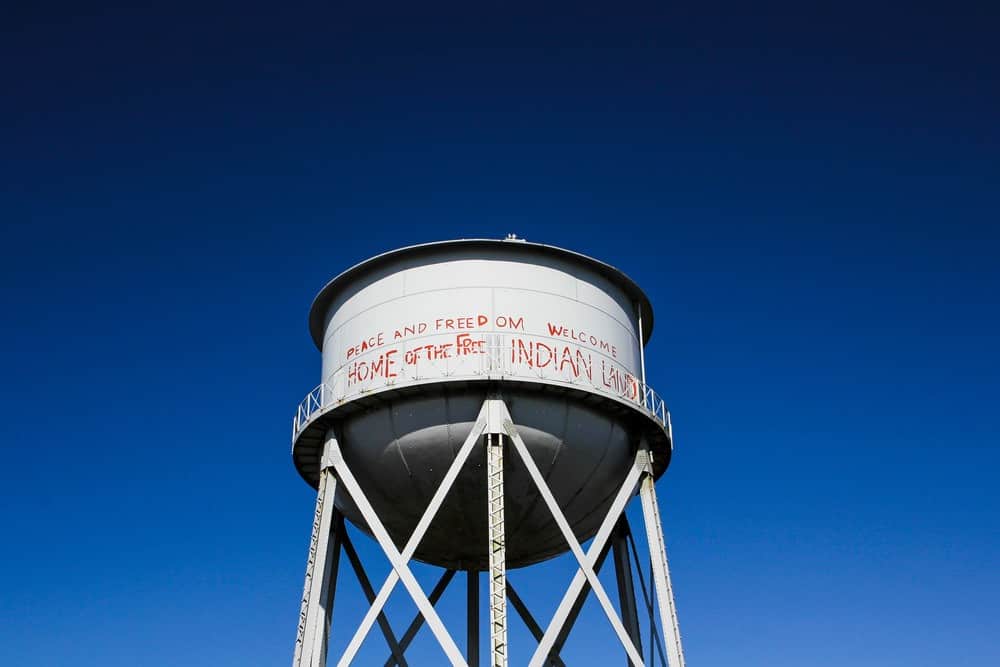 Natives Occupied Alcatraz Island During a 19th Month Protest
The famous prison closed in 1963 and is now open for visitors to tour and learn about the prison (and prisoner) history. As a true-crime fan, I love learning about the infamous prisoners, like Al Capone, who were jailed on the island. But, what's even more interesting was The Occupation of Alcatraz lead by Indians of All Tribes or IOAT.
Under the Treaty of Fort Laramie between the US Government and the Lakota tribe, all retired or out-of-use federal land should be returned to the Indians who once occupied it. Of course, the government didn't want to release the island, so the IOAT occupied Alcatraz for 19 months. When you tour the prison, you can see still remnants of this occupation.
History Check: The Ohlone tribe were the first people of the Bay Area. Later, the Spanish colonist came and wiped them out with diseases. Eventually, the area was named Yerba Buena as a Mexican territory of California. Then, the Gold Rush came and the United States claimed California as its own in 1846.
Great White Sharks Have Been Spotted In San Francisco Bay Waters
Terrify? Absolutely. It's rare, but from time to time, great white sharks have been spotted in the Bay waters. Mostly they live out in the open Pacific Ocean waters. It's also common to see whales during migration season (I've seen one during a sunset sailing cruise and it was magical!)
The Pier 39 Sea Lions Only Arrived After the 1989 Earthquake
Nobody knows why exactly, but the famous sea lions that sunbath off Pier 39 in Fisherman's Wharf didn't show up until shortly after the 1989 earthquake. The businesses on the wharf didn't like how loud the sea lions were at first, but now they are major tourist attractions.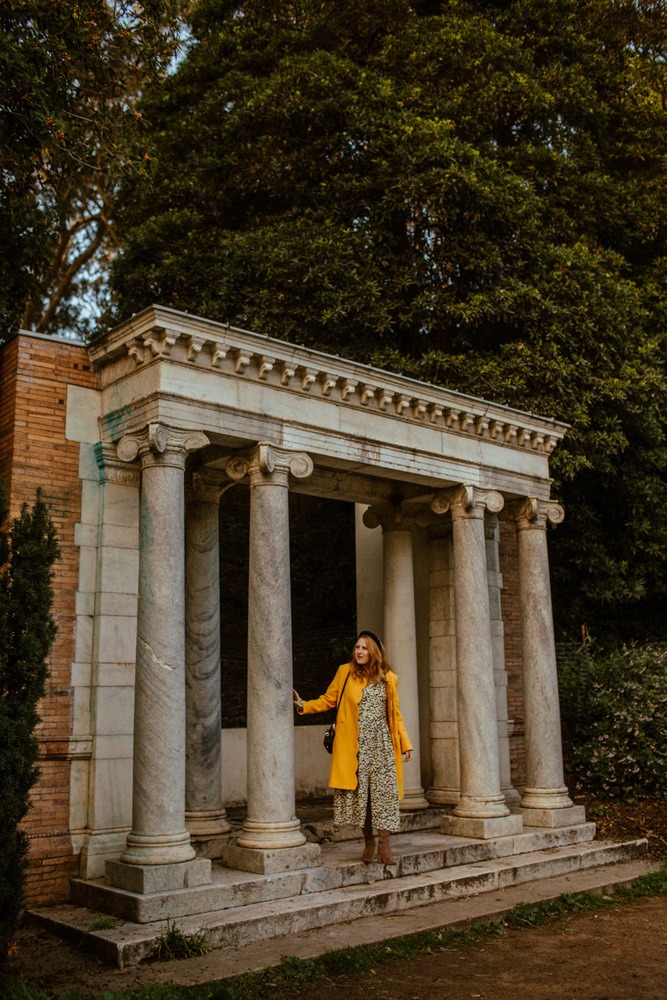 There's An Archway in Golden Gate Park Leftover from The 1906 Earthquake
Speaking of earthquakes, the 1906 earthquake was a doosey. It leveled the city and burned over 25,000 buildings, including a Nob Hill mansion. The archway to the mansion survived and was placed Llyod Lake in Golden Gate Park as a memorial called "Portals of the Past". The portal symbolizes opportunity and optimism rising out of the rubble of tragedy.
Street Names Are Stamped Into Sidewalks Because Street Signs Weren't Used Yet
As you walk around the city, you'll probably notice how all the intersections have the name of the street stamped into the sidewalk. There's a rumor this was started after the 1906 earthquake so the city could easily rebuild the correct streets if needed for a future earthquake. But, the truth is this practice was started before the earthquake and was simply done because street signs weren't yet widely used.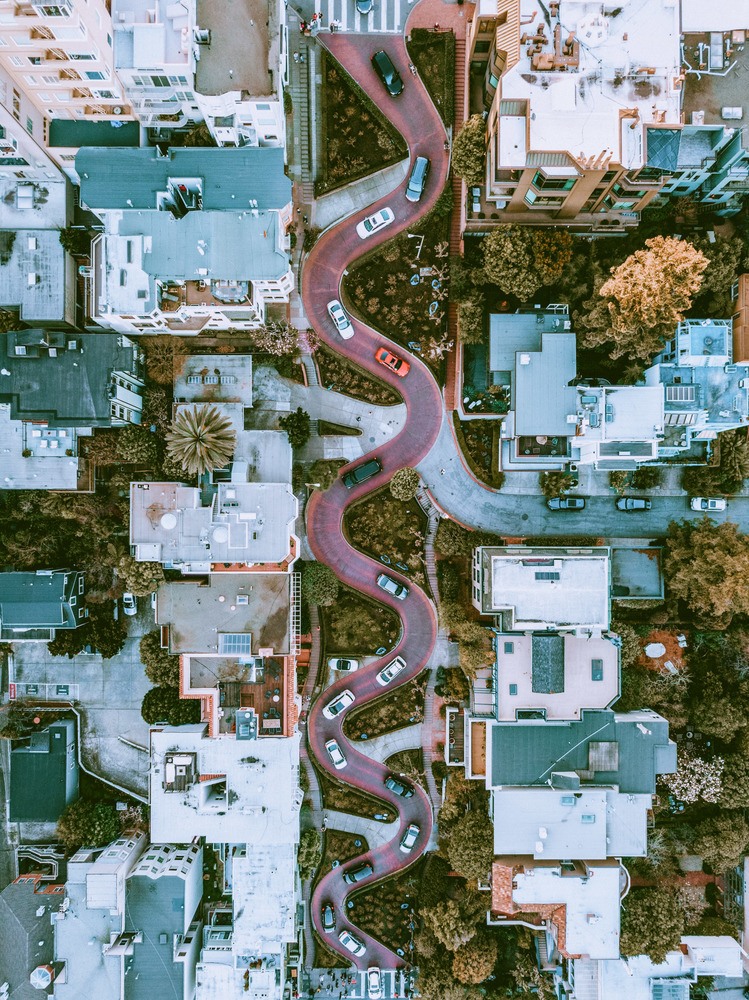 Lombard Street Is The World's "Crookedest Street"
Or, so they say as there is some debate about if this is true or not. Regardless, this street has 8 switchbacks and drops 100 feet in elevation in one single block, making the 27% grade too steep for many vehicles. It's one of the most popular tourist attractions in San Francisco. I recommend coming here early in the morning before the crowds, then walking down the hill to North Beach for brunch. You can take The Powell-Hyde cable car to the top of the hill, or walk up (which is a workout!!)
The Cliff House Is Cursed
Well, I think it is at least. The Cliff House was built in 1858 and has burnt down 4 times. The Cliff House that currently stands is the 5th version. It's next to the old Sutro Bath ruins, which used to be a huge public bathhouse right against the ocean. They were destroyed to build fancy condos at one point but were eventually aborted by the Golden Gate National Recreation Area instead. Now both the Cliff House and Sutro Baths are part of San Francisco history.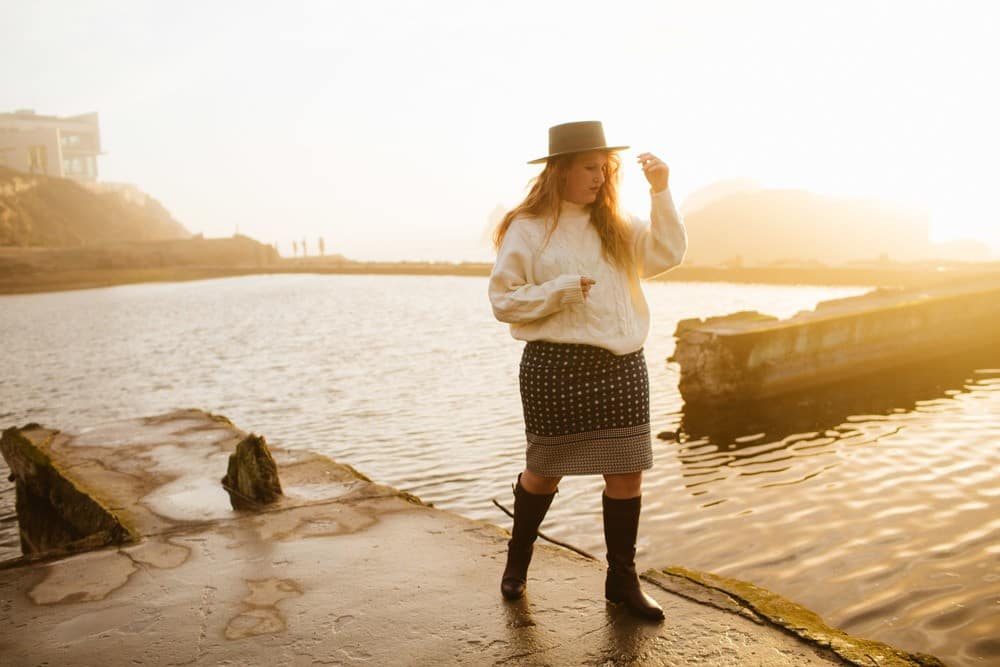 I had to stop myself because there are SO many more interesting facts about San Francisco that I could share for this blog post but I have to cut it off somewhere. What I hope to convey is that my city is vibrant, rich in history and full of hidden gems that take years and years to discover, if not a lifetime.
Whether you live here and are looking for new facts as conversation starters, or are visiting and learning about the Bay Area, I hoped this helped you learn something new! And perhaps discover some cool things to see in person during your time here.
If you have any additional fun facts about San Francisco to add, leave a comment below so everyone can see! Got questions about planning a trip to San Francisco? DM me on Instagram @thewhimsysoul and I'll too help ya out!