Raise your hand if you have a tendency to overpack.
I've always been a chronic over-packer. I'm one of those people who likes options when it comes out outfits, plus I've been around the block when it comes to travel. I know that you NEVER know what could happen and it's nice having things like tums for 1am heartburn after wine tasting, or a chunky sweater on your Texas trip just in case a cold streak comes through.
Because I tend to overpack, I've learned how to minimize the number of products when it comes to my beauty bag. I could easily go overboard and pack 10 different shades of lipstick (and I have totally done that before) but these days, I prefer to travel lighter on the beauty side… so I can fit more shoes in.
So, what do I keep in my travel beauty bag and what stays home? When it comes to brushes, I only pack four. These four makeup brushes help me get looks perfect for fancy date nights in Scottsdale to an easy-going minimal face for a beach day in Cabo. And everything in between.
When it comes to your brushes while on a trip, these are the four that are basically the jills of all trades.
The Only 4 Travel Makeup Brushes You Need To Pack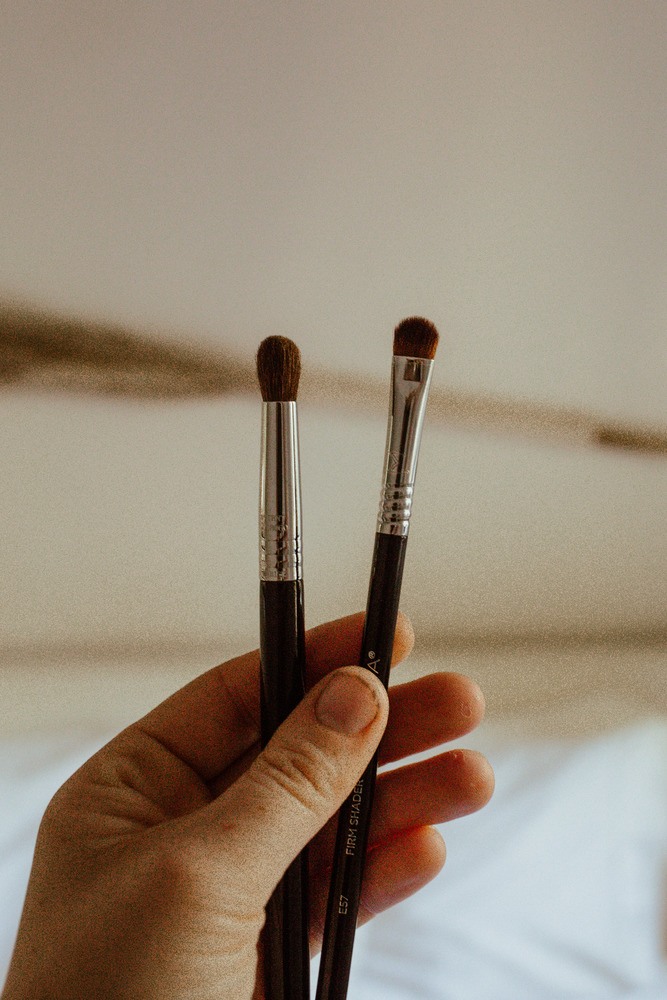 Everyone needs a good all over fluffy blender brush in their lives. I use this one from Sigma that I use almost every day, at home and while on trips. I use this to diffuse hard lines with my pigments to create a soft, blended look of multiple colors.
It's especially handy on trips for minimal makeup looks. I often find myself using the E37 to blend neutral tones on my eyes, then some BB cream, mascara and sunscreen for a super simple beach day face. It's very handy to have in your beauty bag!
But of course, you can't do everything with an all-over blend blush, which is why I always pack a firm shader brush as well. This handy tool helps create those firm lines of deliberate color, but because it's firm there's less product fall out (aka when your eye shadow falls onto your face!)
I usually use this for evening looks on vacation. It's especially good at applying shimmery eye shadows.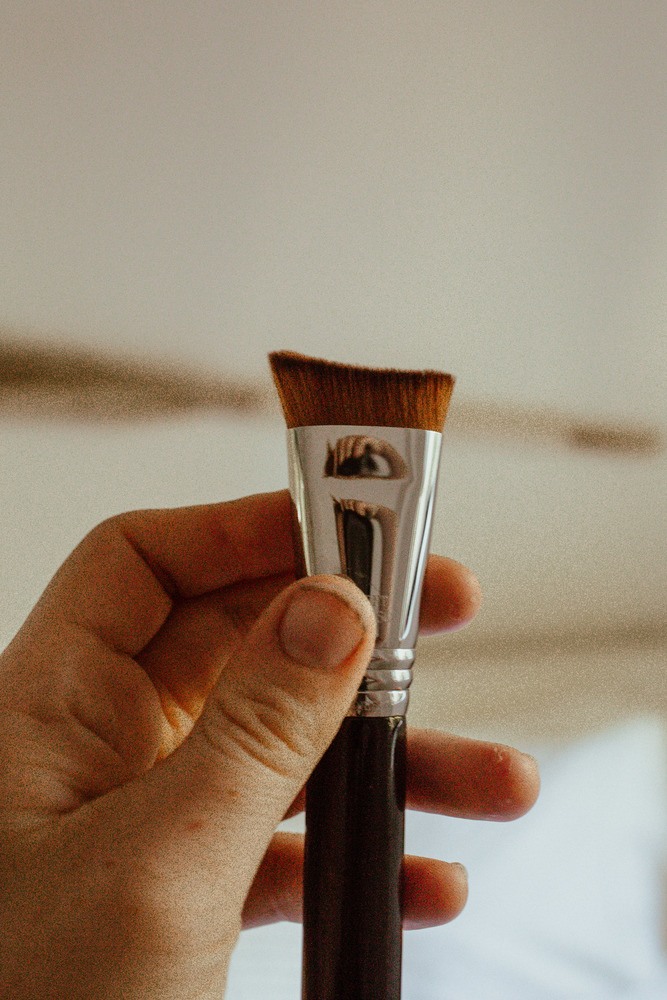 I LOVE me some highlighter to get a nice glowy look. (Especially when I'm traveling to warm places!) The F56 highlighter brush from Sigma is PERFECT for adding on a nice pop of highlighter as it fits the curves of check bones well.
You can also use this for contouring with cream since the brush is dense. It's a super versatile finishing brush and that's exactly what you need when traveling and trying to pack light!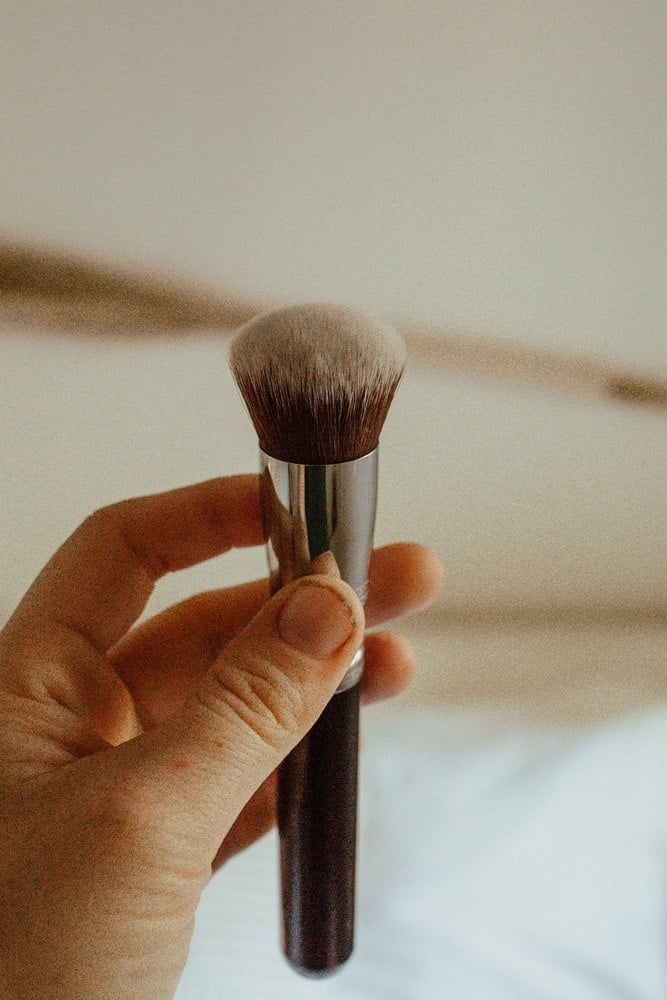 This rounded brush is going to be your jack of all trades! This brush is best used for powders, like blush or mineral powder foundation. I usually use this one for blush and bronzer since this style of brush is great when used in a circular motion for a buffed, even look.
At home, I use different brushes for blush and bronzer, but on trips, I use the same one and just dust them off with toilet paper between products.
You can also use this brush for foundation! I personally don't wear a lot of foundation to begin with. (I have freckles I don't like covering up, and usually pretty clear skin, too.) I tend to wear just BB cream on daily with some undereye concealer and when traveling I just apply those by hand and wash my hands after so save space in my beauty bag.
But, if you are someone who feels better with more on, then just use the F82 brush for mineral powder foundation (not cream) and wipe it off before using it for your blush. BOOM!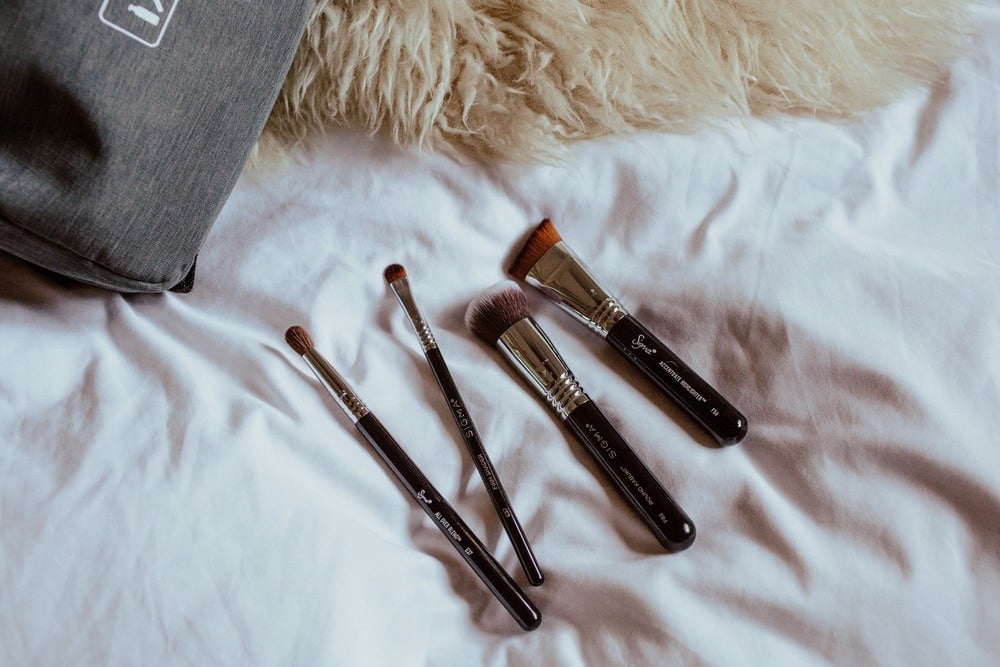 So, these are the 4 travel makeup brushes that you should also have in your travel beauty bag for flawless looks anywhere in the world.