The fact is food is the quickest way to make or break a trip – good or bad! If you want to do a weekend in Madison right, you will need to learn how to eat like a local and scope out all of the trendiest, tastiest, and unexpected restaurants, supper clubs and bars in the city.
The restaurants Madison offers range from classic supper clubs with Fish Fry Fridays, to cute bars with amazing cocktails, beirgartens, dinner spots with Capitol views and everything in bettween. I've pulled together this quick and easy list of all the best restaurants in Madison, WI you simply can't miss (Google's got nothin' on me!)
28 Best Restaurants in Madison, Wisconsin
Here, you can chow down on some Wisconsin specialties ranging from its infamous cheese curds prepared in a thousand different ways to world-class, farm-to-table cuisine that is 100% Madison grown.
I've even thrown in a few iconic local watering holes and exclusive cocktail bars for keeping the foodie party going well into the night. Hurry up and grab a pen because you're going to want to mark a few of these addresses down!
Best Pubs & Casual Dining In Madison
1. Mint Mark
Address: 1929 Winnebago Street, Madison
Cuisine: Modern Pub
Mint Mark is likely to be the prettiest bar in Madison with tropical leaf wallpaper, an eclectic tap wall, and gorgeous arched liquor shelves. Here you'll find fine dining quality and sophistication, a casual atmosphere, and moderate prices.
All in all, Mint Mark serves upscale Irish pub vibes. Be sure to treat yourself to some craft cocktails, some of which even come on tap, or visit the tropical pop-up bar, perfect for snapping an IG pic with a cutesy tiki mug
If you're a fan of a good hot skillet dessert, you have to try their cookie with a homemade bourbon ice cream. Yum!
2. A Pig in a Fur Coat
Address: 940 Williamson Street, Madison
Cuisine: Casual Fine Dining
If you live for a taste of the finer things, this is one of the Best Restaurants in Downtown Madison Wisconsin on Willy Street for you. A Pig in a Fur Coat prides itself on offering hard-to-find, stunning foods such as fresh shaved black truffles, devil's corn, bone marrow, and hen of the woods mushrooms.
These primo ingredients could inspire even the most cautious diners. If you want to be part of the experience but prefer something a little less fussy, check out their annual fish fry competition.
During sustainable seafood week, representatives from the west coast vs. midwest face off to see who can make the better fried-fish dish. In my humble opinion, Pig in a Fur Coat is James Beard worthy – you heard it here first!
3. Memorial Union Terrace
Address: 800 Langdon Street, Madison
Cuisine: Outdoor Pub
Listen, if there's one thing college students know how to find better than anyone it's a good beer. So if you're looking for a pint or two, a trip to this outdoor campus pub is exactly what you need.
Kick back on the terrace with a cold one and reminisce about your college days. The terrace also serves up a few classics like chicken wings and pizzas if you're feeling a little snacky. It's also on of the most Instagrammable places in Madison! The chairs are famous!
4. Marigold Kitchen
Address: 118 S. Pinckney Street, Madison
Cuisine: Brunch Cafe
Welcome to your new favorite brunch spot. Marigold Kitchen is a cutesy breakfast nook complete with a wall of plants and several photo spots.
Even the food itself is trendy with pumpkin spice pancakes and some super creative omelets (i.e Chorizo & Sweet Corn Relish) plus Mexican favorites like huevos rancheros, chilaquiles, and a monstrous breakfast burrito gracing the menu.
5. Ian's Pizza
Address: 100 State Street OR 319 N. Frances Street OR 3241 Garver Green, Madison
Cuisine: Pizzeria
This is no typical Pizzeria. Ian likes to call it his "Pizza lab", where experimental pizzas are born. What is an experimental pizza?
Well, for one thing, he LOVES to pile pasta (and other carbs) on it. Here, you can have Mac and cheese, "drunken ravioli", penne alfredo, and nacho pizzas and that's only the beginning.
There's also a weekly Friday fish fry pizza as well as rotating themed specialty pizzas for occasions such as mardi gras and Halloween. Ian's offers 11 vegan pizzas (with house-made vegan meats!) if you have dietary restrictions.
You can also build your own from an insane list of toppings like nothing you've ever seen before. This is a business you can feel good about supporting too. Ian's donates food on the reg and participates in several community and environmental initiatives.
6. Mickie's Dairy Bar
Address: 1511 Monroe Street, Madison
Cuisine: Old-Fashioned Diner
Mickie's Dairy Bar is nothin' fancy but that's the point. This old-fashioned dinner is a staple in Downtown Madison- it's packed with hungry customers from open until close.
In fact, it's pretty common to find a line forming around the block to get a table, especially on a Sunday morning. Mickie's is like taking a step back in time – surrounded by vinyl bar stools, vintage coca cola branding, and a red and white facade.
They mostly serve classic American breakfasts, burgers, and patty melts stacked high alongside shakes, malts, and root beer floats. Don't miss the sneaky mash-up surprises on the menu like the chili cheese omelet.
7. Salvatore's Tomato Pies
Locations:
912 East Johnson Street
10 North Livingston Street, Madison
Cuisine: Pizzeria
What exactly is a tomato pie? Well, Salvatore describes it as "a pizza made in reverse." In other words, the cheese goes before the sauce. Salvatore's has two locations in Madison with fairly different menus.
One focuses on apps, sandwiches, beers, and of course, a selection of specialty tomato pies, while the other is a more extensive fusion of cuisines with dishes like jalapeño popper duck, tandoori chicken tagliatelle, and everything bagel salmon.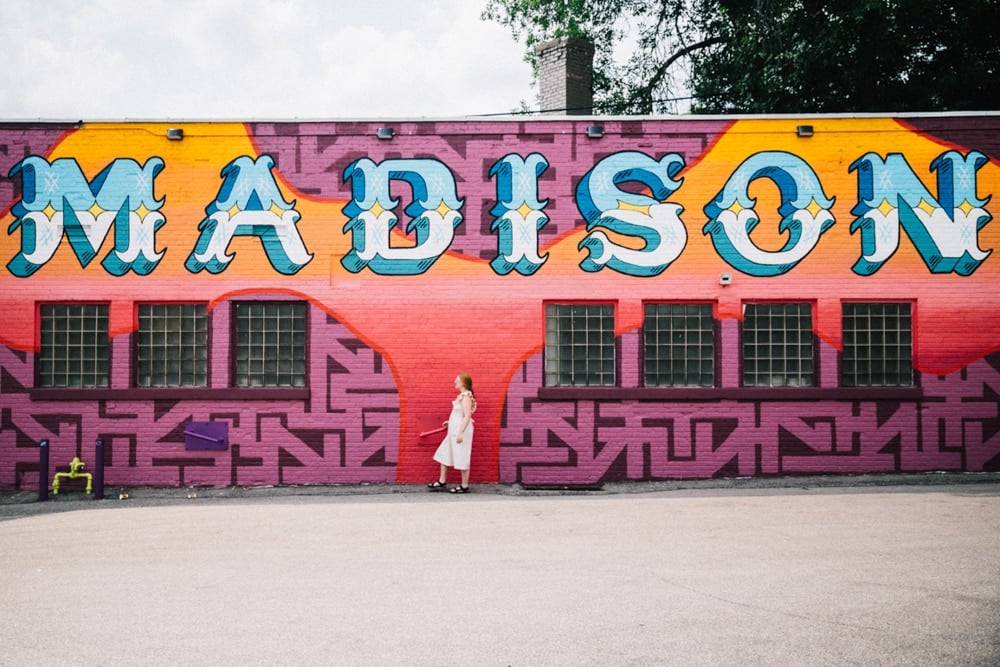 8. Camp Trippalindee
Address: 601 Langdon Street, Madison
Cuisine: American Diner
Ready for a throwback to summer camp? Located in the The Graduate Hotel, Camp Trippalindee is a major throwback. If you're a 90's kid (heck, even early 2000's) then you'll adore this nostalgic menu…but add a little spice ✨ (aka alcoholic beverages)!
Start your meal with an Adult Lunchable (which comes complete with a boozy Capri sun + bendy straw) and finish with a tableside DIY Smores kit or Dunkaroo dip. Other than that, it's pretty much burgers, hot dogs, and chicken fingers all the way!
For an after-dinner libation, you can choose from canned wine, spiked hot cocoa, Jell-O shots, or frozen slushies and use their board games and craft kits (which you can take to go) to round out your camp experience.
9. Craftsman Table & Tap
Address: 6712 Frank Lloyd Wright Avenue, Middleton
Cuisine: Pub
Happy hour just got a whole lot cooler in Madison. Craftsman Table & Tap hopes everyone "hops" on over for a game of Beer Bingo and orders some pub grub while they're at it.
Some fan favorites include the hot honey fried chicken, the cheese curd burger, and soft pretzels with cheese and chive sauce.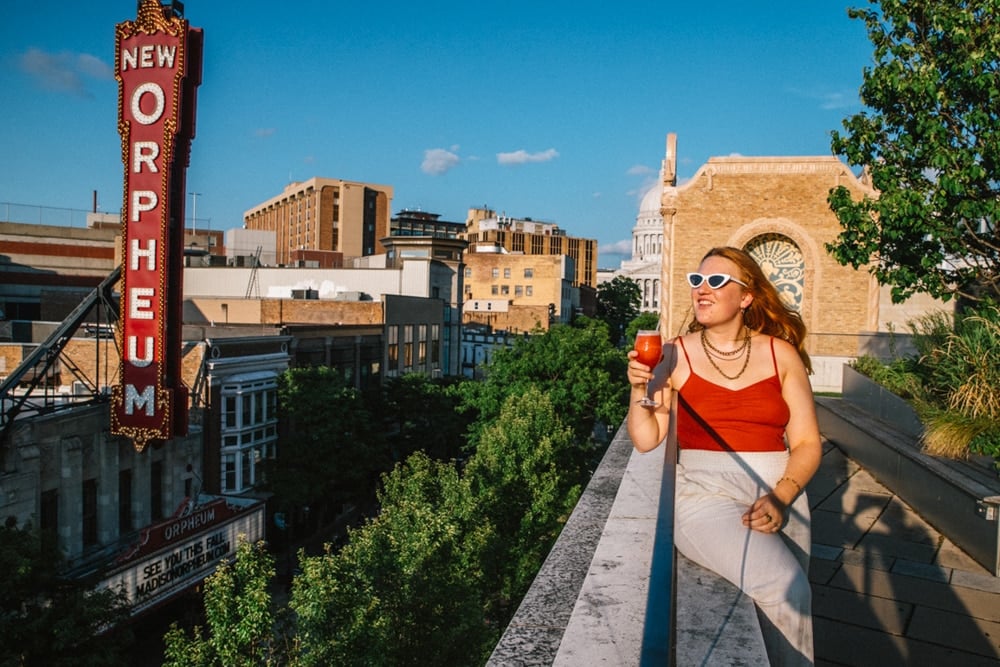 10. Eldorado Grill
Address: 744 Williamson Street, Madison
Cuisine: Mexican
Eldorado Grill is definitely one of the best Downtown Madison Restaurants, especially if you have a serious craving for Mexican. Their specialties include smoked and wood-grilled meats, spicy tomatillo rice, and elote grilled corn, plus a super extensive tequila and mezcal list.
They offer amazing happy hour deals ($3 Modelo, $6 Margaritas, and $2 street tacos) and a boozy weekend brunch special which includes a premium main, 2 cocktails, and a special dessert.
As if that isn't enough, Eldorado is also super cute. Their bar is constructed of hand-painted Latin tiles and the whole restaurant gives off barefoot beachy vibes. I love it!
11. The Old Fashioned
Address: 27 North Pinckney Street, Madison
Cuisine: American
This post wouldn't be complete without The Old Fashioned. It's one of the best casual restaurants in Madison, serving ALL of the Wisconsin delicacies and a few specialties of their own.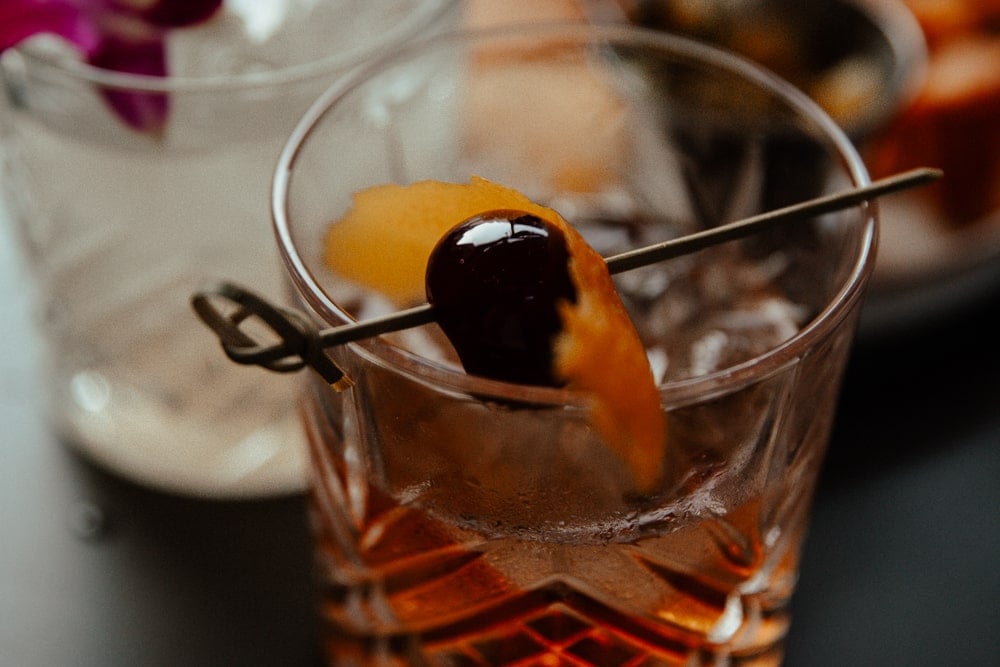 It's basically all about the Wisconsin cheese– from beer-battered curds and cheese soup garnished with an iconic local popcorn, to grilled cheese and fondue platters. Want something else insanely local but a little less cheese-centric?
Opt for a classic scrambler, summer sausage sandwich, haystack onion strings, or a rotating lazy Susan fit for a crowd (dilly beans, artisan spreads, mustards, and rye).
12. Monty's Blue Plate Diner
Address: 2089 Atwood Avenue, Madison
Cuisine: American Diner
Bright and refreshing, this true blue diner is a favorite amongst Madison's hipster crowd. Monty's Blue Plate Diner is a converted gas station with 50's vibes.
The diner is adorned with vintage wall hangings such as a collection of autographed photos of celebrity alum diners and a blue neon sign. Everyone loves their sprinkle donuts, banana splits, and shortcake sundaes for dessert, but that's not all.
You wouldn't expect this to be a hotspot for plant-based diners but it is! With an entire menu of meatless meals, it's gained tons of recognition from the veggie community.
13. The Biergarten at Olbrich Park
Address: 3527 Atwood Avenue, Madison
Cuisine: Outdoor Pub
This Biergarten at Olbrich Park is BYOF (bring your own food). Perfect for picnicking or order up their signature snacks like soft pretzels and deep-fried cheese curd.
Sip on craft adult bevies like seltzers, ciders, and beers under the twinkling lights and let the day melt away as you hang by the water with your besties.
Must See in Madison: step into the *secret* gardens of Olbrich Botanical Gardens
Best Farm-to-Table, Supper Clubs & Fine Dining In Madison
14. Heritage Tavern
Address: 131 East Mifflin Street, Madison
Cuisine: Farm-to-Table
Heritage Tavern is one of the best restaurants in Madison WI for those with dietary restrictions, though you may not know it from the outside looking in. The menu is optimized for people requiring vegetarian, gluten-free, and dairy-free options.
Their emphasis is on small plates along with stunning entrees, and they have a little bit of something to please everyone.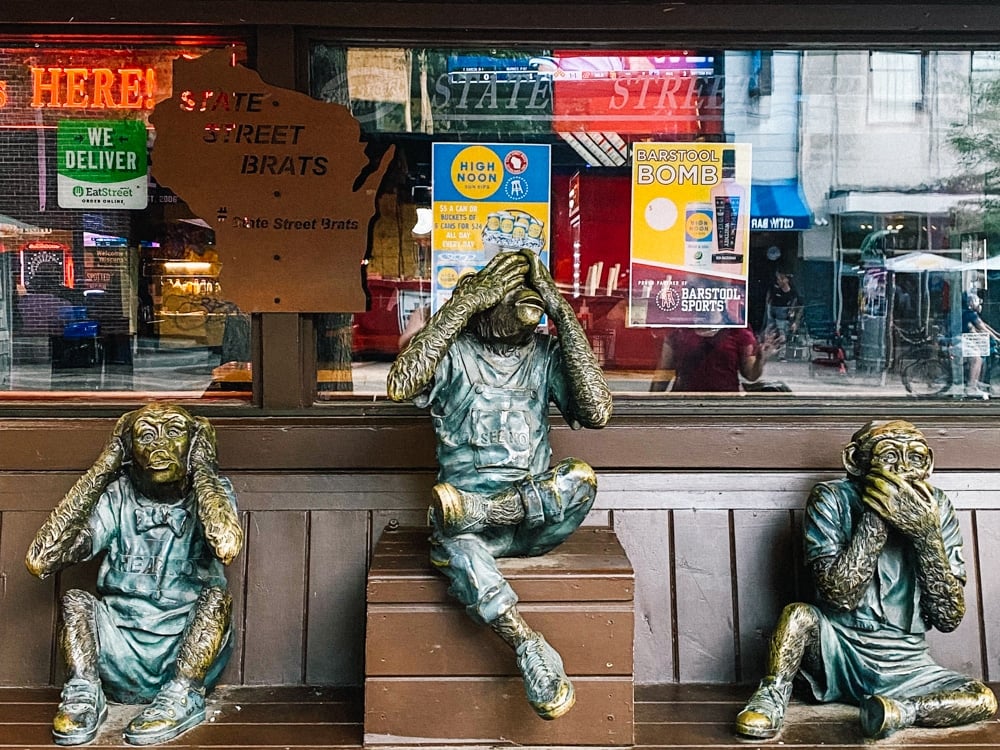 It's also, in my opinion, one of the best takeout restaurants in Madison, with a menu that includes some of their star dishes like Sour cream spaetzle and truffle deviled eggs, and "old fashioned" ham sandwich (that's been totally reinvented)- perfect for a picnic!
15. The Harvey House
Address: 644 W Washington Avenue, Madison
Cuisine: Supper Club
This uber-trendy lounge wants to bring back the supper club. Enjoy snazzy live jazz performances while you dine amongst stunning exposed brick, leather-back chairs, and a gorgeous Gatsby-esque bar.
Though they recommend everyone accompany their meal with a signature martini, they are perhaps even more popular for their a la mode cocktails.
The Harvey House offers an inventive alternative to the charcuterie board, the "relish tray", featuring applewood smoked trout, whipped ranch, and seasonal crudités.
They also serve a plethora of impressive traditional desserts that are hard to come by these days, like baked Alaska. For any of my plant-based friends out there, they have an entire veggie-friendly menu just for you.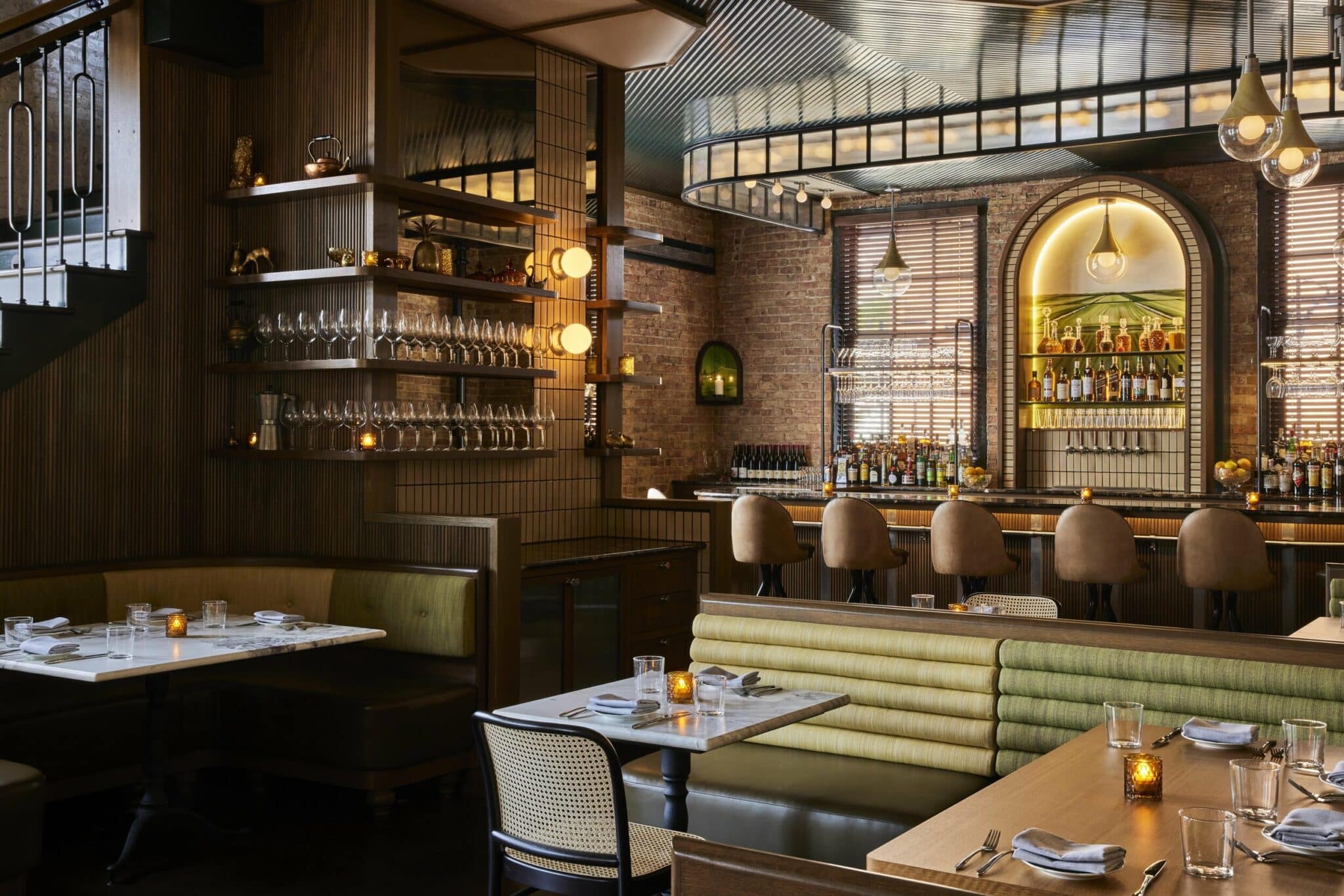 16. Graze
Address: 1 South Pinckney Street, Madison
Cuisine: Farm-to-Table
This Gastropub took farm-to-table cuisine and turned it into the best comfort food you've ever tasted. In fact, Graze cares so much about transparency and sustainability in their sourcing, that you can learn about the local producers of each and every ingredient on their menu.
Their taquitos, mac' and cheese and smash burgers all have a bit of a cult following, but you can also go a little wild and try some of their unique fusion options if you wish.
17. Tempest
Address: 120 East Wilson Street, Madison
Cuisine: Oyster Bar
Meet the Tornado Room's super cool, big sister. Tempest took "nautical" and made it a whole sophisticated vibe.
This ain't no beach shack. Rather than a menu of steaks and sides, this restaurant is all about the seafood: oysters, scallops, fish, crab, lobster….you name it, they're serving it fresh.
On top of great food, the interior of tempest has the personality to boot. With subtle design nods to the interior of a ship the oyster bar features mast-inspired drapes, port-hole-inspired mirrors, and titanic-style chandeliers.
That's not even the coolest thing about this place. There's a massive "shell" circle booth in the bar room, a sea glass bottle installation on the bar counter, and a scale-inspired backsplash. Oh yeah, and there's also a whole wooden boat in the dining room.
18. Nook
Address: 2138 Atwood Avenue, Madison
Cuisine: Fine Dining
If you're looking for unique restaurants in Madison, this deconstructed fine dining bistro (owned by a husband and wife duo) has only one table. A maximum of 12 guests will be guided through a 12-14 course tasting menu built from extraordinary local ingredients- some grown and foraged by the owners themselves.
The idea behind this restaurant is to create barrier-free dining and for the chefs to fully interact with diners as their guests. For this reason, the single table and kitchen are open-concept, so you can get to know each other and learn about local ingredients while your meal is being prepared.
Speaking of barrier-free, you should note that Nook does its best to accommodate all food restrictions and allergies by providing a questionnaire 48 hours in advance of your reservation (I recommend making one on their website!), the team is committed to assisting with wheelchair access and there are no gender-specific bathrooms in this restaurant.
But is it kid-friendly? Pop over to Nook's Instagram where the owners' son Bruce reviews new dishes being added to the menu. These clips are pretty darn cute so don't be surprised if you end up falling down a rabbit hole scrolling through their page.
19. Tornado Steak House / Tornado Room
Address: 116 South Hamilton Street, Madison
Cuisine: Steak House
When you go to a steakhouse, you don't want an overly fussy menu. You want them to do one thing and do that one thing really well and that's exactly what the Tornado Room is all about.
Tenderloins, sirloins, ribeyes, flanks, New York strips, and T-bones…I'm drooling just thinking about it.
Of course, if you do want to switch it up, this trendy lounge also features lamb, rabbit, and duck dishes. Other than that though, it's simply all about the steak.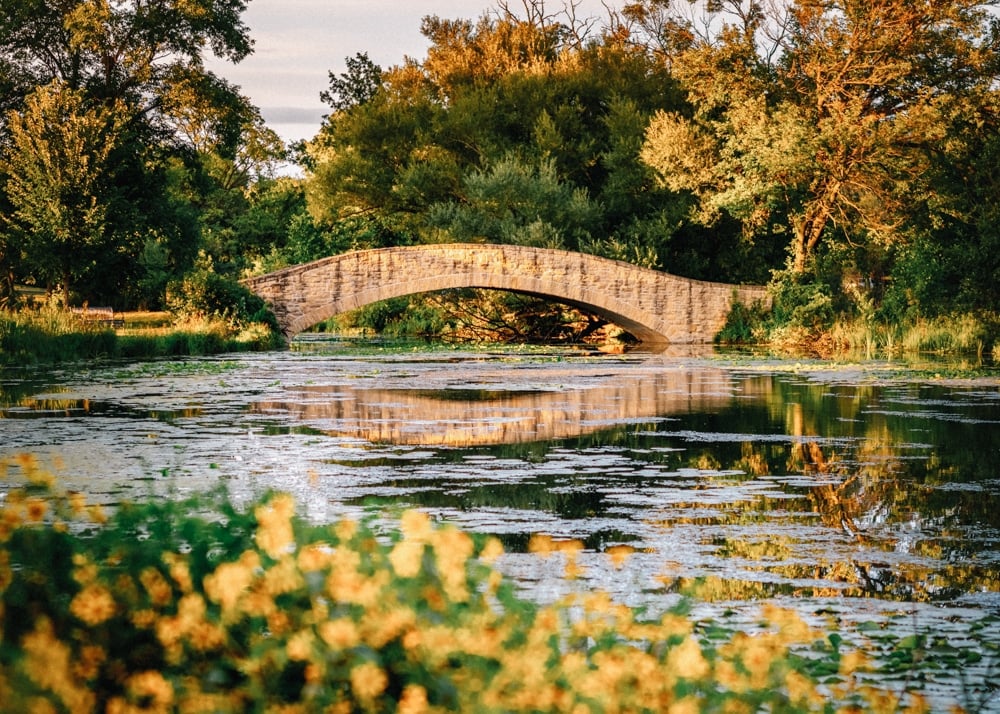 20. Green Lantern Supper Club
Address: 4412 Siggelkow Road, McFarland
Cuisine: American
Open from 7 am until "late" this waterfront dining spot is a perfect choice for any time of day. From a fishy fry to back ribs, Green Lantern Supper Club is serving up all the American diner classics.
The food is good, but really, this place is all about the views. Watching the sunset over the lake? Yes, please.
The Extras: Ice Cream, Bars & Beyond In Madison
21. The Chocolate Shoppe on Atwood
Address: 13 Atlas Court, Madison
Cuisine: Ice Cream Shop
When looking that the name of this Madison icon, you might believe you're walking into the secret lair of a master chocolatier. But "The Chocolate Shoppe" is actually an ice cream parlor.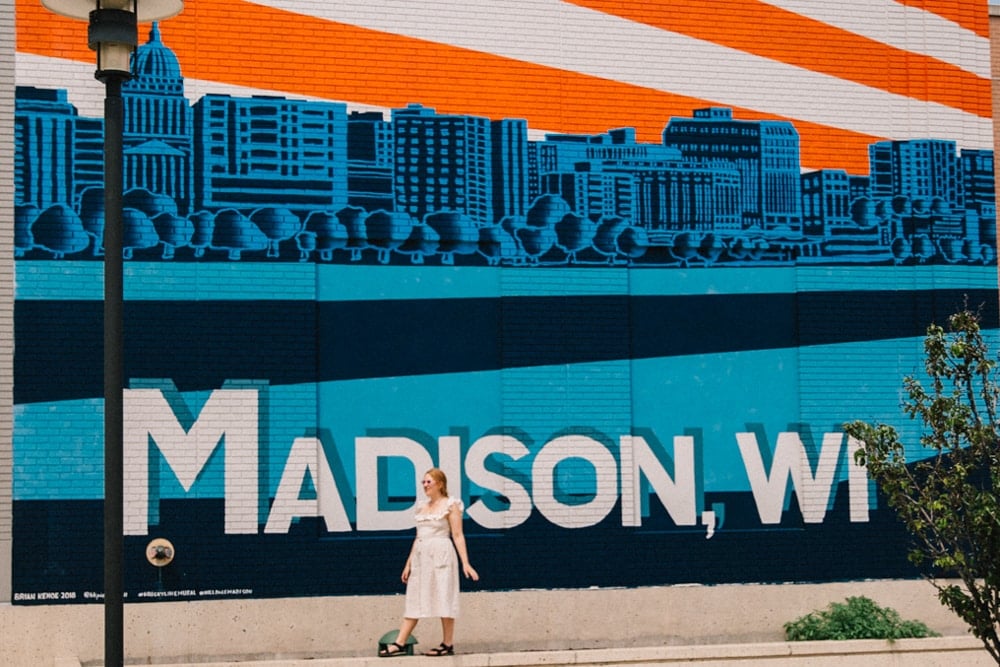 With 76 flavors to choose from, along with a dozen vegan selections and a handful of sorbets, you're sure to find the perfect sweet treat to stack high in your waffle cone.
Ice cream for breakfast? No problem. This company sells some Instagram-famous donut ice cream sandwiches as a "breakfast" item which will both satisfy your craving and add some excitement to your feed.
Editor's Note: This list feels incomplete without mentioning the legendary: Ella's Deli and Ice Cream Parlor. The carnival-themed ice cream shop sadly closed in 2018 (after 42 years!), but we're still hopeful it will re-open in the future under new ownership, in a new space, and with a new and exciting direction.
22. Longtable Beer Cafe
Address: 7545 Hubbard Ave, Middleton
Cuisine: Craft Beer Cafe
99 bottles of beer on the wall….or well, 300. Longtable is a beer cafe that's focused around a self-serve cooler of bottles and brews that can be enjoyed at long, communal tables- the business's namesake.
If you're feeling munchie, you can build your own charcuterie board or indulge in classic pub fare such as burgers, slaw, chicken wings, and nachos.
You won't be lacking in entertainment either. Longtable has several dartboards and other games for your enjoyment and you can also venture outside to sip around the patio fire pits.
23. Le Tigre Lounge
Address: 1328 S. Midvale Boulevard, Madison
Cuisine: Bar
Every good bar has "just something about it." Sometimes, this is more subtle and with others it's a bit more in your face, as it is with Le Tigre.
This hip, self-proclaimed "dive bar" is filled with, you guessed it, tigers. This weird collection has everything from painting and pictures to toddler-sized sculptures and though kitschy, it's actually a fairly pretty bar.
Drinks are affordable, supposedly pretty strong and the vibes are on point. Le Tigre is definitely worth the visit at least once.
24. The Robin Room
Address: 821 East Johnson Street, Madison
Cuisine: Cocktail lounge
Cocktails, cocktails, and more cocktails…What can I say? If you're looking for innovative drinks and a chill but sophisticated atmosphere, then it's worth a trip to The Robin Room.
While I'm a bit biased on the name (have you met Robin? yep, that's my husband's name). I promise you'll absolutely love it here. Look out for the cute neon pineapple!
25. Plain Spoke
Address: 110 King Street, Madison
Cuisine: Cocktail Bar
Exposed brick, Edison bulbs, and leafy tropical plant pals, oh my! This neon dream cocktail lounge is a millennial's dream come true.
Plain Spoke has tasty dishes and endless tropical cocktails on tap, plus an atmosphere where you'll be able to totally unwind and really start to feel like you're on vacation.
We recommend taking their tier to-go cocktails for the road and keep the party going all night long.
26. Gibs
Address: 1380 Williamson Street, Madison
Cuisine: Cocktail Bar
Oh my word, if you're looking for a unique date night in Madison, you can stop your search right here. Gibs is a trendy cocktail bar constructed out of a converted Victorian home (not quite Bridgerton's Regency era, but a close second!).
Tables and lounge spaces spread throughout the two stories and multiple rooms, making a night at Gibs a very intimate and innovative experience. Even better, the walls of the house are treated as a rotating gallery, showcasing the works of local artists.
The cocktail menu is separated into shaken and stirred which should please any cocktail aficionado and "community cocktails" creations are introduced monthly in support of local charities and causes.
Though they don't serve any food themselves, you can order food from grampa's pizzeria just down Willy Street and have it brought to your table. This is Gibs's sister restaurant and you can purchase a la carte or choose 3 courses to take advantage of the $30 special.
27. Eno Vino Downtown
Locations:
1 N Webster St
601 Junction Road, Suite 9, Madison
Cuisine: Wine Bar and Bistro
If you're looking for bougie Downtown Madison Restaurants to waste the night away, your search is over. Eno Vino Wine bar offers a splendid selection of wines by the glass (or bottle, I won't judge).
For the person who doesn't drink wine in your group, they also offer a wide range of craft cocktails and dessert martinis, including a unique take on the infamous espresso martini on the late-night menu.
There are absolutely striking views of the city at the downtown location in a high-rise, but the west side location is a great choice if you're looking for a more casual atmosphere.
Locals and tourists flock here for Taco Tuesday, so if that's a weekly celebration for you, Eno Vino might be worth a try.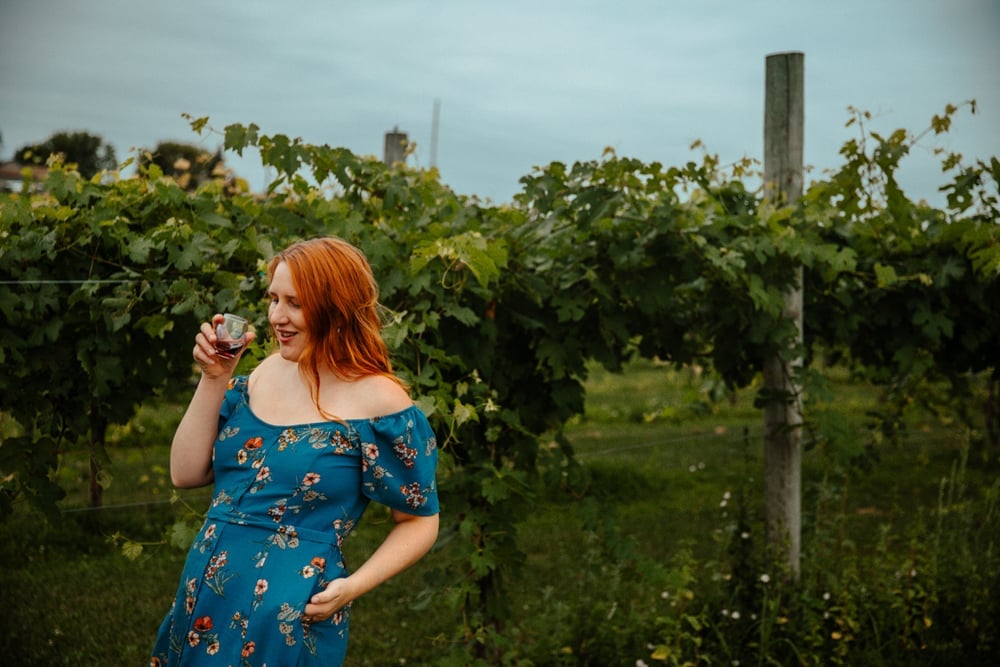 Are you hungry yet? Madison is a hidden gem of delicious cuisine. If we missed any of the best places to eat in Madison WI or you're planning a trip to Madison (with the help of this list), let us know in the comments! We'd love to know what Madison restaurants you're dying to try!