I've been hunting down the best places to spend Christmas in California for YEARS.
As a former Wisconsinite, Christmas to me has always meant white snow, cold nights cuddling up by the fireplace in sweaters and tons of lights. Like, I want to see holiday lights covered on every surface for those hygge vibes!!!
After moving to San Francisco 6 years ago, where it's a mild 60-70 degrees year-round, my husband and I have started seeking out Christmas vacations each holiday season to find that magic we grew up with.
If you're looking for a California Christmas, keep reading for my personal favorite cities to travel during December to soak up all the holiday magic!
15 Top Places To Spend Christmas In California For A Magical Holiday Getaway
>> Got a question about places to spend Christmas in California that you need answered quickly? DM me on Instagram @thewhimsysoul and I'll be happy to help!
Disclaimer: I'm a total Christmas betch. You know, someone who gets VERY excited about light displays, holiday music, ugly matching sweaters, pine-scented candles – the whole shebang.
I totally insist on watching Christmas movies every night in December. THIS IS MY MOMENT each year to shine!
Basically, I'm saying, you came to the right place as I've made it my personal mission to hunt down all the best Christmas places in California for you.
Christmas in California Weather (Aka What Christmas Is Like In California?)
Here's the thing: California is a HUGE state. I really can't stress that enough. It can take over 13 hours to drive from the North to the South.
So, if you have a car with 4WD and don't mind a long road trip, you can totally seek out snow in California in the mountains for that classic Christmas if you want.
Or, if you're on the hunt for a warm Christmas with sunshine, palm trees and beach days, you can drive there, too.
We have the best of both worlds here to quench whatever "Christmas" means to you! So – what's the weather like? It'll totally vary and you'll need to pack accordingly based on your destination.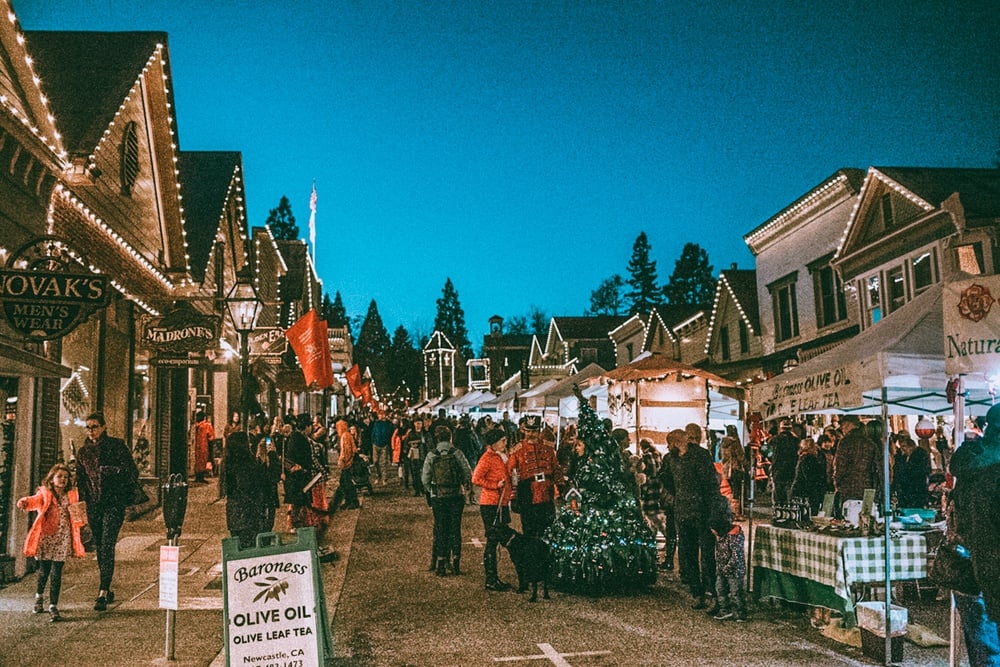 15 Best Places To Spend Christmas In Northern California
Because the state is so large I've broken down the best places in California at Christmas via region (North and South) so you can get your Christmas on close to home!
1. Nevada City Victorian Christmas Fair
Nevada City is the ultimate Christmas town in California and should be on every Christmas- lover's bucket list. Nevada City is an actual real-life Victorian City.
This area was once part of the Gold Rush scene and the city locals are keen on preserving that history.
So – the entire downtown area is registered as a National Historic Place, which means the buildings are all authentic 1800s buildings. And super Christmasy!
Their annual Victorian Fair happens every Wednesday and Sunday in the month of December.
It's like a cross between the Dickens Fair in San Francisco and a traditional German Christmas Market – think people dressed up in old-timey costumes, mulled wine, craft booths, music and of course, Santa walking around.
It's a whole party and makes for a super fun Christmas-filled day in the mountains! Check the weather before heading up since it can get cold (aka bring a jacket and gloves!)
I recommend you book a night at the National Hotel in downtown Nevada City to be in the heart of the action. It's one of those magical Christmas towns in California that stole my heart.
2. San Francisco Christmas Lights
If you can't get away from work for a weekend trip, don't fret! There are actually a lot of super fun San Francisco Christmas activities you can take advantage of! (Or, partake if you are visiting during the month of December!)
One of my favorite things to do is Union Square Ice Skating Rink around a giant Christmas Tree. It's the West Coast version of ice skating around Rockefeller Square.
Make sure to buy tickets online ahead of time to avoid wait times. I recommend grabbing an hour slot at dusk, so you start the ice skating in sunset light and then get to watch the holiday lights in the square slowly turn on and twinkle. SO MAGICAL.
After, you can take a romantic stroll around Maiden Lane (where we shot our engagement photos) or head to the Cheesecake Factory at the top of Macy's.
No, I normally don't recommend my readers head to national chains BUT this one has outdoor seating overlooking Union Square so it's a fun spot to grab a post-ice skating drink!
You can also head to the annual Charles Dickens Fair (a Christmas village in California!) This fair takes place in the Cow Palace and is a fantastic fair to visit if you can't make it up to Nevada City.
It's like a live-action Victorian play happening around you – so fun!
Lastly – spend a night hunting down all the houses that decorate for Christmas! From Tom & Jerry's house (it's famous) to a Tunnel Light street to a Christmas swing, there are tons of amazing hidden gems and Christmas light displays in the Bay Area.
Who needs snow when you have city lights?!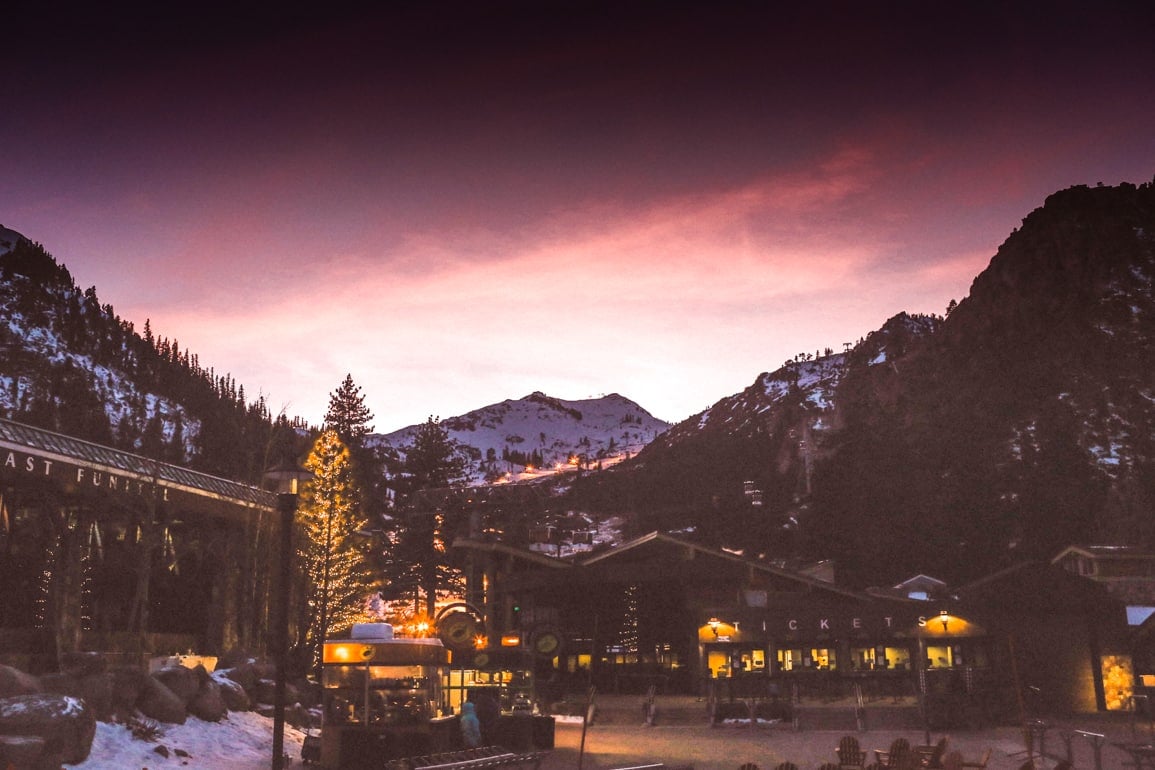 3. Lake Tahoe
North Lake Tahoe And South Lake Tahoe!
Looking for snowy Christmas towns in California? Lake Tahoe is that classic winter Christmas getaway to snow, cold weather and all the traditional snowy mountain vibes.
I don't ski but there are tons fun Lake Tahoe winter activities to do that don't require hitting the slopes – and during December this area goes all out!
All the ski villages have their own Christmas activities (like horse-drawn sleighs, ice skating at the ice rink, Santa, etc)
Many of the larger hotels, like the Hyatt, will also have tons of decor and a few Holiday activities for guests. Or you can opt to stay at the Coachman hotel which is this fun trendy spot that feels like a cabin in the woods.
Though for Christmas, I'm always partial to renting one of these cute Lake Tahoe vacation rentals to cuddle up with my husband in and binge-watch the Christmas Prince after a day of winter hiking.
Pro tip:
During your December visit, make sure to take the gondola up a mountain at
Squaw Valley Ski Village
– the views are amazing and you don't have to ski down if you don't want to! Instead, grab lunch up top and have an epic picnic.
4. Yosemite National Park
Yosemite is my favorite national park in the entire United States. No matter the season it's always a magical escape – there's something so powerful that happens when you drive under El Captian for the first time, you feel so small.
While most people come during the summer, Yosemite in the fall and early winter (November – December) are actually some of my favorite months to visit for a unique Christmas in California.
That's because the crowds are gone and you get all the Christmas winter magic (before the heavy mountain snowfall sets in!)
I recommend you book a few nights at Tenaya Lodge, a cute hotel near the South Entrance that goes all out for Christmas.
Think a giant tree in the lobby, ice skating under tons of Christmas lights, festive cocktails and more. Inside the park, you can attend the annual Christmas Bracebridge Dinner after a long day of winter hiking!
Make sure to strap on shoe spikes for your winter hiking, but absolutely spend a day in the park after the snows.
There are so many beautiful Yosemite photo spots that look like that perfect white Christmas in California if you can time it right. Mornings are best before snow melts, you can sometimes get epic photos of snow still on the trees!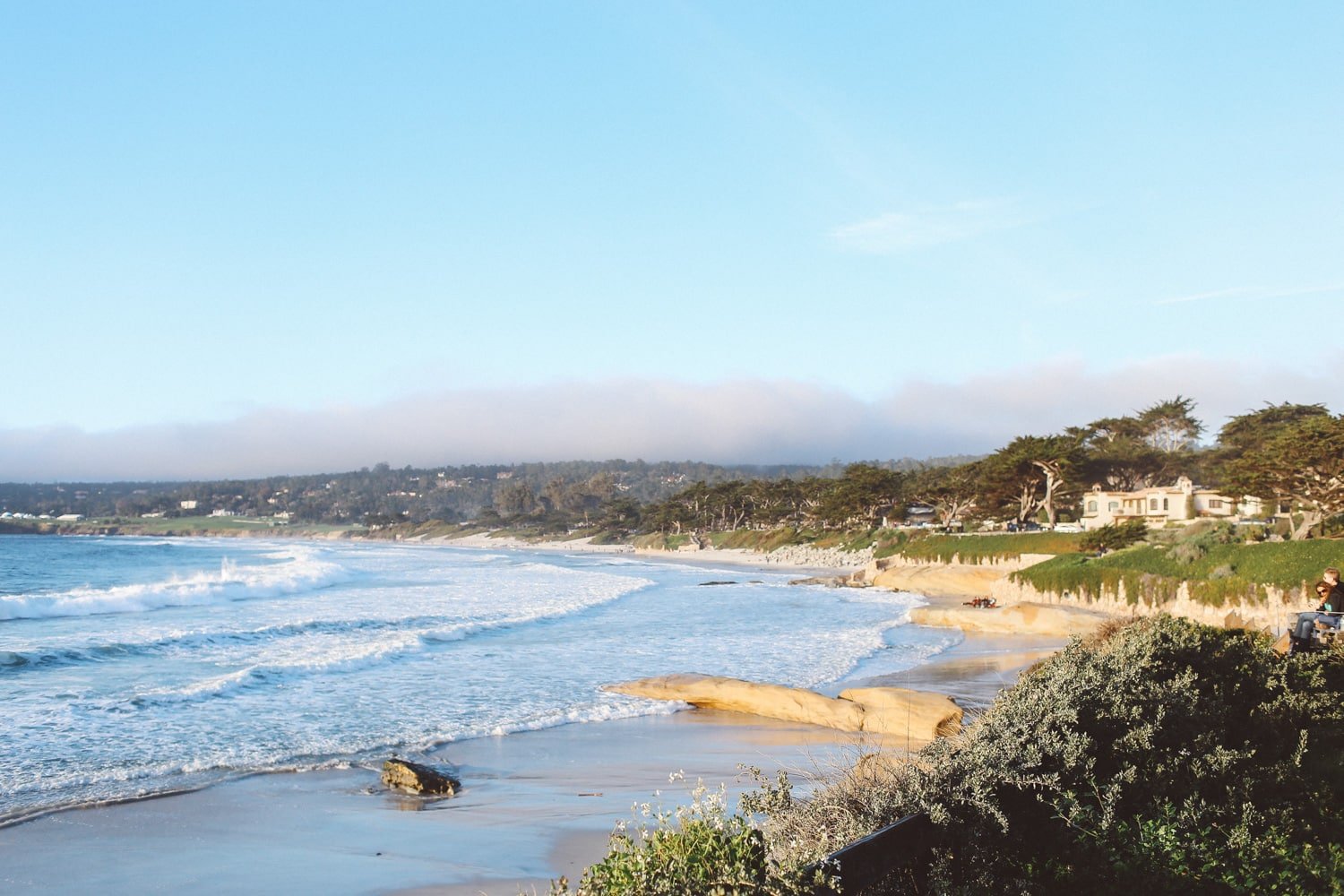 5. Carmel-by-the-Sea
Carmel-by-the-sea is the ultimate fairy tale village and one of my favorite places to visit during Christmas in California.
Seriously – house numbers aren't allowed here and the buildings look like they were plucked from an Engish children's book.
And, since it's a charming village, they hang tons of pretty Christmas lights and shop goes all out with festive store windows.
I love coming here on day trips from San Francisco or on a stop on my way to Big Sur. The main street is so fun to wander and pop into stores.
Come down for the day, shop, soak up coastal Christmas vibes, grab dinner and then a sunset on the beach (they have some of the best in the state!)
There's no snow here, but the charming nature of Carmel makes it a romantic California Christmas holiday.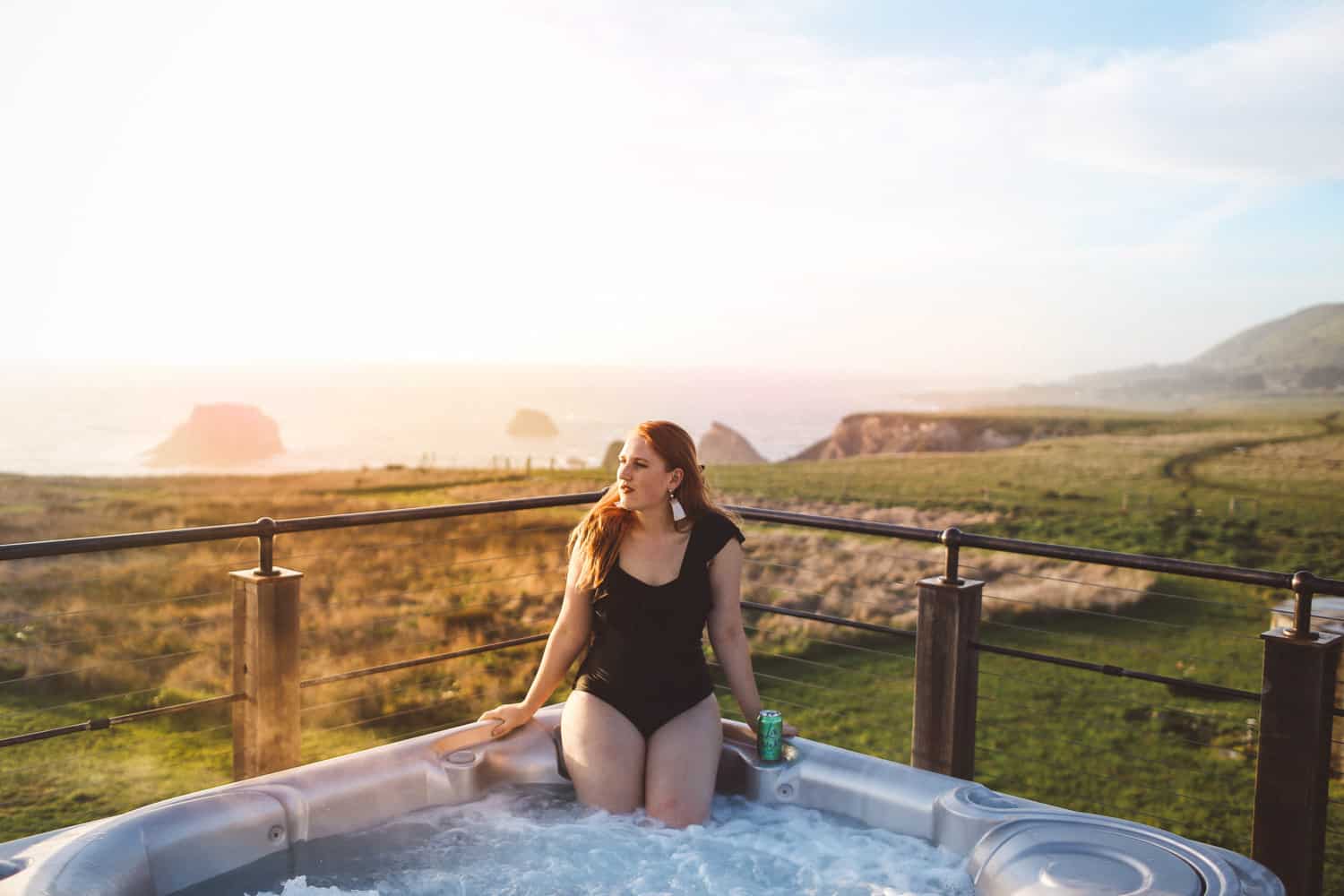 6. Mendocino
Mendocino and Fort Bragg are two of my favorite cities in California. I really can't accurately describe the pure beauty of the Mendocino Coast or the instant relaxing feeling you get during a visit.
There's no snow here, but the town does have decorations and some festive things (like the Mendocino Christmas at the Ford House, or Holiday Shunk Train rides!) along with the downtown area decorating.
Most of the luxury hotels up here will go all out for Christmas, and that's where the real magic happens.
Curl up next to a Christmas Tree with some local Anderson Valley wine while reading a book or enjoying a fresh seafood dinner. UG take me there now!
It may be warm enough that you can even go glamping if luxury hotels are out of your budget, but I do recommend treating yourself to a few nights at the Inn at Newport Ranch.
7. Timber Cove Resort
Just south of Mendocino on the Pacific Coast Highway is the charming rustic resort called Timber Cove that I'm absolutely obsessed with.
They put up Christmas decorations in the lobby during the holidays and there's nothing cozier than listening to holiday tunes next to fire up there while a winter storm is raging.
They have a great hotel restaurant and bar, plus tons of games and rooms with ocean views. During whale migration you can see whales from the porch of your room!!
This is a unique place to spend Christmas in California (or any time of the year, it's one of my favorite hotels in California!!)
8. Pelican Inn Muir Beach
Tucked away in Muir Beach is Pelican Inn, a small 16th-century English-style inn that goes all out for Christmas. It's so popular that rooms book out for the holidays and New Years Eve months in advance.
I personally have been trying (and failing) to get a Christmas booking for 3 years now.
But one day I will get that coveted reservation and sleep on a four poster bed and dine in the Tudor Bar and put on a fake British Accent and have the time of my life. If you're trying to figure out where to go on Christmas Eve in California, this is such a cozy spot.
They throw guests a really nice dinner and morning breakfast the next day. It's one of the most hidden places to go for Christmas in California (it's so good I almost wanted to keep this for myself!)
7 Best Places To Spend Christmas In Central & Southern California.
Oh hey you warm weather lovers! While I also gravitate towards cold (or cool) Christmas vibes, I have plenty of friends who have the tradition of taking beach or desert Christmas vacations.
These are the top warm-weather places to spend Christmas in Southern California!
1. Solvang
Outside Santa Barbara is this adorable little Danish-style town full of wineries, cute shops, restaurants, charming hotels and – one of the best holiday events in the state.
This whole city goes all out in December with Danish-themed festivities. Think light shows, parades, candlelit tours, Santa, caroling and all that North Pole magic you want without the North Pole temperatures.
If you're looking where to spend Christmas in California that's warm AND has been named of the best Christmas towns in California (well, America actually!) Solvang is your spot!

2. Disneyland Christmas
What is better than the happiest place on earth? The happiest place on earth during the Christmas season! Disneyland Resort takes the cake when it comes to Christmas Festivities so I asked my Disney-expert friend to write this next section of tips.
First off, the decorations at Disney during Christmas is just magical! As you walk down Main Street USA you can see all the shops are decorated with garlands, flowers, lights and ornaments that shine with pixie dust. With the park decked out in Christmas decor, the Instragramable spots are endless.
Definitely take a picture of the classic Sleeping Beauty Castle covered in snow or the giant Christmas Tree as you enter Main Street.
One of my favorite things that Disneyland does during Christmas time is seeing the Haunted Mansion get Christmas-fied with "Haunted Mansion Holiday" Basically the Haunted Mansion gets a makeover and transforms into " Nightmare Before Christmas" Attraction.
Seeing all your favorite characters like Jack Skellingtion and Sally to the villainous Oogie Boogie as they try to get Sandy Claws.
Oh, and don't forget to use our handy drinking in Disneyland guide to help you find all the best holiday cocktails!

Disneyland is known for its parades and fireworks, and you best believe their Christmas parade and fireworks are ones you don't want to miss! The "A Christmas Fantasy Parade" is a land lighted boat parade filled with lots of classic Disney Characters like the fab 5 (Mickey, Minnie, Donald, Goofy and Pluto).
The "Believe… in Holiday Magic! Fireworks" plays all the classic holiday songs with some Disney classic ones as well which you watch the fireworks shoot into the sky above the castle after the tree lighting ceremony.
¡Viva Navidad! celebrates and showcases the Latinx holiday culture. You get to see performances from Donald Duck and The Three Caballeros and with Miguel from Coco singing "Remember Me" with amazing Folklorico and samba dancers. Another great thing about the holiday season at the Disneyland Resort is the food!
You definitely want to check out at Disney's California Adventure for the Festival of Holidays. It's their Christmas-themed Food & Wine Festival.
Lastly, stop by the Grand Californian Hotel. The Grand Californian gets the most decorations out of all the hotels. With its cozy cabin vibes you will want to sit by the fireplace with some hot cocoa all day.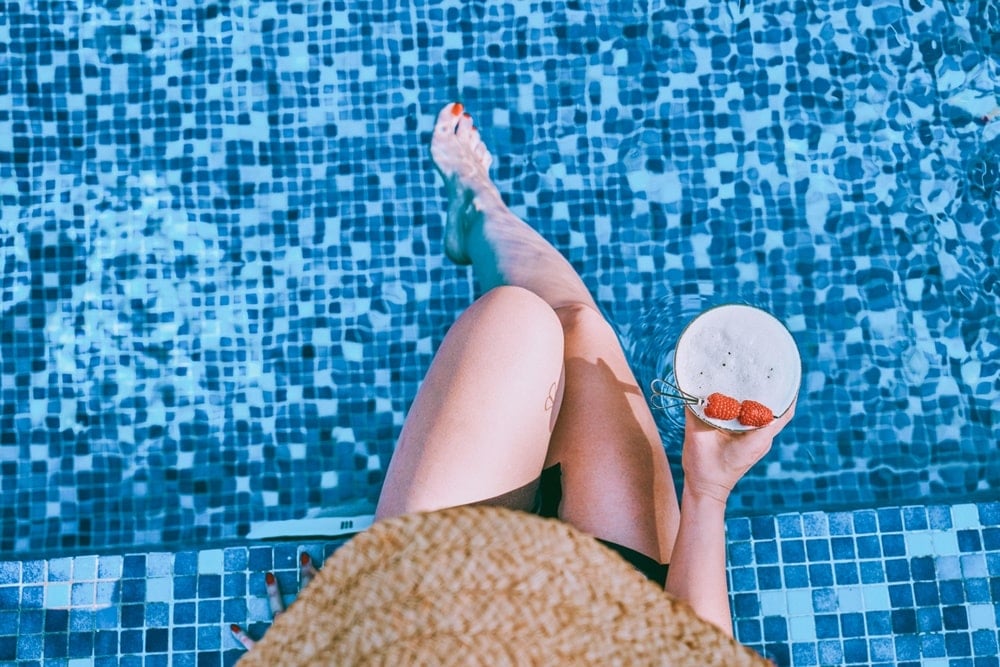 3. Palm Springs Christmas
Palm Springs may be the ultimate town in California to just have an uber chill Christmas vacation. I recommend you book a cute Airbnb with a pool (like this one of these stylish homes!) so you and your crew can blast holiday music poolside with Christmas cocktails all afternoon.
At night head over to Candy Cane Lane (also sometimes called Christmas Tree Lane) over on Minerva Street in Cathedral City. All the residents decorate their houses and lawns with tons of light and decor.
Or, head to the annual WildLights show complete with music, light shows and Santa!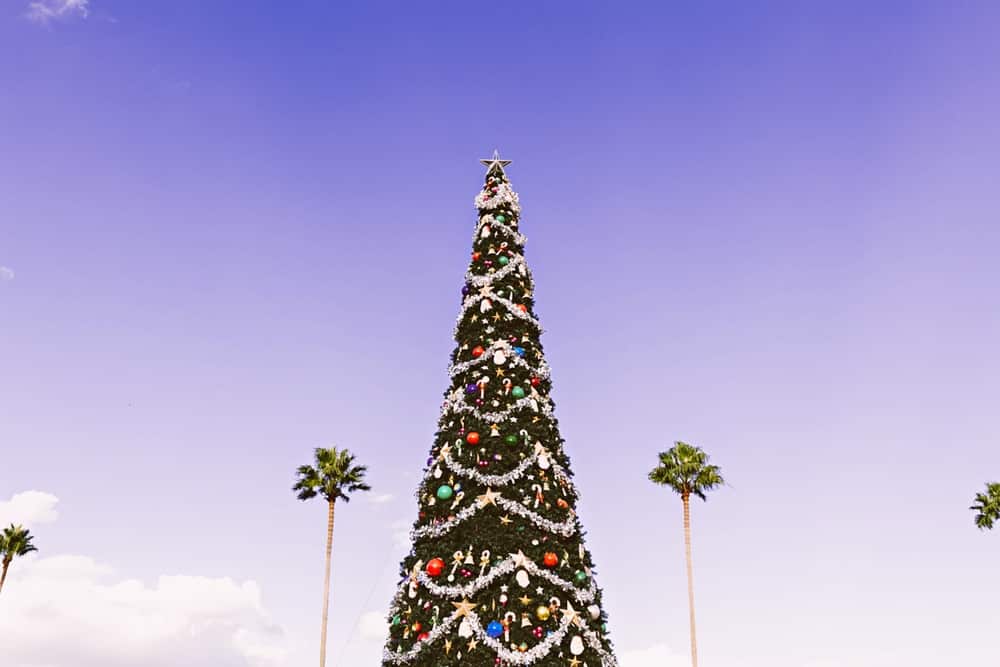 4. Newport Beach
Newport Beach is famous for it's annual Christmas Boat Parade. The whole harbor lights up with over 50 boats decked out in holiday lights! If you're in the Los Angeles area and looking for a fun Christmas activity with the family (or if you're a kid a heart!) this is the ultimate event.
You can even book a cruise to get up close and personal with the boats! (I hear San Diego has Christmas boats with lights too if you prefer the chill vibes of San Diego area instead!)
On top of the boat parade in Newport Beach, Fashion Island always puts up a GIANT Christmas Tree, and you can catch plays like the Nutcracker in nearby Orange County Performing Arts Center.
Newport Beach is another city where it's best to book a chic private house so you can spread out, blast that music and get into the holiday spirit together. This Airbnb is so dang cute!
5. Big Bear Lake
I love Big Bear Lake! It's such a fun place to escape into the mountains, and I wish we lived closer. People often call Big Bear Southern California's Lake Tahoe, it's a lake with a ski resort.
While much smaller than Tahoe, it's still a beautiful winter wonderland and only about an hour or so from LA!
I most recently went in the fall but imagine that hot tub photo above covered in snow! If you're looking for one of the best places to spend Christmas in Southern California that's full of snow and cabin vibes, Big Bear is it.
They have tons of cute affordable lake cabins to rent, slopes to hit in the day, snowshoeing trails, apres-ski bars and tons of holiday magic in December.
6. Long Beach Queen Mary Christmas
The Queen Mary is a super cool hotel in Long Beach. It's a boat! And not just any boat, but a historic 1936 ocean liner that floats on the water. And, every December they host a huge Queen Mary Christmas event to get everyone into the festive mood.
There's a tree lighting ceremony, ice skating rink, a chance to meet Mrs. Claus and Santa Claus, a movie theater playing The Polar Express and other holiday classics, a North Pole Village, rides and other fun Christmas things to do.
They even sell date night packages so you can take your boo on a holiday date.
7. Los Angeles
As you can probably figure out, I love my personal favorite places to go for Christmas are colder, and usually in a cozy old-timey mountain town. But snow isn't everyone's jam, I get that.
And Los Angeles has some really cool warm weather festive spots for a very California Christmas vacation with palm trees and sunshine.
Los Angeles Zoo (Los Angeles): Not just for kids! They have a 90-foot long light tunnel during Christmas that makes for some really cool nighttime light photos (very similar to Christmas in Vancouver, Canada!)
Knott's Berry Farm (Buena Park): EVery year it gets dressed up in twinkling lights, giant snowflakes, classic Christmas tunes, performers, magical dancing toys, and dazzling (fake) snow to set the mood.
Arboretum (Los Angeles): Every year they have a beautiful Moonlight Forest Magical Lantern Festival full of light sculptures and more light tunnels. They blast holiday tunes and it runs from Thanksgiving to mid-January!
Six Flags Magic Mountain: They also throw a famous Holiday In The Park event with Christmas trees, a victorian market and festive food.
The Grove (Los Angeles): The Grove is a beloved shopping mall in LA (it's super fancy!) and come December it's like the inside of a Christmas Tree threw up on the whole mall. It's one of those unusual Christmas places to visit in Southern California that locals love. And hey you can get your holiday shopping done, too!
Wizarding World At Universal Studios Hollywood (Universal City): As a major Harry Potter nerd, I love the Wizarding World of Harry Potter. Hogsmeade is covered in fake snow and during the holidays they add in even more Christmas decor and events so you can truly finally feel like you got your letter.
Christmas In California Film – How Accurate Is That?
I remember watching that film on Netflix with my friend Amy and almost turning it off so many times because it's just so bad and inaccurate.
I mean, they had snow in Sonoma!! If it's ever snowing on the vineyards that means we're all truly doomed on the climate change front.
This movie stars Lauren Swickard (Callie) and Josh Swickard (Joseph) and it's all about a ranch hand and big city boy who fall in love in Sonoma over wine.
I love Sonoma and I also love my holiday wine tastings around Healdsburg, but it's not exactly the most festive place in California. I refused to watch Christmas in California 2 so I'm not sure if they had it snowing in San Francisco in that one or not lol.
Anyways, hope this helps you find the perfect place to spend Christmas in California for you and your family or friends! I'm always adding to this list as I discover new, whimsical towns to visit for the holidays.
If you have a favorite spot that didn't make the list, please drop a comment below since I'll want to visit next year!!
Got questions? You can drop a comment or DM me on Instagram @thewhimsysoul and I'll try to help! Happy holidays you Christmas betches you.