Color. Heat. Palm trees. Luxe pools. A walkable downtown. Craft cocktails. Sunshine.
I'm not talking about Palm Springs (though all this does apply.) I'm talking about Scottsdale, Arizona!
If you're thinking of planning a Palm Springs weekend getaway, STOP and read this post first. Palm Springs isn't the only desert town that packs quirky charm and Instagramable pools.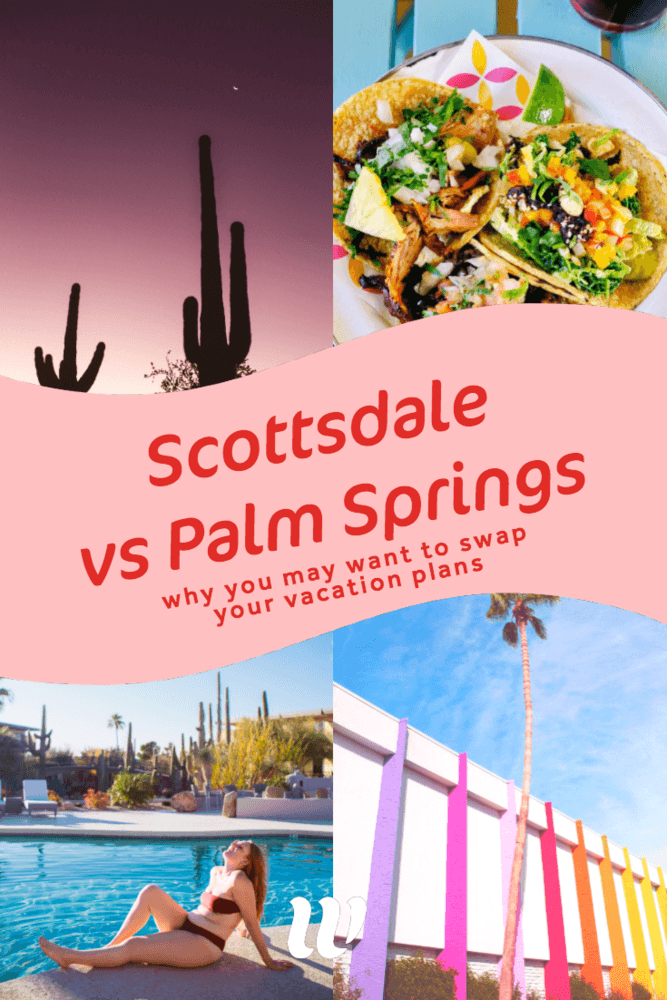 Disclaimer: Before we dive in, know that I don't hate Palm Springs, that's not the point of this post. In fact, I really enjoy it there and the area was even the inspiration behind Whimsy Soul's branding. BUT, the rainbow mid-century Palm Springs vibe can also be found in Scottsdale, and without a lot of the annoying parts that the Palm Desert has (think crowds, overpriced hotels, pricey brunch, etc.)
Why Should I Swap My Palm Springs Weekend Getaway to Scottsdale?
Let me share some reasons why you may want to book a ticket to Arizona instead.
It's Super Easy + Fast To Get To Scottsdale
First of all, Scottsdale is super easy to get to as you fly into Phoenix, which is commonly used as an international layover hub for airports all over the country, so it's not hard to find airlines that fly there.
I find that flights are usually cheaper, too, especially if you are coming from California. The one and only time I flew to Palm Springs, the cheapest flight I found was $375 round trip but I can fly my husband and I BOTH out to Arizona for that same total price (seriously, Southwest flights are the best!)
Traveling to Palm Springs just takes effort. It's over a 9-hour drive from SF and 2.5 hours from LA (if you luck out without any traffic. Last time I drove from Palm Springs to Los Angeles, the drive took us over 3.5 hours.) It's faster to fly to Arizona than it is to drive from the Palm Desert to the beach.
Scottsdale is More Chill
Back in the day, celebrities used Scottsdale as their secret desert getaway because even then, Palm Springs was too accessible to paparazzi and buzzy with folks from LA. Hotel Valley Ho in Scottsdale has a super interesting history of being the go-to spot for the Rat Pack and other icons.
I find that Scottsdale never feels empty while simultaneously never feeling overcrowded. If I wanted to wait in line for an hour for brunch, I can do that here in San Francisco. (I've had to wait in line for many Palm Springs restaurants in the past.)
Ok but Kara, I Want To See All The Iconic Things In Palm Springs!!
I get it! I totally get it. Palm Springs has some super famous things you've probably seen on Instagram that you want to visit yourself (like That Pink Door or that one rainbow hotel.) But, did you know that Scottsdale and Palm Springs are actually pretty similar? You can find alternatives to all the Palm Springs hot spots in Arizona! Seriously!
9 Ways to Find Palm Springs in Scottsdale
Before you commit to pricey flights or a road trip across California for a Palm Springs weekend getaway, keep reading for popular Palm Springs things that you can find in Scottsdale, too.
Saguaro Hotel.. for the Saguaro Hotel
The Saguaro Hotel is probably one of the more recognized Palm Springs hotels because it's so colorful. It's basically a giant rainbow that you can sleep in But, did you know they have a sister location in Scottsdale?! The Scottsdale Saguaro Hotel is actually the original one.
That's right! If you're craving a visit to the Saguaro, you don't HAVE to go to Palm Springs, there's one in Arizona that's usually less crowded, looks super similar in Instagram photos and is located in a better spot than the one in California (in my opinion.)
Moorten Botanical Garden for Desert Botanical Garden
The Moorten Botanical Garden is one of the top things to do in Palm Springs because everyone wants to visit the cacti here, but you can find botanical gardens in Scottsdale, too! The Desert Botanical Garden is a 140-acre beautiful garden full of over 50,000 cacti and local desert plants.
For the holidays, there's Las Noches de las Luminarias which is basically a giant Christmas lights event with tons of romantic corners and live music (Moorten Botanical Garden doesn't do that!)
Joshua Tree Park National Park for The Sonoran Desert
Joshua Tree is a popular day trip from Palm Springs for those looking to get into nature and do some hiking, but you can easily swap JT for the Sonoran Desert. Robin and I went hiking at the McDowell Sonoran Desert Preserve at sunrise during our first trip to Scottsdale and I totally fell in love with the hundreds of saguaro cacti towering over me. They look similar to Joshua Trees as both are towering desert plants.
Desert X for Scottsdale Canal Convergence
You may have seen Desert X things on your Instagram feed in the past. Desert X is a semi-annual art movement across the Palm Desert and Coachella Valley (it's basically like a giant scavenger hunt for art.) Artists install pieces, like a rainbow or red box, that only stay up for the event, then are taken down after. It's one of those unusual things to do in Palm Springs for sure, as it's fleeting.
BUT, Scottsdale has some really cool art events, too. Like Canal Convergence! During the first two weeks in November, this event takes over the entire downtown canal area of Old Town Scottsdale and is full of temporary interactive art installations (but you don't have to drive all over the desert to find them!) Some of the pieces in the 2019 show were even first debuted at Burning Man!
And of course, there's food trucks and booths to buy beer to make it a whole evening. It's also located right downtown so you can easily go out to eat before or after visiting, too.
Parker Palm Springs for Omni Scottsdale
If you haven't seen any Desert X photos on Instagram, I'm sure you've seen people pose in front of the door at the Park Palm Springs or on the staircase in the lobby. This is one of the top luxury Palm springs resorts known for whimsical decor, luxe pools, a top-notch spa and great food.
The Scottsdale version is the Omni Scottsdale Resort & Spa at Montelucia, which is a large resort that seriously made me feel like I was transported to Spain. Their spa has a rooftop pool with stunning views of Camelback Mountain and we spent a LOT of time photographing this hotel where there's so many cute corners.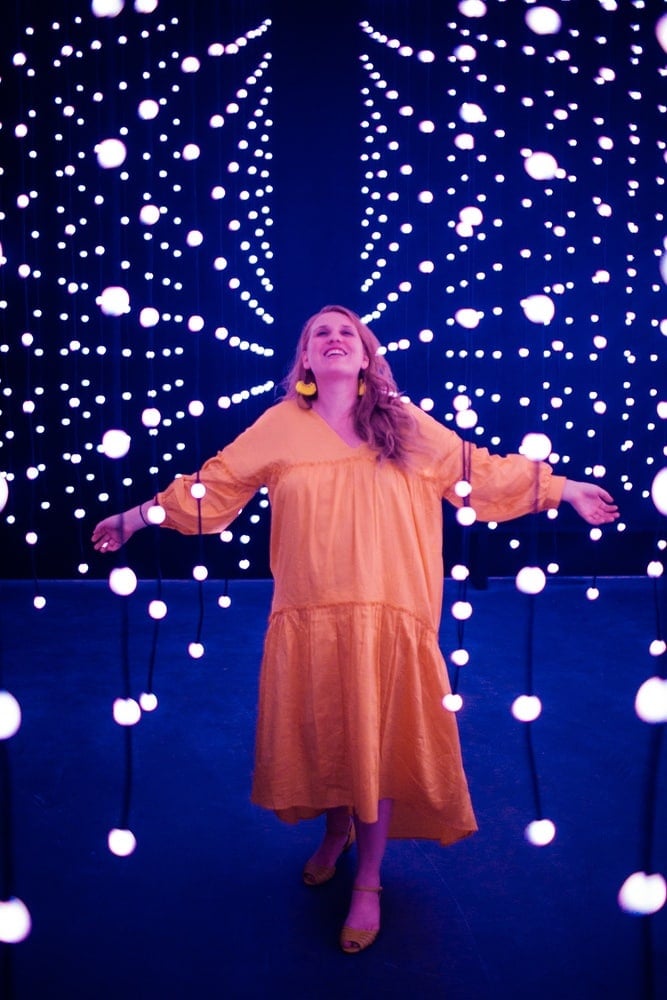 Palm Springs Art Museum for Wonderspaces
The Palm Springs Art Museum is known for western, contemporary and glass artists' works. It's a traditional art museum format (I don't have any photos of it, sorry!) Wonderspaces in Arizona is a lot more fun (it's way more my style and unique!)
Wonderspaces is like an art museum meets the Color Factory. It's an Instagram-worthy interactive place for visitors to experience art. Exhibits change every 3-4 months so you can visit again and again and not be bored. When we were there, we saw everything from plants that make sounds when you touch the leaves, to a VR room, and even an exhibit where you can write down a confession that is displayed in the museum (totally anonymously of course!)
Downtown Palm Springs for Old Town Scottsdale
This may be a controversial opinion, but I think that Old Town Scottsdale (the city's downtown area) is WAY more fun than Downtown Palm Springs. Old Town Scottsdale is super walkable and just offers more in terms of… well, pretty much everything.
More restaurants, more bars, more shops, more wine tasting rooms. Like Farm & Craft, Merkin Vineyards Tasting Room, Sweet Dee's, Diego Pops… all nearby and easy to hop around to. Downtown Palm Springs sort of revolves around Palm Canyon Drive, which is a very long major road. Aka, there's always a lot of traffic and you may have to walk over a mile to get to your next stop (or you may find that you have to drive it!)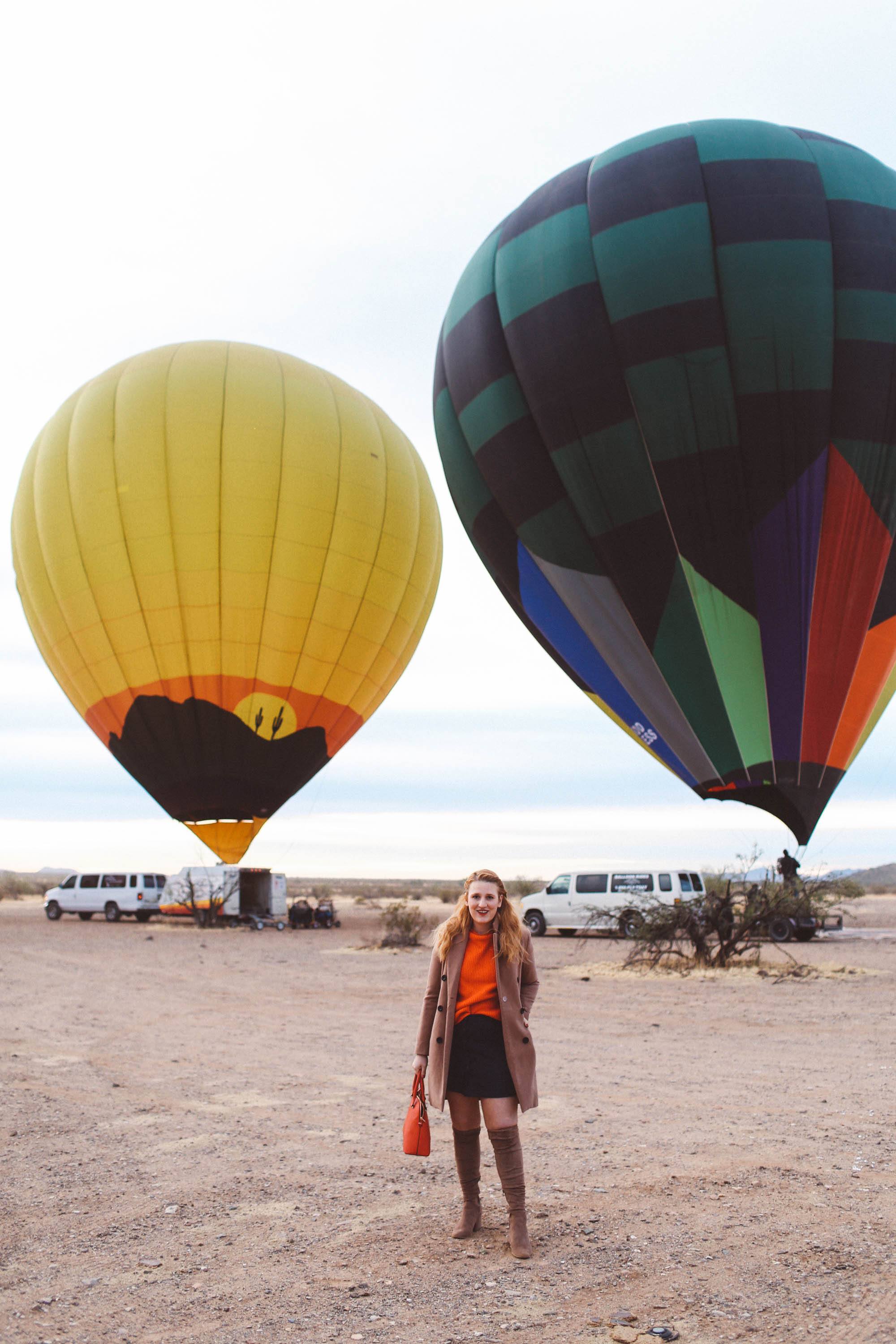 Palm Springs Aerial Tramway for Desert Hot Air Balloon Ride
The Palm Springs Aerial Tramway is known for being the world's largest rotating tramcar. It has a restaurant on top and is a popular thing to do in Palm Springs on a romantic date night for those looking for amazing views with a side of food.
But, you can swap the aerial tramway for a hot air balloon ride over the Arizona desert. And that's like, WAY more epic in my opinion. On our first visit to Scottsdale, Robin and I did a sunrise hot air balloon ride. We sailed above the land and the ride ended with pop-up bubbles and brunch in the desert.
If sunrise sounds too early for you, don't worry, the hot air balloon companies also offer sunset rides, from fall to spring. Our hot air balloon ride was honestly such a cool bucket list experience. I wrote all about it in this post if you want to read more.
Kings Highway Restaurant At The Ace Hotel Palm Springs for Literally Anything in Scottsdale
This place is a popular restaurant in Palm Springs that I feel like I'm always seeing pop-up on Instagram come Coachella season. Everyone loves the elephant head in the dining room and the giant ACE sign out front. But that's the thing – people flock to restaurants in Palm Springs and I never really hear about the food, just the cool decor.
But if we're getting real right now, I think the food scene in Scottsdale is 1000x better. There's no giant elephant head that I know of, but you can find affordable bottomless brunch serving Asian Mexican cuisine (yes, that's a thing and it's BOMB!)
There's a spot doing mimosa flights, another with a Food Network rated BBQ (that's drool-worthy, trust.) There's wine tasting rooms, perfect vegan baked goods that taste better than non-vegan ones I've had. Cactus tacos, farm-to-table salads and so much more. Maybe I just haven't been shown the right places in Palm Springs but I just feel like Scottsdale has the food thing down.
So, that's why you may want to switch your Palm Springs weekend getaway to Scottsdale. But again, at the end of the day, they are both great cities that offer a lot of fun ways to make memories.
If you have any questions about Scottsdale or Palm Springs, leave a comment below or DM me on Instagram @thewhimsysoul and I'll be happy to help!