I've driven up and down the Sonoma Coast portion of Hwy 1 countless times but it never ceases to take my breath away. Each bend of the curve that turns your car around to soak in another view of rolling green hills dotted with cows, and the endless blue ocean – all in one glance – makes me pull up Zillow to see how much it would cost to just move here already.
If you find yourself driving down Highway 1, use this handy guide to Sonoma Coast's best hidden gems, cool beaches, quirky restaurants and stops not to miss.
I live down in San Francisco and find myself in Sonoma County all the time. Whether I'm wine tasting in Healdsburg, hiking under towering trees in Armstrong Redwood State Park outside Guerneville, or stuffing my face with taffy in Bodega Bay, I just can't stop taking Sonoma road trips.
For any California newbies, Sonoma County is HUGE, and in my opinion, the coast is a totally different world than inland. Russian River wine country is woodsy and serene. Santa Rosa is a bustling small city and downtown Sonoma is quint but never boring.
The Sonoma Coast, though, is magic, green, rural and full of nature. And a bit of a drive from the other spots in the county. It's hard to just pop over to the beach if you're all the way in downtown Healdsburg, for instance. It's best to visit Sonoma Coast Hwy 1 stops in their own dedicated road trip.
These are all my favorite things to do on the Sonoma Coast that I visit over and over again. I'm starting this list North going South along Sonoma's best stops on Highway 1.
Note: Technically, the first two stops are in Mendocino County but they are just over the border and are super unique things to do so I don't want you to miss out on them!!
1. Point Arena Lighthouse
Point Arena sits right over the top of Sonoma Coast in Mendocino County. If you're been following me on Instagram, you know that I love lighthouses. I love their history, I love their coastal charm, I love seeing the lightkeeper's quarters, and I really, really love when a lighthouse is open to climb.
The Point Arena Lighthouse is the tallest lighthouse that you can climb on the entire Pacific Coast! It's open daily for tours (though please check online first because the C-Word absolutely messes with things these days) and tours are about 45 minutes.
You'll get a crash course on the lighthouse, the past keepers and then get to climb the tower to see 360 views of the ocean and Sonoma Coast highway. It's epic. Oh, and there's a cat that lives on the property you can probably give good head rubies to.
Pro tip: the lighthouse offers vacation rentals on-site! You can book a stay there and wake up to the lighthouse outside your window. The last time I came through was on our van trip but I absolutely want to spend the night here one day.
2. Bowling Ball Beach
Bowling Ball Beach is straight up on of the most unique and craziest natural occurrences I've ever seen. This beach is covered with round rocks that look like balls (hence the name!) They're a bit hard to see at high tide, so come at low tide to wander around these rocks.
Pro-tip: it's more beautiful at sunset during a low tide evening!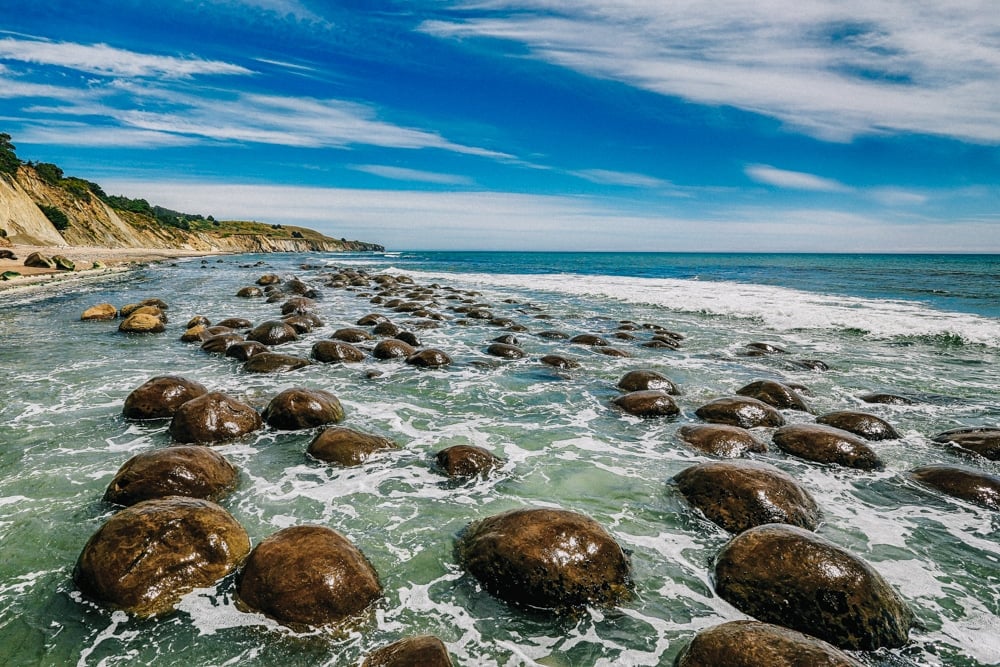 3. Gualala Point Regional Park
Next up you'll pass through the town of Gualala which has a small grocery store, gas station and other markets if you need to grab a bite to eat or fill up on gas. But, instead of hanging around town, I want you to head to Gualala Point Regional Park.
This park is famous for whale watching! You can pick a spot along the bluffs and see whales easily from the shores, though binoculars are always handy.
4. Sea Ranch
Next, you'll hit Sea Ranch, another beautiful and sleepy town on the coast. Sea Ranch is beloved for the numerous beaches that offer everything from prime diving areas to slow beach days to coastal hikes. Popular beaches are Shell Beach and Tide Pool Beach, the latter which is a great spot to hunt for sea urchins and other marine life at low tide.
While here, you simply must swing by the Sea Ranch chapel, which is this crazy cool building made of Redwood and copper and has a winged roof. It's open daily.
Pro tip: Stop by The Ranch Cafe for breakfast, lunch or pastries and coffee! It's the best cafe in town, but does run out of the best stuff by afternoon.
5. Salt Point State Park
Salt Point Park is HUGE and so pretty! It houses 20 miles of hiking trails, campgrounds, horseback riding trails and is even home to Gerstle Cove Marine Reserve. This is California's first underwater park where Maine life is totally protected. In other areas of Salt Point, you can go fishing legally, though, if that's your thing.
What I love coming to Salt Point for is hiking and mushroom foraging. Especially in the winter after a lot of rain, you can usually always find wild mushrooms growing (for meals, mushroom prints, dying, etc!)
Fun Fact: Sandstone from Salt Point cliffs were used in the construction of San Francisco's streets and buildings during the mid-1800's! You can still see drilling holes around rocks at Gerstle Cove.
6. Timber Cove Resort
Ekkk, Timber Cove Resort is hands down my favorite hotel on the Sonoma Coast, and of of the most unique hotels in California as a whole. Girlfriends and I spent some time there last summer and we all were instantly entranced by their luxury lodge lobby, sweeping views of the ocean from private patios and their restaurant which overlooks the ocean at sunset.
Camping Sonoma of course is fun, and you should totally do it, but also book yourself a night or two at Timber Cove. It's next door to Fort Ross and Jenner so there's so many things to do during the day, and in the afternoon and evenings, relax at this stunning property.
7. Fort Ross State Historic Park
I'm a little ashamed to admit that I drove by Fort Ross State Historic Park for years thinking its famous Russian-era fort compound building was just some rich person's insanely cool house. You can see the towers peeking above the fence line as you drive Highway 1.
Well, turns out that building is actually a National Historic Landmark that you can totally visit while exploring Fort Ross. It's SO dang cool, I haven't seen a building like this in California before. After, hike down to Fort Ross Sandy Cove or venture to their historic orchard for something unique to do on Sonoma Coast.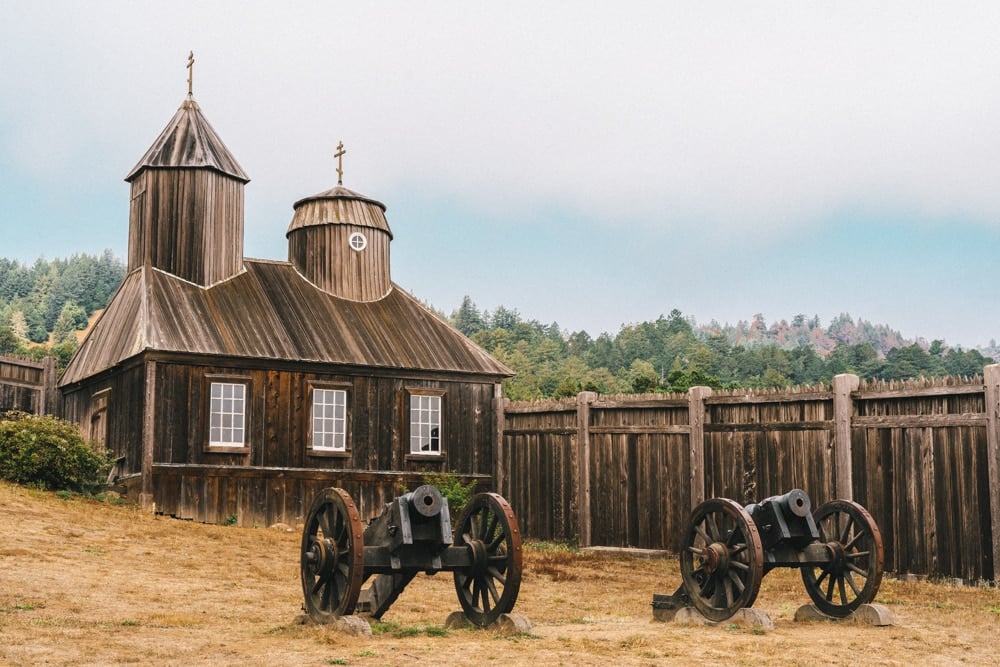 8. Cafe Aquatica
Many Sonoma guides won't include this cafe but it's one of the best-kept secrets that's not really a secret since all the locals love to come here. It's really easy to drive on past and not know it's here (blink and you'll miss Jenner entirely, to be honest. It's a small town!)
Whenever I pass Jenner, I always pull into Cafe Aquatica for breakfast, lunch or maybe just a rose oat milk latte. I bring my food outside to sit on their chairs overlooking the Russian River and Goat Rock Beach. If I have time, I'll also do some Sonoma Coast wine tasting at Tasting by the Sea Wine Bar, next door to the cafe. This winery is super cute too!
Pro Tip: there's a kayak rental place a few doors down from the cafe. You can rent a kayak and paddle up the Russian River!
9. Sonoma Coast State Park
This park is also huge and full of outdoor activities, beaches, rocks and overlooks. You could spend an entire weekend exploring this park alone. I personally haven't been able to explore all of the state park but here are some of my highlights to check out:
Shell Beach: for tide-pooling at low tide
Portuguese Beach: for surfing (or watching surfers, as I do!)
Coleman Beach Overlook / Arched Rock Overlook: An easy spot to pull over for epic views and photo ops. That's where I'm pictured below!
Salmon Creek Beach: super sandy beaches for hot summer days, walks and surfing.
10. Bodega Bay Dunes
Pismo Beach isn't the only place in California with coastal dunes! Admittedly, the Bodega Bay State Park Dunes aren't quite as iconic as the Pismo Dunes, BUT super and unique! We went camping at The Bodega Bay Dunes campground on our van trip and I loved how the campground was built around these towering dunes to navigate and slide around on.
The campground has a trail that takes you right to the water, which also features a long boardwalk, snowy plover and lots of space to spread out on a hot day.
11. Bodega Bay
At the bottom of Sonoma County is the famous town of Bodega Bay. This is the largest town on the Sonoma Coast, but still don't expect a Safeway or Starbucks. This town is quaint AF, and I love it for its small-town charm. Instead of Starbucks, you can hit up The Roadhouse Cafe.
Looking for amazing seafood? Spud Point Crab Company on Bay Flat Road, The Birds Cafe, or Lucas Wharf are all solid spots to feast on fresh crab and seafood locally caught that morning.
Doran Regional Park is a unique inlet park that jets out inside the sheltered bay. I recommend grabbing coffee at Roadhouse, exploring Doran and then the dunes, grab lunch at one of the seafood stops and dessert at Patrick's for taffy. Then enjoy an afternoon kayaking and ending with a sunset hike on the Bodega Head Trail for stunning views of the Pacific Ocean.
12. Patrick's Salt Water Taffy
Did you know it's illegal to drive through Bodega Bay and not stop at Patrick's for homemade taffy? You can't miss this building as it's painted in pink and white stripes. This family-run candy store makes literally the best homemade taffy I've ever eaten.
Whenever I'm in town, I also stock up and buy at least 6-8 bags of different taffy flavors. I haven't been able to try them all yet, they seriously make too many flavors to count, but some favorites are huckleberry, watermelon, pumpkin pie and dark salted caramel.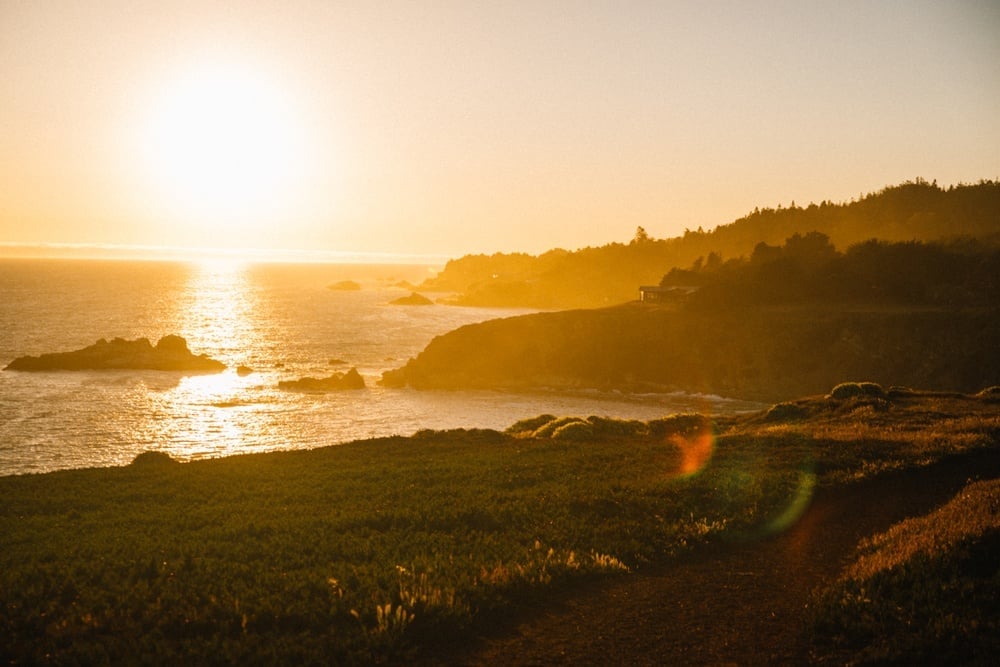 Sonoma Coast Map
To help you out, I've listed the best places to visit along Highway 1 on the Sonoma Coast in a handy Google Map for you to use! Make sure to keep this page pulled up on your phone and/or download maps offline as you probably won't have service for most of your Sonoma Coast road trip.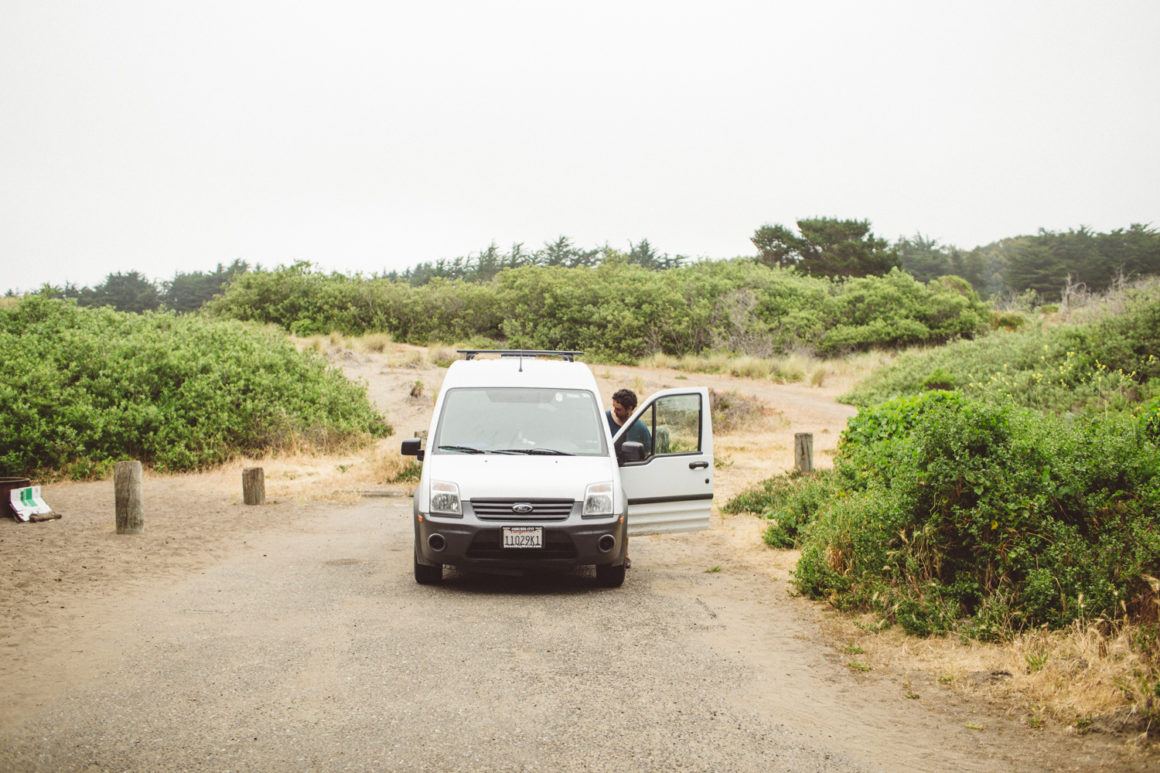 Sonoma Coast Camping vs Hotels
Here's the thing: camping Sonoma Coast isn't hard, but it is expensive and can be hard to grab an open slot. As with all California coast campsites, they tend to reserve up fast online, but you can almost always find a last minute cancellation if you want to do a walk-in.
Robin and I camped along the Sonoma Coast during our California van trip a few summers ago and were always able to find a last minute spot but I recommend reserving something in advance if you can. All the Sonoma Coast towns have their own campgrounds and I haven't been able to check them all out myself, but these are the highlights:
Bodega Dunes Campground: Large, close to town, direct access to dunes, sheltered from the wind, RVs allowed and dogs are allowed.
Wright's Beach Campground: Camp right on the beach!
Gerstle Campground: Sits on a coastal bluff with epic views. It's small, with only 30 sites.
There are a lot of Sonoma Coast rentals via places like VRBO, and a handful of really cool Sonoma Coast hotels like Timber Cove Sonoma. Otherwise, camping is honestly the best way to go to center yourself in the middle of all the trails and beaches.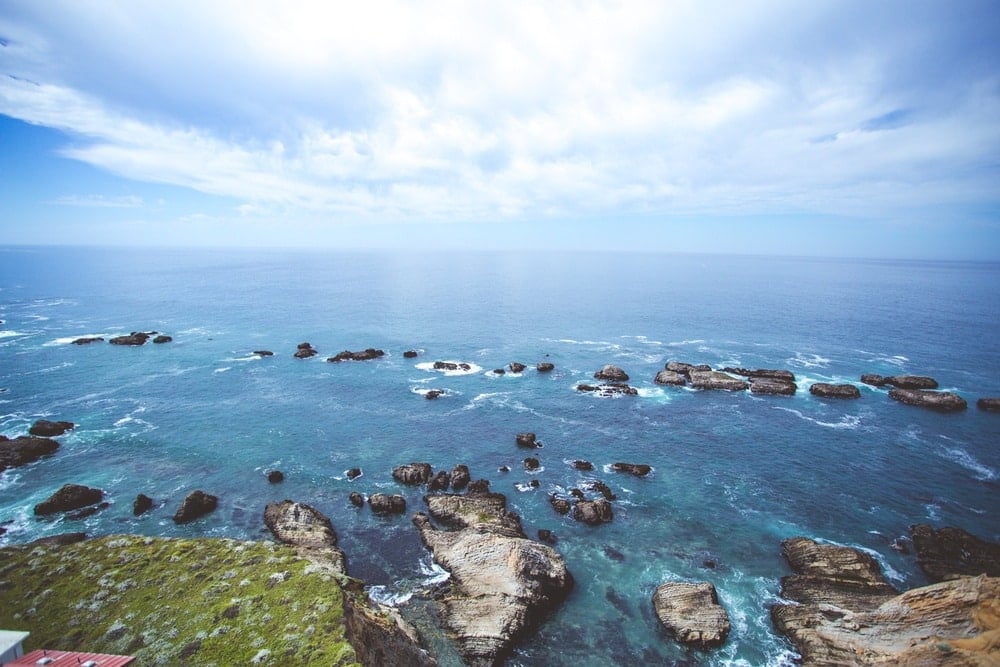 I hope this helps you find the best places to stop on the way to Sonoma, Santa Rosa or down Hwy 1 to the rest of California. Up next you'll be passing through Valley Ford and hitting Point Reyes National Seashore – make sure you swing by Tomales Bay and Marshall to shuck your own oysters. It's a real treat and one of my personal favorite hidden gems in North America to put on your travel bucket list.
If you have a favorite gem that didn't make the list, please comment so everyone can see! I'm always finding new fun things to do on the Sonoma Coast so I would love to explore your favorite spot if you are willing to share. Got questions? Drop a comment or DM me on Instagram @thewhimsysoul and I'll try and help!
Happy Adventures.