Seeing the world with someone by your side is a magic we should all hold tight. You get to simultaneously explore the world, yourself, your relationship, and the person you love.
While any vacation can be romantic, we've compiled a list of some of the most romantic getaways in the USA so you can easily find some of that magic any chance you get.
So often when we think about romantic trips we jump right to other countries. Don't look past the US though, there are so many U.S. romantic getaways that can be so much more accessible, both in terms of time and budget.
Traveling with someone expands your experiences into whole new dimensions. Plus who doesn't love having a built in photographer when you're visiting all of these gorgeous, bucket list spots!
50 Most Romantic Getaways In The USA
Traveling is guaranteed to give you lots of quality time together as you navigate transportation and new places. It's one of the fastest ways to truly get to know someone and to share yourself with them. Ah, pure magic indeed.
Here's a ton of options to get your planning process started. Whether you're looking for anniversary trip ideas or popular romantic getaways just because…. this list's got it! Organized by region, you can see what's nearby and what's in some other places of the US you want to explore. Happy travels!
West Coast
1. Leavenworth, Washington
The Pacific Northwest is FILLED with unique, bucket list worthy romantic trips. Washington is well known for Seattle and the Olympics, but you should definitely add Leavenworth to this list, especially if you are a holiday person.
Leavenworth is a beautiful Bavarian town serving adorable small town German vacation vibes.
It is a perfect Christmas time getaway, fully equipped with snowy mountain vibes, reindeer farms, and so many adorable streets filled with adorable restaurants and cute shops to explore.
You can even take a sleigh ride. While Christmas or their fall Octoberfest are the most popular times to visit this area, it's an amazing spot year round, especially for outdoor lovers.
There's good rock climbing, water sports and rafting, and the hiking in Washington really is unbeatable.
If you're looking for another small town in Washington look no further than Port Angeles!
2. Seattle/Bainbridge
Seattle is a popular tourist spot with so much to do and plenty of romantic options too. The food in Seattle is phenomenal and definitely worth planning a romantic dinner for.
Make sure you catch a ferry to Bainbridge Island though. The views of the city of Seattle opposing the views of the Olympic mountains is a breathtaking site.
There's a reason Meredith and Derek in Grey's Anatomy were obsessed with the ferry boats!
The ride is worth taking just for the views, and is pretty affordable just for that too, but if you are into quaint towns, take the walk into the town of Bainbridge.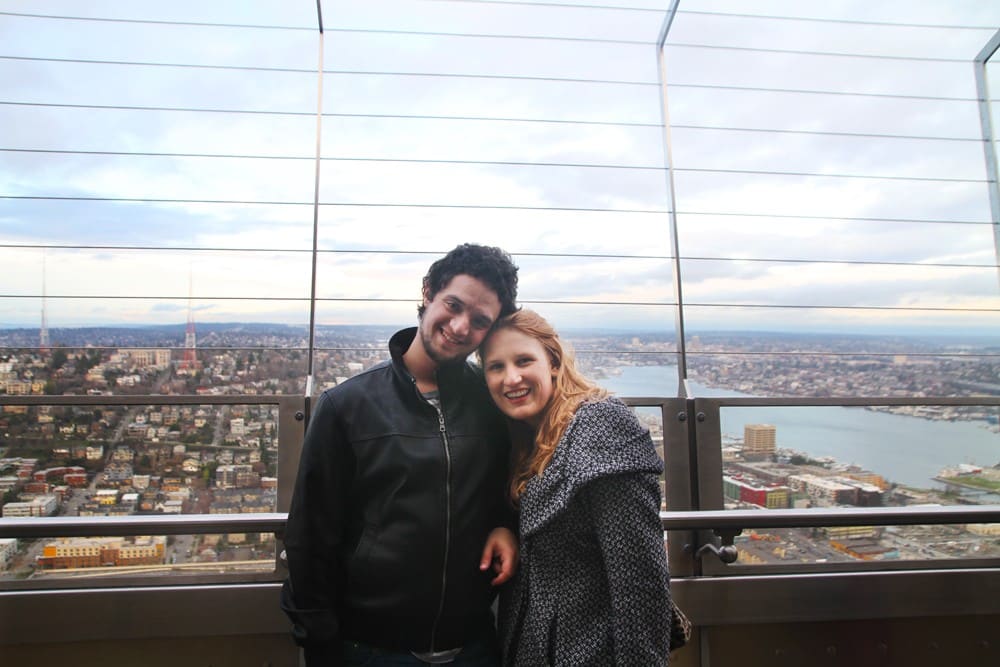 You can explore their free art museum, grab a beer or glass of wine, do some shopping, and even get some chocolate from the adorable shops.
This area serves up romantic vibes year round and is extra special around the holidays with all the lights. If you head over to the island and explore it during the day then you can catch the ferry back at sunset, watching the colors over the water and then being treated to the magnificence of the Seattle night lights as you get back.
If you're looking for somewhere to stay, check out the Moxy Seattle or more of our favorite hotels in the city!
3. The Oregon Coast
The Oregon Coast is such a unique stretch of land. The beaches here are unlike most other ones you'll go to since the forest essentially goes right up to the beach and sometimes even into the ocean. The season for laying out and sunbathing isn't super long here, but there is ample adventure year round.
A road trip up the coast is a great option to explore so many of these beaches, hikes, and small towns. If you time it right you can even catch the migrating whales at Cape Meares.
If you are an adventurous couple you also should definitely check out the hike at Cape Lookout that is essentially a hike on a cliff above the ocean. Super romantic, super gorgeous.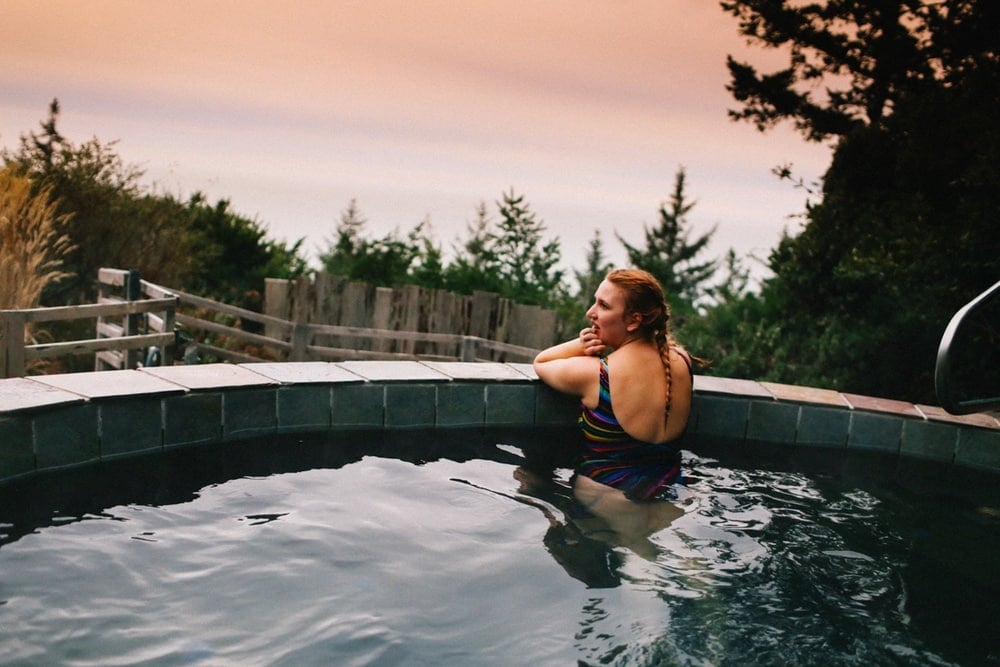 Cannon beach is a great place to stay and explore too! There's also hot springs sprinkled throughout Oregon to relax at.
If you are looking for a place to stay, check out the Chehalem Ridge Bed & Breakfast. It's a bit off the coast but is between Portland and the coast and so is a perfect home base to explore both. We love adore the Wild Springs Habitat hotel.
For even more things to do, check our 42 Secret Oregon Bucket List Things To Do That You May Have Missed!
4. Sou'wester Lodge in Seaview Washington
Sou'wester Lodge is an adorable constellation of vintage and historic trailers equipped for a perfect romantic weekend getaway.
On site they have a thrift store in a trailer, a spa and sauna, a wellness trailer, live music every Saturday, workshops and more.
This adorable spot is located 15 miles from Astoria Oregon. This area is one of the most peaceful, tranquil areas with absolutely an amazing environment as the Columbia river meets the ocean. There is so much outdoor adventure to be had here and this lodge gives you a perfect home base to do just that.
5. Sonoma Coast Road Trip
If you are confident enough in your romance to brave a road trip, I have THE trip for you. Sonoma Coast is such a charming, surprisingly huge, area jam packed with potential romantic stops.
From summiting lighthouses to hiking state parks to relaxing on some gorgeously unique beaches, this coast lends itself perfectly to a romantic itinerary.
One of the best parts of coastal road trips on the West Coast is the built in romance of nightly sunsets over the sea. This coast even has some amazing eats, from saltwater taffy stands to cute cafes and even mushroom foraging (if that's something you're good at!)
I have thoroughly explored this area and compiled a complete guide, from activities and must see sites to camping/hotel advice. There's even a map on there so you can pick out your favorite stops and then plan the route easily there.
6. Mendocino, California
Mendocino and Fort Bragg are both amazing romantic weekend getaways. They are somewhat of a hidden gem and so have a great, relaxing vibe. There is so much to explore here, including incredible redwood forests, beaches, and more.
You can go sea kayaking or ride a train with your love. This spot is perfect for a romantic weekend that's both relaxing and adventurous.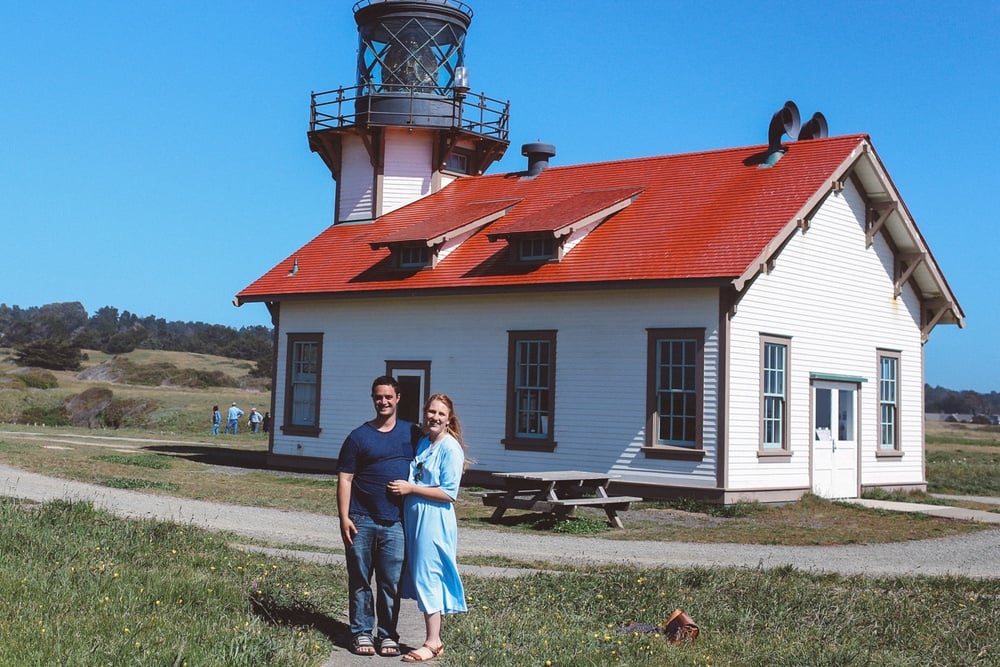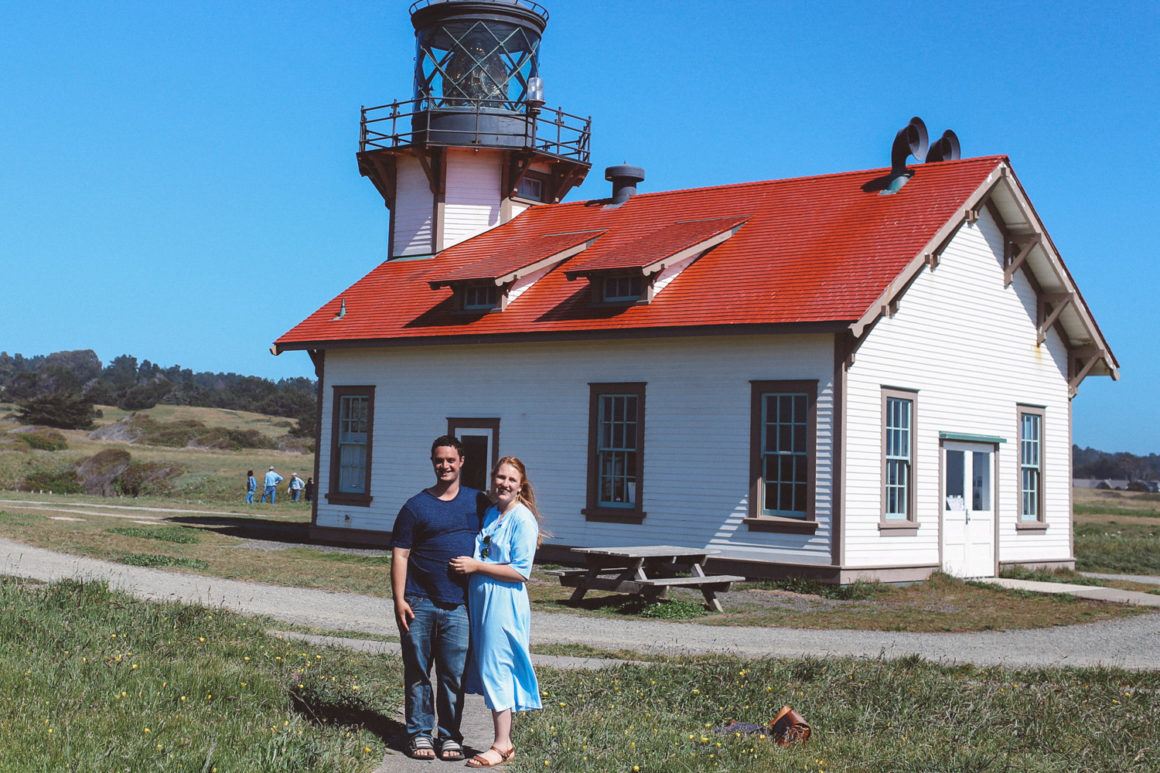 I absolutely LOVE the Inn at Newport Ranch and am convinced it is one of the most romantic hotels in the us. It's a luxury bed and breakfast with so much coastal access.
I adore Mendocino and all it has to offer. Also make sure to try the mushroom ice cream. This area is definitely high on my list for romantic vacations in the United states.
7. Napa Valley
When we think about romantic getaways for couples, wine country definitely comes to mind. Napa Valley is THE location for wine vacation.
There's over 375 wineries in the region so there's a ton of options to choose from. I toured and compiled tips from a bunch of different wineries in the region you can read here.
After doing ultra romantic wine tastings and touring the astounding grounds of the vineyards, head over to the small towns of Calistoga or St Helena. These towns, this vacation, is guaranteed to be romantic year round.
Oxbow Market in Downtown Napa also has great romantic vibes and is worth checking out.
8. Point Reyes
After checking out the Golden Gate Bridge in San Francisco, head north for an hour on coastal highway 1, a drive alone that is mega romantic, to the awe worthy Port Reyes.
Point Reyes has so much to offer, from oysters, to lighthouses and shipwrecks, to cyprus trees, hikes, and fog. There are so many great photo spots and awe worthy vistas so share with your person.
This could be a perfect day trip, or you could make it a weekend getaway and stay in the cute town of Point Reyes Station. Here are all my tips for a day trip to Point Reyes!
9. Greenhorn Ranch
For some, a dude ranch might not instantly seem like a romantic spot, but the Greenhorn Ranch will definitely have you reconsidering that idea.
Nestled in the Sierra Nevada mountains, this ranch is a perfect home base for some outdoor adventure. If you visit in fall you'll be amazed by the fall foliage.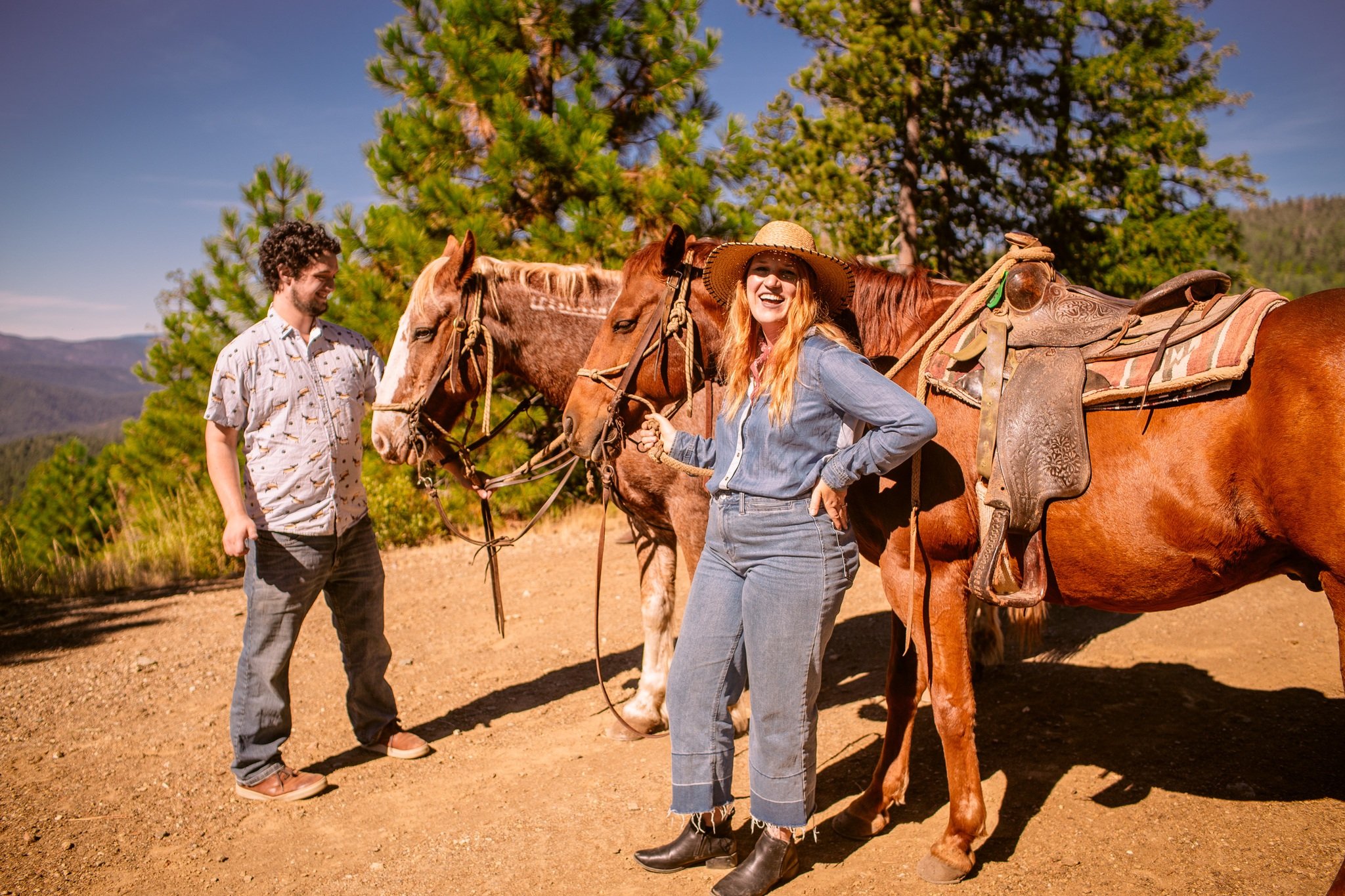 Taking a trail ride with your partner can be so adventurous and exciting. On site, there's a pool to relax at and even an arcade/game room for the more competitive couples.
Plus, you can spend your evening cuddled up around a crackling fire.
Sometimes you just need to escape with your person and a quiet but exciting dude ranch is a perfect place to do just that. To read more about my time here check out this blog post.
10. Madonna Inn
California is known for spots for some of the most romantic vacations in the United States. San Luis Obispo often is highlighted in this list, for good reason.
This city offers amazing weather, coasts, dining, adventure options and even the aquarium that was featured in Finding Dory (aquariums make for surprisingly romantic date spots).
I highly recommend the love nest room at the Madonna Inn for an ultra romantic stay in this town. In the room there is a staircase that leads to a private viewing tower that is gorgeous both in the day and at night.
For more iconic hotels, check out our hotel bucket list! While you're in the area you can also journey a little south to Santa Barbara which is also a total romantic bucket list stop.
11. San Diego, California
San Diego is built to be a romantic getaway. With a perfect combination of gorgeous weather, beautiful beaches, fun activities, and amazing dining options, it's just waiting for romance.
Even though there's so much to do in San Diego, if you are looking for more options or for cute towns to explore, there are so many nearby, including La Jolla and Coronado Island.
Watching sunsets on the beach is a favorite romantic activity here and you might even catch the green flash so make sure to do that.
You can find all of our recommendations for beaches to check out, travel tips, hotels, itineraries, cafes, restaurants and more here.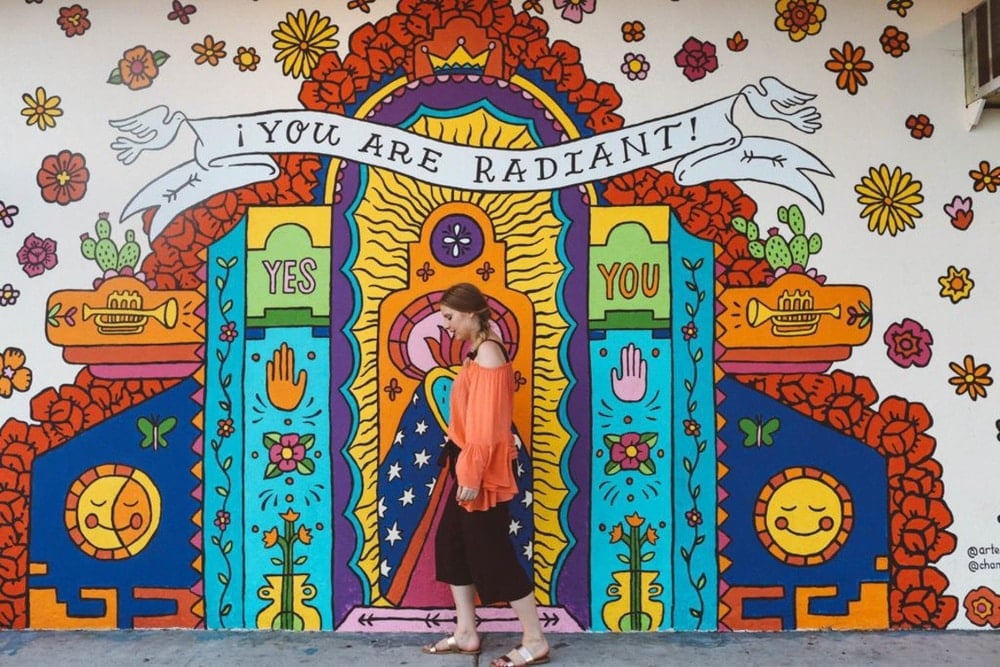 12. Maui, Hawaii
Hawaii is definitely a bucket list trip for so many of us, and it can be even better as a romantic getaway! There's nothing else like a tropical beach vacation with lots of cute drinks, fun activities, warm nights and more.
Maui is the perfect romantic getaway for couples. You can admire the astounding beauty of Hawaii and your loved one at the same time.
Plus Hawaii is a great place for adventure, from kayaking to hiking even to helicopter tours. They say you bond extra when you're both on adrenaline highs right?
Hawaii is a place that feels like it's built for love so it's definitely a romantic paradise.
Four Seasons Resort Maui at Wailea is a popular (and beautiful!) place to stay, and I spent a ton of time compiling this complete guide to give you all the best recommendations and spots to for your romantic getaway!
13. Alaska Cruise
If you are looking for some major bucket list vibe romantic adventures, an Alaska cruise could be perfect for you! Cruises are already romantic and then you add in the fact that you'll be seeing insanely unique landscapes and wildlife and this trip suddenly becomes romance central.
There are a ton of different cruises and different adventures you can take on the cruise. The Royal Caribbean tour has different excursions to various remote Alaskan towns, glacier and whale watching tours, and so much more.
Some cruise companies, like Alaskan Cruise, even have honeymoon and anniversary vacation packages you can add to your trip. Cruises depart from a ton of different places, including Seattle so you can combine multiple romantic spots into one trip!
14. Salmon Falls Resort
If you are looking for a more land-based Alaska adventure, the Salmon Falls Resort might be perfect for you! Located in the Tongass National Forest on Revillagigedo Island, this resort is remote, romantic, and surrounded by spectacular natural sights.
It's also renowned for its world-class salmon fishing, so whether you love fishing or eating salmon, it's a perfect place for that.
They have round trip airport pickup included and offer a ton of different adventures to embark on during your time here. I can imagine how insanely romantic a floatplane ride over the unique nature of Alaska would be. Then you can cap off your day with a salmon roe and wine tasting or relaxing at the outdoor fire pit or even playing giant Jenga!
Mountain West
1. Glacier National Park
Located in Montana and so is one of the best options for secluded romantic getaways in USA. Glacier is home to amazing alpine lakes, breathtaking scenery, and wildlife. It is also packed full of hikes.
Most romantic of all is the insane stargazing opportunity. If you haven't seen the stars in the wilderness of the mountain west you are absolutely missing out on a life changing site, once that is even more special cuddles up next to someone you love.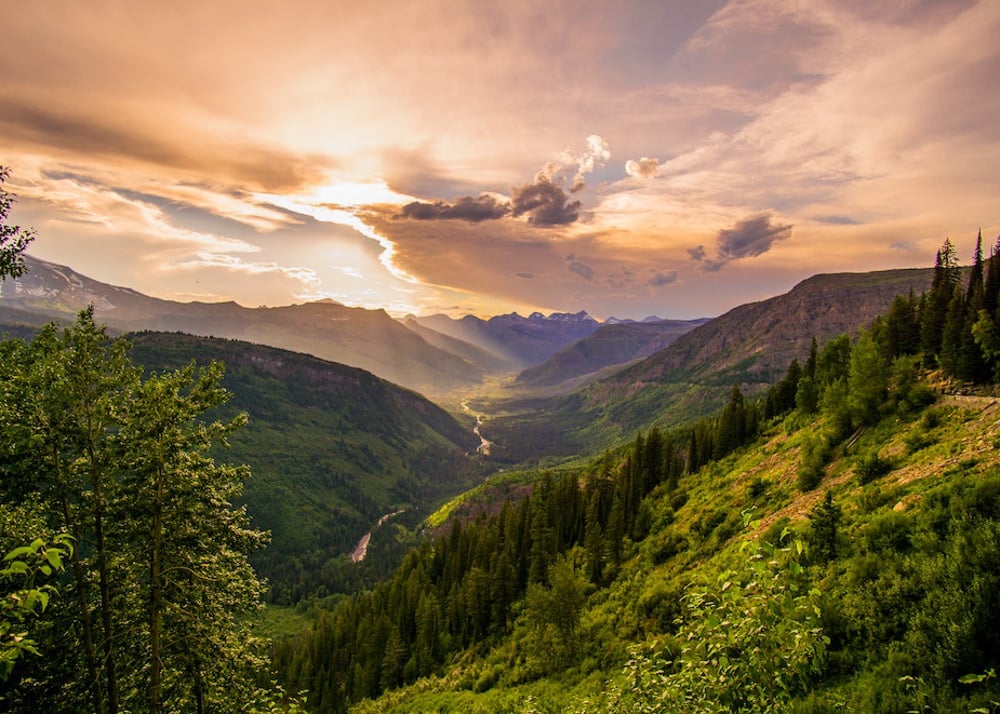 Montana is also a great spot to disconnect and spend quiet, quality time, resting, resetting, maybe even taking time to read. Glacier has a ton of romantic, cozy lodging options.
2. K Bar Z Ranch, Wyoming
The Beartooths are some of the most underrated mountains in the country. Just east of Yellowstone, they are magical mountains and the drive to the top of the world should be on more people's bucket lists.
Nestled in the Beartooths, is the K Bar Z, a dude ranch with many cabins, a lake, and food on site. It is a great home base for exploring hikes in the area, getting on the water in the shadow of the Cathedral Cliffs, and even to get married at.
The mountains are a great place for a private, quiet, nature connected getaway. Wyoming, being the state with the least people, is a great place to go, disconnect, and get some quality time in.
3. Yellowstone National Park
Yellowstone is the perfect romantic spot for adventurous couples and couples looking to see some of the country's popular tourist attractions in the West.
Yellowstone is surrounded by states with gorgeous views and amazing sunsets so no matter which entrance you decide on experiencing the park from, your vacation is definitely going to be special.
I highly recommend checking out Jackson Hole for romantic small town vibes with amazing shops, including Persephone's which is definitely one of the best bakeries in all of Wyoming.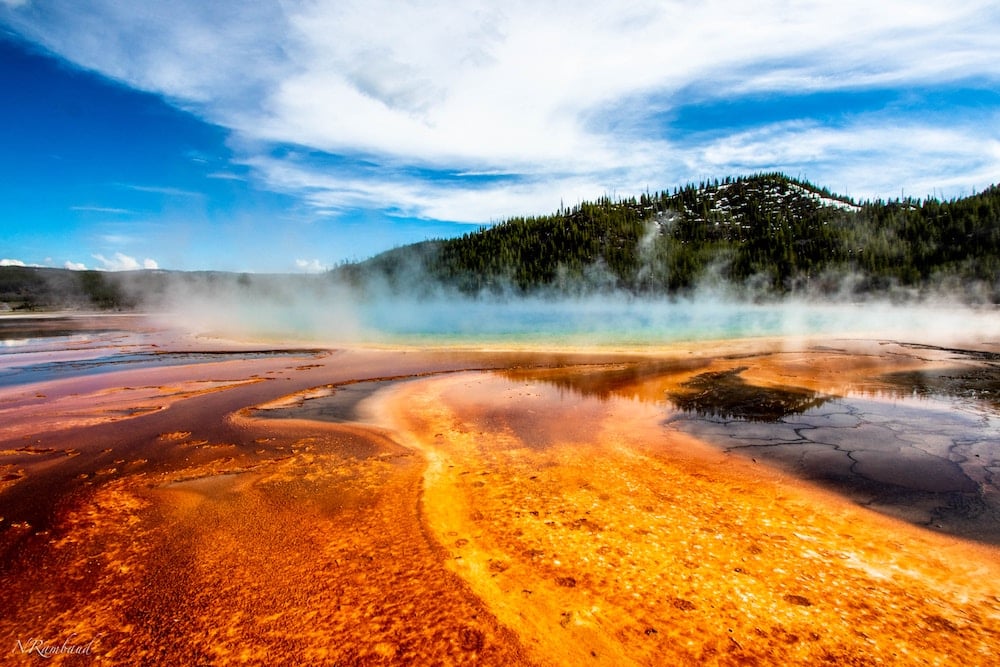 The park itself has so much to offer from romantic places to stay, to gorgeous hikes and even geothermal features. Driving through the park you'll likely see a ton of wildlife too and might even get caught in a buffalo induced traffic jam.
Since there's a lot of geothermal activity in the area, there's also tons of healing hot springs and even a spot near Gardiner Montana where the hot spring is in the river so you can pick your perfect temperature.
4. Park City Fall Foliage
Crunchy leaves, crisp air and mountain sides covered in stunning fall colors is a great recipe for some autumn romance. The east coast and even pacific northwest are well known for these vibes but don't sleep on the mountain west.
Some states in this region have quick, but gorgeous, falls, like Wyoming.
Others, specifically Utah, have absolutely glorious falls! Check out my Utah road trip guide for some of the best spots to enjoy the beautiful Park City fall foliage with your person.
Park city is just a 45 minute drive from Salt Lake City so it's a super accessible trip since you can fly into Salt Lake and then rent a car from there.
You can check out Salt Lake or stay there or head over to the Park City area for some adorable, chill vibes that make this the perfect romantic trip. Plus these hot springs in a cave that you can't miss! Utah really is underrated.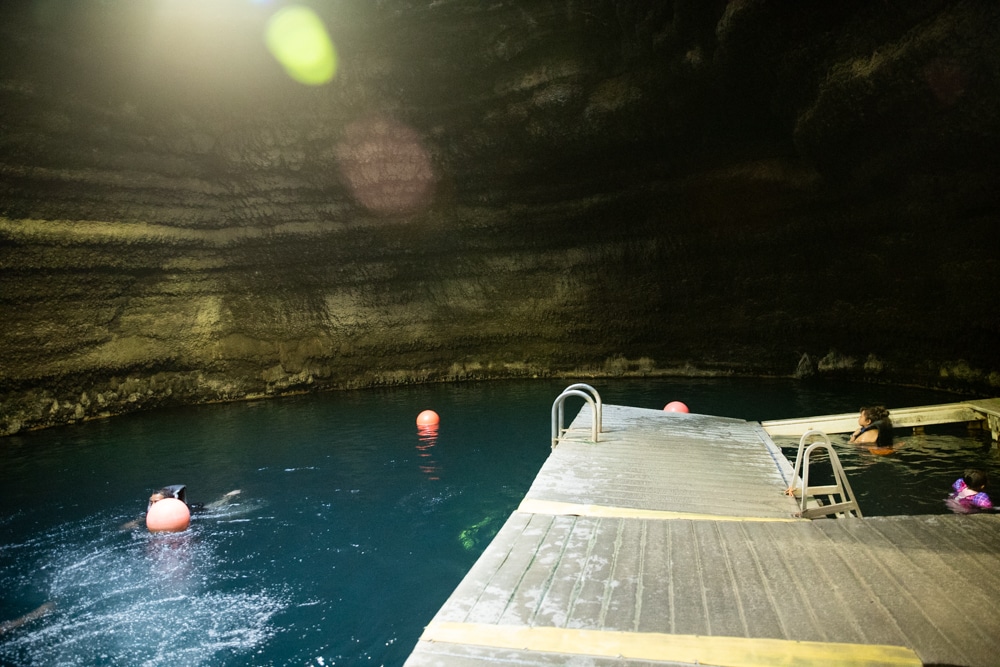 5. Yonder Escalante
Glamping (glamorous camping) is actually such an underrated form of traveling. If you love nature but aren't so in love with the bugs, dirt and iffy bathrooms that go with camping, glamming is meant for you.
Yonder Escalante in Utah takes glamping to a whole new level, a level quite worthy of travel romance. They have different lodging options, from cabins, to rvs, to vintage airstreams! All of them look so perfect to spend a weekend cuddled up with your partner.
Located in the stunning desert of Southern Utah makes for insane nights stargazing by their fire pits. They even have an onsite store, food truck and even nightly drive in movies.
As if that weren't romantic enough, you can even relax after days adventuring the surrounding environment in the pool and hot tub.
6. Amangiri
Amangiri is a luxury hotel in the Utah desert serving up stunning views and quiet vibes. Here, there are tons of opportunities to relax at the pool or explore the natural environment through hikes or even hot air balloon rides.
It has amazing views of the Grand Staircase-Escalante National Monument too. This hotel really is the perfect backdrop for an ideal romantic getaway.
The entire vibe of this hotel is seamless and relaxed as the architecture and color palette are designed to mimic the surrounding desert.
You can read more about this hotel and other hotels that should definitely go on your bucket list here.
7. Vail, Colorado
Vail is definitely high on the list of romantic places to travel in the US. It's a high elevation ski town full of amazing food and adorable shops. It's a great place to visit year round and is fun even if you aren't there to hit the ski slopes.
There is a ton of romance to be had in this spot, including eating in refurbished gondolas and riding in an actual gondola. Plus there's TONS of outdoor adventures to explore. While you're in the area you could also take a road trip through Colorado hot springs hopping.
Midwest
1. Door County, Wisconsin
The Midwest isn't usually our first thought when it comes to romantic areas in the US, but I think we should definitely reconsider that, starting with Madison Wisconsin.
There are so many things to do here, from farmers markets, to amazing museums, to eating as much cheese as is humanly possible.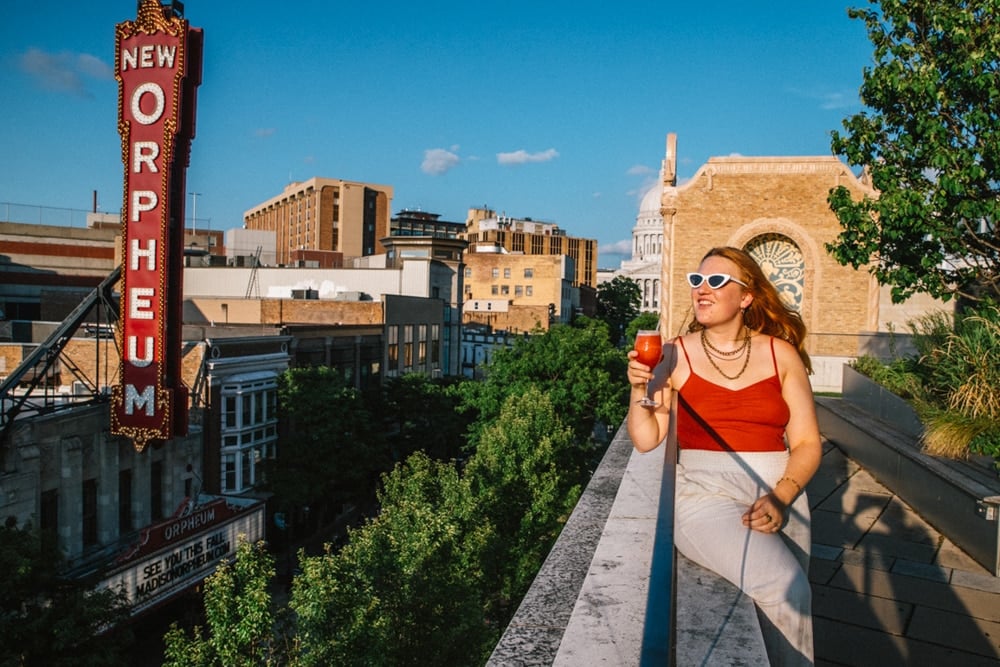 Since Madison is between two lakes it is also the perfect spot for picturesque romantic strolls, and some of the best eats and drinks!
Summer and fall are amazing seasons to visit (winter can be a little rough if you aren't used to it). There is an abundance of cherries, cute cabins, breathtaking hikes, and more.
Check out these best photo spots for your Instagram spouse to make some memories!
2. Prairie Creek Inn
This bed and breakfast is a hidden gem and is the perfect weekend getaway if you are in Nebraska and looking for a different vibe. It's also a perfect stop if you are driving cross country through Lincoln. Composed of many redone historical buildings and an extra romantic lakeside cabin, this property has both charm and comfort.
While staying here you have access to their 100 acres of land, including the lake and even hiking trails. Or you can relax on the porch swing or by the lake. It is a perfect place to slow down and spend some time with your person. Plus the breakfast is delicious.
Make sure to check out some amazing Nebraska sunsets while you visit and maybe even venture into Lincoln for a romantic dinner. The Oven has some amazing Indian food.
3. Shawnee Hills Wine Trail, Illinois
A wine trail instantly sounds romantic, and it gets so much better the more you read about it. In southern Illinois, there are 11 wineries, hikes in a national forest, and zip lining, all within 40 miles.
The wine trail is a great way to explore the state and various wine making techniques that each winery has to offer. You can even stay on site in romantic cabins at some wineries and explore their hikes and stellar views from there.
4. Eureka Springs, Arkansas
Nestled in the Ozark Mountains, Eureka Springs is a picturesque town known for its Victorian architecture, tree-lined streets, and art galleries.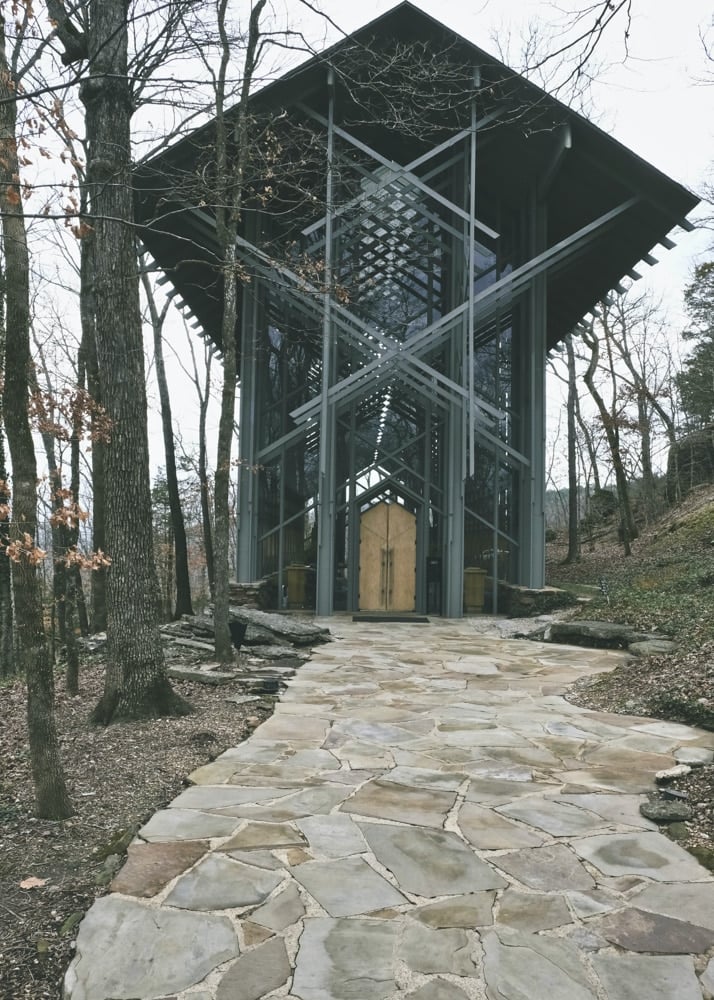 Explore the historic downtown area, take a romantic horse-drawn carriage ride, and visit the Thorncrown Chapel, a stunning glass chapel tucked away in the woods. You can also take a trolley through the town and see it that way! It is a great midwest spot, geared up for romantic experiences.
Southwest
1. Scottsdale, AZ
Arizona is a majorly popular travel destination, for good reason! The warmth is guaranteed to fill any vacation with joy and even open the door for an extra romantic getaway. Scottsdale is definitely on the top of my list for romantic cities in Arizona.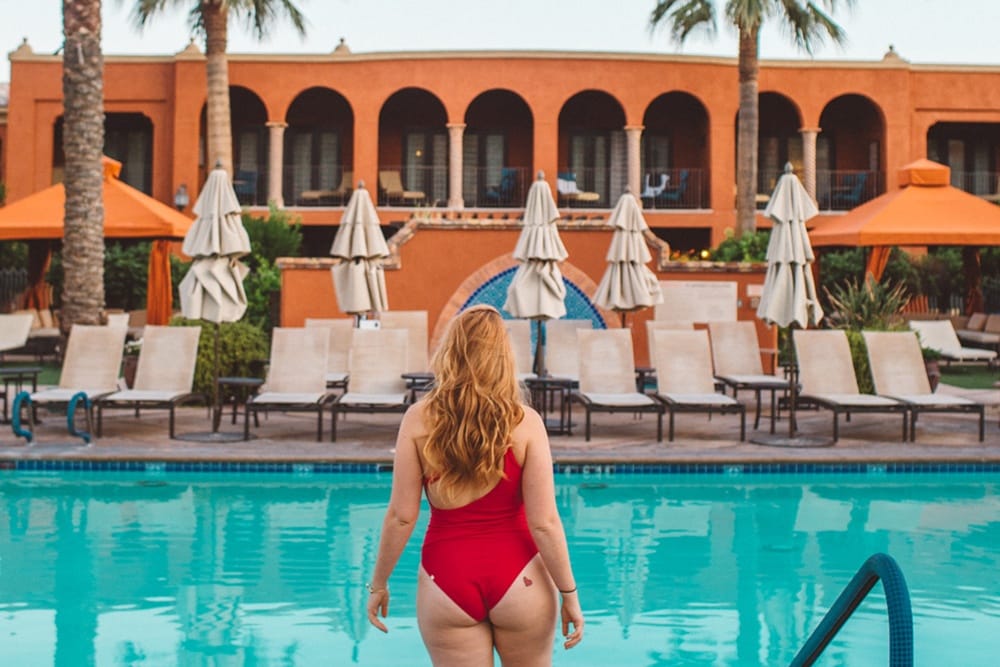 While you're there you can spend the day at the door and evening around fire pits snuggled up with your person. There is also no shortage of cute dinner spots and places to grab drinks.
Your vacation here can be whatever pace you want since there's so many opportunities for both relaxation and adventure.
2. Sedona, AZ
Sedona is a gorgeous spot filled with breathtaking outdoor adventures, adorable spots to eat, and even spiritual vortexes.
It is an incredibly unique spot and is absolutely worth a bucket list spot. Experiencing its majesty with a partner can make it even more special.
Go on a vortex hike with your person or enjoy the amazing accommodations and night stars. Since it's a major spiritual destination, it is totally worth checking out the town itself and all the little shops, especially if you're on the hunt for crystal or other witchy things.
It's a super popular spot and it's a small town so definitely be aware of when you're visiting so you don't have to fight crowds and traffic in town and search for trailhead parking longer than you're actually on the trail.
3. Kartchner Caverns and Tucson Az
If you are looking for a unique adventure, check out Kartchner Caverns outside of Tucson Arizona! Touring this massive cave is such a fun experience to share with a partner.
The caves are certainly mystical and you get a guided tour so you can learn some science and history.
Make sure you make a reservation as it's a popular destination. Once you've gotten nice and cool in the cave, you'll be ready to tour Tucson! Check out Time Market for some amazing pizza, pastries and wine.
And if you happen to be there on a Sunday check out the Farmers Market at Rillito Park. Tucson is also a rising culinary spot so check out some restaurants too, like Reforma and Noodies.
4. Fredericksburg, Texas
Austin is such an amazing town to visit but sometimes romance calls for more chill vibes.
If this is definitely your region but you are someone called to chill on your romantic escape, check out Fredericksburg Texas. It's a wine town as it is surrounded by wineries and filled with amazing spots to eat.
5. Big Bend National Park
This national park is located in southwest Texas and has a lot to offer in terms of private romantic getaways. The park is full of gorgeous vistas that make for insane sunsets and then peaceful nighttime stargazing.
You could also go on hikes together in the park or even a float trip down the Rio Grande. The park is also home to hot springs, which always makes for a romantic, relaxing time, and one of many Texas swimming holes we recommend.
Since this area is pretty remote, it is a great option for an escape from the city and a chance to be alone with your partner.
6. Hope Valley Wylder Hotel
Hope Valley Wylder Hotel is one of the most romantic resorts in the us. It is located in the Sierra Nevadas and is just 20 minutes away from Lake Tahoe. There are a ton of accessible outdoor activities including fishing and a summer wildflower hike!
They have a cafe with live music and a sauna and campfires. You can even catch some amazing stars from the porch on your cabin.
The hotel is great year round but best to visit in the fall to marvel at all the glorious aspen trees as they turn bright orange. You can also visit in the winter and catch some good skiing days.
7. Ten Thousand Waves in Santa Fe
This spa is a Japanese inspired dream located in the outskirts of adorable Santa Fe. They have a ton of different spa treatments guaranteed to give you a day of romance, or more if you stay in their attached lodging called Houses of the Moon.
The entire property is relaxing and rejuvenating with intentional landscape and an authentic Japanese ambiance. They offer a variety of couple treatments and even private hot tubs so you can fully relax with your love. To make it even easier, they offer couples vacation packages that include spa treatments, dining, and lodging.
Downtown Santa Fe is only 10 minutes away and is also totally worth exploring. The whole town has a ton of romantic potential.
South
1. Hiwassee River Retreat in Calhoun, Tennessee
The river retreat offers a few cabins designed specifically for couples. The couple that made this space is so dedicated to it being a romantic couple that they traveled across the country visiting other romantic retreats to make sure this one offers everything you could want.
Children are not allowed to stay in the cabins, so if you are looking for protected time, this is a great option. Your stay here comes with a unique welcome gift and you can add meal packages including chocolate covered strawberries and charcuterie boards.
They have a treetop tub and there's a private outdoor space with a fire pit and hot tub. The grounds have a lot of fun games like horseshoe and cornhole and there's a lake with kayaks and paddle boards.
This spot is a perfect place to relax and enjoy the nature of Tennessee and your partner.
2. Blue Ridge Mountains
The Blue Ridge Mountains are a surprisingly amazing location for a romantic trip. There are low-budget vacation ideas for couples here and more luxury offerings, like insane spas! There is so much to explore in this mountain range and it's so gorgeous that things as simple as picnics can be so romantic.
If you are looking to extend your romantic getaway to a whole weekend, consider camping at the Crabtree falls recreation area. While you are in the mountains, definitely catch a sunset and a solid stargazing session together.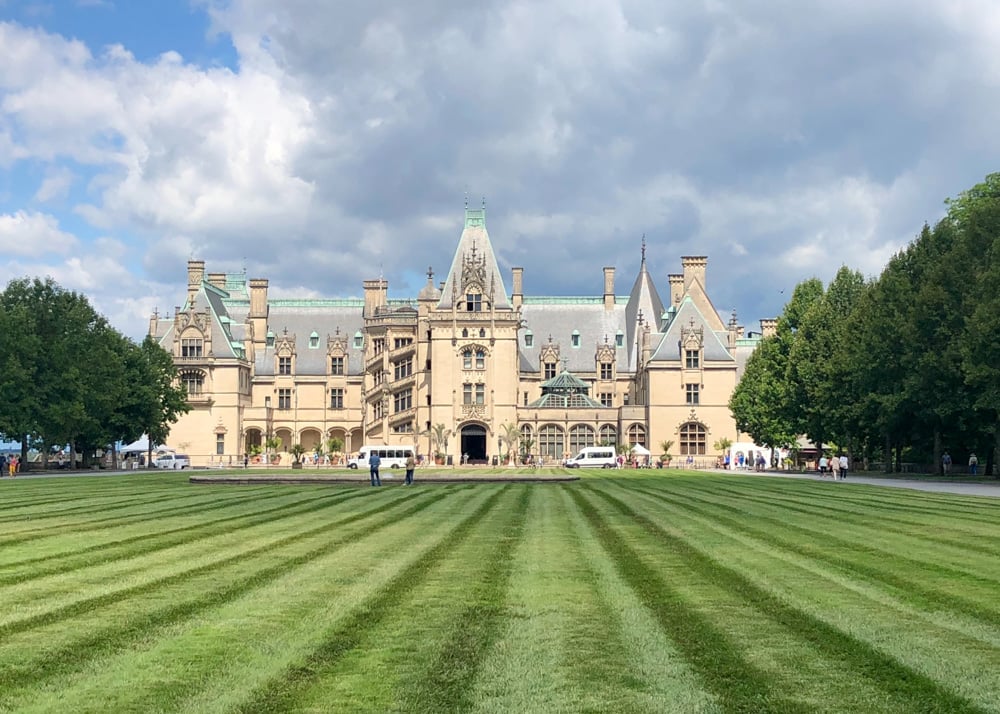 Then, head over to Asheville, North Carolina and explore all the romance that town has to offer, from its amazing food scene to historic architecture featured in buildings like the Biltmore.
One unique and romantic place to stay in Asheville is the Mirror Hotel. This hotel features cabins with mirrors outside that literally blend them into the scenery, making it an amazing combination of luxury and nature.
They have amazing outdoor spaces and cozy patios to enjoy the beauty of nature in. They are currently still under construction but are set to be ready by June 2023!
3. Savannah
Savannah is a city steeped in history, filled with friendly people, and covered in spanish moss. It is the perfect backdrop for strolling the cobblestone streets and marveling at architecture with your partner.
You can spend your whole vacation walking, exploring, and eating at cozy restaurants and cafes. Or, better yet, you can go on carriage rides, river cruises and even ghost tours. Ghost tours are like the ultimate version of going to a horror movie together so you have a reason to hold each other close, right?
While you're in Savannah, make sure you get a meal or drinks at the Olde Pink House, which is one of Savannah's best known dining spots and it's pink!!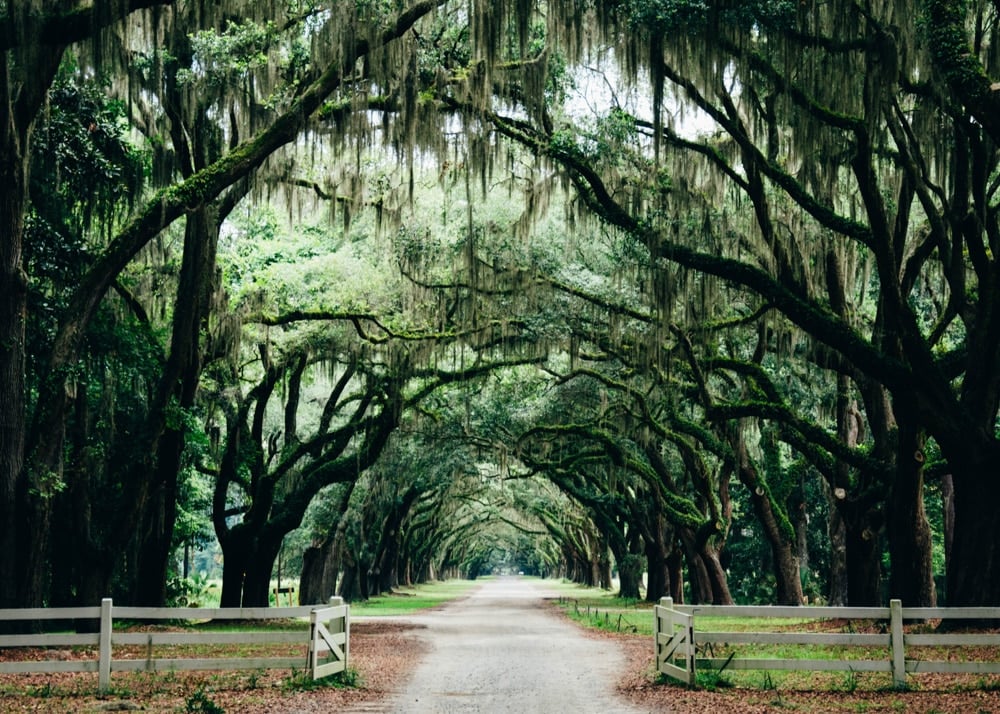 4. Blackberry Farm in Walland, Tennessee
There's something especially romantic about a good mountain range. Maybe it's the adventure or the awe, but either way, the great smoky mountains are a great destination for a romantic trip.
Blackberry Farm is an exceptional luxury hotel located at the foothills of the Smokys. The hotel has a spa, luxurious rooms, and a ton of activities to explore. You can participate in everything from hiking to fly fishing to cooking classes and wine tasting.
5. Winston-Salem, North Carolina
Winston-Salem is another great town to explore on a couple's vacation. You can walk through the city or explore via segway (those are ridiculously fun). Make sure to check out the gorgeous botanical gardens, such a romantic spot!
There are old homes, like the Reynolda House or Korner's Folly that are open for tours and are filled with art. Admiring art might just help you admire your partner even more. Cap off your day with an amazing creative meal at 600 degrees, and while we're talking food definitely grab donuts at Dough-Joe's.
One romantic hotel to stay at is the Kimpton Cardinal which has amazing city views and a basement game room for the competitive couples.
6. Charleston, South Carolina
When you think of romantic places, South Carolina isn't always the place that immediately jumps out. You might want to reconsider that though, Charleston is seriously cute and romantic.
This town is so picturesque with its pastel homes and cobblestone streets. You can go on horse drawn carriage rides and see the city that way or take a walking tour.
Since there is such great weather in this area, it's a great place to visit year round to enjoy the many outdoor dining options. Something about eating outside always just feels a little extra romantic. This is a great romantic vacation spot since you are also within walking distance to a bunch of amazing beaches.
7. New Orleans
New Orleans has so much to offer! The French Quarter is such a romantic area. With quaint vibes and walkable streets, it's a great area to explore with your partner.
While you're in the French Quarter you can soak up all the history by marveling at the buildings, visiting restaurants and bars, exploring art museums and looking through antique shops. If you are looking for a guided tour of the area you can find one here.
Another area with insane architecture to explore is the Garden District.
New Oreleans has a ton of live music and amazing dining options that are guaranteed to be romantic af. You can even take a steamboat ride on the river, which is extra romantic at sunset.
Here is my huge city guide to help you plan your trip to New Orleans. It includes tons of tips, especially for places to eat!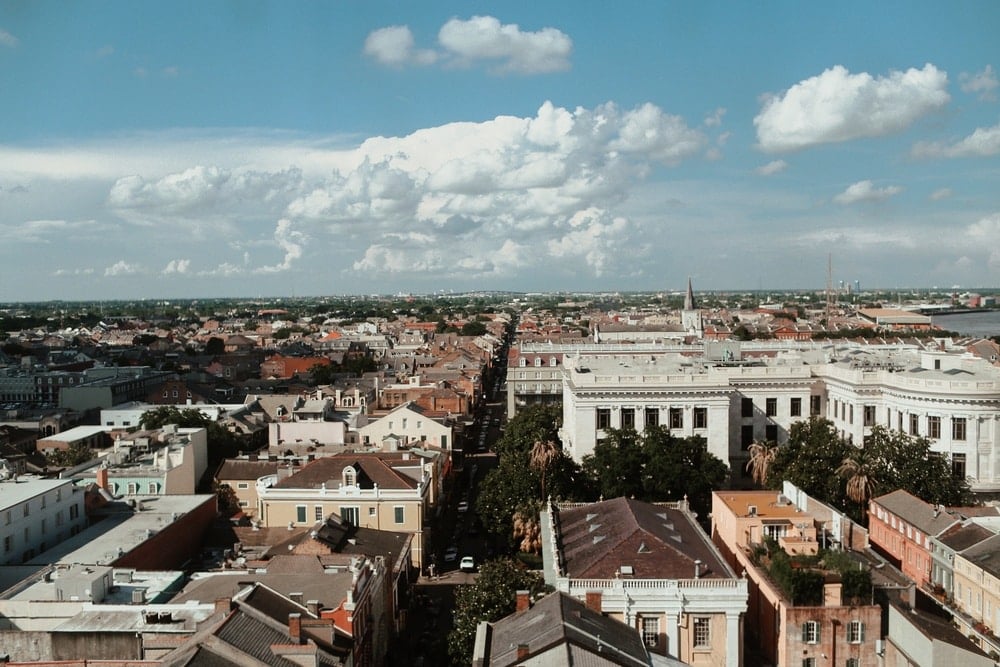 8. Amelia Island
Amelia Island is located off the tip of Florida and is filled with romantic things to do. You can spend your days here relaxing at the natural Appalachian quartz beaches or exploring the outdoor scene or dining at the lovely restaurants.
There are a ton of romantic lodging options, from the well known spots like the Ritz-Carlton to the Amelia Schoolhouse Inn or one of the BnBs the island has to offer, like the Blue Heron Inn.
This island is a super popular travel destination and is well equipped to give you the romantic trip of your dreams.
9. Key West
Key West is well known as one of the most romantic places in the us. When you visit here, you are essentially visiting the Caribbean while still being in the US and so can find things like snorkeling and warm beaches.
You can go kayaking, which is a great bonding opportunity, go on boat tours, and even go on dolphin encounters.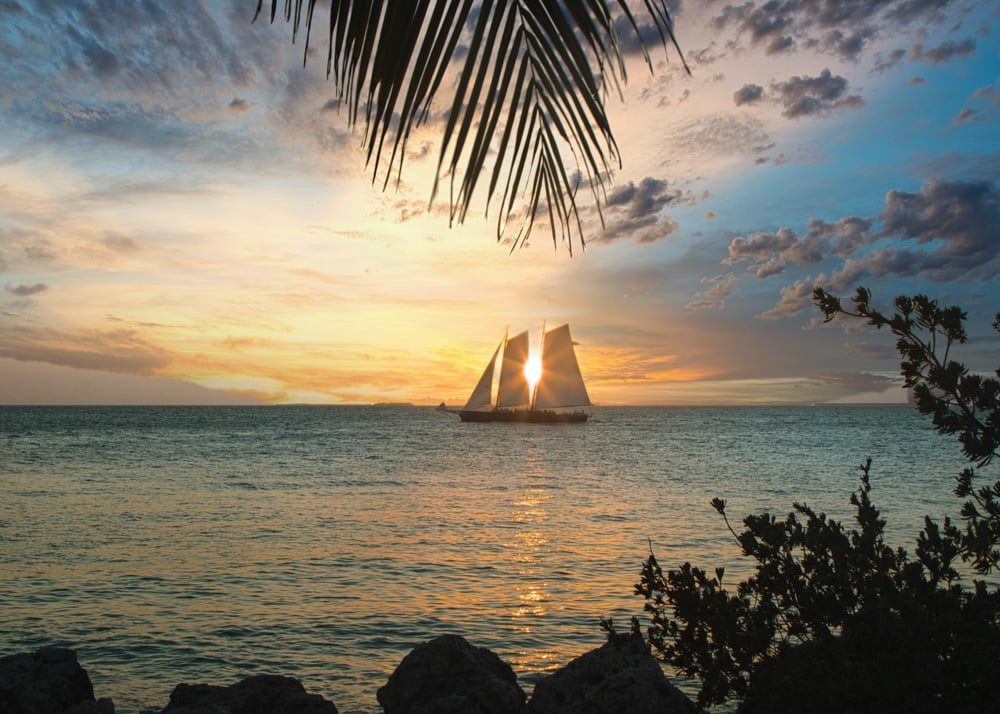 If you are more of a land fan, you can still find tons to do, from art galleries, to tours, theaters, and more. Exploring tropical spots with your partner always feels a bit more like a bucket list romantic trip. You can also stroll through the colorful old town and check out some super romantic dining spots before catching an amazing sunset on the beach.
For a romantic place to stay nearby check out Casa Morada, its 90 minutes north and is a boutique hotel on its own island.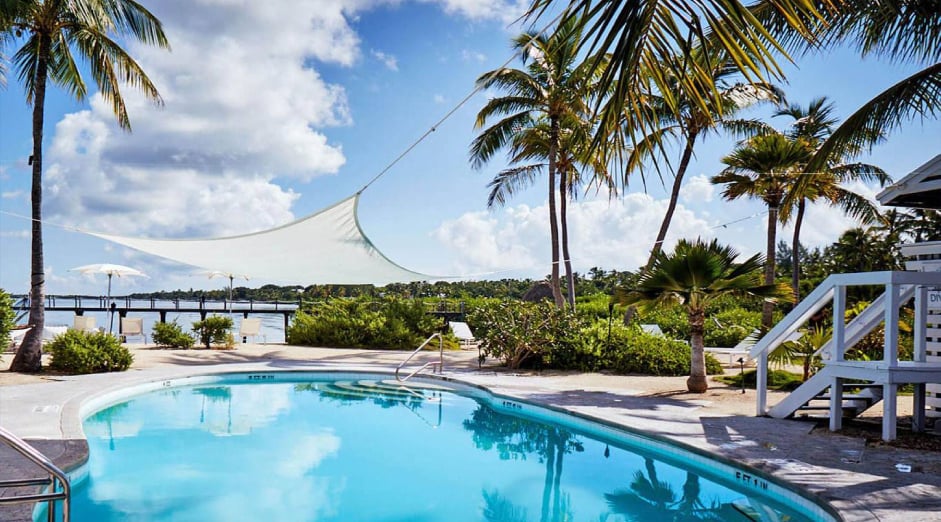 10. Lovers Key Resort
Located at Fort Myers Beach in Florida, this resort is so dedicated to being one of the romantic getaways on your list, it's literally in their name. The location is inherently romantic as it offers secluded beaches, mangroves to explore, and awe worthy wildlife sightings.
While staying here you can go on kayaking tours together through the mangroves and even spot manatees and dolphins. They even have an onsite restaurant so you don't have to venture out to have amazing romantic dining options.
After dinner you can marvel at the glorious colors of the sunset reflecting off the ocean together. This is a perfect resort for a relaxed couple's vacation.
East Coast
1. Camden, Maine
Camden is home to an idyllic harbor where you can watch sailboats and even take a boat tour on one if you want to get on the water. If you and your partner are film fans, you can plan to visit Camden during their annual international film festival in September.
If you are looking for other entertainment options you could check out the Camden Opera House that has live music, theater productions, and more The Hartstone Inn offers a deeply romantic atmosphere for any couple's vacation. The inn even has an award winning restaurant and sailboat tours in the summer!
2. Bar Harbor and Acadia National Park, Maine
Acadia National Park is full of amazing hikes, including some around Cadillac Mountain which is also an amazing sunset/sunrise spot. Jordan Pond is also a gorgeous natural scene with romantic potential.
After you've explored the National Park, head over to Bar Harbor, another amazing, romantic spot. Here you can find amazing seafood restaurants strung along the gorgeous coastline. The town is also full of cute wellness spots and spas you can relax together at. From Bar harbor you can also embark on a whale watching tour!
3. Newport, Rhode Island
Newport Rhode Island is a great East Coast getaway. It has a ton to offer, from its natural beauty, to its seaside charm.
If you are into outdoor adventure, there is a gorgeous 3.5 mile hike called the cliff walk where you have stunning views of the ocean and historic mansions. For the museum loving couple, check out the Newport Art Museum that has both contemporary and historic art.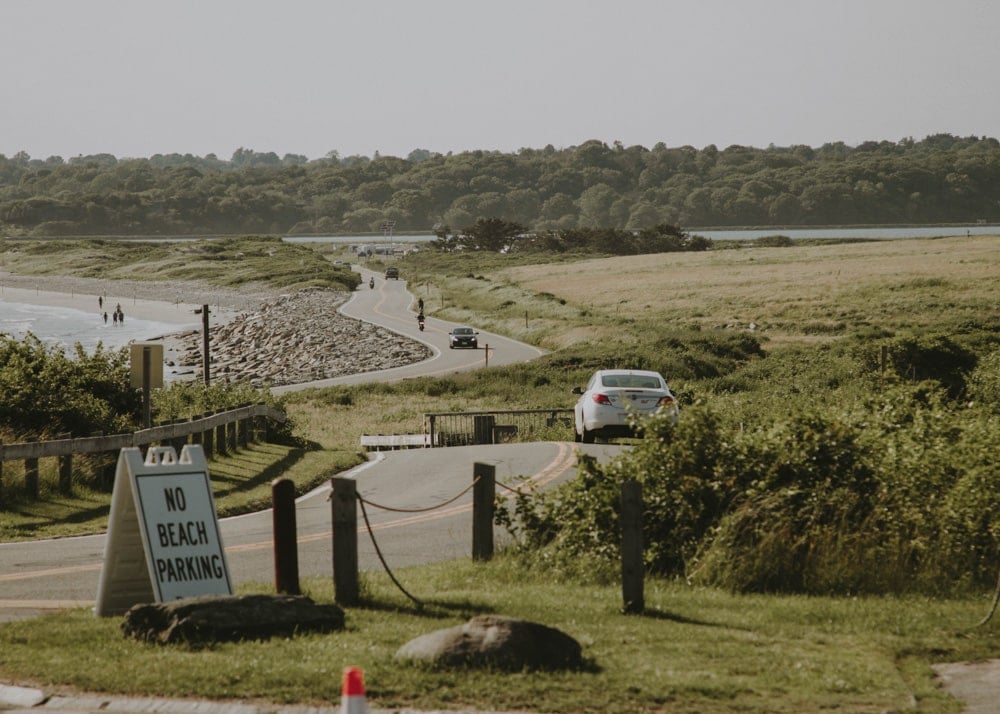 Explore Thames Street for shops, boutiques, art galleries, and restaurants. A lot of the restaurants are waterfront and have so many romantic vibes.
For yet another romantic activity, take a drive up Ocean Drive, that has stunning views and gives you the chance to talk or sing together. Pack a picnic and enjoy stop somewhere along the way to enjoy the views and ocean breeze.
4. Finger Lakes
This region in upstate New York is home to stunning natural beauty that is the perfect backdrop for all things romantic. As with most places on the East Coast, it absolutely comes alive when colored with the changing fall leaves.
The region has so many cute quaint towns. You can do boat cruises and wine tours too! It's also a perfect destination for outdoor lovers since there's two state parks and a national park in the area.
Totally plan on a ton of romantic dinners too since the region is known for its culinary experiences.
5. Boston
Boston is an amazing city to visit with a partner. Even though the weather in Boston isn't as good as it is in many other romantic spots, kissing in the rain is actually romantic af. The city has a ton of museums and art everywhere so is a perfect choice for museum loving couples.
It is also home to so many good restaurants, insanely good seafood, and the cutest, coziest cafes. You can also check out the aquarium or go on a whale watching tour.
There's also a ton of parks and gardens to walk through throughout the city.
6. New England Fall Tour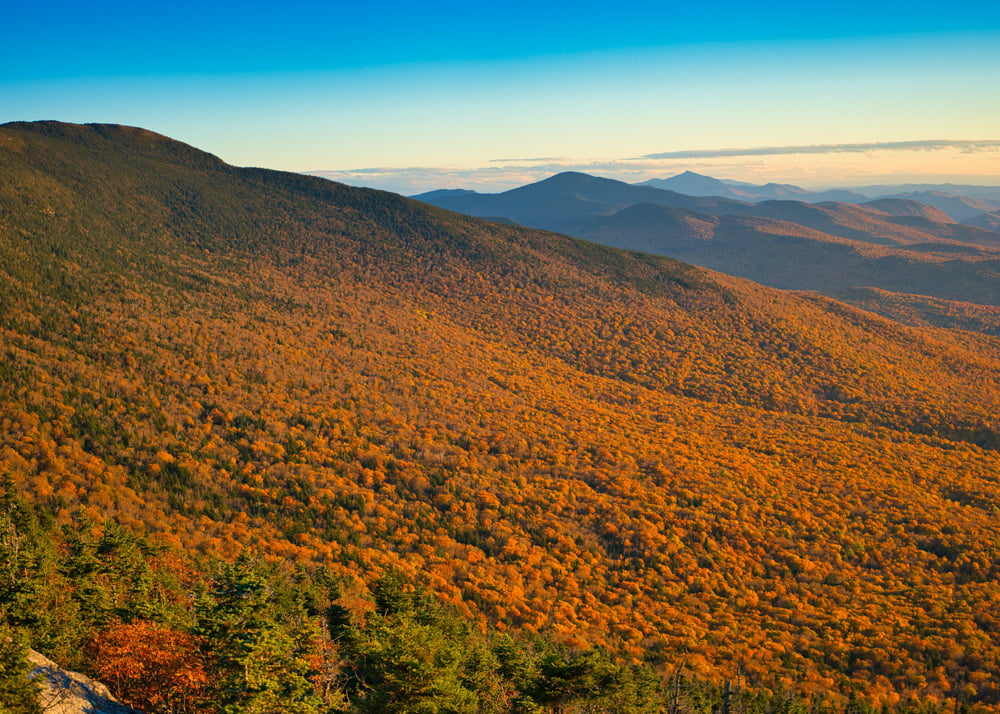 New England is THE place for the ultimate fall vacation. Seeing the east coast fall trees is a major bucket list item. So why not pack up and take a roadtrip to see even more changing leaves and make a romantic trip out of it?
The town Woodstock is a gorgeous small town worth adding as a stop. There's a lot of hiking areas around this town, making it a perfect place to walk among the foliage and get a ton of fall pictures.
Stowe is another small Vermont town to check out fall foliage at or go skiing in the winter. While you're there you can also take a tour of the Ben and Jerry's factory, which is an experience you'll think about every time you share a pint in the future.
7. Saratoga Springs, New York
If you are looking for a slower pace romantic vacation but still want to be in New York State, check out the Saratoga Arms Hotel in Saratoga Springs. Here, they have luxury rooms and farm to table gourmet breakfast.
You can also purchase additional packages that celebrate everything from birthdays to babymoons. Most importantly for this list, one of the packages is a romance package and includes flowers, truffles, and wine.
8. New York City
New York City is packed full of romantic things to do. It is a great destination for the couple that love to learn a place based on the food. New York has so many exciting, innovative food stops, your whole trip here could be food tours!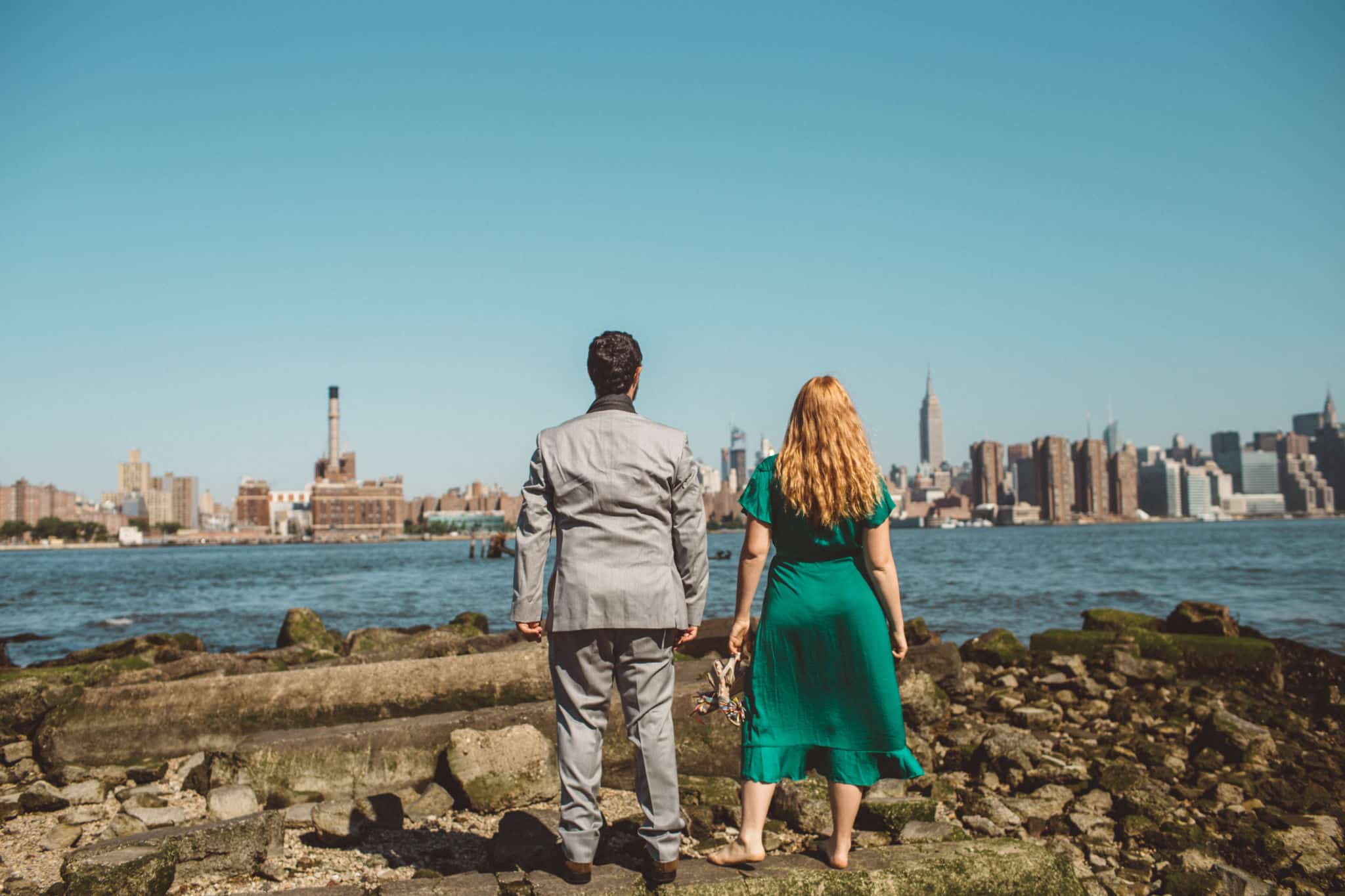 You can also balance all that eating out with romantic strolls through central park or botanical gardens. You can even kiss on top of the empire state building, better yet, at sunset. New York City is definitely, for good reason, one of the top getaways USA has to offer.
I hope this list helps you find the perfect spot for your next romantic vacation, whether that's close to home or across the country, a luxury resort or one of the many affordable romantic getaways in USA.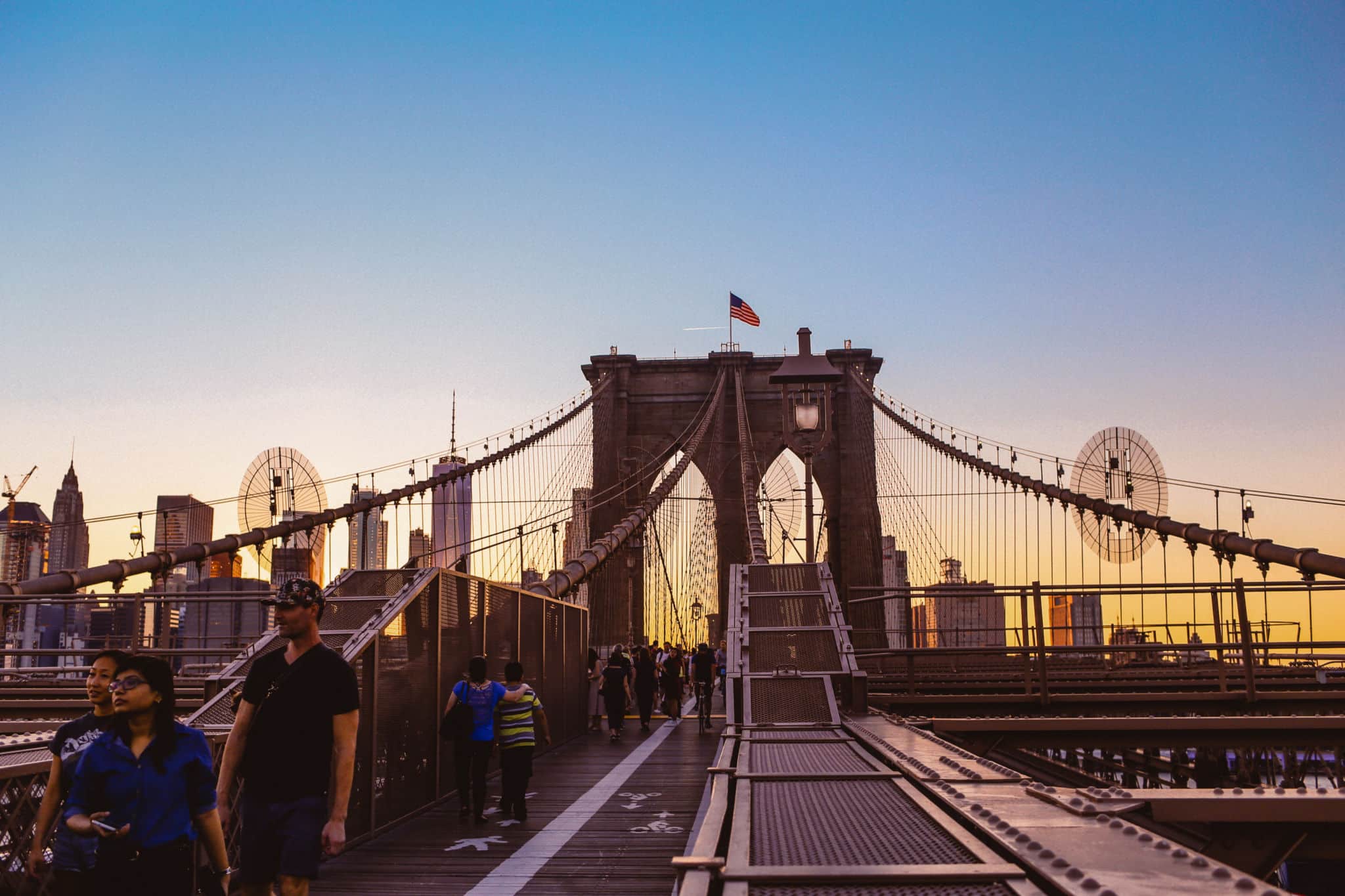 Enjoy exploring the US and getting to know your partner better through the process! There is so much beauty, joy, and fun to find in each and every one of these spots!