I like to travel. And I like to eat. And boy, do I get giddy when a vacation combines the two.
Foodie vacations are quickly becoming our THING. Whether it's visiting all the craft breweries in Denver or tracking down the best taco in Scottsdale, self-guided culinary vacations where the focus is eating our way through the local food scene are awesome. The United States is HUGE and while so many people will tell you places like New York City, Los Angeles and New Orleans are THE best foodie destinations, I disagree.
Keep reading for where to find the best travel destinations for food lovers that are totally under the radar and worth a visit (with an empty stomach!) Just make sure to pack really forgiving dresses and pants, ok?
5 Under The Radar Cities To Visit On Your Next Foodie Vacation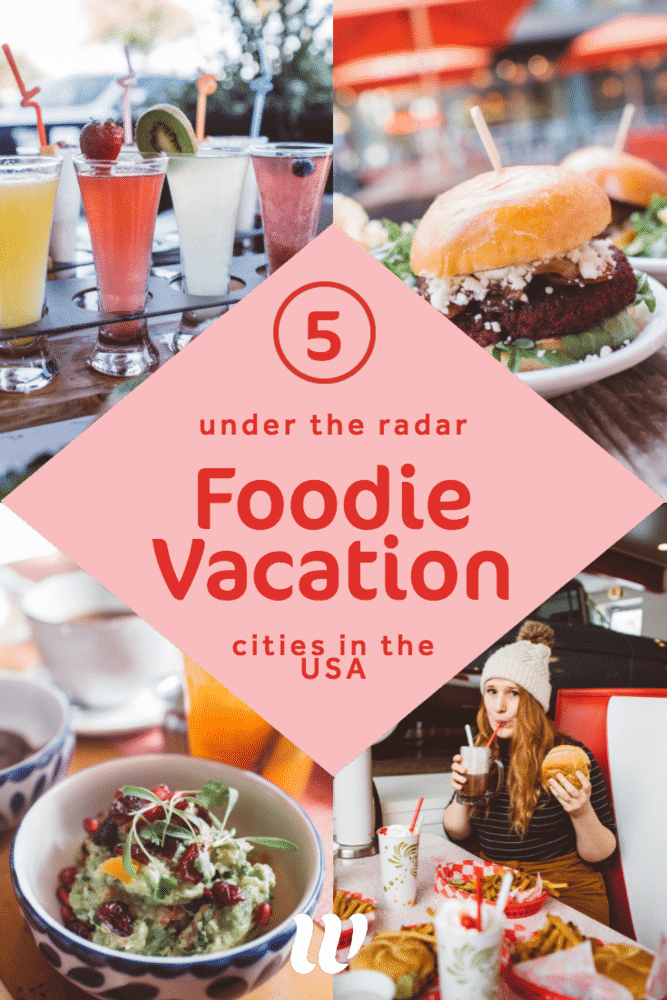 >> Got a question about any of these foodie cities that you need answered quickly? DM me on Instagram @thewhimsysoul and I'll be happy to help!
Best Foodie Vacations 2019 USA
Use this guide to take yourself on some self-guided food tours of my favorite foodie cities in the United States!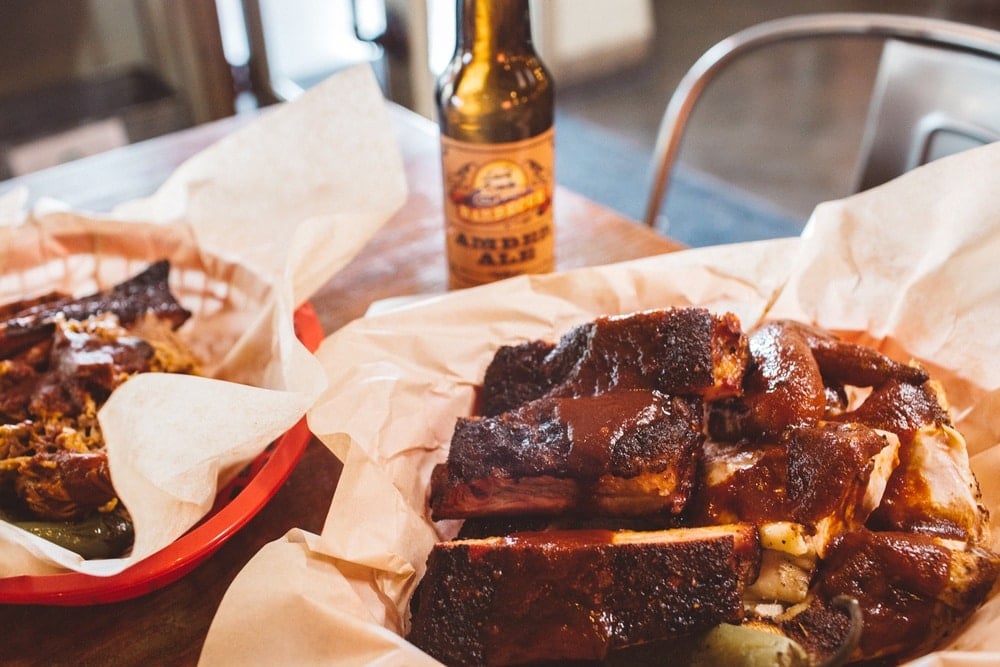 I think Scottsdale takes the prize for the best under the radar foodie vacation spot in the entire United States. I simply can't emphasize the sheer number of fantastic restaurants in this desert city. You can find Food-Network featured BBQ (Bryan's Black Mountain Barbecue), vegan pastries (Sweet Dee's) and a celebrity-frequented Mexican restaurant with a delicious avocado margarita (The Mission) and everything in between here.
The best part may be that in Scottsdale, you get quality food without the New York-level prices that frequently come with top foodie cities. After hiking among Saguaros all morning or strolling around the unique shops in Old Town Scottsdale, fuel up at one of my favorite restaurants in the city.
Put these Scottsdale restaurants on your foodie bucket list!
Scottsdale isn't just a top place to travel for foodies, read my full city guide
HERE
to learn all the reasons we love this city (hiking! color! spas! art!) It's seriously one of our favorite cities in the USA.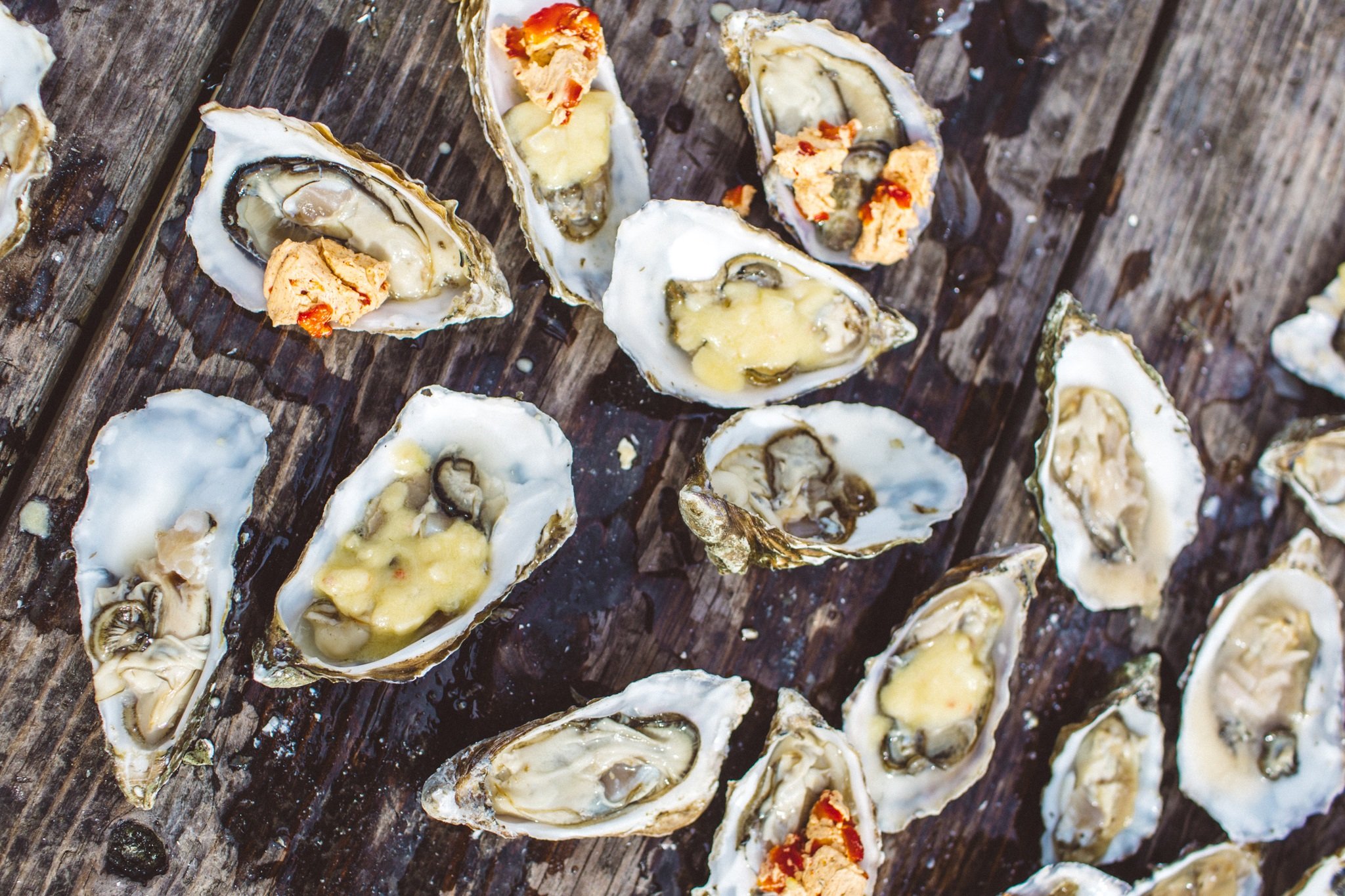 When you say "California", most foodies picture a wine vacation centered around swirling 99 point cabs in Napa Valley, but there's so many more foodie trips to take in the state outside of wine country. Like, I could probably write a whole post alone highlighting all the unique food this state can produce, but my favorite super under the radar place to have a food vacation in California is Point Reyes National Seashore.
I love hiking in Point Reyes (seriously, it looks like Ireland!) but of course, I always work up a huge appetite after a hike. Good thing there's Hog Island Oyster Company along Tamales Bay. This little restaurant sells fresh oysters for around 30 cents each and offers guests charcoal grills so they can shuck & cook oysters next to the water. If that doesn't fill you up, the town of Point Reyes Station is home to hidden gems like a meadery and a creamery!
Here's my favorite places to eat in the area: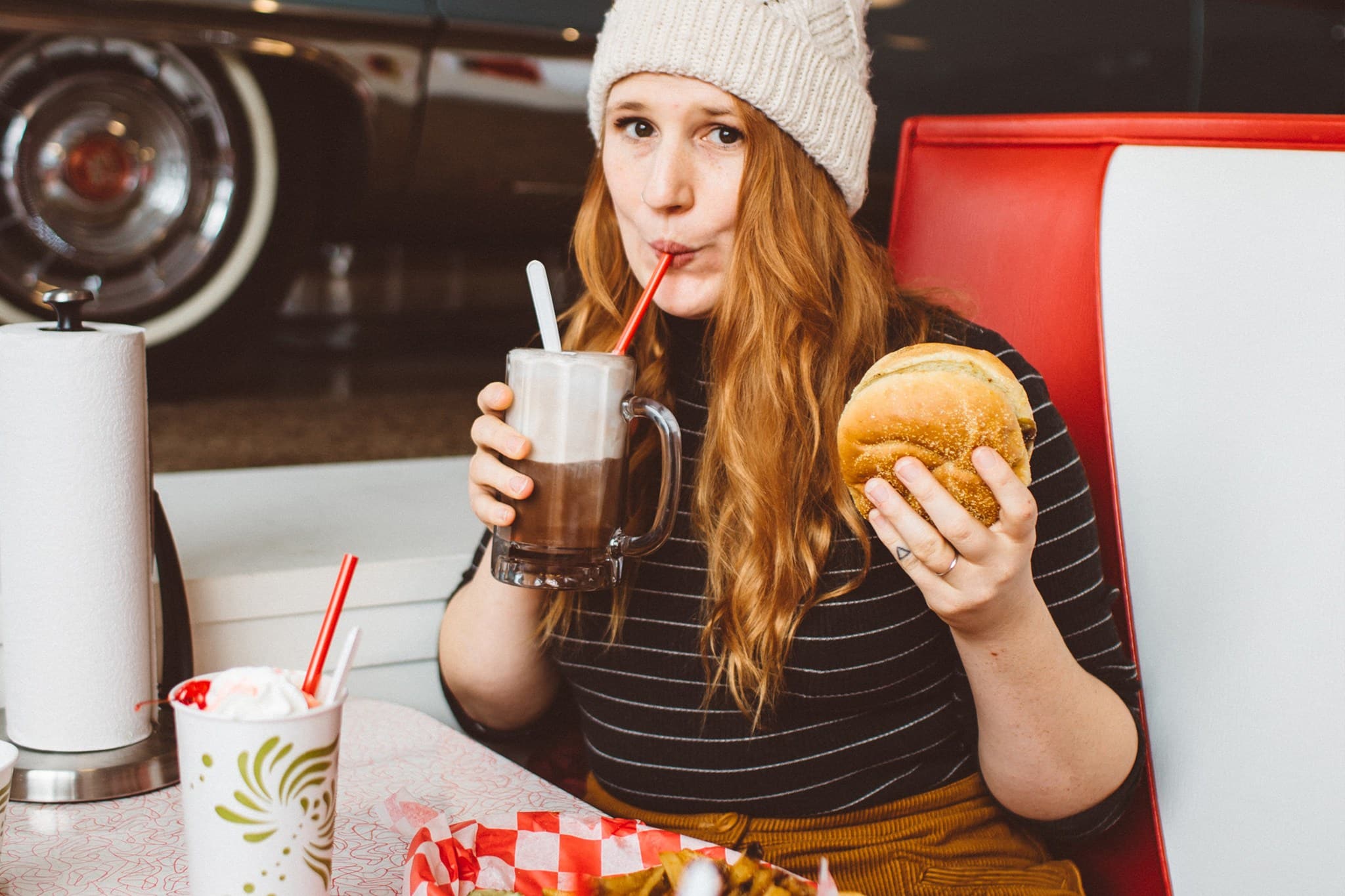 Eau Claire, Wisconsin
There's more to Wisconsin than cheese and beer (though, that's a big staple to my home state's culture!) Eau Claire is an upcoming food trip destination that still flying under most people's food vacation lists.
Eau Claire serves up a great Wisconsin Old Fashion, a classic Wisconsin cocktail, along with Friday Fish Fries, farm to table seasonal menus and comfort food. It gets freezing cold in the city each winter, hence the locals spend a lot of time indoors eating and drinking. Aka, they have their food scene on lockdown.
My favorite places to Eat in Eau Claire:
But of course, you should totally eat some cheese while here. I recommend fresh cheese curds vs fried ones, and make sure they're squeaky! If you don't know what this means, just ask the front counter person and they'll help you out. Also, if given a chance, 10-year-old sharp Wisconsin cheddar is literally something I drool over just thinking about.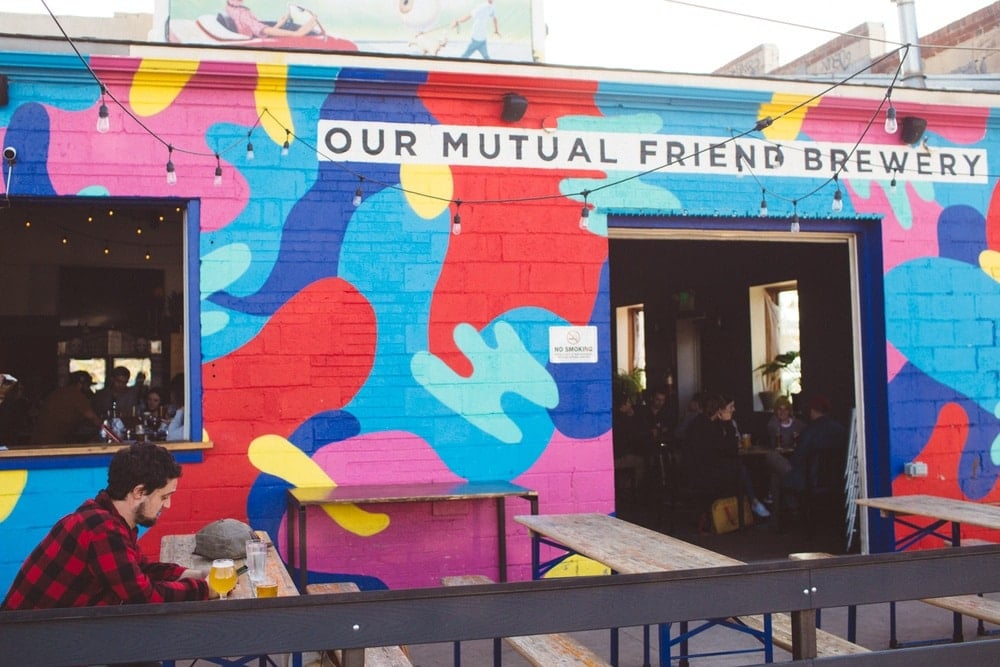 I'm not going to lie. We came to the Mile High City pretty much to drink a lot of beer and write a Denver craft beer travel guide. The city makes good food vacations for sure, but I recommend coming here for a craft beer trip instead. There are over 72 breweries inside city limits!! That's a lot of hops to try.
We did most of our craft beer hopping around the RiNo District, with views of the Rockies peeking out between buildings here and there, but mostly this area is all about local street art and beer. (They "crush" the walls each year and repaint over them!)
These are my favorite places to drink & snack between drinking in Denver!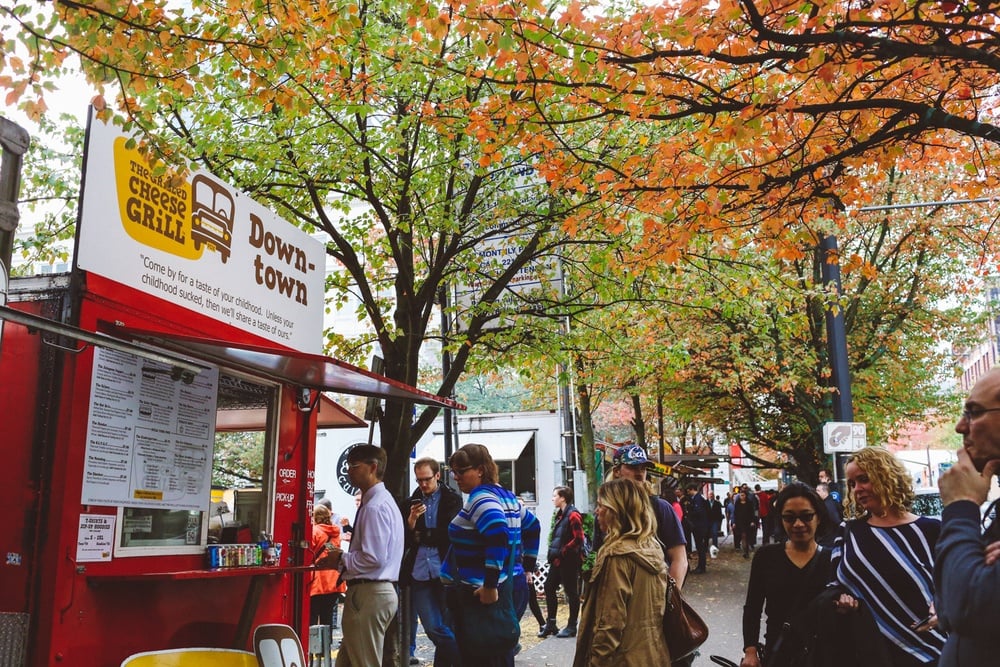 Portland, Oregon
Portland is famous for coffee and while I think they are probably THE PLACE to head in the United States for a bougie coffee scene, they are also home to something I've never seen anywhere else in the country quite like this. Street food cart parks!
You don't have to travel across the world to find street food. There's a few lots around downtown Portland that are always covered in food carts (think food truck vibes minus the truck.) They serve up anything. And I mean ANYTHING – craving Iranian food? There's a cart of that. Pizza? Sure! Even business folks come here during the workday to eat, it's that's good and important to the local scene.
Try one of these carts in Portland:
One of the things I love doing after coming home to San Francisco from a fun culinary destination is taking cooking classes or buying a recipe book that reflects the cuisine we just ate a bunch of. My husband loves to cook and it's so much fun trying to copy our favorite dishes from a trip, but at home. (For example, after our trip to Scottsdale, we were on a margarita kick for a few days!)
If you're wondering, how do I choose a vacation destination for foodies? Obviously, everyone knows that New Orleans has amazing soul food and New York City has a thriving, diverse food scene with literally any cuisine you want. But those food spots are overcrowded and usually expensive. I personally love to spend less on more, and there are 48 other states that offer awesome hidden food gems that are just waiting to be discovered (and eaten!)
Anyways, I hope this helps you plan some epic food travel! If you have more foodie travel tips to add or other best food cities in the US that didn't make the list? Leave a comment below so everyone can see. Got questions? Comment or DM me on Instagram @thewhimsysoul and I'll be happy to help!