Hey, that's us!
My husband and I write this here travel blog. Because we're hella married and also write about travel for a living, I realized it's due time to share our favorite under the radar vacation ideas for couples looking for awesome, romantic getaways for two. But, like, in the United States, because Paris is too expensive to visit just to hold hands and eat cheese. I CAN DO THAT IN THE USA.
If you're looking for fun weekend getaways for couples, keep on reading for my favorite cities in the United States to visit with your boo.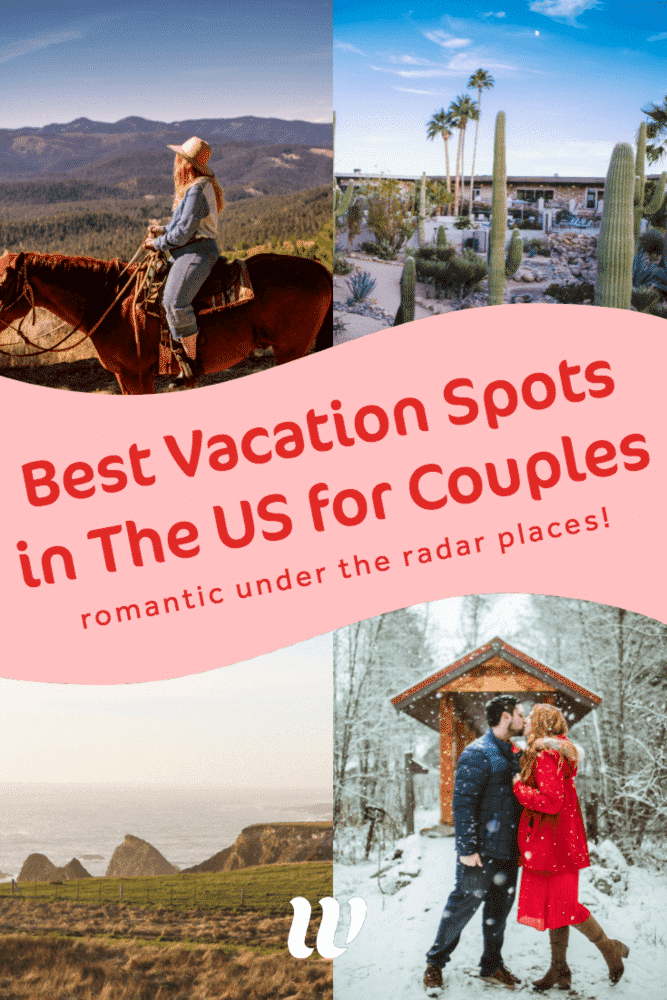 >> Got a question about one of these spots that you need answered quickly? DM me on Instagram @thewhimsysoul and I'll be happy to help!
There are a lot of romantic weekend getaways in the United States – this country is huge, where do you even start? Well, I say pack your bags for warmer weather because the first stop on my list is the desert!
Scottsdale, Arizona
I think Scottsdale is beautiful – I love the towering saguaros, the colorful buildings, the stunning resorts and the way the sky always seems to glow pink at sunset. If you're looking for romantic vacations for two, look no further than this Arizona city. There's so many things to do in Scottsdale to fit whatever "romance" means to you and your boo.
I recommend you book a few nights at CIVANA, a wellness resort that oozes relaxation and chill vibes, so it makes the perfect romantic hotel to call home while exploring Scottsdale. Or, Omni Scottsdale Resort & Spa at Montelucia which looks like it was plucked out of Spain and has stunning views of Camelback Mountain.
Sunset hot air balloon ride over the desert? Check. An endless list of amazing restaurants? Check. Hiking trails among the cacti? Check. Luxury hotels and spas? Check. Here's the full list of my favorite romantic Scottsdale Things To Do: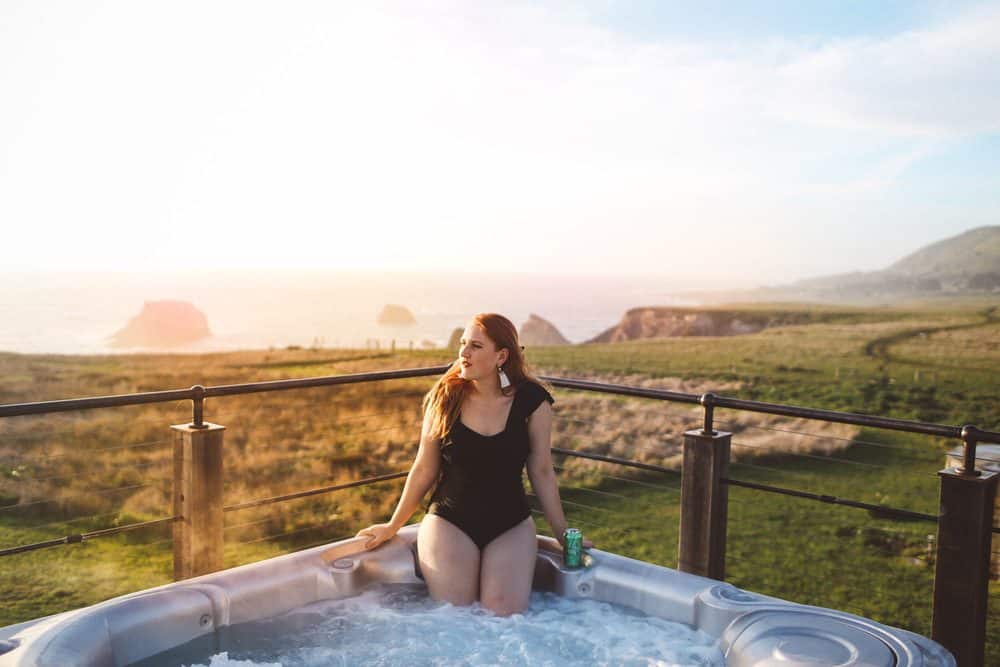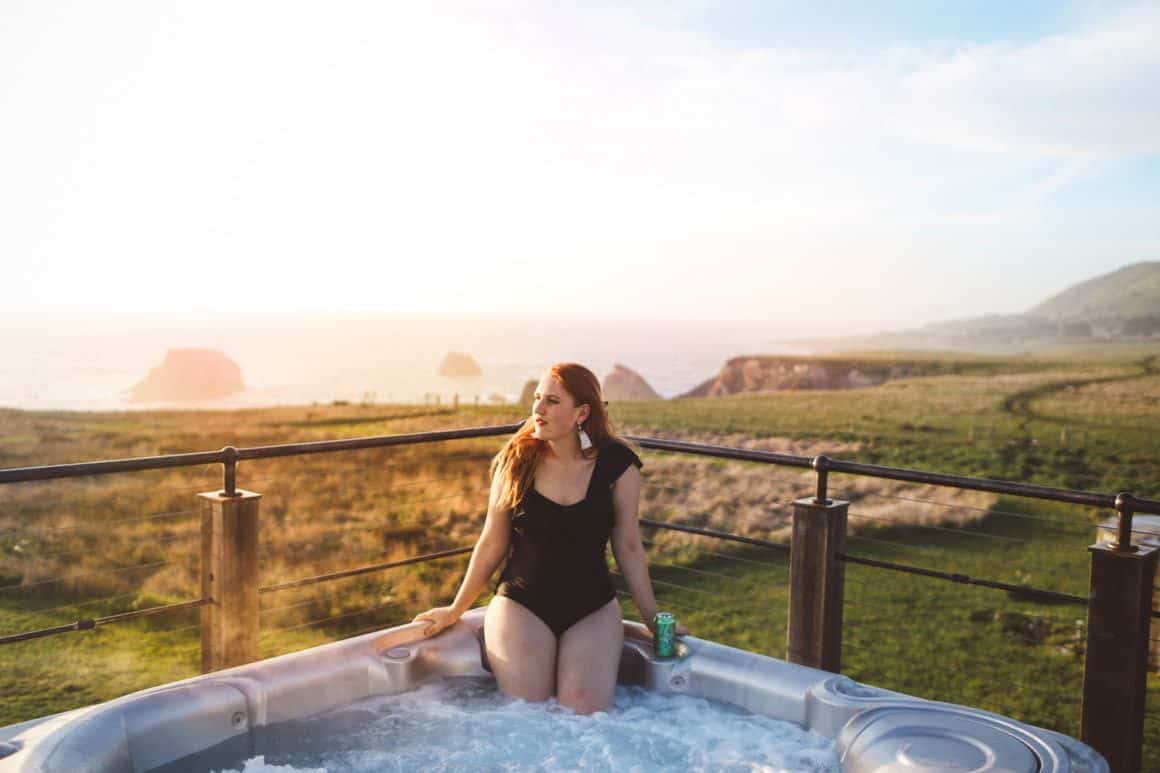 Mendocino, California
We live in San Francisco and Mendocino is probably our favorite go-to vacation spot near the Bay Area when we really need to chill out and relax. Hop in the car, drive over the Golden Gate Bridge, pass through Anderson Valley for wine tasting and in a few hours be on the stunning coast of Mendocino.
This is an old logging town and still has all the seaside, old-timey charm. The coastline is rugged and everything is just so dang green. Mendocino has all sorts of loading options but is home to a handful of truly fantastic luxury hotels that are experiences in themselves.
Our favorite is the Inn at Newport Ranch which I low-key want to just move into. Best part? There's not great cell service here, so you're forced to digital detox and just hang out with your loved ones.
My favorite Mendocino Things To Do:
Leavenworth, Washington
Did you know that tucked in the Cascade Mountains in Washington is a tiny Bavarian-style town called Leavenworth that looks like it was plucked RIGHT out of the North Pole? Seriously, this town is a real-life Christmas town if I've ever seen one and it's incredibly romantic to visit during December when the city comes to life with lights, hot chocolate, snow and carols.
Book yourself a few nights at the Sleeping Lady Mountain Resort (it's tucked in the woods and totally stunning in the winter!) There are a handful of Christmas tourist attractions (like petting reindeer!) that are totally fun and worth it. These are my favorite things to do in Leavenworth on a holiday visit!
Sleighride for two (on real horses with bells a ringing and everything!)
Pet reindeer (seriously, the highlight of our trip!)
Wander downtown Leanveworth because it's so dang cute, especially at night!
Watching a Christmas Tree Lighting Ceremony.
Soaking in the outdoor hot tub at Sleeping Lady.
PS: On your way home, consider adding a day or two so you can explore Mt. Rainer National Park.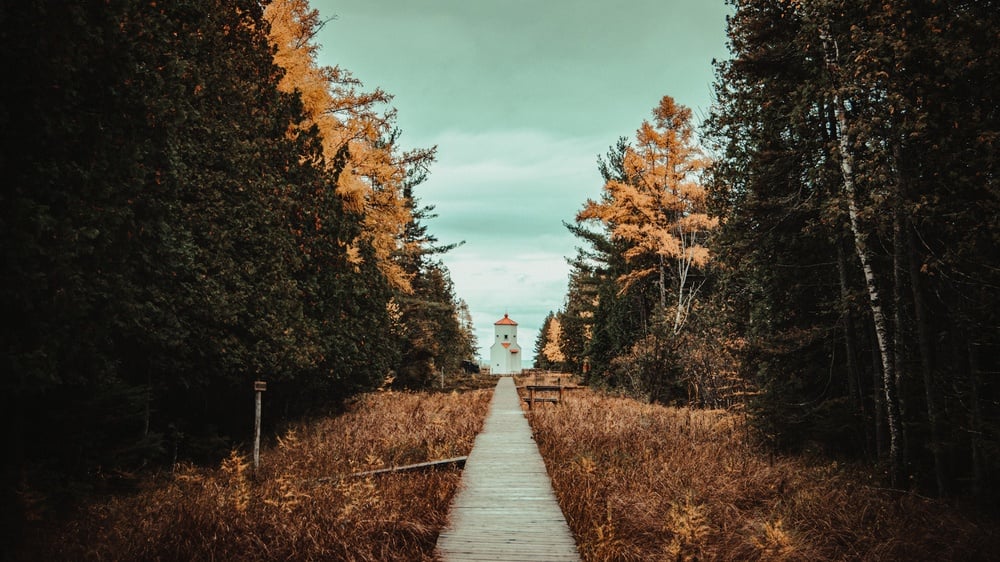 Door County, Wisconsin
I grew up going to Door County as a family and it's often overlooked as the perfect relaxing couples vacation in the USA. You know how Wisconsin is shaped a bit like a hand? (Michigan is the glove, Wisconsin is the Hand). Door County is located on the tip of the "thumb", which means it's narrow and surrounded by Lake Michigan on three sides.
Aka, come summertime, Door County is the ultimate woodsy lake retreat! I recommend renting a cozy cabin to use as home base while exploring the peninsula. Here's my favorite romantic things to do in Door County!
Go kayaking on the lake (tons of caves and nooks to discover!)
Or, rent a boat and go sailing or tubbing on the water.
Drink a much cherry wine as possible (Door County is known for their cherries!)
Camp out on the beach in traditional Wisconsin lake day style (don't forget the beer!)
Day trips to Cana Island Lighthouse or Washington Island.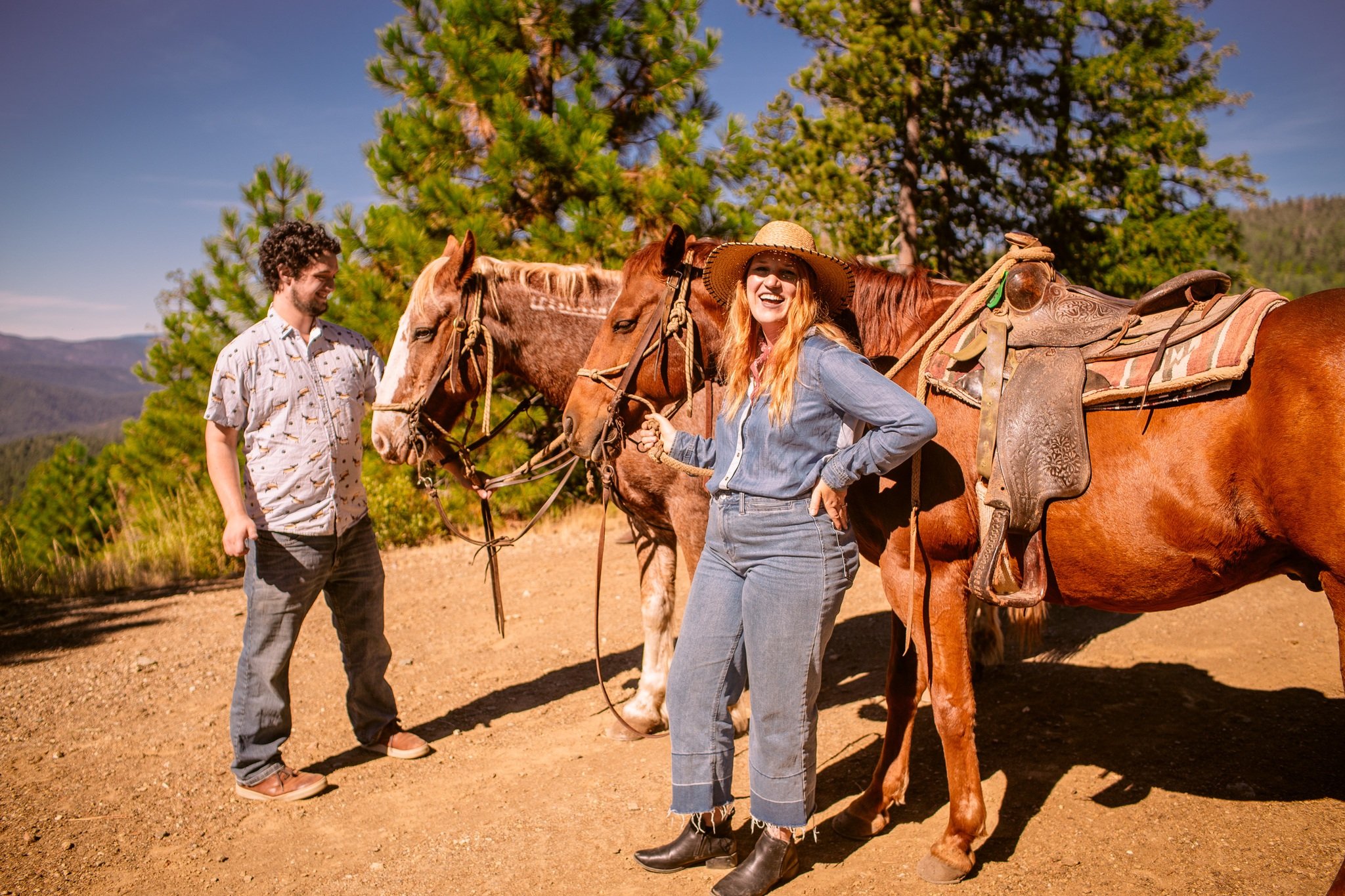 Greenhorn Ranch, California
Ever want to spend a few days at a dude ranch? Well, there's this magical place tucked away in the Sierra Nevadas a bit north of Lake Tahoe that is the perfect all-inclusive vacation for couples that also love adventure. Welcome to Greenhorn Ranch!!
This ranch is utterly unique, we've never stayed at a place like it. It's a bit like summer camp, but adult style. Every day guests go on two horseback trail rides. Sometimes it's along the valley floor, sometimes it's up the mountain to be rewarded with stunning views.
The ranchers are super great at making everyone feel comfortable on a horse, so even if you've never ridden before, you'll do fine!
In between rides, guests take meals together in the mess hall and these are high-quality meals, too, thanks to the onsite chef. You can relax in your room, but there's activities around to keep you occupied. Like a little pond that you can fish at!
Come nightfall, more often than not someone will bust out a guitar and sing cowboy songs next to a fireplace (pro tip, make sure to grab a glass of wine for this!) We loved our stay at the ranch and think it makes a fun unique romantic vacation for couples and can't wait to return one day!
So, which destination catches your eye the most? Tell me what you think are the best US caption spots for couples below! Hopefully, I can convince you to skip the pricey Key West or tropical island vacation and instead discover something closer to home that'll be even more memorable and romantic for you two.
I love all these couple vacation ideas and have been to them personally myself, so it's hard for me to choose my favorite. They each offer something so different and unique. Maybe you'll just have to grab your boo and hit up all these top romantic getaways int he US together (why pick just one?!)
Got any more tips to add or other suggestions for the best vacations for couples? Leave a comment below so everyone can see. Got questions? Comment or DM me on Instagram @thewhimsysoul and I'll be happy to help!